May. 24, 2014 07:00AM EST
Q&A with the Amazing Erica Sobol
We've admired choreographer Erica Sobol for a long time, and we have to admit that we're a little bit jealous of her life: Finding success in L.A.? Working with amazing dancers? Touring the world as a teacher? She's inspiring, to say the least. She chatted with us about winning the 2013 Capezio A.C.E. Award,  her newest production, and where she finds her motivation.
Dance Spirit: You just premiered your show runaway! What has it been like to work toward creating this show? Did winning the A.C.E. Award open any doors for you?
Erica Sobol: You know, at one point during the show, when I was finally able to sit in the audience and watch, I laughed and thought, "I made this." Winning the award influenced the creation process in every single way. It happened because we won the award. It supercharged people to get involved. It's taken years to be able to present runaway! and it was an exciting triumph for everyone who's been on this journey with me. I have a strong team behind me and I do what I do because of them.
DS: You often choose to work with an all-male cast. Are you drawn to the way men interpret your choreography, or do you make work specifically for men to dance? Or is your cast just the best for the job, regardless of their gender?
ES: I think it's a combination of all three. These men are my favorite dancers in the world. Getting to bring them together as one cast was extraordinary for me. People came in from all over to train and be part of this project. They've changed my whole world. I do have a tendency toward men and it's exciting to watch my choreography on them. I love the no-limits energy they provide in the studio. Watching them perform in class provided huge well-springs of inspiration for me. I had always dreamed of working with an all-male cast. When I see men dance, I see their physical capability, but I also wanted to explore tenderness and vulnerability. Those are strengths, too.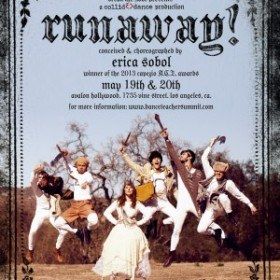 DS: Can you tell us about some of your dancers and why you love working with them?
ES: Oh man. Well, first let me tell you about Ryan Spencer, my muse and my assistant. He's the greatest dancer in the world, the most singular dancer I've ever seen. The growth I've seen over the years (and the growth he's inspired in me) is just incredible. I feel like we've known each other across lifetimes. There's also Jason Gorman. Initially I was drawn to his choreography. I was traveling and starting to get homesick, and watching his videos brought me home. I reached out to him after seeing his work, and the rest is history! I met Wyatt Rocker at a convention where he was an assistant. He's so special and kooky and it's so wonderful to finally be working together. Miguel Antonio is an extraordinary teacher here in L.A., and we've traveled and taught together. He used to write to me on YouTube, and when he finally took my class we fell madly in love with each other. BoyBoi connected with me through my friend Dana Foglia. After he took my class the first time, I knew I wanted to work with him forever. I can keep going!
DS: Talk to us about your choreographic process. Did you start runaway! from scratch, or did you revisit ideas that you'd already experimented with?
ES: I'm always creating and there are ideas coming to me all the time, but there are shifts and changes as each day passes. Things changed as we worked on the piece together as a cast. There are fragments in runaway! that have been presented before, but this was a collection of the old woven in with the new. For me, it was essential that this process be free of negativity and ego. Making a dance is difficult enough as it is. In addition to their talent and fearlessness, all of the dancers I worked with brought humility and love to the creation process.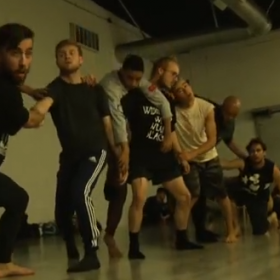 DS: What advice can you give us about breaking into the L.A. scene?
ES: I find myself really unable to answer that question because I always feel like an outsider and an underdog—not part of "the scene" at all. My dancers are misfits in their own way, and we were never able to plug in until we found each other. It's important to know that even if you feel like you don't fit into your "scene," there are people out there who can become your family. Here in L.A., it's possible to find your people.
DS: Looking back on your career so far, what are you most proud of?
ES: I am definitely the most proud of runaway! It's the most beautiful, strangest and loudest that I've ever been or felt. The feeling of "I made that" helped me be stronger and bolder than ever.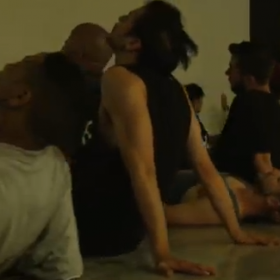 DS: What are your goals as you continue to grow as an artist?
ES: Well first of all, I hope that there will be a long life for runaway! I could spend a long time with this show. But for now, I'm booked out for the summer teaching and traveling all over the world with Ryan. I'm taking some time to catch up on real life with my family and friends, and then it's back out into the world to inspire more young dancers to follow their dreams and stick to their guns.
Want more Erica? Check out her company collidEdance and check out the trailer for runaway! We can't wait to see footage of the show itself!
Dance News
Jun. 15, 2019 10:12AM EST
(From left) Darriel Johnakin, Diego Pasillas, and Emma Sutherland (all photos by Erin Baiano)
Congratulations to Dance Spirit's 2019 Cover Model Search finalists: Darriel Johnakin, Diego Pasillas, and Emma Sutherland! One of them will win a spot on Dance Spirit's Fall 2019 cover. Learn more about the dancers on their profile pages, and then vote for your favorite below. You can vote once a day now through July 15.
We also want you to get social! We'll be factoring social media likes and shares into our final tallies. Be sure to show your favorite finalist some love on Facebook, Instagram, and Twitter, sharing their profile pages and using the hashtag #DanceSpiritCMS.
Cover Model Search
Jun. 18, 2019 01:27PM EST
Photo by Erin Baiano
In our "Dear Katie" series, Miami City Ballet soloist Kathryn Morgan answers your pressing dance questions. Have something you want to ask Katie? Email dearkatie@dancespirit.com for a chance to be featured!
Dear Katie,
When I sit with the soles of my feet together, my knees easily touch the floor, and most exercises to improve turnout are easy for me. But when I'm actually dancing, my turnout is terrible, especially on my standing leg. Why doesn't my flexibility translate to turnout?
Chrissy
Dear Katie
Jun. 18, 2019 10:59AM EST
Via Twitter
Would that we could all live in Taylor Swift's Pride-topia, booty-popping with Todrick Hall and sharing snow cones with Adam Rippon in our rainbow-flag-bedecked RV park. But much as we're loving "You Need to Calm Down" and other similarly upbeat celebrations of Pride month, this is also a time to recognize the battles the members of the LGBTQIA+ community have fought—and are still fighting. That's one of the reasons why "I'm Gay," a new dance video by Eugene Lee Yang of The Try Guys, is so important.
The dark, deeply personal video is Yang's coming-out moment. We see Yang being rejected by his family, condemned by a preacher, and attacked by a hostile mob after attempting to express himself as a gay man. Though not a professional dancer (as we found out in "The Try Guys Try Ballet"), Yang is a gifted mover; he choreographed the project himself, and gathered a group of talented performers to bring the story to life.
Dance Videos