Sep. 24, 2011 10:00AM EST
Quiz: Lights, Camera, Dance!
1. What type of music is most likely to play when you press "shuffle" on your iPod?
a)    Something by Tchaikovsky—you're all about classical!
b)    A smooth R&B jam
c)    Fiery salsa music
d)    Hard-hitting rap
2. Your friends can always count on you to:
a)    help them drill choreography.
b)    listen when they need advice.
c)    stick up for them.
d)    come through in a tough situation.
3. Pick your favorite quote:
a)    "I just want to be perfect."
b)    "I'll dance in circles, probably around you."
c) "Tomorrow is one more day
I get to dance."
d)    "One move could set a whole generation free!"
4. Your favorite dancing duo is:
a)    Odette and Prince Siegfried from Swan Lake
b)    Johnny and Baby from Dirty Dancing
c)    real-life and onstage couple Stella Abrera and Sascha Radetsky from American Ballet Theatre
d)    joined-at-the-hip choreographers Napoleon and Tabitha D'umo, aka NappyTabs
5. What's your dance dream?
a)    Becoming a principal ballerina in a major company
b)    Getting into Juilliard
c)    Dancing professionally in NYC
d)    Battling it out on "America's Best Dance Crew"
6. What makes you most upset?
a)    Messing up in class
b)    Blowing a big audition
c)    Not being noticed for your talents
d)    Letting your dance team or crew down
7. Your dance bag isn't complete without:
a)    pointe shoes
b)    your iPod
c)    a pack of gum
d)    a pair of Chuck Taylors
8. The three words that describe you are:
a)    dedicated, fragile, intense
b)    caring, sensitive, passionate
c)    bold, brassy, loyal
d)    flirty, fun, determined
9. When you go to a carnival, you head straight for the:
a)    ferris wheel. It's not scary and gives you time to take a deep breath and relax.
b)    photo booth. It's so much fun to take silly pictures with your boyfriend.
c)    dunk tank. Your fastball is killer!
d)    largest rollercoaster. Why not take a ride on the wild side?
10. If you could change one thing about yourself, you would:
a)    ease up on your perfectionist tendencies.
b)    stop being so serious and have a little fun!
c)    try to keep your attitude in check.
d)    be more honest with the people you love.
ANSWERS
Mostly A's: Nina from Black Swan
No doubt about it, dance is your life. Like Nina, you're super-serious about succeeding. You put 100 percent into every class, every rehearsal, every performance. While your dedication helps you progress, remember that it's not good to put too much pressure on yourself. (Life's short—just ask Nina!) Don't forget to let loose once in a while and enjoy life. Your dancing will thank you for it!
Mostly B's: Sara from Save the Last Dance
From ballet to hip hop, you're down with all kinds of dance, just like Sara. Though performing is definitely your first love, your crush probably isn't far behind. Your caring, loyal nature draws others to you and makes them want to support you. You believe in others, but you also believe in yourself—a quality that will help you achieve whatever you set your mind to. And with all of your talents, that could be anything from dancing backup for Rihanna to performing with American Ballet Theatre.
Mostly C's: Eva from Center Stage
Your name should be next to "feisty" in the dictionary. Just like Eva, you're not afraid to tell it like it is. Your personality is larger than life and—big shocker—you love to be the center of attention. And that's often the case, because you shine when you perform, whether you're tearing up the dance floor at a club or nailing a difficult pas de deux. Just remember that big talent doesn't have to come with a big ego. A dose of humility will help you soar even higher.
Mostly D's: Natalie from Step Up 3D
You feel most alive when you're battling it out on the dance floor with your crew. You and Natalie are both fiercely competitive and, as diehard B-girls, you'll both do whatever it takes to bring home a win. Sometimes you feel torn between all of your commitments. But don't worry—you'll find a way to make it work. After all, with your boundless energy and determination, it's hard to hold you down once you put on those dancing shoes!
Photos from top to bottom: Sharni Vinson (center) as Natalie in Step Up 3D, Courtesy Sony Pictures Home Entertainment; Natalie Portman as Nina Sayers with Benjamin Millepied in Black Swan, Courtesy Fox Searchlght Pictures; Zoe Saldana (far left) as Eva Rodriguez in Center Stage, Courtesy Paramount Home Entertainment; Julia Stiles as Sara in Save the Last Dance, Courtesy Summit Entertainment
Sofia Wylie (photo by Dave Brewer, courtesy Disney Channel)
Last week Disney Channel star Sofia Wylie released a behind-the-scenes look at the making of her YouTube dance series. Along with some stellar dancing, the video shows the dance community featured in her "4k Dance Series" and the things they've learned from being a part of the dance project. And though the project features dance, we love that it also emphasizes supporting and building up fellow dancers.

Keep reading...
Show less
Popular
Apr. 02, 2018 10:14AM EST
Showstopper's National Finals Opening Number Performance
Showstopper has been making its impact on the dance world since 1978. Before then, dancers didn't have a stage to perform on, the opportunity to learn from peers, or a competitive outlet like most sports. Debbie Roberts recognized this missing piece in the dance community and that is how America's first and longest running dance competition, Showstopper, was born. Debbie taught dance for over 26 years and owned and operated her own dance studio for 20 years. She is now the owner and National Director of Showstopper, along side her husband, Dave Roberts. Dancer, teacher, business owner, author, and mother, Debbie has made dance her life's career.
Keep reading...
Show less
Apr. 17, 2018 10:27AM EST
Oh, hi, EVERYBODY. (Screenshots via YouTube)
Sometimes, you hear talk about an upcoming class video and it sounds too good to be real. Wait: Todrick Hall made a track featuring RuPaul, and then Todrick personally asked Brian Friedman to choreograph it, and then Brian got Maddie and Charlize and Jade and Kaycee and Sean and Gabe and Larsen and Bailey to come out for the class? I just...that can't be right. Can it?
It is right, friends. It is SO RIGHT.
Keep reading...
Show less
A-DAM RIP-PON [clap, clap, clap clap clap] (with his equally gorgeous partner Jenna Johnson; Craig Sjodin/ABC)
Team USA is totally taking over "Dancing with the Stars" this season! Casting for the upcoming athletes-only "DWTS" cycle, which kicks off April 30, was just announced. And the roster includes a whole bunch of Olympic favorites—including not one, not two, but three figure-skating standouts.
Keep reading...
Show less
Popular
Mar. 26, 2018 09:50AM EST
Winter is drawing to a close and you know what that means -- It's time to really kick this year into gear! Move U has done the research so you can find your best match, look good, and feel great this season with a twist unique to your team! Here are five looks to put your performance on the map in 2018.
Keep reading...
Show less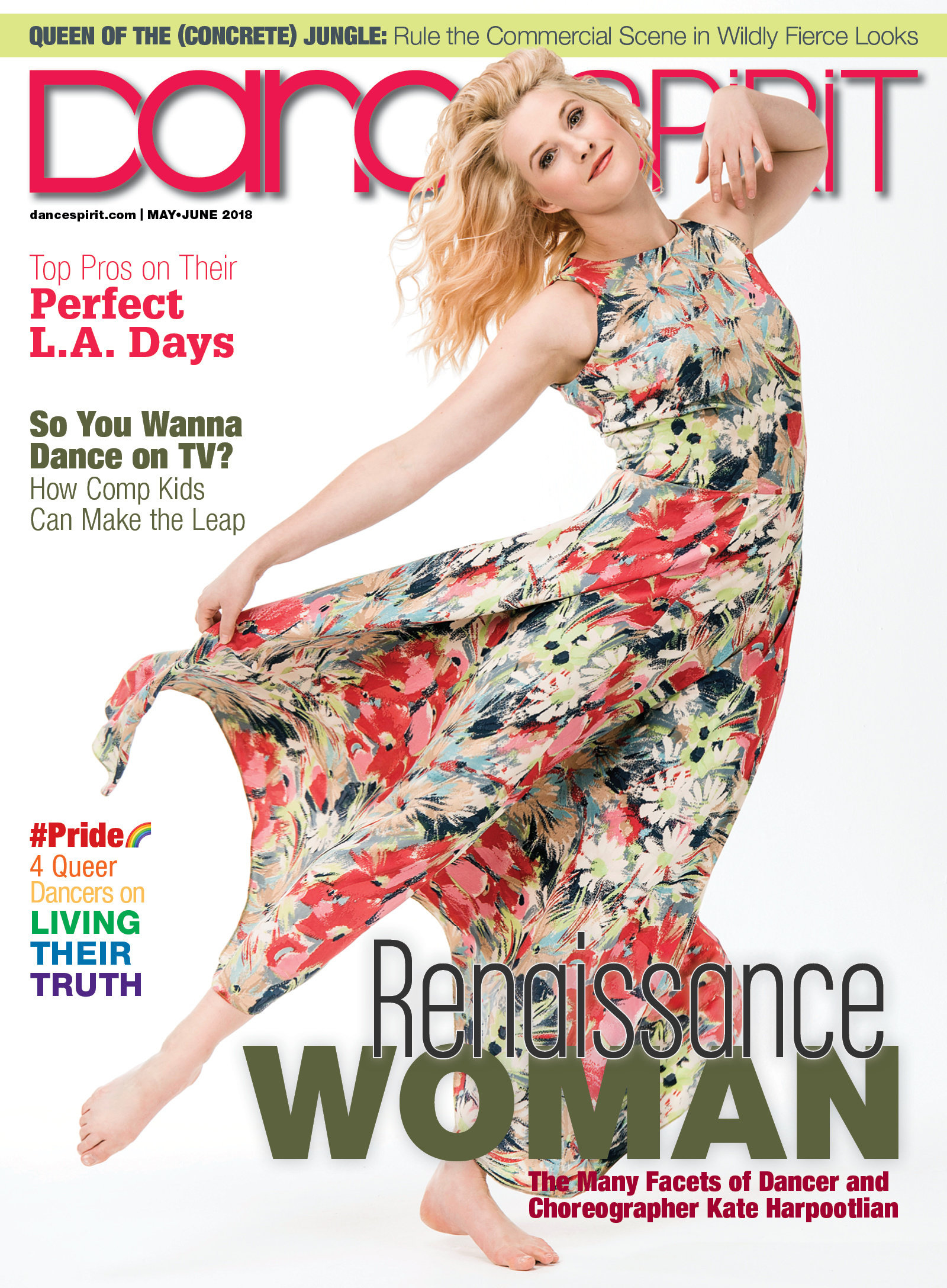 Get Dance Spirit in your inbox