Magazines
Jan. 05, 2018 04:35PM EST
Recipes From Dancers Who Are as Comfortable in the Kitchen as They Are Onstage
Carmelized-onion salad by dancer Patricia Zhou (courtesy Zhou)
Tons of dancers bring their creativity from the studio to the kitchen—because we've all gotta eat! But a few take their cooking chops even farther, often preparing meals for friends and fellow dancers. We asked four dancers/amateur chefs for their favorite recipes.
---
Daniela Funicello
Elisa Monte Dance Company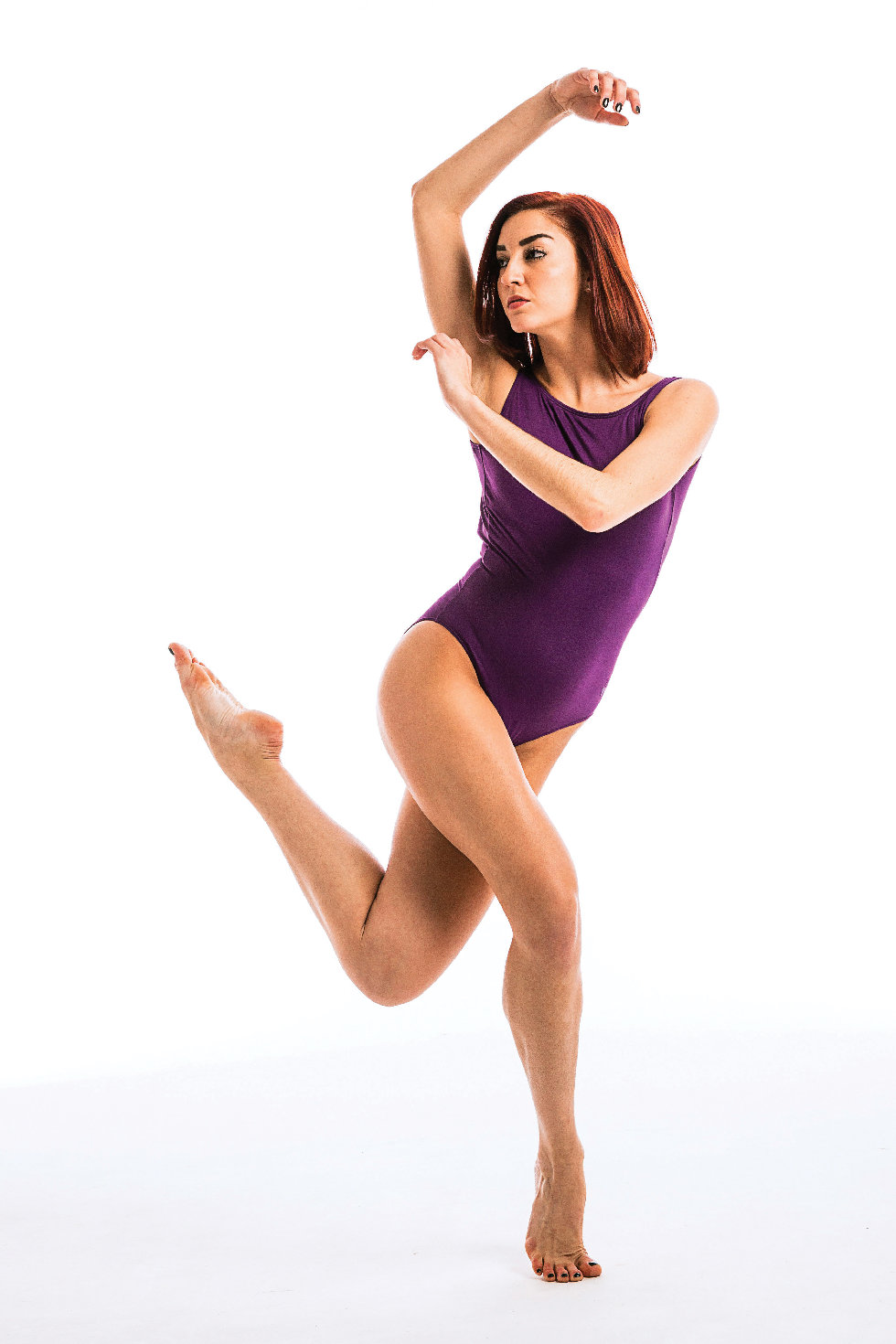 Daniela Funicello (photo by Matthew Murphy, courtesy Elise Monte Dance Project)
Funicello, who's Italian-American, says that some of her favorite memories involve cooking with relatives. She even dreams about opening her own restaurant someday. This special sauce-and-meatball recipe was passed down from her grandmother's grandmother.
Donna's Meatballs and Sauce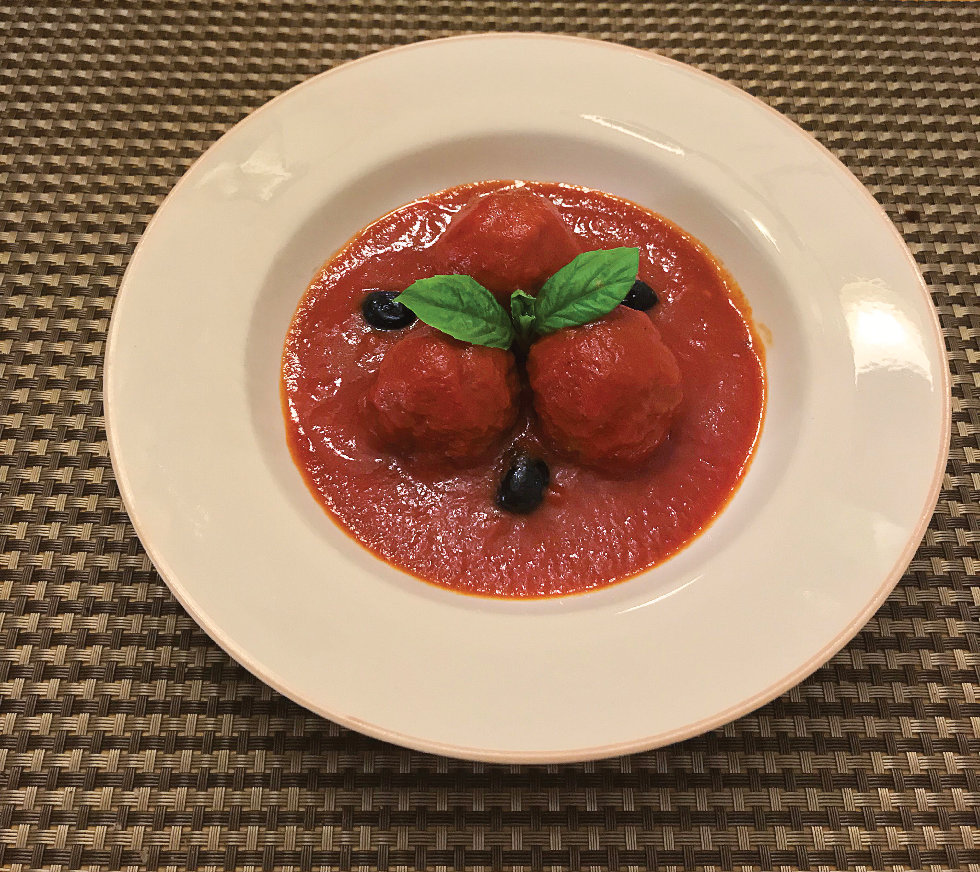 Donna's meatballs and sauce (courtesy Daniela Funicello)
(Makes 12 to 14 meatballs)
For the meatballs:
1 lb. ground beef (90 percent lean/10 percent fat suggested)
3/4 cup dry seasoned bread crumbs
1/2 tbsp. Italian seasoning
1/2 tsp. ground black pepper
1/2 tsp. garlic powder
1/4 tsp. salt
2 eggs
1/2 cup grated Parmesan cheese
1 tbsp. extra virgin olive oil
3 cloves garlic, sliced
For the sauce:
1 can (28 oz.) crushed tomatoes
1/4 tsp. salt
1/4 tsp. ground black pepper
1 tsp. sugar
Italian seasoning, to taste
red pepper flakes, to taste
1 can (28 oz.) tomato purée
5 large pieces torn fresh Italian basil
Mix the first 8 meatball ingredients by hand until the mixture feels dry. (If it's too wet, add more bread crumbs.) Form into balls, packing tightly so the meatballs don't fall apart.
Heat olive oil in a Dutch oven over medium-high heat. Add the meatballs.
As they begin to brown, add fresh garlic slices. Turn the meatballs frequently so
all sides brown evenly. Don't worry if the meatballs aren't cooked through yet.
Once the meatballs are browned, add the crushed tomatoes, plus 1/2 can of water. Mix in salt, black pepper, sugar, Italian seasoning, and red pepper flakes. Turn down heat to low, and bring to a simmer, stirring constantly. Add the tomato purée. Simmer for an hour, stirring occasionally. Before serving with pasta (or alone!), add the fresh basil.
Patricia Zhou
L.A. Dance Project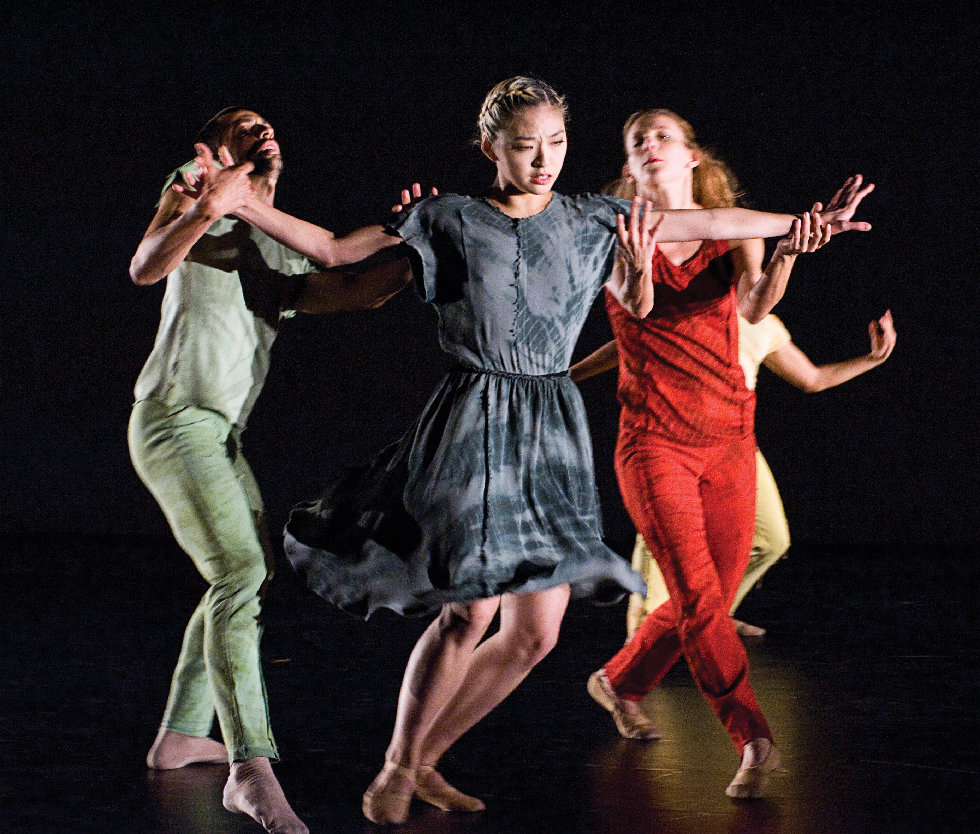 Patricia Zhou (center) performing with L.A. Dance Project (photo by Sandy Korzekwa, courtesy L.A. Dance Project)
Zhou, a former Dance Spirit Cover Model Search finalist, is passionate about cooking. She keeps a blog, The Ballerina Chef, on which she shares recipes and cooking tips. When preparing this salad, Zhou says, don't worry if the onion slices seem too big or thick—they'll cook down during the caramelization process.
Carmelized-Onion Salad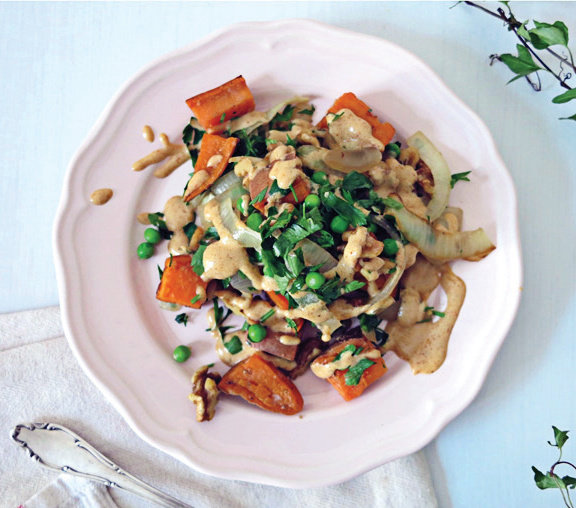 Carmelized-onion salad (courtesy Patricia Zhou)
(Serves 2)
For the dressing:
1 1/2 tbsps. tahini
juice of 1/4 lemon
water
1/2 tsp. smoked paprika
salt and pepper, to taste
Combine the tahini and lemon juice. Add water one tablespoon at a time to create a loose dressing. Add smoked paprika and season with salt and pepper.
For the salad:
2 medium yellow onions, halved
and sliced
1 tbsp. olive oil
pinch of salt
1 medium sweet potato, cubed
salt and pepper, to taste
1/4 cup walnuts, roughly chopped
1/2 cup peas
1/4 cup parsley, roughly chopped,
for garnish
Preheat the oven to 400°F.
Heat oil in a pan over medium-high heat. Add onions and a pinch of salt. Cook for 15 to 20 minutes or until the onions have browned and softened, stirring occasionally.
While the onions are cooking, put the sweet potato cubes on a large roasting tray. Drizzle with olive oil and add salt and pepper. Don't crowd the cubes—they need space to roast properly. Place the tray on the middle rack in the oven. Bake for 30 minutes, turning the potatoes at the 15-minute mark. Turn on the broiler and move the tray to a high rack. Broil for 2 to 3 minutes, making sure the sweet potatoes don't burn. Turn off the heat.
Add the caramelized onions and roasted sweet potatoes to a large mixing bowl. Using the same roasting tray you used for the potatoes, toast the chopped walnuts in the oven for 3 to 5 minutes in the oven's residual heat.
Add peas, parsley, and walnuts to the bowl of onions and sweet potato, and toss together. To serve, place the veggie mixture on a plate and drizzle with the tahini dressing. Garnish with a few parsley leaves.
Ayodele Casel
Tap dancer and choreographer
Ayodele Casel (photo by Michael Higgins, courtesy Casel)
This rice and beans recipe was passed down from Casel's mother, Aida, who lives in Puerto Rico. It's perfect for a quick yet tasty meal on weeknights; the preparation is easy, while the flavor packs a punch.
Aida's Beans & Rice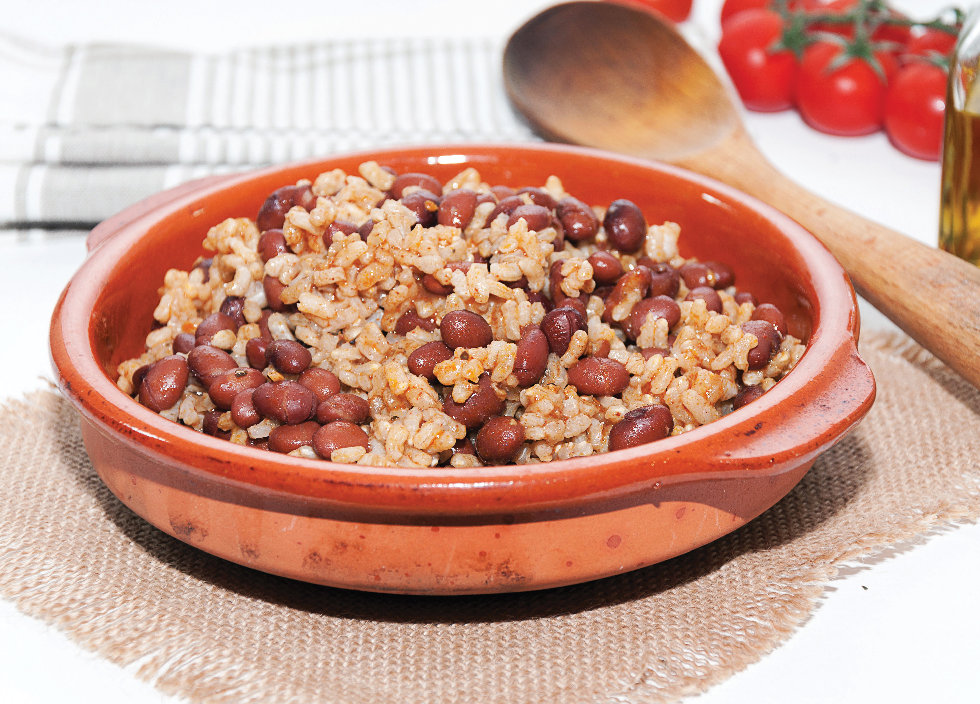 Thinkstock
(Serves 4)
For the beans:
1 tsp. vegetable oil
1/3 cup chopped fresh cilantro
4 garlic cloves, pressed
1 packet Goya's Sazón
1 can (16 oz.) red kidney beans
1 1/2 cups water
1/4 cup tomato sauce (optional)
1 cup diced pumpkin or potato
salt, to taste
Heat oil in a medium-size saucepan over low heat. Add cilantro, garlic, and Sazón. Stir until fragrant, being careful not to let the spices burn. Add beans, water, tomato sauce, and pumpkin (or potato). Cover and bring to a boil. Turn the heat back to low and simmer for 30 minutes, or until the sauce thickens and the potatoes are fully cooked. Stir occasionally to prevent beans from sticking to the bottom. Add salt to taste.
For the rice:
3 1/2 cups water
1 tbs. kosher salt
1 tbs. vegetable oil
2 cups rice, Carolina long grain preferred
In a medium saucepan, bring water and salt to a boil. Add rice and lower heat to medium. When rice has absorbed most of the water—you should see bubbling—add the oil and stir. Turn the heat down to low and place a paper towel over the pan. Cover and simmer for 20 minutes. Fluff with a fork and serve.
Kyle Davis
Soloist, Pacific Northwest Ballet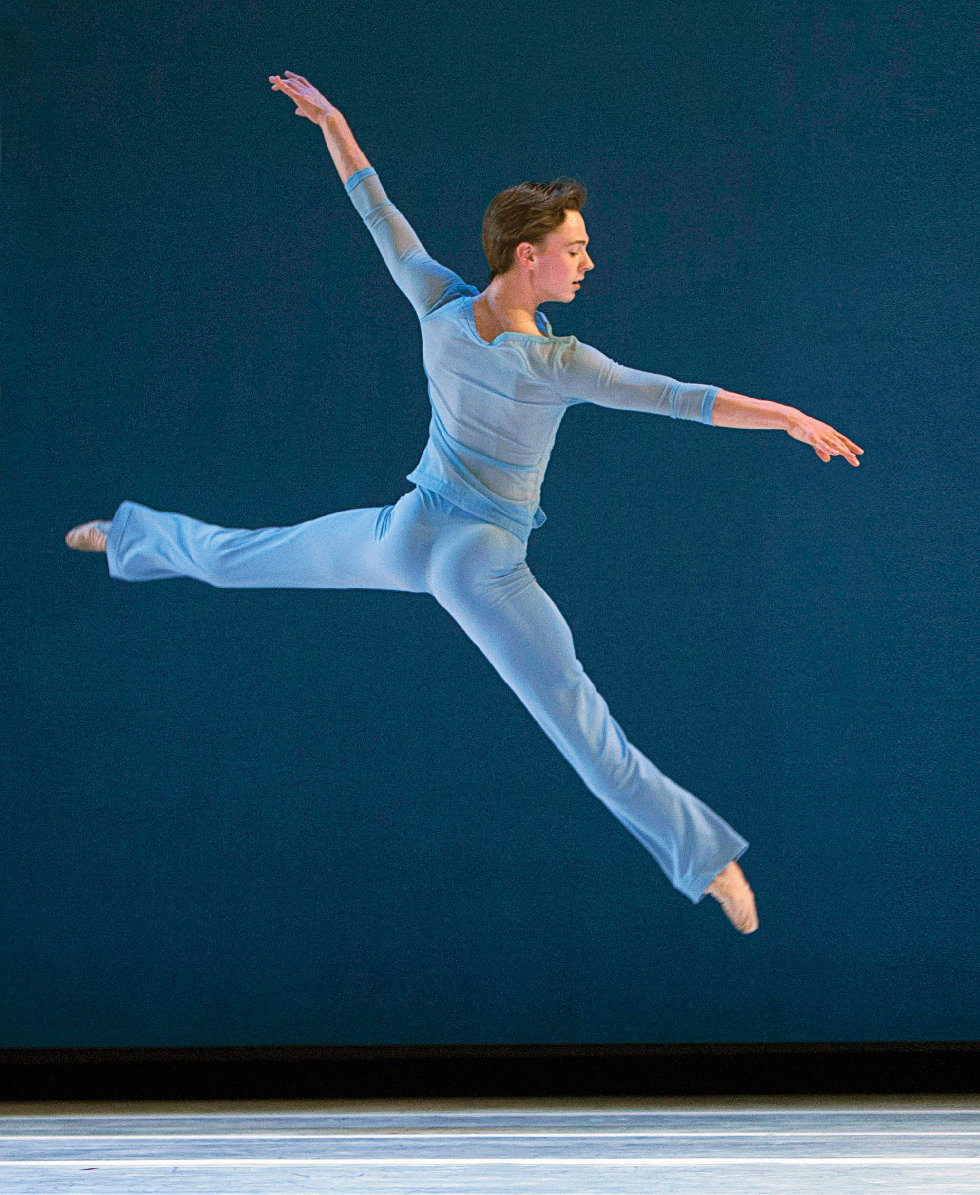 Kyle Davis in Kiyon Gaines' "Sum Stravinsky" (photo by Angela Sterling, courtesy Pacific Northwest Ballet)
Davis first started cooking regularly when he moved to Seattle, and soon realized it was something that helped him relax. "I love having friends over to cook for," he says. "Sometimes I'll invite people over so I can cook multiple dishes—mostly because I want to eat multiple dishes." He was whipping up a smoked salmon dip for a dinner party when inspiration struck: Why not turn the dip into bite-size treats? He likes to pair the indulgent croquettes with something healthy, like a light beet salad.
Smoked Salmon and Cream Cheese Croquettes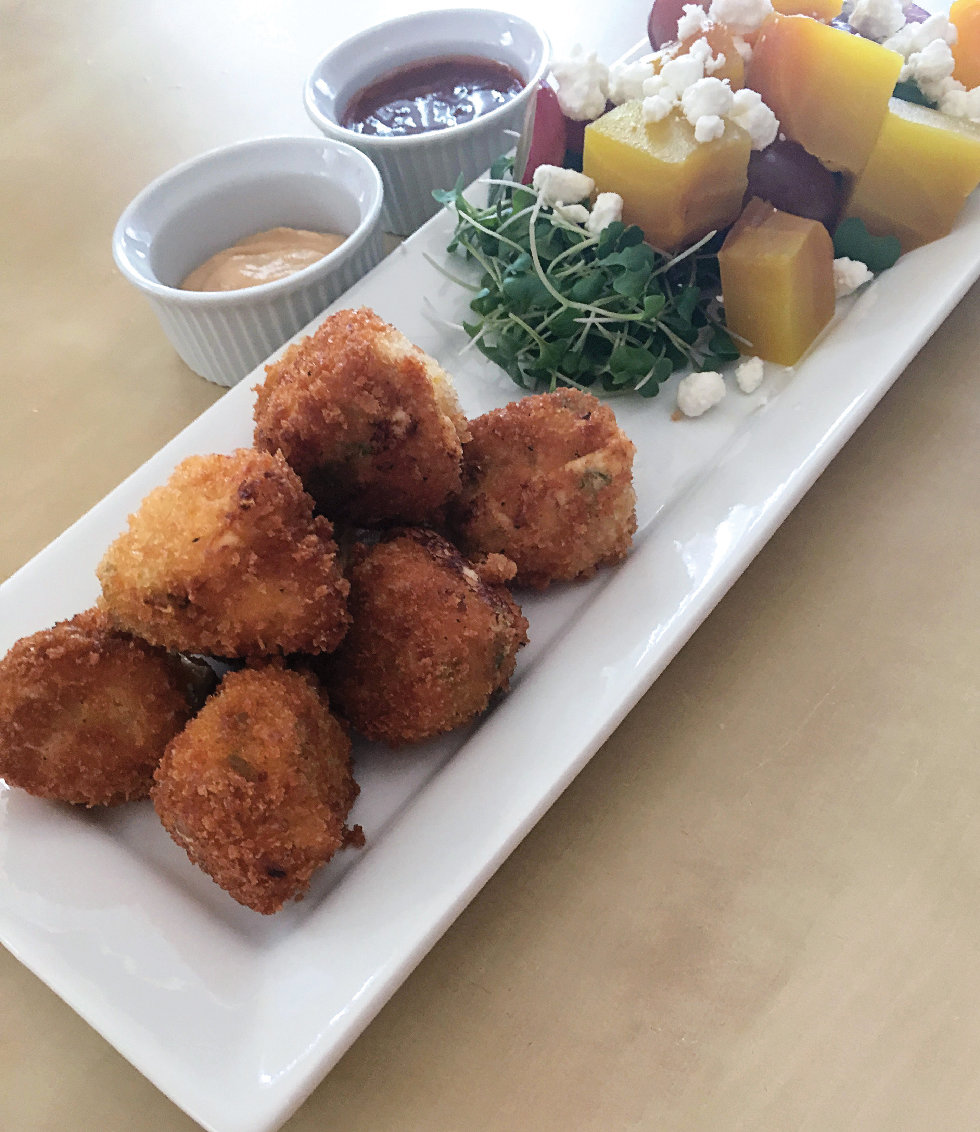 Smoked salmon and cream cheese croquettes (courtesy Kyle Davis)
(Yields 8–10 croquettes)
1/4 lb. alderwood-smoked salmon
4 oz. cream cheese
1/4 cup chopped scallions
Tabasco, to taste
1 cup flour
2 eggs, beaten
1 cup panko bread crumbs
salt and pepper, to taste
canola oil, for frying
Break the smoked salmon into small pieces and place them in a mixing bowl. Add the cream cheese and scallions, and mix until smooth. Add a few dashes of Tabasco to taste, and mix well.
In three separate bowls, place half of the flour, half the bread crumbs, and the eggs. Season the flour and bread crumbs with salt and pepper.
Using a small cookie scoop,
shape the cream-cheese mix into balls. One by one, roll the balls in the flour, followed by the egg, and then the bread crumbs. Add more flour and bread crumbs to the bowls as needed.
Heat several tablespoons of oil in a large pan over medium- to medium-high heat. (You'll want a few inches of oil covering the pan.) Once the oil is hot, add the croquettes and fry for 2 to 3 minutes. Using a slotted spoon, gently roll the croquettes over and fry for another 2 to 3 minutes, until all sides are golden brown. Transfer the finished croquettes to a plate and let them rest for a few minutes before serving.
American Ballet Theatre principal dancers Sarah Lane and Daniil Simkin (courtesy ABT)
Last May, we told you about a special exhibition of the Mark Ryden artwork that sparked Alexei Ratmansky's sweet-treat of a ballet, Whipped Cream. Well, hold on to your tiaras, bunheads, because there's a brand-new exhibit featuring actual costumes from this megahit production. The Nutcracker's Land of Sweets has some serious competition!
Keep reading...
Show less
via @kyle_vanny on Instagram competing on World Of Dance
Kyle Van Newkirk is a tap dancer you probably remember from the premiere season of NBC's World of Dance. In case you missed it, he is also one of Showstopper's incredible convention teachers. What makes Kyle stand apart from some of today's other incredible tappers? He isn't afraid to change what tap means to his audience and even himself. This modern view of tap dancing is important because it shows us that tap dancers are just as versatile and dynamic as dancers of any other genre. We sat down with Kyle to get his advice on bringing tap dancing into the 21st century.
Keep reading...
Show less
University of Minnesota Dance Team (courtesy University of Minnesota)
They say there's no "I" in "team"—and nowhere is that truer than the world of college dance teams, where precision reigns, uniformity is key, and a single misstep from any given "I" can cost a group a championship trophy. So it's unsurprising that securing a spot on one of the best dance teams in the country is no easy feat.
Members of these highly athletic teams rehearse for hours every week—on top of academic classes and commitments—and perform at football and basketball games, annual concerts, and nationally televised competitions (hi, ESPN). And "no I" rule notwithstanding, each of these top teams is made up of highly trained, highly technical, highly hard-core individuals, who come together to create a ready-for-victory pack.
These six teams aren't one-off success stories—they're consistently strong, and earn the top spots at major competitions like UDA and NDA nearly every year. Up for the challenge? Here's what to know before you go to auditions.
Keep reading...
Show less
How To
Oct. 01, 2010 04:55PM EST
(Nathan Sayers)
Turnout—a combination of rotational flexibility and the strength to properly hold that rotation—is the foundation of ballet. But it's also a source of frustration for many dancers. After all, not everyone (actually, hardly anyone) is born with 180-degree rotation. "When I first started dancing, my hip flexors were strong, but I was forcing my turnout without using the right muscles," remembers Amanda Cobb, a former dancer with The Washington Ballet.
The good news is that it's possible to both improve your turnout and to dance beautifully with less-than-perfect rotation. But there's a lot of misinformation out there about how turnout works and why it's important. To help separate fact from fiction, DS asked the experts to disprove six turnout myths.
Keep reading...
Show less
Lol, same. (Screenshot via YouTube)
Picture this: You've scored tickets to Ellen DeGeneres' hit show, "Ellen." The day has come, the show is as hysterical as ever, Ellen is debating the biggest hot-button issue since the blue/black or white/gold dress, "Laurel vs. Yanny" (side note: it's LAUREL, people), and tWitch is killing it over at the DJ booth, as always. Ellen decides it's the perfect time to single out an audience member and, lo and behold, that person is "SYTYCD" champ ( and December 2017 cover star!) Lex Ishimoto.
Keep reading...
Show less
May. 16, 2018 02:26PM EST
Ema Peter
The Glorya Kaufman International Dance Center is the 54,000 square foot home of the USC Glorya Kaufman School of Dance, one of the largest facilities dedicated to dance on a private university campus. Designed for their innovative new curriculum, that supports a range of dance styles, the school's staff designated Harlequin to provide wall-to-wall flooring for the large 3,500 square foot Performance Studio as well as five dance studios in their new state-of-the-art building.
Keep reading...
Show less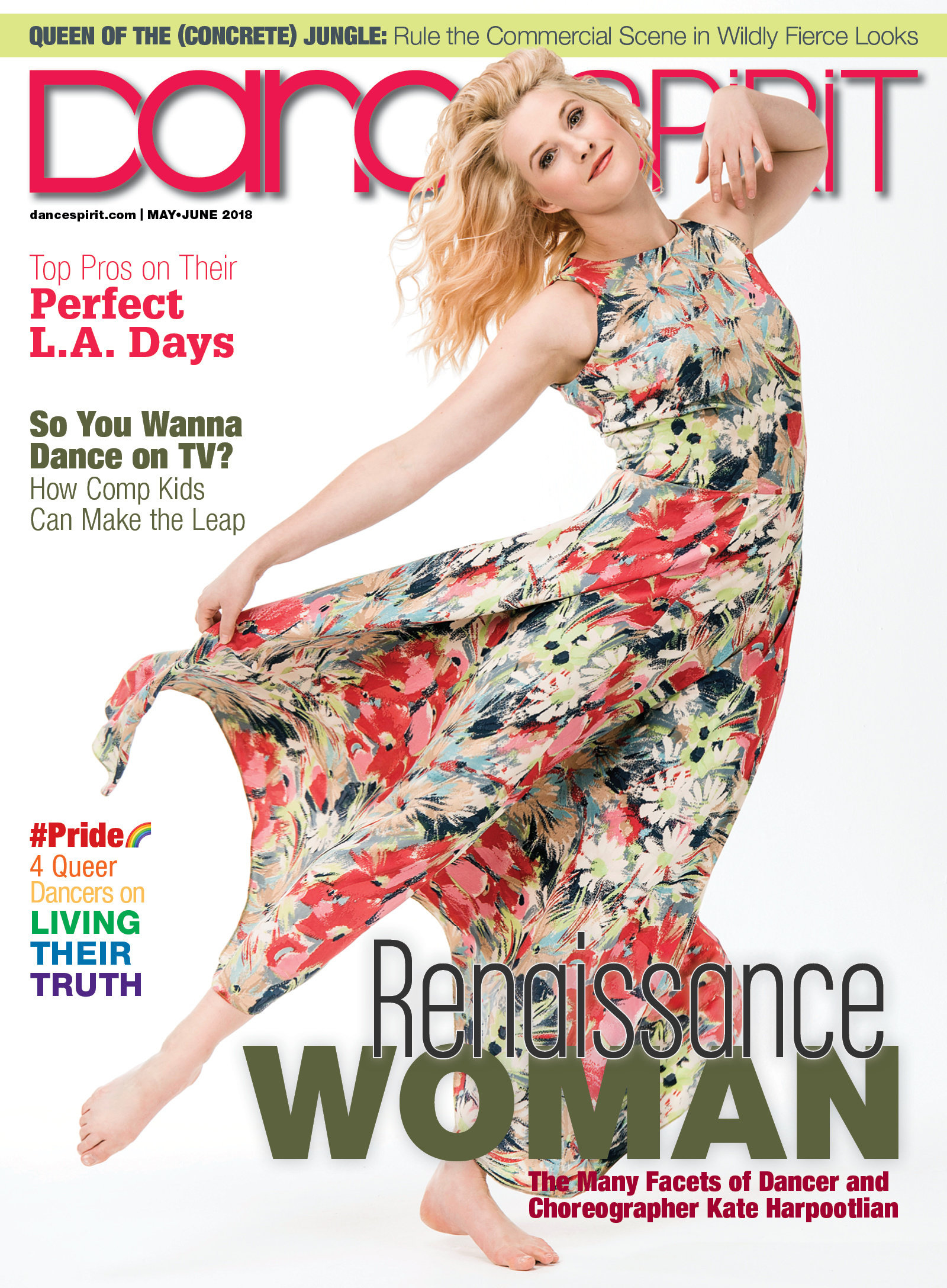 Get Dance Spirit in your inbox