Feb. 01, 2015 11:36AM EST
Like most dancers, Alexandra Badgett spent the majority of her high school nights and weekends in the studio. And though she knew how to craft a resumé for dance auditions, putting one together for college applications was another story. "It was hard to express the commitment and dedication it takes to be a dancer, especially since I knew the admissions officers reading my resumé wouldn't be in the dance industry," she says.
Whether you're applying for college, an internship or a part-time job, the non-dancers evaluating you won't be interested in the Nutcracker roles you've performed or all the summer intensives you've attended. (Save those for your artistic resumé.) But as Badgett learned, there are several ways to spin your time inside the studio to help you get hired outside of it. Today, Badgett's a freshman at the University of South Carolina, and she's used her dance-infused resumé to apply for positions on the Freshman Council and as a university ambassador.
Looking to beef up your professional resumé? Read on for tips to make it as impressive as possible.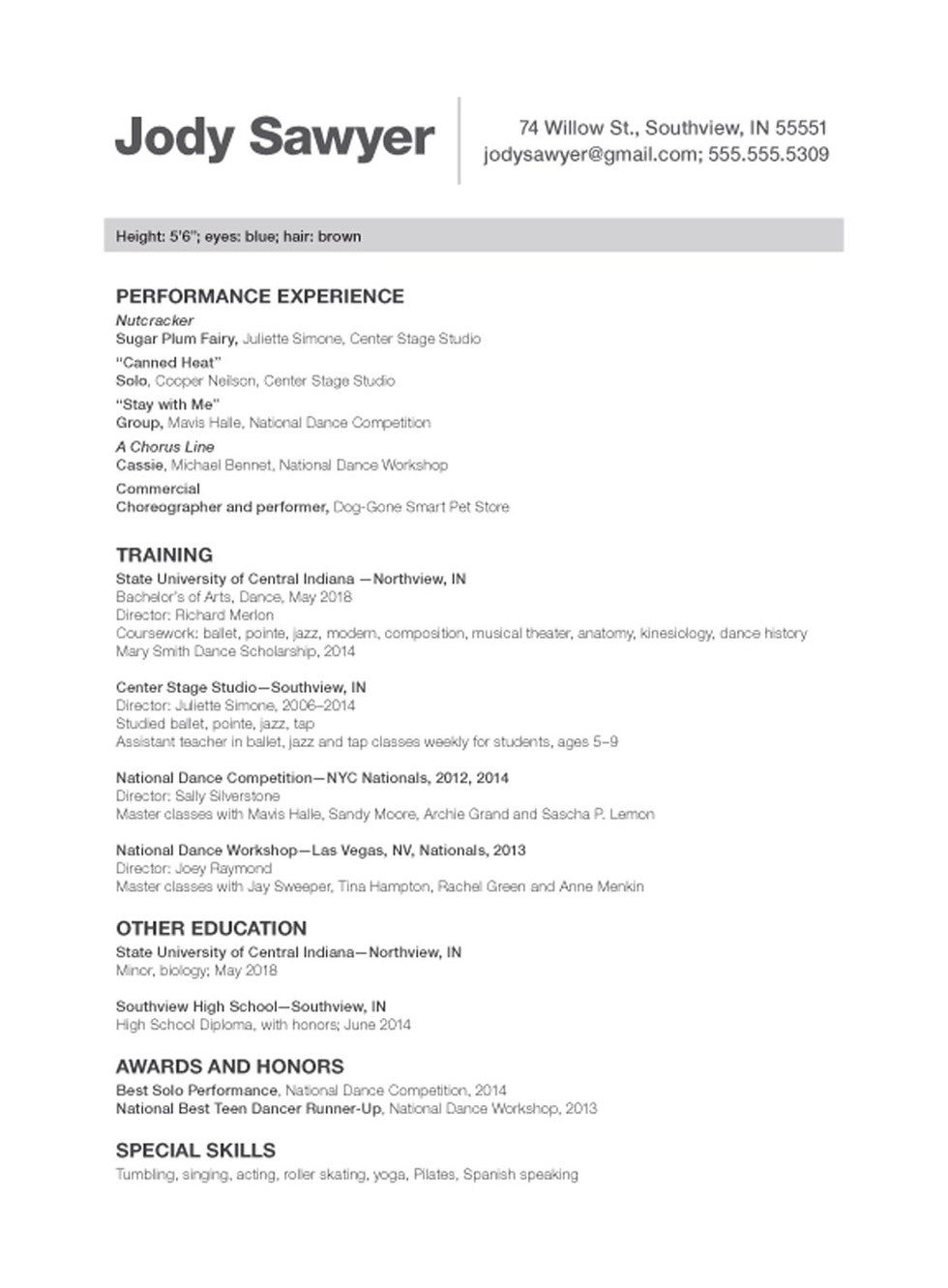 An example of a dance resumé
Translate Your Achievements
If you already have a dance resumé, you don't necessarily have to start at square one. Instead, says Chris Chesley, director of education programs and student academic support at Interlochen Center for the Arts in Michigan, translate some of what you've already highlighted into terms people who aren't familiar with dance can understand.
While a dance resumé might list the names of the choreographers you've worked with or the workshops you've attended, a non-dance resumé should emphasize what you've gotten out of those experiences. "Don't get into technique specifics or how your turns improved this year," Chesley says. "Instead, look at those same ideas from a different angle." Are you a choreographer? That can translate to being a leader and a problem solver. Do you perform a wide range of styles? You're probably attentive to detail. And don't forget to mention how your sense of artistry affects your school work and your ability to collaborate with others.
Everything Counts
It may seem like all you've done at your studio is take class and rehearse, but chances are you've actually done a lot more. When Badgett first started working on her college resumé, she made a list of everything she'd been involved with—like assistant teaching and helping out backstage at recitals. Have you sat at the front desk answering phones or checking in people for class? That's customer service experience. Did you perform at senior centers or hospitals on weekends? That's volunteering for community outreach. Those are the kinds of experiences employers love to see on resumés.
An example of a non-dance resumé
Organization
Next, think about ways to present those experiences that will best show them off. Badgett organized her resumé using three categories: "Scholastic Honors" for in-school achievements, "Leadership Roles" for work in the studio and "Accomplishments" for competition titles and other awards. Depending on which qualifications you want to highlight or the type of job you're applying for, you can vary the order of these categories. For example, if you're looking for a part-time position in an office, you'll want to list your experience at the front desk first. On the other hand, if the resumé is for a scholarship, you'll want to lead with your education.
Confidence Is Key
Above all, don't underestimate the real-life skills you've gained as a dancer. "You have the ability to work with others for long, grueling periods of time," says Amanda Hankes, a former New York City Ballet and Miami City Ballet corps member. "Dancers also understand the benefits of a good presentation, being organized and being prepared."
Today, Hankes is a real estate agent in NYC, and though she remembers struggling with her first non-dance resumé, she learned to appreciate what dance
offers. "I realized I'd done a lot—and my time had been well spent."
Jun. 15, 2019 10:12AM EST
(From left) Darriel Johnakin, Diego Pasillas, and Emma Sutherland (all photos by Erin Baiano)
Congratulations to Dance Spirit's 2019 Cover Model Search finalists: Darriel Johnakin, Diego Pasillas, and Emma Sutherland! One of them will win a spot on Dance Spirit's Fall 2019 cover. Learn more about the dancers on their profile pages, and then vote for your favorite below. You can vote once a day now through July 15.
We also want you to get social! We'll be factoring social media likes and shares into our final tallies. Be sure to show your favorite finalist some love on Facebook, Instagram, and Twitter, sharing their profile pages and using the hashtag #DanceSpiritCMS.
Cover Model Search
Jun. 17, 2019 04:05PM EST
Jun. 13, 2019 02:20PM EST
Photo by Erin Baiano
Imagine attending American Ballet Theatre's prestigious NYC summer intensive, training among classical ballet legends. Imagine taking the stage at New York City Dance Alliance Nationals, competing against some of the country's best contemporary dancers. Now, imagine doing both—at the same time.
Welcome to Madison Brown's world. This summer, she's in her third year as a National Training Scholar with ABT, while also competing for NYCDA's Teen Outstanding Dancer title. (She's already won Outstanding Dancer in the Mini and Junior categories.) The logistics are complicated—ABT's five-week intensive overlaps with the weeklong NYCDA Nationals, which translates to a lot of cabs back and forth across Manhattan—but Maddie is committed to making the most of each opportunity. "I love contemporary and ballet equally," she says. "While I'm able to do both, I want to do as much as I can."
Maddie has an expressive face, endless extensions, and a quiet command of the stage. She dances with remarkable maturity—a trait noted by none other than Jennifer Lopez, one of the judges on NBC's "World of Dance," on which Maddie competed in Season 2. Although Maddie didn't take home the show's top prize, she was proud to be the youngest remaining soloist when she was eliminated, and saw the whole experience as an opportunity to grow. After all, she's just getting started. Oh, that's right—did we mention Maddie's only 14?
Cover Story