Dec. 01, 2014 11:30PM EST
Photo by Lucas Chilczuk
Call it the "So You Think You Can Dance" generation: Dancers who've been inspired by the hit Fox series since they were kids are now going on to compete on the show. Nineteen-year-old Ricky Ubeda has been a huge fan of "SYTYCD" ever since Season 1, and having on-screen role models like Travis Wall helped him explore his own potential as a young student. "The show was actually what got me interested in dance," Ricky remembers. "Watching dancers like Travis really inspired me." Now, Ricky is leading the pack of young-fans-turned-competitors: He earned the coveted Season 11 title in September.
Ricky, who grew up in Miami, FL, began taking hip-hop classes at age 8. He also joined the Miami Heat Junior Jam dancers, which helped him hone his performance skills. Around 14, Ricky started getting serious about dance: He transferred to Miami's Stars Dance Studio—co-directed by "SYTYCD" Season 6 alum Victor Smalley, who became Ricky's mentor—and joined the dance team at Coral Reef Senior High School. "I was surprised by how many of the things I learned on dance team helped me in the commercial world," says Ricky. "It was all about taking notes and corrections effectively, which came in handy on 'SYTYCD.' "
Those early experiences also taught him how to push himself to the limit—good preparation for the sometimes-grueling "SYTYCD" journey. Throughout high school, Ricky's everyday routine looked something like this: academic classes at Coral Reef in the morning, followed by dance classes for the second half of his school day, followed by after-school dance team rehearsals, followed by more classes and some teaching at Stars Dance Studio. "My high school training showed me the value of persistence," says Ricky, who graduated in May. "With a good work ethic, you can do anything."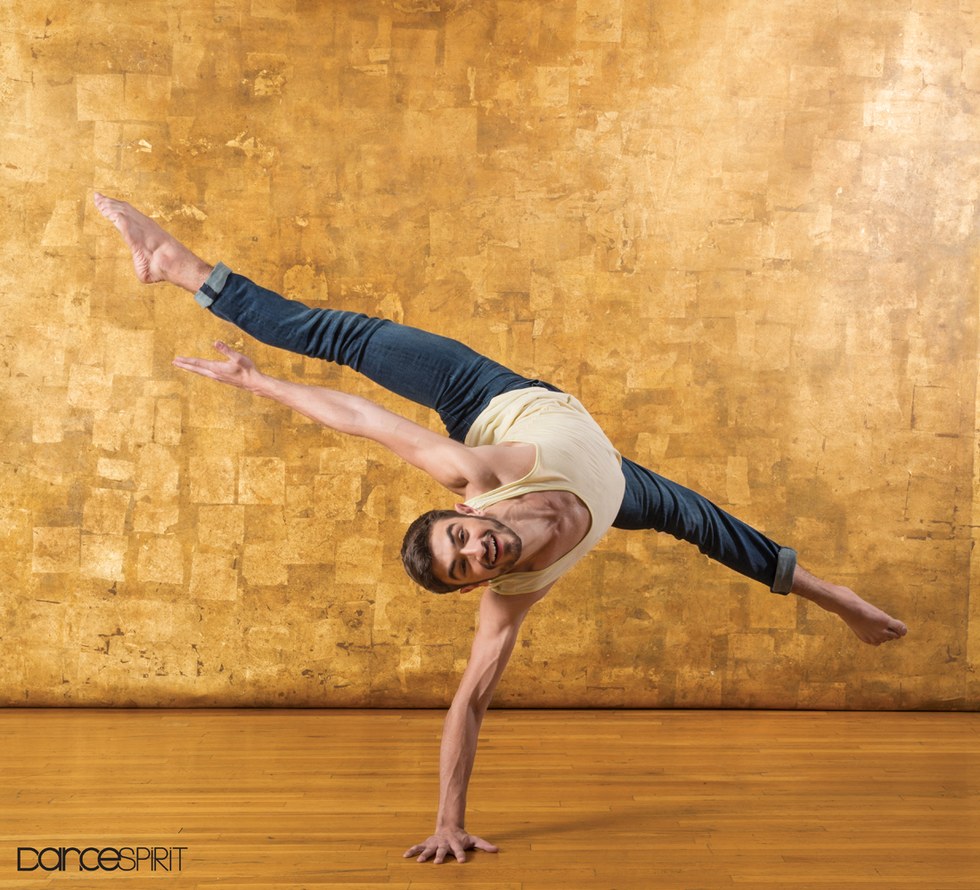 (Photo by Lucas Chilczuk)
That discipline is about to be put to the test, as the next year is sure to be a whirlwind full of exciting—and intense—opportunities. The 73-city "SYTYCD" tour, which kicked off in October, runs nearly nonstop through February. Once that wraps up, Ricky will have the chance to join the Broadway cast of On the Town. "I've always dreamed of being on Broadway," he says. "When I went to watch On the Town in NYC after I won, all the cast members were waiting outside the theater for me. They were so sweet—they gave me a hat and we all took a big picture."
Though the future is wide open, one thing's for sure: Ricky will never forget his time on "SYTYCD." The sentimental dancer saved just about every memento from his journey, from each week's style and All-Star cards to costume pieces. "I even saved the flowers and bobby pins that were in Valerie Rockey's hair for our waltz routine," Ricky says, laughing. "And, of course, I have my card that says 'America's Favorite Dancer.' "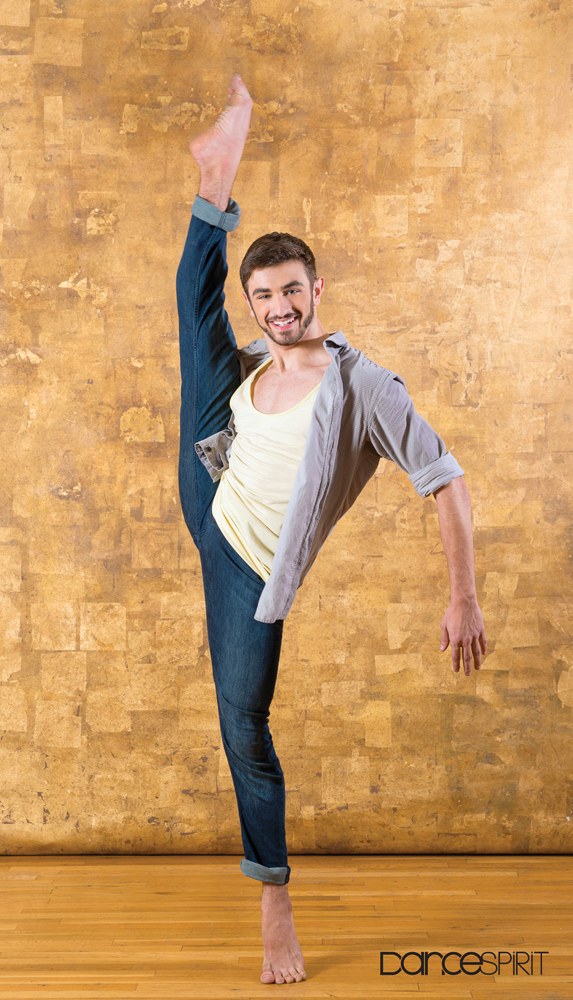 (Photo by Lucas Chilczuk)
5 Things You Didn't Know About Ricky
1. He's a great barista: Ricky made the other "So You Think You Can Dance" contestants Cuban coffee every morning during the show.
2. While Ricky was taping "SYTYCD," his home studio, Stars Dance Studio in Miami, raised more than $10,000 to help his family fly to L.A. and support him in person.
3. After winning the show, Ricky didn't get to celebrate at the wrap party with the rest of the cast. Instead, he immediately hopped on a red-eye flight to NYC to do press!
4. Ricky didn't spend a bit of his $250,000 "SYTYCD" prize winnings. He put every penny into investments, saving for the future.
5. The "SYTYCD" tour hit Miami on November 28—the day after Thanksgiving—so Ricky's family invited the whole cast to spend the holiday at their house!
Ricky's "So You Think You Can Dance" Journey
January 13, 2014: Ricky travels from Miami to Atlanta to try his luck at the open "So You Think You Can Dance" auditions. The judges are blown away. Mary Murphy later tells him, "I've gotta be honest: I fell in love with you the first day I saw you."
April 10–15, 2014: Ricky joins 156 other dancers in Pasadena, CA, for callback week, which he remembers as "the hardest thing ever. It's scary because there are so many talented people and you don't know if you're the right person." Indeed, he was: Ricky was the first contestant to make his way down the Green Mile and learn he was part of Season 11's Top 20.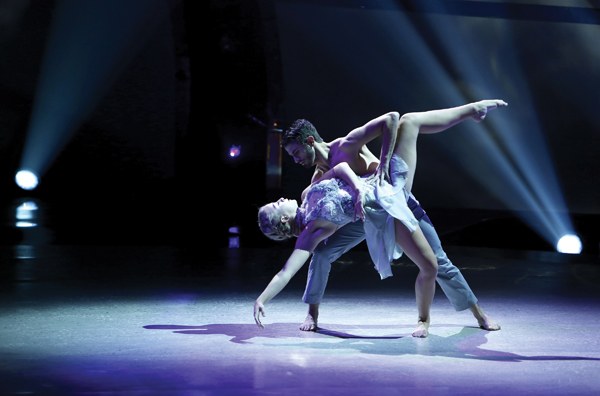 Ricky and Jessica in Sonya Tayeh's Vow (photo by Adam Rose/FOX)
July 2, 2014: Fox airs its "Meet the Top 20" episode, during which Ricky performs Sonya Tayeh's Vow with Jessica Richens—one of the season's most memorable routines. "Sonya instilled something wonderful in us that lasted all the way to the end," Ricky says.
July 16, 2014: Ricky takes the stage with partner Valerie Rockey in a Viennese waltz choreographed by Lacey Schwimmer. "That was the hardest piece for me by far—
I cried at the first rehearsal," he remembers. "Valerie and I were two ballroom newbies trying to dance in frame, stepping all over each other."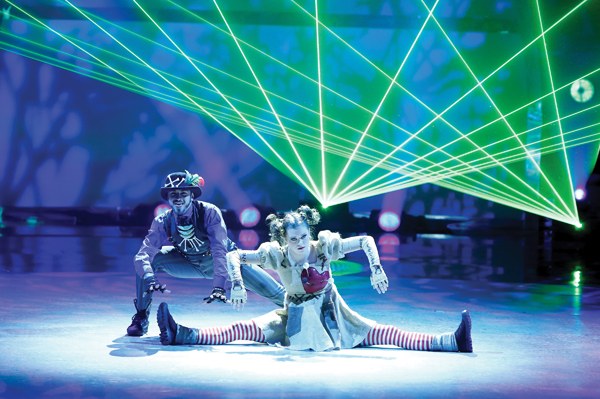 Ricky and Valerie Rockey in Pharside and Phoenix's Turn Down for What (photo by Adam Rose/FOX)
July 30, 2014: Not only does Ricky kill it in the Top 7 guys' number by Travis Wall, but Ricky and Valerie also solidify their status as fan favorites with an amazing hip-hop routine by Pharside & Phoenix. Who could forget that ridiculous middle split move? "We became like brother and sister during that routine," Ricky says of his favorite tapstress.
August 20, 2014: Ricky gets good practice for the Broadway stage with a too-cute-to-believe Spencer Liff routine to "I've Got the World on a String."
August 27, 2014: All-star Kathryn McCormick joins Ricky to dance a Stacey Tookey contemporary piece—and it's a game changer. "Kathryn McCormick took me to another world," Ricky says. "We really dove into the intention of the piece together."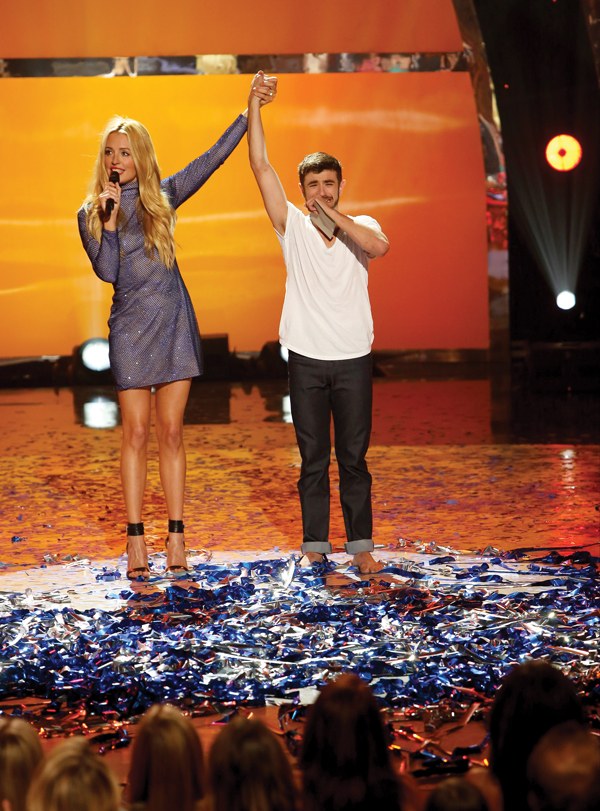 Ricky is crowned America's Favorite Dancer (Adam Rose/FOX)
September 3, 2014: Things come full circle as the final two are revealed to be Ricky and Valerie. (No shocker, as the pair were the only dancers "safe" every week of the series.) Ricky FTW!
Flying Solo
Ricky's well-crafted solos were a big part of what set him apart on "So You Think You Can Dance." Equal parts artistry and aptitude, each new routine helped solidify Ricky as a frontrunner in the minds of both judges and viewers. And except for his audition solo, Ricky choreographed them all himself! What's his secret? "Every dancer has a different formula, but for me, it's finding that balance of technique, artistry and performance," he says. "You have to give enough of each throughout the solo."
The Moment They Knew
A lot of us pegged Ricky as the "So You Think You Can Dance" Season 11 winner super early on—he's just that good. Here, producer Nigel Lythgoe and guest judge extraordinaire Jesse Tyler Ferguson look back on the moment they realized Ricky was the one to beat.
"Ricky's technique and charisma led me to believe he could go all the way the very first time I saw him audition. It's easy for anyone to say that now, but I said it at the time on camera!" —Nigel Lythgoe
"Ricky was one of those rare front-runners who followed through to the end and didn't crack under pressure. When I saw how he handled that stress, that was the moment I realized he had what it took to win. His glowing reviews and positive feedback from the judges and audience only fueled his talent—he never wavered or buckled under those high expectations." —Jesse Tyler Ferguson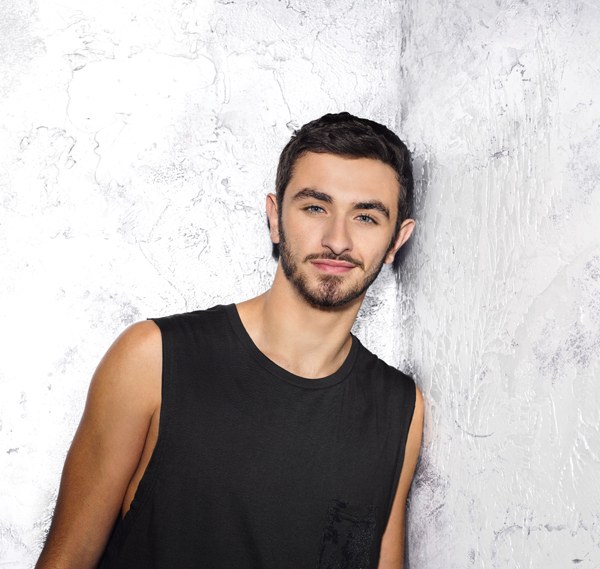 (Photo by Brooklin Rosenstock/FOX)
Overheard Online: You guys couldn't get enough Ricky! Here are a few of our favorite fan comments.
"It's like someone took Jakob Karr's extensions, Mark Kanemura's quirk, Kent Boyd's cuteness and Billy Bell's freakishness and melded them all together into some beautiful Frankenstein of dance." —Nicole S. via YouTube
"You are this generation's Baryshnikov, Ricky! Bravo!" —Susana Tubert via Facebook
"I feel sorry for anyone who has to share the stage with Ricky. He will steal the show whether you want it or not." —Edson Mejia via YouTube
"Not only is he a phenomenal technically trained dancer, but he also makes you feel something. Gives me shivers every time!" —Wincy Leung via YouTube
"Watching Ricky Ubeda makes me want to stretch for 300 years." —@daanncceerrr via Twitter
"I'm completely in love with and in awe of Ricky Ubeda. What a wonderful dancer and a humble, beautiful person. Watching him dance is truly uplifting!" —Kelly Brownlow via Facebook
American Ballet Theatre principal dancers Sarah Lane and Daniil Simkin (courtesy ABT)
Last May, we told you about a special exhibition of the Mark Ryden artwork that sparked Alexei Ratmansky's sweet-treat of a ballet, Whipped Cream. Well, hold on to your tiaras, bunheads, because there's a brand-new exhibit featuring actual costumes from this megahit production. The Nutcracker's Land of Sweets has some serious competition!
Keep reading...
Show less
via @kyle_vanny on Instagram competing on World Of Dance
Kyle Van Newkirk is a tap dancer you probably remember from the premiere season of NBC's World of Dance. In case you missed it, he is also one of Showstopper's incredible convention teachers. What makes Kyle stand apart from some of today's other incredible tappers? He isn't afraid to change what tap means to his audience and even himself. This modern view of tap dancing is important because it shows us that tap dancers are just as versatile and dynamic as dancers of any other genre. We sat down with Kyle to get his advice on bringing tap dancing into the 21st century.
Keep reading...
Show less
University of Minnesota Dance Team (courtesy University of Minnesota)
They say there's no "I" in "team"—and nowhere is that truer than the world of college dance teams, where precision reigns, uniformity is key, and a single misstep from any given "I" can cost a group a championship trophy. So it's unsurprising that securing a spot on one of the best dance teams in the country is no easy feat.
Members of these highly athletic teams rehearse for hours every week—on top of academic classes and commitments—and perform at football and basketball games, annual concerts, and nationally televised competitions (hi, ESPN). And "no I" rule notwithstanding, each of these top teams is made up of highly trained, highly technical, highly hard-core individuals, who come together to create a ready-for-victory pack.
These six teams aren't one-off success stories—they're consistently strong, and earn the top spots at major competitions like UDA and NDA nearly every year. Up for the challenge? Here's what to know before you go to auditions.
Keep reading...
Show less
How To
Oct. 01, 2010 04:55PM EST
(Nathan Sayers)
Turnout—a combination of rotational flexibility and the strength to properly hold that rotation—is the foundation of ballet. But it's also a source of frustration for many dancers. After all, not everyone (actually, hardly anyone) is born with 180-degree rotation. "When I first started dancing, my hip flexors were strong, but I was forcing my turnout without using the right muscles," remembers Amanda Cobb, a former dancer with The Washington Ballet.
The good news is that it's possible to both improve your turnout and to dance beautifully with less-than-perfect rotation. But there's a lot of misinformation out there about how turnout works and why it's important. To help separate fact from fiction, DS asked the experts to disprove six turnout myths.
Keep reading...
Show less
Lol, same. (Screenshot via YouTube)
Picture this: You've scored tickets to Ellen DeGeneres' hit show, "Ellen." The day has come, the show is as hysterical as ever, Ellen is debating the biggest hot-button issue since the blue/black or white/gold dress, "Laurel vs. Yanny" (side note: it's LAUREL, people), and tWitch is killing it over at the DJ booth, as always. Ellen decides it's the perfect time to single out an audience member and, lo and behold, that person is "SYTYCD" champ ( and December 2017 cover star!) Lex Ishimoto.
Keep reading...
Show less
May. 16, 2018 02:26PM EST
Ema Peter
The Glorya Kaufman International Dance Center is the 54,000 square foot home of the USC Glorya Kaufman School of Dance, one of the largest facilities dedicated to dance on a private university campus. Designed for their innovative new curriculum, that supports a range of dance styles, the school's staff designated Harlequin to provide wall-to-wall flooring for the large 3,500 square foot Performance Studio as well as five dance studios in their new state-of-the-art building.
Keep reading...
Show less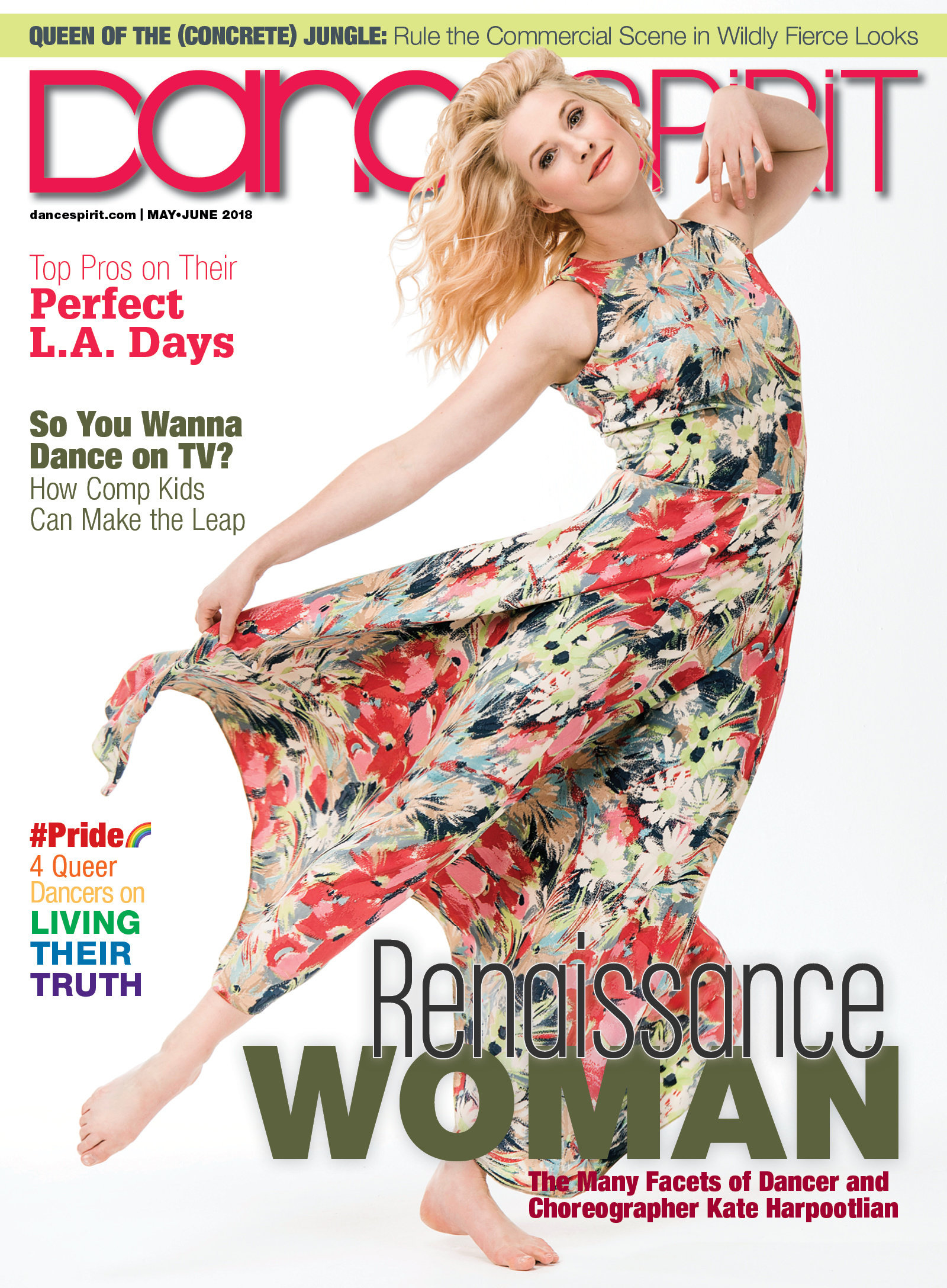 Get Dance Spirit in your inbox