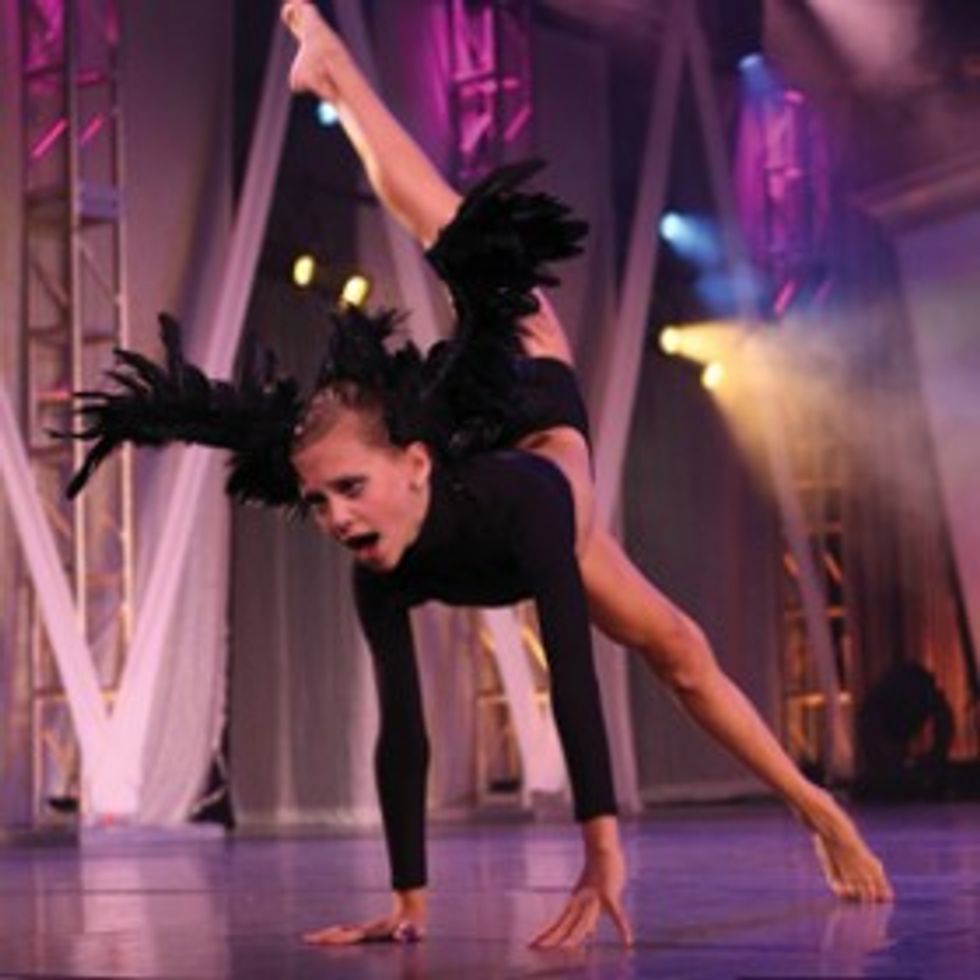 Sarah performing her solo, "The Black Hawk Waltz," at NYCDA Nationals. By ProPix.
At last summer's Dance Awards finale in NYC, superstars including Travis Wall, Nick Lazzarini, Bobby Newberry and Mandy Moore all tore up the dance floor—but it was pint-size Sarah Pippin, now 14, who earned the only standing ovation of the night.
Her solo, "The Black Hawk Waltz," showed Sarah at her best. Adorned with feathered black wings, Sarah eased into the choreography with long balances in relevé and deep pliés, all in total control. Halfway through the piece, the music shifted dramatically to a techno beat, and as the audience gasped, Sarah hit her moves hard. Sure, the side aerial was impressive, and the leap that carried her across the entire stage was powerfully high, but Sarah showed off ferocity and swagger in addition to solid technique. She proved she can rock jazz, contemporary and hip hop—all in just three minutes.
Unsurprisingly, Sarah dominated the 2011 Nationals scene, earning two of the season's most coveted honors for her performances: National Junior Female Outstanding Dancer at New York City Dance Alliance and Best Female Teen Dancer at the Dance Awards. "I was honored, humbled and super-excited," she says of her triumphs.
Sarah started dancing when she was 3, first competed at age 4 and began serious tap, jazz, ballet, acro and hip-hop training when she was 8 at CC & Co. Dance Complex in her hometown of Raleigh, NC. "I wanted to grow as a dancer and heard great things about the instructors at CC & Co.," she says. "In my first year there I could already tell how much the training was helping me."
Though Sarah has plenty of time to plan her future, she knows she's at her best in the studio and onstage. "I definitely want to pursue dance as a career," she says. "I want to go to college for dance and I want to travel, too. When I'm older I want to join a company, and my dream dance job is to be a convention teacher and a choreographer." Sounds like this darling dynamo has got it all figured out.
Sarah performing with her studio at The Dance Awards. Courtesy The Dance Awards.
Fast Facts
Birthday: December 7, 1997
Most-played on her iPod: "Poison & Wine" by The Civil Wars
Favorite movie: The Blind Side
Favorite TV show: "I don't have a lot of time to watch TV! But my family always enjoys watching 'So You Think You Can Dance' together."
Favorite food: Taco salad
Dance idol: Lauren Adams
Dance crush: Peter Chu. "He's really sweet and awesome to work with."
Who would play her in a movie: Reese Witherspoon
Something people don't know about Sarah: "I'm obsessed with Little Debbie Zebra Cakes! They're really unhealthy but I love them so much."