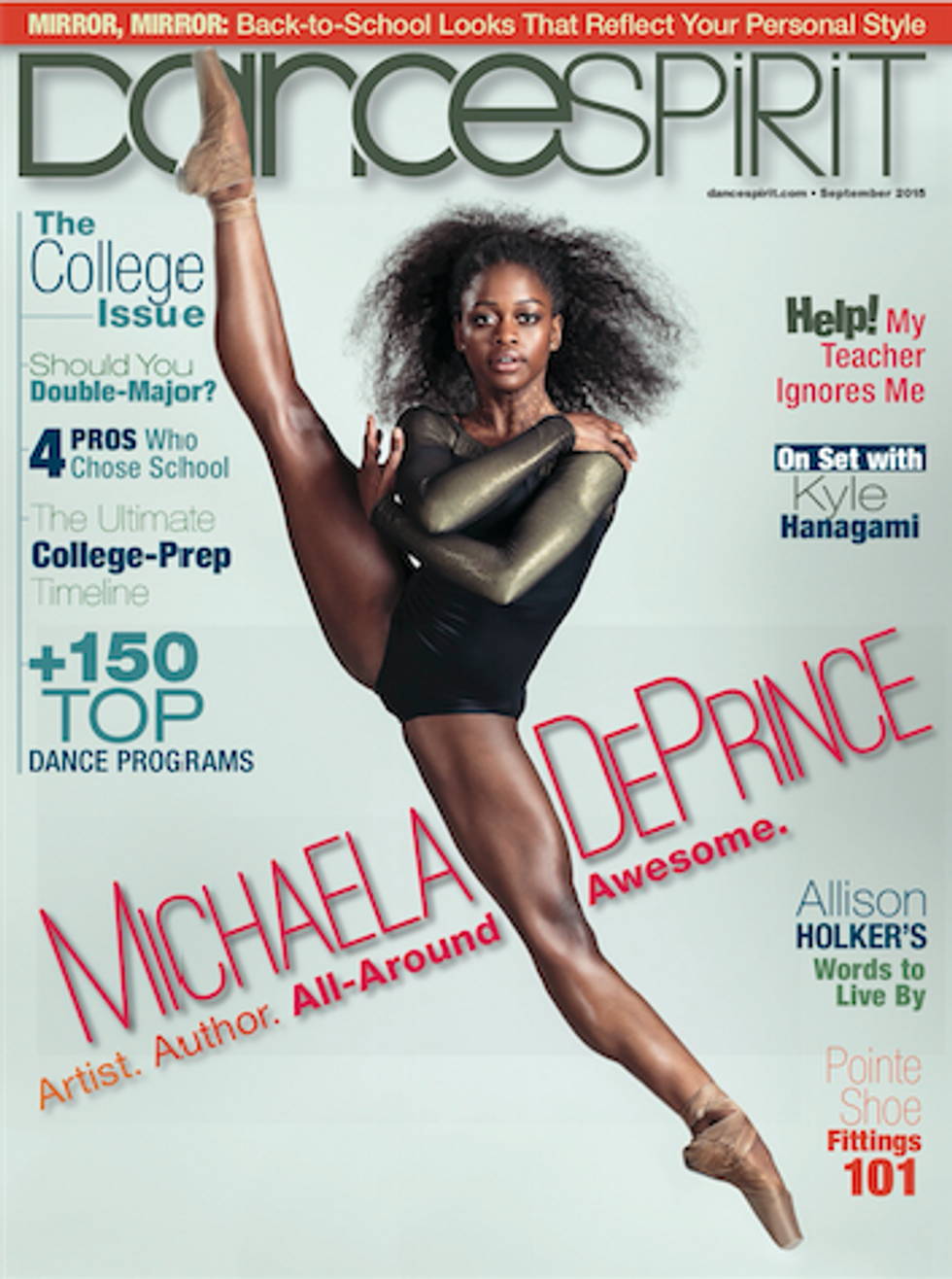 The Next Chapter
Michaela DePrince looks to the future at Dutch National Ballet.
Electric "Youth"
An exclusive behind-the-scenes look at a Kyle Hanagami video shoot.
Allison Holker's Top 10 Reasons to Go for It
Why she thinks taking risks always pays off.
My Non-Dance Hobbies
Eight dancers discuss the offstage interests that help them recharge.
Doubling Up
Should you double-major in college?
Dancers with Degrees
Four pros talk about their college experiences.
The College Prep Timeline
What to do—and when to do it—if you want to dance in college.
College Corner
Introducing the University of Southern California's Glorya Kaufman School of Dance.
Dance Spirit's 2015 Higher Ed Guide
A state-by-state breakdown of 150 colleges and universities with dance programs.
Up Front: Buzz
The Royal Ballet's Sarah Lamb on dancing Juliet for the camera; all the ballet in SoCal.
Up Front: The Dirt
"Dancing with the Stars" pro Keo Motsepe.
Quiz
Are you a "So You Think You Can Dance" superfan? Test your knowledge.
Letter to My Teenage Self
New York City Ballet principal Sterling Hyltin.
Dear Katie
Kathryn Morgan answers your pressing dance questions.
Choreographer's Collage
Where Tricia Miranda finds inspiration.
Off the Record
Christina Ricucci's road to recovery after Lyme disease.
Body Buzz
Packable, studio-friendly dinners; everything you need to know about Charley horses.
Fitness
Exercises to improve your balance.
Health
Sprains, strains and breaks—do you know the difference?
Mind
How to deal with favoritism when you're not the teacher's pet.
Fashion
These back-to-school styles look amazing from every angle.
Style Lab
Cozy legwarmers of all lengths.
Beauty
Post-class 'dos that take advantage of in-class sweat.
Spotlight: Ballet
What to expect at your first pointe shoe fitting.
Spotlight: Competition
How to make the most of your time with a guest choreographer.
Get a Job
Advice for balancing dance jobs with your academic commitments.
You Should Know
The super-versatile Emma Sutherland.