Sep. 13, 2018 10:00AM EST
Catching Up with Cover Model Search Finalist Shelby Patterson
Photo by Erin Baiano
We're thrilled for our Cover Model Search winner Sydney Burtis—but we also love our two runners-up, Jacalyn Tatro and Shelby Patterson! We talked to Shelby about how life has changed since her NYC visit for the contest.
Shelby Patterson has been super-busy since her Cover Model Search trip to NYC earlier this year. After graduating from high school, she pursued lots of fun summer dance opportunities, including working with Tyce Diorio and attending Stacey Tookey's Camp Protégé. Now the CMS runner-up is on to her next adventure: She recently moved to L.A. to start her commercial career.
"I made the decision to forego a four-year college dance program to pursue professional dance jobs," explains Shelby. "It was a little scary, but thanks to the amazing mentors and guidance I got at Orange County School of the Arts and Westside Dance Project, I was ready to take the leap."
Read on to hear how she's grown since being named a CMS Finalist!
---
What have you been up to since your trip to NYC?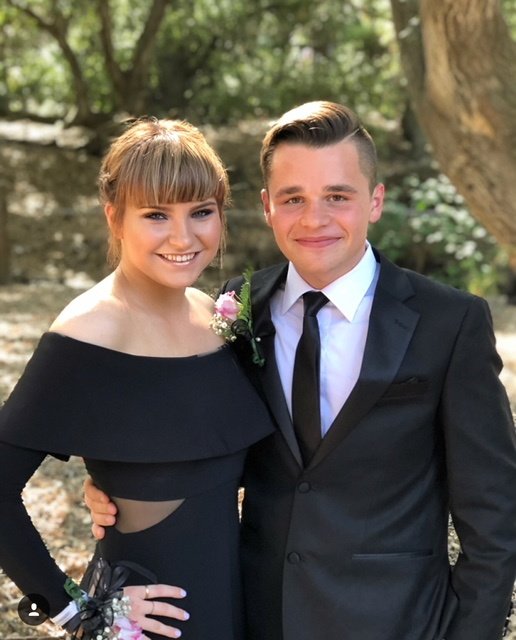 Shelby with her date for prom (courtesy Patterson)
It's been such a whirlwind! I performed in my final commercial dance concert, where I received the Most Well-Rounded Dancer Award, as well as the Director's Award. I debuted my first piece of choreography, which featured a cast of 10 of the most incredible humans. I was named a finalist in the OC Register Artist of the Year program. I performed in my final pre-professional show with Westside Dance Project. I had the honor of being hired by Tyce Diorio and the DanceOn channel to appear in the artist video "Say Love." I attended senior prom with my best friend. And I graduated from OCSA!
Over the summer, I competed at The Dance Awards in Las Vegas, and had the honor of finishing top 10 in the Senior Best Dancer competition. I attended the Backhaus Dance Intensive at Chapman University as their dance ambassador. I was named a member of the DancerPalooza Beat Squad and attended The Travis Wall Experience at DancerPalooza in San Diego. I assisted Tyce Diorio at the inaugural weekend of Brian Friedman's The Main Event in NYC. And I gained a little experience teaching by subbing at my first studio, Orange County Performing Arts Academy.
After a little downtime in August—where I finally got to relax, sleep, and hang out at the beach—I attended Stacey Tookey's Camp Protégé in Calgary, Canada. It was such an inspiring, motivating way to prepare for my professional career.
How did you campaign during the voting period?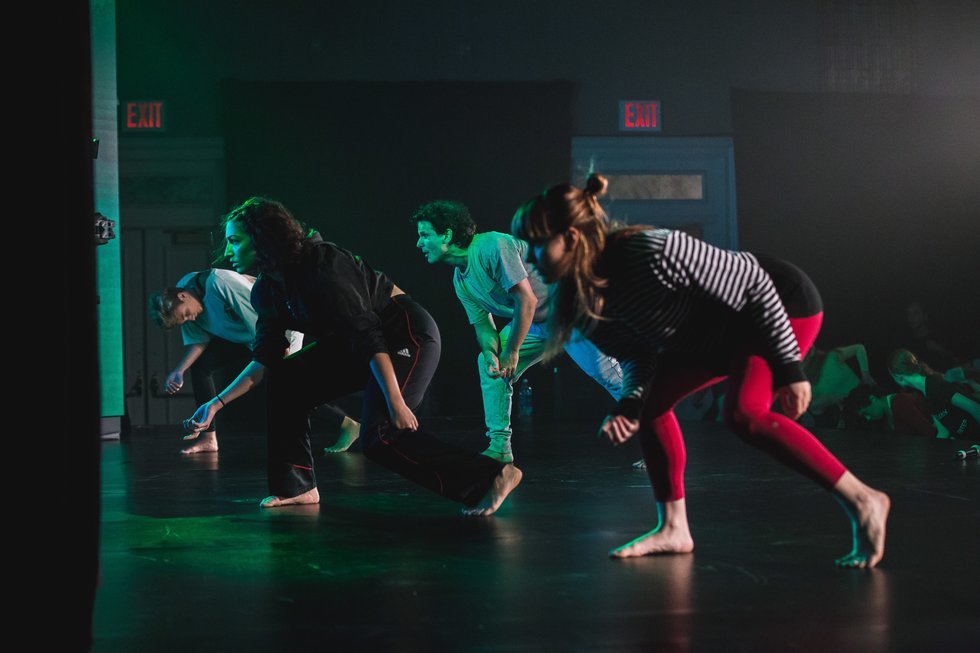 Shelby at the inaugural weekend of Brian Friedman's The Main Event (courtesy Patterson)
I was so grateful for the support and love I received from my friends, family, and the dance community. I posted all over Instagram, Twitter, and Facebook, and reached out to my dance mentors and supporters. I was humbled by all of the people who took the time to vote.
What was your favorite part of the Cover Model Search experience?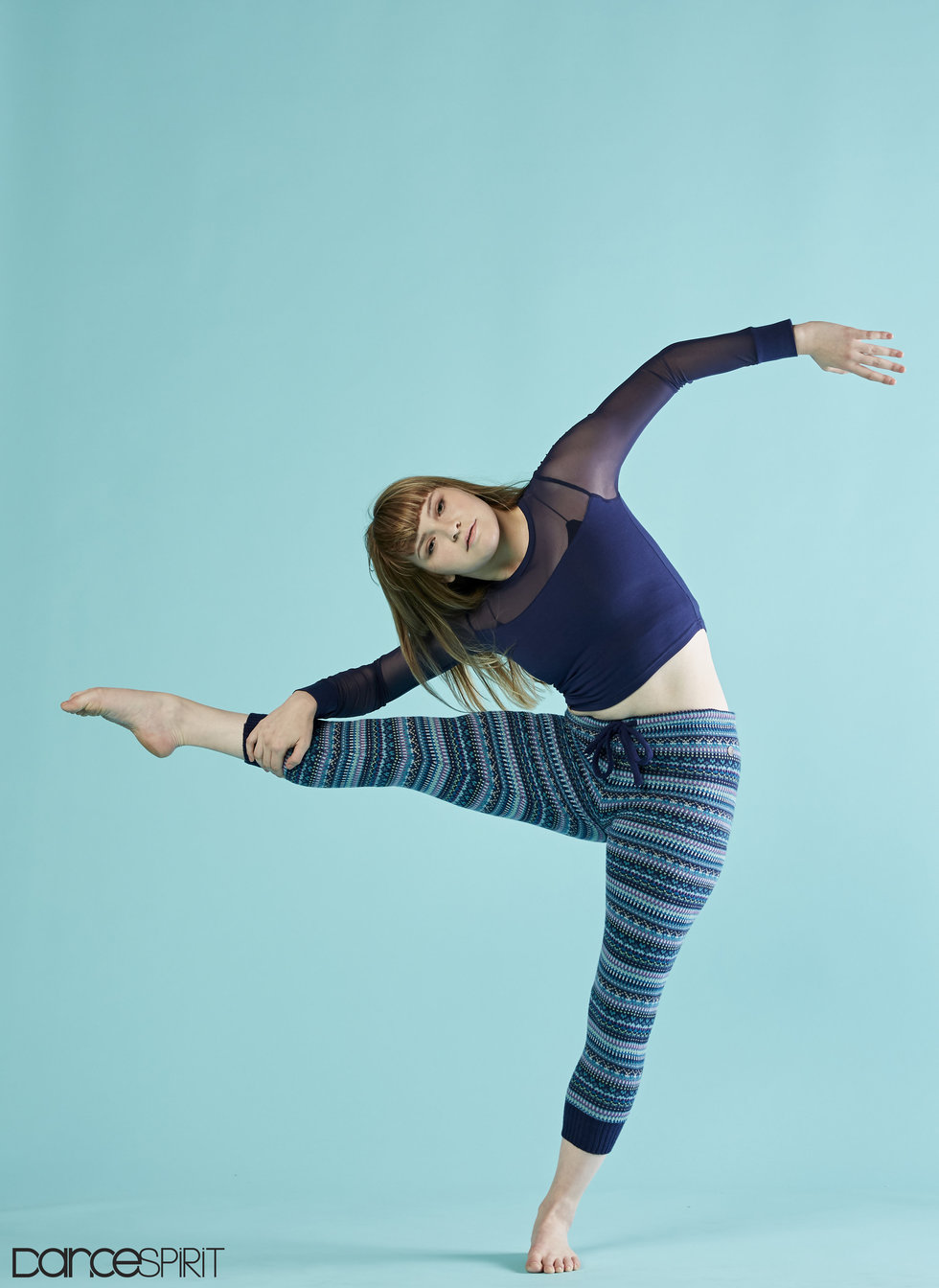 Photo by Erin Baiano
It was so exciting to meet the Dance Spirit staff, and to get to know Jacalyn and Sydney. The photoshoot was a highlight for me. I really enjoyed working with photographer Erin Baiano, and felt so comfortable and confident portraying my true self in front of the camera. The staff and my fellow finalists were extremely encouraging. It was a dream!
How have you grown since the trip?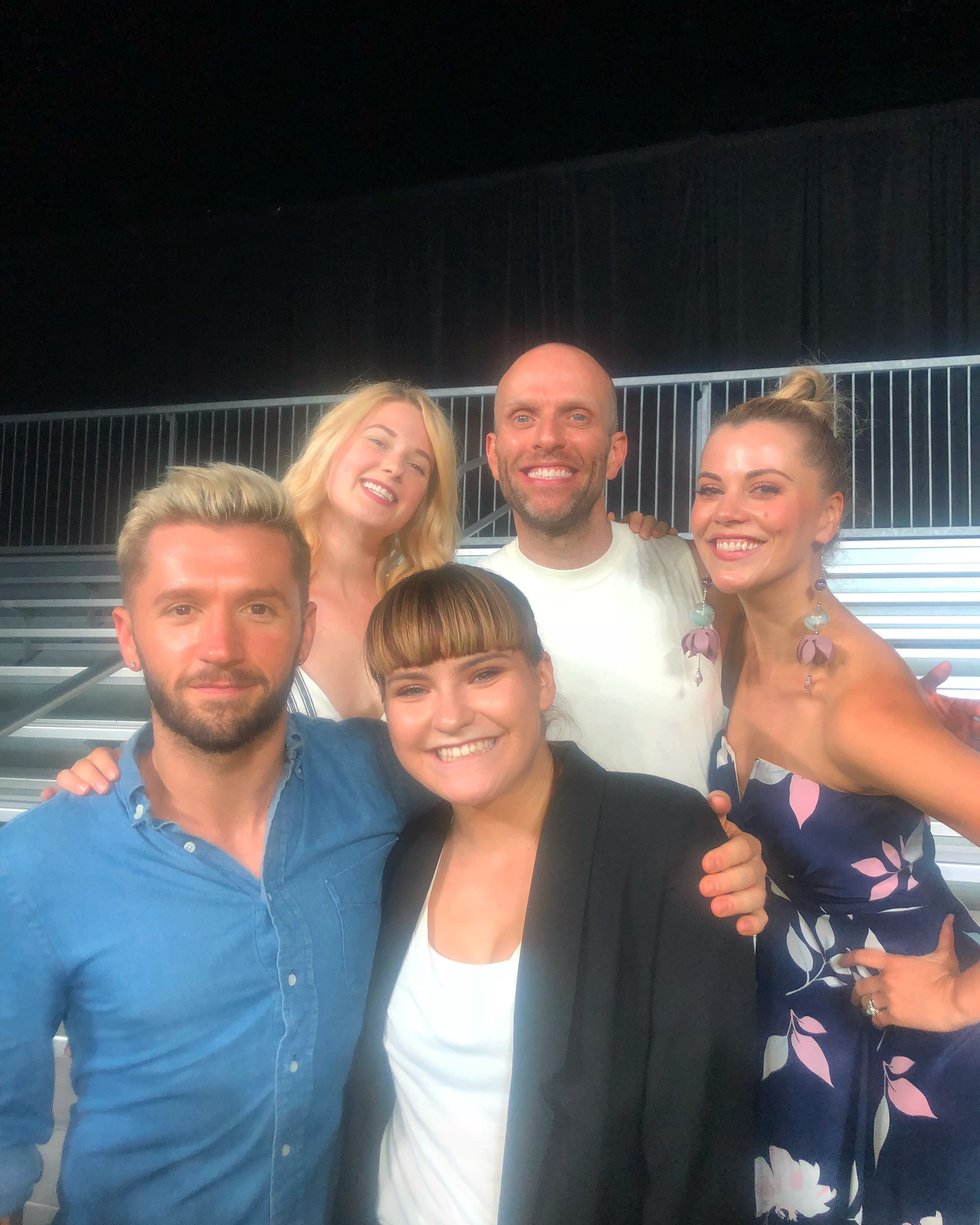 Shelby (center) with Travis Wall (left) after attending The Travis Wall Experience at DancerPalooza (courtesy Patterson)
I've gained more confidence in myself and my decision to pursue a professional dance career. The encouragement that I saw throughout the voting process helped me realize how fortunate I am to have these opportunities. Getting to know Jacalyn and Sydney and learning about their journeys inspired me to chase my dream.
What are your goals for the coming year?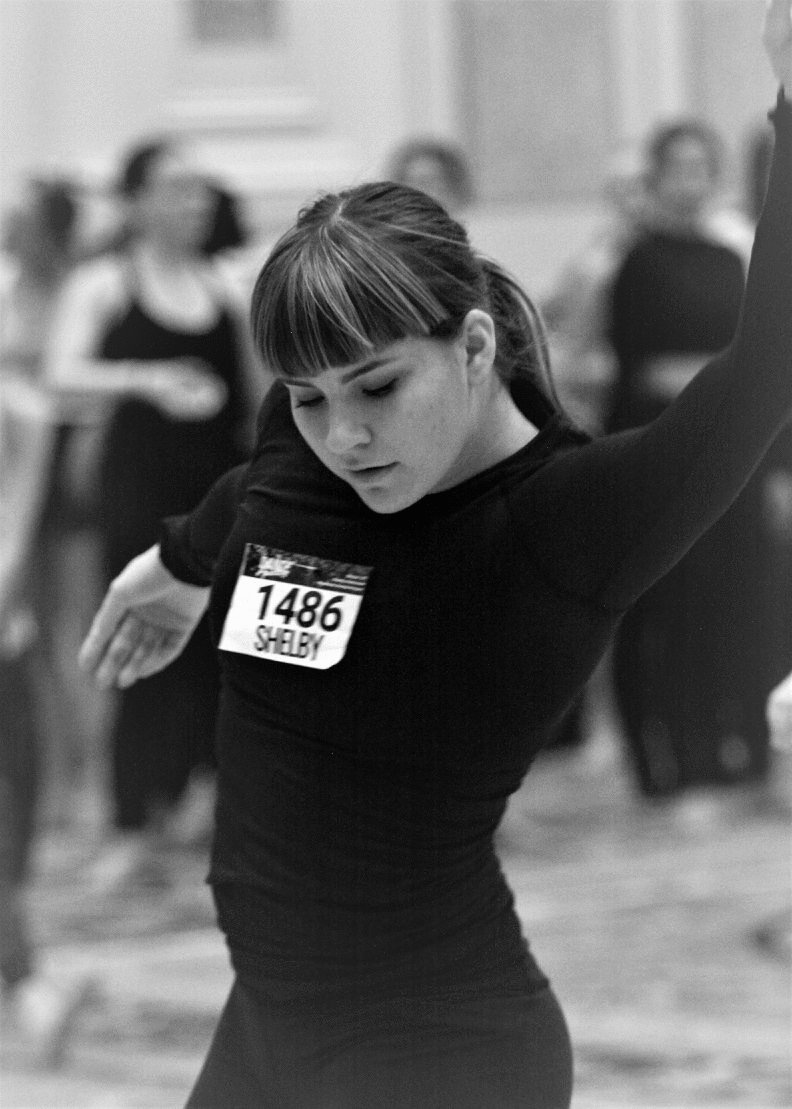 Shelby at The Dance Awards (photo by Graci Federico, courtesy Patterson)
To fully immerse myself in this new chapter of my life. That will include continuing to train across many genres, and attending as many auditions as possible. I want to keep up my education and develop a healthy lifestyle to maintain my performance capabilities. And I want to build stronger relationships with my agency, Clear Talent Group, and my mentors.
What's your advice for CMS hopefuls?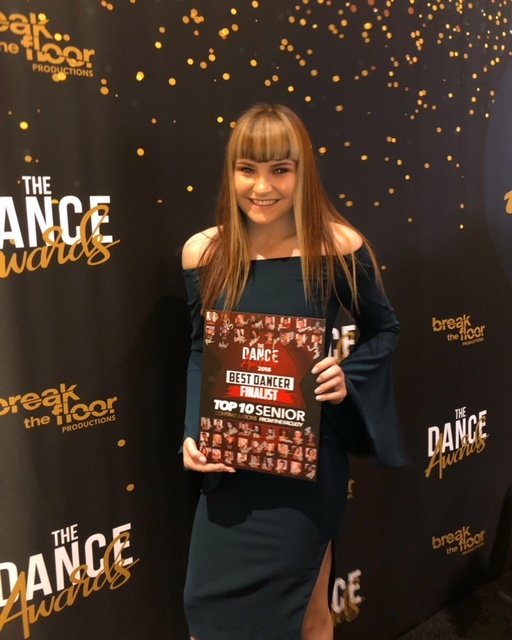 Shelby at The Dance Awards where she finished top 10 in the Senior Best Dancer competition (courtesy Patterson)
Being a part of the CMS experience is a huge honor. There's so much to take in and learn. Make the most of every activity. Be confident in yourself and stay true to who you are, because people are always drawn to authenticity. Enjoy all the new relationships and new memories that you'll make.
Cover Model Search
Mar. 26, 2019 12:00PM EST
Expressions Dance Alliance president Liz Ladley addressing the company (Sabrina Thadani, courtesy Liz Ladley)
Do you dream of running your student dance company or becoming captain of your dance team? Are you a triple threat eager to direct your school's next musical? If you have big ideas and the drive to make them a reality—as well as a strong rapport with your fellow performers—you might be a good fit for a leadership role. But even the most dedicated dancers can stumble during the transition from peer to peer leader. Try these tips to make the most of your tenure at the top.
Dance Team
Mar. 06, 2019 11:29AM EST
Rochelle Mendoza-Axle, Courtesy Stiskin
In today's dance world, versatility is key. It's not enough to be a master of one style—even when they specialize in one area, dancers are frequently asked to fuse multiple genres, or step out of their comfort zone for specific projects. With their wide variety of summer programs, Joffrey Ballet School aims to prepare dancers for the demands of a professional career. We asked five faculty members to share how they do this:
Sponsored by Joffrey Ballet School
Mar. 26, 2019 11:26AM EST
Right now, it seems like the entire world is equal parts obsessed with and thoroughly creeped out by Jordan Peele's Us, the horror film about devilish doppelgängers that's currently rated 94% fresh on Rotten Tomatoes.
But while the normal human reaction to Us is to hide under the covers for approximately 17 years, "Step Up: High Water" superhero Kendra "K.O." Oyesanya's reaction was to make a totally bananas dance video.
Dance Videos