Sep. 01, 2014 02:01PM EST
Should You Try Homeschooling?
(Gail Schroeder)
When dance is your passion, the thought of trading in your regular school day for more hours at the studio sounds pretty great. But there are a lot of factors to consider before jeté-ing out of the classroom and into a homeschooling program. Can you really handle studying all alone? Will you miss your nondance friends? It's a decision that will affect the rest of your life, both in and out of dance, so it's important to take a hard look at what it really means to be homeschooled.
---
Homeschooling Basics
These days, "homeschooling" usually means taking courses online through a school or university. Often it includes at least some face time with teachers. When dancer Katie Wolfe was 15, she enrolled in Odyssey Charter Schools homeschool program, based in her hometown of Las Vegas, NV, so she could manage her 30-hour-a-week dance schedule at The Dance Zone. By spending 4 1/2 hours each morning on schoolwork at home, dancing in the afternoons and meeting in person with teachers once a week, she was able to take more academic and dance classes, and ultimately graduate early.
Another option is home tutoring by a parent or other adult. Central Pennsylvania Youth Ballet student Alyssa Schroeder, 14, was homeschooled by her mom starting at age 8. Alyssa's now studying through Indiana University High School's online program, which doesn't mandate strict due dates or deadlines. She and her mom choose her courses and set up a schedule for Alyssa at the start of each semester, and when she's stuck, she can email a teacher—or ask her mom for help.
If you do choose the homeschooling route, it's best to opt for a fully accredited program that results in a high school degree, or to study with a parent or other adult who's certified to teach. Doing so will give a you strong educational base—and leave you with the most post-graduation options.
The Good and the Bad
At first glance, homeschooling might sound like "more dance, less school." In terms of the sheer number of hours dedicated to each, that's often true. But there's still plenty of academic work involved—you'll just be doing it solo. Typically, homeschoolers spend at least four to five hours a day on academics, so they have to be disciplined enough to focus and stay on top of their coursework. If you're not good at self-motivation, keeping up with your homeschool course load could be a struggle.
Homeschoolers may also get less guidance than students in regular academic programs. Fourteen-year-old Kamryn Beck is a member of The Abby Lee Dance Company, featured on "Dance Moms," and studied through her Ephrata, PA, school district's Ephrata Virtual Academy while she filmed episodes of the show. Though happy to be homeschooled then, she was excited to start regular high school this semester. "Homeschooling was harder than I thought it would be," she says. "I'm a perfectionist, and I get nervous if I don't understand something."
What about your social life? Friends from the dance world are always great, but Amanda Tarantino, a recent graduate of New Milford High School in New Jersey and a student at Dance Dimensions, thinks her normal high school experience was good for her. "If I'd been homeschooled, I might not have become the outgoing person I am today," she says. "Even in your math and science classes, you're subconsciously learning how to mingle and associate with other people." That's an important skill in the professional dance world, which requires a lot of networking. Homeschooled students may also miss out on fun high school events, like football games and senior prom.
Money is a consideration, too. While some distance-learning programs are administered for free through the public school system, many charge tuition, and there are additional fees for books and materials.
The Stakes Are High
As committed as you might be to dance, the decision to homeschool shouldn't be taken lightly. You—and your parents—need to ask some tough questions, and be honest about the answers. Think about your goals for the future as well as right now. Whether you hope to go pro or to get into a great college dance program, there's no one-size-fits-all answer.
Finding a Creative Solution
There are lots of ways to balance your academic education with your dance training—and not all of them involve homeschooling. Here are some ideas.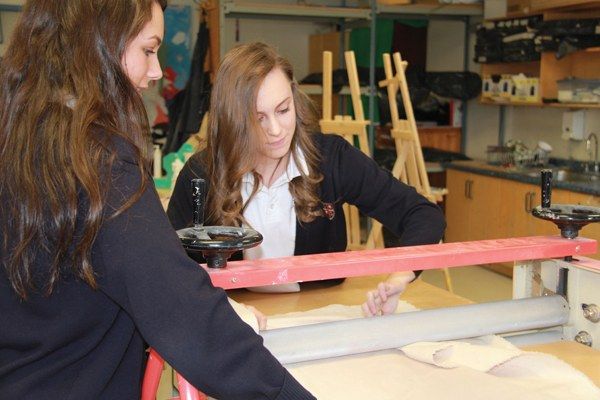 Kassie Montgomery attends a private school with flexible scheduling. (Photo by Sarah Milne)
Get physical education/art credit for your dance classes: Some high schools will allow you to count the time you spend in dance class toward PE or art credits. Your dance school may need special accreditation, but if there are enough students who would benefit, ask your studio director if she'd be willing to do the paperwork.
Eliminate "extras": If you took out homeroom, lunch hour or study hall, could you condense your academic classes and get an early dismissal from school? Frequently, school administrators are willing to allow this kind of scheduling flexibility for students in intensive extracurricular programs.
Check out alternative schools: Many cities have magnet, charter or private schools dedicated to performing arts education, and a few (like NYC's Professional Children's School) even cater to kids who are already working or training intensively. Arts-focused schools may be more willing to accommodate a dance-heavy schedule. Sixteen-year-old Kassie Montgomery, who trains at Dimensions in Dance in Kitchener, Ontario, attends a private high school that allows her flexibility to travel for dance competitions and conventions. "Balancing school and dance during the week is difficult at times," she says, "but completely manageable if I am organized."
Popular
Jun. 15, 2019 10:12AM EST
(From left) Darriel Johnakin, Diego Pasillas, and Emma Sutherland (all photos by Erin Baiano)
Congratulations to Dance Spirit's 2019 Cover Model Search finalists: Darriel Johnakin, Diego Pasillas, and Emma Sutherland! One of them will win a spot on Dance Spirit's Fall 2019 cover. Learn more about the dancers on their profile pages, and then vote for your favorite below. You can vote once a day now through July 15.
We also want you to get social! We'll be factoring social media likes and shares into our final tallies. Be sure to show your favorite finalist some love on Facebook, Instagram, and Twitter, sharing their profile pages and using the hashtag #DanceSpiritCMS.
Cover Model Search
Jun. 13, 2019 02:20PM EST
Photo by Erin Baiano
Imagine attending American Ballet Theatre's prestigious NYC summer intensive, training among classical ballet legends. Imagine taking the stage at New York City Dance Alliance Nationals, competing against some of the country's best contemporary dancers. Now, imagine doing both—at the same time.
Welcome to Madison Brown's world. This summer, she's in her third year as a National Training Scholar with ABT, while also competing for NYCDA's Teen Outstanding Dancer title. (She's already won Outstanding Dancer in the Mini and Junior categories.) The logistics are complicated—ABT's five-week intensive overlaps with the weeklong NYCDA Nationals, which translates to a lot of cabs back and forth across Manhattan—but Maddie is committed to making the most of each opportunity. "I love contemporary and ballet equally," she says. "While I'm able to do both, I want to do as much as I can."
Maddie has an expressive face, endless extensions, and a quiet command of the stage. She dances with remarkable maturity—a trait noted by none other than Jennifer Lopez, one of the judges on NBC's "World of Dance," on which Maddie competed in Season 2. Although Maddie didn't take home the show's top prize, she was proud to be the youngest remaining soloist when she was eliminated, and saw the whole experience as an opportunity to grow. After all, she's just getting started. Oh, that's right—did we mention Maddie's only 14?
Cover Story
Jun. 17, 2019 12:14PM EST