Mar. 23, 2017 04:43AM EST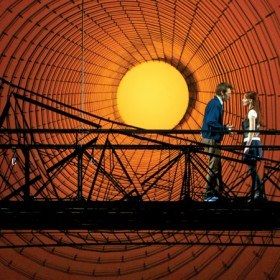 A scene from Broadway's Spider-Man: Turn Off the Dark. Before the show opened, the cast and crew took special, otherworldly precautions to ensure a safe, positive show. (Joan Marcus)
It's opening night of your big musical. You're warmed up, dressed and feeling confident—until your best friend visits you backstage. "Good luck!" she says as she gives you a big hug. You freeze. Oh no, you think. Isn't it bad luck to tell someone "good luck" before a show? You've never considered yourself a superstitious person, but suddenly you start thinking of counter-curses, like knocking on wood or spitting over your shoulder.
In The Producers, the cast sings the song "You Never Say Good Luck on Opening Night." Whether or not performers believe this, most avoid saying "good luck" and instead say "break a leg," a saying that comes from the 1600s, according to Broadway director and Producers choreographer Susan Stroman. "In Elizabethan times, when you took a bow after your performance, you bent your back leg," Stroman says. "So when they say 'break a leg,' it means take a very long bow."
Musical theater is full of superstitions and lore that date back to Shakespeare's day. But do dancers today still believe them? Read on to find out!
What Not to Do
By far, the most widespread theater superstition is that performers should never say the name of Shakespeare's play Macbeth in a theater. Instead, they refer to it as "the Scottish play." According to Joseph Whelan, theater history professor at Syracuse University, this comes from the original days of the play, when theatergoers believed in witches. "It was believed that the incantations the witches say in the play could actually produce bad spirits or work as a curse," he says. As the superstition goes, if anyone says "Macbeth" in a theater, terrible things will happen—no one involved in the show is safe.
Another superstition from Shakespeare's era is that no one should ever whistle in a theater. According to Whelan, shows at that time employed sailors backstage because they were experts at tying knots for stage rigging, and the sailors used different whistles to indicate when to raise and lower scenery. "So if you whistled backstage, you might get 700 pounds of sand dropped on your head," Whelan says.
Even though stage crews no longer communicate with whistles and most people no longer believe in witchcraft, these two superstitions have survived four centuries, and many theater professionals still follow them. "They're traditions that have been embedded in you since you were young," says Ellyn Marie Marsh, a swing in Broadway's Priscilla, Queen of the Desert. "You don't even know why you adhere to them—you just do," she adds.
"Out of respect for the people around me, I would never say 'Macbeth' in a theater," says Ari Loeb, dance captain for Spider-Man: Turn Off the Dark. "I personally don't believe in it, but I don't want to upset anybody. I saw an incident in a theater once where somebody was running around yelling, 'Macbeth! Macbeth! Macbeth!' And one of the actors got upset. Some people are really superstitious." Kate Roth, a NYC-based musical theater performer, adds, "I think it's mostly just theatrical etiquette."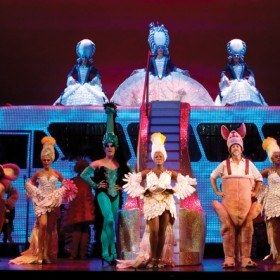 The Broadway cast of Priscilla, Queen of the Desert (Jacob Cohl)
Hauntings 
Stories of theater hauntings are everywhere. "People imagine a theater being filled with the ghosts of characters that have been played there before," Stroman says. "Even in the Broadway show Follies, it's there—composer Stephen Sondheim truly believed that ghosts of these Follies girls inhabited the theater." The show is about an old theater that will soon be demolished, and as its living actors reunite one last time, black-and-white-clad girls representing ghosts of Follies past join them in the rafters onstage.
Part of theater tradition is to appease these ghosts, both by keeping a "ghost light" on onstage in an otherwise dark theater and having one "dark day" (non-performance night) a week, according to Barbara MacKenzie-Wood, head of acting and musical theater at Carnegie Mellon University. Some say that the ghost light, a single lightbulb lit after hours, appeases the ghosts who like light, while others say the light keeps ghosts away and prevents mischief. From a more practical perspective, it keeps everyone in the theater safe, since theater auditoriums don't have windows and often have a very deep orchestra pit in front of the stage. Someone might fall if the space were completely dark. According to theater lore, theaters have dark days because the ghosts of the theater demand the stage to be dark one night a week so that they can put on their own shows. In reality, MacKenzie-Wood says, Broadway shows take one night off a week because theater unions require it.
Still, rumors abound. "In the Palace, the theater I'm performing in now, they say Judy Garland's ghost is here in the star's dressing room," Marsh says. "But I don't think I believe that one—I'm sure she has far better places to haunt."
Just a year ago, the creators of Spider-Man: Turn Off the Dark took special otherworldly precautions before their shows began. According to Loeb, when they entered the theater for technical rehearsals, a priest came in and blessed the theater, and an energy healer brought in special crystals. "We all held crystals and walked around saying what we wanted to achieve in this next year of work, and put our energy into the air," he says. "It was an opportunity to put positive energy into everything around us."
Preshow Rituals
Every dancer has heard stories of a performer with a quirky preshow ritual. Even if they aren't particularly superstitious, many dancers handle preshow jitters by developing a very precise way of getting ready every day.
Stroman has two rules for herself before a show's opening. "I follow them religiously," she says. "The first is that I never change anything on the day of the opening. The other is that I like to run the last 10 minutes or so of a theater piece or a dance piece on that day. I'd feel bad if I weren't able to do those two things." She also always plans a meeting the morning after opening night to immediately start working on her next project—a tradition passed down from Broadway director George Abbott, to Hal Prince, to her.
According to Stroman, traditions are part of a very rich theater legacy that provides continuity and grounding even though performers' and choreographers' lives are constantly changing from show to show. And performers just love stories. "Theater is a place of imagination," says MacKenzie-Wood. "When you have very theatrical people together, that imagination takes flight."
Musical Theater
Jun. 15, 2019 10:12AM EST
(From left) Darriel Johnakin, Diego Pasillas, and Emma Sutherland (all photos by Erin Baiano)
Congratulations to Dance Spirit's 2019 Cover Model Search finalists: Darriel Johnakin, Diego Pasillas, and Emma Sutherland! One of them will win a spot on Dance Spirit's Fall 2019 cover. Learn more about the dancers on their profile pages, and then vote for your favorite below. You can vote once a day now through July 15.
We also want you to get social! We'll be factoring social media likes and shares into our final tallies. Be sure to show your favorite finalist some love on Facebook, Instagram, and Twitter, sharing their profile pages and using the hashtag #DanceSpiritCMS.
Cover Model Search
Jun. 13, 2019 02:20PM EST
Photo by Erin Baiano
Imagine attending American Ballet Theatre's prestigious NYC summer intensive, training among classical ballet legends. Imagine taking the stage at New York City Dance Alliance Nationals, competing against some of the country's best contemporary dancers. Now, imagine doing both—at the same time.
Welcome to Madison Brown's world. This summer, she's in her third year as a National Training Scholar with ABT, while also competing for NYCDA's Teen Outstanding Dancer title. (She's already won Outstanding Dancer in the Mini and Junior categories.) The logistics are complicated—ABT's five-week intensive overlaps with the weeklong NYCDA Nationals, which translates to a lot of cabs back and forth across Manhattan—but Maddie is committed to making the most of each opportunity. "I love contemporary and ballet equally," she says. "While I'm able to do both, I want to do as much as I can."
Maddie has an expressive face, endless extensions, and a quiet command of the stage. She dances with remarkable maturity—a trait noted by none other than Jennifer Lopez, one of the judges on NBC's "World of Dance," on which Maddie competed in Season 2. Although Maddie didn't take home the show's top prize, she was proud to be the youngest remaining soloist when she was eliminated, and saw the whole experience as an opportunity to grow. After all, she's just getting started. Oh, that's right—did we mention Maddie's only 14?
Cover Story
Jun. 17, 2019 12:14PM EST