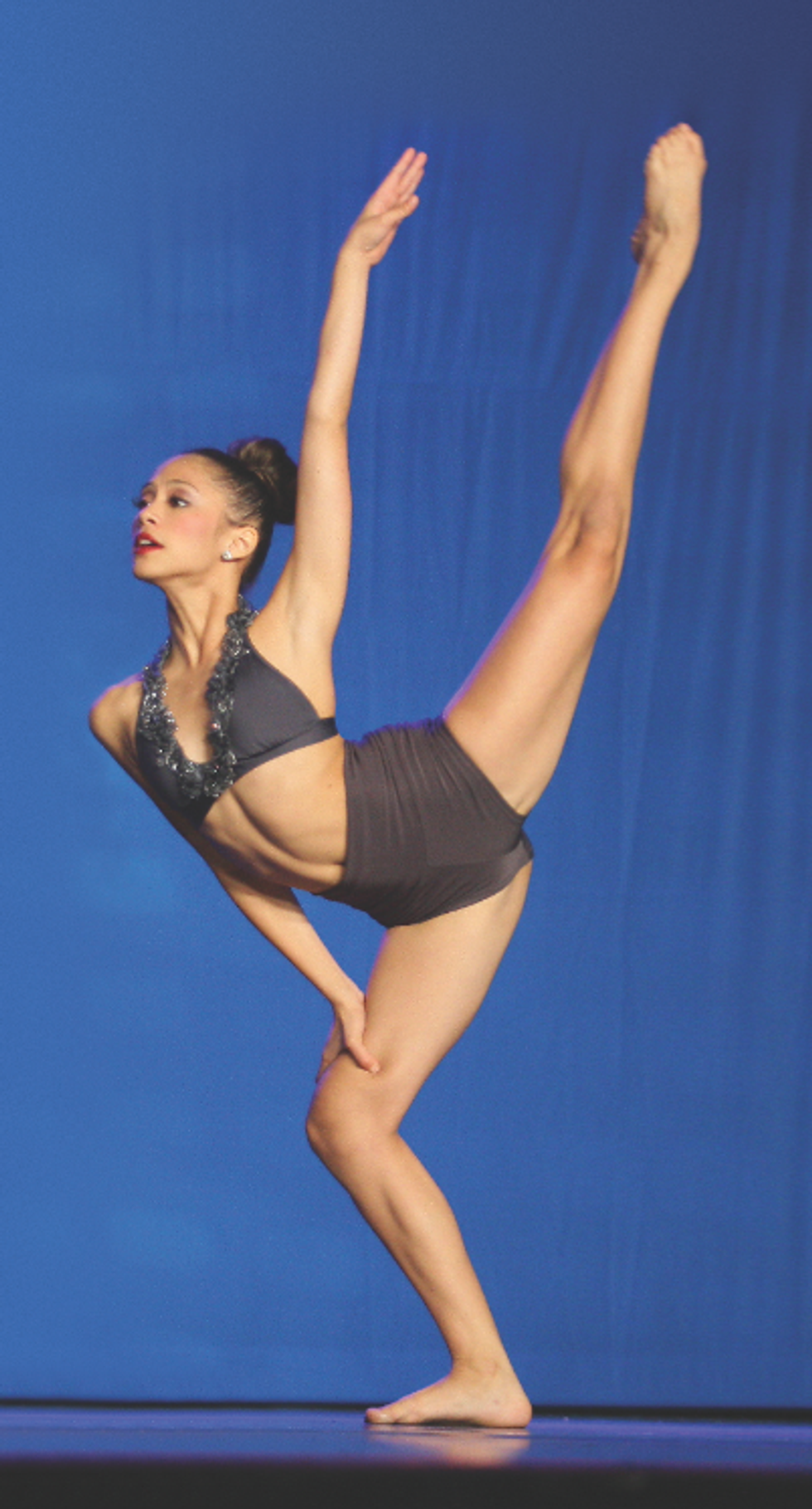 Simone in Yearning (photo courtesy Hall of Fame Dance Challenge)
Simone Cameresi's solo, Yearning, begins with only spoken word as the soundtrack. At Hall of Fame Dance Challenge Nationals last summer, she created music with her body instead—hitting accents where there were none and seamlessly moving from one phrase to the next, unfazed by the lack of clear tempo. By the time the lilting melody kicked in, the then-14-year-old beauty had already transfixed the audience. With her calm control, extensions to die for and riveting stage presence, it was clear Simone had the facility and dedication to make it big.
The daughter of a former Navy man, Simone was born in Italy but came to the U.S. with her family at age 2. She started ballet classes at 4 at a small Arizona studio, and at 6 moved to California, where she expanded her horizons, taking jazz, tap, lyrical and hip-hop classes at Murrieta Dance Project. It wasn't long before she was ready to compete. "I was just 7, and it was a little scary," she says of her first competition. "But having all my friends with me made it fun." She was hooked, and has been dominating the competition scene ever since. "I like having that time onstage to show the audience what I've been working so hard on," she says.
And work hard she does. Now at Mather Dance Company in Placentia, CA, the 15-year-old supplements her training with ballet classes at Dmitri Kulev Classical Ballet Academy and Southland Ballet Academy. She attends countless competitions and conventions, and she's been awarded full-tour scholarships to NUVO, JUMP and West Coast Dance Explosion for the past two years. But the ninth-grader is surprisingly well-rounded, balancing dance and school—"People may not realize it, but I'm a big nerd"—while still making time to hang out with friends. How does she do it? "I've learned to manage my busy schedule. I have a plan, and I stick to it," she says.
Simone's careful planning is already paying off. In the past year, she auditioned for and signed with Clear Talent Group and was chosen as one of 16 semifinalists for The Music Center's Spotlight Awards, an annual scholarship for high schoolers. She's also been accepted to the Joffrey Ballet School's Year Round Trainee Program and is planning to attend as many conventions as possible this summer. What's her plan for the future? Simple: "To keep dancing."
Fast Facts
Most-played song on her iPod: "The A Team" by Ed Sheeran
Favorite dancer of all time: Desmond Richardson
Favorite choreographer: Travis Wall
Favorite food: Seafood. "I love sushi."
Favorite subject in school: English
Favorite book: "I have a lot. But right now, one of my favorites is The Hunger Games."
Favorite movie: The Notebook
Must-see TV show: "Bunheads"
Three words that describe her dancing: "Graceful, emotional, technical"