Jul. 31, 2017 04:14PM EST
Sister, Sister: When Your Sibling Is Also a Dancer
(From left) Abby and Jacalyn Tatro performing at NUVO (courtesy of Break the Floor Productions)
Yes, the other dancers in your company or on your team often feel more like family than friends. But what if the girl next to you at the barre is actually your sister? These six sets of siblings gave Dance Spirit an inside look at what stage-ready sisterhood is all about.
---
Jacalyn and Abby Tatro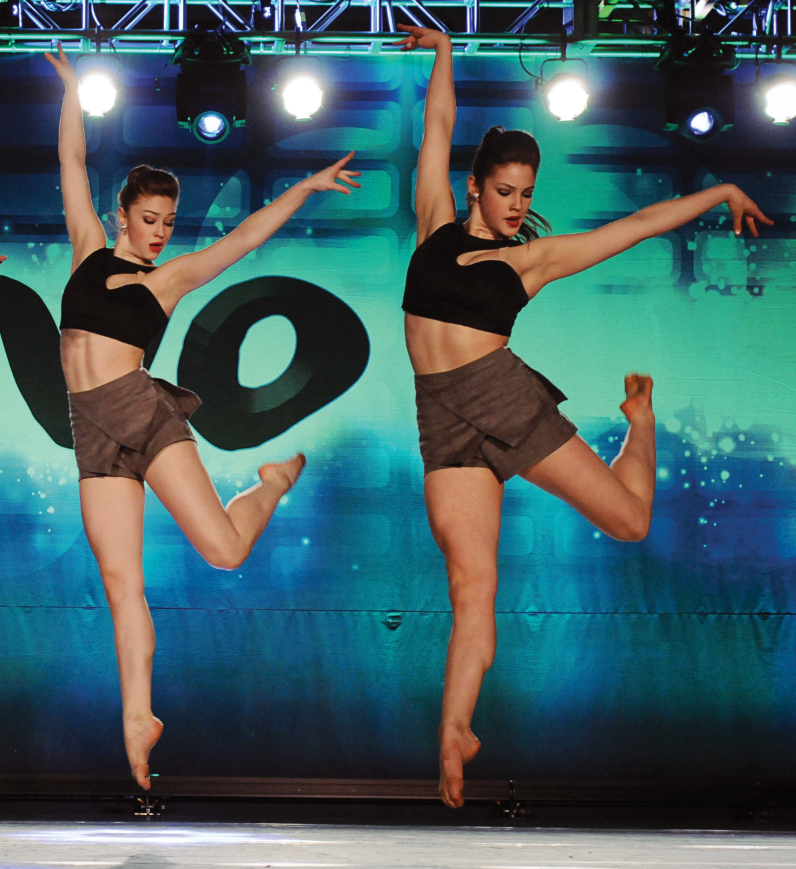 (From left) Abby and Jacalyn Tatro performing at NUVO (courtesy of Break the Floor Productions)
Jacalyn Tatro, 17, and big sister Abby, 19, have frequently gone head to head in competition. At the 2016 New York City Dance Alliance Nationals, the talented contemporary queens even earned the top two spots in the Senior Outstanding Female Dancer category. "When it came down to the two of us, we both instantly started crying and couldn't stop," says Jacalyn, who ended up taking the top prize. "Either way, the results would have been amazing for both of us. That's a shared moment I'll never forget."
After graduating high school last year, Abby moved from the family's home in Naperville, IL, to NYC to study dance at Marymount Manhattan College—which means the two best friends are apart for the first time. "It's so strange not to be able to dance together all the time," Abby says. "But I think it's also given us the opportunity to grow in our own ways, and I'm sure we'll be dancing together again soon."
Kate and Emily Kadow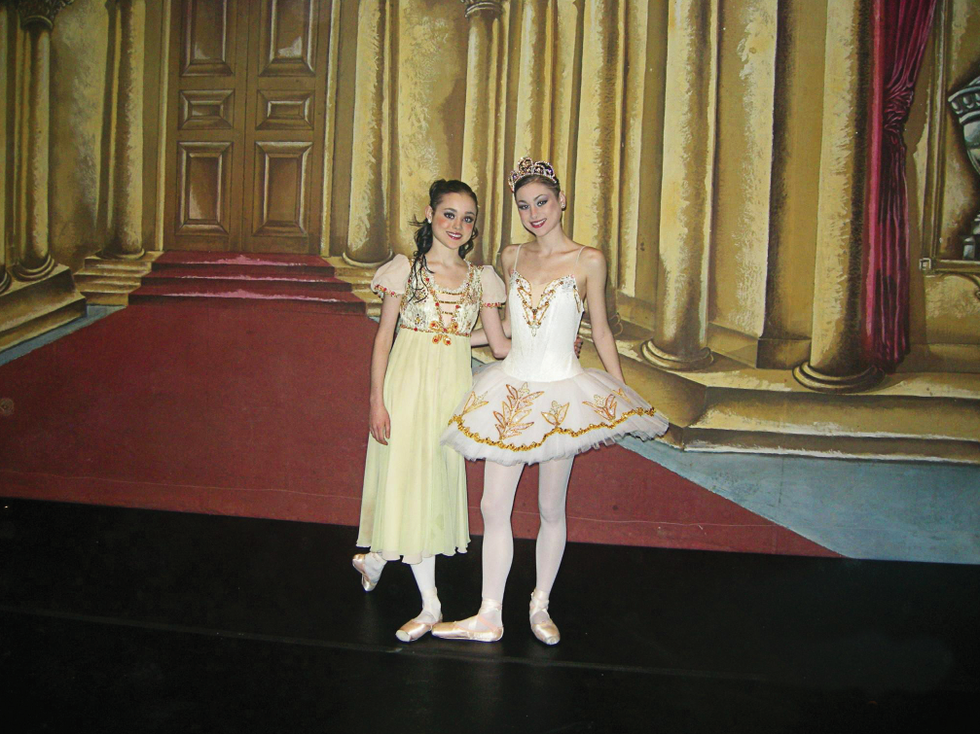 The Kadow sisters after performing in The Nutcracker together (courtesy of the Kadows)
When Kate Kadow, now 26, started taking intensive ballet classes at Central Pennsylvania Youth Ballet, her little sister Emily had no intention of following in her path. "I wasn't that interested in ballet," Emily, now 24, says. "But CPYB director Marcia Dale Weary talked me into taking a class."

The twosome have been on the path to ballet stardom ever since, although that path has taken them in different directions. At 14, Emily began training in Vaganova technique at Ellison Ballet in NYC, while Kate studied Cuban technique with Magaly Suarez in South Florida. (According to Kate, the sisters' only conflicts have been "occasional heated discussions about our stylistic differences.") Emily danced professionally with Ballet du Capitole in France and San Francisco Ballet, and Kate joined State Street Ballet in Santa Barbara, CA. Now, for the first time in almost 10 years, the sisters are reunited. "We're both freelancing in L.A., so we're finally living in the same city," Kate says. "We've had many different experiences with very different companies, so it's fun for us to come back together to learn from each other."
Devin and Julia Ruth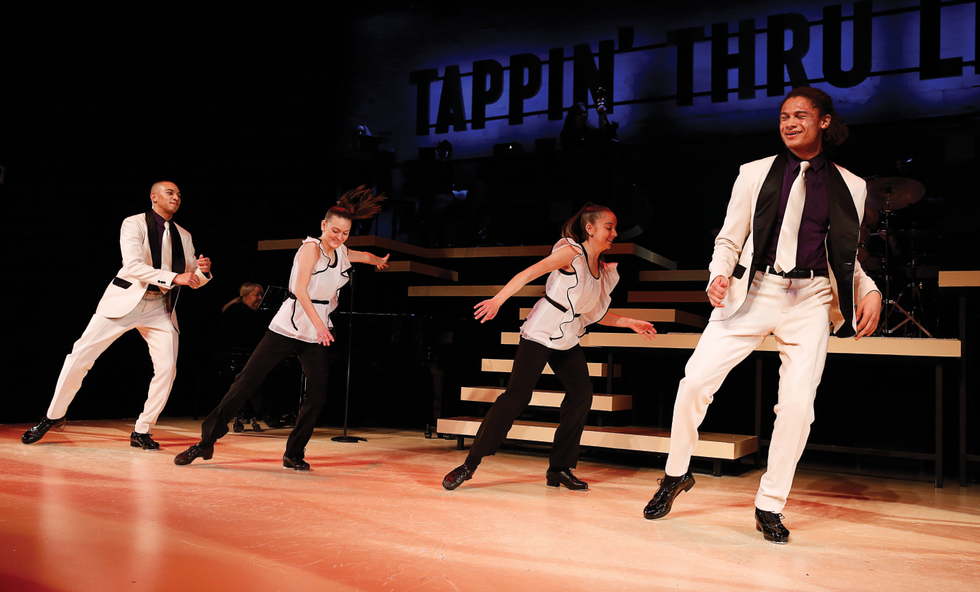 The Ruth sisters (center) in Tappin Thru Life (courtesy of the Ruths)
Devin and Julia Ruth couldn't believe their luck when they heard the off-Broadway show Tappin' Thru Life was searching for tap-dancing sisters last year: The dynamic tap duo from Wyckoff, NJ, was the perfect fit. They spent two months commuting to NYC to perform with tap legend Maurice Hines. "It was surreal to be dancing next to my sister for four shows a week," Julia says. "It was the most amazing experience."
Now, Julia, 16, is focused on competing, recently snagging a spot on Adrenaline Dance Convention's Tap Crew. Fordham University freshman Devin, 19, has shifted her focus to teaching. Luckily, she's found the perfect assistant teacher: her little sister. "We work really well together," Devin says. "If the opportunity ever arises for us to do another show, we'll take it."
Savana and Serena Petruzello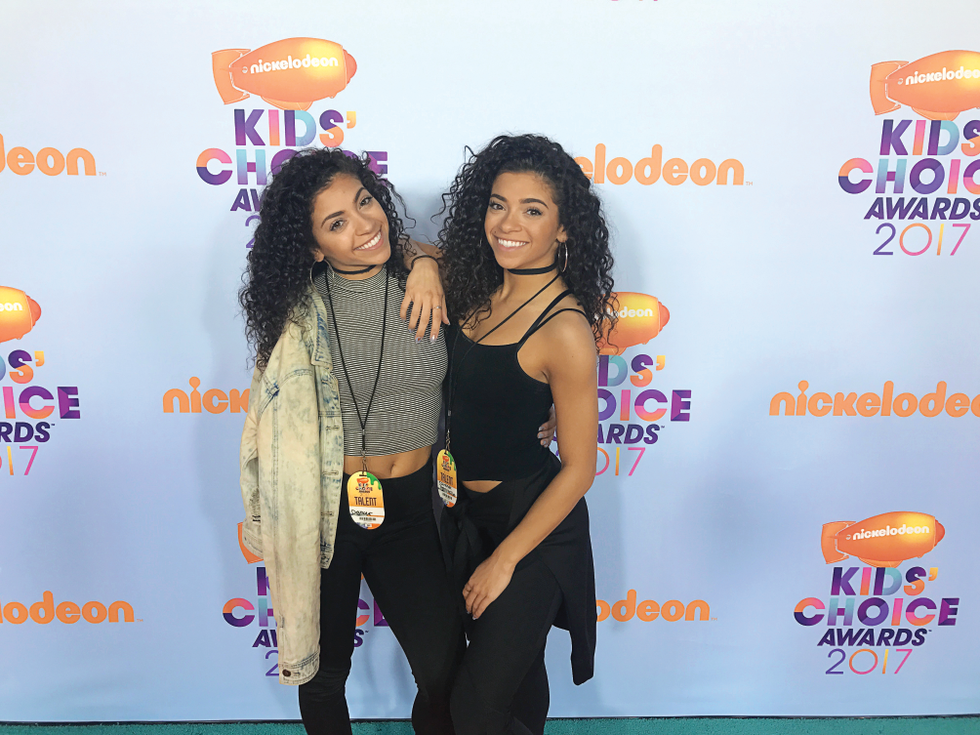 (From left) Serena and Savana Petruzello (courtesy of the Petruzellos)
Nineteen-year-old twins Savana and Serena Petruzello don't just look alike and dance alike—they also think alike. "When teachers ask us to freestyle in class, we'll usually do similar things, even if we're on opposite sides of the room," Serena says. "We might even hit the same move or trick at the same time. It's so freaky!"
The identical pair started dancing at 3, but didn't discover their passion for hip hop and jazz funk until middle school. They made waves at competitions like The PULSE on Tour, and performed as the youngest members of college-level hip-hop crews in their hometown of Boston, MA. Before long, the twins were booking professional gigs, including the 2014 movie Annie, a Reebok campaign and upcoming MTV show "Going Off."
"When we perform together, we can feel each other's energy," Savana says. "Whenever she's not with me, I feel lonely. I know dance just wouldn't be the same without our connection."
Taylor and Payton Ackerman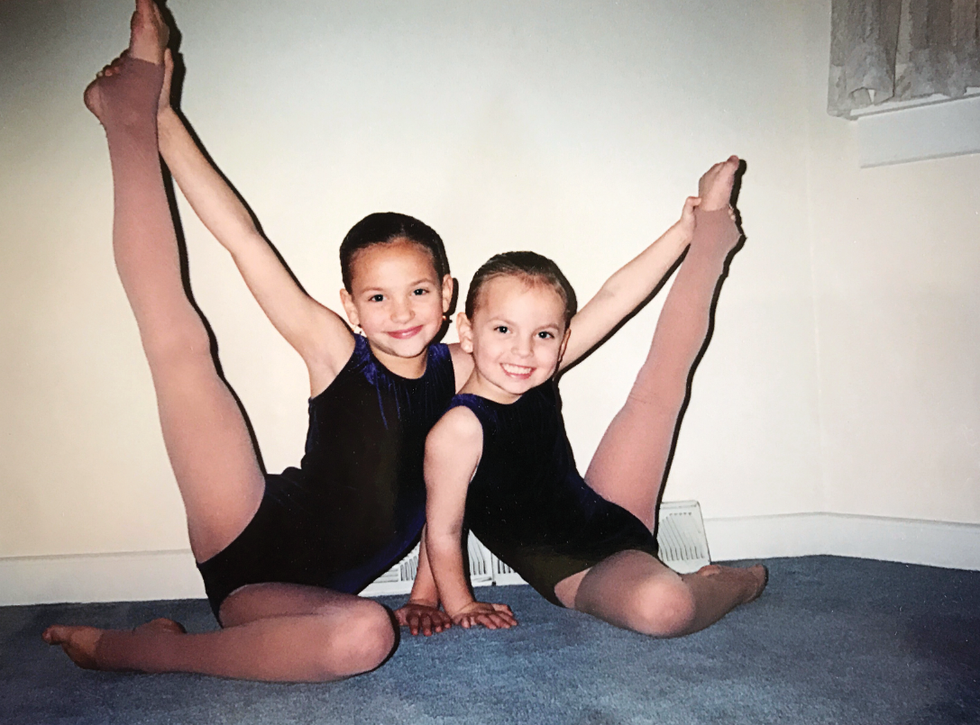 (From left) Taylor and Payton Ackerman as kids (courtesy of the Ackermans)
Payton Ackerman, 19, has always looked up to big sister Taylor, 23. Payton, who was a featured dancer on "Dance Moms," remembers her first day at the Abby Lee Dance Center in Pittsburgh, PA: "I started at Abby's a year after Taylor, and I was petrified," she says. "I was watching Taylor's class, and Abby pointed to me and told me to come down, stand next to Taylor and do what she did. I couldn't do anything! But it really inspired me to rise to my sister's level and follow in her footsteps."

It's no wonder that four years after Taylor started her professional career in L.A., Payton headed west to be by her sister's side. "She lives five streets down from me now," says Taylor, who has danced many commercial roles, including two seasons on the TV show "Hit the Floor." "We take the same classes, and we've gone to some of the same auditions. Every day I'm impressed by how much better she's getting. When we eventually book a job together, it'll be the coolest thing ever."
Nicole, Claire and Emma Von Enck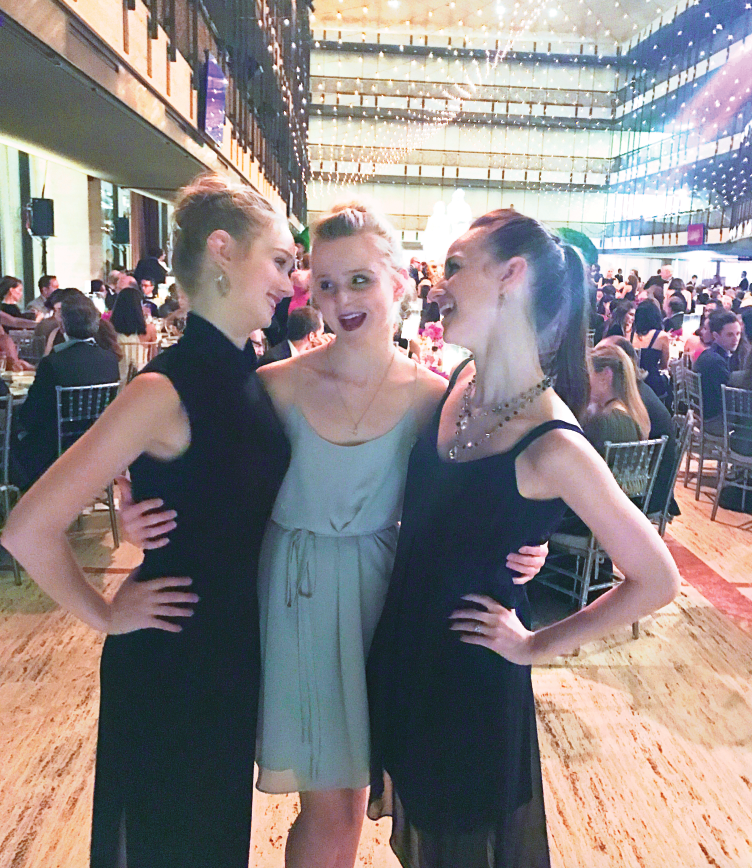 (courtesy of the Von Encks)
The Von Enck sisters have danced on some of the most prestigious stages in the country—from the Winspear Opera House in Dallas, TX, to Lincoln Center in NYC—but their favorite performances actually took place in a much more intimate setting. "I have great memories of the silly dance shows we would put on in our living room as kids," oldest sister Nicole says. "My parents were subjected to a new production almost every week for years!"

The sisters grew up in Cleveland, OH, but now Nicole, 25, dances with Texas Ballet Theater in Fort Worth, TX; Claire, 23, is a member of New York City Ballet's corps; and Emma, 19, is an apprentice with NYCB. "It's never felt competitive between us, since we all dance completely differently," Nicole says. "I have a lot of drive and passion onstage. Claire has clean technique and the most flexibility. Emma has amazing feet and natural coordination. I honestly couldn't be prouder of both of them, and I probably brag about them far too often."
Want more sisterly advice from dancer siblings? Click here.
A version of this story appeared in the July/August 2017 issue of Dance Spirit with the title "Sister, Sister."
Dancer to Dancer
Jun. 15, 2019 10:12AM EST
(From left) Darriel Johnakin, Diego Pasillas, and Emma Sutherland (all photos by Erin Baiano)
Congratulations to Dance Spirit's 2019 Cover Model Search finalists: Darriel Johnakin, Diego Pasillas, and Emma Sutherland! One of them will win a spot on Dance Spirit's Fall 2019 cover. Learn more about the dancers on their profile pages, and then vote for your favorite below. You can vote once a day now through July 15.
We also want you to get social! We'll be factoring social media likes and shares into our final tallies. Be sure to show your favorite finalist some love on Facebook, Instagram, and Twitter, sharing their profile pages and using the hashtag #DanceSpiritCMS.
Cover Model Search
Jun. 13, 2019 02:20PM EST
Photo by Erin Baiano
Imagine attending American Ballet Theatre's prestigious NYC summer intensive, training among classical ballet legends. Imagine taking the stage at New York City Dance Alliance Nationals, competing against some of the country's best contemporary dancers. Now, imagine doing both—at the same time.
Welcome to Madison Brown's world. This summer, she's in her third year as a National Training Scholar with ABT, while also competing for NYCDA's Teen Outstanding Dancer title. (She's already won Outstanding Dancer in the Mini and Junior categories.) The logistics are complicated—ABT's five-week intensive overlaps with the weeklong NYCDA Nationals, which translates to a lot of cabs back and forth across Manhattan—but Maddie is committed to making the most of each opportunity. "I love contemporary and ballet equally," she says. "While I'm able to do both, I want to do as much as I can."
Maddie has an expressive face, endless extensions, and a quiet command of the stage. She dances with remarkable maturity—a trait noted by none other than Jennifer Lopez, one of the judges on NBC's "World of Dance," on which Maddie competed in Season 2. Although Maddie didn't take home the show's top prize, she was proud to be the youngest remaining soloist when she was eliminated, and saw the whole experience as an opportunity to grow. After all, she's just getting started. Oh, that's right—did we mention Maddie's only 14?
Cover Story
Jun. 16, 2019 07:00AM EST
Corbin Bleu in rehearsal for "Kiss Me, Kate" (Jenny Anderson, courtesy Roundabout Theatre Company)
If you're a hardcore Broadway baby, today is the worst Sunday of the year. Why, you ask? The Tony Awards were last Sunday, so basically there's nothing to look forward to in life anymore—no James Corden being James Corden, no teary acceptance speeches from newly minted stars, no thrilling excerpts from the hottest new shows. Oh yeah, and there are 50 more Sundays to go before our humdrum lives are once again blessed with the next annual iteration of Broadway's biggest night.
Musical Theater