May. 01, 2014 11:14PM EST
You know the story: a performer from Nowhere, USA, works hard her whole life and becomes a talented unknown. She hears "no" a million times, until one day she's spotted by the right director or choreographer, who polishes her raw ability and kickstarts her career. Suddenly, she's a star. (And the crowd goes wild!) In real life, stories of "being discovered" tend to be less sudden and dramatic than in movies (expect the "hard work" portion to last longer than a pop-music montage). But they do happen. The movers and shakers of the dance world are always on the lookout for the next star—and the bragging rights of making the discovery themselves. "It's easier than ever to be discovered," says choreographer Brian Friedman, who's discovered many dancers working in Hollywood today. "You can be seen no matter where you're from." If you feel stuck in a small town, there are still ways to be proactive about launching your career.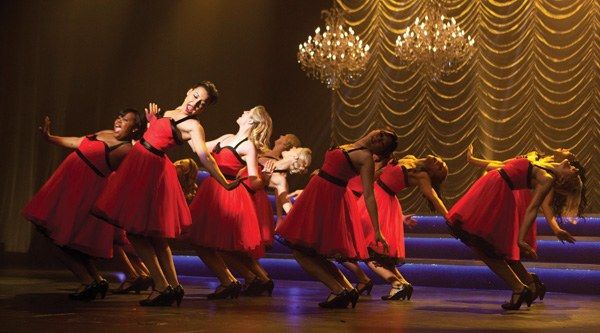 Want to dance on "Glee?" You don't have to live in a big city to make it happen.
(Photo by Adam Rose/Fox)
1. Savor the studio experience…
Study as many styles as you can, with as many teachers as you can, and make sure you're getting the best training in your area. "In L.A., there's not much one-on-one attention," says Mikaela Arneson, an L.A.-based dancer who grew up in a small town four hours outside the city. "Before you get here, capitalize on that attention at your studio."
2. …but seek additional training elsewhere, too.
Conventions are a great way to take classes with new teachers and do some serious networking. Most conventions hit up tons of cities throughout the year, so it's likely you can find some near your hometown.
Friedman recommends trying to visit L.A. or NYC during the summers. You'll find smaller classes than at a convention (try studios like Broadway Dance Center and Steps on Broadway in NYC, or EDGE Performing Arts Center, Millennium Dance Complex and Debbie Reynolds Studio in L.A.), so teachers are more likely to notice you. Conventions and big trips aren't cheap, of course, so don't be afraid to look online for free supplemental training. Many big-name and up-and-coming choreographers post combinations or tutorials online. Subscribe to your favorite choreographers' YouTube channels and follow along.
3. Define your brand
With so many great dancers out there, killer technique isn't always enough to get you noticed. According to Friedman, it's crucial to figure out who you are as a dancer and a person, and then create your brand accordingly. Identify your strengths and establish a dance persona that highlights them. Your brand includes the way you consistently dress in class, wear your hair and makeup or rock a signature accessory. It's the way people you meet will remember and refer back to you.
4. Create your marketing materials
Every dancer should have a professional headshot and full-body shot, and a one-page resumé. Shayna Brouillard, a dance agent with Clear Talent Group, says dancers don't have to spend a ton of money on photo shoots before signing with an agent, since agents are going to ask you to get new photos after they've worked with you to refine your brand.
If you do choose to have photos taken by a pro, check out your favorite dancers' Instagram feeds to see who regularly takes their pictures. "There are a ton of photographers familiar with dancers and casting," Brouillard says. They can help ensure that your photos will show your best dancer self. For 12-year-old competition dancer Lucy Vallely, posting photos from a shoot with David Hofmann (check him out on Instagram @sharkcookie) last year was the key to making her social media pages bloom. She now has more than 40,000 Instagram followers.
Perhaps the most important marketing materials are dance videos. Agents and choreographers need to see you move. You don't have to pay for a professional reel—videos can be shot and edited from an iPhone or iPad. Just be sure they're good quality and show your best work. Shannon Mather, owner and director of L.A.-based Mather Dance, recommends adding a touch of personality to your videos by introducing yourself at the beginning.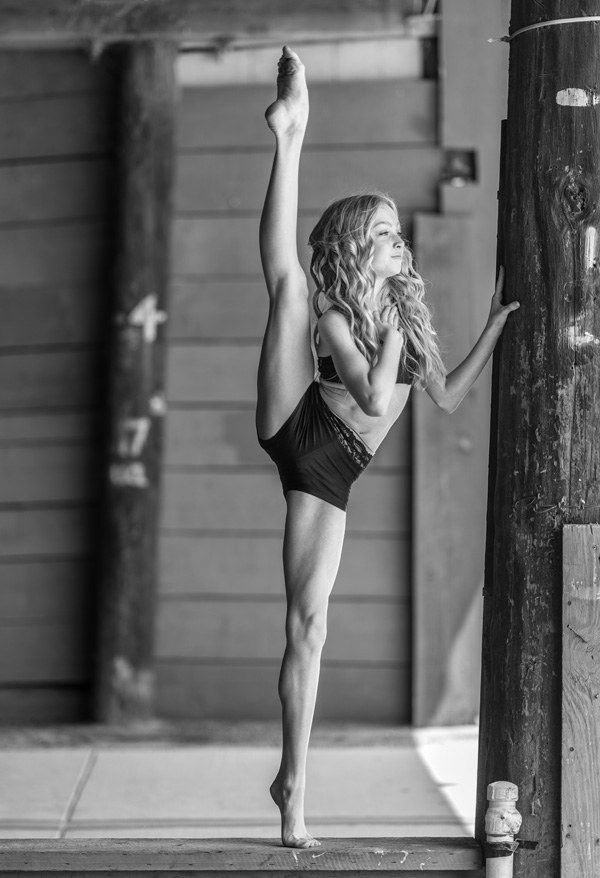 Lucy Vallely's photo shoot with David Hofmann helped boost her career.
(Photo by David Hofmann)
5. Establish an online presence
The internet is the easiest—and cheapest—way to reach the people who can make things happen for you. Mather recommends creating a YouTube channel where you can post performance videos and studio combos. She says the key to establishing a following is crafting a professional-looking homepage, uploading new videos consistently (she has found success uploading once a week) and tagging your videos so people can find them in searches. (You can also upload videos to Dance Spirit's video site, dancemedia.com!)
Both Vallely and Chris Michael Klebba, a commercial dancer, first got their agents thanks to social media. When Klebba was 17 and still living amid cornfields in Michigan, he posted a video on Answers4Dancers.com that got a lot of positive feedback. Soon after, an agent contacted him and offered to sign him, even before he was ready to make the move to L.A.
When posting, remember that likability is a huge part of being discovered. Be sure everything you post is the best representation of yourself. If your following doesn't blow up immediately, don't be discouraged. According to Brouillard, most dancers who become online stars are actually discovered by agents while they're still in the early stages. With an agent's guidance, they build their brands and, soon, an online fanbase. Need some help getting started? Check out companies such as DanceOn and World of Dance, which work with dancers on online self-branding.
6. Reinforce your online persona with face-to-face contact
"The most successful dancers are the ones that start to build relationships before they move to L.A.—through master classes or conventions, introducing themselves to choreographers and making sure they're noticed," says Brouillard. "A lot of what happens in L.A. is based on networking beforehand, so they already have a solid ground when they move here."
Many dancers' discovery moments come when they're focused on improving rather than getting people to see how awesome they are. Choreographers love to see dancers taking every opportunity they can to learn more. Going to huge auditions is great, and often necessary, but at a competition or in class, you can be seen as an individual, rather than one more body quickly learning and executing a routine. You're also more likely to be noticed at a big audition if the choreographer is already familiar with you, either from class, competition or your online videos. After you meet choreographers, connect with them on social media to thank them and remind them who you are. Vallely often posts photos of herself with the people she meets, making sure to tag them. "Then they'll be like, 'Oh, that's the girl I met!' " she says.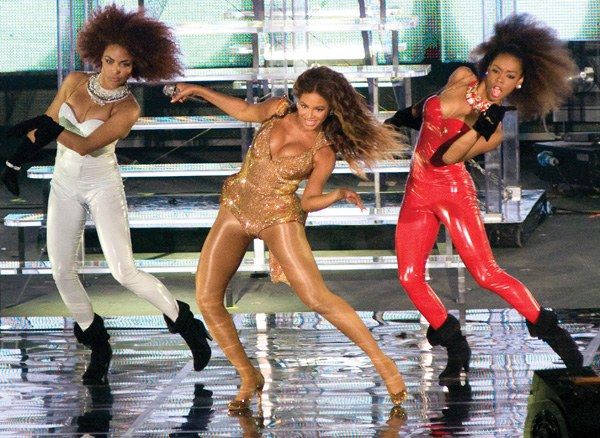 (L to R) Ashley Everett, Beyoncé, and Kimmie Gipson
(Photo by Alphonso Chan/Getty Images)
7. Land an agent
According to Friedman, this should be a major priority for a dancer looking to work professionally, since agents can give you insider info on auditions that aren't public knowledge. You can attend an open call for an agency, but being recommended by a working choreographer or teacher is a surer route.
Agents also scout conventions and the internet for new talent. While both Vallely and Klebba were discovered online by agents, Arneson signed with an agent at a dance convention when she was 17, three years before she made the move to L.A. "We have signed a handful of dancers in their teens who haven't moved to L.A. yet," says Brouillard. "For those who have the means to fly out for an audition, we'll keep them in the loop. For others, it's about building a relationship with the agency, so when they turn 18 and are ready to move to L.A., they feel like there's someone who knows their strengths and is taking care of them."
8. Be persistent—and patient
Even if you're not discovered right away, it doesn't mean people aren't keeping an eye out for you. You might've already been "discovered" by teachers—that is, they've made a mental note that you're a dancer to watch—who are just waiting to see if you're ready. "It's not luck of the draw," Friedman says. "You have to have talent, but you also have to work hard and show your ambition. If I can see a dancer's hunger and drive, I think, OK, that's one to watch. This kid's gonna go somewhere."
Commercial
Jun. 15, 2019 10:12AM EST
(From left) Darriel Johnakin, Diego Pasillas, and Emma Sutherland (all photos by Erin Baiano)
Congratulations to Dance Spirit's 2019 Cover Model Search finalists: Darriel Johnakin, Diego Pasillas, and Emma Sutherland! One of them will win a spot on Dance Spirit's Fall 2019 cover. Learn more about the dancers on their profile pages, and then vote for your favorite below. You can vote once a day now through July 15.
We also want you to get social! We'll be factoring social media likes and shares into our final tallies. Be sure to show your favorite finalist some love on Facebook, Instagram, and Twitter, sharing their profile pages and using the hashtag #DanceSpiritCMS.
Cover Model Search
Jun. 20, 2019 02:41PM EST
Liz Imperio teaching at Hollywood Vibe, Courtesy of Hollywood Vibe
It's an increasingly common scenario: A talented dancer wins big at a competition, is offered an assistantship with a famous faculty member, and ends up leaving her hometown studio to travel with a convention. Convention-hopping has obvious benefits. Every event generates new content for dancers to post on social media, gives them a better shot at ending up on their favorite choreographers' accounts, lets them learn from the best of the best, and helps them make valuable connections. "Traveling is a great way for dancers to gain admirers around the country," says Jen Jarnot, owner of Artistic Fusion Dance Academy in Thornton, CO. "That's something every dancer craves." So it's no surprise that weekend FOMO has been blazing through studios like wildfire.
But is this jet-setter lifestyle really the most effective road to take? Can weekends of dancing with top talent truly replace the bread and butter of daily work at your home studio? The answer, according to most industry experts, is no. We asked five pros to explain why.
Competition
Jun. 19, 2019 03:55PM EST
WilldaBeast and…a car? They may be unusual duet partners, but this new ad proves they're a pretty sweet match.
Dance Videos