How To
Aug. 18, 2016 04:14PM EST
Nathan Sayers
Few things are as beautiful as a seamlessly executed grand rond de jambe: There's something majestic about the high arc of the leg from front to side to back (or vice versa). But many pitfalls line the road to effortless grands ronds, especially in the tricky side-to-back and back-to-side transitions. How can you make this difficult step feel as free as it looks?
---
Understand the Fundamentals
If you're having trouble with grand rond de jambe, step back from the barre and think about the step abstractly. Darla Hoover of NYC's Ballet Academy East and Central Pennsylvania Youth Ballet has her students try a grand rond with their arms—a much simpler prospect than supporting the heavy weight of their legs in the air. She asks them to carry an extended arm from front to side, with their palms facing the ceiling, and then from side to back, keeping their palms up. "Your arm doesn't 'turn over' as you go from the side to the back, and that's exactly the feeling you want to achieve with your leg," Hoover says. Next, try a rond de jambe with your leg at 45 degrees. At that lower height, it's easier to preserve your turnout and push through the "hitch" that sometimes happens between à la seconde and arabesque. Imagine the underside of your foot as the equivalent of your palm in the arm exercise. "Think about leading with your heel and pointed foot," says Houston Ballet soloist Allison Miller.
In fact, you can prepare for grand rond de jambe from the very beginning of barre. Dmitri Kulev's students at the Dmitri Kulev Classical Ballet Academy in Laguna Hills, CA, first learn the feeling of preserving turnout without "turning over" during tendu exercises. "I tell dancers to think of creating opposing spirals from both hips, so they're rotating the legs evenly, especially from side to back," Kulev says. "And we stress avoiding pronation in the supporting foot, which makes the entire supporting leg turn in."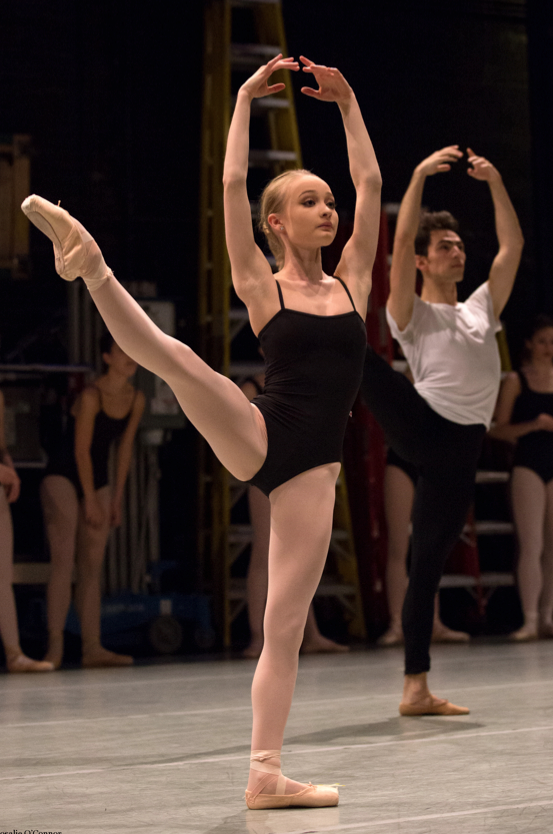 Courtesy Ballet Academy East
It's Hip to Be Square
As you work up to grand rond de jambe at 90 degrees and above, resist the urge to go for your maximum height immediately. To create a beautiful sweeping arc, your leg should rise slightly with each change of direction—but not if that requires distorting your hips and shoulders. As Miller says, "If your body isn't in a classical shape, the leg's height doesn't matter." Avoid tipping your pelvis forward or back, lifting the working hip or twisting the standing leg to achieve height.
It's counterintuitive, but the key to staying square as your working leg gets above 90 degrees is actually your standing leg. Try this: Put your weight well over the ball of your foot as you do a grand rond de jambe. As your leg goes from front to side, strongly engage the supporting leg's turnout muscles. Keep rotating both legs away from each other as you move towards arabesque. You'll find your working leg feels freer when your supporting side is well grounded.
A strong core—the secret to so much of ballet technique—is also critical to properly supporting your leg in grand rond de jambe. Bracing your stomach muscles will keep you from gripping your hip flexors, which will allow your leg to move more smoothly from one position to the next and your pelvis to remain square.
You Can Do More Than You Think
Everyone's hip joints are different, but many dancers who think they're too stiff in the hips to execute an effortless grand rond de jambe actually have plenty of range. Most of the time, hitching through transitions happens not because of a lack of flexibility but because of a lack of strength. Hoover likes to get hands-on to show her students just how much range they have: She'll have them stand up perfectly straight, hold their leg in her hands and guide it around in grand rond de jambe. "When I'm supporting the whole weight of their leg, they can feel it traveling correctly and see the potential in their body," she says. "They'll say, 'Wow, my leg really can do that!' "
Ask a teacher or friend to try Hoover's experiment with you. If you find that your leg glides around easily when someone else is supporting it, focus on strengthening your inner thighs and hamstrings. Once your leg is well supported from underneath, rather than restricted by the gripping of your quads and hip flexors, a seamless grand rond de jambe will become much more attainable.
Giphy
The news is out, and we couldn't be more excited: Olympic figure skater/performer of gorgeous Benji Schwimmer choreography/patron saint of sequins/all-around fabulous human Adam Rippon will appear on the upcoming athletes-only "Dancing with the Stars" cycle! Even better, he's been paired with one of our fave pros, Jenna Johnson—the ultimate #dreamteam.
Our Rippon obsession is so real. And that means that in the days since the "DWTS" cast announcement, our minds have been busy imagining all the routines we know Adam and Jenna could slay. Here are 5 numbers that'd totally impress the judges. ("DWTS" producers: You're welcome.)
A Jive to "Stitches" by Shawn Mendes, Ideally with a Cameo by Shawn Mendes
We already know that Rippon has his eye on the adorable singer (whom he met for the first time at the Oscars, as one does)—so why not play matchmaker, "DWTS" producers? We're picturing Rippon in hospital gear with Johnson as his ER doc ("stitches," see what we did there?), and if Mendes wants to show up dressed as a nurse for a jiving trio, we're 1000 percent here for it!

A Broadway Jazz Number to "Carrying the Banner" from "Newsies"
Adam and Broadway go together like Ultra Clutch hairspray and comp kids: It's a perfect pairing. And how cute would he be in a newsboy cap? If Rippon he can pull out a bunch of fouettés on a pape like Ryan Steele (see above)—which, given that fouettés are a distant cousin of skating's scratch spin, seems likely—even better.
A Gorgeous "Greatest Showman"-Themed Waltz—Trapeze Optional
Rippon as Zac Efron and and Johnson as Zendaya, waltzing along to "Rewrite the Stars"? YES. And maybe, just maybe, some aerial acrobatics? YAAAAAS.
A Heartbreaking Travis Wall Contemporary Piece to a Sam Smith Ballad
Adam's worked with Travis. Jenna's worked with Travis. You KNOW this combination would be on point. Add a painfully gorgeous song like Sam Smith's "Too Good at Goodbyes" to the mix, and you're bound to have the judges ugly-face crying.
A "DWTS" Version of #Beychella
Based on his Spotify playlist, it's clear that Rippon's part of the #Beyhive (same). So a Beyoncé-themed number is, obviously, a necessity. "Love on Top?" "Run the World?" "Flawless?" We honestly don't care which song he and Johnson choose, as long as Rippon gets to go full #Beychella in his own bedazzled yellow sweatshirt and knee-high fringe boots.
Popular
Apr. 02, 2018 10:14AM EST
Showstopper's National Finals Opening Number Performance
Showstopper has been making its impact on the dance world since 1978. Before then, dancers didn't have a stage to perform on, the opportunity to learn from peers, or a competitive outlet like most sports. Debbie Roberts recognized this missing piece in the dance community and that is how America's first and longest running dance competition, Showstopper, was born. Debbie taught dance for over 26 years and owned and operated her own dance studio for 20 years. She is now the owner and National Director of Showstopper, along side her husband, Dave Roberts. Dancer, teacher, business owner, author, and mother, Debbie has made dance her life's career.
Keep reading...
Show less
Apr. 17, 2018 10:27AM EST
Oh, hi, EVERYBODY. (Screenshots via YouTube)
Sometimes, you hear talk about an upcoming class video and it sounds too good to be real. Wait: Todrick Hall made a track featuring RuPaul, and then Todrick personally asked Brian Friedman to choreograph it, and then Brian got Maddie and Charlize and Jade and Kaycee and Sean and Gabe and Larsen and Bailey to come out for the class? I just...that can't be right. Can it?
It is right, friends. It is SO RIGHT.
Keep reading...
Show less
A-DAM RIP-PON [clap, clap, clap clap clap] (with his equally gorgeous partner Jenna Johnson; Craig Sjodin/ABC)
Team USA is totally taking over "Dancing with the Stars" this season! Casting for the upcoming athletes-only "DWTS" cycle, which kicks off April 30, was just announced. And the roster includes a whole bunch of Olympic favorites—including not one, not two, but three figure-skating standouts.
Keep reading...
Show less
Photo by Ken Browar/Deborah Ory of NYC Dance Project, courtesy NYC Dance Project
Alvin Ailey American Dance Theater's Fana Tesfagiorgis captivates audiences with her ethereal grace and powerful, commanding technique. A Madison, WI, native, she began training in ballet at Ballet Madison at age 5, and also studied at Interlochen Arts Academy during high school. Later, she graduated from the Ailey/Fordham program with a BFA in dance and a minor in journalism, and danced with companies including Ailey II, Continuum, Footprints, and Nimbus Dance Works. She joined AAADT in 2013. Catch her dancing with the company June 13–17 during its Lincoln Center season. —Courtney Bowers
Keep reading...
Show less
Popular
Mar. 26, 2018 09:50AM EST
Winter is drawing to a close and you know what that means -- It's time to really kick this year into gear! Move U has done the research so you can find your best match, look good, and feel great this season with a twist unique to your team! Here are five looks to put your performance on the map in 2018.
Keep reading...
Show less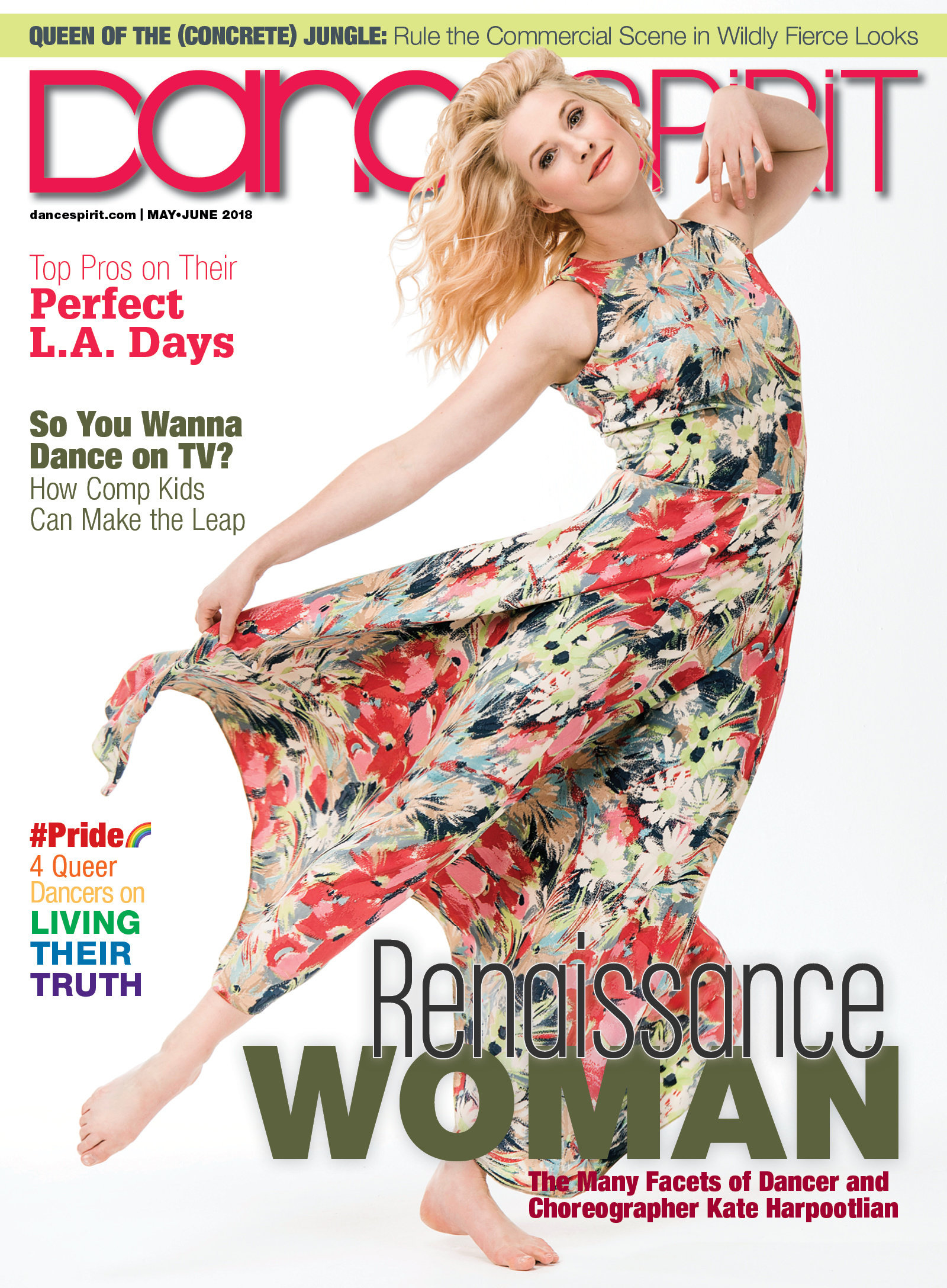 Get Dance Spirit in your inbox