"SYTYCD" Season 15 Recap: We Have a Top 4!
Adam Rose/FOX
After just three live shows and just as many brisk eliminations, we have our Season 15 Top 4! And we'll get to that. But first, here's what went down during the two hours that the Top 6—Hannahlei, Genessy, Jensen, Jay Jay, Darius, and Slavik—performed together last night.
---
Namely: The All Stars returned to the "So You Think You Can Dance" stage! Each All Star made it to the Top 4 of his or her respective season, and returned to this show to usher the newest Top 4 into theirs.
The Opening Routine
Choreographer: Mia Michaels!
Song: "Spring 1" by Max Richter
Mamma Mia! We've missed having Mia's choreography on the "SYT" stage every week. But this lovely opening routine was worth the wait. It was happy and joyful, sweet and serene, and deceptively difficult and high-energy. (All that bouncing! All that jumping!) The dancers were clad in all-white, lace-detailed outfits (bless those puffy shoulders!), and the girls got the added bonus of some colorful floral headpieces. Mia, you're a legend, and this was a super smiley way to start the show.
Jensen & Kiki
Style: Cha Cha
Choreographer: Jenna Johnson
Song: "Bailar" by Deorro ft. Elvis Crespo
Jenna Johnson made her "SYT" choreography debut—and for Jensen and her former partner, Kiki, no less! And Jensen, despite a runny nose, absolutely crushed. this. It's always fun seeing how the current crop of contestants can hold their own alongside dancers who have been through the "SYT" ringer before, and Jensen didn't just match Kiki's energy, technique, and showmanship, she dominated the stage. (Anyone else catch that little wink during a mid-routine pause? Loved it.) It was clear Jensen was a pro going into this competition, and she's delivered every single week. She's a total package dancer—so it's not surprising that fellow ballroom queen Mary Murphy approved and gave Jensen a standing ovation. And, yes, an ear-piercing scream granting permission on board the Hot Tamale Train. Nigel said Jensen has gotten better every week (agreed), Vanessa liked that Jensen was telling Kiki what to do and said "it was hot," and tWitch called it crazy.
Genessy & Lex
Style: Contemporary
Choreographer: Mandy & Elizabeth
Song: "Be Brave" by My Brightest Diamond
Masks! Layers! "The idea of what perfect is." Genessy admitted during rehearsals that she's struggled with being the perfect dancer, and with being the dancer everyone thinks she is and should be. As Genessy and Lex danced—almost constantly intertwined, interacting, and connected—they peeled the masks away from their faces. And the concept was great, but so was Genessy, with her long, powerful legs and that intense performance quality she's shown every week. Nigel told Genessy that she's exceeded their expectations of her, and called the performance beautiful. Vanessa appreciated Genessy's intensity, tWitch said the mask forced Genessy to feel—that's a good thing—and Mary said Genessy has shown her true self every week, "and that is just beautiful."
Slavik & Jaja
Style: Hip Hop
Choreographer: Comfort
Song: "Beggin & Pleadin" by Brandy
Love some character-driven hip hop! This performance had angst, attitude, and Slavik at his grooviest. (Did anyone else get total Titanic-era Leonardo DiCaprio vibes from Slavik during this routine?) Slavik has proved he can do the high-energy, hard-hitting hip hop, but this performance, even with all its personality, was a little softer, a little slower, a little more mysterious. Plus, there was a door, and everyone knows the best "SYT" routines have doors. Vanessa praised Slavik's Elvis-y swagger, while tWitch noted that this type of grounded hip hop was outside Slavik's element and that it needed more devotion and commitment. Mary noted that Slavik's journey on this competition has been impressive, and Nigel made divorce jokes.
Hannahlei & Marko
Style: Contemporary
Choreographer: Robert Roldan
Song: "Welcome Home" by Joy Williams
Hometown lovers, reunited! (That's what the piece is about. That's not Hannahlei and Marko IRL.) This was delightful. Hannahlei has been a bit underrated throughout this competition. Yes, the judges praise her, but can we get some more hype for this girl? Every single routine she performs is amazing. She's committed and full-out, technically sound and then some. Marko was probably great in this piece, too, but our eyes were glued to Hannahlei. tWitch called Hannahlei one of the hardest-working dancers this season, Mary noted Hannahlei's class and joy, Nigel said he forgets Hannahlei is small (she's teeny tiny!) because she dances so wonderfully big, and Vanessa called the performance flawless.
Jay Jay & Lauren Froderman
Style: Jazz
Choreographer: Mandy Moore
Song: "Runaway Baby" by Bruno Mars
Mandy told Jay Jay and Lauren during rehearsals that she wants to bring jazz back into peoples' hearts. And if anyone can do it, it's Mandy—but it's also, clearly, Jay Jay. This routine was fun, happy, and swaggy and included something Mandy called "Ultimate Leap Frog" (Jay Jay jumping over 5'2" Lauren and nailing a perfect center split en route). In a world of heavy contemporary routines (nothing wrong with those!) and furiously fast ballroom performances (nothing wrong there, either!), this was like a breath of fresh, funky air. Mary called it "out of this world" and called Jay Jay a star. Then Nigel said it was all brilliant, and he dared Jay Jay to play Ultimate Leap Frog with six-foot-something Cat Deeley—which he did, and she fell, and it was awkward and terrifying and adorable and rendered Vanessa speechless.
Darius & Taylor
Style: Contemporary
Choreographer: Travis Wall
Song: "It Takes A Lot To Know A Man" by Damien Rice
Talk about hitting the choreographer jackpot on this episode! Way to go, "SYT!" This was very dream team-y, and the story was a personal one: Travis talked about coming out, Darius talked about bullying, and we cried before they even hit the stage. The gender-role-reversed routine—with Darius in a dress and lipstick, and Taylor, sans makeup, in a T-shirt and pants—truly gave Darius the chance to shine (well done, Travis). There were moments when Taylor was completely still, giving Darius a chance to go all-out on his own. By the end, Darius, too, was in a T-shirt and pants, but still rocking the makeup and reapplying that lipstick. A standing O from the judges, and unanimous praise for the choreography, the performance, and Darius. (Oh, and Nigel called Darius his favorite dancer this season. NBD. And Vanessa said she was "shook.")
Jensen & Jay Jay
Style: Tahitian
Choreographer: Tiana Nonosina Liufau
Song: "Lugahiva" by Te Valka
Hello, new-to-"SYTYCD" style! Hello, hips! It would be easy to look at this routine and think, "fun luau routine!" But no. No no no. This was so much more than that. There were giant feather headdresses and huge hula-style skirts. There was a whole lotta hip shaking. But there were also carefully choreographed, culturally accurate themes and moves, and Jay Jay and Jensen, unsurprisingly, developed a solid grasp on them in a short amount of time. Vanessa loved it, tWitch felt his inner Tahitian warrior coming out, Mary said Jay Jay and Jensen set the stage on fire, and Nigel talked about the time he did Pilates, which we would really love to see.
Genessy & Slavik
Style: Salsa
Choreographer: Jonathan & Oksana
Song: "Machika" by J Valvin, Jeon & Anitta
Intricate arms, intricate feet, "and of course, tricks," Jonathan explained during rehearsals. What he should have said? "Serious, death-defying tricks." The routine started with a lift, transitioned into some fast and sexy spin-heavy moves, included a few more tricks, and chased them with a few more spins. It was a lot. It was no joke. And, admittedly, it was neither Genessy nor Slavik's best. They were hustling out there, but it felt a little slow, a little heavy, a little challenging. If this were the first week of competition, this would've been a solid performance. But on the cusp of locking down the Top 4, this fell a little flat. (Hey, they can't all be the best routines ever.) tWitch wasn't fully convinced by Slavik's performance, and Mary agreed, but said Genessy was fire. Nigel noted this as Slavik's weak spot, and Vanessa "agreed with everything they've been saying."
Hannahlei & Darius
Style: Argentine Tango
Choreographer: Leonardo & Miriam
Song: "Tanguango"
Oh, the Argentine Tango. There was a time on "SYTYCD," in the very early seasons, when this style was known as the kiss of death—or rather, elimination. Almost no one could master it. It almost guaranteed contestants an elimination, or at least some very critical feedback. But Hannahlei and Darius, masters of everything, defied the grim odds. It was passionate, sexy, sultry, and wonderful—and the judges agreed unanimously.
Who wants results?
After the biggest vote of the season (!!!), Jensen is safe.
The Top 3 Guys
Choreographer: Christopher Scott
Song: "Violence Broken" by No Mono
They floated (kind of) atop cinder blocks, they moved in perfect unison, and they were smoother than Jif peanut butter (you know, the really smooth kind). Jay Jay, Darius, and Slavik were collectively excellent during this performance, but it was Jay Jay that captivated us the most. (Yes, no, maybe? Where were your eyes glued? Let us know!) Nigel was pleased, Vanessa was proud of everyone, tWitch told Chris Scott he's "like an architect, bro," and Mary said it was simple and innovative and that it worked.
More results? OK! Slavik is safe!
The Top 3 Women
Choreographer: Luther Brown
Song: "Bump" by Trish
THESE. WOMEN. The hair! (Er, wigs.) The black catsuits. The choreography. This routine was at times fun and bouncy, and then, an eight count later, smooth and sultry. And each dancer got a chance to shake it and shine at center stage. Lots of fun! Vanessa wanted in on the fembot fun, tWitch, based on that routine, has high hopes for the future, Mary loved the girl power, and Nigel said it really worked for him.
More results! Hannahlei is safe!
And then, after a quick commercial, break...
Jay Jay and Darius were sent home, which meant Genessy will join Jensen, Slavik, and Hannahlei in the Top 4. It's an unprecedented move: three women and just one male in the Top 4! Who run the world? No question.
Via @chelshightower on Instagram
From competing on "So You Think You Can Dance" to performing on "Dancing with the Stars" for seven seasons (and earning an Emmy nomination for her work on the latter), Chelsie Hightower has lived the pro dance dream. Though Hightower retired from "DWTS" several years ago and now teaches and choreographs in her home state of Utah, she admits that her dance career exceeded even her own high expectations. "I've accomplished things that I didn't know were possible," she says.
But most fans of "DWTS" would never have guessed that while filming, the talented and seemingly fearless ballroom pro was facing her fiercest competitor off-camera. Hightower has struggled with anxiety for most of her life, but the issue became especially severe during her years on the show.
With the help of therapy and other coping exercises, Hightower has found healthy ways to manage her anxiety. Now, she hopes that sharing her experience will inspire other dancers struggling with mental illness to get help.
Keep reading...
Show less
Popular
Jan. 15, 2019 12:01PM EST
Past "SYTYCD" hopefuls at The Academy (Adam Rose/FOX)
More fabulous TWall routines. More passengers on the Hot Tamale Train. MORE CAT DEELEY BEING DELIGHTFUL.
That's right, y'all: "So You Think You Can Dance" was just renewed for a 16th (!) season, to air this summer on Fox. And audition dates have already been announced.
Keep reading...
Show less
It includes this familiar face! (Erin Baiano)
Something's coming, I don't know when
But it's soon...maybe tonight?
Those iconic lyrics have basically been our #mood ever since we first heard a remake of the West Side Story film, directed by Steven Spielberg and choreographed by Justin Peck, was in the works. THE CASTING. THE CASTING WAS COMING.
Well, last night—after an extensive search process that focused on finding the best actors within the Puerto Rican/Latinx community—the WSS team finally revealed who'll be playing Maria, Anita, Bernardo, and Chino (joining Ansel Elgort, who was cast as Tony last fall). And you guys: It is a truly epic group.
Keep reading...
Show less
Dancer Tony Bellissimo on the field at Super Bowl LII (via Instagram)
The Super Bowl is America's most-watched television event. Last year, when the incomparable Justin Timberlake took center field for the halftime show, more than 106 million viewers were watching his every move—and that's not even a record!
What's it like to perform for such an incredibly huge audience? Dancer Tony Bellissimo has plenty of experience with high-pressure dance gigs, having worked with artists including Rihanna, Britney Spears, John Legend, and Chris Brown. But stepping out alongside Timberlake during last year's halftime show was a next-level experience. We talked to Bellissimo about how he scored such a coveted job—and how he handled the pressure.
Keep reading...
Show less
screenshot via @donte.colley on Instagram
Y'all, it's time to call a spade a spade: The first month of any New Year kind of sucks. It's way too cold, you're probs failing at one or two of those ambitious resolutions, and spring (with its exciting performing opportunities) feels so very far away. And yet, in the midst of so much darkness, a hero has emerged. His name is Donté Colley, and you're about to double-tap every single thing he's ever posted.
Keep reading...
Show less
Photo by Joe Toreno
It's almost 2019 and the ballroom dance scene is positively booming! From prestigious world championships to TV shows, kids are at the core of all this hip-shaking action—and we're so here for it. These eight up-and-comers in particular are shaping the field. They're the next generation of superstars to make the leap from technically exquisite ballroom-ites to bona fide celebrities.
Keep reading...
Show less
Just for Fun
Jan. 11, 2019 02:28PM EST
Dance Teacher
Jan. 11, 2019 12:37PM EST
Joanne Chapman teaching turns (photo by Dan Boskovic, courtesy Joanne Chapman School of Dance)
Think back to your newbie dancer days. Can you remember your introduction to spotting? It might've involved staring hard at your own reflection in the mirror as you wrestled with your first pirouette. Or maybe your teacher had you put your hands on your shoulders as you attempted a series of half-chaînés across the floor.
Keep reading...
Show less
Get Dance Spirit in your inbox
Just for Fun
Aug. 17, 2018 12:29PM EST
Thinkstock
Dance teachers have to deal with a lot. While open communication with your teacher is obviously key, lame excuses for less-than-great behavior are guaranteed to get on her nerves. Always avoid these seven excuses that will 100 percent get your dance teacher's blood boiling.
Keep reading...
Show less
It includes this familiar face! (Erin Baiano)
Something's coming, I don't know when
But it's soon...maybe tonight?
Those iconic lyrics have basically been our #mood ever since we first heard a remake of the West Side Story film, directed by Steven Spielberg and choreographed by Justin Peck, was in the works. THE CASTING. THE CASTING WAS COMING.
Well, last night—after an extensive search process that focused on finding the best actors within the Puerto Rican/Latinx community—the WSS team finally revealed who'll be playing Maria, Anita, Bernardo, and Chino (joining Ansel Elgort, who was cast as Tony last fall). And you guys: It is a truly epic group.
Keep reading...
Show less
Just for Fun
Jan. 11, 2019 02:28PM EST
via @dynamicdancestudios on Instagram
There are dance routines, and then there are dance routines. Andrew, a 21-year-old dancer with Down Syndrome, performed the latter on the new British reality dance show "The Greatest Dancer." He brought the audience to tears as he unabashedly freestyled to Justin Timberlake's "Can't Stop The Feeling."
Keep reading...
Show less
The Broadway cast of Hamilton (Joan Marcus, courtesy Sam Rudy PR)
Today, January 11, is #AlexanderHamiltonDay: A very happy 264th birthday to Alexander Hamilton! Thanks to this most unlikely of Founding Fathers—a brilliant and ballsy orphaned immigrant who dramatically rose, then fell, then rose again—we have possibly the most successful musical of all time. We also, of course, got priceless GIFs such as this one: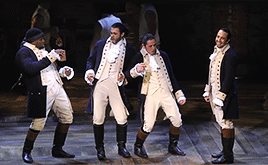 *When your crush walks over and you're trying to act natural but your friends are all like*
Aaaaaaaaaaanyway, while we can't get you "in the room where it happens" with tickets to the show's current Broadway, touring, or Puerto Rico productions—the last of which opens tonight!—we CAN offer up some fun ways to fête A.Ham's day of birth. Just you wait:

Keep reading...
Show less
Screenshot via YouTube
Every once in a while, the stars align, things fall precisely into place, and the perfect marketing campaign is born. Such is the case with New York City Ballet's new trailer for their upcoming run of The Sleeping Beauty, which was conceived and directed by company soloist Sean Suozzi.
Keep reading...
Show less
via @torysport on Instagram
Washington Ballet's Nardia Boodoo is turning heads these days, and not just at the barre. The brilliant ballerina shines in Tory Sport's latest commercial and we can't help but feel a little bit of pride as our March 2018 cover star brings ballet to the masses. What better way to show off stylish and comfy athletic wear than with Boodoo's strong and luminous dancing?
Keep reading...
Show less
Hall works with students at Dance Conservatory of Charleston. (courtesy Dance Conservatory of Charleston)
As the name suggests, summer intensives are, well, intense, encouraging you to eat, sleep, and breathe dance for a significant chunk of the summer. But they're not for every dancer—or every summer. Maybe you're not ready to be away from home just yet, or you want to spend your last summer with family before going off to college. Intensives can also be expensive, and not every household has the financial flexibility to cover the high cost of auditions, travel, room and board, and tuition. Whatever your reasons for seeking alternatives, it's important to recognize that, when it comes to summer study, it doesn't have to be all or nothing. "The most important thing is to keep dancing," says Lindy Mandradjieff, owner of the Dance Conservatory of Charleston in South Carolina. "Without the added stress of school, you can improve as much in one summer as you would in an entire school year." Here's how to keep up your training even if you don't plan on attending an intensive.
Keep reading...
Show less