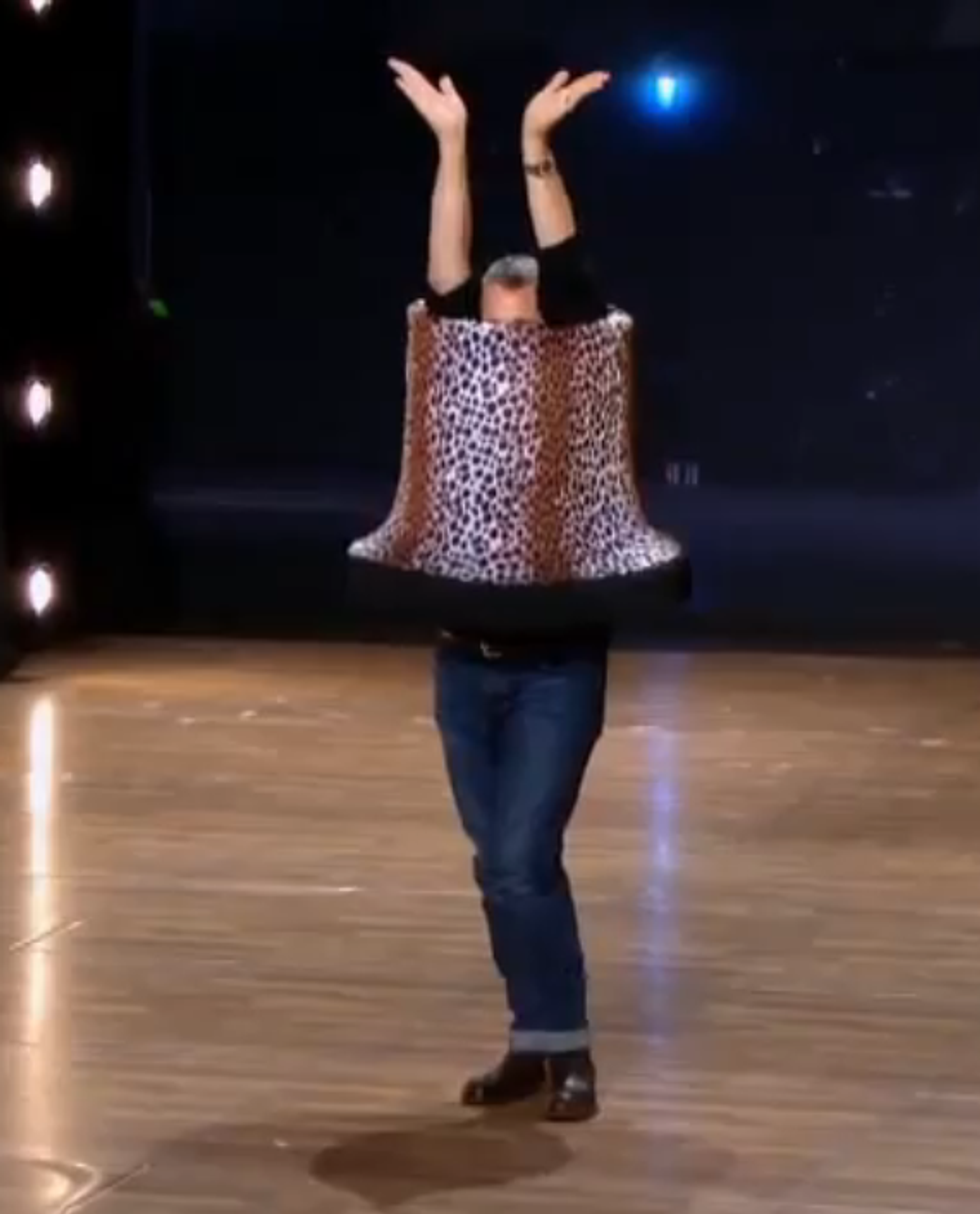 Work it, Adam!
I have to admit, I was nervous for the Boston auditions. Why? Because the teasers kept showing a dancer hit her head on the floor mid-routine, and it did not look good. And here I am, having just watched the episode, and I still have no idea what happened to her! Is she OK? Did she make it to Vegas? It concerns me that it wasn't shown. Head-hitting girl, if you're out there, please let us now you're alright.
In other news, this round of auditions in Bean Town was certainly an interesting one. From lampshades and mohawks to beat boxing and ballet, there was something for everyone. Here are my favorite moments:
While Natalie Vilos' dance in a giant lampshade was nothing to write home about, seeing judge Adam Shankman perfectly mirror it with his own lampshade dance, which ended in him getting hopelessly tangled in the silly prop, was priceless. What a ham. Plus, we got to hear Nigel ask, "Will you be turning yourself on?"—a creepy one-liner for the record books.
Katlyn Rodriguez won the Precious Story Award this week. When her ballroom partner couldn't make it, her little brother Jeremy stepped in at the very last minute—and he nailed it! The sweetness was slightly overshadowed by Katlyn's beyond inappropriate outfit (was that a diaper?), especially considering she was dancing with her baby brother. Her dancing didn't blow me away, and I was surprised the judges sent her to Vegas. But I'm hoping she covers up and proves me wrong in the next round. And Jeremy, looking forward to seeing you back on the show in a few years.
Anytime someone describes herself as a professional ballet dancer, I know I'm going to like her, and Jennie Begley did not disappoint. As Adam said, she's "the real deal." Her extensions were to die for and her feet were perfection. Plus, she was a great performer. I'm hoping this one sticks around for the Top 20.
Ernest "E-Knock" Phillips' story about a cousin who drowned and a family who took him in was touching, and his emotional audition to news footage of his cousin's death was heartbreaking. It was refreshing to see true hip-hop—no popping or animating here—and it was done in a unique way. He brought everyone to tears, nailed the choreography round and still didn't make it to Vegas. Judges, what's going on?!
Anthony Bryant aka Ribbon Boy is the perfect cautionary tale—a dancer with beautiful technique and a rotten, rotten attitude. He freaked out at auditions for both Seasons 1 and 4, so I could only imagine that he was back to redeem himself in Season 10. Nope. After he danced a weird but beautiful routine, the judges asked him to stay for choreography—and Ribbon Boy refused. "I actually don't want to continue then," he said. Give me a break.
Anthony Savoy is another professional ballet dancer, this time with Dance Theater of Harlem. Sold. My only complaint is that he was wearing too many baggy layers, completely covering what I assume were beautiful lines. Looking forward to seeing more of him.
Kate Kapshandy, dancing with old "SYTYCD" favorite Maks Kapitannikov, was the first ballroom dancer this season who blew me away—and the first dancer on Mary Murphy's official Hot Tamale Train! This blonde hottie is definitely Top 20 material.
Toshihiko Nakazawa can't speak English. What he can do is seriously pull off gold lamé—and he can dance. His hip hop/popping/locking/animating/breaking style was mesmerizing, and the judges sent him straight to Vegas. What a sweet little weirdo.
OK readers, what did you think? Are we on track for a successful Season 10? Let us know in the comments.