"So You Think You Can Dance" Recap: The Last One Before The Academy
FOX
Is it just us or does it feel like the audition rounds have been going on for a really long time this season? (They haven't. In fact, this season only visited two cities—L.A. and NYC—and now we're already headed to The Academy. But for some reason, it's felt long.) This week, we wrapped things up in NYC and met—and re-met—a few stellar dancers along the way. Here are the names you'll need to know this season.
---
Magda & Kiki
This ballroom couple has been dancing together for eight years, and they perform a cha-cha to "Move Your Body" by Sia. (Sadly sans a Maddie Ziegler cameo.) "It's a very cheeky, fun dance," Magda says, before telling the world that they are dance soulmates. Kiki has killer legs and is super sexy; together they're technical, talented, and totally in sync. Is the routine on par with Danny and Lacey's epic Season 3 samba? Nah. But is it good enough to earn them tickets to The Academy? Yup!
The judges say: Nothing, actually. They just held up three Academy tickets.
Zachary Downer
If Zachary looks familiar, that's because he auditioned for the show two years ago during Season 12. He made it all the way to the Green Mile (aka that pressure-mounting walk down the memory-filled hallways onto the stage where the judges or All-Stars reveal your fate, NBD) before being cut. But did he let disappointment get him down? Nope: Zachary's back, motivated, inspired, and shirtless! He calls his piece "animalistic," and it's so strong and leggy and powerful and Ailey-esque. Clearly, he's going to the Top 10.
The judges say: Standing ovation! Mary says it was amazing and that Zachary gets to board the Hot Tamale Train. "I just cannot see you not making it this time," she tells him.
Vanessa says: "Oh my gosh, I'm dying. You were so frickin' fierce. You're like a bird. Almost."
Ramita Ravi
A mix of classical Indian dance and contemporary? Who says you can't teach a 14-seasons-old show new tricks? Ramita is trained in classical Indian dance but also "jazz, ballet, tap, all of that stuff," she says. She wanted to make all dance more accessible to her Indian parents, and it seems to be working.
The judges say: "I found that really interesting," Nigel says. Mary says it was "mesmerizing and joyful" and that she "could watch it all day long." Ramita's through to choreography and, ultimately, The Academy.
Vanessa says: "I love your hands! I want them!"
Arielle Disciascio
Arielle has been dancing since she was 4, and she has a very sad story about her mom being diagnosed with breast cancer a few years ago. But now she's in remission, thankfully! A competition dancer from Florida, Arielle comes equipped with a striking presence and gorgeous legs and feet. She's very bendy, very strong, and very much Top 10 material. (That sultry eyebrow raise!)
The judges say: "You have all the moves. So spot on," Mary says.
Vanessa says: "At one point you smiled, and it made me smile."
Romainson Romain
Romainson, who wins the Best Name prize, has auditioned for the show several times before. Now he's 29, which means this is his last shot, because 29 is very old in "SYTYCD" Land. He, too, has a very sad story: His cousin died in a factory accident, and Romainson is (understandably) very upset about it. So he dances it out.
The judges say: "I'm seeing that sadness inside you," Nigel says. "I want to see this move off your shoulders." Mary praises his perseverance and cries. It's very emotional.
Vanessa says: "I feel like you have so much inside of you that I want to see more of."
Claire Rathbun
This perky, Larsen Thompson-y, bubbly babe is a ballerina! "You can have a big personality while being a ballet dancer," she says. Gotta love that. As for the performance? We're suckers for ballet being mainstream. Is Claire the best ballerina ever? Nah. But she has nice feet and is very talented, and it's likely she's proficient in other styles, too, which we hope to see more of.
The judges say: Mary praises her grace, elegance, presence, control, and core. Nigel says, "that too."
Vanessa says: "I was dizzy just watching you!" (Someone teach Vanessa how to spot, STAT!)
Lex Ishimoto
So we're saving the best for last, huh? If you're fluent in contemporary or Broadway, Lex Ishimoto is already a familiar face and name. Not only was the hip-hop–trained dancer part of the Billy Elliot national tour, he's also a member of Shaping Sound. So basically, he can do it all, and we predict he will—as a part of the show's Top 10. He takes a risk by doing an improv routine for his audition, and it's a standing-O–worthy hit.
The judges say: Nigel says Lex is "gonna be a star," and we're over here like, "HE ALREADY IS, HE'S A MEMBER OF SHAPING SOUND, DUH." Mary likes his "double swipe," which interestingly is not a Tinder reference. She says he's in the "tenth dimension," which is also on board the Hot Tamale Train.
Vanessa says: "At one point, you jumped up and get so high off the ground and you kicked up your leg and the other leg came and you came down and it looked impossible!"
And that'll do it for the official audition rounds. Next week, we finally make our way to The Academy, where we'll be graced with choreography superstars including Nappytabs, Travis Wall, and Sonya Tayeh—plus this season's All Stars!
Lol, same. (Screenshot via YouTube)
Picture this: You've scored tickets to Ellen DeGeneres' hit show, "Ellen." The day has come, the show is as hysterical as ever, Ellen is debating the biggest hot-button issue since the blue/black or white/gold dress, "Laurel vs. Yanny" (side note: it's LAUREL, people), and tWitch is killing it over at the DJ booth, as always. Ellen decides it's the perfect time to single out an audience member and, lo and behold, that person is "SYTYCD" champ ( and December 2017 cover star!) Lex Ishimoto.
Keep reading...
Show less
via @kyle_vanny on Instagram competing on World Of Dance
Kyle Van Newkirk is a tap dancer you probably remember from the premiere season of NBC's World of Dance. In case you missed it, he is also one of Showstopper's incredible convention teachers. What makes Kyle stand apart from some of today's other incredible tappers? He isn't afraid to change what tap means to his audience and even himself. This modern view of tap dancing is important because it shows us that tap dancers are just as versatile and dynamic as dancers of any other genre. We sat down with Kyle to get his advice on bringing tap dancing into the 21st century.
Keep reading...
Show less
How To
Oct. 01, 2010 04:55PM EST
(Nathan Sayers)
Turnout—a combination of rotational flexibility and the strength to properly hold that rotation—is the foundation of ballet. But it's also a source of frustration for many dancers. After all, not everyone (actually, hardly anyone) is born with 180-degree rotation. "When I first started dancing, my hip flexors were strong, but I was forcing my turnout without using the right muscles," remembers Amanda Cobb, a former dancer with The Washington Ballet.
The good news is that it's possible to both improve your turnout and to dance beautifully with less-than-perfect rotation. But there's a lot of misinformation out there about how turnout works and why it's important. To help separate fact from fiction, DS asked the experts to disprove six turnout myths.
Keep reading...
Show less
University of Minnesota Dance Team (courtesy University of Minnesota)
They say there's no "I" in "team"—and nowhere is that truer than the world of college dance teams, where precision reigns, uniformity is key, and a single misstep from any given "I" can cost a group a championship trophy. So it's unsurprising that securing a spot on one of the best dance teams in the country is no easy feat.
Members of these highly athletic teams rehearse for hours every week—on top of academic classes and commitments—and perform at football and basketball games, annual concerts, and nationally televised competitions (hi, ESPN). And "no I" rule notwithstanding, each of these top teams is made up of highly trained, highly technical, highly hard-core individuals, who come together to create a ready-for-victory pack.
These six teams aren't one-off success stories—they're consistently strong, and earn the top spots at major competitions like UDA and NDA nearly every year. Up for the challenge? Here's what to know before you go to auditions.
Keep reading...
Show less
Marilyn knows what's up.
If diamonds are a girl's best friend, it's safe to say that faux-diamond earrings are a dancer's best friend. A fixture onstage at just about every competition weekend, these blinged-out baubles are also the surest sign that recital season is upon us again. And what better way to get into the sparkly spirit than by drooling over these 5 diamonds in the rough? (Sorry not sorry!)
Keep reading...
Show less
May. 16, 2018 02:26PM EST
Ema Peter
The Glorya Kaufman International Dance Center is the 54,000 square foot home of the USC Glorya Kaufman School of Dance, one of the largest facilities dedicated to dance on a private university campus. Designed for their innovative new curriculum, that supports a range of dance styles, the school's staff designated Harlequin to provide wall-to-wall flooring for the large 3,500 square foot Performance Studio as well as five dance studios in their new state-of-the-art building.
Keep reading...
Show less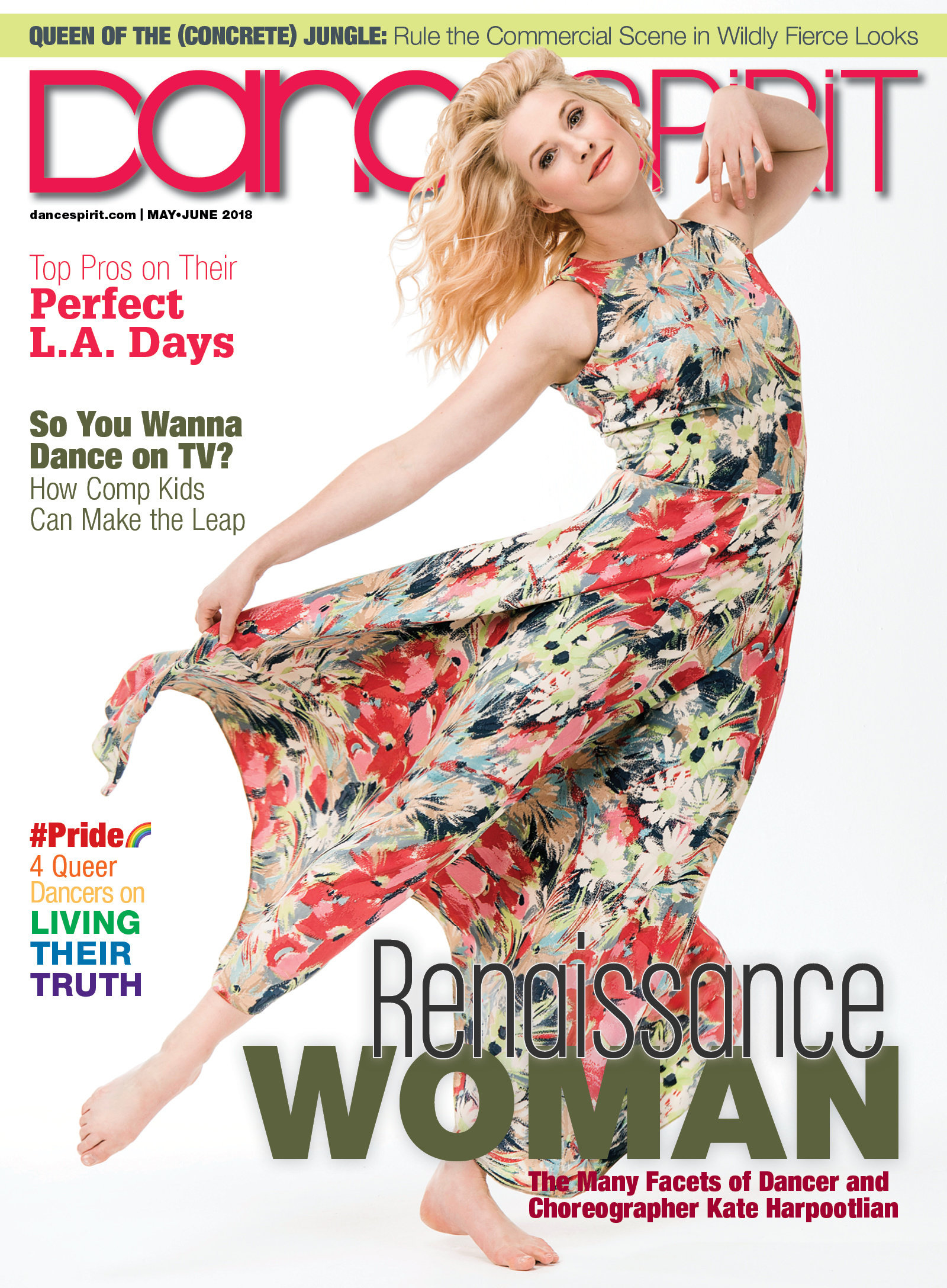 Get Dance Spirit in your inbox