"So You Think You Can Dance" Season 10 Recap: The Performance Finale!
You voted last night, right? I hope so, because it was your last chance!
Last night, Season 10's Top 4 contestants—Amy, Fik-Shun, Jasmine and Aaron—duked it out dance-style for the title of America's [Latest] Favorite Dancer, a $100,000 prize and, what we think is the best part, a spot on the December cover of Dance Spirit.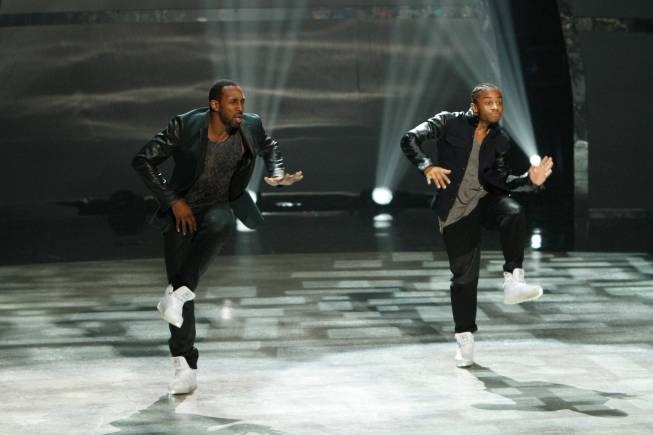 These two...I can't get enough! (Photo courtesy FOX)
As always, the evening included plenty of highs (Gabby Douglas didn't have much to say as a guest judge, but she's the cutest ever and rocked that yellow dress!) and a few lows (the moment when tWitch and Fik-Shun's duet ended and I was sad because I wanted it to go on forever).
Here are my Top 5 Moments from last night's performance finale:
1. Aaron and Amy's jazz fusion routine. Ray Leeper, where did this choreo come from?! I adore Ray and I think he's one of the greatest men in the entire competition and convention industry. (Seriously, sweetest, most genuine guy ever, plus he's always so beautifully tan.) This was a total deviation from his usual jazzy stuff and it really worked on these two. Hot Amy killed it in that costume and is Aaron a dream partner or what?
2. Jasmine and Comfort's hip-hop routine. Fun fact: The entire DS staff watched last night's episode together. And we're a chatty bunch, so we sort of missed the intro to this routine and all the rehearsal footage. By the end, after watching All-Star/my hip-hop alter ego Comfort booty pop her way through this piece, we all looked at each other and asked, "Wait, who choreographed this?" We were psyched to see NappyTabs giving their piece a standing O from the audience. This routine was all about girl power and Jasmine worked it hard, keeping up with Comfort juuuuust fine.
3. tWit-shun/Fik-witch. Oh my godddddd. You're familiar with my love for tWitch by now. And then these two together? It was just so good. One of the DS editors said tWitch and Fik-Shun looked like Will and Jaden Smith up there, having the best time ever. Right? Right. This piece was the funnest.
4. Amy and All-Star Robert falling in contemporary love. Thank you for this, Stacey Tookey. I love Amy. I looooove Robert. I loved them together and enjoyed being taken into the happy-magical world they created onstage.
5. Mark Kanemura's back! Mark Kanemura's back! His choreography for his piece with Jenna a few weeks ago was possibly my favorite of the entire season. And while I actually didn't adore last night's piece for Jasmine and Amy quite as much, I do love that Mark is potentially becoming a regular choreographer on the show. I also love that he used Jasmine and Amy to "tell the age-old story of Siamese twins from the fierce jungles of Saturn." What? Doesn't matter. Mark, you are the quirkiest and we love you for it.
Bonus #6: No one was eliminated last night! It was just a fun, enjoyable show where everyone was safe and got to dance full-out. Though is it just me or are these dancers starting to look tired? Get them massages, stat, Nigel!
Fess up: Who got you to pick up the phone last night? Any predictions for next week? I've got mine, but I'll keep them a secret for now. OK fine, I won't: Looking at last night's performances as well as the entire season leading up to the performance finale, I think Amy and Fik-Shun are worthy of the America's Favorite Dancers title.
Agree? Disagree? Tell me in the comments!
Artyon Celestine and Paige Glenn showing their lift skills (photo by Kristin Glenn, courtesy Glenn)
Yes, they're quite possibly the cutest dance duo since, well, ever. But put Paige Glenn and Artyon Celestine onstage, and it's immediately clear they mean business. That was apparent to millions across the country last summer, when Artyon and Paige's unbelievable extensions, fearless turning, and infectious energy propelled them to the quarterfinals of "America's Got Talent." They've also appeared (together or individually) on "Little Big Shots," "Lip Sync Battle Shorties," "The Ellen DeGeneres Show," and "Access Hollywood Live"—not to mention the competition titles they've won as a pair.
"Simon Cowell came backstage during 'AGT' and told us, 'Go out there and do your best. They're going to like you.' "—Artyon
Keep reading...
Show less
Popular
Apr. 02, 2018 10:14AM EST
Showstopper's National Finals Opening Number Performance
Showstopper has been making its impact on the dance world since 1978. Before then, dancers didn't have a stage to perform on, the opportunity to learn from peers, or a competitive outlet like most sports. Debbie Roberts recognized this missing piece in the dance community and that is how America's first and longest running dance competition, Showstopper, was born. Debbie taught dance for over 26 years and owned and operated her own dance studio for 20 years. She is now the owner and National Director of Showstopper, along side her husband, Dave Roberts. Dancer, teacher, business owner, author, and mother, Debbie has made dance her life's career.
Keep reading...
Show less
Lealand Eve
As a teenager, contemporary dancer Eveline Kleinjans felt like nothing she did was good enough. Auditioning for university dance programs paralyzed her: "I was so focused on every move I made and what people would think that I wasn't able to be free, to be myself," she says. And her intense perfectionism had real repercussions. "I'd get negative feedback saying, 'We don't see you.' "
Perfectionism is extremely common in the dance world, because dancers hold themselves to terrifically high standards. It's easy to get a little discouraged when you aren't improving as quickly as you want. But there's a difference between healthy self-criticism and an unhealthy obsession with perfection. How can you tell when your drive to be better has crossed the line—and what can you do to get back on track?
Keep reading...
Show less
Sarah Pippin assisting in a convention class at New York City Dance Alliance (courtesy NYCDA)
To her high school classmates, Sarah Pippin was a regular girl: a good student and a friendly face around campus. But on the weekends—at dance competitions and conventions across the country—Pippin was a bona fide celeb, adored by her fellow competitors and faculty members alike.
By the time she graduated high school, Pippin had racked up major accomplishments, including performances with Janet Jackson and Shaping Sound, a role on Dance Spirit's own reality series "Road to Nationals," titles such as New York City Dance Alliance's National Mini, Junior and Senior Outstanding Dancer, and, most recently, a college scholarship on behalf of Dance Magazine through the NYCDA Foundation.
There's no doubt that Pippin, now a freshman at The Juilliard School, is among a rising generation of competition and convention stars. And while "celebrity" isn't a term they'd give themselves, you know who they are. These dancers are adored by legions of real-life fans hoping to watch and dance alongside them, not to mention the thousands of social media followers ready to double-tap everything they post.
Being so popular on the circuit has its perks—traveling every weekend, internet fame, working with big-name choreographers—but it also comes with its share of struggles. Here's a peek at what it's really like at the top.
Keep reading...
Show less
Moira Shearer as Victoria Page in the 1948 film The Red Shoes
Q: "Why do you want to dance?"
A: "Why do you want to LIVE?"
Ahhh, so iconic! If you know those lines (slash, embody them on a daily basis), you're already a fan of the 1948 film The Red Shoes. The second line, as spoken by Red Shoes heroine Victoria Page, just perfectly captures the kind of crazy, all-consuming love so many of us feel for this incredible art form.
The Red Shoes turns 70 (!) this year. And Harper's Bazaar decided to celebrate that birthday in an oh-so-glamorous fashion: They decked out three of today's most beautiful ballerinas—American Ballet Theatre's Misty Copeland and Isabella Boylston and New York City Ballet's Tiler Peck—in gorgeous couture inspired by the film. (Obviously, Louboutins were involved.)
Keep reading...
Show less
Popular
Mar. 26, 2018 09:50AM EST
Winter is drawing to a close and you know what that means -- It's time to really kick this year into gear! Move U has done the research so you can find your best match, look good, and feel great this season with a twist unique to your team! Here are five looks to put your performance on the map in 2018.
Keep reading...
Show less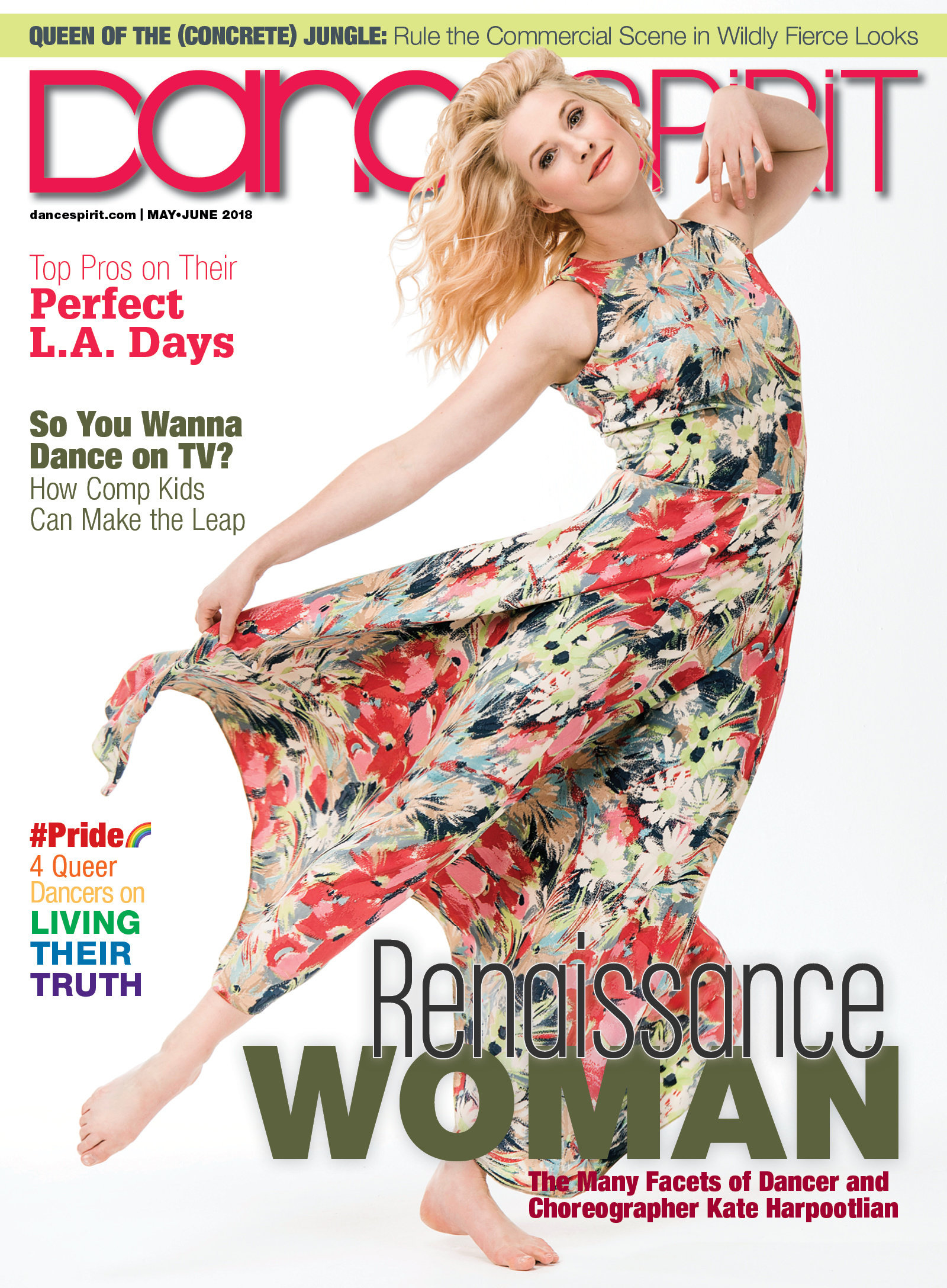 Get Dance Spirit in your inbox