"So You Think You Can Dance" Season 11 Recap: The First Cut Is the Deepest
If only every episode of "So You Think You Could Dance" could be like last week's: a glorious buffet of everyone dancing in their own styles, with no cuts to be made. But, alas, this is a competition show, and eventually, someone has to win. This week, we got down to business.
But before we get to the bittersweet farewells, let's start with the good stuff. Here it is folks—this week's Top 5 highlights:
1. Misty Copeland's spot-on critiques. It may be too early to call this, but I think Misty could win the award for Best Judge this season. She had creative and smart advice for just about every Top 20 dancer. Two of my personal favorites? She told Rudy, who performed a Sonya Tayeh jazz routine, to think of his legs as tree trunks, rooted into the ground in order to hold up the flowers (aka his partner Tanisha). And she told Bridget, who performed a Luther Brown hip-hop routine with her partner Emilio, that she shouldn't be afraid to get down "on his level." Misty stressed that there are many kinds of sexy, including "strong sexy," and that women should feel like equals to their male counterparts when dancing hip hop. #GirlPower.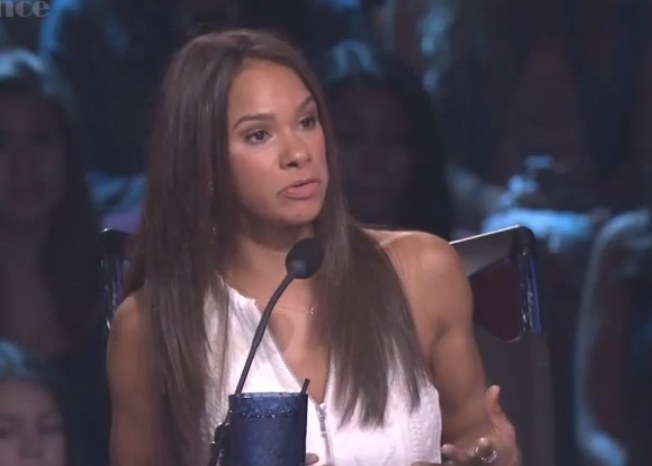 Misty Copeland: The next Lil' C
2. The contemporary pieces. We got two very different love stories this week. Travis Wall brought us "the one that got away," while Sonya Tayeh represented "the unbreakable love." Beautiful dancers + beautiful contemporary choreography + beautiful backstories? It's kind of a no-brainer that these pieces were huge successes. Contemporary dancer Ricky and his tap-dancing partner Valerie showed great promise in Travis Wall's routine. The chemistry isn't quite there yet, but I'm excited to see how the two grow together throughout the show. As for contemporary dancer Carly and and Latin ballroom dancer Serge in Sonya's piece? OMG. This had to be my personal favorite piece of the night. It was set to Sam Smith's acoustic version of "Latch," and latch is exactly what they did. Leave it to Sonya to think up some of the most breath-taking partnering out there.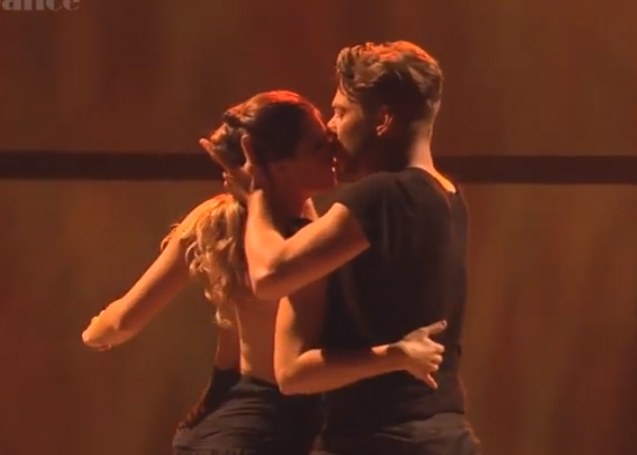 Be still my heart—such love between new partners Serge and Carly.
3. Argentina wins! The tango, that is. Latin ballroom dancer Brooklyn and her partner contemporary dancer Casey were smokin' hot in a Miriam and Leonardo Argentinian Tango. From the moment the light hit Brooklyn in her stunning red dress, I knew this was going to be good. She had this perfectly subtle smirk on her face that just exuded confidence. The dancers managed to have chemistry with one another and the audience simultaneously—an impressive feat considering this is their first week dancing together! They also demonstrated remarkable control, and as Misty aptly pointed out, they brought the sexy.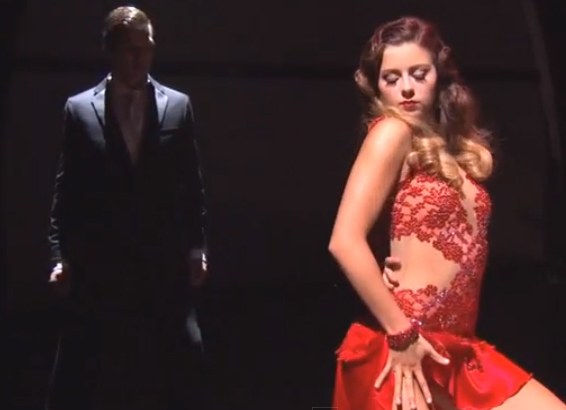 HOT.
4. Quite possibly the most ridiculous unitards I've ever seen. Okay, so the unitards aren't actually a highlight. But the dance they accompanied sure is. Ballerina Jacque and tapper Zack were absolutely delightful in a Sean Cheesman Afro-jazz piece. I mean, the two were completely out of their element, yet they adapted to the style seamlessly. Let's face it: The things they did with their backs you just don't do in ballet or tap. The routine won a standing ovation from Mary and a ticket on the Hot Tamale Train! (Fortunately for her fellow judges, Mary's accompanying scream was somewhat subdued.)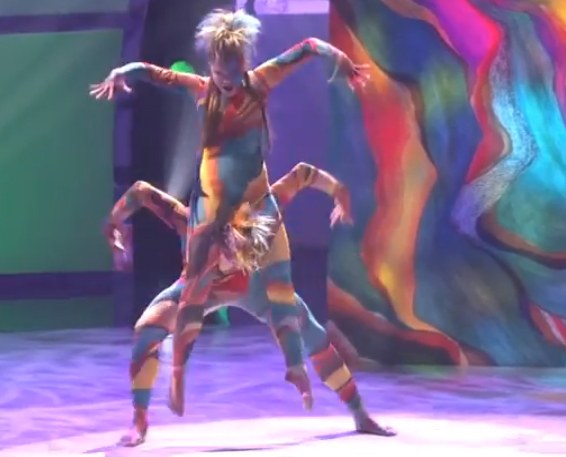 Ummmmmm...
5. Chloé Arnold and the Syncopated Ladies. You already know that we think these tappers are #Flawless. But seeing them up there on the "SYTYCD" stage was somehow all the more sweet. Their taps were crystal clear, their formations were on point and they sold it with their performance. What more could we ask of them? Misty Copeland wanted sexy strong, and these ladies brought it.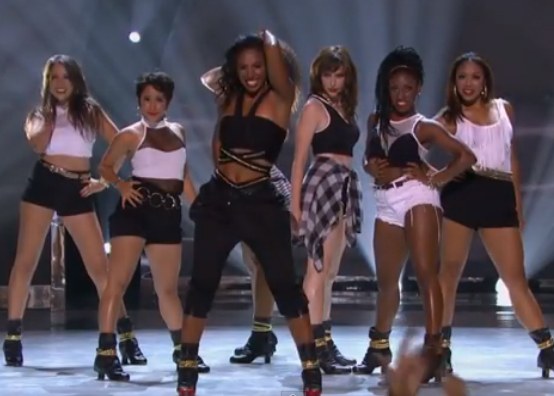 They woke up like this.
OK, now for the not-so-fun part: the eliminations. Brooklyn, Jourdan and Malena were the bottom three girls and Casey, Nick and Serge were the bottom three guys. After last night's performance, the judges decided to send Malena and Nick home. The first cut is so hard!
Are you upset about who ended up in danger? You can do something about that! Be sure to vote for your favorite(s). (You can vote up to 20 times.) And check back here next week to see who makes it to the Top 16.
American Ballet Theatre principal dancers Sarah Lane and Daniil Simkin (courtesy ABT)
Last May, we told you about a special exhibition of the Mark Ryden artwork that sparked Alexei Ratmansky's sweet-treat of a ballet, Whipped Cream. Well, hold on to your tiaras, bunheads, because there's a brand-new exhibit featuring actual costumes from this megahit production. The Nutcracker's Land of Sweets has some serious competition!
Keep reading...
Show less
via @kyle_vanny on Instagram competing on World Of Dance
Kyle Van Newkirk is a tap dancer you probably remember from the premiere season of NBC's World of Dance. In case you missed it, he is also one of Showstopper's incredible convention teachers. What makes Kyle stand apart from some of today's other incredible tappers? He isn't afraid to change what tap means to his audience and even himself. This modern view of tap dancing is important because it shows us that tap dancers are just as versatile and dynamic as dancers of any other genre. We sat down with Kyle to get his advice on bringing tap dancing into the 21st century.
Keep reading...
Show less
What did I just hear you say? You think all dancers are weak and delicate? PLEASE SAUT DE CHAT OUT OF MY LIFE. (Giphy)
Sure, dancers definitely have some unique identifying characteristics. (We're all obsessed with Center Stage? FACT.) But we're also subjected to all kinds of annoying, inaccurate stereotyping. Here are 10 dancer stereotypes that we never want to hear again.
Keep reading...
Show less
University of Minnesota Dance Team (courtesy University of Minnesota)
They say there's no "I" in "team"—and nowhere is that truer than the world of college dance teams, where precision reigns, uniformity is key, and a single misstep from any given "I" can cost a group a championship trophy. So it's unsurprising that securing a spot on one of the best dance teams in the country is no easy feat.
Members of these highly athletic teams rehearse for hours every week—on top of academic classes and commitments—and perform at football and basketball games, annual concerts, and nationally televised competitions (hi, ESPN). And "no I" rule notwithstanding, each of these top teams is made up of highly trained, highly technical, highly hard-core individuals, who come together to create a ready-for-victory pack.
These six teams aren't one-off success stories—they're consistently strong, and earn the top spots at major competitions like UDA and NDA nearly every year. Up for the challenge? Here's what to know before you go to auditions.
Keep reading...
Show less
Lol, same. (Screenshot via YouTube)
Picture this: You've scored tickets to Ellen DeGeneres' hit show, "Ellen." The day has come, the show is as hysterical as ever, Ellen is debating the biggest hot-button issue since the blue/black or white/gold dress, "Laurel vs. Yanny" (side note: it's LAUREL, people), and tWitch is killing it over at the DJ booth, as always. Ellen decides it's the perfect time to single out an audience member and, lo and behold, that person is "SYTYCD" champ ( and December 2017 cover star!) Lex Ishimoto.
Keep reading...
Show less
May. 16, 2018 02:26PM EST
Ema Peter
The Glorya Kaufman International Dance Center is the 54,000 square foot home of the USC Glorya Kaufman School of Dance, one of the largest facilities dedicated to dance on a private university campus. Designed for their innovative new curriculum, that supports a range of dance styles, the school's staff designated Harlequin to provide wall-to-wall flooring for the large 3,500 square foot Performance Studio as well as five dance studios in their new state-of-the-art building.
Keep reading...
Show less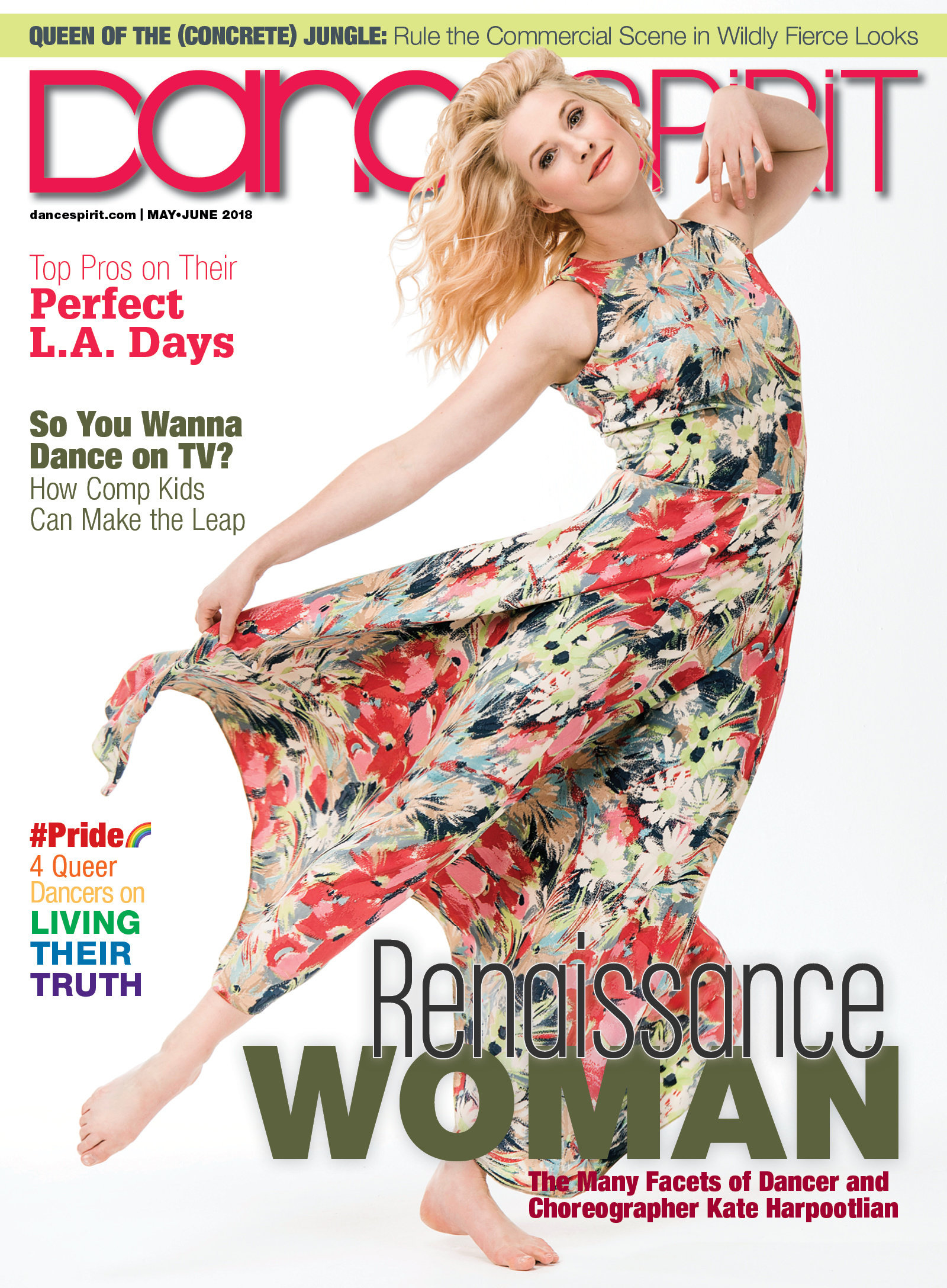 Get Dance Spirit in your inbox