Aug. 28, 2014 07:00AM EST
"So You Think You Can Dance" Season 11 Recap: The Performance Finale
This is it guys--the final four. It's crazy to think that by this time next week, we'll know the big winner. But let's not get ahead of ourselves, because last night's episode...OMG LAST NIGHT'S EPISODE...was something we'll be talking about for a looong time.
Ricky, Valerie, Zack and Jessica, you've made my job extremely difficult this week. How could I possibly just pick five moments to highlight?! Every piece was SPOT ON. But, alas, if America must choose just one of these incredible dancers for the title "America's Favorite Dancer," I can find a way to pick my Top 5 moments. Here it is!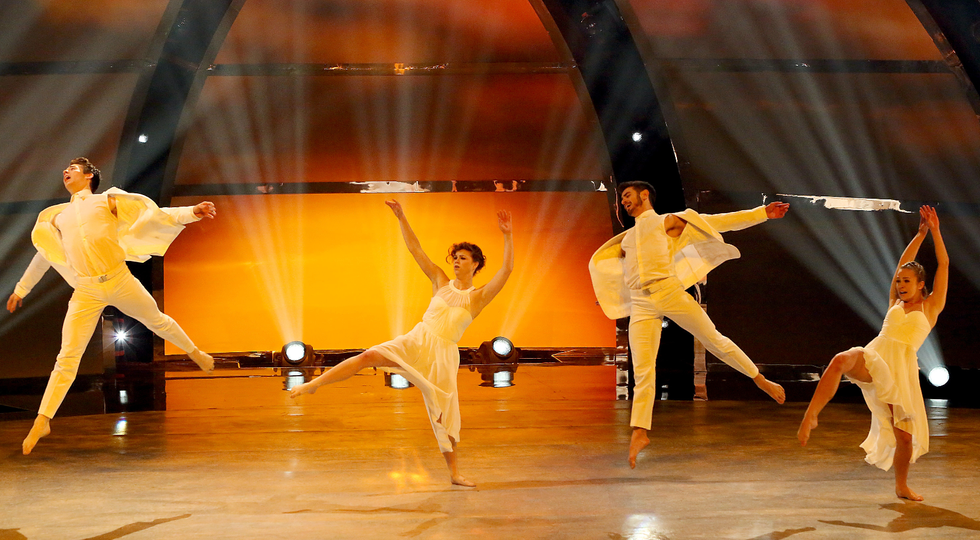 Can you guys dance together all the time please? (photo by Mike Yarish/FOX)
1. Travis Wall. OK, so it's not really a moment—Travis Wall choreographed two pieces for last night's show. But they were both more than worthy of a Top 5 spot, so I cheated. Travis's opening group piece made my heart sing. The dancers were radiant all dressed in white, and they seemed to be just oozing with love for one another. Travis's exploration of same-gender partnering was so refreshing, and when the Final Four walked hand-in-hand towards the front of the stage at the close of the piece, I had a smile from ear to ear.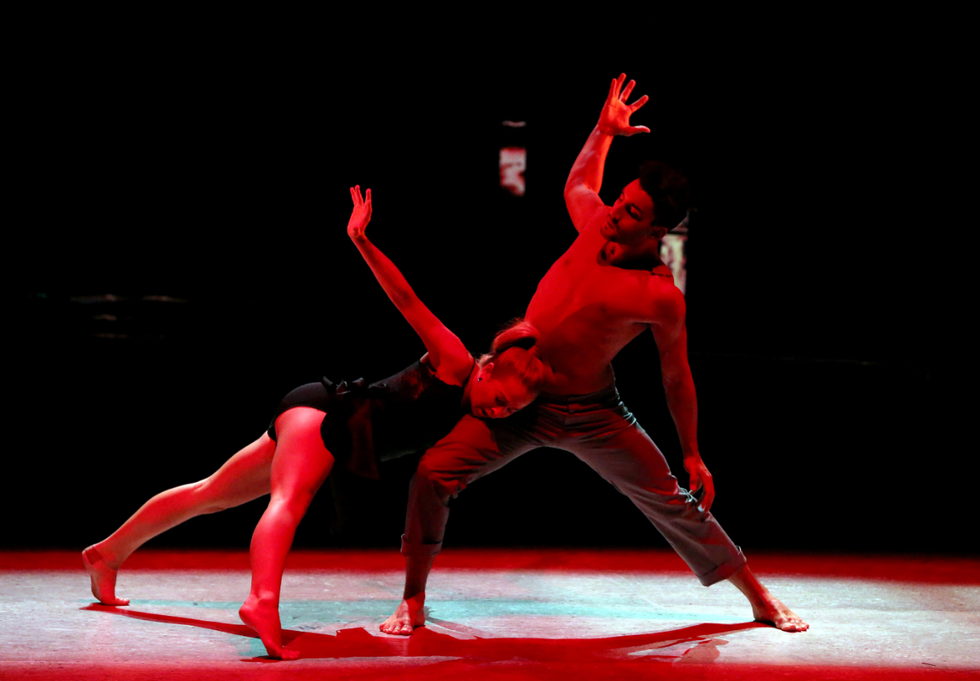 He ain't worth it, Jessica! (JK, love you Robert.) (Photo by Mike Yarish/FOX)
Travis's closing piece, featuring Jessica and All-Star Robert, demonstrated this young choreographer's boundless versatility. The piece epitomized a cold, quiet sexiness that really showcased Jessica's strengths. The chemistry was palpable, and somewhat painful, as Travis took us on a journey of bad romance.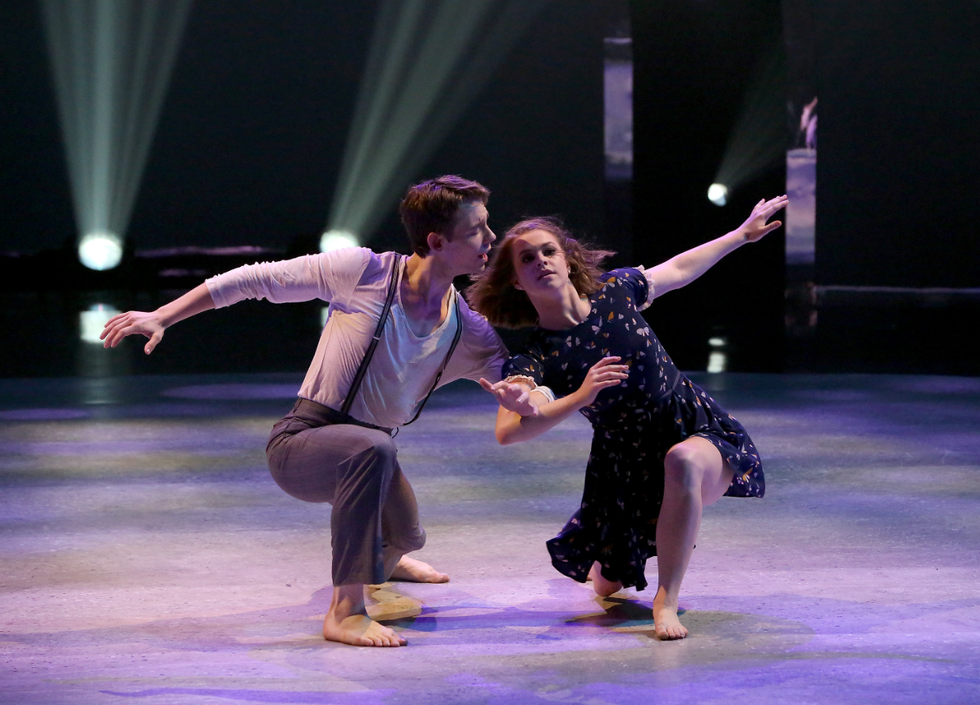 This is acting. (Mike Yarish/FOX)
2. Two tappers tackle contemporary, and so win. I would venture to say that Tyce Diorio's contemporary duet for Valerie and Zack was the most challenging piece of the night. Sure, it required impeccable technique—but these tappers have demonstrated their versatility week after week. What was truly challenging about this piece was the acting component, as Valerie played the role of a blind woman. I want to take a moment to thank Tyce for two things: 1. As the judges noted, he managed to present a potentially heavy topic in an uplifting, almost joyful manner, and 2. He didn't put Valerie in a blind fold. Tyce trusted Valerie to convey her character without a prop (minus the brief appearance of the cane at the beginning), and man, did she deliver.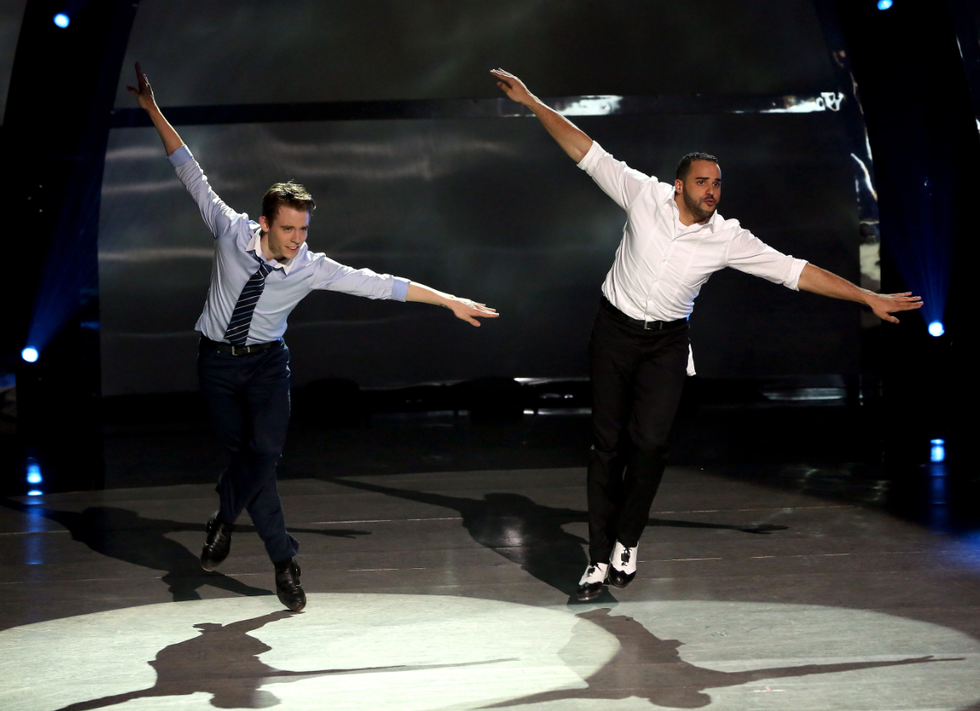 Zack and Aaron's happy feet. (photo by Mike Yarish/FOX)
3. Aaron Turner + Anthony Morigerato = "SYTYCD" magic. I may or may not be cheating again, but both of Anthony's tap pieces were off-the-wall awesome. And the fact that we got to see Aaron not once but TWICE was just the icing on the cake. I loved the way Anthony created a counter rhythm with Sammy Davis Jr.'s scatting in his duet for Valerie and Aaron. It really demonstrated his complex understanding of rhythm. But his duet for Zack and Aaron was what really blew me away. Anthony is a master at quiet tapping—which is a whole lot more difficult than pounding your feet into the floor—and this piece really captured that quality. Throughout the piece, Aaron and Zack were engaged in a tap conversation of sorts. By the end, it was almost like they'd reached an agreement, as the two tappers created a flawless unison sound.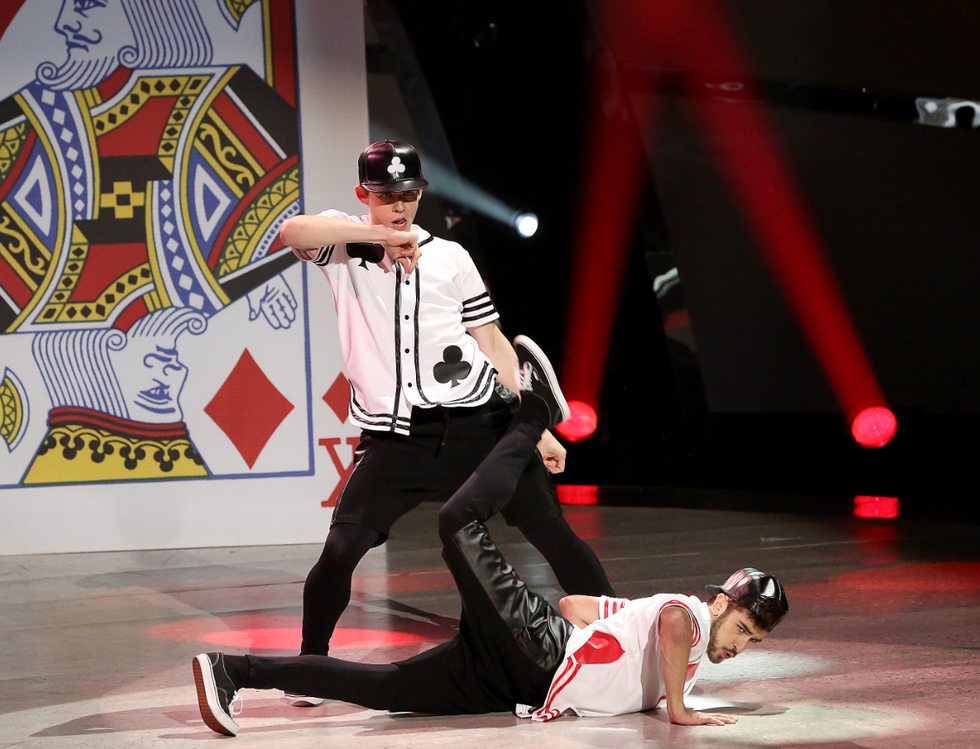 There it is, folks: the wind and worm. Can we talk about these facial expressions? (Photo by Mike Yarish/FOX)
4. Two boys with the least amount of swag got down. OK, so when you look at Ricky and Zack, you don't exactly think gritty hip hop. But put these two with master choreographers Pharcyde and Phoenix, and you don't even recognize them. The boys went in, executing even the most intricate movements with explosive energy. A real highlight was what I like to call the "wind and worm," when Ricky did the worm while Zack stood over him just a-rollin' his body. Where did that come from?! Oh, and how about when they did a sort of intertwined tut, and when Ricky jumped over Zack and caught his head between his legs in the process? Yeah, clearly I didn't enjoy this piece at all...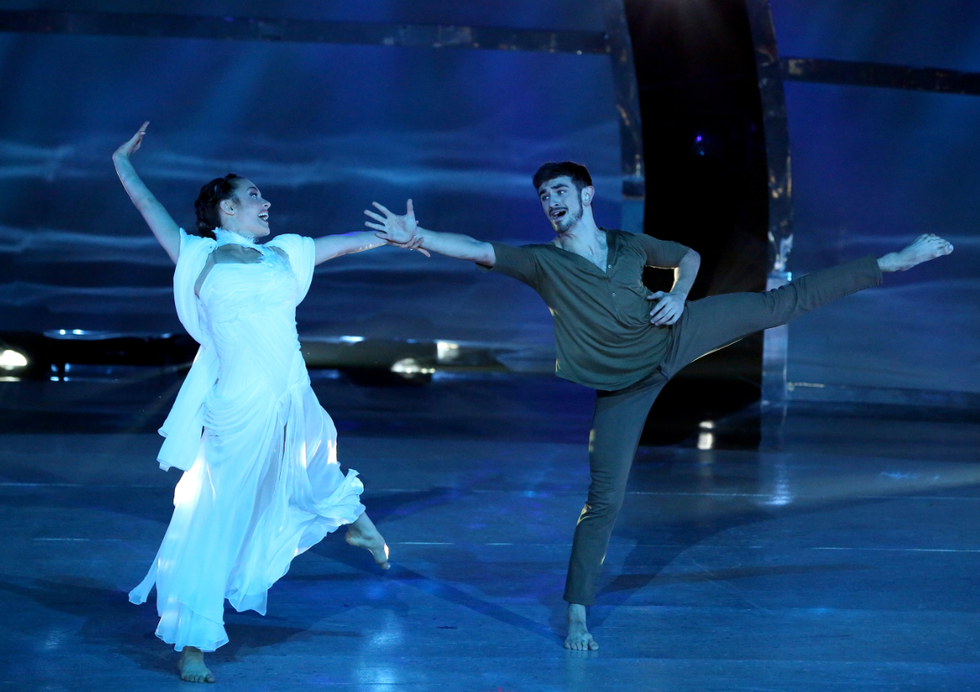 Simply breathtaking. (Photo by Mike Yarish/FOX)
5. Kathryn McCormick met her match. Have you ever noticed that any time Kathryn appears as an All-Star, she tends to outshine her partner? It's not her fault—she's just that good. But when she danced alongside Ricky, it felt right. Kathryn and Ricky are both beyond technique. They dance without thought or judgment and seem to get lost in just about any piece they perform. Kathryn may have played the angel in this Stacey Tookey piece, but they were both nothing short of angelic.
The best part of last night's episode? No eliminations to announce! It has been a truly fantastic season, and I feel like, at this point, it could be anybody's game. What do you think? Now's the time to make your predictions, and then we'll meet you back here next week to discuss.
Dance News
Jun. 15, 2019 10:12AM EST
(From left) Darriel Johnakin, Diego Pasillas, and Emma Sutherland (all photos by Erin Baiano)
Congratulations to Dance Spirit's 2019 Cover Model Search finalists: Darriel Johnakin, Diego Pasillas, and Emma Sutherland! One of them will win a spot on Dance Spirit's Fall 2019 cover. Learn more about the dancers on their profile pages, and then vote for your favorite below. You can vote once a day now through July 15.
We also want you to get social! We'll be factoring social media likes and shares into our final tallies. Be sure to show your favorite finalist some love on Facebook, Instagram, and Twitter, sharing their profile pages and using the hashtag #DanceSpiritCMS.
Cover Model Search
Jun. 13, 2019 02:20PM EST
Photo by Erin Baiano
Imagine attending American Ballet Theatre's prestigious NYC summer intensive, training among classical ballet legends. Imagine taking the stage at New York City Dance Alliance Nationals, competing against some of the country's best contemporary dancers. Now, imagine doing both—at the same time.
Welcome to Madison Brown's world. This summer, she's in her third year as a National Training Scholar with ABT, while also competing for NYCDA's Teen Outstanding Dancer title. (She's already won Outstanding Dancer in the Mini and Junior categories.) The logistics are complicated—ABT's five-week intensive overlaps with the weeklong NYCDA Nationals, which translates to a lot of cabs back and forth across Manhattan—but Maddie is committed to making the most of each opportunity. "I love contemporary and ballet equally," she says. "While I'm able to do both, I want to do as much as I can."
Maddie has an expressive face, endless extensions, and a quiet command of the stage. She dances with remarkable maturity—a trait noted by none other than Jennifer Lopez, one of the judges on NBC's "World of Dance," on which Maddie competed in Season 2. Although Maddie didn't take home the show's top prize, she was proud to be the youngest remaining soloist when she was eliminated, and saw the whole experience as an opportunity to grow. After all, she's just getting started. Oh, that's right—did we mention Maddie's only 14?
Cover Story
Jun. 17, 2019 12:14PM EST