Back-to-school season means the return of long nights at the dance studio. When rehearsals go as late as 9 or 10 pm, waiting until you get home to eat dinner isn't a good option. But chowing down on fast food or snack bars between classes could leave you feeling sick to your stomach. How do you pack a nutritious meal that will fuel your dancing without weighing you down? Rachel Fine, registered dietitian and founder of To the Pointe Nutrition, offers her foolproof strategy.
The Equation
According to Fine, a balanced meal should incorporate the following three macronutrients:
1. Complex carbohydrates—like lentils, wheat bulgur, quinoa, wheat berries and barley—give your body sustained energy. "I recommend primarily nonbread carbohydrates, because they offer the highest fiber content, which is good for digestion," Fine says. "But if you choose bread, opt for a product with visible nuts and seeds, like Ezekiel bread."
2. Lean protein—like lean meat, nuts, soybeans, Greek yogurt, quinoa, edamame and eggs—helps build and repair muscle. "Hard-boiled eggs are a great grab-and-go protein fix," Fine says. "Some people shy away from egg yolks, but they actually have a lot of vitamins and minerals." Fine doesn't recommend eating more than one whole egg, but you can have unlimited egg whites.
3. Healthy fats—like the omega-3 fatty acids in ground flaxseeds, chia seeds, walnuts, olive oil and salmon—are crucial for muscle recovery. "Because dancers are athletes, their bodies are always in a state of minor inflammation," Fine says. "Omega-3s reduce that inflammation."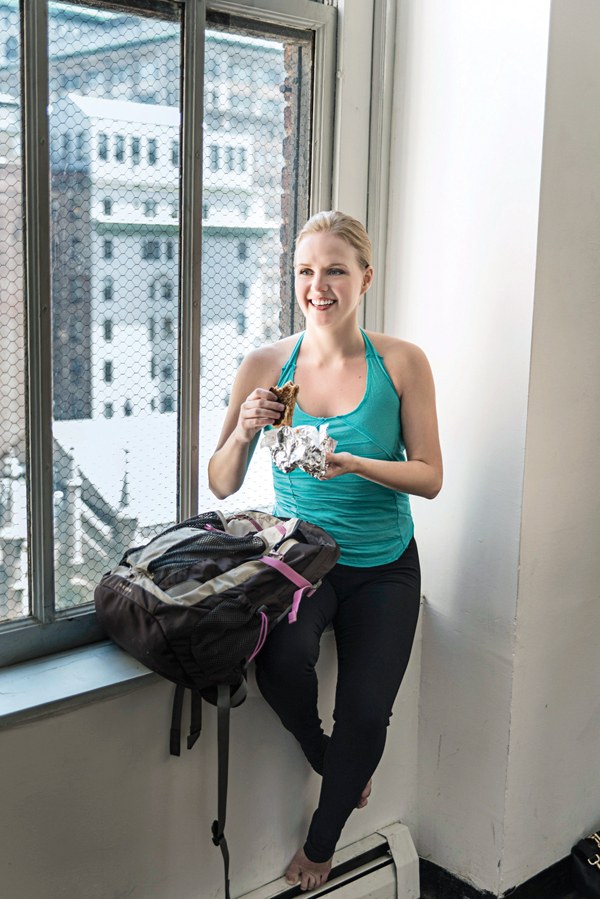 (Photo by Lucas Chilczuk)
The Menu
How do these macronutrients come together in a delicious, packable dinner? Try one of Fine's three dance-bag-friendly recipes.
Greek Lentil or Wheat Berry Salad: Combine steamed lentils or wheat berries with chopped onions, tomatoes, feta and splashes of olive oil and lemon juice. If you have access to a fridge at the studio, add a dollop of plain 2% Greek yogurt to your salad when it's time to eat.
Fine recommends steaming a whole box of lentils, quinoa or barley on Sunday, and using it as a base for different grain salads all week.
Packable perks: Grain salads are delicious at room temperature, and unlike green salads, they won't wilt throughout the day.
Almond Butter and Banana Sandwich: Spread almond butter on two slices of Ezekiel bread. Top with half a sliced banana and a sprinkle of flaxseeds.
Packable perks: Nothing beats a utensil-free sandwich when it comes to meals on the go.
Tuna or Egg Salad Wrap: Combine canned tuna or chopped hard-boiled eggs
with plain 2% Greek yogurt and chopped celery and spread on a whole-grain wrap
or crackers.
Packable perks: Crackers make this meal easy to snack on throughout the evening, rather than eating all in one sitting.
Your Aches and Pains Addressed: Charley Horses
What is it? A "Charley horse" is a muscle spasm in which the muscle contracts involuntarily and can't relax. Dancers tend to get them in their lower legs—especially the calves—as well as their hamstrings and the arches of their feet.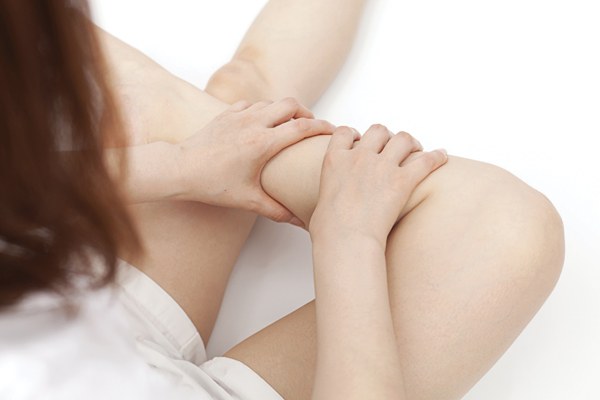 (Photo via Thinkstock)
What causes it?
General causes: A Charley horse can result from overloading a muscle that's unprepared to do the job asked of it. You're most at risk when coming back from a break, practicing a new step or working at a new level of intensity. Dehydration can also contribute to the problem, particularly for spasms in the lower leg, where the waste products of muscle contraction concentrate easily.
Specific causes: Calf spasms often occur in dancers who wing their feet excessively. When you wing, you rely heavily on your peroneus longus, a stabilizing muscle running along the outside of your lower leg. Without adequate help from the many other muscles in your calf, your peroneus longus gets overworked, which can cause it to spasm. Similarly, the main calf muscle—the gastrocnemius—can spasm from overloading due to weakness in the larger hip muscles.
Charley horses in the arches of your feet can originate in your calves, too. The flexor hallucis longus and flexor digitorum longus are two muscles that run from your calves to your toes. They tend to be tight in dancers from spending so much time on pointe or in relevé. This tightness can compress the joints of the feet or overload the intrinsic foot muscles, which can lead to spasms.
How to deal
If you get a Charley horse in the middle of class, step aside and try to gently work it out. If the spasm is in your calf, try doing some demi-pliés and other calf stretches to relax the muscle. If that doesn't help, try massaging your calves or rolling them out with a tennis ball. If it still hurts to walk, stop dancing and let the area rest.
When a Charley horse strikes in your arch, you might want to focus on massaging your feet. But remember that the problem likely originates in your calves, so spending some time rubbing out your lower legs can be helpful, too.
When to seek help
If stretching, massage and proper hydration aren't helping, and the pain doesn't ease by the following day, the spasm may be the sign of a nerve impingement in your lumbar spine or a muscle tear. This could also be the result of joint dysfunction in the spine,
so it's something you'll want to get checked out by a physical therapist or sports medicine practitioner.
Are you a stomach sleeper? You may want to train yourself to snooze on your side or back. Lying on your stomach puts pressure on your lower spine by flattening out its natural curvature, leaving you with an anterior pelvic tilt that may follow you to the ballet barre.
American Ballet Theatre principal dancers Sarah Lane and Daniil Simkin (courtesy ABT)
Last May, we told you about a special exhibition of the Mark Ryden artwork that sparked Alexei Ratmansky's sweet-treat of a ballet, Whipped Cream. Well, hold on to your tiaras, bunheads, because there's a brand-new exhibit featuring actual costumes from this megahit production. The Nutcracker's Land of Sweets has some serious competition!
Keep reading...
Show less
via @kyle_vanny on Instagram competing on World Of Dance
Kyle Van Newkirk is a tap dancer you probably remember from the premiere season of NBC's World of Dance. In case you missed it, he is also one of Showstopper's incredible convention teachers. What makes Kyle stand apart from some of today's other incredible tappers? He isn't afraid to change what tap means to his audience and even himself. This modern view of tap dancing is important because it shows us that tap dancers are just as versatile and dynamic as dancers of any other genre. We sat down with Kyle to get his advice on bringing tap dancing into the 21st century.
Keep reading...
Show less
How To
Oct. 01, 2010 04:55PM EST
(Nathan Sayers)
Turnout—a combination of rotational flexibility and the strength to properly hold that rotation—is the foundation of ballet. But it's also a source of frustration for many dancers. After all, not everyone (actually, hardly anyone) is born with 180-degree rotation. "When I first started dancing, my hip flexors were strong, but I was forcing my turnout without using the right muscles," remembers Amanda Cobb, a former dancer with The Washington Ballet.
The good news is that it's possible to both improve your turnout and to dance beautifully with less-than-perfect rotation. But there's a lot of misinformation out there about how turnout works and why it's important. To help separate fact from fiction, DS asked the experts to disprove six turnout myths.
Keep reading...
Show less
University of Minnesota Dance Team (courtesy University of Minnesota)
They say there's no "I" in "team"—and nowhere is that truer than the world of college dance teams, where precision reigns, uniformity is key, and a single misstep from any given "I" can cost a group a championship trophy. So it's unsurprising that securing a spot on one of the best dance teams in the country is no easy feat.
Members of these highly athletic teams rehearse for hours every week—on top of academic classes and commitments—and perform at football and basketball games, annual concerts, and nationally televised competitions (hi, ESPN). And "no I" rule notwithstanding, each of these top teams is made up of highly trained, highly technical, highly hard-core individuals, who come together to create a ready-for-victory pack.
These six teams aren't one-off success stories—they're consistently strong, and earn the top spots at major competitions like UDA and NDA nearly every year. Up for the challenge? Here's what to know before you go to auditions.
Keep reading...
Show less
Lol, same. (Screenshot via YouTube)
Picture this: You've scored tickets to Ellen DeGeneres' hit show, "Ellen." The day has come, the show is as hysterical as ever, Ellen is debating the biggest hot-button issue since the blue/black or white/gold dress, "Laurel vs. Yanny" (side note: it's LAUREL, people), and tWitch is killing it over at the DJ booth, as always. Ellen decides it's the perfect time to single out an audience member and, lo and behold, that person is "SYTYCD" champ ( and December 2017 cover star!) Lex Ishimoto.
Keep reading...
Show less
May. 16, 2018 02:26PM EST
Ema Peter
The Glorya Kaufman International Dance Center is the 54,000 square foot home of the USC Glorya Kaufman School of Dance, one of the largest facilities dedicated to dance on a private university campus. Designed for their innovative new curriculum, that supports a range of dance styles, the school's staff designated Harlequin to provide wall-to-wall flooring for the large 3,500 square foot Performance Studio as well as five dance studios in their new state-of-the-art building.
Keep reading...
Show less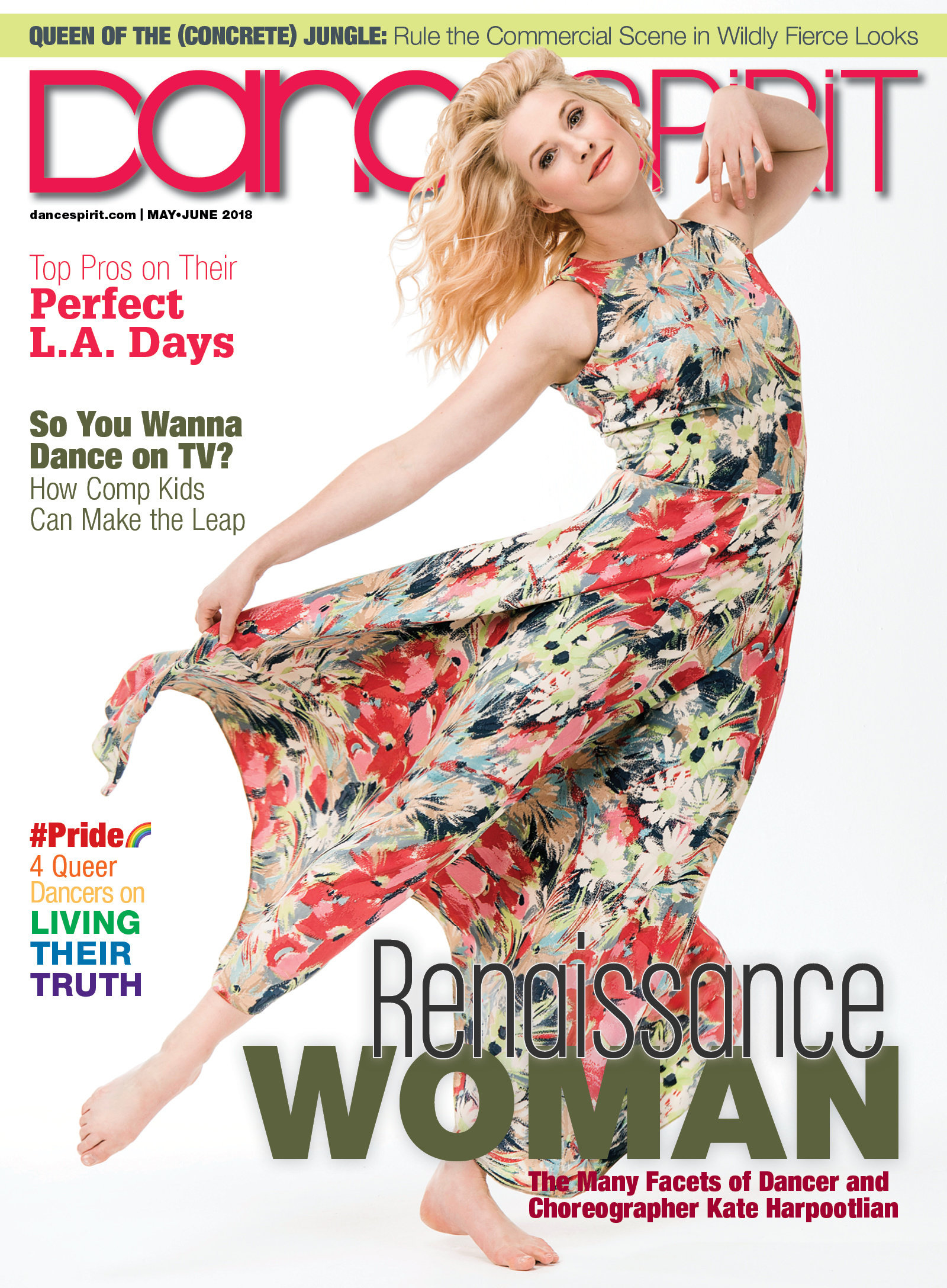 Get Dance Spirit in your inbox