Happy, happy day! It's just been announced that Jane Lynch—aka Sue Sylvester, "Glee"'s dastardly be-tracksuited spouter of amazing one-liners—will take on the role of Miss Hannigan in Annie on Broadway beginning May 16.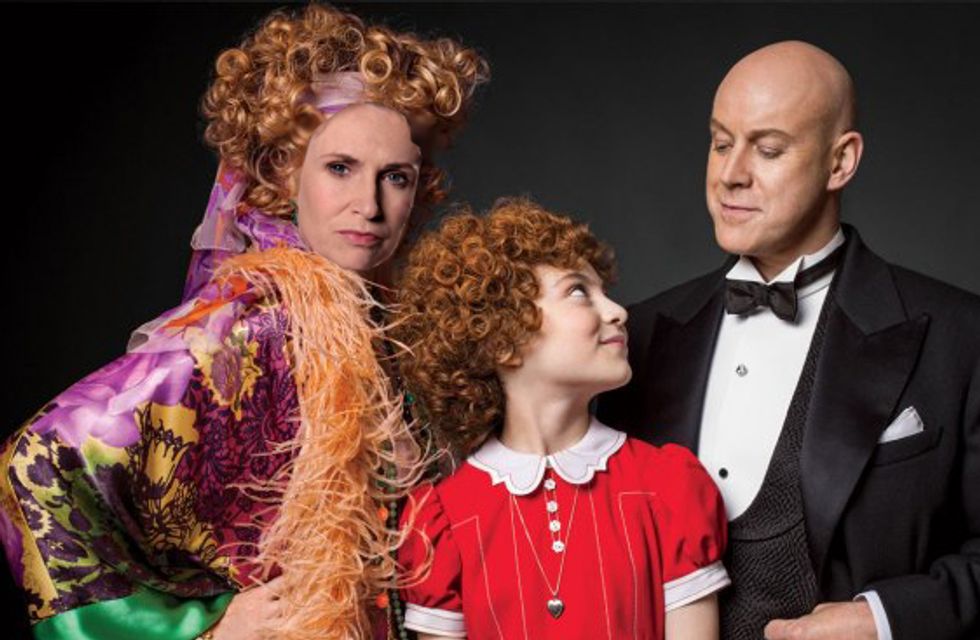 She's a natural! (original "Annie" photo Vanity Fair; original "Glee" photo FOX)
It's practically guaranteed that Ms. Lynch will nail the part, since going from harassing singing high-schoolers to harassing singing orphans is far from a dramatic character shift. Can she sing outside of the auto-tuned, pre-recorded world of "Glee"? Well, here's hoping. But frankly, even if she talked her way through "Little Girls" in a louder version of the Sue Sylvester voice, I think we'd all be happy.
Just in case Annie's directors decide to fulfill all my wildest dreams and make Lynch's role a glorious Slyvannigan hybrid, I've rounded up some Sue Sylvester quotes that might also work for Miss Hannigan. Enjoy!
"Allow me to ladle you a piping hot bowl of This is How It Is."
"Well that was just garbage. Garbage wrapped in skin."
"I spend the day vibrating with wild irrational rage."
"The English language lacks the requisite words to express just how much I dislike you."
Sylvannigan: This level of risk and danger makes me feel alive again.
Rooster: But the risk and danger isn't to you.
Sylvannigan: That's the best part.
"I just prefer to think of the homeless as outdoorsy. So shine on, urban campers!"
"I can't stand the sight of kids getting emotional, unless it's from physical exhaustion."
"You're dealing with children. They need to be terrified. It's like mother's milk to them."
"I'm seriously gonna puke in your mouth."