Jan. 04, 2019 12:31PM EST
4 Mistakes Dancers Make When Picking Summer Intensives
Boston Ballets Summer Dance Program students (photo by Rosalie O'Connor, courtesy Boston Ballet)
You've completed your summer intensive auditions and received your acceptance letters. Congrats! Now, it's time to choose where you'll be spending this vital training time. While it's easy to select the program with the biggest name, or head to the school where all your friends are going, it might not always be the best choice for you. Instead, it's most important to end up at a program that will nurture you while pushing you to fulfill your potential. Watch out for these common mistakes dancers can make as they finalize their summer plans.
---
Mistake: Not Doing Your Research
Set yourself up for success with plenty of advance research. In addition to looking online for info, see if you can talk to people who've done the programs you're interested in. Firsthand accounts may be more useful (and honest) than what's in a brochure.
Dig deep into what sets each program apart and consider your goals—for the summer and for your career. A program's curriculum should support them. "If you want to get into a contemporary company, you wouldn't necessarily want an intensive that's straight ballet," says Caitlin Warren, education and outreach coordinator for NW Dance Project in Portland, OR. "If your aim is to choreograph," she says, "look for the programs that offer improv and composition classes."
When solidifying her summer plans, Ellie Wagner, a 16-year-old student at Larkin Dance Studio in Maplewood, MN, says she reflects on the previous year and what she wants to improve on. "Then, I look for a summer intensive that fits what I want to learn." In summer 2018, Wagner was interested in learning more about a show's production and dancing on camera, and The Travis Wall Experience at DancerPalooza fit that bill. At the same time, she also wanted to do some artistic introspection and self-discovery, and attending Camp Protégé, a retreat-style mentorship program based in Alberta, Canada, seemed to satisfy that goal. (She also attended Generation IV and IAF Experience, and has previously done intensives at Joffrey Academy of Dance and American Ballet Theatre.)
Tamara King, the principal of Boston Ballet's Newton Studio, adds that an intensive's training philosophy should align with what you're getting at home. "Especially for younger students—say, 12 to 15 years old—consistency is important," she says. "Older students may be ready to spend a summer trying Bournonville or getting a concentrated dose of Balanchine, but hearing too many voices too early on can be detrimental." If you're not sure where you fall, ask your teacher for advice.
Mistake: Prioritizing the Wrong Things
Are you drawn to a big-name intensive because you want to be able to list that school on your resumé, or because you're certain it's a good fit for you? Are you feeling the lure of state-of-the-art facilities, or are you more impressed by a school's alumni? There's nothing wrong with name recognition and shiny studios, but they shouldn't necessarily be the primary reasons you select a program. "You want to go where you'll get the best training, period," says Michele Larkin-Wagner, co-owner of Larkin Dance Studio.
Studying with a top-tier company or well-known celebrity instructor can be the right choice if you know they're offering what you need—especially if the program will guide you toward your professional dreams. However, lesser-known intensives can also have a huge impact on your technique and artistry, and their smaller class sizes may help you foster a more personal connection with both faculty and peers. As you weigh your options, keep your focus on what's most likely to help you improve.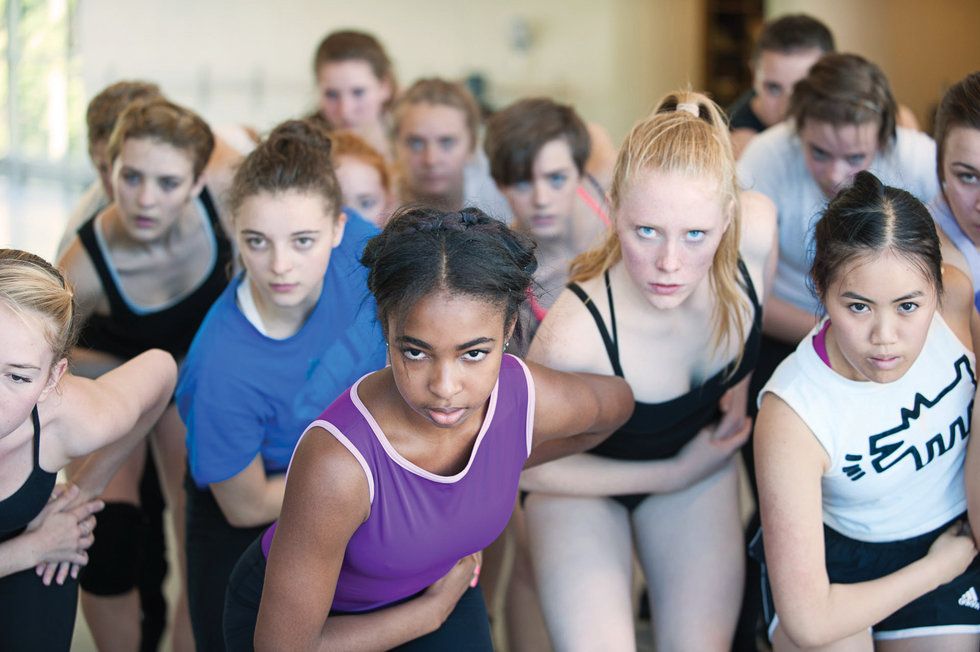 NW Dance Project summer intensive students (photo by Chris Peddecord, courtesy NW Dance Project)
Mistake: Following Your Friends
If you have multiple friends attending the same intensive, you might be tempted to sign up for that one as well. But as Warren says, "Follow your own path, not someone else's. What's inspiring to you? What's going to help you in the long run?" King notes that even if you do attend an intensive together, you and your friends could be placed in different classes or levels, which can be frustrating. Meanwhile, Wagner says, "being away from your friends pushes you outside your comfort zone, which often forces you to work harder."
And remember that one of the benefits of summer study is making new friends. "The dance world is so small," Warren says. "You might return the following year and reconnect, or see the same dancers at a different intensive." Summer friendships can carry through to college, auditions, and professional life. Be open, rather than insular, and watch your network expand.
Mistake: Not Challenging Yourself
Summer study is designed to be more demanding than training during the school year. You may be asked to put in more hours and throw yourself wholeheartedly into new styles. The result can be exponential growth in a condensed time frame—if you avoid settling for an intensive you know you can handle with ease.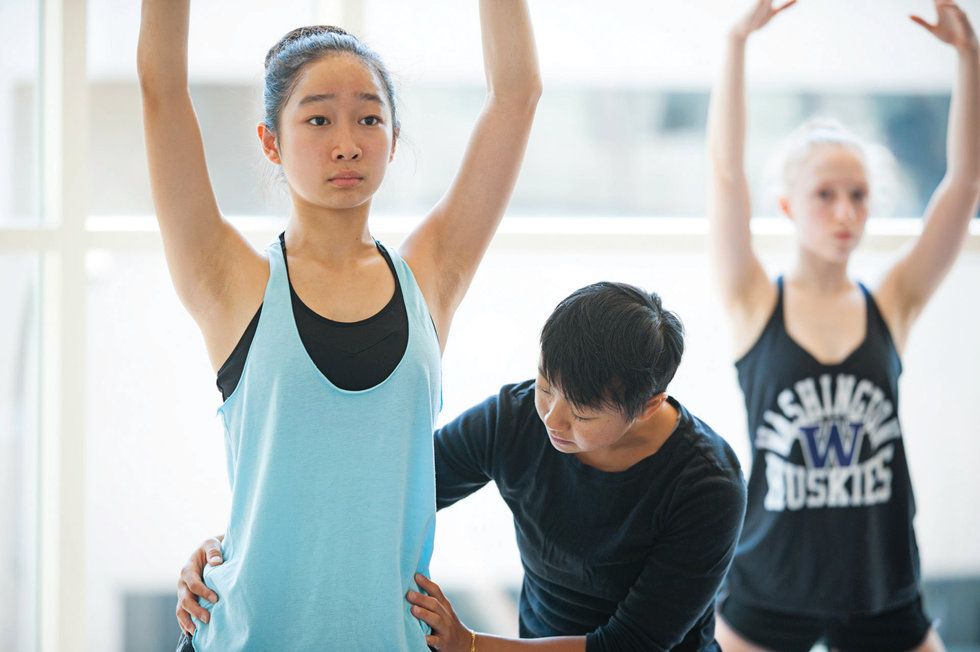 NW Dance Project summer intensive students (photo by Chris Peddecord, courtesy NW Dance Project)
But pushing your limits doesn't mean you have to go to a different program each year. "We have students come back after a wonderful experience, who want to reinforce and build on what they learned," says King. If you developed a relationship with a program's faculty and you know you have more to gain from working with them, there's nothing wrong with revisiting familiar ground. When you've gotten everything you can, it's time to move on.
"Summer study is a chance to spread your wings," Larkin-Wagner says. "Training with different teachers and meeting dancers from all over the country can really open your eyes." The first step toward having an unforgettable and invaluable experience is to land at a program that matches your abilities and your aspirations. Once you're there, it's up to you to make the most of it.
A version of this story appeared in the January 2019 issue of Dance Spirit with the title "Summer Study Mistakes."
Related Articles Around the Web
From Your Site Articles
Dancer to Dancer
Jun. 15, 2019 10:12AM EST
(From left) Darriel Johnakin, Diego Pasillas, and Emma Sutherland (all photos by Erin Baiano)
Congratulations to Dance Spirit's 2019 Cover Model Search finalists: Darriel Johnakin, Diego Pasillas, and Emma Sutherland! One of them will win a spot on Dance Spirit's Fall 2019 cover. Learn more about the dancers on their profile pages, and then vote for your favorite below. You can vote once a day now through July 15.
We also want you to get social! We'll be factoring social media likes and shares into our final tallies. Be sure to show your favorite finalist some love on Facebook, Instagram, and Twitter, sharing their profile pages and using the hashtag #DanceSpiritCMS.
Cover Model Search
Jun. 13, 2019 02:20PM EST
Photo by Erin Baiano
Imagine attending American Ballet Theatre's prestigious NYC summer intensive, training among classical ballet legends. Imagine taking the stage at New York City Dance Alliance Nationals, competing against some of the country's best contemporary dancers. Now, imagine doing both—at the same time.
Welcome to Madison Brown's world. This summer, she's in her third year as a National Training Scholar with ABT, while also competing for NYCDA's Teen Outstanding Dancer title. (She's already won Outstanding Dancer in the Mini and Junior categories.) The logistics are complicated—ABT's five-week intensive overlaps with the weeklong NYCDA Nationals, which translates to a lot of cabs back and forth across Manhattan—but Maddie is committed to making the most of each opportunity. "I love contemporary and ballet equally," she says. "While I'm able to do both, I want to do as much as I can."
Maddie has an expressive face, endless extensions, and a quiet command of the stage. She dances with remarkable maturity—a trait noted by none other than Jennifer Lopez, one of the judges on NBC's "World of Dance," on which Maddie competed in Season 2. Although Maddie didn't take home the show's top prize, she was proud to be the youngest remaining soloist when she was eliminated, and saw the whole experience as an opportunity to grow. After all, she's just getting started. Oh, that's right—did we mention Maddie's only 14?
Cover Story
Jun. 16, 2019 07:00AM EST
Corbin Bleu in rehearsal for "Kiss Me, Kate" (Jenny Anderson, courtesy Roundabout Theatre Company)
If you're a hardcore Broadway baby, today is the worst Sunday of the year. Why, you ask? The Tony Awards were last Sunday, so basically there's nothing to look forward to in life anymore—no James Corden being James Corden, no teary acceptance speeches from newly minted stars, no thrilling excerpts from the hottest new shows. Oh yeah, and there are 50 more Sundays to go before our humdrum lives are once again blessed with the next annual iteration of Broadway's biggest night.
Musical Theater