Jan. 20, 2017 02:49PM EST
It's no secret that summer intensives are a time to perfect your technique and learn exciting choreography. But they also come with another important takeaway: friendship! Finding the perfect person to tag in studio selfies or split a post-rehearsal snack with can make even the best summer program that much better—and can lead to a long-term career bond. Dance Spirit spoke to six sets of pros who still can't get enough of their summertime BFFs.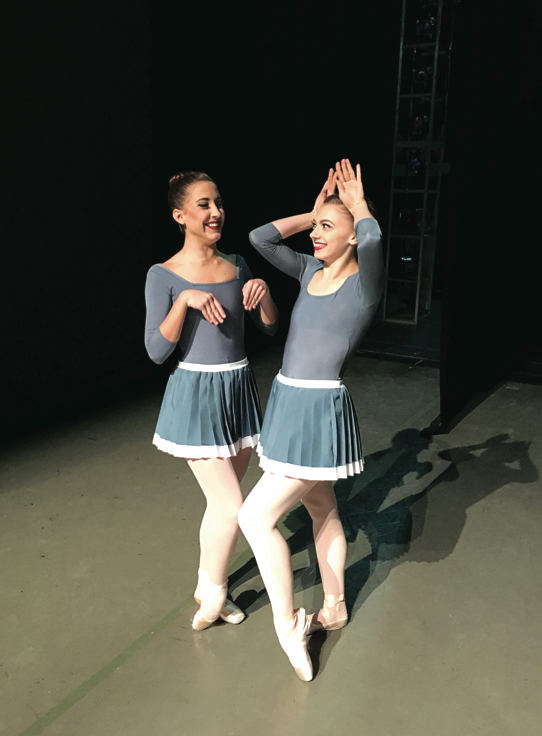 Rinaldi and Grocki before Justin Peck's Year of the Rabbit (courtesy Grocki)
Leanna Rinaldi & Ellen Grocki, Miami City Ballet
Leanna Rinaldi and Ellen Grocki do everything side by side—they live together, dance together, travel together and joke together—and that's just the way they like it. The two met during Miami City Ballet's summer intensive in 2012. When Grocki was invited to stay year-round, Rinaldi invited Grocki to live with her and a friend, and their fate was sealed. They both joined the MCB corps in 2014.
"We're more like sisters than friends," Rinaldi says. "We can pretty much read each other's thoughts." Grocki agrees: "Our jobs are demanding, with lots of emotional highs and lows, so having someone to share that with in the studio and at home has been so helpful."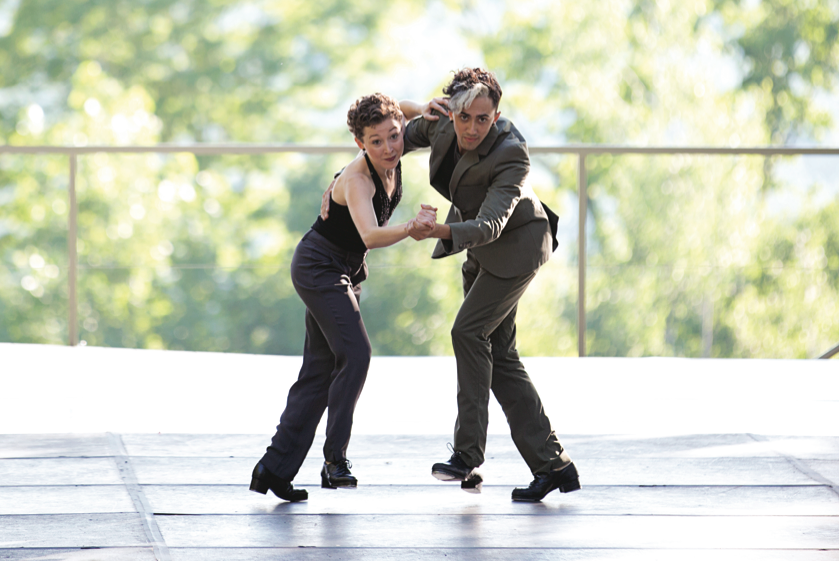 Sullivan and Teicher at Jacob's Pillow in 2016 (photo by Hayim Heron, courtesy Jacob's Pillow)
Caleb Teicher & Macy Sullivan, Caleb Teicher & Company
Caleb Teicher and Macy Sullivan met during a two-week tap program at Jacob's Pillow Dance Festival in 2010. Sullivan had just finished her sophomore year
at The Juilliard School; Teicher had just finished high school. Teicher remembers admiring Sullivan's dancing from afar even before they met. "I was intrigued and intimidated by her," he says. "Being friends with Macy encouraged me to do better myself."
Since then, the duo have supported each other professionally time and time again: Sullivan suggested Teicher try out for The Chase Brock Experience; they partnered up to swing dance with the Syncopated City Dance Company; and Sullivan now performs with Caleb Teicher & Company. "Dancing together professionally has been really special," Sullivan says. "There's a huge amount of trust between us, artistically and as friends, and that comes through onstage."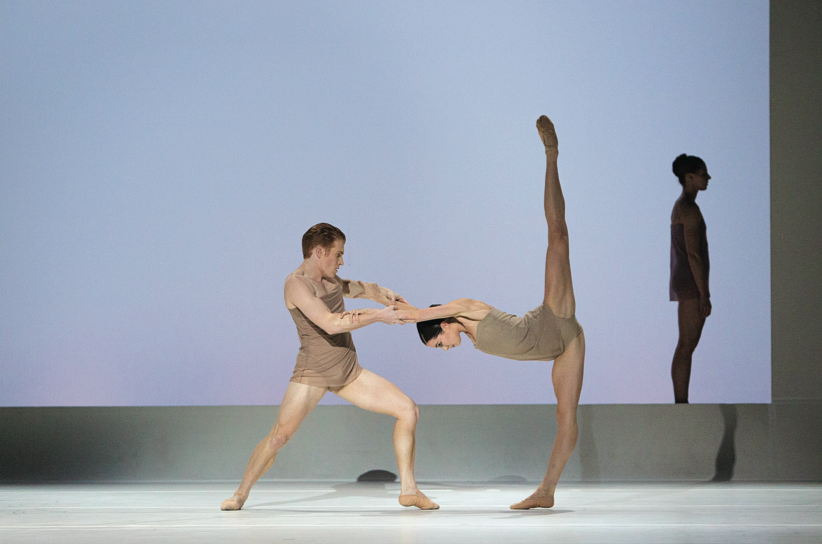 Peters and DiPiazza in Wayne McGregor's Chroma (photo by Alexander Iziliaev, courtesy PA Ballet)
Lillian DiPiazza & Alexander Peters, Pennsylvania Ballet
Pennsylvania Ballet principals Lillian DiPiazza and Alexander Peters met at the School of American Ballet's Summer Course in 2007. Back then, their favorite between-class activity was soaking up the summer sun in Central Park. "We would bring these really gross Starbucks latte things," Peters remembers.
They've been through a lot together in the years since, including graduating to the year-round program at SAB. DiPiazza transitioned to Pennsylvania Ballet one year later, and Peters followed her there after three more years. "Having a friendly face there made the transition much easier," he says. Side by side, they've matured as dancers—and their culinary tastes have come a long way from lattes in the park. "We love to go out to explore Philadelphia's food scene," Peters says, "or we'll just stay in and cook."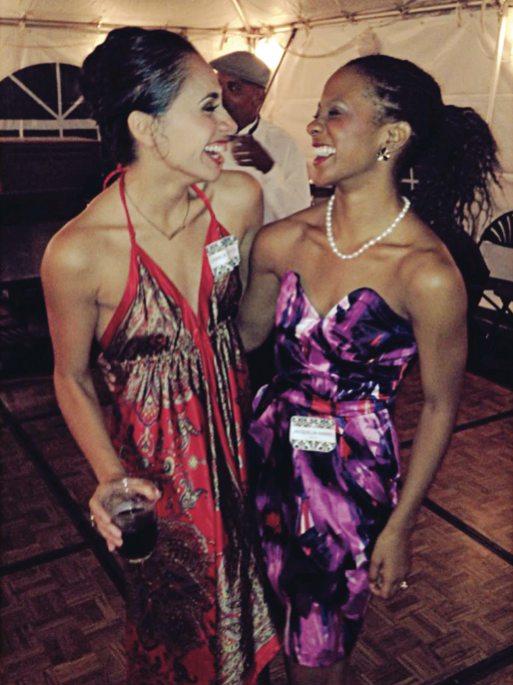 Paulos and Harris' first Ailey II reception in Towson, MD (courtesy Paulos)
Jacquelin Harris & Danica Paulos, Alvin Ailey American Dance Theater
"Our co-workers refer to us as Frick and Frack or The Giggle Twins," Danica Paulos says
of her friendship with fellow AAADT member Jacquelin Harris. "When someone tells one of us something, it's assumed that we'll tell it to the other. And we're always laughing!"
Though the two first met as students at The Ailey School, they became BFFs during a summer at Jacob's Pillow Dance Festival in 2013. Harris remembers one adventure in particular that sealed the deal: "One night we took our blankets, pillows and comforters to Inside/Out [the outdoor stage at Jacob's Pillow] and slept under the stars. I'm pretty sure that was against the rules, but we stayed up for hours getting to know each other and making memories."
These troublemakers have stuck together ever since: They joined Ailey II together the week after returning from the Pillow, and have moved up the ranks side by side, entering the main company in 2014.  "It's like our amazing summer never ended," Paulos says. They'll be together onstage from coast to coast during Ailey's 2017 tour Feb. 3–June 18.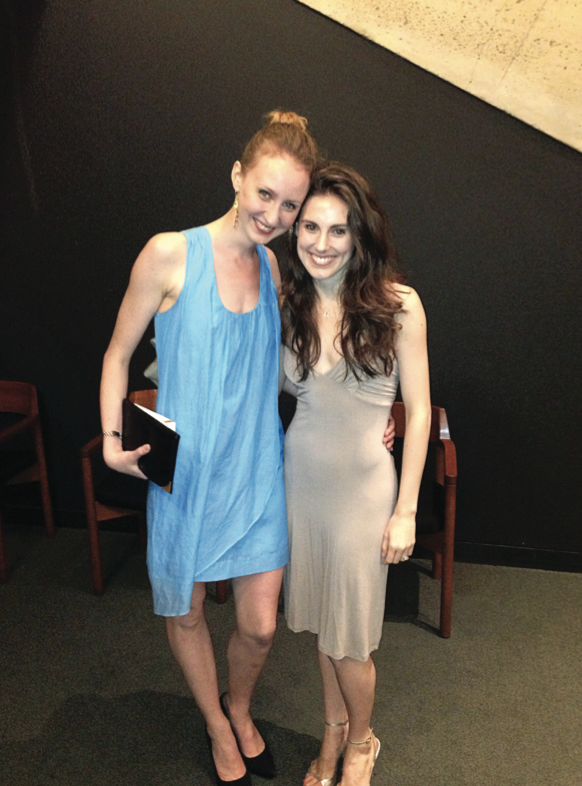 Gilliland and Peck in 2012 (courtesy Peck)
Tiler Peck, New York City Ballet, & Kaitlyn Gilliland, freelance ballerina
At the School of American Ballet Summer Course in 2002, Tiler Peck and Kaitlyn Gilliland shared a moment you might not expect from two blossoming ballerinas: "Believe it or not, we first bonded over a Ludacris song," Gilliland says. "It came on the radio, and we were each surprised to learn the other knew the lyrics."
"She could rap all the words," Peck says. "I was so impressed."
This goofy pair continued to turn to each other for laughter and support throughout that summer. When they were both offered apprenticeships with New York City Ballet two years later, they roomed together in SAB's dorms and later moved into a shared apartment—and continued to be roomies for the next several years. After four years dancing together at NYCB, Gilliland moved on to explore a freelance career, but their friendship has stayed intact. Peck is "a friend I hope to have for life," Gilliland says. "I also earn major cool points with other friends when I bring them backstage at NYCB performances to meet her."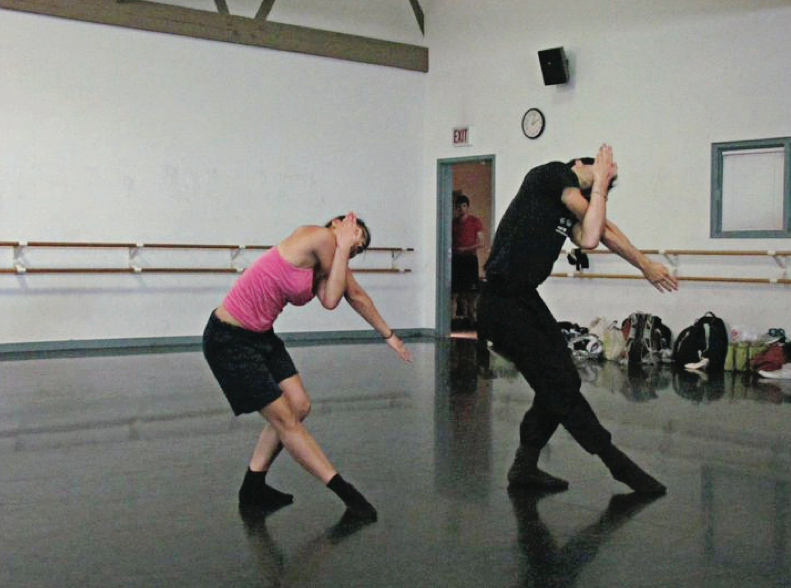 The pair rehearsing in 2009 (courtesy Delgadillo)
Alicia Delgadillo, Hubbard Street Dance Chicago, & Derek Ege, freelance dancer
For Alicia Delgadillo and Derek Ege, the perfect friendship grew from the perfect partnership. Both were freshmen in college coming from NYC—Delgadillo from the Ailey/Fordham BFA Program, and Ege from The Juilliard School—when they spent the summer of 2009 together at an intensive at Hubbard Street Dance Chicago. There, they were paired together for a duet in Jirˇí Kylián's 27'52". "It was the craziest partnering I'd ever done," Ege remembers. "We had to build a lot of trust—and we still have that."
After three summers together at HSDC, the two went different directions—Delgadillo stayed on in Chicago, joining Hubbard Street 2 and then the main company, and Ege danced with the Trey McIntyre Project for one season, then returned to NYC, where he's danced with Keigwin + Company, the Metropolitan Opera Ballet, ZuiDance and, recently, on the international tour of Shrek: The Musical. But whenever they reconnect, they always pick up right where they left off. "He's hilarious," Delgadillo says. "And I know he likes that, to this day, I will always laugh at his jokes."
Find Your BFF This Summer!
How can you raise your chances of meeting a friend who will turn into a lifelong ally? Here are some tips from those who've been there.
1. Ask for support. "Rely on the people around you if you're feeling homesick, sad
or stressed, because they're probably going through something similar." —Alexander Peters
2. Remember: Opposites attract. Friends who are different from you can make for a more interesting summer. "I was very talkative, and Kaitlyn [Gilliland] was the complete opposite; it worked because we balanced each other out." —Tiler Peck
3. Get out of the studio. "Do things outside of class or rehearsal. It'll keep you from feeling overwhelmed." —Lillian DiPiazza
4. Inspire each other. At an intensive, you'll be surrounded by dancers who inspire and motivate you, so take advantage of that! "I was obsessed with Jacquelin [Harris]'s dancing before we met—I really admired her talent and work ethic." —Danica Paulos
5. Be a team player, not a competitor. "It's easier to make friends when you're not caught up in comparing yourself to other people. The best friends are supportive of each other." —Ellen Grocki
6. Just be you. "Be yourself. Your friends will find you." —Kaitlyn Gilliland
Getty Images
Ever since starting her professional career, Broadway dancer Amber Ardolino has cupped. Using the holistic wellness practice to improve performance and take care of her body, Ardolino cupped before it was cool—even beating the 2016 Rio Olympics' purple polka-dotted athletes to the punch. But Ardolino's only one dancer who has put this therapy to regular use. Dance Spirit asked Carrie Gaerte, PT, DPT, ATC, and performance rehab specialist with St. Vincent Sports Performance who works with Indianapolis' Dance Kaleidoscope; and Thomas Droge, Chinese-medicine doctor and founder of Pathfinder Institute in NYC, to explain the ins and outs of cupping therapy.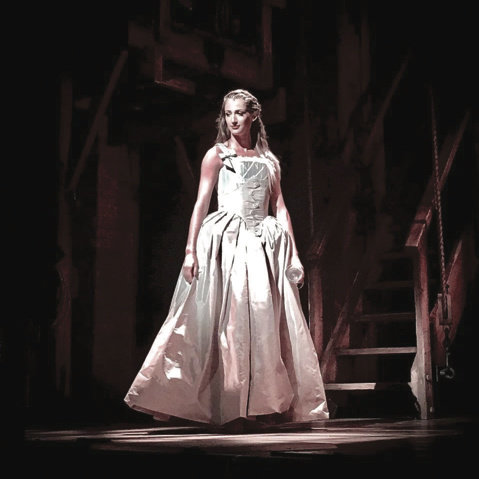 Amber Ardolino in "Hamilton" (courtesy Ardolino)
Keep reading...
Show less
via joffreyballetschool.com
It's never too early to start thinking about your dream job. And summer intensives are an essential step down the road to achieving your dance dreams—whether you want to perform in music videos, ballet companies or Broadway shows.
With 19 programs across the U.S. (plus additional international programs) Joffrey Ballet School offers options for all types of dancers with all types of goals. Whatever you may be working toward this summer, there's a program that will help you get that much closer. We put together a guide to help you find the right one, based on your dream job:
Keep reading...
Show less
Just for Fun
Feb. 15, 2019 02:40PM EST
Inside a Rockette audition (Amanda Schwab/Starpix)
Let's be real: Auditions can be rough. No matter how prepared you are, a lot of variables go into every audition—which means even the best of us mess up sometimes! Here are 7 audition fails every dancer has experienced at one point or another.
Keep reading...
Show less
Via YouTube
Oh, baby I'm a wreck (wreck) after watching Kinjaz's new music video.
Set to Post Malone's "Sunflower," the lead single from the Spider-Man: Into the Spider-Verse soundtrack, the vid features the dance crew's ever-fabulous men—who appear to have Spidey senses, because seriously, how else do they stay down-to-the-fingertips in sync?—performing Vinh Nguyen's super-tight choreography, with an overlay of comic-book-esque graphics by editor Jonathan Shih.
Keep reading...
Show less
See photo credits below
What inspires you most as a dancer? What keeps you going on the days when the motivation just isn't there, and makes you feel like all the hard work, rejection and sacrifice is worth it for the pursuit of your dream? What makes you want to run into an empty studio and create something new?
Cindy Clough, executive director of Just For Kix and a studio owner with over four decades of experience, often hangs posters with dance-related quotes on the walls of her studio, on everything from creativity to the hustle to the importance of teamwork. Sometimes the right words from dancers who have been there are just the push you need to spark your imagination and remind yourself why you love what you do.
In that spirit, here are 10 inspiring quotes from dancers on what their art form means to them, and why it's worth fighting through the hard parts:
Keep reading...
Show less
Photo by Nathan Sayers
Chloe Misseldine has every reason to be nervous as she and her partner run through the challenging wedding pas de deux from Don Quixote. Their performance is just days away and the two American Ballet Theatre Studio Company dancers have only had a week to prepare. Add to that the fact that ABT principal Gillian Murphy, one of the world's most famous ballerinas, is at the front of the studio taking notes.
Keep reading...
Show less
Body Buzz
Feb. 14, 2019 07:00AM EST
Getty Images
If you haven't followed through on your New Year's resolution to practice more self-care, then Valentine's Day is the perfect time to start. Below, we rounded up the best ways to pamper, indulge, and heal everything from your muscles, to your skin, to your mind. Your body (and your dancing) will thank you.
Keep reading...
Show less
Get Dance Spirit in your inbox
via joffreyballetschool.com
It's never too early to start thinking about your dream job. And summer intensives are an essential step down the road to achieving your dance dreams—whether you want to perform in music videos, ballet companies or Broadway shows.
With 19 programs across the U.S. (plus additional international programs) Joffrey Ballet School offers options for all types of dancers with all types of goals. Whatever you may be working toward this summer, there's a program that will help you get that much closer. We put together a guide to help you find the right one, based on your dream job:
Keep reading...
Show less
"SYTYCD" hopefuls at The Academy (Adam Rose/FOX)
"So You Think You Can Dance" just kicked off Season 15 with a fabulous audition episode. Unfortunately, as always, some of the gifted dancers we just met won't make it to the live shows. In fact, so many talented artists have tried out for "SYT," it can be hard to remember standout auditionees from the past who didn't reach the Top 20. But many of them have gone on to have fantastic careers. Here are five amazing dancers who you probably don't remember auditioning for "SYTYCD."
Keep reading...
Show less
Just for Fun
Jun. 29, 2018 10:00AM EST
Colder weather is (finally) here, which means it's time for a good dance movie binge. But which iconic films should you put on? To narrow your search, we went ahead and ranked 30 of the greatest dance movies of all time.
Of course, we know a list like this is bound to be controversial—so if you disagree with our lineup, have at it in the comments!
Keep reading...
Show less
State Ballet of Siberia dancer Yury Kudriavtsev wearing Siberian Swan shoes (courtesy Siberian Swan)
As ballet's gender roles grow increasingly blurred, more men than ever are reaching new heights: the tips of their toes.
It's no longer just Les Ballets Trockadero de Monte Carlo and the few pointe-clad male character parts, like in Cinderella or Alexei Ratmansky's The Bright Stream. Some male dancers are starting to experiment with pointe shoes to strengthen their feet or expand their artistry. Michelle Dorrance even challenged the men in her cast at American Ballet Theatre to perform on pointe last season (although only Tyler Maloney ended up actually doing it onstage).
The one problem? Pointe shoes have traditionally only been designed for women. Until now.
Keep reading...
Show less
Are you a college student curious about what goes on behind the scenes at your favorite magazine? You're in luck—because Dance Spirit is searching for an editorial intern for summer 2019!
We'll be accepting applications through March 1. Internships pay an hourly stipend and require a minimum two-day-a-week, onsite commitment in our NYC office from June to August. (We do not provide assistance securing housing.)
If you're interested, please send a cover letter, resumé and two writing samples to Margaret Fuhrer at mfuhrer@dancemedia.com. Be sure to put "Summer Internship Application" in the subject line. All attachments must be formatted as PDFs.
We will interview selected candidates in March in person or by phone, and let candidates know by mid-April if they have been chosen. Please note that we do not accept high school students, or any students under 18, and that we give preference to college juniors and seniors.
We can't wait to meet you!
Rising Stars
Feb. 09, 2019 07:00AM EST
Images by Norelle, courtesy Jennifer Falcione
When we asked what her proudest accomplishment so far is, Kiarra Waidelich paused for a moment. That's because she has so many to choose from: In the past two years, Kiarra's earned Mini and Junior Female Best Dancer at The Dance Awards, snagged Youth America Grand Prix's Hope Award, and made it to the divisional finals on Season 2 of "World of Dance." Equally gifted in ballet ("I love the mental and physical challenge") and contemporary, it's the latter that made Kiarra realize dance was her passion. "If something bad or stressful happens in my day, I use contemporary as a way to express and release what I'm feeling," she says. "Dance is a way for me to emote and let things go."
Keep reading...
Show less
Branch Out
Feb. 12, 2019 05:16PM EST
Adrienne Gregorek working on physical therapy exercises with a patient (courtesy Gregorek)
When Adrienne Gregorek was 14, she injured her hamstring and was sent to physical therapy. "I was super frustrated," she remembers. "I went to a clinic where there were mostly older people being treated and felt like the staff didn't understand the needs of a dancer. When they were re-testing me at the end, they said, 'You're good,' even though I really wasn't where I needed to be for optimal strength and flexibility."
For many dancers looking for their next step beyond the stage, a career that continues to connect them to the art is a no-brainer. In Gregorek's case, her interest in the human body, coupled with her passion for dance, led her to a career in physical therapy and landed her a job at Westside Dance Physical Therapy in NYC, where she treats dancers, including members of New York City Ballet and students at the School of American Ballet.
Keep reading...
Show less