"SYTYCD: The Next Generation" Season 13 Recap: The Top 8 Perform
Cat Deeley, we love you, we really do. But when you open the show by telling us that "So You Think You Can Dance" will be taking a two-week "summer vacation" and that means we have to send not one but two dancers home tonight? Well, you break our hearts a little.
Fortunately, though, the two hours of showtime leading up to the double elimination were fun, entertaining, and packed with good stuff. This week, the remaining contestants performed two duets: one with their All-Star, and one with another contestant (yay!). These moments, in particular, had us laughing, crying, and dancing in front of our TVs.
1. Phoenix and Pharside's opening number
The opening number is almost always a highlight because we get to see all the remaining contestants and All-Stars performing together. This Nutcracker-themed hip-hop routine with a kind of dark twist featured Fik-Shun as a jester, Tate and Kathryn as eerie ballerinas, a handful of creepy clowns, and Jordan as a teddy bear. Cat said, "No one likes a freaky clown," but in this case? We were into it.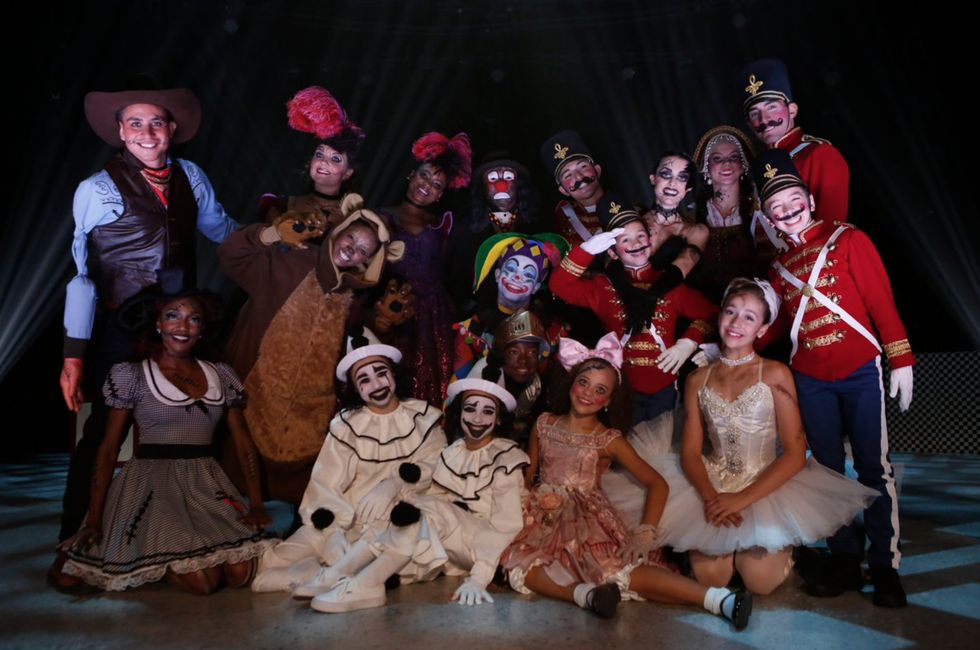 (Photo via FOX)
2. Tahani and Comfort's lyrical hip-hop routine
Nappytabs doing what Nappytabs does best: emotional hip hop! This narrative piece was about abandonment: Tahani's dad/Comfort's husband has walked out on them, and they're coping with a wall between them. (Really. A literal wall, not just an emotional one.) It was pretty emotional—particularly when Judge Maddie Z. said she could relate, making us all wonder if Mr. Ziegler was watching!—and prompted Nigel to declare Tahani one of his favorites in the competition. Crushed it.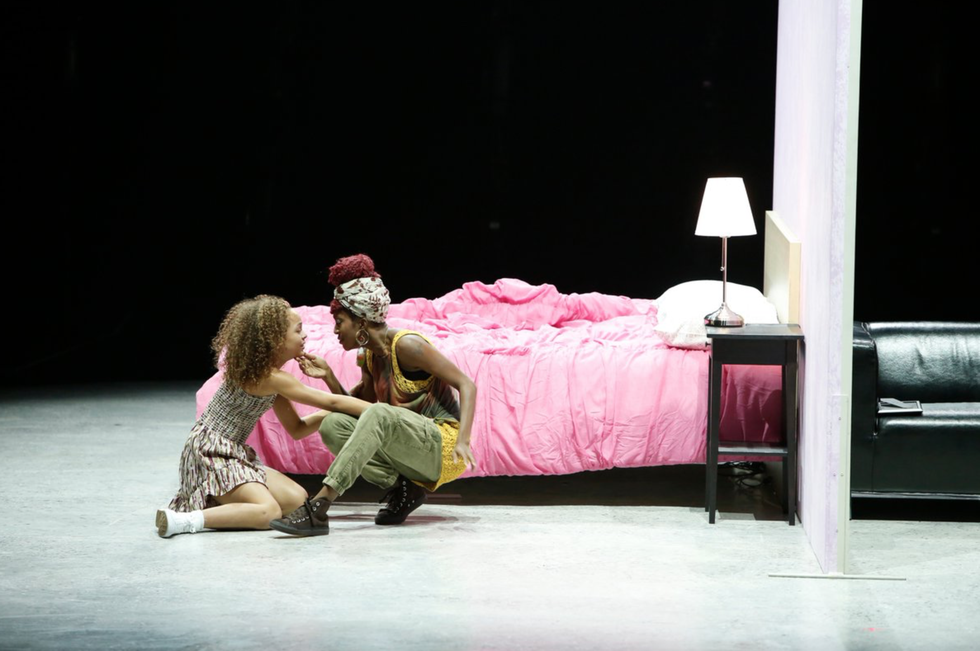 (Photo via FOX)
3. J.T. and Robert's jazz duet
These two just keep the hits coming, week after week. But this week, instead of the emotional contemporary duets they've become known for, J.T. and Robert get some Mandy Moore jazz choreography! And it was, of course, so much fun. It was nice seeing J.T. outside his contemporary bubble, though style doesn't seem to matter: These two are so good together. They were totally in sync the entire time—every turn, every spot, every move was on point. Paula couldn't wipe the grin off her face, and neither could we.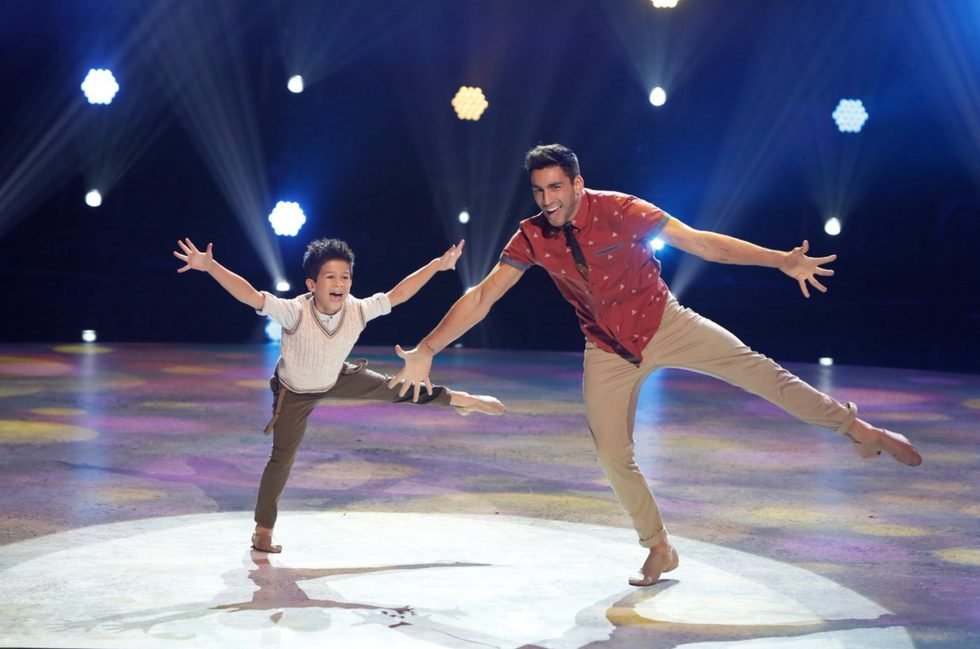 (Photo via FOX)
4. Tate and Kathryn's contemporary masterpiece
"Wait, which one is the kid and which one is the adult? Is the girl in pink the younger one?" my husband asked me in the middle of this routine. And while normally I'd shush him for talking mid-"SYT," he has a point. Tate is literal leaps and bounds above the rest of the competition, and she executed this Travis Wall number flawlessly. The choreography was intense, challenging, and intricate, and the performance was perfection. When the two reconvened for their post-performance talk with the judges, Kathryn was crying. (It's OK, Kathryn. So were we.) Tate is on another level. Kathryn is on another level. Travis is on another level. Love, love, love.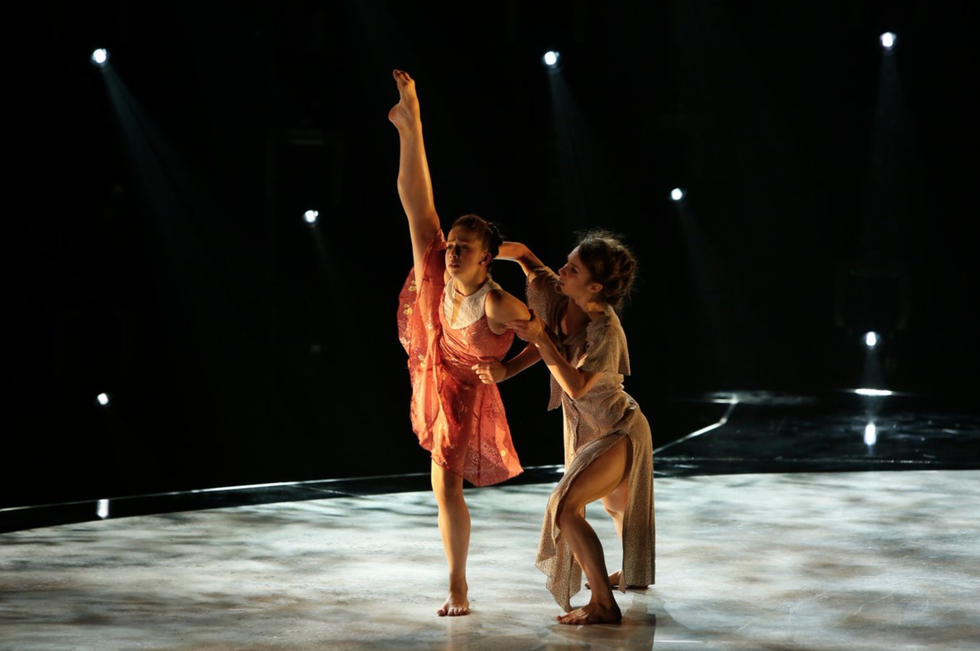 (Photo via FOX)
5. Kida and Ruby's contemporary routine
Another Mandy Moore stunner! The pre-performance rehearsal package footage was all about Kida being uncomfortable and out of his comfort zone. But really? He seemed so smooth and so comfortable onstage, and we felt so proud. Kida has proven himself as the show's go-to hip-hopper, but now his versatility and growth are really shining through. Sure, he may not have the technique of, say, Tate, but he was a strong partner for Ruby, and he connected with her well. The piece earned a standing ovation from the judges, bringing tears to Kida's eyes. And ours. Obviously.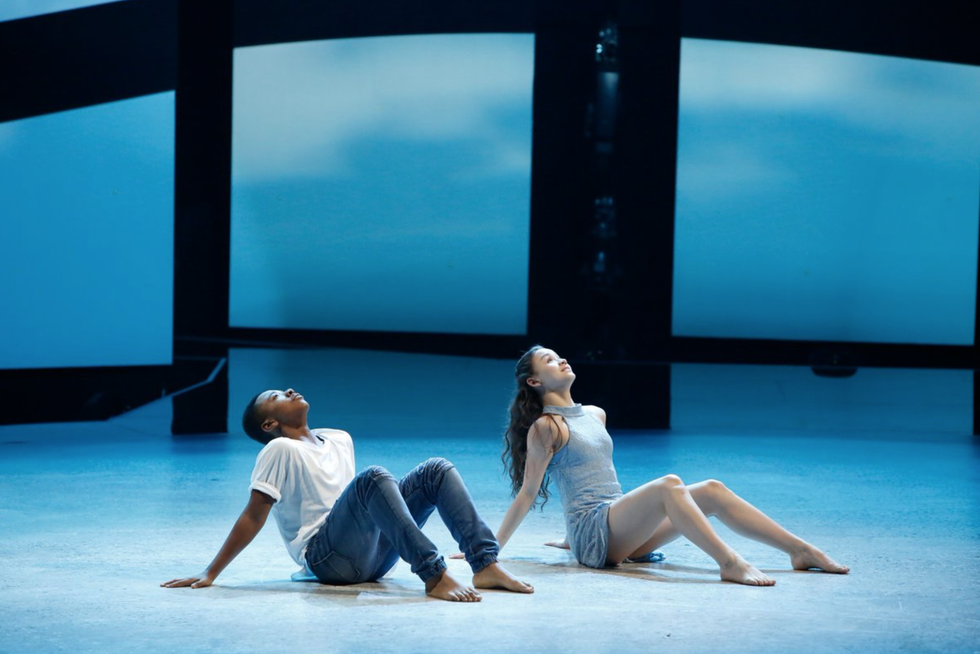 (Photo via FOX)
Other highlights: Emma and Gaby's OMGsofast tap routine, Jordan and Sasha's emotional duet (that shoulder balance!), the Tyce Diorio-choreographed All-Star routine that made us wish for a winter wonderland, Kida and Fik-Shun's unbeelievable routine by superstar Misha Gabriel and Maddie Ziegler's voluminous ponytail.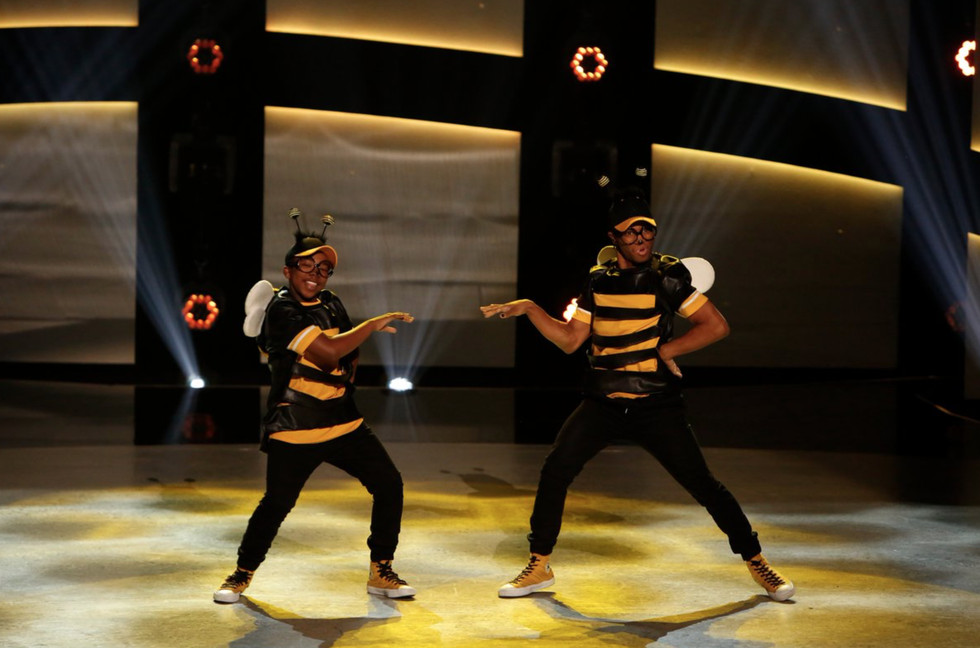 (Photo via FOX)
But, as Cat said, the double elimination was looming, and ultimately Jake and Jordan were sent home.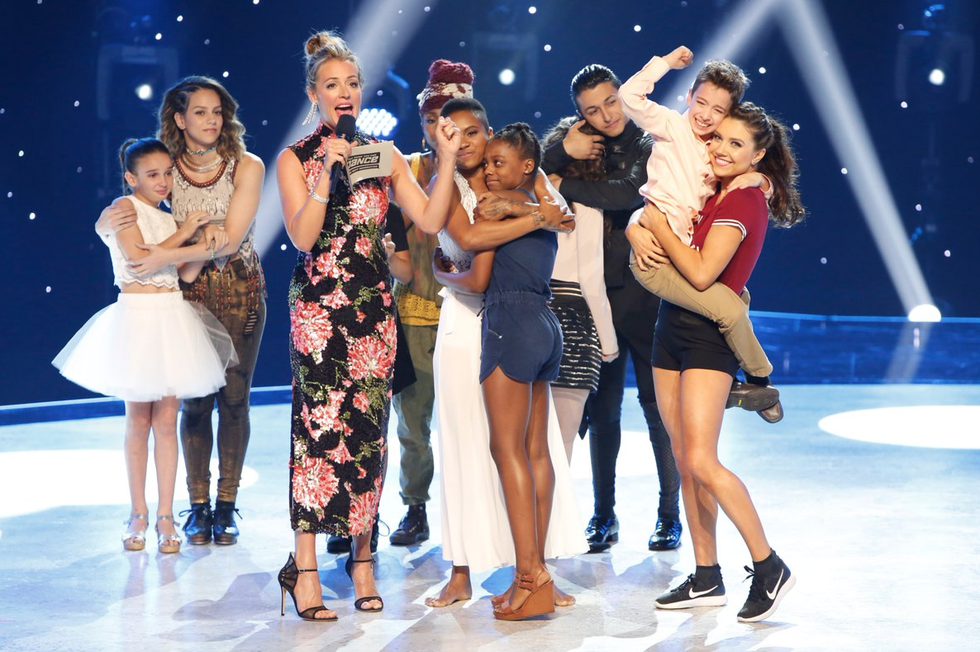 (Photo via FOX)
And then there were six...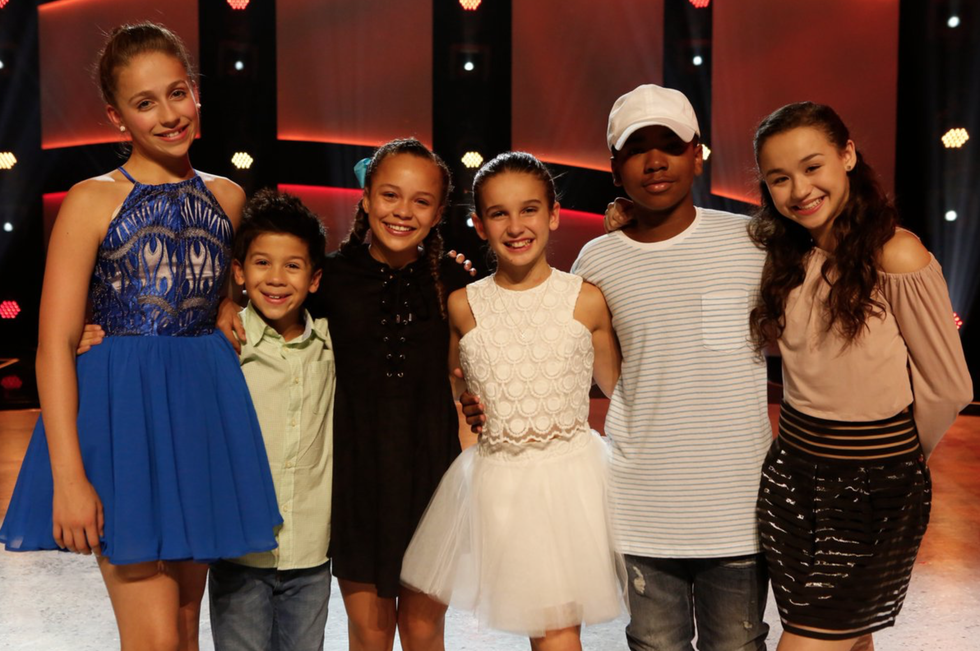 (Photo via FOX)
See you in two weeks!
American Ballet Theatre principal dancers Sarah Lane and Daniil Simkin (courtesy ABT)
Last May, we told you about a special exhibition of the Mark Ryden artwork that sparked Alexei Ratmansky's sweet-treat of a ballet, Whipped Cream. Well, hold on to your tiaras, bunheads, because there's a brand-new exhibit featuring actual costumes from this megahit production. The Nutcracker's Land of Sweets has some serious competition!
Keep reading...
Show less
via @kyle_vanny on Instagram competing on World Of Dance
Kyle Van Newkirk is a tap dancer you probably remember from the premiere season of NBC's World of Dance. In case you missed it, he is also one of Showstopper's incredible convention teachers. What makes Kyle stand apart from some of today's other incredible tappers? He isn't afraid to change what tap means to his audience and even himself. This modern view of tap dancing is important because it shows us that tap dancers are just as versatile and dynamic as dancers of any other genre. We sat down with Kyle to get his advice on bringing tap dancing into the 21st century.
Keep reading...
Show less
University of Minnesota Dance Team (courtesy University of Minnesota)
They say there's no "I" in "team"—and nowhere is that truer than the world of college dance teams, where precision reigns, uniformity is key, and a single misstep from any given "I" can cost a group a championship trophy. So it's unsurprising that securing a spot on one of the best dance teams in the country is no easy feat.
Members of these highly athletic teams rehearse for hours every week—on top of academic classes and commitments—and perform at football and basketball games, annual concerts, and nationally televised competitions (hi, ESPN). And "no I" rule notwithstanding, each of these top teams is made up of highly trained, highly technical, highly hard-core individuals, who come together to create a ready-for-victory pack.
These six teams aren't one-off success stories—they're consistently strong, and earn the top spots at major competitions like UDA and NDA nearly every year. Up for the challenge? Here's what to know before you go to auditions.
Keep reading...
Show less
How To
Oct. 01, 2010 04:55PM EST
(Nathan Sayers)
Turnout—a combination of rotational flexibility and the strength to properly hold that rotation—is the foundation of ballet. But it's also a source of frustration for many dancers. After all, not everyone (actually, hardly anyone) is born with 180-degree rotation. "When I first started dancing, my hip flexors were strong, but I was forcing my turnout without using the right muscles," remembers Amanda Cobb, a former dancer with The Washington Ballet.
The good news is that it's possible to both improve your turnout and to dance beautifully with less-than-perfect rotation. But there's a lot of misinformation out there about how turnout works and why it's important. To help separate fact from fiction, DS asked the experts to disprove six turnout myths.
Keep reading...
Show less
Lol, same. (Screenshot via YouTube)
Picture this: You've scored tickets to Ellen DeGeneres' hit show, "Ellen." The day has come, the show is as hysterical as ever, Ellen is debating the biggest hot-button issue since the blue/black or white/gold dress, "Laurel vs. Yanny" (side note: it's LAUREL, people), and tWitch is killing it over at the DJ booth, as always. Ellen decides it's the perfect time to single out an audience member and, lo and behold, that person is "SYTYCD" champ ( and December 2017 cover star!) Lex Ishimoto.
Keep reading...
Show less
May. 16, 2018 02:26PM EST
Ema Peter
The Glorya Kaufman International Dance Center is the 54,000 square foot home of the USC Glorya Kaufman School of Dance, one of the largest facilities dedicated to dance on a private university campus. Designed for their innovative new curriculum, that supports a range of dance styles, the school's staff designated Harlequin to provide wall-to-wall flooring for the large 3,500 square foot Performance Studio as well as five dance studios in their new state-of-the-art building.
Keep reading...
Show less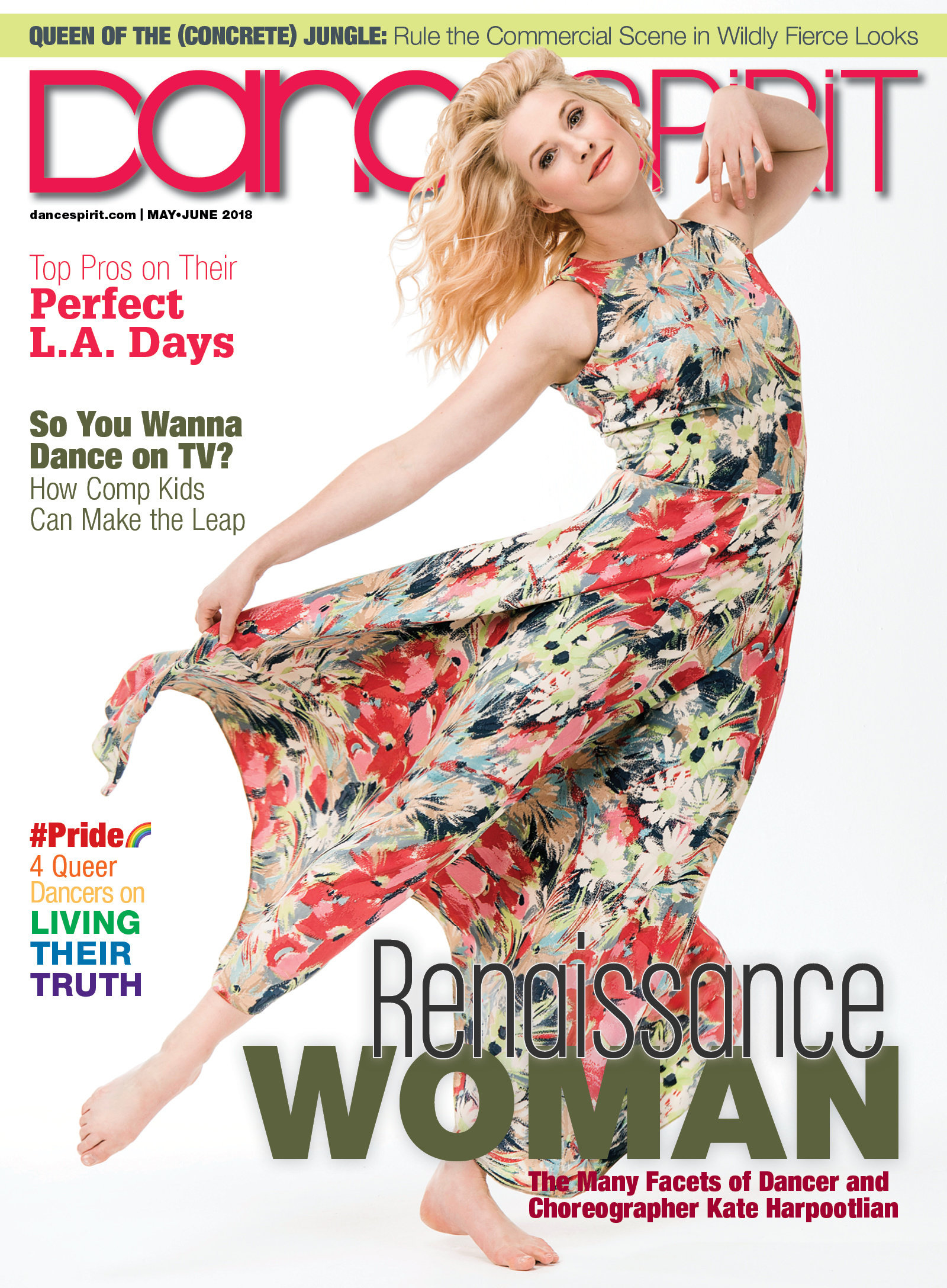 Get Dance Spirit in your inbox