Jun. 30, 2015 08:41AM EST
"SYTYCD" Season 12 Recap: Callbacks, Round 1
Hey, "SYTYCD" fans: Want to win a trip to see the finale episode LIVE in L.A.? Of course you do! Click here to enter our "SYT" finale sweepstakes.
After four long audition episodes, it's finally time for VEGAS WEEK, BABY! And thank goodness the "So You Think You Can Dance" callbacks have returned to Las Vegas after their sojourn in Los Angeles during "SYTYCD" Season 11. "L.A. Week" just doesn't have the same ring to it, amirite?
This season, callbacks ran a little differently: The members of Team Street and Team Stage were kept separate for the entire week, learning different routines in different rooms—and beginning to establish the kind of Jets vs. Sharks mentality that will hopefully add a little extra spice to the live shows. Here are the top five highlights from the ep.
1. The engaged-couple plotline got suuuuuper intense. This really, actually happened during last night's episode: Engaged callback-ees Kelly MacCoy and Tyrell Noll GOT MARRIED IN AN ELVIS CHAPEL before heading to "SYT" bootcamp. I don't think it was staged, either; Kelly's tears of happiness during the ceremony looked pretty darn authentic. This is a whole new level of "SYT" realness, and it made the couple's experience during callbacks especially poignant. First, because Kelly is a Stage dancer and Tyrell a Street dancer, they were separated immediately. Then, the worst-case scenario—and the scenario that, remembering Nigel's skepticism at Tyrell's initial audition, I'd been fearing from the beginning—came to pass: While Kelly breezed through the first solo round, Tyrell was quickly sent packing. The newlyweds, torn apart! It was legitimately sad. (Kelly was later cut from the competition during the Broadway round—a bittersweet moment, because it reunited her with her husband.)
2. Yorelis Apolinario got the ultimate revenge. Yorelis, who wins the prize for best "SYTYCD" name this season, auditioned last year as a contemporary dancer. She made it to callbacks, but got cut in the hip-hop round. Her response? To spend the entire year studying hip hop—and to re-audition this season as a Street dancer. Bold. Move. Here's the kicker: She's pretty fantastic! And this is where the Stage/Street format starts to get really interesting. Because in stark contrast to many of her Street compatriots, who are freestylers unused to learning choreo, Yorelis, thanks to her years of training, looked reaaaally strong throughout the episode. Is the leader of tWitch's Street crew going to be a former Stage dancer?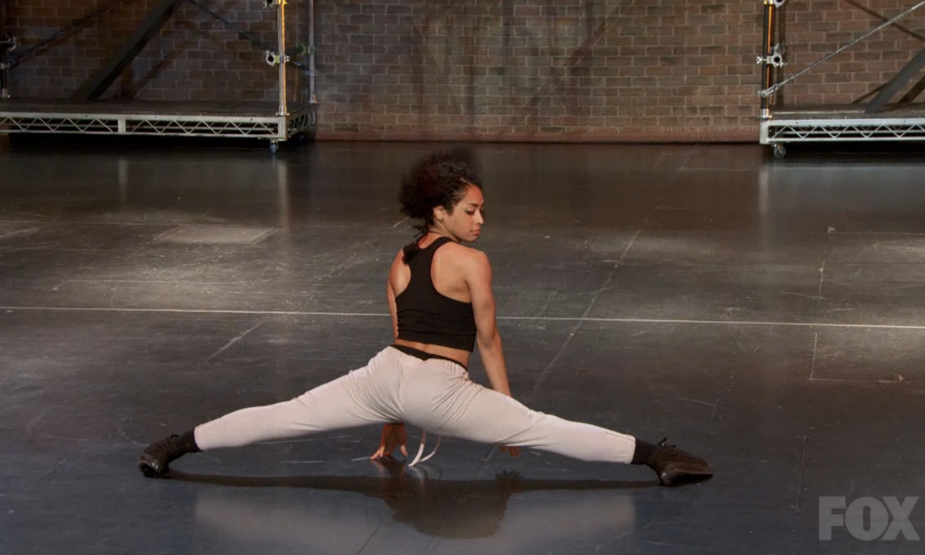 Yup, she's got it. (screenshot from fox.com)
3. We said hi to some old Dance Spirit friends. Hi, Alyssa Allen! Hi, Alexia Meyer! Both kept popping up on my TV screen last night, and both appear to have made it through the episode's gauntlet, which is awesome. Lookin' good, ladies!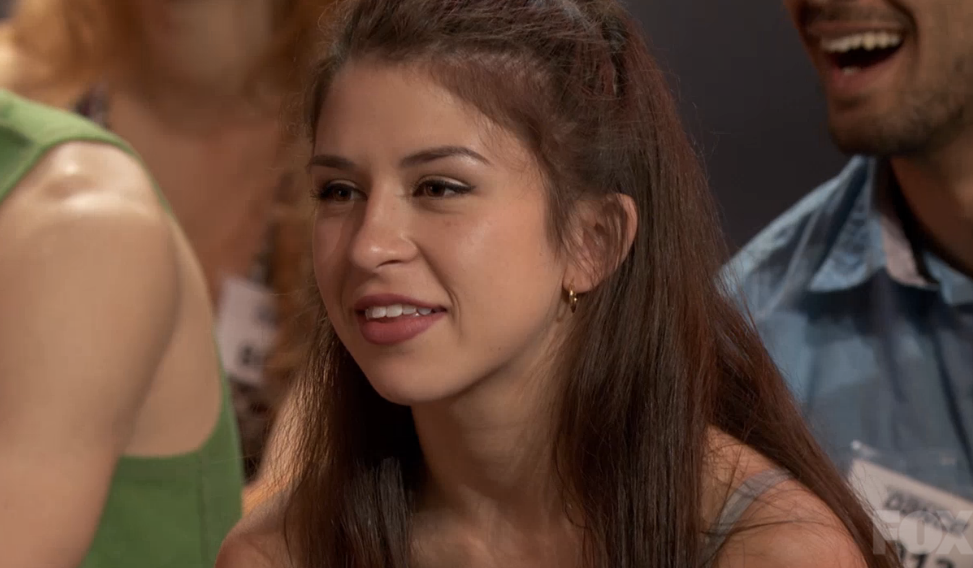 Look how cute Alyssa is! (screenshot from fox.com)
4. Josh Bergasse brought Broadway to Vegas. Speaking of Dance Spirit friends, Josh Bergasse is back this season, yay! Naturally, the Broadway routine he taught this episode was set to a medley from On the Town. (In fact, I think I even recognized some bits and pieces from the "New York, New York" routine he broke down for DS.) Josh, can you get your amazing gf Sara Mearns to make a cameo on the show this season? Pretty, pretty please?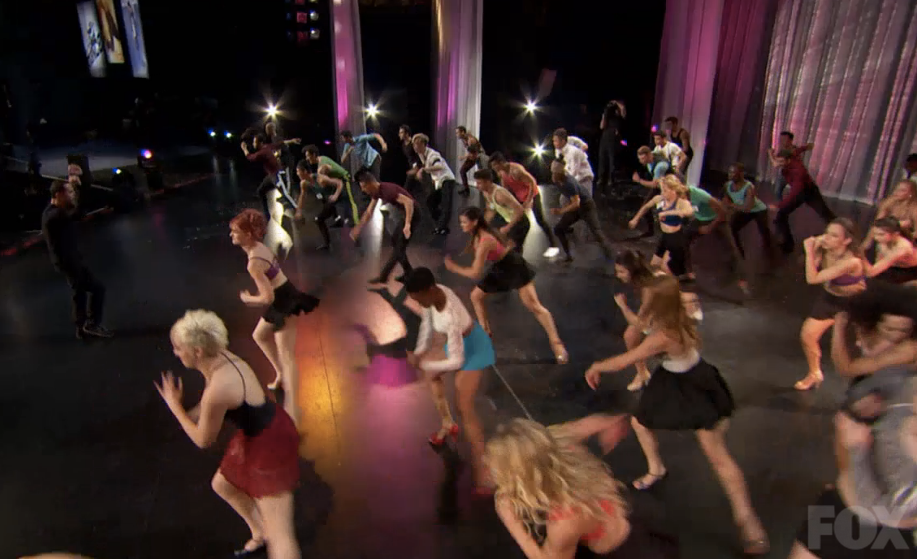 Bergasse (left) brings a little Chorus Line action to "SYT" (screenshot from fox.com)
5. The upsides—and downsides—of the new formula quickly became apparent. On the one hand, pitting Team Stage against Team Street adds instant tension—the fuel the fires all reality shows!—and gives us stories like Yorelis', which, how cool is that? On the other, sorting people into categories is always complicated. I got a little frustrated when the judges yelled at the Stage dancers who were slower to pick up Travis' contemporary routine, since they're "trained," and therefore more is expected of them. But what about the ones who primarily studied tap, or ballroom? Not all dance training is the same, obviously. And I don't think I was the only one who was far from shocked when the Street dancers had trouble picking up the choreography—this is a dance culture rooted in freestyling, not choreo—but then they, too, got a stern lecture about how the judges had been forced to be "so lenient" on them. Hmm. Finally, that whole Jets and Sharks thing? It makes Travis and tWitch, two of the dance world's nicest guys, into Bernardo and Riff, and that's a little weird, too. Their genuine interest in the competitors starts to come off as kind of cynical. Like, "Ooo, let's keep him around, because my team really needs a guy with that kind of look," or, "Noooo, I hope that injury doesn't keep her out long—don't want to lose my team's best ballerina!" Etc etc. Basically, I'm really looking forward to the live shows, by which point I'm guessing a lot of these little bumps will have been smoothed out.
There was also a Magic Mike promo during the show with not nearly enough shirtless tWitch in it, and there was a general and inexplicable shortage of Cat Deeley throughout the episode, both of which made me a little sad. But ah well: By the end of the night, we'd successfully narrowed the Vegas horde down to 36 stage and 38 street dancers. Next week, they'll take on Nappytabs and Sonya Tayeh routines and go through the dreaded group round, dun dun DUUUNNNN.
It's been a long road, y'all, but we've almost made it to the live shows! Be sure to keep checking back here every Tuesday morning for recaps.
Dance News
Jun. 15, 2019 10:12AM EST
(From left) Darriel Johnakin, Diego Pasillas, and Emma Sutherland (all photos by Erin Baiano)
Congratulations to Dance Spirit's 2019 Cover Model Search finalists: Darriel Johnakin, Diego Pasillas, and Emma Sutherland! One of them will win a spot on Dance Spirit's Fall 2019 cover. Learn more about the dancers on their profile pages, and then vote for your favorite below. You can vote once a day now through July 15.
We also want you to get social! We'll be factoring social media likes and shares into our final tallies. Be sure to show your favorite finalist some love on Facebook, Instagram, and Twitter, sharing their profile pages and using the hashtag #DanceSpiritCMS.
Cover Model Search
Jun. 13, 2019 02:20PM EST
Photo by Erin Baiano
Imagine attending American Ballet Theatre's prestigious NYC summer intensive, training among classical ballet legends. Imagine taking the stage at New York City Dance Alliance Nationals, competing against some of the country's best contemporary dancers. Now, imagine doing both—at the same time.
Welcome to Madison Brown's world. This summer, she's in her third year as a National Training Scholar with ABT, while also competing for NYCDA's Teen Outstanding Dancer title. (She's already won Outstanding Dancer in the Mini and Junior categories.) The logistics are complicated—ABT's five-week intensive overlaps with the weeklong NYCDA Nationals, which translates to a lot of cabs back and forth across Manhattan—but Maddie is committed to making the most of each opportunity. "I love contemporary and ballet equally," she says. "While I'm able to do both, I want to do as much as I can."
Maddie has an expressive face, endless extensions, and a quiet command of the stage. She dances with remarkable maturity—a trait noted by none other than Jennifer Lopez, one of the judges on NBC's "World of Dance," on which Maddie competed in Season 2. Although Maddie didn't take home the show's top prize, she was proud to be the youngest remaining soloist when she was eliminated, and saw the whole experience as an opportunity to grow. After all, she's just getting started. Oh, that's right—did we mention Maddie's only 14?
Cover Story
Jun. 16, 2019 07:00AM EST
Corbin Bleu in rehearsal for "Kiss Me, Kate" (Jenny Anderson, courtesy Roundabout Theatre Company)
If you're a hardcore Broadway baby, today is the worst Sunday of the year. Why, you ask? The Tony Awards were last Sunday, so basically there's nothing to look forward to in life anymore—no James Corden being James Corden, no teary acceptance speeches from newly minted stars, no thrilling excerpts from the hottest new shows. Oh yeah, and there are 50 more Sundays to go before our humdrum lives are once again blessed with the next annual iteration of Broadway's biggest night.
Musical Theater