"SYTYCD" Season 15 Recap: The Top 4 Perform
Which of these four will be named America's Favorite Dancer—and our December cover star?! (Adam Rose/FOX)
Genessy. Hannahlei. Jensen. Slavik.
In a week, one of those dancers will be crowned "America's Favorite Dancer" (and, in addition to a cool $250,000 prize and a spot in the upcoming live musical Rent, will also earn Dance Spirit's December cover). But first, let's recap what went down on the final jam-packed night of competition.
---
Genessy & Slavik
Style: Hip hop
Choreographer: Luther Brown
Song: "Poke It Out" by Playboi Carti
The only original couple to make it to the finale! And what better way to kick off the show than with a Luther Brown hip-hop duet—just like the way these two rang in the competition together a handful of weeks ago. This time, they were clad in day-glo neon sweatsuits, and they seemed significantly more relaxed than in that first week. There was a mid-routine kiss (!!!), a lot of hair tossing from Genessy, and enough confident charisma from Slavik to get him back in the judges' good graces. tWitch called it the perfect way to open the show (RIP tWitch's voice! Poor guy!), Mary called it wonderful, Nigel said it was terrific, and Vanessa said they "fully brought it."
Jensen & Hannahlei
Style: Heels
Choreographer: Brian Friedman
Song: "Dem Beats" by Todrick Hall ft. RuPaul
YES HEELS. YES BRIAN FRIEDMAN. And yes for the level of difficulty in this routine. (Seriously, it would've been tough in flats, let alone sky-high heels.) There were moments when both dancers seemed to feel comfortable in the choreography (hello, Hannahlei doing the worm), and others when it definitely seemed to require a little more focus. But ultimately, this routine was heavy on the girl power and sass, and that celebratory post-routine hug was the cutest ever. Vanessa loved the routine, particularly the hair whipping, tWitch appreciated the precision, Mary loved everything about it, and Nigel praised both women for being magnificent.
Genessy & Jonathan
Style: Samba
Choreographer: Elena Samodanova
Song: "Watch Out For This" by Major Lazer
Upon learning she'd be portraying a supermodel in this routine, Genessy felt hesitant. Pretty sure she can go ahead and take that feeling back, now. She did an awesome job with most of the fast footwork required of a Samba (alongside a bona fide pro, no less), and that attitude! From the minute she strutted out on the makeshift runway, Genessy commanded the spotlight—and she stayed in it until the final pose. This phenomenal routine earned the evening's first standing ovation from the judges. Mary called Genessy an "unleashed diva" (that's a good thing), Nigel said Genessy reminded him of Jennifer Lopez (NBD), and Vanessa said, "Girl, you were not playin' around." And tWitch reminded Genessy to never doubt herself, because that routine was amazing, and so is she.
Slavik & Melanie
Style: Contemporary
Choreographer: Travis Wall
Song: "Gun" by Mas Ysa
Slavik hit the jackpot with this routine—Travis, Melanie, and an emotionally-charged contemporary routine! Travis knows what works on this show: Keep the costuming and set simple, and let the dancers and the choreography shine. It works every time, and it worked for Slavik. It's hard not to watch Melanie Moore whenever she's onstage, but when we could tear our eyes away from the Season 8 winner, we saw Slavik most definitely holding his own. Nigel reminded Slavik that, win or lose, he deserved to be in this competition, and said he came through with flying colors in this performance. Vanessa called his performance raw and beautiful, tWitch loved the commitment, and Mary said Slavik makes us all feel something.
Hannahlei & Slavik
Style: African jazz
Choreographer: Sean Cheesman
Song: "When Rivers Cry" by Somi
"I really went all-out choreographing this piece," Cheesman explained during rehearsals. He was NOT exaggerating. There were about a billion complicated (and potentially concussion-causing) lifts. There were pirouettes at hyper-speed. There were développés into lifts into jumps. There was enough energy to power New York City during a blackout. Bravo to Hannahlei and Slavik for somehow keeping it all going from start to finish—and for making it through without any concussions. Nigel loved it, Vanessa said it was incredible, tWitch noted the teamwork required for such a physically demanding routine, and Mary enthusiastically said it was well done.
Jensen & Genessy
Style: Broadway
Choreographer: Travis Wall
Song: "Maybe This Time" by Liza Minnelli
This was "not your typical Broadway routine," Travis told these two dynamos during rehearsals. But it was fun, feisty, and full of character. It was exciting to see these two get to dance together. Their backgrounds may be totally different, but Travis gave them choreography that perfectly suited their personalities. The judges gave it the night's second standing ovation, with Vanessa calling it smart, tWitch saying it was Jensen's best performance of the season, Mary calling them both stars, and Nigel simply agreeing with the rest of the panel (and calling the choreography "genius").
Hannahlei & Fik-Shun
Style: Hip hop
Choreographers: Randi & Hef

Song: "Move Something" by DJ Quik & Problem
It took a few weeks, but Hannahlei finally got to make her hip-hop debut on the live show, and she. killed. it. (Not a surprise, but still fun to watch.) We'd gladly pay double for Fik-Shun and Hannahlei to be our movers in the future, because they actually made packing and stacking boxes look fun! This performance was uncomplicated and high-energy—though, was Hannahlei supposed to fall in the box at the end? The look on her face said maybe not, but kudos to her for being professional enough about it all that we couldn't decide. The judges gave it a standing ovation, which is always a good sign. tWitch said it was incredible, Mary called Hannahlei a special delivery, Nigel said there's nothing Hannahlei can't do brilliantly, and Vanessa said she's been a huge fan of Hannahlei since day one.
Jensen & Robert
Style: Contemporary
Choreographer: Mandy Moore
Song: "Can't Help Falling In Love" by Kina Grannis
Jensen has admitted she's not comfortable being vulnerable. Which, of course, Mandy Moore sees as an opportunity. And who better to be vulnerable with than Robert Roldan? With its simplicity and moments of stillness, this routine was the perfect way to let Jensen tap into her sensitive side. Those slow lifts, the sweet moment when Jensen and Robert joined hands, and the big explosive lifts all came together to make something lovely and memorable. Unsurprisingly, the judges were on their feet yet again. Mary, through tears, said all Jensen's hard work has paid off, Nigel said he fell in love with that performance, Vanessa reminded everyone that vulnerability is a strength, not a weakness, and tWitch told Jensen that all her rejections made it possible for her to get this far in the competition this time. Awwww.
Hannahlei & Genessy
Style: Contemporary
Choreographer: Talia Favia
Song: "Numbers" by Daughter
The idea behind this routine, Talia explained in rehearsals, was that Hannahlei and Genessy (who've been roommates throughout the competition!) have always been able to rely on each other, but now they're competitors. So, basically, it was art imitating life. And ohhhhh, that roommate chemistry! These two moved so well together, with fire and passion in their eyes. It was wonderfully intense, and earned yet another standing ovation from the judges Nigel said it was like watching synchronized swimming without the water, Vanessa said it was insaaaaaane, tWitch loved the warrior spirit, and Mary gave it a Hot Tamale Train-esque scream on behalf of tWitch and his weakening voice.
Jensen & Slavik
Style: Cha cha
Choreographer: Oksana Platero
Song: "Boom" by Tiesto
Jensen was in her element for this one; Slavik, less so—and yet, he owned it. (Jensen did, too, but, obviously.) Slavik's swagger, confidence, and charisma were on full display for this piece, which was a fun, energetic, and super-sparkly way to end the show. Mary said Latin dancing is Slavik's kryptonite, but that she saw some improvement and that he got the job done. Nigel said it looked like Slavik was dancing with an All Star, but praised Slavik for his outstanding progress throughout the competition. Vanessa called Slavik inspiring and Jensen a star, and tWitch thanked both performers for what they bring to the show.
OK, so who'd you vote for? Let us know who you think will take the "America's Favorite Dancer" title next week—and who we'll be putting on our December cover!
Via @chelshightower on Instagram
From competing on "So You Think You Can Dance" to performing on "Dancing with the Stars" for seven seasons (and earning an Emmy nomination for her work on the latter), Chelsie Hightower has lived the pro dance dream. Though Hightower retired from "DWTS" several years ago and now teaches and choreographs in her home state of Utah, she admits that her dance career exceeded even her own high expectations. "I've accomplished things that I didn't know were possible," she says.
But most fans of "DWTS" would never have guessed that while filming, the talented and seemingly fearless ballroom pro was facing her fiercest competitor off-camera. Hightower has struggled with anxiety for most of her life, but the issue became especially severe during her years on the show.
With the help of therapy and other coping exercises, Hightower has found healthy ways to manage her anxiety. Now, she hopes that sharing her experience will inspire other dancers struggling with mental illness to get help.
Keep reading...
Show less
Popular
Jan. 15, 2019 12:01PM EST
Past "SYTYCD" hopefuls at The Academy (Adam Rose/FOX)
More fabulous TWall routines. More passengers on the Hot Tamale Train. MORE CAT DEELEY BEING DELIGHTFUL.
That's right, y'all: "So You Think You Can Dance" was just renewed for a 16th (!) season, to air this summer on Fox. And audition dates have already been announced.
Keep reading...
Show less
It includes this familiar face! (Erin Baiano)
Something's coming, I don't know when
But it's soon...maybe tonight?
Those iconic lyrics have basically been our #mood ever since we first heard a remake of the West Side Story film, directed by Steven Spielberg and choreographed by Justin Peck, was in the works. THE CASTING. THE CASTING WAS COMING.
Well, last night—after an extensive search process that focused on finding the best actors within the Puerto Rican/Latinx community—the WSS team finally revealed who'll be playing Maria, Anita, Bernardo, and Chino (joining Ansel Elgort, who was cast as Tony last fall). And you guys: It is a truly epic group.
Keep reading...
Show less
Dancer Tony Bellissimo on the field at Super Bowl LII (via Instagram)
The Super Bowl is America's most-watched television event. Last year, when the incomparable Justin Timberlake took center field for the halftime show, more than 106 million viewers were watching his every move—and that's not even a record!
What's it like to perform for such an incredibly huge audience? Dancer Tony Bellissimo has plenty of experience with high-pressure dance gigs, having worked with artists including Rihanna, Britney Spears, John Legend, and Chris Brown. But stepping out alongside Timberlake during last year's halftime show was a next-level experience. We talked to Bellissimo about how he scored such a coveted job—and how he handled the pressure.
Keep reading...
Show less
screenshot via @donte.colley on Instagram
Y'all, it's time to call a spade a spade: The first month of any New Year kind of sucks. It's way too cold, you're probs failing at one or two of those ambitious resolutions, and spring (with its exciting performing opportunities) feels so very far away. And yet, in the midst of so much darkness, a hero has emerged. His name is Donté Colley, and you're about to double-tap every single thing he's ever posted.
Keep reading...
Show less
Photo by Joe Toreno
It's almost 2019 and the ballroom dance scene is positively booming! From prestigious world championships to TV shows, kids are at the core of all this hip-shaking action—and we're so here for it. These eight up-and-comers in particular are shaping the field. They're the next generation of superstars to make the leap from technically exquisite ballroom-ites to bona fide celebrities.
Keep reading...
Show less
Just for Fun
Jan. 11, 2019 02:28PM EST
Dance Teacher
Jan. 11, 2019 12:37PM EST
Joanne Chapman teaching turns (photo by Dan Boskovic, courtesy Joanne Chapman School of Dance)
Think back to your newbie dancer days. Can you remember your introduction to spotting? It might've involved staring hard at your own reflection in the mirror as you wrestled with your first pirouette. Or maybe your teacher had you put your hands on your shoulders as you attempted a series of half-chaînés across the floor.
Keep reading...
Show less
Get Dance Spirit in your inbox
Just for Fun
Aug. 17, 2018 12:29PM EST
Thinkstock
Dance teachers have to deal with a lot. While open communication with your teacher is obviously key, lame excuses for less-than-great behavior are guaranteed to get on her nerves. Always avoid these seven excuses that will 100 percent get your dance teacher's blood boiling.
Keep reading...
Show less
It includes this familiar face! (Erin Baiano)
Something's coming, I don't know when
But it's soon...maybe tonight?
Those iconic lyrics have basically been our #mood ever since we first heard a remake of the West Side Story film, directed by Steven Spielberg and choreographed by Justin Peck, was in the works. THE CASTING. THE CASTING WAS COMING.
Well, last night—after an extensive search process that focused on finding the best actors within the Puerto Rican/Latinx community—the WSS team finally revealed who'll be playing Maria, Anita, Bernardo, and Chino (joining Ansel Elgort, who was cast as Tony last fall). And you guys: It is a truly epic group.
Keep reading...
Show less
Just for Fun
Jan. 11, 2019 02:28PM EST
via @dynamicdancestudios on Instagram
There are dance routines, and then there are dance routines. Andrew, a 21-year-old dancer with Down Syndrome, performed the latter on the new British reality dance show "The Greatest Dancer." He brought the audience to tears as he unabashedly freestyled to Justin Timberlake's "Can't Stop The Feeling."
Keep reading...
Show less
The Broadway cast of Hamilton (Joan Marcus, courtesy Sam Rudy PR)
Today, January 11, is #AlexanderHamiltonDay: A very happy 264th birthday to Alexander Hamilton! Thanks to this most unlikely of Founding Fathers—a brilliant and ballsy orphaned immigrant who dramatically rose, then fell, then rose again—we have possibly the most successful musical of all time. We also, of course, got priceless GIFs such as this one: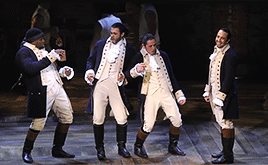 *When your crush walks over and you're trying to act natural but your friends are all like*
Aaaaaaaaaaanyway, while we can't get you "in the room where it happens" with tickets to the show's current Broadway, touring, or Puerto Rico productions—the last of which opens tonight!—we CAN offer up some fun ways to fête A.Ham's day of birth. Just you wait:

Keep reading...
Show less
Screenshot via YouTube
Every once in a while, the stars align, things fall precisely into place, and the perfect marketing campaign is born. Such is the case with New York City Ballet's new trailer for their upcoming run of The Sleeping Beauty, which was conceived and directed by company soloist Sean Suozzi.
Keep reading...
Show less
via @torysport on Instagram
Washington Ballet's Nardia Boodoo is turning heads these days, and not just at the barre. The brilliant ballerina shines in Tory Sport's latest commercial and we can't help but feel a little bit of pride as our March 2018 cover star brings ballet to the masses. What better way to show off stylish and comfy athletic wear than with Boodoo's strong and luminous dancing?
Keep reading...
Show less
Hall works with students at Dance Conservatory of Charleston. (courtesy Dance Conservatory of Charleston)
As the name suggests, summer intensives are, well, intense, encouraging you to eat, sleep, and breathe dance for a significant chunk of the summer. But they're not for every dancer—or every summer. Maybe you're not ready to be away from home just yet, or you want to spend your last summer with family before going off to college. Intensives can also be expensive, and not every household has the financial flexibility to cover the high cost of auditions, travel, room and board, and tuition. Whatever your reasons for seeking alternatives, it's important to recognize that, when it comes to summer study, it doesn't have to be all or nothing. "The most important thing is to keep dancing," says Lindy Mandradjieff, owner of the Dance Conservatory of Charleston in South Carolina. "Without the added stress of school, you can improve as much in one summer as you would in an entire school year." Here's how to keep up your training even if you don't plan on attending an intensive.
Keep reading...
Show less