You probably know Ava Cota as the lovely, leggy dancer who was rejected from the Abby Lee Dance Company, on "Dance Moms," because she was "too tall." Now, that lanky frame is propelling her career as a model. Ava just made her New York Fashion Week runway debut, and we're guessing it won't be the last time the six-foot beauty graces NYC's catwalks.
Keep reading...
Show less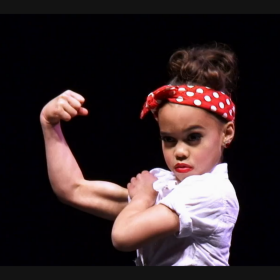 You had muscles like that at seven years old, right?
It's week two of Asia with the ALDC, and the drama surrounding this little firecracker has just begun. Here are my three most AWKWARD and AWESOME moments from last night's episode:
AWKWARD: Asia vs. Mackenzie. New girl Asia gets on top of the pyramid in her first week. Uh oh, looks like she's just earned a big fat target on her back. But no, the moms are still ganging up on Mackenzie, claiming that she's faking her injury. She loves to dance, people. She would not fake this injury! Plus, now she really wants to kick little Asia's butt. I'm going to assume that, healed or not, Mac will be back next week. Team Mackenzie!
AWESOME: Asia's solo. This is just so much better than her puppy dance from last week. She's playing Rosie the Riveter, a tough cookie just like she is. Holy muscles, Batman! This girl is fierce. Everything about the choreography is super cute—and her costume is appropriate! Can I be Team Mackenzie and Team Asia?
AWKWARD: Flaggate (a.k.a. the group number). Asia isn't doing most of the choreography, but she does get to run across the stage with an American flag. Essentially, Abby's tacking a young kid on at the end to bring the overall age of the routine down. Isn't this the same kind of thing we used to make fun of Vivi for in Cathy's choreography? But the real drama comes when apparently the flag is held up the wrong way onstage. Someone must be blamed! Was it Paige's fault or Asia's fault??? We never find out, but I'm going to go with: Who cares? They looked great.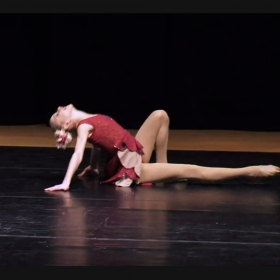 So pretty. And so not deserving of what Abby put her through this week.
AWESOME: Maddie's solo and Chloe's solo. My goodness, I love these two. This rivalry isn't anything new. We spent most of Season 1 wondering if Chloe would ever be triumphant over Maddie (spoiler alert: she was!). After months of no head to head competition, they're both onstage this week. Yippee! Chloe is elegant and clean and gets second place; Maddie is emotional and striking and gets first. Just goes to show, a little healthy competition goes a long way…
AWKWARD: I spoke too soon. Abby takes this Maddie vs. Chloe thing way too far. She kicks things up a notch by asking everyone (moms and kids) to vote for either Maddie or Chloe after watching them perform. Sigh. This does not seem like a productive activity. Maddie wins the vote by a landslide, leaving Chloe feeling terrible. Best moment: Mom Kelly votes for Paige. Hahaha. In your face, Abby.
AWESOME: Holly's defense of getting an education. Mom Melissa has decided that Maddie and Mackenzie should be home schooled, and the other moms are not pleased. Yes, sometimes home schooling is the best option, but this is clearly not one of those times, especially with little Mackenzie, who's too young to have decided whether she even wants a career in dance. Plus, she'd miss her friends! Holly does a remarkable job of explaining the seriousness of pulling kids out of school: "School's not just about busy work. It's about: Can you think? Can you be a citizen of the world and think for yourselves?" Yes, Holly! In the end, smart dancers are successful dancers.
And now (drum roll please) the QUOTE OF THE WEEK:
"Asia might be a big deal on the Internet, but so is a dog who can bark his ABCs." —Mom Christi
A dog who can bark his ABCs!? Where is this dog? Will someone send me a link, please?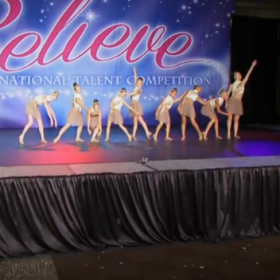 There are a lot of kids on that stage—but it works.
This week, something major was missing at the ALDC—the "AL," to be exact. Abby Lee's absence meant no pyramid, no assignments and a whole lot of confusion. The girls and moms found both pros and cons of living life without Abby. Here are my top AWKWARD and AWESOME moments from this week.
AWKWARD: Although the moms had some reasons to celebrate in Abby's absence, it became very apparent that her presence is necessary at the studio. With Gianna so stressed that she was driven to tears, the moms felt helpless as they tried relentlessly to get ahold of their fearless leader. This meant constant phone calls and text messages, and when Abby did respond, her demeanor was less than favorable. Not to mention, all of these calls were on speakerphone and texts were read aloud, which created an unnecessary amount of tension.
AWESOME: While we did see Gianna in one minuscule moment of weakness, something needs to be said about her starring role in this episode. Can we just take a minute to think about the fact that she has been choreographing the girls' routines since episode 1, and she's only now getting interview time? She went above and beyond this week, taking charge of a team that truly needed leadership, keeping them motivated and creating amazing pieces. With partner-in-crime James, another top teacher at the ALDC, she choreographed all 4 numbers without so much as a phone call from Abby. It's clear that she's dedicated to the girls, and the girls admire and adore her. If Lifetime wants to give Gia her own spinoff show, I'll be watching!
AWKWARD: When Melissa called to deliver the news of the winning group dance, Abby announced that she'd only be back when the Hylands were gone—on speakerphone, of course. We've seen Abby's close relationship with Brooke in previous seasons, and seeing how these remarks affected her was seriously heartbreaking. Watching Brooke dissolve into tears while Kelly and Melissa reassured her that Abby loved her was really the worst. Kelly mentioned that the relationship her daughters have with Abby wouldn't be the same after this week—let's hope that isn't true.
AWESOME: It may have been horrible to see Brooke so sad, but she certainly channeled that emotion into her performance. It seemed unlike Brooke to ask for a solo initially, but her insistence on this opportunity to dance and prove her commitment to the team was amazing. After allegedly learning her dance in a mere 15 minutes, she performed beautifully and earned 4th place—without a costume! What's more, Brooke's solo music was her own single, now available on her album on iTunes! 
AWKWARD: Brooke and Paige are officially back, but what does this mean for Leslie and Payton? With Leslie furious that Brooke was doing a solo and Payton wasn't, fighting ensued in the observation mezzanine and continued throughout the weekend. With colorful insults being thrown constantly, Leslie seemed incredibly nervous that her time with the team could be coming to a close. But with a group dance of nine that took first place, there could be a chance that every team member will stay!
AWESOME: We know that Abby isn't too thrilled about the girls' promotional work with their fans, but what the Ziegler girls were a part of this week is nothing to criticize. To support The Starlight Foundation, Melissa helped a little girl, Hannah, achieve her dream of meeting Maddie and watching her perform. Serving as inspirations for one another, Maddie and Hannah spent time together throughout the episode, concluding with Maddie dedicating her (flawless) solo to her as well as the gift of her (gigantic) first place trophy. It was so great to see what an amazing impact the girls can have on their fans, especially for such a great cause.
And now, the QUOTE OF THE WEEK:
"I walk in the studio and Gia's at the front desk, and I just assumed Abby's at a headband sale somewhere." —Mom Christi
Next week, the Candy Apples will be back for their revenge—but will Abby be there to lead her team? What do you think?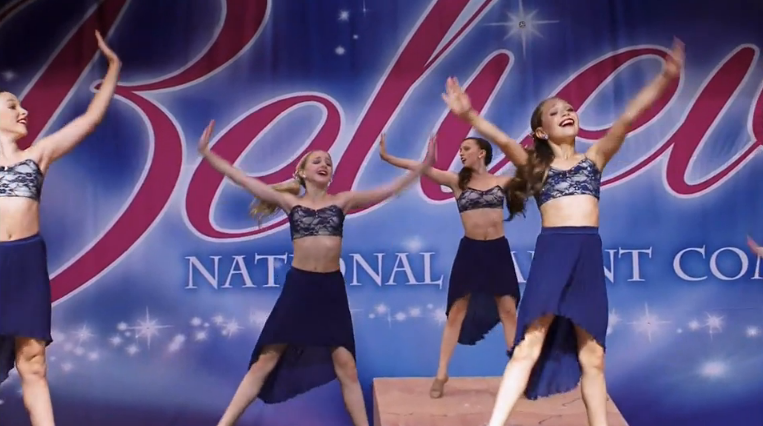 The girls showed genuine emotion in their contemporary routine this week—and we loved it!
After a grueling week of Abby Lee Dance Company showcase prep and performances, Abby's dream team was back and ready to compete—minus a few key members. The Hyland family is still M.I.A. this week, much to the team's dismay and Abby's delight. With plans to attend a new and highly-acclaimed competition and go head-to-head with Cathy and her fresh crew of MVPs, the stakes were higher than ever. Here are my top AWKWARD and AWESOME moments from this week.
AWKWARD: We're back at the Candy Apple's Dance Center this week, but things aren't exactly how we left them. While choreographer Anthony has stuck around, many of Cathy's recruits have not. With Jaden and Zack inexplicably absent (not to mention old favorites Gino and Nick), we're introduced to a new cast of talented dancers from around the country. Amongst them is none other than Lucas Triana, a super-flexible, strong and driven dancer who we first saw on "Dance Moms: Miami." I was thrilled to have a chance to see more of Lucas, but just really confused as to how Cathy can play this off. With Lucas came Mom Bridgette, whom Cathy claims to be "very good friends with on Facebook." While the team is undeniably comprised of impressive talent, it's pretty awkward that Cathy and crew keep shuffling their players around in hopes of defeating the invincible ALDC.
AWESOME: It's a miracle—the moms are getting along! It seems that in times of need and turmoil, the moms make an unconquerable army. They really come together to face the Candy Apples and lobby for Kelly's return. In Brooke's absence, Abby calls in senior company dancer Payton, and with her comes Mom Leslie. In the past, the other moms have been far from thrilled to share the observation mezzanine with her, but this week they're appreciative of her strong demeanor. Grateful to have another ally by their side on the upcoming trip, the moms have nothing but compliments for Payton, and they go pretty easy on Leslie as well. How refreshing!
AWKWARD: We may have gotten a break from the Pittsburgh mama drama this week, but that doesn't mean there was any shortage of conflict. Although breaker Jalen and Dad Rick weren't with the CADC this week, Cathy made sure to keep her team stocked with powerful and outspoken parents—and I don't just mean the parents of the dancers. Cathy's mother (reluctantly) agreed to tag along to Lancaster with the team, and choreographer Anthony's mother came to support, too. The two remained silent until the inevitable post-awards showdown, when Anthony's mother was far from hesitant to tell the ALDC how she felt. One set of moms is enough—let's not bring in another! Christi said it best: "This is about dance! Are you people insane?!"
AWESOME: At this week's pyramid revealing, Abby told Nia once again that she wants more from her, a point to which Mom Holly argued could only be improved if Nia had more time in the studio with her teacher. Well, she instantly got her wish. Abby was disappointed in Maddie's reluctance to perform a new solo last week, so she put Nia in her spot for a trio with Kendall and Chloe. She cut Nia no slack in rehearsals—and it certainly paid off. The girls looked beautiful onstage in a technical and stunning routine. Even Melissa remarked that Nia's facials were "priceless." The best part? Abby agreed! Go Nia!
AWKWARD: It seems that Yvette and Kristie Ray have a bit of unresolved tension from their time together on AUDC last season. As the two reunited, they instantly burst into an argument rehashing all kinds of things that had been said in the past. These two have each met their match—neither was willing to back down, especially in the defense of their daughters. Once the members of their respective teams pulled them apart, Kristie managed to get the last word by calling Yvette out on her Spanx being too tight (ouch!).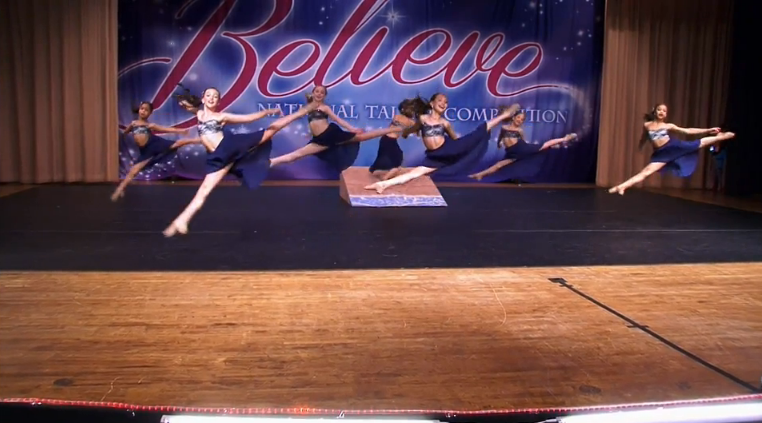 "Open Waters" was both technical and moving.
AWESOME: I loved the group number this week. Entitled "Open Waters," the piece showcased technical excellence, strength and emotion—all the elements that make up a winning contemporary number. The girls looked so strong and mature, and the costumes, in combination with a sleek low-ponytail, made for a clean and professional look. Even with the challenge of working with a prop (and a new team member), they still managed to pull off a first place win (and reign supreme over the Candy Apple's crew!). Victory for the ALDC yet again!
Although the numbers looked great and the drama was scarce, the show really isn't the same without the Hylands. The moment Abby pointed out what an asset Brooke's unmatchable contortion work would have been to the group number, it became clearer than ever that the family actually isn't replaceable. So, with Leslie and Payton determined to stay put, tension will most certainly be high at the ALDC next week.
QUOTE OF THE WEEK:
"Leslie's like the boil on the butt of humanity." –Mom Christi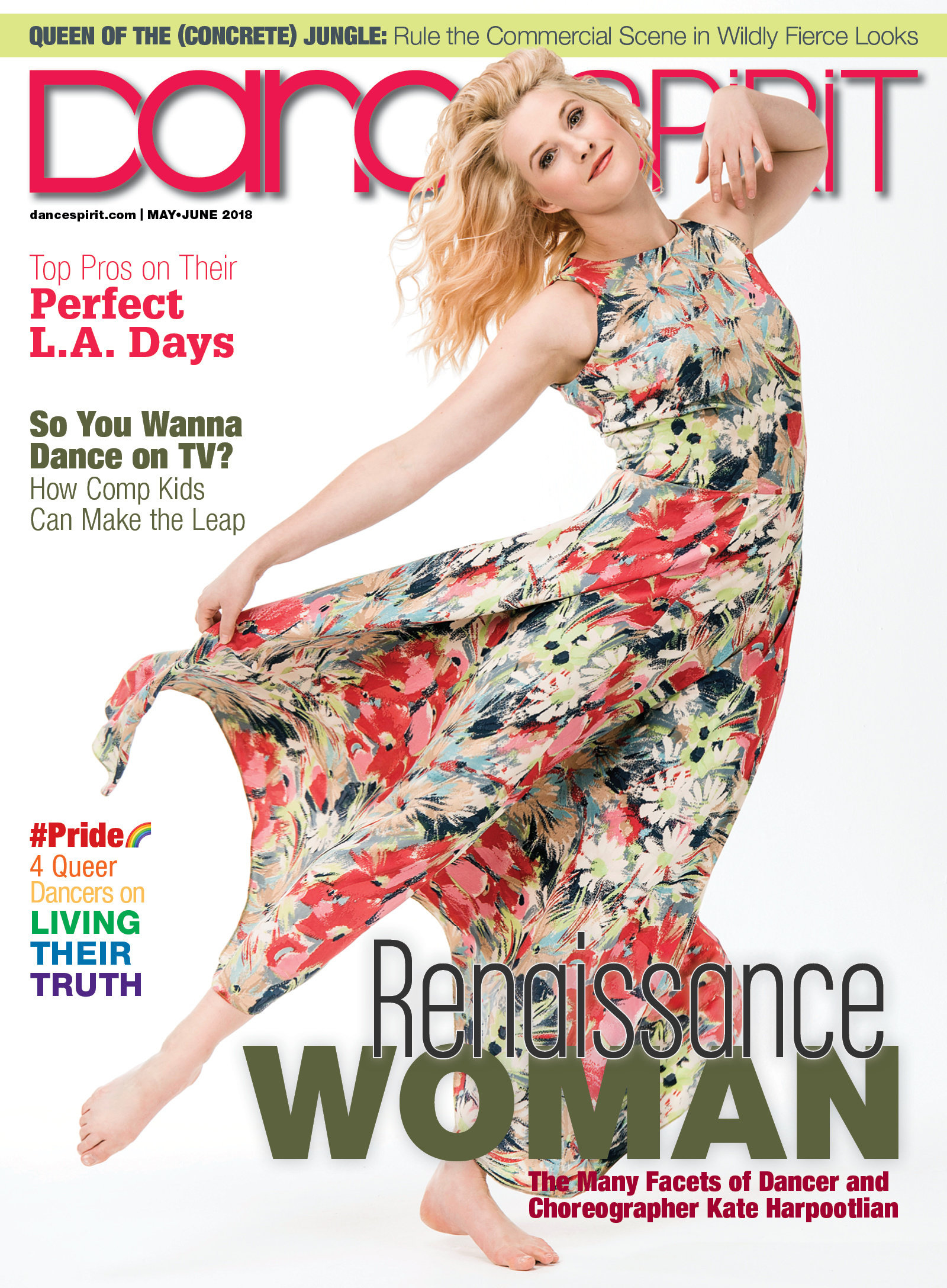 Get Dance Spirit in your inbox