Erin Baiano
We all know that girl who basically lives in crop tops and sports bras to show off her insanely chiseled abs. But strong stomach muscles aren't just amazing fashion accessories—they're also the key to everything from powerful jumps to proper technique. Dance Spirit spoke with Jessica Sander, a personal trainer in NYC, about the most effective exercises to help you score your dream core.
Keep reading...
Show less
Surely you've heard of Physique 57 by now. The barre-based classes—held at six studios, including locations in NYC, the Hamptons and Beverly Hills—are frequented by celebrities such as Kelly Ripa, Zooey Deschanel and Emmy Rossum. And the stars are heading to Physique for a reason: The 57-minute classes hit every muscle in your body, and they do so without the use of any crazy-heavy weights, which is a plus for young dancers. "It can be dangerous to lift heavy weights during adolescence," says dancer, personal trainer and NYC-based Physique 57 instructor Jessica Rochwarger. "The pressure can fuse your growth plates, which can ultimately stunt your growth."
These four exercises—all Physique 57 staples—focus on the muscle groups you may be neglecting during your dance classes. "They work your opposing muscles and complement the body parts you're already working," Jessica says. "They'll help your body become more balanced, which will make you a stronger, better dancer."
What You'll Need: A yoga mat, a playground ball and a chair.
The Pretzel
What you're working: your seat, hips and waistline.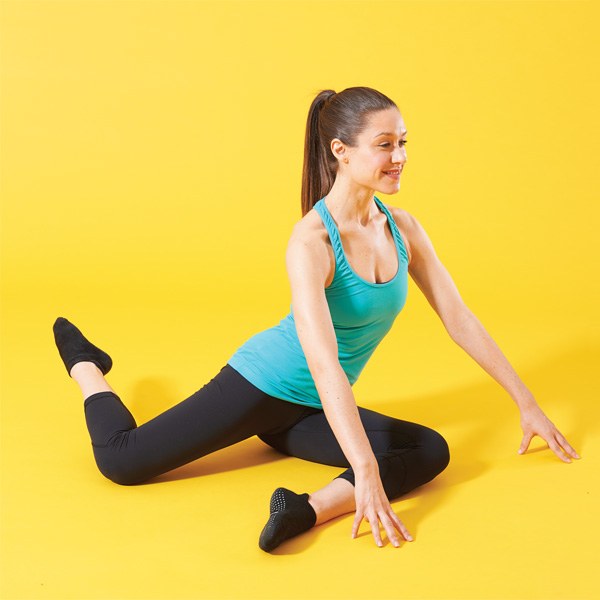 Begin seated with your left leg at a 90-degree angle in front of you and your right leg at a 90-degree angle behind you, keeping your right thigh as far behind you as possible. Your hands can be on the floor in front of you for stability—or, to make the exercise harder, bring them into prayer position in front of your chest.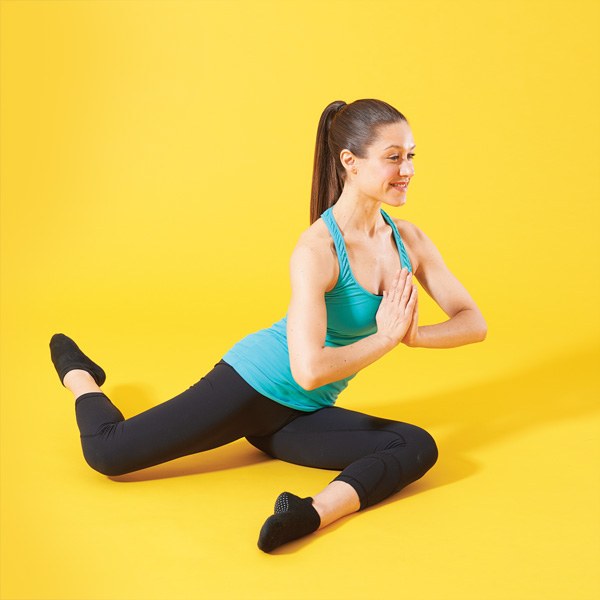 Keeping your abs engaged, raise your right leg slightly off the floor and pulse it up and down 20 to 30 times.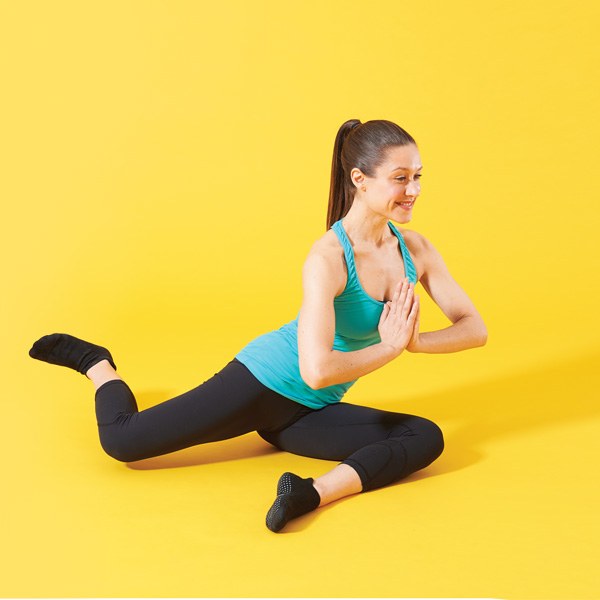 With a flexed foot, press your right leg backward, slightly extending your leg, 20 to 30 times, continuing to sit as upright as possible.
Jessica says: "The key is to keep pressing your front hip down."
The Curtsy
What you're working: your thighs, core, back and balance.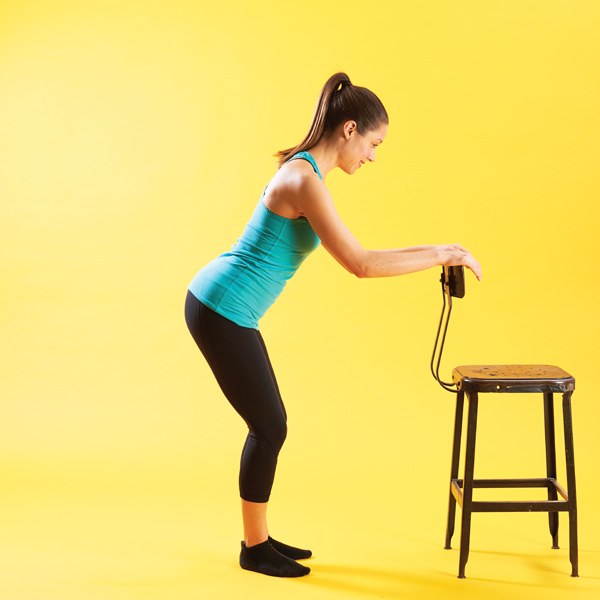 Start in plié with your feet in a comfortable first position and your hands resting lightly on a chair in front of you. Lean your body forward at a 45-degree angle.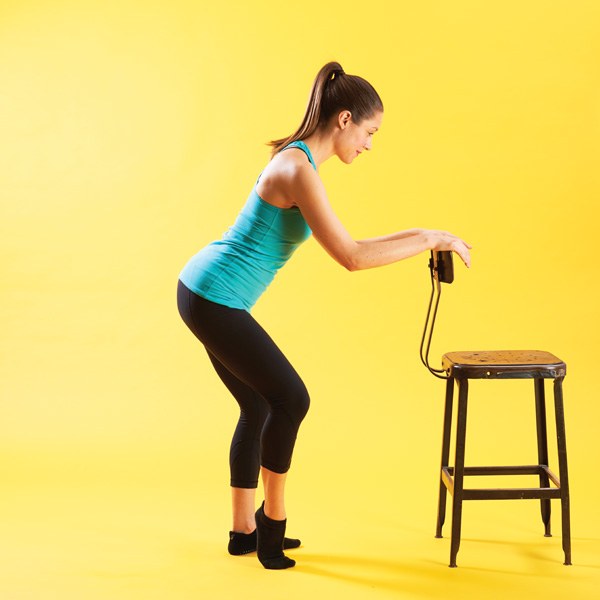 Lift your right heel, then slide your right leg back about two feet along the floor, crossing behind your body so your right foot is in line with your left shoulder.
Jessica says: "You're working your turnout muscles. And the lower you go, the more you're working your thighs."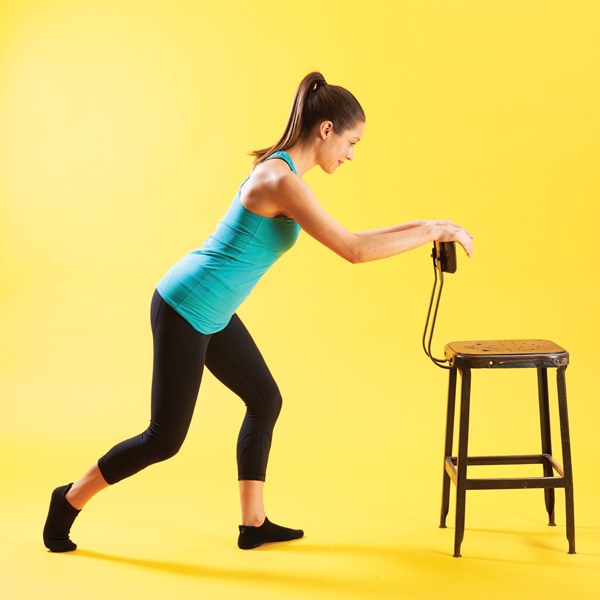 Keep your back heel high and your front foot flat as you plié further toward the floor. Keep your hips and shoulders squared and your front knee in line with your ankle.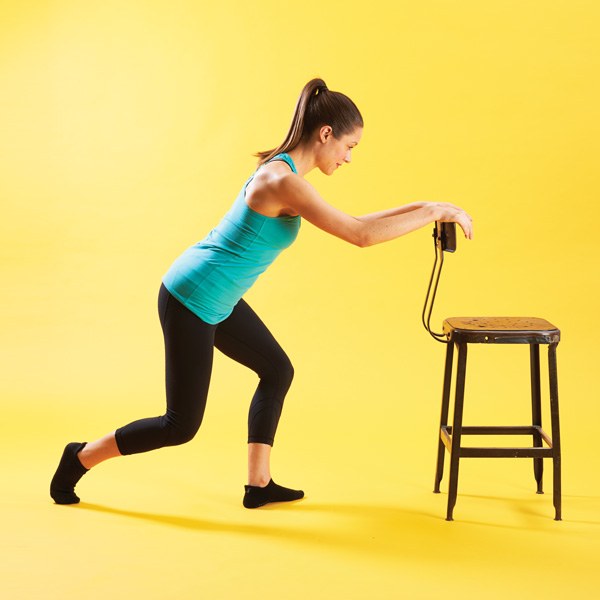 Do 30 to 60 pulses up and down and then repeat on the other side.
The Superwoman
What you're working: your abs.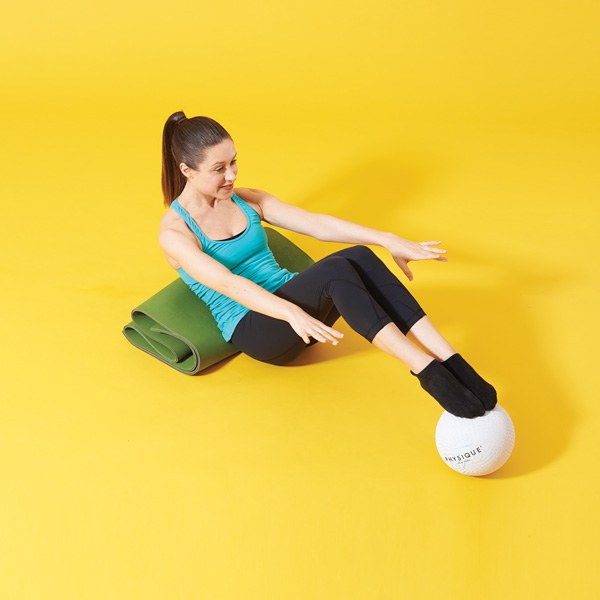 In a seated position, place a cushion (like a rolled-up yoga mat) behind your lower back and lower your torso onto it, keeping your head, neck and shoulders lifted. Point your feet and place them on a ball in front of you with your knees bent and your arms lifted by your sides.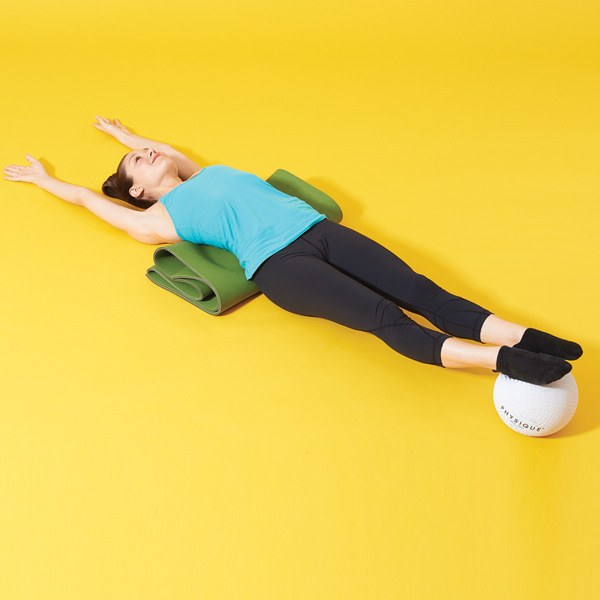 Inhale as you extend your arms and legs and lean backward, pushing
the ball away from your body.
Keeping your navel pulled down, exhale as you return to the starting position. Repeat 30 to 60 times.
Jessica says: "When you return to starting position, don't sit all the way up. If you come all the way up, you're using momentum, not muscle. Keep your abs hugged in tight."
The Deli Slicer
What you're working: your seat, hamstrings, and obliques.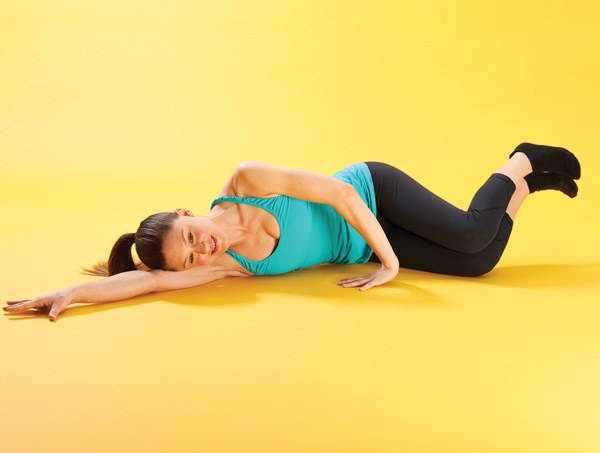 Lie down on your right side with your right arm extended under your head and your left palm on the floor in front of your chest for support. Bend your knees in toward your chest at a 90-degree angle to your upper body. Lift your feet off the floor, keeping your knees on the ground, your feet together and your shoulders and hips in line with each other. Press your left palm into the floor to engage your oblique muscles.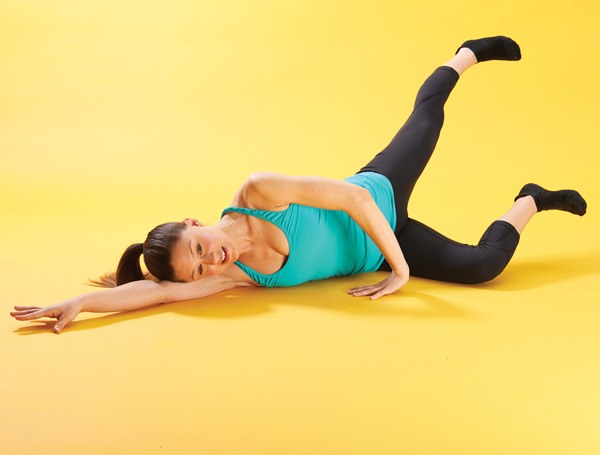 Straighten your left leg, pressing it up and out behind you on a diagonal as far back as possible while keeping your hips stacked and abdominals engaged. Then bring your leg back in. Think of your top knee sliding along the inside of your bottom leg like a deli slicer as you bend and straighten the top leg. Repeat 15 times slowly and 20 times quickly, then switch sides.
Jessica Rochwarger is an instructor at Physique 57 in NYC. She holds a degree in dance from Barnard College and is a NASM-certified personal trainer and AFAA-certified group trainer.
Photography by Nathan Sayers
Have you ever wondered how contemporary ballet queen Drew Jacoby got her lithe legs or commercial diva Comfort Fedoke chiseled her arms? DS asked a few pros with particularly toned physiques for their fitness secrets and go-to moves. Read on—and then get moving!
Muscular Arms
Dancer: Comfort Fedoke
Where You've Seen Her: Comfort was a finalist on "So You Think You Can Dance" Season 4 and an All-Star on Season 7. She also has featured roles in the upcoming films Footloose and Honey 2.
Secret to Her Success: "I go to the gym almost every morning and I focus on my arms," Comfort says. "I do arm curls with free weights and I spend lots of time practicing my popping and locking because it forces me to flex and release my muscles. I also do 100 push-ups and 100 sit-ups every night."
Go-To Move: "The Fresno, a popping move, tones my entire arm at once," she says. "Extend your arms to the front or the sides, flex all your muscles at the same time and then release them at the same time. It should feel like it does when you ball your fist up and release it."
Ripped Abs
Dancer: Rachele Brooke Smith
Where You've Seen Her: Rachele played the lead role in Center Stage: Turn It Up and she will star in the upcoming film The Beach Bar. She recently danced in Burlesque and on "Glee," and she's a guest teacher with L.A. DanceMagic.
Secrets to Her Success: "I love Cardio Barre, hot yoga, riding my bike and walking," Rachele says. "I only spend 10 minutes a day doing ab-specific moves. But I focus on keeping my abs contracted during every type of workout, even when I'm dancing or walking around. Exhale each time you contract your stomach muscles and hold ab moves longer than you normally would."
Go-To Moves: "Hold a plank position for at least 30 seconds and then do five push-ups. Then, flip onto your back and lift your upper body and legs into a V-sit-up position and hold that for at least 30 seconds. Then do a few crunches before you roll over and start again."
Supple and Strong Legs
Dancer: Drew Jacoby
Where You've Seen Her: Drew is one half of Jacoby & Pronk. She has also performed with Morphoses/The Wheeldon Company, Alonzo King's LINES Ballet and more. This spring, she'll perform at Youth America Grand Prix galas in several cities.
Secret to her success: "It's important to exercise the weak areas of your body so you don't overuse the strong areas," Drew says. "I run, swim, bike and do Pilates so I can work on the areas that don't get as much attention when I'm dancing."
Go-To Move: Drew has naturally muscular outer thighs, so she uses bridges to strengthen the rest of her thighs. To try a bridge, lie on your back with your knees bent and your arms by your sides, palms down. Push your hips toward the ceiling, leaving your arms, feet and shoulders on the floor. Hold that pose for one breath, then lower your hips to the floor.
Head-to-Toe Tone
Dancer: Erica Jimbo
Where You've Seen Her: dancing with Pilobolus since 2009
Secrets to Her Success: "I do Wushu—a type of kung fu—at least three times a week. It helps me strengthen all over. I also do yoga, Pilates, and various core and back workouts."
Go-To Move: One of Erica's favorite exercises simultaneously tones her arms, shoulders, abs, back and more. To try it, place your hands on the sides of an exercise ball and extend your legs so you're in a push-up position. Make sure your shoulders are over your hands, your legs are straight and your feet are together. Inhale, bracing your abs and back. As you exhale, slowly extend your arms and push the ball forward as far as you can while maintaining your form. Hold for one breath. Inhale and slowly roll the ball back to the starting position. Keep your shoulders in place throughout the movment. Work up to 8 to 10 reps.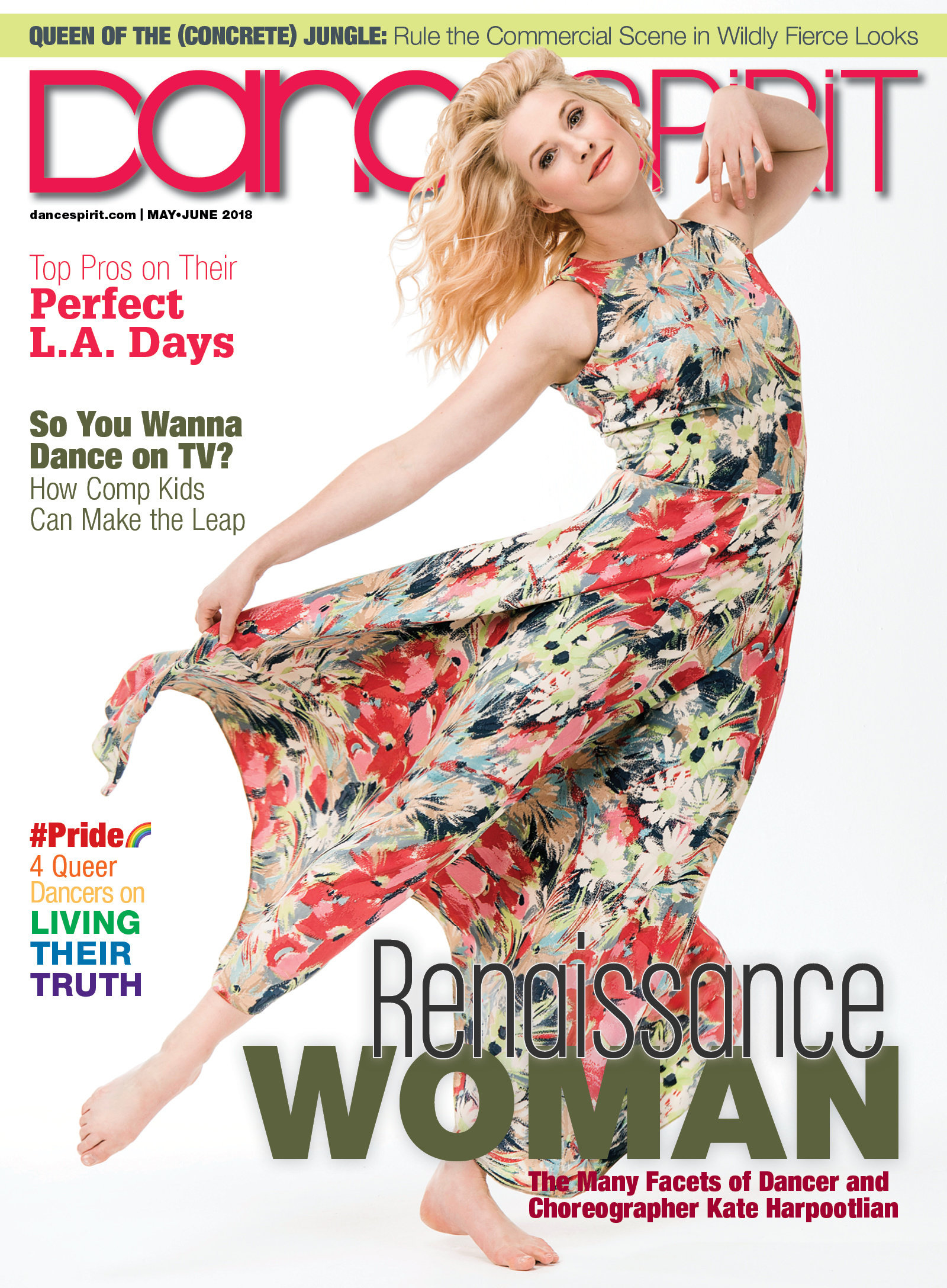 Get Dance Spirit in your inbox