Larsen Thompson showing off her dance (left) and modeling (right) skills (left photo by Jayme Thornton; right by Felipe Espinal, courtesy Thompson)
Before dance phenom Larsen Thompson booked her first modeling job, she'd never even considered modeling. "I was working on a commercial as a lead dancer, and a woman approached me to ask me to model for a print campaign," Thompson remembers. "At first I didn't think much of it, but then I realized I could incorporate my love of movement into my modeling." After she made that connection, Thompson's modeling career took off.
These days, a lot of young dancers are feeling the urge to branch out into dance-adjacent fields like singing, acting, modeling, and designing. In fact, especially in the commercial world, agents and casting directors increasingly expect that dancers will have the chops to book jobs as actors and models. But how can you explore non-dance passions while maintaining your technique? We spoke with Thompson and three other multitalented dancers to hear their advice on navigating the changing demands of the entertainment industry.
Keep reading...
Show less
Skyler Semien on set of the hit film Pitch Perfect 3 (courtesy Lance Semien)
Take a good look at Skyler Semien, because she's an up-and-coming commercial dancer who's primed to take Hollywood by storm. A freshman at Georgia State University, the former competition kid has already appeared in her first feature film, Pitch Perfect 3, and has two more movies in the works.
How did this dancer end up in one of the biggest films of the year? Semien says it started with her dance training. Studying everything from ballet to contemporary, Semien started competing when she was only 6 years old. But in high school, she realized hip hop was her ticket to the commercial world, and decided to shift her focus. Soon, she'd signed with Bloc talent agency, and as a senior in high school, she was cast as one of the "new Bellas" in Pitch Perfect 3.
Though Semien's found success in show biz, don't expect her to drop everything and move to Hollywood. The multi-talented dancer is keeping her options open as she concentrates on getting her education. "Dancers are no longer just dancers; they're entrepreneurs, creative directors, musicians and actors," she says. And she believes education will breed the skills she needs to pursue those kind of opportunities.
We chatted with Semien about why she thinks so many dancers are pursuing additional careers beyond the dance world.
Keep reading...
Show less
Jun. 11, 2013 03:44PM EST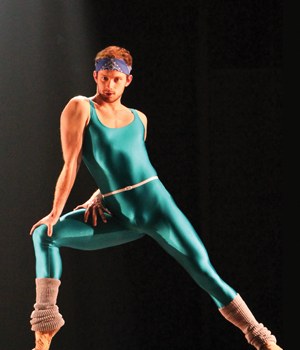 Jakob Karr in Flashdance: The Musical (DRGPhotography)
Jakob Karr, with his amazing extensions, and Kamille Upshaw, with her captivating stage presence, made names for themselves by snatching up award after award on the competition circuit. The two were hired for their first professional dance jobs in 2007—performing together during the halftime show of an alpaca auction in Virginia. And from there, their paths continued to cross: They both moved to NYC for college and then traveled internationally with Rasta Thomas' Bad Boys of Dance. But this past year, Jakob and Kamille switched gears and joined the touring cast of Flashdance: The Musical. Now the two friends are officially in love…with musical theater. "From the first day, I just thought, this feels right," says Jakob. "This is something I could love doing over and over again."
It's not unusual for competition dancers to discover they're destined for musical theater. And with the number of dance-heavy shows on Broadway today, technical dancers are more in demand than ever before. But it takes far more than a killer solo and an impressive collection of platinums to make it on the Great White Way. Read on before you book your ticket to the Big Apple.
Dance This Way
So what kind of dancers do Broadway casting directors covet? Annie choreographer Andy Blankenbuehler says the key is versatility, which many comp kids have in the bag. "The biggest asset young competitive dancers have is the ability to mimic a choreographer's style," he says. "At a convention, students take class from five or six teachers, each with very different styles. They're smart enough to adapt accordingly."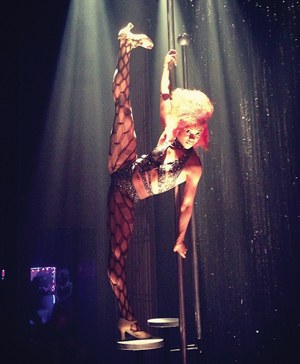 Kamille Upshaw in Flashdance: The Musical (Courtesy Kamille)
Being a smart dancer also means knowing your strengths and understanding what kind of dancing is expected from you at an audition—a lesson Jakob learned the hard way. "My very first audition was for Mary Poppins, and it was so humiliating," he admits. "They made us tap, and I'm probably the world's worst tapper. When I had to perform for the casting directors, I just did time steps over and over again. Believe it or not, I didn't get the job." Do your homework before the big day, and take classes in any styles you're unfamiliar with so you won't be taken by surprise.
Sing Out
No matter how many dance styles you've mastered at your studio, don't expect a job offer unless you can carry a tune. "I can maybe hire one person per show who can't sing. Maybe," says Blankenbuehler, who's worked on productions including In the Heights and Bring It On: The Musical. And rocking out in the shower or along with your car radio doesn't quite cut it. "Just as your body is your instrument for dancing, your vocal cords are your instrument for singing, and you have to know how to work them," says former comp kid and "So You Think You Can Dance" alum Ariana DeBose, who's currently in the ensemble of Motown: The Musical. "Find a vocal coach," she says. "Then choose at least three songs and work on them until you can present your best you no matter what."
Kamille walked into the Flashdance audition—her first musical theater audition—armed with only one semester of voice lessons from The Juilliard School. But she decided confidence would be her greatest weapon. "I figured they were looking for someone who could sell the performance," she says. "You don't need to be able to belt like Whitney Houston to be in an ensemble. Even if you don't feel like you have the best voice, prepare something that showcases your personality." For Kamille, that was Estelle's "American Boy." Jakob's first audition song? " 'Happy Birthday to You,' " he says. "I was as clueless as they come, but the next time I had a song prepared. And now I see a vocal coach whenever I'm in New York."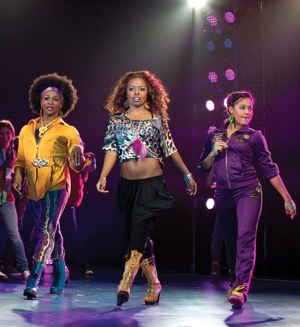 Ariana DeBose (right) in Bring It On (Joan Marcus)
Acting 101 
While some studio kids may have taken voice lessons in addition to dance class, there's a third component they must master before being a true triple threat: "You have to be a performer," Blankenbuehler says. "In a musical, dancers won't necessarily have to sing solos, but they will always have to project emotions."
Newsies dancer John Michael Fiumara, a past New York City Dance Alliance Senior Outstanding Dancer, says the hardest thing about his transition to musical theater was getting into character. "I never really thought of myself as a musical theater person, but just to be safe, I took voice lessons throughout my dance training," he says. "The biggest challenge for me in Newsies was understanding the story and imagining myself as my character, Specs. But the directors told me they chose me because they liked the flavor I gave to the role and the look on my face when I danced." Unfamiliar with acting? Sign up for a class or join a local community theater production.
Create Connections
Even if they've never had an acting or singing lesson, competitive dancers have a built-in resource many others don't: a wide network. "It's amazing how many people I danced with at competitions who are doing Broadway right now," John says. "Competing as a kid gives you so many connections to help you get there." Blankenbuehler, who teaches at NYCDA conventions nationwide, commends the rare dancer who approaches him to ask about upcoming auditions. "The resources are there—you just need to take advantage of them," he says.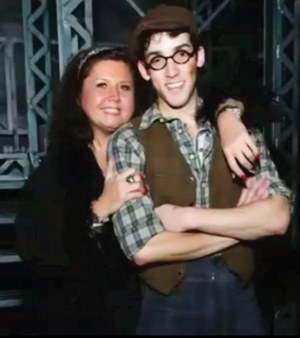 John Michael Fiumara with childhood teacher Abby Lee Miller on the Newsies set (courtesy John)
Once you've left the competition circuit, viewing every audition as a chance to expand your network will make lasting impressions that may lead to more auditions. John auditioned twice for Newsies to no avail, but the casting directors remembered him and called him back for a third, invitation-only audition when the role of Specs opened up. And a casting director from an unsuccessful audition for the show Memphis called Ariana back to audition for what would become her Broadway debut, playing Nautica in Bring It On. "That's how a lot of auditions happen," Ariana says. "You go in for one thing and you don't get the job that day, but they'll like you for something else. That's why I never turn an audition down."
"You're probably going to get a lot of 'no's' before you get a 'yes,' " adds Kamille, who auditioned for many shows while taking a short break from the Flashdance tour this spring. "This industry is hard. You audition more than you work."
Nailed It
After countless auditions and callbacks, nothing beats the feeling of finally nabbing that role. "I got the call and had to leave for the Flashdance tour the next day," Kamille remembers. "There were so many emotions happening at once. But jumping into it like that has been one of the highlights of my career."
If you're a comp kid who's caught the Broadway bug, these dancers prove it's never too late to start tuning your vocal cords, brushing up your acting chops and getting into musical theater auditions. "I didn't grow up singing or acting—I was at a ballet barre in a dance studio," Jakob says. "But with musical theater, I get to do what I love and get paid for it. I'm a part of this world now, and I hope to be part of it for the rest of my life."
Oct. 08, 2012 12:17PM EST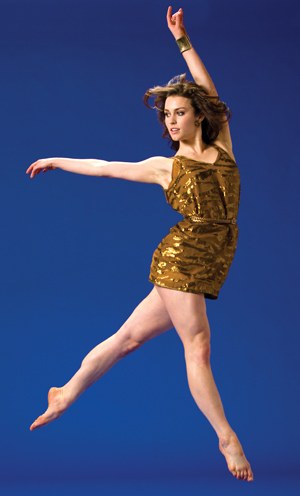 Photography by Joe Toreno
Kathryn McCormick's dance life seems pretty fairytale-esque: The 22-year-old native of Augusta, GA, was the top girl on "So You Think You Can Dance" Season 6, which earned her a gig on the Academy Awards. She later nabbed a recurring All-Star role on "SYTYCD," and this past summer she made her big-screen debut as the leading lady in Step Up Revolution.
But despite the eventual successes, the beginning of McCormick's life in L.A. was anything but a dream. Her first gig on the movie Fame turned out to be a bust, and it took a series of failed auditions before she finally won the hearts of the judges on "SYTYCD." Still, she refused to give up on her dance dreams—and she told us why in this exclusive Q&A.
How did you get started dancing?
Kathryn McCormick: I started before I was even born—my mom danced while she was pregnant with me! A few years later, she opened a dance studio, The Dance Connection, in Georgia, and I started taking lessons there when I was three. Later, my mom closed the studio, so I switched to the studio she grew up at, Augusta West.
Eventually I got into competitions and conventions. I remember taking class from [Step Up Revolution co-star] Misha Gabriel and thinking, "He's so hot!" After graduation, I traveled as a Tremaine Dance Convention apprentice.
At what point did you decide you wanted to make dance a career?
KM: When I turned 18 I didn't even know if I was capable of dancing professionally because I didn't know anyone who'd done it. I decided not to go to college, which was hard. But I didn't want to waste that time when I could be pursuing something I really wanted to do. It was a leap of faith, but I wanted to dance.
How did your parents feel about your decision?
KM: They were supportive. My mom had wanted to dance professionally but didn't because she had kids so young. My dad had gotten close to becoming a pro golfer, but he had to support our family, so he went into the cable industry. My parents wanted me to pursue my dreams since they didn't get to pursue theirs.
What did you do to get closer to your dream?
KM: I decided to train at a ballet school and teach at my studio to save money to get to L.A. I knew my technique wasn't strong enough—there was so much I didn't know about my body that I needed from ballet. I was the oddball in class with a ponytail and tan tights.
When did you get your big break?
KM: Keith Clifton, a choreographer I'd met doing competitions, offered to recommend me to his dance agency, McDonald/Selznick Associates in L.A. I didn't even know what a dance agent was!
I met with them and they gave me a contract right away. I didn't realize it was going to be the beginning of something huge. Two weeks later, I got an audition for Fame.
Very appropriate! Did you book it?
KM: I booked a gig as one of 30 featured dancers, which meant I had to move to L.A. for four months. My first week in L.A., I found out they'd cast too many dancers, and I was only going to have one day of work. I hung up the phone so discouraged. I had no friends, no car and no reason for being there.
How did you deal with that disappointment?
KM: I started riding the bus to EDGE Performing Arts Center every day, taking as many classes as I could in hip hop and other styles in which I didn't have much experience. But I didn't book any jobs for six months, so I did extra work on movies like Couples Retreat while my family continued to help me financially.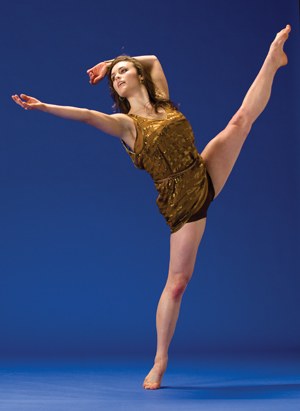 Perseverance seems to be a recurring theme in your dance journey—you auditioned for "SYTYCD" three times before you made it. 
KM: The first time, I went with a group to audition for Season 5 just for fun. When I got in front of the executive producers, I was a mess. I got cut right away. Then my mom invited me to join her on a trip to Denver, adding, "By the way, 'SYTYCD' is having an audition while we're there. You should try again." This time, I got further and danced for the judges. When I got cut, I never thought I'd audition again.
What changed your mind?
KM: A few months later, my mom convinced me to audition for Season 6. When I got on the floor, the music kept messing up. I remember standing on my mark and getting so anxious. I told myself, "Don't do this. Get out of your head." I said a prayer, and when I opened my eyes, the music came on. After I danced, the producer said, "We want to see more of that!"
You made the show and got paired with Jonathan "Legacy" Perez. What was your reaction?
KM: My first thought was, "Oh no, he's a B-boy. We're so different." But I couldn't have asked for a greater partner. He changed me as a performer. I used to be so technical—
I didn't like to freestyle. Legacy taught me to let the moment take over. He'd do things like throw his keys at me to try to get me to react spontaneously. He'd say, "I'm going to press play and you're going to dance." I was so uncomfortable. Finally, when I let myself go and freestyled, he was in tears. He showed me how to trust myself.
And then you came back to rock it as an All-Star.
KM: I didn't expect to be the last Season 6 girl standing. After the show, I auditioned for Burlesque and was cut right away, which was humbling. So when "SYTYCD" asked me to be an All-Star, that blew my mind.
How does being an All-Star differ from competing?
KM: People think you must not be nervous anymore. Not true! As an All-Star, the pressure's on: You have to be confident to support your partner. It's about learning to be selfless in your dancing, which is a different mindset, but it's just as challenging.
When did you get word of the Step Up Revolution role?
KM: In July 2011 my agent said they wanted me to audition for the role of Emily. I went in and hit it off with the casting director, and then I met with the director and producers. It's a different energy than a dance audition—all eyes are on you in this tiny shoebox. I left feeling like I didn't get the part, but ended up getting a callback where I had to pair up with the male lead, Ryan Guzman.
What was the final audition like?
KM: There were just two chairs and some cameras, and we had to do a scene while they shot different angles and tested our chemistry. Before Ryan and I went in, I was shaking, but once we got inside, everything clicked. We had a moment, and I felt so connected to Ryan and so comfortable.
How did you find out you got the part?
KM: Two days later, I got a call from [director] Scott Speer, Adam Shankman and Jen Gibgot on three-way. Scott was like, "Hey, I wanted to thank you for coming out. We appreciated your time. I'm sorry, but…you got the role of Emily!" He tricked me and I was speechless.
I freaked out. Auditioning alone was conquering a fear—I never even thought about actually getting the part.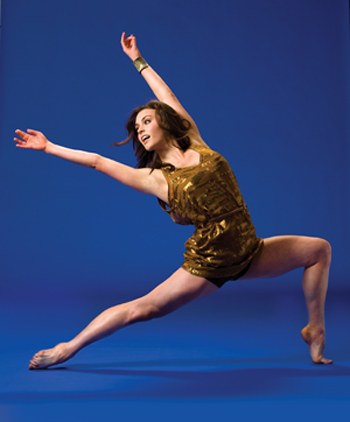 Did you do anything to prepare once you knew you'd been cast?
KM: Two days after I found out, I texted Scott asking, "What do I do now?" I thought you had to memorize the whole script right away! He told me to eat healthy and get in the best shape possible. I thought, "That's it?" But when he said the 3-D could be unforgiving, I put on my running shoes and ran around the block!
What were rehearsals like?
KM: The first month was dance training, from 9 to 5 every day. The mob would be in a room with Ryan, then Ryan would run over and do a duet with me, and then I'd go back and learn mob choreography. It was crazy having so much time to learn something. It allowed me to dive into the character more.
Which scene was the most real for you?
KM: When Emily is doing her final audition and it's supposed to be a duet but winds up being a solo. Emily's not always 100 percent in her dancing, so I had to let myself wobble or fall, which was hard with my perfectionist mentality. [Choreographer] Travis Wall would say, "No, that's too spot-on. You have to mess up." I needed to have that insecurity because that's how Emily was feeling.
What was it like seeing yourself on the big screen?
KM: The first time I saw the movie I was with Ryan, Misha and Scott. My heart was pounding. I didn't let myself be critical—I was just like, "I'm going to enjoy this."
Is acting part of your career plan now?
KM: The film definitely pushed me in a new direction. I'm dancing and taking acting classes and trying to do it all. Along with being a "SYTYCD" All-Star again, I just did a music video for a group called Vienne to bring awareness to human trafficking, and I have a few more projects in the works. I'm trying to train so I'll be ready for whatever comes next.
KATHRYN'S CO-STARS DISH
Stacey Tookey ("SYTYCD" choreographer and friend): "Kathryn is always at the top of my list when I'm looking for a dancer or assistant. She's completely invested in whatever she's doing—a quality I don't often find in young dancers. She's the perfect mix of passion, talent and beautiful spirit—you could say
she's my muse."
Jonathan "Legacy" Perez ("SYTYCD" partner): "We carried each other into the Top 10—as soon as I saw she was my partner, I was like, 'Let's go all the way.' She looks ahead and doesn't let anything discourage her."
Misha Gabriel (Step Up Revolution co-star): "I was completely inspired by Kathryn's work ethic on set. She pushed everyone around her to become better. Even though her technique is exquisite, Kathryn works at it like she doesn't have it yet. Watching her dance in the film is mind-blowing."
Oct. 07, 2012 12:00PM EST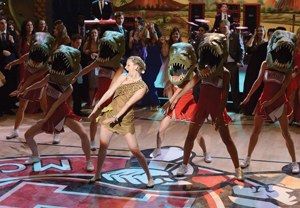 Heather Morris transitioned from dancer to actress/dancer on "Glee." (Mike Yarish/Fox)
Whether they're kick-ball-changing into your living room on "Glee" or tearing up the silver screen in Step Up Revolution, dancers are nabbing some of today's juiciest acting roles. And the trend isn't going to end anytime soon, according to McDonald/Selznick Associates agent Shelli Margheritis. "More projects than ever are considering dancers, from films to commercials to television shows," she says.
Of course, being successful as an actor takes more than just a dancer's killer physique and stage presence. To get insider intel on how to become a true double threat, we asked some of your favorite famous faces for their top tips on making the transition in style.
Don't fake it till you make it. Learn the craft. 
When the chance to audition for "Bunheads" came along, ballerina Julia Goldani Telles had never read a television script before. To get ready for the opportunity, she enlisted an acting coach—a move that, she says, helped prepare her to play the role of Sasha on the show. "My coach taught me how to approach and understand the characters and story," she says. "It was helpful to get feedback and constructive criticism from someone who really knows what she's talking about."
Taking regular acting classes is also essential. Commercial dancer Tyne Stecklein, who's had acting roles on projects like "True Blood" and Rock of Ages, studies everything from cold-reading techniques to the Meisner method of acting in various schools around L.A.—an approach Margheritis says is spot-on. "Dancers always have to keep training, and the same is true of acting," Margheritis says. "If you stay in class, you'll continually add depth to your ability." To find reputable classes in your area, ask your dance agent for a list of referrals or check the listings on websites like backstage.com and nowcasting.com.
Look for help within your agency.
If you already have a dance agent, see if he or she can connect you to a colleague who's plugged into the acting scene. (Once dancers branch out, they may choose to have agents for each of their areas of interest—acting, commercial, voiceover, etc.) "Lots of dance agencies have theatrical departments, which is great for dancers who want to transition," says Stecklein, who's signed with Clear Talent Group. "Staying within your agency is a great way to break into the acting world."
Many of Step Up Revolution's acting roles went to dancers, including (front, L to R) Stephen "tWitch" Boss and Misha Gabriel. (Sam Emerson)
Get noticed.  
Want to get ahead? Learn how to dazzle the people who can actually give you parts: casting directors. Margheritis says casting directors often hold workshops and attend acting showcases to spot emerging talent, and her first piece of advice to would-be actors is to seize these opportunities. (Consult trade magazines like Backstage to find out when workshops and showcases are taking place.) "It's an added bonus when a casting director receives your submission for a role after seeing you in person," she says. "They're much more likely to bring you in if they have that connection."
Also, make sure your headshot and reel are up-to-date and represent you in the best light. Margheritis says it's important to have separate acting and dance reels, as well as an array of photos (commercial, theatrical, etc.) so casting directors can envision you in different types of roles. "Be savvy with your picture choices so they're diversified enough to reflect your skill set," she says.
Play up your unique qualifications as a dancer.
All that hard work you've done in the dance studio is about to pay off. From taking direction to hitting marks, many dance skills translate seamlessly to acting.
"Dancers tend to have really good timing, which is essential when delivering dialogue," Margheritis says. Stecklein also found that her experience with memorizing choreography helped tremendously when it came to learning lines. "Sometimes you're handed 10 pages of dialogue the day before you have to perform," she says—but if you already know how to pick up a complicated dance routine in an hour-long class, that kind of time pressure is familiar to you.
And if you've performed in music videos or as a dance extra in a film, you already know how to deal with life on set. Misha Gabriel, one of the stars of Step Up Revolution, points out that while the film was his first as an actor, it was his sixth as a dancer. "I was no stranger to the long hours and different shots and camera angles," he says.
Work your connections. 
If you make a great impression on a choreographer on a dance project, you'll be fresh in her mind when she's hiring on a film or TV set. Stecklein danced frequently with Marguerite Derricks and Michael Rooney, both of whom later referred her to acting projects. "Dance connections can get your foot in the door and help you get in front of directors," she says.
If you have friends who've successfully made the transition from dancer to actor, don't be shy about mining their resources, too. After Gabriel landed the part in Step Up Revolution, his best friend and Footloose star Kenny Wormald "hooked me up with all his people, like his manager and his acting coach," Gabriel says. "I really appreciated his advice and help."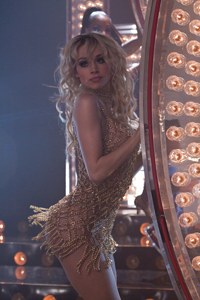 Tyne Stecklein's dancing skills helped her land a role in Burlesque. (Stephen Vaughan)
Be ready to make sacrifices.
Breaking into acting requires dedication and a considerable time commitment—which may complicate your dance career. "I had to turn down long-term dance projects or gigs that would take me out of L.A. because I wanted to be available for acting auditions and classes," Stecklein says. "I was forced to be more selective about the dance jobs I took."
Gabriel had to make similarly difficult choices. His dance jobs are now mainly limited to JUMP conventions on the weekends, leaving his weeks open for acting opportunities. "Watching Kenny turn down job after job, I learned there is no easy way to make this transition," he says. "It was hard watching my friends dance on tour for Chris Brown, but I knew I had to make a change if I wanted to get serious about acting."
That said, taking the risk can pay off. While dance jobs are rarely lucrative, the full day rate on film or TV projects for members of the SAG-AFTRA union can be quite profitable.
Keep a healthy perspective.
Remember that there are very few overnight success stories in the acting world. "There are artists who've been training for years within the acting realm, so it's important to be realistic," Margheritis says. You may already have made a name for yourself as a dancer, but as an actor, you're essentially starting over. Take advantage of even the small parts that come your way. "Do your due diligence to earn visibility and an appreciation for what you bring to the table," Margheritis says.
Stecklein also urges dancers to keep the odds in mind. "Often at a dance audition, they're looking for 20 or more people. As an actor, you're going up for a single role," she says. The process can be intimidating, but keep your eyes on the prize. "There's a role out there for everyone," Stecklein says. "Rejection is just part of the journey to the part that's meant for you."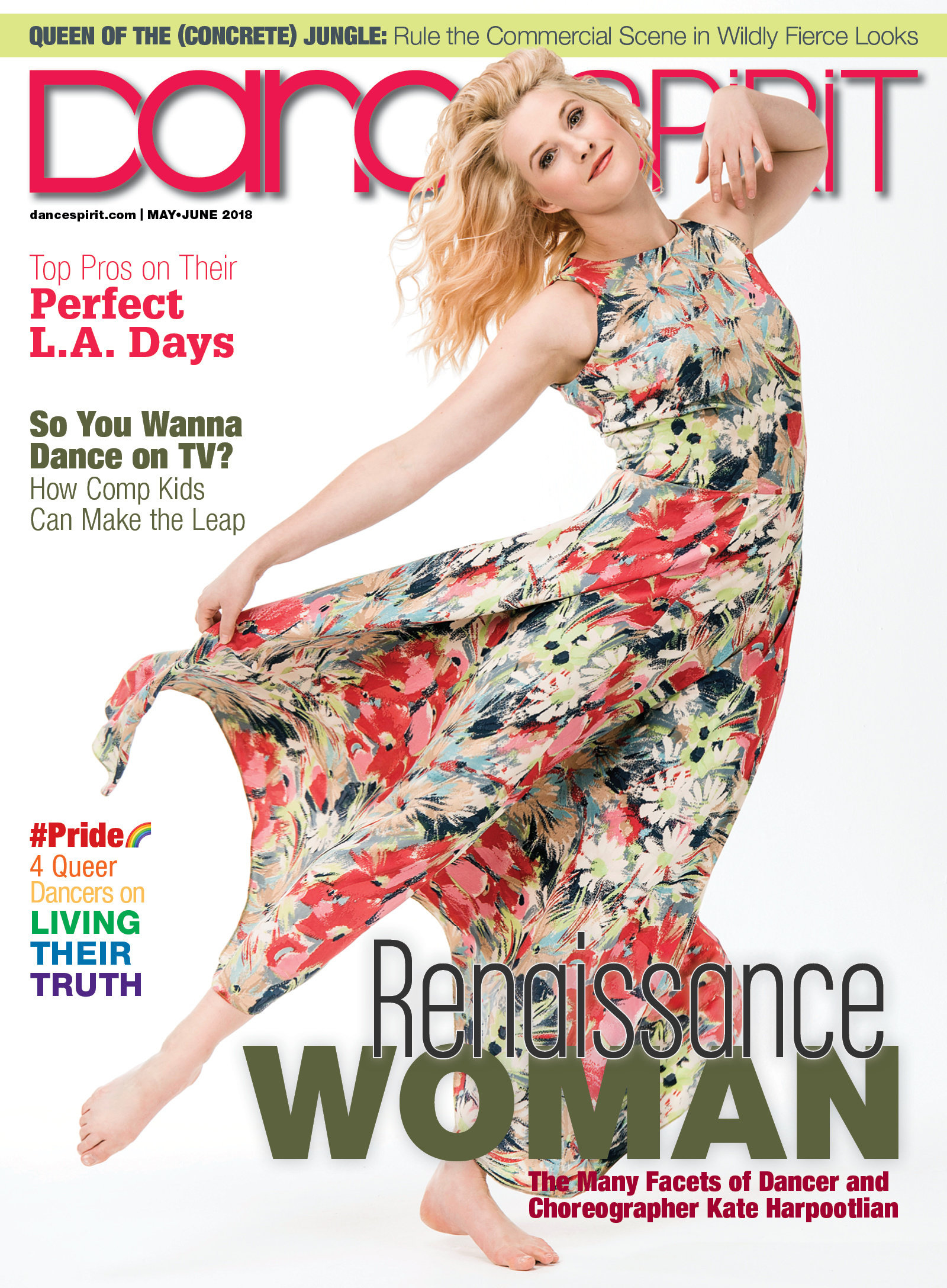 Get Dance Spirit in your inbox