(Before we begin—have you heard that we're giving away tickets to the "So You Think You Can Dance" season finale?! GO. ENTER. NOW.)
Wow. "SYTYCD" Season 11 is going to be pretty darn spectacular. This week, we watched 157 dancers travel to L.A. to duke it out for a spot in the Top 20. Guest judges this week included tWitch, Tara Lipinski, Adam Shankman and ballerina Irina Dvorovenko. It was pretty hard to know who would advance and who would be sent packing—the level of talent was just that high. There were also A LOT of cuts: Dancers had to make it through seven rounds, and there were even a couple dance-for-your-life performances. I'm not sure how the show's editors managed to get the entire week of callbacks into one jam-packed, action-filled episode—but they did. Here are my top five moments from last night:
1. Cameron. OK, OK, he's not a competitor, he's a newborn. But he was definitely part of one of my favorite "SYTYCD" stories of all time: Steven, a phenomenal hip-hop dancer from New Orleans, got news that his girlfriend had gone into labor right as callbacks began. Obviously, Steven was a little distracted. I mean, THERE WAS A BABY ON THE WAY. Somehow he managed to pull it together for the first few rounds…and then, Cameron arrived! Steven didn't make the cut after Sonya Tayeh's choreography, but I think he's already won, regardless.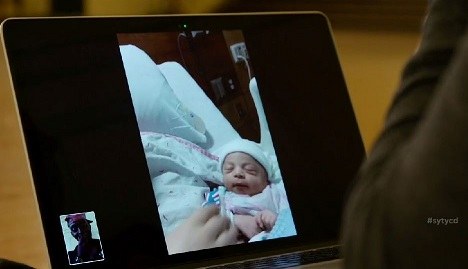 Awwwwwwwww
2.  Jaja, the red-headed wildcard. So, OK, she didn't make Top 20. But to see this girl go from crazy krumper to slinky ballroom dancer just made me smile.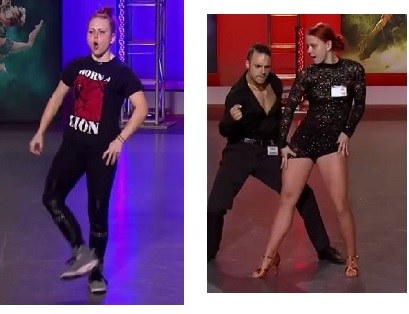 Let's hope Jaja auditions again next year. I know I'd love to see more of her transformations.
3. All the awkwardness. First, there was contestant Amanda's, um, hiccup, when she said she felt lucky to have Marcquet as a hip-hop partner because, duh, he's there for hip hop. Well, sorry Charlie, he's a ballroom expert, and you've just learned what happens when you assume things—on national TV. Oops! (Disclaimer: In Amanda's defense, Marcquet can do it all—amazingly. My prediction? Top 4, easily.)
Next, we said goodbye to poor contestant Christopher's front tooth. During the ballroom routine rehearsals, Chris got smacked in the face by his partner's elbow. She lost quite a bit of skin and blood, and he lost half a tooth. OUCH.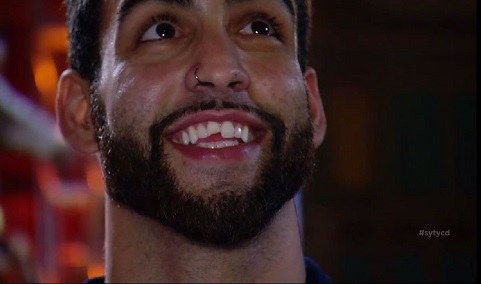 Thankfully, the judges were kind to this (partially) toothless wonder of a dancer. He made it through the ballroom round.
And finally, did anyone else feel just a little guilty for laughing at the judge's nasty comments during the group choreography round? Over the first four episodes this season, we've applauded the judges for not berating the auditionees who gave sub-par performances. Apparently, though, their snide remarks have been brewing, and after One Love's group debacle, there was a firestorm of snark. My favorite zinger came courtesy of Adam Shankman: "I see you got your routine from those children on 'Dance Moms.' " BOOM, roasted.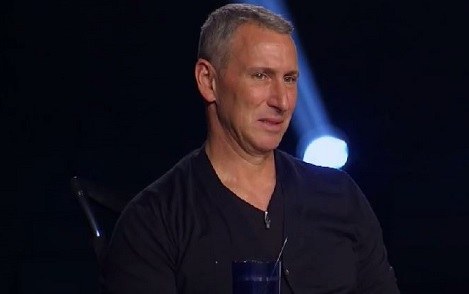 This face.
4. The surprise endings. A lot of our favorites from the audition rounds didn't make it. This week, we unfortunately—and unexpectedly—bid adieu to Trevor Bryce, Marie Poppins, Megan Marcano, Erik "Silky" Williams, and DS cover beauty Kamille Upshaw.
5. The TOP 20, REVEALED! Without further ado, may we present—in the order they were introduced during the show's credits—the 20 candidates vying to be America's Favorite Dancer: Malene, Zack, Emily, Serge, Carly, Emilio, Tanisha, Stanley, Valerie, Nick, Bridget, Marcquet, Jacque, Rudy, Brooklyn, Teddy, Jessica, Casey, Jourdan and Ricky. Congrats, dancers! We can't wait to see what you bring this season!
What did you guys think? Are you happy with this season's Top 20? Was anyone sent home unfairly? Let us know in the comments—and check back here next week for our recap of the first live episode!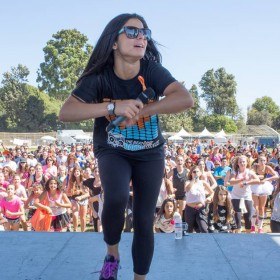 Courtney Galiano at the 2013 BEAT MS Dance Walk
(photo via The Beat MS)
L.A. friends: Mark your calendars for the second annual BEAT MS Dance Walk, happening September 13th. Spend a day movin' and groovin' alongside some of your favorite dancers, all while raising awareness about multiple sclerosis. But even if you're not on the West Coast, this event is something we can all get behind.
In 2011, "So You Think You Can Dance" All-Star Courtney Galiano was diagnosed with MS—a debilitating disease that affects the central nervous system. Despite the challenge she faces, Galiano hasn't let MS bring her down. She and her brother, Philip Byron, established the foundation BEAT MS (the name is a play on her family's dance convention, The BEAT Dance Tour), and last year hosted the first BEAT MS Dance Walk to benefit the National Multiple Sclerosis Society. In 2013, the BEAT MS Dance Walk in L.A. raised over $62,000 for MS research.
We caught up with Galiano about this year's walk.
Dance Spirit: The first BEAT MS walk welcomed so many dance celebs—Adam Shankman, Mark Kanemura, Comfort Fedoke, Kathryn McCormick, Jeanine Mason and dancers from "Americans Best Dance Crew" and "Glee." Are you expecting more star participants this time around?
Courtney Galiano: Last year we had over 600 people walk, and we want to continue to get as many people involved as possible. There will be lots of dancers from "SYTYCD" (including season 7 winner Lauren Froderman), dancers from VH1's "Hit the Floor" and cast members from the musical Hair—including Kristen Bell—which I just performed in at the Hollywood Bowl.
DS: So far, what have been the most rewarding aspects of the BEAT MS?
CG: Being surrounded by so much love and support, and meeting people who share my passions and challenges. I've been amazed at the number of young people fighting MS. It often seems like there's a stigma associated with the disease—people are scared to say they have it. Through BEAT MS, I'm hoping to break that stigma, because there's nothing to be ashamed or afraid of. I think the lack of discussion about MS stems from a lack of knowledge, so I hope the walk helps raise awareness and educate people.
DS: Since your diagnosis with MS in 2011, have your career goals changed?
CG: Not at all. I have good days and bad days, but sometimes I forget I even have MS. Fatigue is the biggest symptom I have to fight. I'm thankful every day for the determination that dance has instilled in me. Plus, dance really helps fight the disease: Medical professionals have started prescribing dance classes for people with MS and similar diseases that affect mobility. It just goes to show you how powerful dance really is!
DS: Is there a way for those who can't attend the walk in L.A. to get involved?
CG: Of course! You can make donations on our website, or even start your own team and recruit other people to join on social media. Anything that spreads awareness about this event and the disease helps.
If you're in Georgia, Texas, New Jersey or Florida and want to get involved, you can also check out The BEAT Dance Tour convention—a portion of every registration is donated to the National Multiple Sclerosis Society.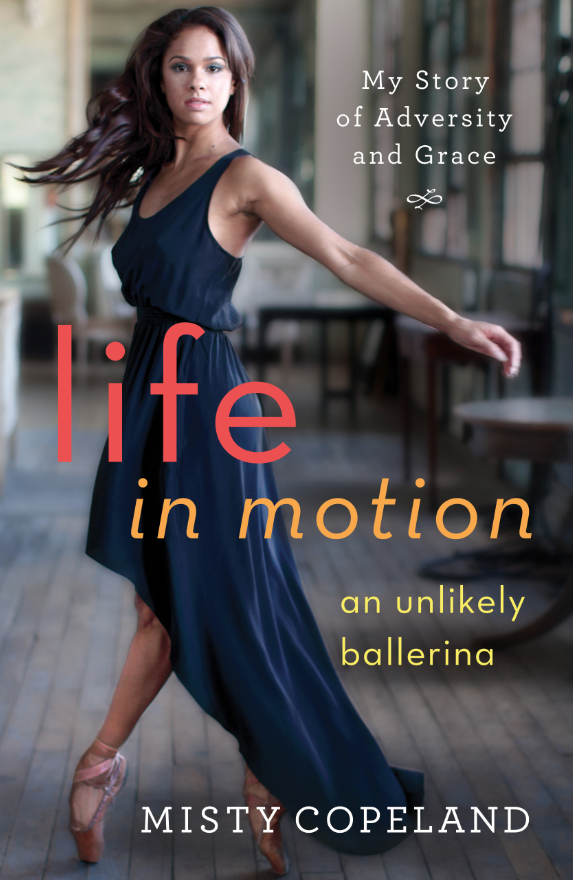 Today in Misty Copeland Is Taking Over the World news:
It sounds like the American Ballet Theatre soloist's inspirational life story is about to become a film. New Line Cinema has optioned a biopic based on Copeland's beautiful memoir, Life in Motion. While the project is still in the early stages of development, the team of producers includes one Mr. Adam Shankman, which means we can go ahead and assume that should this thing get the green light, the dancing will be totally legit (yay!).
Here's a question: Will Copeland end up starring as herself? Not sure if she's into the acting thing, but she did do a pretty bang-up job in that dramatic Under Armour commercial, so...
We'll let you know more info as we hear it!
Sep. 20, 2012 10:29AM EST
Doesn't dancing make you want to...vote? Actually, after you watch MTV's 2012 Rock the Vote video, it just might.
In addition to stars like Miley Cyrus, Josh Duhamel and, uh, Vinny from the Jersey Shore, the video includes dancelebrites like tWitch and Kathryn McCormick, along with half the cast of "Glee," hammering home the importance of getting to the polls. Rounding out the package is big old joyful dance number.
Naturally us dance fans want to see dance everywhere, but how did all that choreo work its way into this sort of unlikely place? Well, the video was directed by none other than Adam Shankman—a guy who definitely understands the power of a sweet dance routine. (And tWitch's unique appeal to young female voters...)
Check it out—and then, if you're 18 or older, register to vote!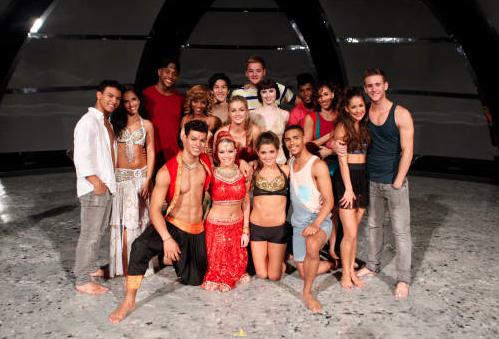 Last night on "So You Think You Can Dance," the Top 20 became the Top 16. The six dancers who received the lowest votes "from America" were Janaya, Alexa, Witney, Nick, Daniel and Chehon. The judges chose to save Witney and Chehon from elimination, and so we said goodbye to the other four. Major bummer. What happened, Alexa?
But the show wasn't a total sadness-fest. There was a bathtub! There was a "big sexy tomato." (Adam Shankman's words) named Cat Deeley, looking ravishing in bright red. ("Take a bite, why don't you," Cat quipped back at Mr. Shankman.) And best of all, there was a preview performance from the dancers of the upcoming Step Up Revolution, which opens in theaters July 27 and is guaranteed to be awesome.
Oh and if you think Kathryn McCormick, the film's leading lady, is super hot (which she is—this is not a debate), get excited for the November issue of DS. And if you think tWitch is the hottest male dancer of all time (also not a debate), you're in luck even sooner: He just may be all over our September issue.
On with the Top 5 Moments from last night's episode of "SYTYCD!"
1. The awesome Marilyn Manson opening number featuring the entire Top 20. The sequined outfits the dudes were wearing? The red-hot ladies with their crazy headpieces? Oh Nappytabs, you've done it again. It was sort of Afro Jazz meets hip hop meets Thriller and I totally dug it. Also, there were fog machines. You simply cannot go wrong with fog machines. Plus, I appreciated that all the dancers really blended. I wasn't focused on one dancer the entire time, even though Cyrus was kind of the routine's front-man. They all worked really well together.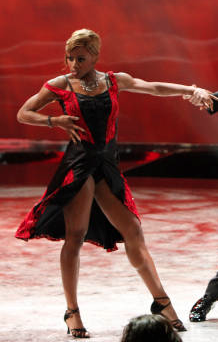 2. Amber's arms. Oh, she did a tango last night? Cool. I barely noticed. For all I know the girl could've been wearing tap shoes and shuffilng up a storm. I could not take my eyes of her killer, oh-so-defined upper body. She's awesomely ripped and I want to be just like her. But yeah, she did do a tango, and it was pretty great. My ballroom expertise (that's a slight exaggeration) tells me that she nailed the quick, fancy footwork and her upper body was nicely pulled up and controlled. Well done, former DS cover girl.
3. Amelia and Will's Sonya Tayeh routine. While I always love Sonya's choreography, this routine was interestingly un-Sonya. I appreciated that Amelia quite literally threw herself into every single move, and Will seems like a fantastic I-will-always-be-there-to-catch-you partner. They're a good team and they're one of the few couples that can get through a routine without it looking quite so choreographed. All the other couples seem nervous, hesitant and really focused on every single specific move. But these two blew through the choreo effortlessly. As Mary told Will, "you were just in it."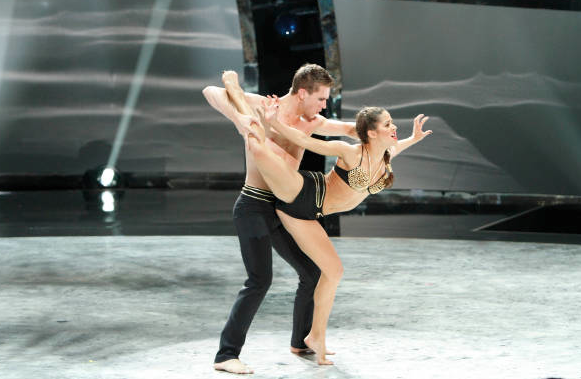 4. Audrey and Matthew, are you serious? These two are dynamite! Between last week's Titanic routine and this week's Sonya Tayeh number, they've solidly established themselves as two dancers to beat. This week, Audrey managed to be fantastically fierce, despite her sweet little braid and rhinestone-bedazzled bra. And Matthew, rocking the guyliner, has mastered the art of partner eye contact. These two rocked it last night. Dare I say they're my favorites at this point in the competition?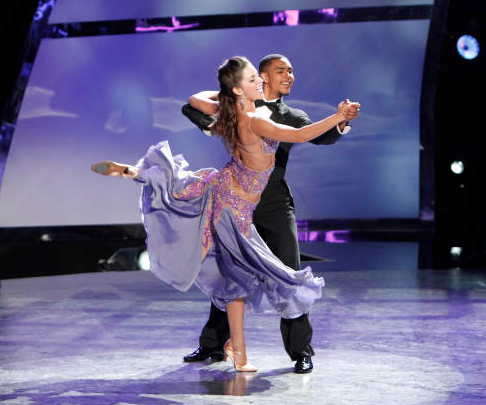 5. Tiffany's lilac-colored Foxtrot costume. It was so sparkly and gorgeous. I could not take my eyes off this dress! I'm not normally one to rave about the ballroom routines on "SYTYCD," but I thought The Tiffster and George did a pretty swell job with this one. But also, the dress. Where can I get it? It's very versatile, and I would be able to wear it out dancing, and to work, and at dinner parties and running in Central Park. I would never take it off.
The "So You Think You Can Whaaat?!" Moment of the Night:
Adam Shankman, I respect you and I enjoy the way you manage to layer so many tops each night (a shirt, a vest, a tie, a cardigan, a blazer, another vest, a sequined brooch...it all just keeps layering)—but please reel it in with the tears and the overly-dramatic statements. Every routine makes this guy cry. Every dancer seems to get a standing ovation. When he told Amelia her lines were "perfect" I was semi-baffled. Yeah, she's great, but from what I saw she needs to work a little harder to get those legs fully extended and those feet fully pointed. So to call her perfect? Seems a little over-reaching, Adam. Not every routine has to be OMG-the-best-thing-ever, and not ever dancer is the most incredible one you've ever seen onstage. Just keep it real, OK?
Congratulations to the Top 16! We're psyched to see what you have in store for us next week. Until then, what'd you think of last night's episode? Did you like having all the good stuff crammed into one show? Are you wicked pumped to see Step Up Revolution next week (the answer is yes)? And do you think America and the judges got it right by eliminating Alexa, Daniel, Janaya and Nick? Tell us in the comments!
Musical Theater
Apr. 20, 2012 11:38AM EST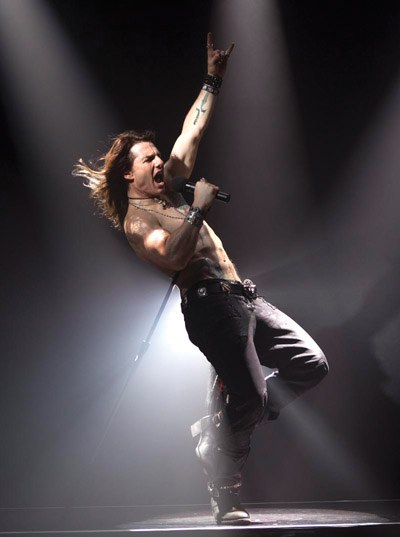 Tom Cruise as Stacee Jaxx (photo by David James)
From Hairspray to Chicago, we've eagerly followed some of our Broadway favorites to the big screen—and Rock of Ages is no exception. Take a trip with us down the Sunset Strip and see why this movie is sure to soar to the top of the charts.
The movie doubles as a mini "So You Think You Can Dance" reunion.
Scroll through the credits and you might think you're watching an "All-Stars" episode of "SYTYCD." Along with director Adam Shankman and choreographer Mia Michaels, alumni dancers Courtney Galiano, Anya Garnis, Will Wingfield, Jaimie Goodwin and others can all be spotted in the flick.
Tom Cruise is a triple threat. (Really!)
Bringing the larger-than-life character of metal god Stacee Jaxx to the big screen is no easy feat, but Tom Cruise was up for the challenge. Cruise took daily vocal lessons in order to belt out his character's songs, and also spent a lot of time in private dance rehearsals with Michaels and assistant choreographer Kevin Wilson. "Working with Tom took my craft to another level," Michaels says. "We're both so intense in the way we work, and it was so cool to have our worlds collide. He's an insatiable powerhouse." Adds Wilson: "Tom was so professional—he was always there and always willing to learn and grow. I was extremely impressed with his musicality."
You'll see Mia Michaels' work in a whole new light.
Mention Mia Michaels to any dancer, and chances are visions of contemporary or lyrical dance will come to mind. So was this gritty, hard-hitting style of dance Wilson calls "'80s rock thrash" out of her comfort zone? Maybe, but Michaels says she relished the challenge: "This style of choreography was much more actor-based, much more rock-and-roll reality. It was important for me to make sure the Rock of Ages work didn't look too choreographed—much of the movement is based on gestures and emotions." That's not to say you won't see several major dance-centric numbers, including a "Beat It"/West Side Story–style routine and a pivotal scene in a club featuring 40 dancers.
Tom Cruise handpicked the main dancers.
Dancer Chantel Gonsalves, who plays one of four featured "groupies," can thank Tom Cruise for the gig. To get the job, she had to make a tape showing her personality for Cruise to review. "Adam Shankman had seen my dance reel and liked me, but it had to go through Tom Cruise, who had the final say," Gonsalves says.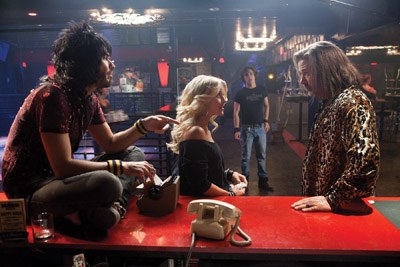 (L to R) Rock of Ages stars Russell Brand, Julianne Hough, Diego Boneta and Alec Baldwin, among other big-screen favorites. (Photo by David James)
Rock of Ages is totally '80s-tastic.
Wilson vividly remembers the first time he saw the film's costumes. "It was in a huge warehouse. I felt like I was in a thrift store, because everything was so true to the time period," he says. "Walking down the aisles with racks and racks of '80s clothing was really nostalgic." Gonsalves rocked "massive hair" through much of the movie. "I felt like I was truly living in the era," she says. The film is packed with cameos from dance greats. Among the dance notables who make appearances are Broadway performer Mary Ann Lamb (Fosse, Chicago) and choreographers Cris Judd, Joey Dowling ("SYTYCD") and Anne Fletcher (Step Up). "Because it's such a big dance movie, Mia and Adam wanted to give back to dancers who have been in the business a long time," Wilson says. "The list goes on and on—it was great to bring several generations of dancers together."
Dancers received star treatment during filming.
Call it a perk of having a dance-friendly director, but the Rock of Ages dancers say they had a blast on set in Miami. Wilson was impressed with the way the dancers were taken care of. "The first thing Adam did when the group of L.A. dancers arrived was stop production and take them on a tour of the whole set. Tom was the same way—he always made sure everyone, right down to the extras, felt important," he says.
The dancers aren't the only ones who rock the dance floor.
Leading ladies Julianne Hough and Catherine Zeta-Jones are certainly no strangers to the dance world, but what about the other actors? According to Wilson, none of the talent got a "free pass." True to form, Michaels challenged everyone involved to be their best dance selves. "Mia doesn't settle for simple choreography, so everyone had to step up," Wilson says. "Audiences will be able to appreciate seeing people like Alec Baldwin and Tom Cruise holding their own."
If you haven't seen the Broadway show...   Rock of Ages is the story of small-town girl Sherrie who moves to L.A. in search of fame and, in the process, falls in love with cute city boy and wannabe-rocker Drew. There's drama along the way—heavy-metal hottie Stacee Jaxx gets between the pair, and meanwhile the city is trying to shut down some of the fun on the Sunset Strip. All the plot's details are explained through song and dance, of course.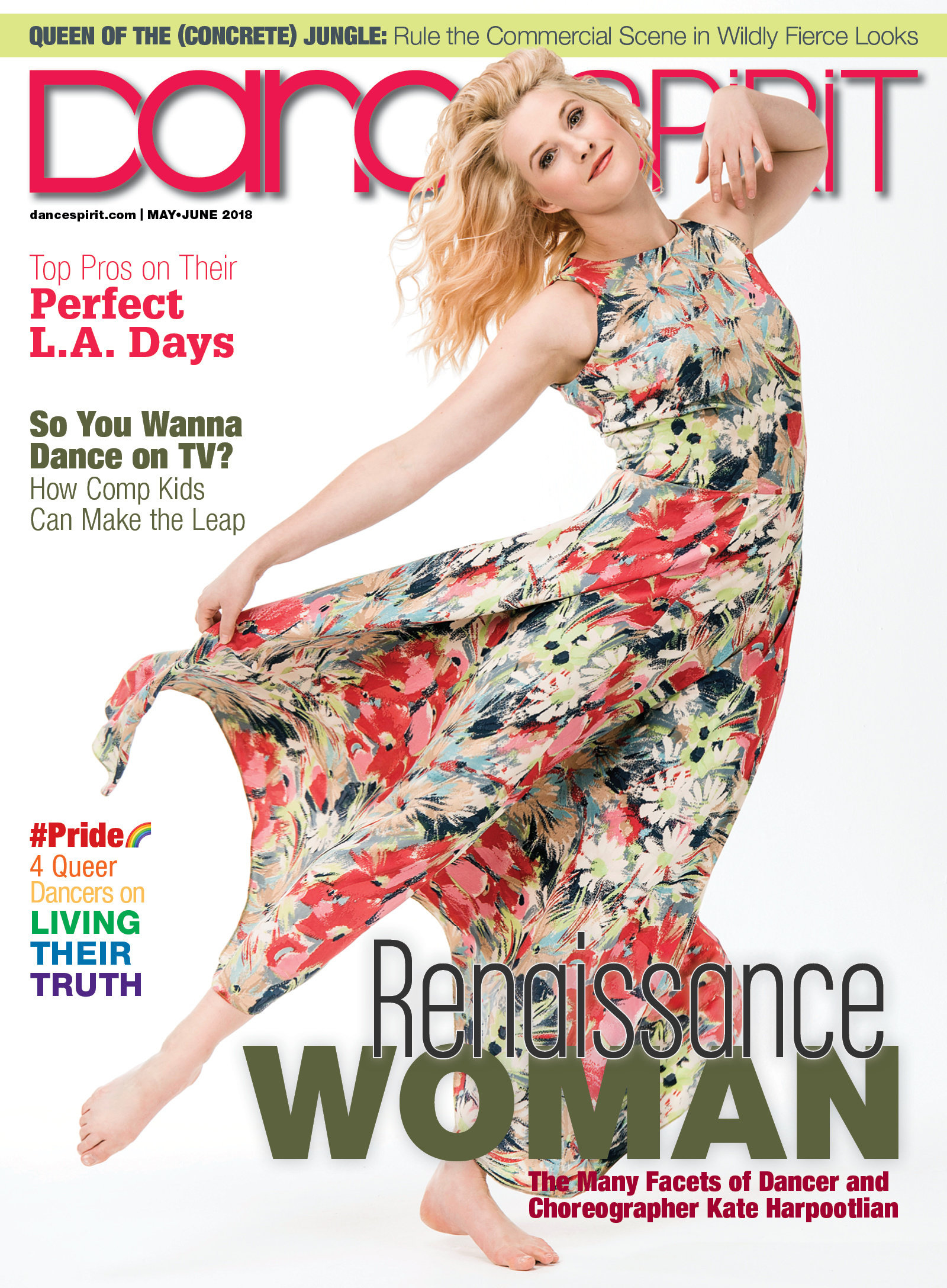 Get Dance Spirit in your inbox