Feb. 01, 2015 08:21PM EST
How much difference can a new hairdo make? Just ask The Beat Freaks member Alex Welch, aka BGirl Shorty. "When I did 'America's Best Dance Crew' with The Beat Freaks, I had normal-looking brunette hair," she says. "But one day, the other girls took me to a salon and said, 'You have all this personality when you're performing—the way you look needs to match it.' I didn't know what the hairstylist was going to do to me. I came out with orange hair! But thanks to my new look, lots of people in the industry started to recognize me. It was like I'd finally found myself."
Why did Welch's hair color make such a big difference to her career? Because physical appearance can be a huge factor when it comes to booking your next gig. According to McDonald/Selznick Associates agent Shelli Margheritis, "There are a lot of dancers vying for many different positions, so having a distinctive look can help you be recognized by casting directors." Wondering if it's time to make some changes of your own? Here's how to figure out if your current look is right for you—and how to fix it if it's not.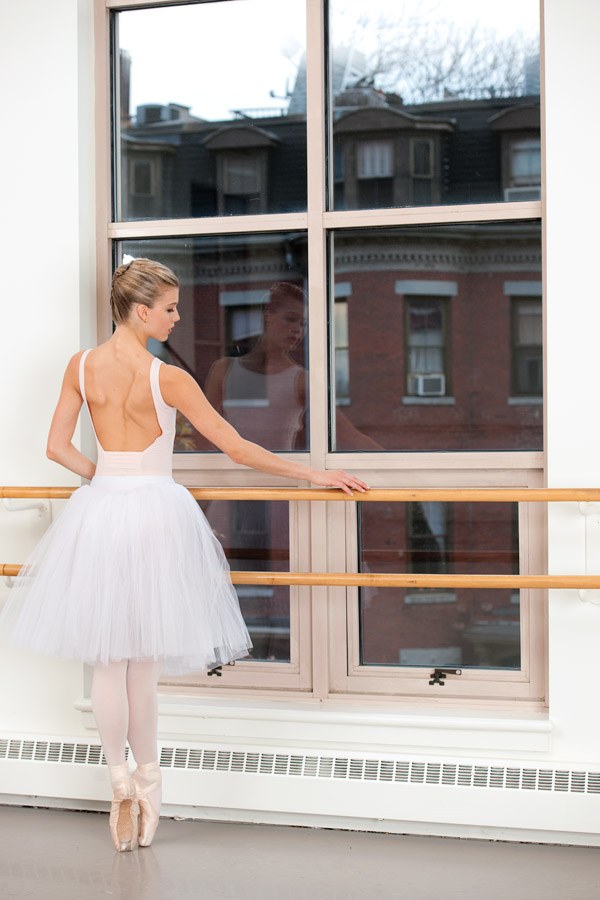 When Keenan Kampa cut her hair super short, she was warned that it looked "unprofessional." (Photo by Gene Schiavone)
A Brand-New You?
Maybe you're going through a slow period in your dance life and are wondering if tweaking your appearance could shake things up for the better. Or maybe you just don't feel like yourself anymore. "If you're not projecting your best you, everyone will feel that when you walk into a show or an audition," Welch says. "You could be one of the most talented people in the world, but if you don't present yourself the right way, it'll be harder to find work."
That said, don't run out and get five new piercings immediately. "If you're thinking of altering your look, I would recommend sitting down with your agent and discussing the process instead of doing something hasty," Margheritis says. "Remember that making a change means getting new headshots and dance photos, too"—so it's not a decision to be made too lightly.
If you don't have an agent, "think about your age, your particular vibe and who you are," Margheritis advises. You don't want to adopt an out-there look just to get attention; you want a style that reflects your personality. For some dancers, like Welch, that "true self" is a dramatically different-looking person—and big transformations can feel liberating. But if you're unsure about what changes you want to make, take small steps. Considering pink hair, for example? Try going blonde first, or adding a few pink streaks to your regular hair color, and then reevaluate.
Don't Make Me Over
Sometimes you'll find that while you love the new you, the dance world thinks otherwise, which can be difficult to take. A few years ago, ballet dancer Keenan Kampa traded in her long hair for a short cut. "It was easy to manage, and I loved feeling like I was rebelling against the 'bunhead' stereotype," she says. "When I joined Boston Ballet soon afterward, however, I was warned that my short hair looked 'unprofessional' and could prove to be a problem down the road." While some ballerinas can make short haircuts work—New York City Ballet's Ashley Bouder has rocked a bob for years—Kampa, who later became a member of the even more conservative Mariinsky Ballet in Russia, opted to grow hers out.
Experiences like Kampa's happen outside of the ballet scene, too. Welch has had to change her hair for a gig on multiple occasions, including when she performed with Cher Lloyd on "The X Factor." "It comes with the job description," she says. "The key is not to take it personally"—and to remember that once the gig is done, you can always go back to your signature style.
The Bottom Line
Obviously, your look will affect your career, at least to some extent. But don't agonize over a makeup or clothing choice, because ultimately, you can't control what directors are looking for. "Every project needs something different," Margheritis says. "The directors may want a really diverse group, or they may want everyone to look alike." And as important as your style is, "I've never had a client book a job because of her look," Margheritis says. Welch agrees: "As long as you rock it right, any look is fine. Some people might tell you, 'If you change this and this, everything will fall into place, career-wise.' But I'm proof that's not true, because I've transformed so many times and I've still worked steadily."
At the end of the day, it's your attitude about your look that matters most. "The important thing is to feel confident with the way you see yourself," Kampa says. "I think it's good to keep trying new things, as long as you're aware of the potential consequences. I try to dress respectfully for every situation without compromising what sets me apart and makes me feel comfortable. It's the unusual details that really make a dancer special."
Feb. 01, 2014 10:40PM EST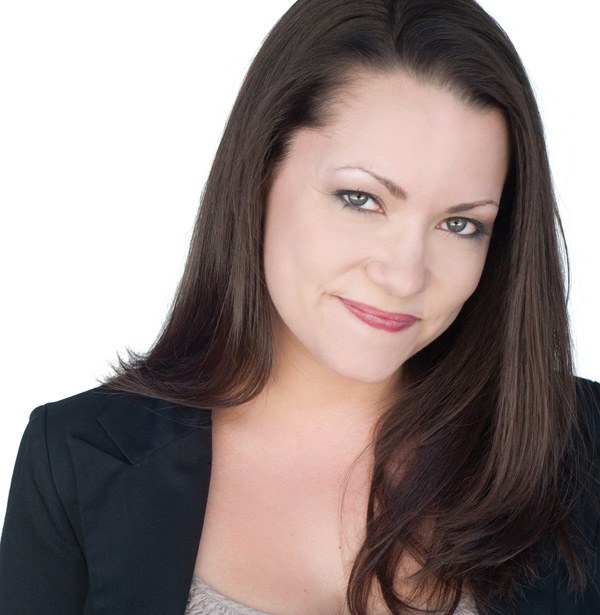 Shayna Brouillard is an agent with Clear Talent Group in L.A. She represents many of the agency's top clients. (Courtesy Shayna Brouillard)
Landing an agent in the ultra-competitive commercial dance world is no easy feat—but navigating the agent-dancer relationship can be even trickier. Shayna Brouillard has been a top dance agent with Clear Talent Group in L.A. for five years. (She currently reps Travis Wall, Nick Lazzarini, Melanie Moore, Tyne Stecklein, Chantel Aguirre and Comfort Fedoke, to name just a few.) We got this agent-in-the-know to answer dancers' most frequently asked questions about what happens after you sign on the dotted line. —Alison Feller
"My agent is awesome, but he reps tons of clients. How much of his time can I expect?"
Shayna Brouillard: Communication is key to any successful relationship, and most agents would rather hear from you too often than not enough. If you need something, schedule a time to discuss it. The most successful dancers are the ones who are constantly in contact with their agents, letting them know what classes they're taking, how they did at auditions or if they're going out of town.
Something to remember: Dance rosters at an agency need to be a certain size to remain a resource in the industry. The agency needs every "type" of dancer choreographers may be looking for at any time. But they also have to remain small enough to maintain personal relationships with their clients. While this can be a difficult balance, your agent should be willing to make time for you if there's something you need. If you're thinking of making a drastic change to your look, if your focus is shifting to school or other interests, like acting or modeling, or if you feel you're in a new place in your career, your agent is there to help you navigate the industry. We're the experts, so use us to your advantage!
"My agent also represents some really reputable choreographers. Am I more likely to get a job with those people since we're within the same agency?"
SB: No. Choreographers aren't agency-specific when choosing their dancers. They just want to create the best possible product for the job they're hired to do, in hopes they'll get rehired. If the best dancers for the job are all at different agencies, so be it. Ninety-five percent of the time, the major agencies are all receiving the same information about upcoming jobs and are submitting the dancers on their rosters who are appropriate. After that, it's up to the choreographer.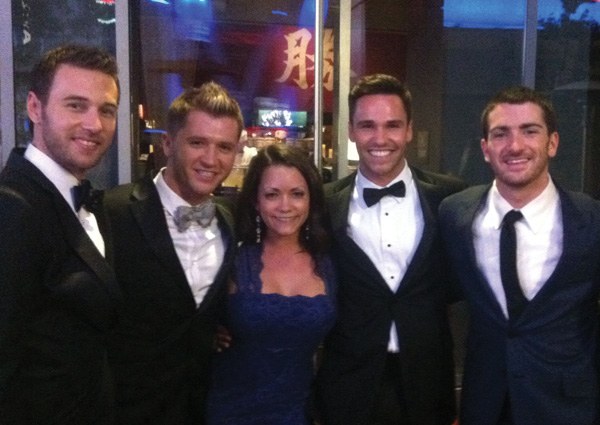 Brouillard with (L to R) Christopher Scott, Travis Wall, Nick Lazzarini and Teddy Forance at The Emmys (courtesy Shayna Brouillard)
"Do I have to go through my agent for every job I want to book? Or can I do side jobs on my own, too?"
SB: By signing with an agency, you're agreeing that all professional dance jobs will now be run through that agency. This helps build trust between the agent and the dancer that's necessary to a successful relationship. By giving us the opportunity to work on jobs for you, you're demonstrating your willingness to be part of a team, and you're increasing our faith in you as a dancer.
It's also for your own protection. If a project isn't willing to go through your agent, that's usually a red flag that there are going to be some issues with that job, such as low pay rates, failure to pay on time or at all or hazardous conditions. Professional companies should have no problem going through an agency to hire a professional dancer. Know your worth!
"My agent got me an audition for a job that I ended up booking. She thinks the gig would be great for me—but I don't want to do it. Do I have to?"
SB: No. The decision is always yours. Your agent is there to guide you and help you see the pros and cons of every situation, not to make decisions for you.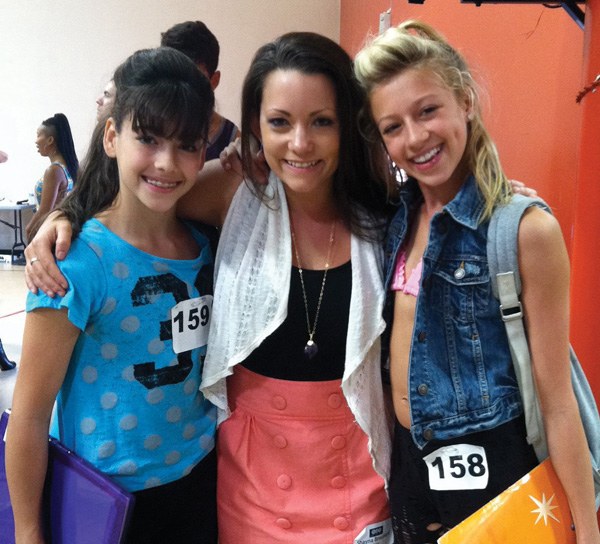 Brouillard with two of her clients: Kendall Glover (left) and Logan Hassel (courtesy Shayna Brouillard)
"I don't love my agent, and I'm thinking about switching to someone or somewhere else. What are the politics involved here?"
SB: When you sign with an agency, you're most likely signing a one-year exclusive contract for dance representation. This means you can have separate agents for other areas—or, in some cases, different departments within the same agency—like commercial, print, theatrical or voiceover. You can only have one dance agent at a time.
I advise regrouping with your agent several times throughout your contract to make sure you're on track with your career, and to make sure the two of you are on the same page. After your contract expires, you're free to explore representation elsewhere, but I suggest addressing any concerns with your current agency before making that decision. Building a relationship takes time. Just because your first year wasn't as successful as you'd hoped doesn't mean you have to jump ship—that's essentially starting from the bottom again when you could be furthering the growth you started where you initially signed. That being said, sometimes it just isn't the right fit, and that's OK! You have to find the place that's best for you.
Nov. 14, 2012 10:20AM EST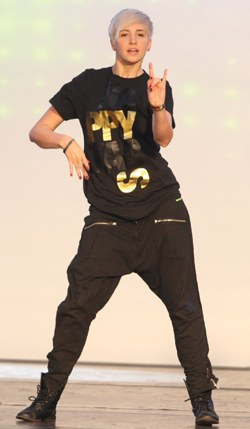 Aimee Otte performing at The PULSE On Tour, where she was first spotted by her eventual agent.
You hear stories about now-famous actors and models being "discovered"—but does that happen to dancers, too? As Aimee Otte can attest, the answer is an emphatic "yes." She got her big break last year at The PULSE On Tour, where she was competing for the Elite Protégé award. After her audition, Otte was approached by Clear Talent Group's Shayna Brouillard, who later extended an invitation to sign with the agency. Since doing so, Otte has snagged a recurring spot on "Glee" as a member of the Cheerios and performed with Rihanna at the 2012 MTV Video Music Awards. (She got Elite Protégé, too!)
"I'm from a small town, so just being at The PULSE in NYC was huge for me," says Otte, who hails from Brunswick, GA, and now lives in L.A. "I never thought I'd get an agent. You dream, but in the back of your mind, you don't know if it's possible. When Shayna approached me, my dreams got a master plan."
Getting an agent can shoot your career to new heights. But how do you land on an agency's radar? DS spoke with several agents to get their top tips.
Getting One
Like Otte, many dancers make valuable connections on the competition and convention circuit. According to Steve Chetelat of Bloc, agents are often tapped to judge or speak at conventions and will scout for new talent during that time. "I'll keep my eye on dancers until they graduate high school if I've judged them in a competition," he says.
Also, don't discount choreographers and instructors. Go 2 Talent Agency co-owner Terry Lindholm says teachers will often refer talented dancers to agencies. "Thank the choreographer after a convention class and introduce yourself to the assistant," says Lindholm, who also worked at McDonald/Selznick Associates for eight years. "Then ask, 'Do you have five minutes to talk to me about L.A. or NYC? Do you have an agency recommendation?' "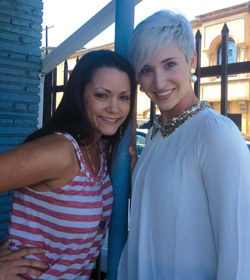 Aimee with her agent, Shayna Brouillard of Clear Talent Group
Open auditions are another way to break in, as most dance agencies hold at least one annually. This year, Bloc's summer audition in L.A. attracted more than 600 people, of which 25 were signed. "We split the dancers into two groups based on age and we have technical and hip-hop auditions," Chetelat says. Dancers are judged on ability, stage presence and look, and they do across-the-floor progressions, choreography and freestyling. "It mirrors an actual industry audition," he says.
Though it may seem like L.A. and NYC are the only places to get representation, that's not the case. According to Chetelat, Bloc has a third office in Atlanta which reps dancers from Nashville and Florida. "Cities like Dallas, Houston and Cincinnati have big commercial markets," Lindholm adds. "If your town doesn't have a dance agency, seek out a commercial agency nearby." A commercial agency may not have a dance division, but its agents can help prepare you for larger industry opportunities and get you audition experience.
Online representation is another viable option. Four years ago, Elena Grinenko, who has been a professional dancer on "Dancing with the Stars," created Grinya Talent Agency, which accepts dancers from all over the world via the internet and creates online profiles producers can use to search for suitable talent. "If you send us your resumé, we'll review it and put you on our site if we think you're a fit for future jobs," says agent Miranda Eldridge. Grinya agents have placed dancers on Michael Jackson's THE IMMORTAL World Tour and "DWTS" spin-offs in France and India.
No matter how you plan to break in, do your homework first. Most agency websites will provide information on what they're looking for and how to submit your materials—so read it all thoroughly before you reach out. It's also smart to see which choreographers and dancers are with the agency, so you can gauge the success level of its clients. And always confirm that the agency is reputable—Lindholm suggests consulting the Association of Talent Agents (ATA) website or the SAG-AFTRA website for union-approved agency listings.
Choosing One
You got an offer to sign with an agent—now what? First, explore your options. "Meet with at least three agents before making a final decision," Chetelat says. "See what relationship would be best. Don't settle for something just because it's in your lap."
Otte says she considered several agencies before signing with Clear Talent Group. "When I met with CTG's agents, I felt the connection—they made it feel like a family," she says. "I'm very religious, and they respected my values, which is hard to find."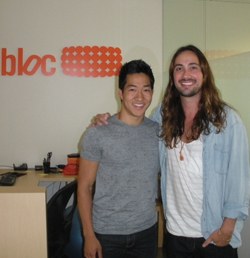 Alex Wong with his agent, Steve Chetelat of Bloc
Once you find the right fit, make sure you understand what you're signing. At Bloc, dancers sign a one-year exclusive contract for all movement-based work and can renew annually; at Grinya, dancers don't get a contract unless they're booked for a job. By signing, you generally agree to give the agency a standard commission (no more than 10 percent at Bloc unless negotiated with your agent) on every job you book—no matter who finds it. "A misconception with dancers is that if they find a job on their own the contract doesn't apply, but the agent should always do the deal," Chetelat says.
Keeping One
It's essential to remember that the work doesn't end once you sign with an agency. Maintaining a healthy relationship with your agent is key to long-term career
success. "I firmly believe it's 50/50 teamwork," says Lindholm, who reps Kathryn McCormick, Lauren Gottlieb and Anya Garnis. "It's our job to get you in front of people while making sure you're protected and paid on time. It's your job to work hard, meet as many people as you can and build a reputation for being professional."
Staying in close contact is another must. Dancers are expected to be available for auditions, keep an agent abreast of their schedule and return calls and emails in a timely manner. "The only time we drop a client is when he or she isn't communicating with us," Chetelat says. "That's the biggest factor that can break down the agent/client relationship."
Finally, remember that an agent is looking out for your best interests. (After all, if you succeed, so do they!) Chetelat says dance agents will often help their clients tweak their look to fit into the L.A. or NYC scenes, find the right headshot photographer and give referrals for everything from physical therapists to dermatologists. "A lot of what we do exceeds the normal agent role for actors and other professions," Chetelat says. "It's a business relationship, but we work together to achieve success."


Get Dance Spirit in your inbox