Dec. 04, 2018 04:59PM EST
Nia Sioux and her co-star from North Carolina Theatre's production of Aladdin and His Winter Wish (courtesy North Carolina Theatre)
Nia Sioux has been entertaining audiences with her fab dance skills since 2011, when "Dance Moms" first aired. Now, two music videos and an acting gig (on the daytime TV series "The Bold and the Beautiful"), later Sioux is proving that she's more than just a triple threat—she's a star. And last week when Sioux debuted in North Carolina Theatre's production of Aladdin and His Winter Wish, she was every bit that star. Sioux opened up to Dance Spirit about her transition from comp kid to a triple threat and offered advice for young dancers hoping to follow in her footsteps.
Dancer to Dancer
Oct. 11, 2016 10:55AM EST
It was just announced that Disney is going to make live-action versions of both The Lion King and Aladdin, two animated movies that defined a big ol' chunk of our childhood. (Seriously: Soooo many long car trips were saved by listening to cassettes—cassettes!—of those soundtracks on repeat.) That's happy but not necessarily surprising news: Disney's already given us live-action takes on Cinderella and The Jungle Book; the real-people Beauty and the Beast is coming in just a few months; and a live-action Mulan is in the works, too.
But here's the thing about Aladdin and The Lion King: Fabulous musical versions of those stories are currently blowing up Broadway. And a HUGE part of their Great White Way success is due to the fantastic choreographic minds of Garth Fagan (Lion King) and Casey Nicholaw (Aladdin).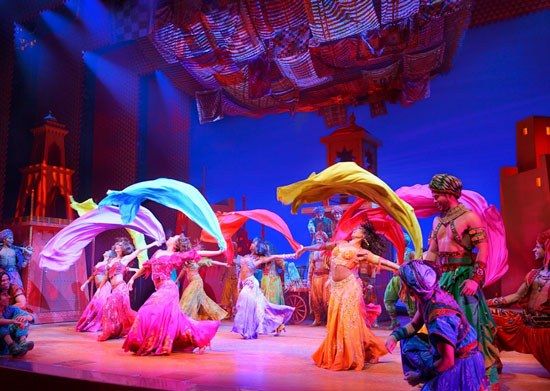 A scene from the musical version of Aladdin. How amazing would this choreo look on the big screen?? (Photo Deen van Meer/Disney)
Soooo, Disney: Can we get a little Broadway-Hollywood crossover action here, and bring Fagan and Nicholaw on board the film projects? That'd be a win-win scenario—the movies would benefit from the genius of these two world-class pros, who already have oodles of experience with these stories, and Fagan and Nicholaw's work would get large-scale exposure. Pretty please?
Dance News
Jun. 15, 2016 02:47PM EST
Mathew Murphy (courtesy Murphy)
Anyone who's seen A Chorus Line is familiar with the high-pressure, "I hope I get it!" process of a musical theater audition. Out of hundreds of hopefuls, you have to be the one whose skills are strong enough to catch the casting director's eye. Then comes the callback, the workshop—and, most of the time, the "no, thank you." But while rejection can sting, it happens to everyone, including the very best. We spoke with five talented Broadway pros who missed out on coveted gigs. As their experiences prove, audition disappointments don't mean the world's ending—or even that a role is permanently out of reach.
Dancer to Dancer
Nov. 30, 2014 07:00AM EST
It seems like only yesterday that Disney debuted its first Broadway musical, Beauty and the Beast. But that's just because time flies when you're having theatrical fun: Beauty actually opened in 1994—which means that Disney on Broadway turns the big 2-0 this year. And what would a Disney birthday be without a giant party?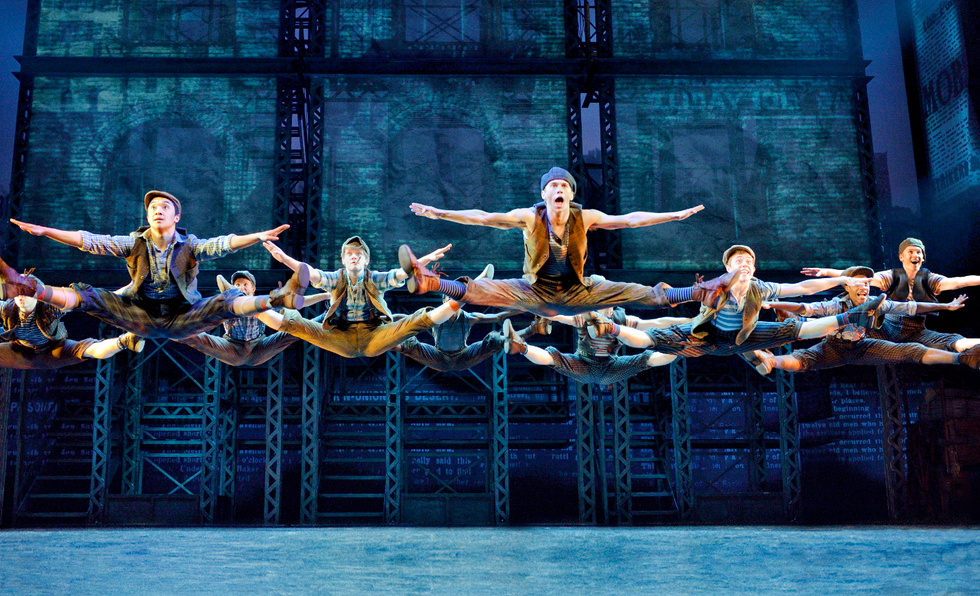 The Newsies boys are ready to celebrate! (photo by Deen van Meer, courtesy Disney)
To mark the anniversary, ABC will air "Backstage with Disney on Broadway: Celebrating 20 Years" on Sunday, December 14. Hosted by Jesse Tyler Ferguson, aka The Greatest "So You Think You Can Dance" Judge of All Time™, the special will give viewers an insider's look at all eight musicals in the Disney canon.
There'll be especially fun footage from the three shows currently running: an actual performance of Aladdin's showstopping "Friend Like Me" number, a Lion King rehearsal and a look at life on the Newsies national tour. Disneytastic!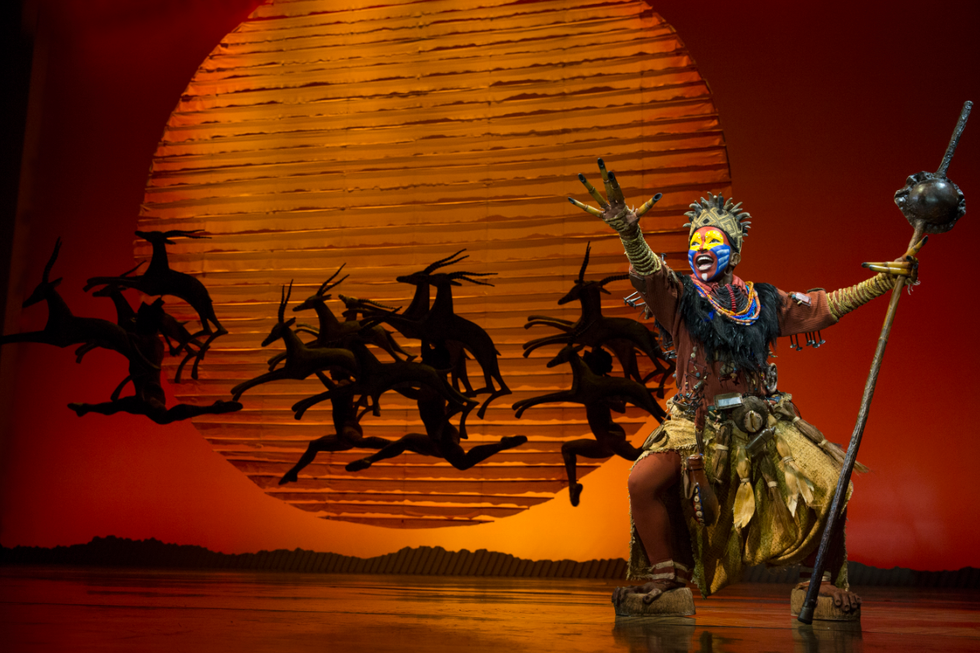 Birthdays: part of the cirrrrrrcle of liiiiiiiiife (photo by Joan Marcus, courtesy Disney)
Set your DVRs for the 14th at 7 pm EST (check your local listings for stations). And in the meantime, take a look at our own behind-the-scenes peeks at Aladdin and Newsies.
Dance News
Jul. 01, 2014 11:52PM EST
What's the danciest, happiest, magic carpet-iest new musical on the Great White Way? That'd be Aladdin, which brings the classic Disney movie to colorful life, eight shows a week.
The musical features powerhouse performances by James Monroe Iglehart as the Genie, Adam Jacobs as Aladdin and Courtney Reed as Jasmine. But it's the soaring, tumbling, freewheeling dancers that make Aladdin truly sensational. Whether they're twirling scarves in "Arabian Nights" or nailing a 42nd Street–style tap routine in "Friend Like Me," these Broadway babies light up every moment of Casey Nicholaw's gleefully over-the-top (and Tony-nominated!) choreography. They're the muscle behind the magic.
That's why we just had to feature four of Aladdin's dancers on our cover. Unsurprisingly, ensemble members Daisy Hobbs and Ariel Reid and swings Lauryn Ciardullo and Jennifer Rias are just as brilliant in front of a camera as they are in front of an audience. Or as the song goes: More often than not, they're hotter than hot—in a lot of good ways.
Can't get enough Aladdin? Click here for a look at what goes on behind the scenes!
[portfolio_slideshow nowrap=0 thumbs=true timeout=4000 showtitles=true showcaps=true showdesc=true]
Musical Theater
Jul. 01, 2014 10:37PM EST
We ain't never had friends like the four swings—Mike Cannon, Lauryn Ciardullo, Michael Mindlin and Jennifer Rias—who showed us the cave of wonders behind the scenes at this spectacular show.
Photography by Matthew Murphy for Dance Spirit
[portfolio_slideshow nowrap=0 thumbs=true timeout=4000 showtitles=true showcaps=true showdesc=true]
Musical Theater
Jun. 17, 2014 10:57AM EST
Jun. 09, 2014 12:36PM EST
In case you missed the best night on TV—a.k.a the live broadcast of the Tony Awards—Dance Spirit's got your back. Here's a rundown of the show's highlights, a couple of its more cringe-worthy moments, and some of our favorite (and least-favorite) red carpet outfits.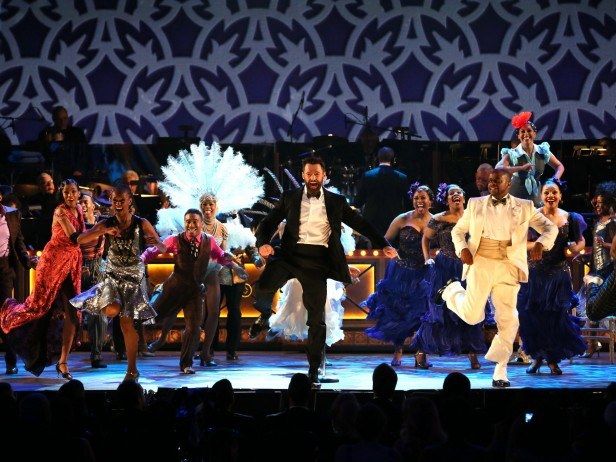 Hugh Jackman with the cast of After Midnight
(photo Sara Krulwich/The New York Times)
The Highlights: 
–Hugh Jackman as host. It's great to see Wolverine back on the Radio City Music Hall Stage, singing and dancing with the stars of Broadway. He even cut a rug with Dulé Hill and the fabulous cast of After Midnight. Sure, his opening number (with all that awkward hopping) wasn't as fabulous as NPH's extravaganza last year, but his serenading of the female best actress nominees—in both the play and musical categories—stole my heart.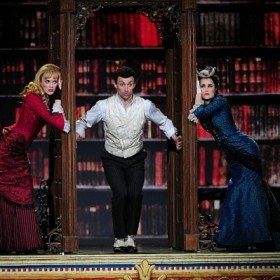 Bryce Pinkham (center) and the cast of A Gentleman's Guide to Love and Murder
(photo Heather Wines/CBS)
–The performances, obv. After Midnight, Aladdin and Bullets Over Broadway were especially impressive—so. much. tap. dancing.  And here's to genie James Monroe Iglehart's win for best featured actor in a musical. But I was especially enamored with the performance from A Gentleman's Guide to Love and Murder—the Tony winner for best musical. In case you chose to take your bathroom break during the number, you can re-watch it here. There's not much movement, but the witty trio really brought down the house.
–The crazy Music Man rap. My viewing party went pretty nuts when Hugh Jackman busted some rhymes from The Music Man—and then even more nuts when LL Cool J and T.I. joined in. The beats—commemorating the song "Rock Island" from 1957's The Music Man, supposedly the first-ever rap—came courtesy of Questlove of The Roots. (Pretty cool.) Here's the song in the 1962 film; compare it to the Tony Award shenanigans here.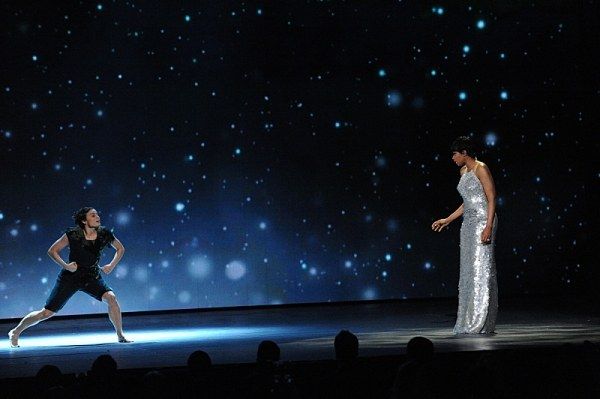 Melanie Moore with Jennifer Hudson in Finding Neverland. (photo Heather Wines/CBS)
–Melanie Moore as Peter Pan. When Finding Neverland hits the American Repertory Theater in Cambridge, MA, this summer, "So You Think You Can Dance" Season 8 winner (and DS cover star) Melanie Moore will get the opportunity to work with Mia Michaels again: Mama Mia will be choreographing the new musical. The full cast has been announced (helloooo, Jeremy Jordan!). Unfortunately, Jennifer Hudson, who sang in last night's preview, is not in the show.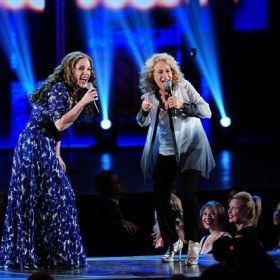 Jessie Mueller (left) with Carole King. (photo Heather Wines/CBS)
–Jessie Mueller and Carole King together (again) on one stage. I certainly felt the Earth move under my feet during this performance. Jessie Mueller is fantastic as the iconic singer/songwriter Carole King in Beautiful, and I suspect she'll be fantastic in roles to come. Congrats on your Tony for best leading actress in a musical, Jessie!
–The dreamy Matthew Bomer announcing a new Tony Awards partnership with his alma mater, Carnegie Mellon University. Next year the Tonys will celebrate one elementary, middle or high school theater teacher who really makes a difference. Know someone who you think deserves special recognition? Read about the new award here.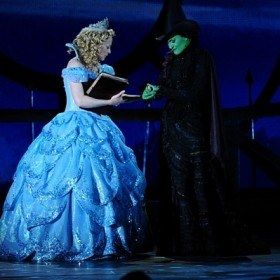 Jenni Barber (left) and Christine Dwyer (photo Heather Wines/CBS)
The Missed Opportunities:
–Wicked's 10th anniversary performance. Yes, Christine Dwyer and Jenni Barber sang an amazing rendition of "For Good." But weren't you just a little disappointed that Idina Menzel and Kristin Chenoweth didn't pop out to sing a line or two? I mean, we know Idina was there—she sang something from her new musical If/Then. Lame, Tony Awards. Lame.
–The absent-from-TV award for best choreography. Remember last year, when we got to see Jerry Mitchell accept his choreography award on TV? Apparently the producers forgot about that precedent, and After Midnight's Warren Carlyle received his award for best choreography during a commercial break. Boooooo! Maybe if we give his acceptance speech video a ton of online views, the producers will get the point for next year.
The Best Dressed: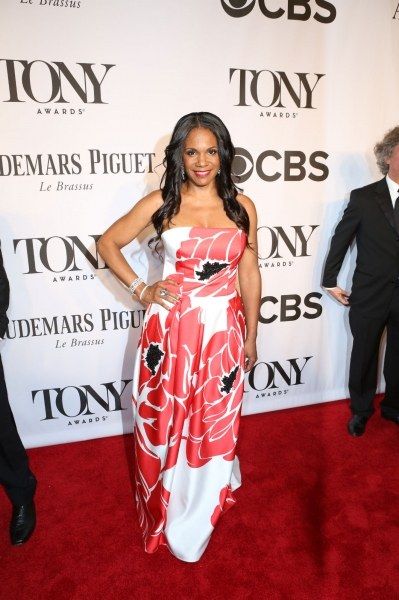 The history-making Audra McDonald, who took home her sixth Tony Award. She also became the first performer to win in all four acting categories (featured musical, featured play, leading musical and leading play). Yeah, she's legendary—and stylish to boot, in this pretty printed gown. (photo Walter McBride/Broadway World)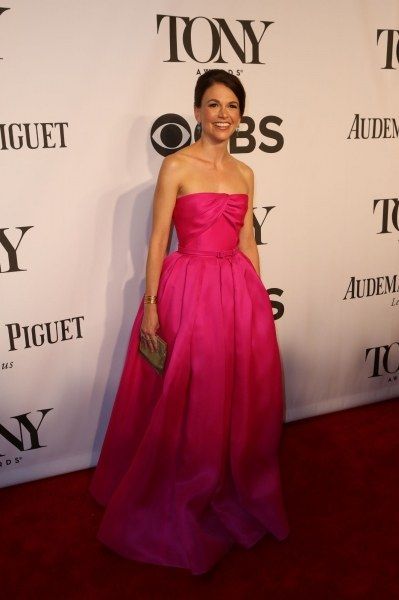 The always effortlessly gorgeous Sutton Foster. She didn't leave with a win, but her performance for Violet was strong.
(photo Walter McBride/Broadway World)
And the Worst: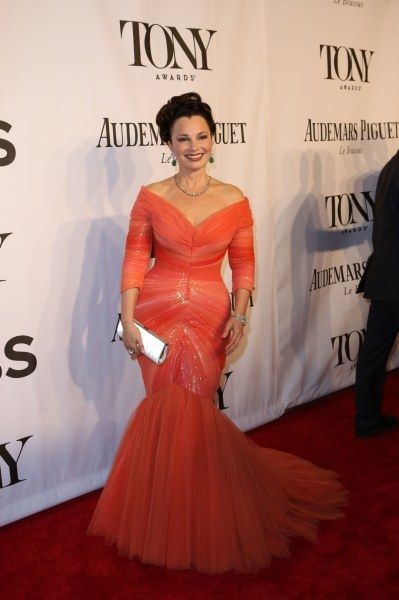 The flashy Fran Drescher. She may be on Broadway in Cinderella, but believe it or not, this over-the-top tangerine dress is not a costume.
(photo Walter McBride/Broadway World)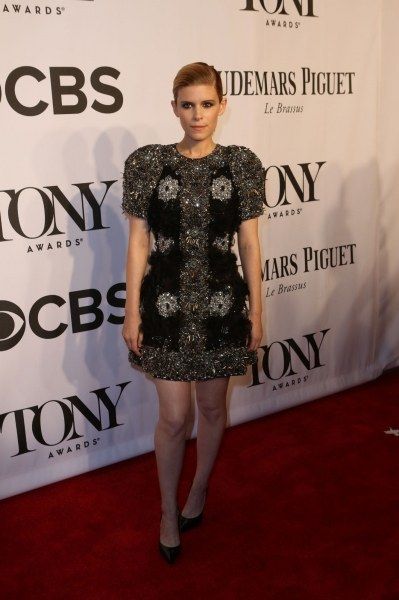 The weighed-down Kate Mara. This dress just looks heavy. Here's hoping Netflix turns "House of Cards" into a musical so Kate can redeem her look as a Tonys presenter next year.
(photo Walter McBride/Broadway World)
What did you think of the telecast? Which performance was your favorite, and who did you think was best dressed? Was any show or artist robbed of an award? We want to hear what you have to say!
Dance News
Jun. 03, 2014 12:52PM EST
The Tony Awards (airing this Sunday night!) recognize a lot of Broadway talent: actors, directors, sound designers, lighting designers, writers, composers, and our favorites, choreographers. But we all know that the true muscle behind every amazing musical is the dancers. And they rarely get Tony nominations. (Unless they happen to be the fabulous Karine Plantadit, who earned a best featured actress nomination in 2010 for her dance-heavy role in Come Fly Away.)
Enter the Fred & Adele Astaire Awards. Each June, the Astaire Awards recognize Broadway's best of the best—in jazz, tap, or character shoes. The 2014 ceremony was held last night in NYC, and the star-studded event didn't disappoint. Here are the best moments from the oh-so-dancey evening: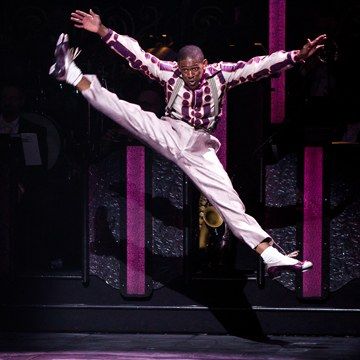 Jared Grimes in After Midnight (photo by Matthew Murphy)
1. Jared Grimes' performance. Grimes currently stars in After Midnight. He opened the show with a display of his signature lightning-fast tapping and hip-hop swag fusion that later earned him the Astaire Award for best male dancer. (After Midnight was the big winner of the entire evening: Plantadit and Dormeshia Sumbry-Edwards tied for best female dancer, and lanky Englishman Warren Carlyle won the award for best choreography. Seriously, go see this show!)
2. Angel Inniss' stellar layouts in her jazzy solo "Mr. Paganini." Man, can this senior dancer from Spotlight Studio of Dance in Maryland work a stage! Angel took home the New York City Dance Alliance Foundation's Adele Astaire College Scholarship. Congrats, Angel!
3. The presentation of the Outstanding Contribution to Dance Education Award to Luigi, the father of jazz dance (and the father of "5,6,7,8"!), and presentation of the Douglas Watt Lifetime Achievement Award to Patricia Birch. You know Patricia Birch for this choreography: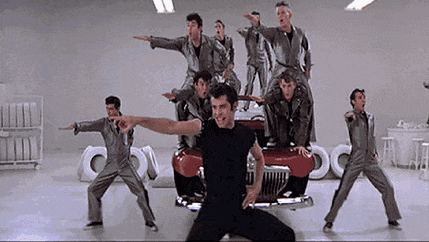 Greased Lightning! John Travolta and company in Grease
And this choreography:
Steve Martin and Gilda Radner cut a rug in "Dancing in the Dark" on "Saturday Night Live"
Of course, these are just two small snippets of this choreographer's CV, and Patricia Birch hasn't stopped moving (to quote Luigi) or choreographing. Her work can currently be seen on HBO's "Boardwalk Empire." Which brings us to top moment 4:
4. Legendary actor (and star of "Boardwalk Empire") Steve Buscemi making a surprise appearance to pay tribute to Patricia Birch for her work on the show. Best of all? We got to see a stage rendition of one of the acts from "Boardwalk." Take a look at the number in this clip from the show, and see if you can find our gal Chloe Arnold. Spoiler alert: Jared Grimes also performs!
5. Nancy Chippendale's Dance Studio tappers big finale. These teen dancers—there were more than 45 onstage!—from North Andover, MA, sure know how to stay in formation, while flapping and tapping in perfect unison. Their number "Glam" was the perfect finish to a truly glamorous event.
Let's hope Sunday's Tony Awards (8 pm on CBS) includes at least half this much dancing!
Dance News
May. 23, 2014 12:04PM EST
16 days until this year's Tony Awards!
We can hardly wait, so we've been making some predictions to pass the time. Sure, we've spent some time debating which nominee will take home the Tony for our favorite category, Best Choreography. (Will it be Bullets Over Broadway, Rocky, Aladdin, or After Midnight???) But what we really care about is the ceremony itself. I mean, no one knows how to put on a spectacular awards show quite like a room full of Broadway's brightest. We're dying to know: Who's gonna open the ceremony? What excerpts will the nominated shows choose to perform? What other celebs can we expect to see up on that stage?
Well just this morning, Michael Riedel of The New York Post filled us in on some of the deets:
After Midnight will open the show—a coveted honor.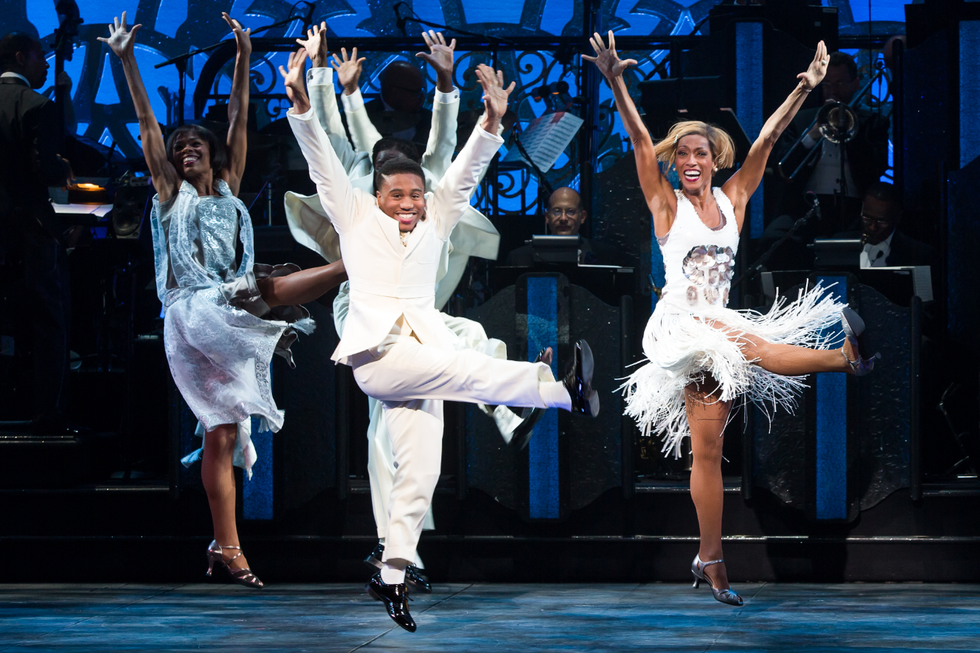 Virgil "Lil' O" Gadson (center) and Karine Plantadit (right) dance it out in After Midnight (photo by Matthew Murphy)
Jessie Mueller of Beautiful: The Carole King Musical will perform a song from the musical. (Hopeful rumors suggest Carole King will join her.)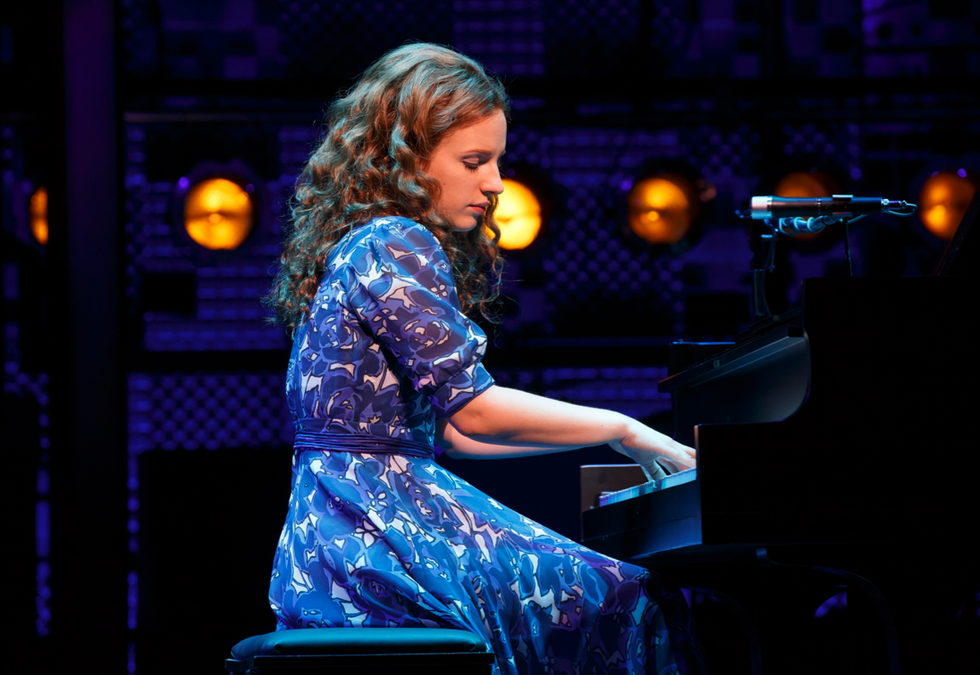 Jessie Mueller in Beautiful: The Carole King Musical (photo by AP)
And Sting will preview a couple of songs from his upcoming musical The Last Ship.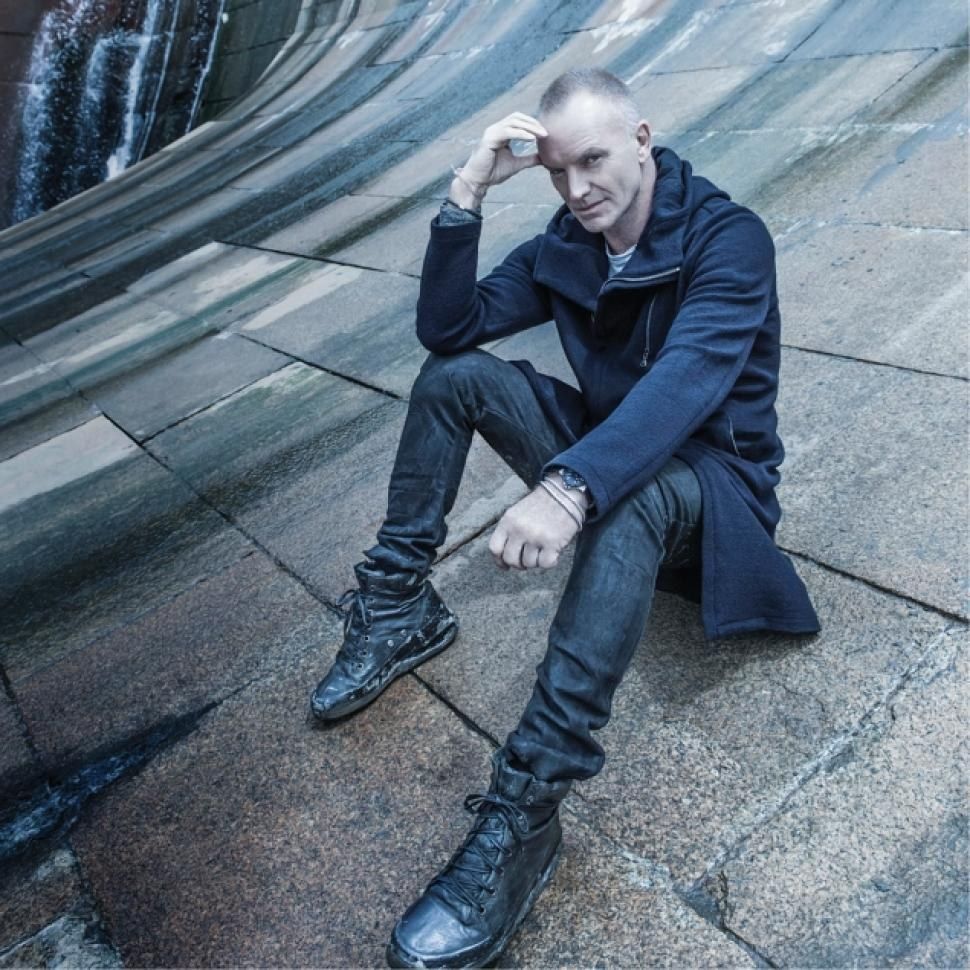 (Photo by Frank Ockenfels)
We still have so many questions, though. Most importantly, will we get to see "Friend Like Me" from Aladdin? (Please, Disney, please!)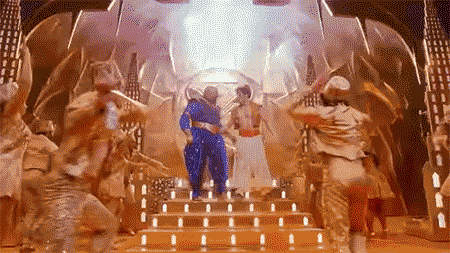 Plus, there's rumor of some sort of mega-finale, featuring the casts of all the nominated musicals. Not sure what that's about, but we have high hopes!
Make sure to tune in to the 68th Annual Tony Awards—airing June 8 on CBS at 8pm EST—to see what other surprises are in store.
Dance News
Get Dance Spirit in your inbox
Apr. 30, 2014 11:48AM EST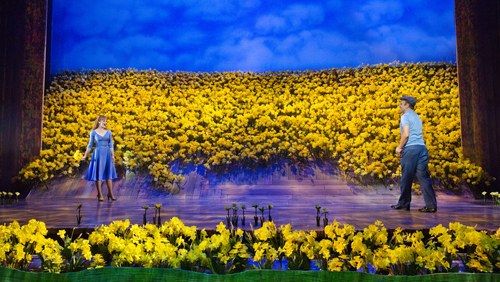 Kate Baldwin and Norbert Leo Butz in Susan Stroman's late but great Big Fish. Photo by Paul Kolnik
The 2014 Tony Award nominations came out Tuesday morning, and for us dancers—and the categories we love and care about—it's been an exciting (and somewhat surprising) whirlwind. Here's our rundown of the nominees: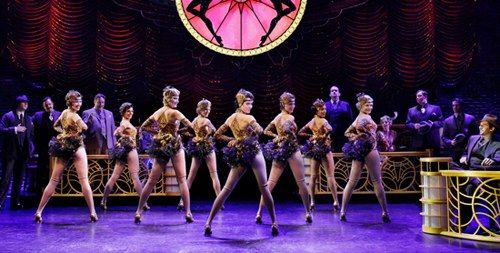 The female ensemble of Bullets Over Broadway. Photo by Paul Kolnik
Big Fish—my personal favorite dance-tastic show this season—did not make the Tony grade, earning no nominations, despite genius direction and choreography by Susan Stroman. (Did the aging American Theater Wing and Broadway League reps forget it was eligible since it closed late last year? Hellloooo...it was awesome!) We can't be too upset for the great and zany Stro, though. Her newest smash hit, Bullets Over Broadway, starring Zach Braff (aka J.D. from "Scrubs"), earned six nominations, including nods for choreography, scenic design, and costume design—all quite deserving.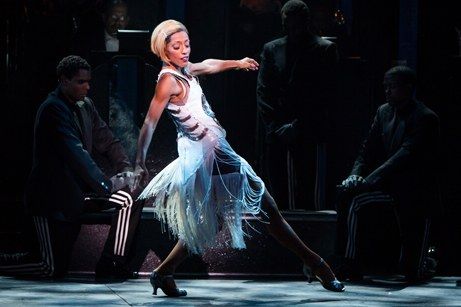 Karine Plantadit in After Midnight, choreographed by Warren Carlyle. Photo by Matthew Murphy
Other dancemakers up for the prize of best choreography: Steven Hoggett and Kelly Devine for Rocky, Casey Nicholaw for Aladdin, and Warren Carlyle for After Midnight.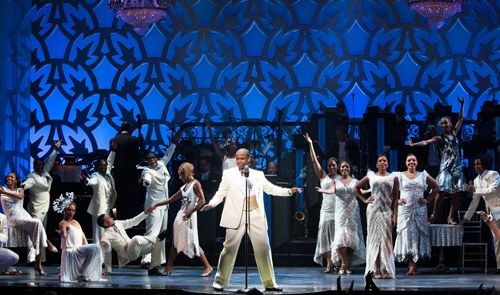 Dulé Hill (center) and the cast of After Midnight. Photo by Matthew Murphy
If you're a tap fan, a jazz fan, a Desmond Richardson fan, or a plain "I LOVE DANCE SO MUCH" fan, After Midnight is the show for you. It's 90 minutes of movement, and almost everyone on stage is a dancer, including Richardson, Karine Plantadit (who you know from the Twyla Tharp's Come Fly Away and Movin' Out), Bahiyah Hibah (a former Ailey dancer who was also in Chicago), and the reigning queen of tap, Dormeshia Sumbry-Edwards. Oh, and it's also got Emmy-nominated actor Dulé Hill (formerly Charlie Young on Aaron Sorkin's "The West Wing," and currently Gus on USA Network's "Psych"), who sings and dances like he's done all this before. Which, he has...in The Tap Dance Kid and in Bring in 'da Noise, Bring in 'da Funk.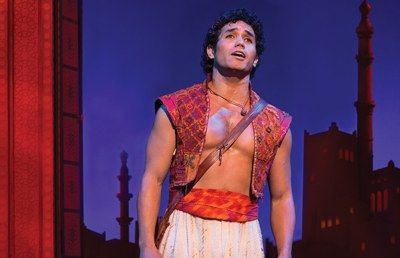 Adam Jacobs in Aladdin. Photo by Cylla von Tiedemann
After Midnight and Aladdin are also up for the night's overarching trophy, joining A Gentleman's Guide to Love and Murder and Beautiful: The Carole King Musical in the race for Best New Musical.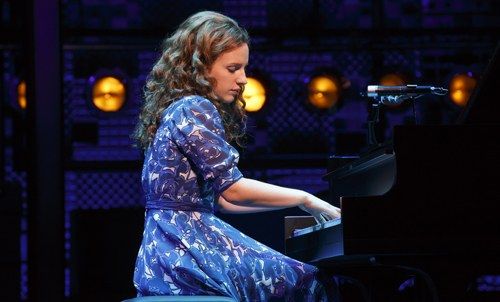 Jessie Mueller in Beautiful—The Carole King Musical. Mueller is up for Best Actress in a Musical—I really, really, really hope she wins. Photo by Joan Marcus
Be sure to tune in (or set your DVRs) on June 8 to the Tony Awards, which will be broadcast live on CBS and hosted by Broadway veteran (and Hollywood celeb) Hugh Jackman. And look in Dance Spirit's May/June issue ("Headlines," p. 19) to get the inside scoop on the evening—like what happens during commercials and how the performers prepare for the opening numbers and show excerpts.
Dance News
Mar. 30, 2014 07:00AM EST
Confession: When I found out Aladdin was coming to Broadway, I was completely uninterested. With the exception of the ever-brilliant Newsies, Disney on Broadway isn't really my thing.
Or I guess I should say Disney on Broadway wasn't really my thing—because I saw Aladdin and I loved it. I'm sure you'll love it, too, so do me a favor and go get your tickets. In case you're not convinced, here are five reasons to see the show: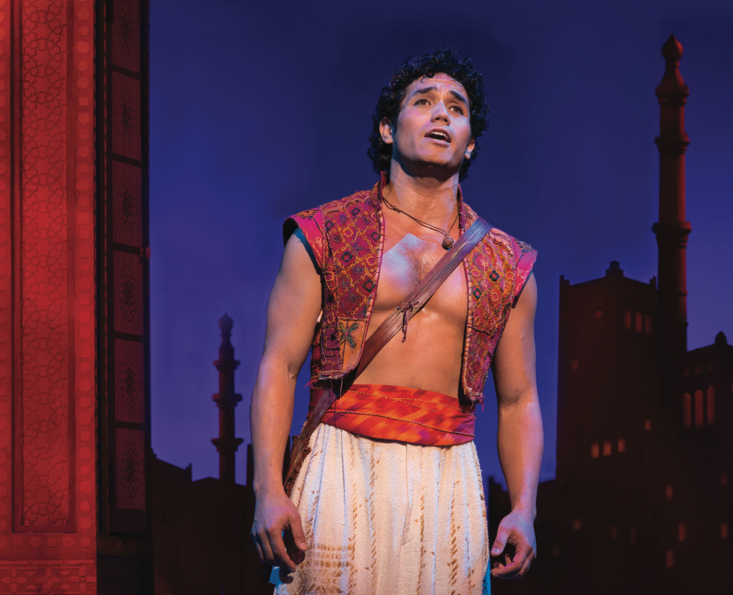 Adam Jacobs as Aladdin (Photo by Cylla von Tiedemann)
1. The show stays true to story you know and love from the animated movie classic. Directed and choreographed by Casey Nicholaw, Aladdin opens with "Arabian Nights" before taking you down memory lane with "One Jump Ahead," "Friend Like Me," "Prince Ali" and "A Whole New World." Feel free to sing along from your seat. There are some changes, of course—Jasmine's tiger Rajah is replaced by a group of girlfriends, and Abu (Aladdin's monkey BFF) is replaced by three real-life friends, Babkak, Omar and Kassim—but all the major players are still there, including Aladdin, Jasmine, Genie, Jafar, Iago and even the magic carpet.
2. But there are also some new songs and they're really good (and totally catchy)! My favorites were "Babkak, Omar, Aladdin, Kassim," which is a silly boy-bandy number with tons of dancing, and "High Adventure," which again features Aladdin's crazy comrades dancing up a storm.
3. The sets and costumes go beyond anything I've ever seen. The "Cave of Wonders" is quite literally dripping in gold, from the New Amsterdam Theatre's ceiling right down to the orchestra pit, and the costumes are gaudy, over the top and downright fabulous. There are about a billion costume changes throughout the show, so keep an eye out for them.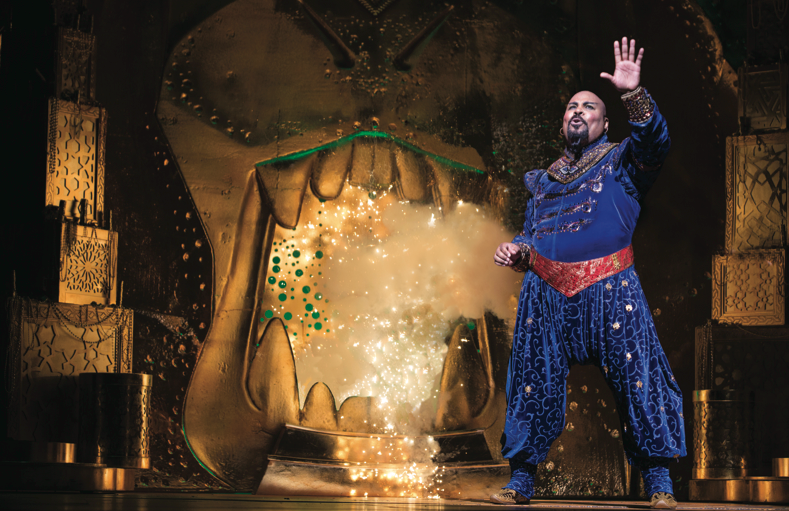 James Monroe Iglehart as the Genie (Photo by Cylla von Tiedemann)
4. The Genie is the best Broadway character on any stage right now. When Robin Williams voiced the original Genie role in the Disney film, he pretty much stole the show—and that's what happens in the Broadway version, too, but on a way grander scale. The Genie, played by James Monroe Iglehart, is so funny and is such a wild dancer and every word out of his mouth is hysterical. After Genie led the ensemble through a huge, lavish, dance-packed rendition of "Friend Like Me," the audience at my matinee show leapt to its feet. This was only the second time I've witnessed a mid-act standing ovation! Pretty magical, don't ya think?
5. Aladdin (played by Adam Jacobs) is hot. So are his friends. If nothing else, go for the abs. (OK, OK, they're all good singers, actors and dancers, too, and they're really funny. But also, abs.)
Sold? I thought so. (Have the best time!)
Dance News
Mar. 01, 2014 07:17PM EST
Broadway's getting a serious makeover this month, with many exciting shows opening across NYC. In addition to revivals of Les Misérables (opening March 23) and Cabaret (beginning previews March 21), three brand-new, dance-filled shows are debuting on the Great White Way. Here's what you need to know about them.
Disney's Aladdin
After the success of the danciest show on Broadway, Newsies, Disney is introducing another larger-than-life production: Aladdin. Based on the cartoon, this show adds even more over-the-top characters and catchy songs—some of which were written for and then cut from the 1992 movie. "There are so many types of dance in this show," says ensemble dancer Ariel Reid. "We open with 'Arabian Nights,' which celebrates the Middle Eastern experience. Then there's 'Friend Like Me,' which has classic Broadway-style tap, with the men doing all kinds of tricks and flips. We have a 34-person cast onstage, and the audience just eats it up."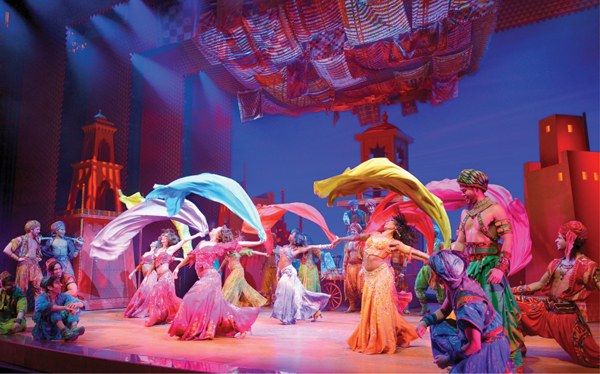 "Arabian Nights" in Disney's Aladdin (photo by Deen Van Meer)
If/Then
Obsessed with Idina Menzel? The stunning actress you loved in Wicked, in the Broadway and movie versions of Rent and on "Glee" returns to Broadway in this new musical about fate in modern-day NYC. Choreography is by the adventurous Larry Keigwin, who describes the movement as "pedestrian, but a heightened pedestrian."
"I've tried to pull extraordinary from the ordinary," he says. "This show has a super-captivating story about the intersection of chance and choice. Everyone can relate to it."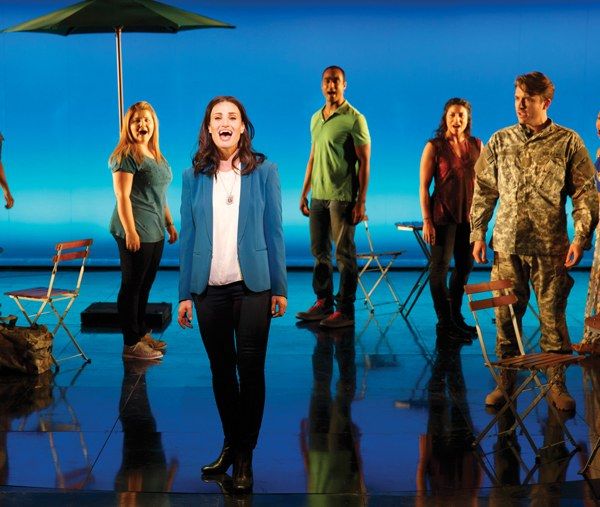 Idina Menzel (in blue) in If/Then (photo by Joan Marcus)
Rocky
Put up your dukes! A musical based on the iconic Sylvester Stallone flick Rocky is fighting its way to Broadway this month. The much-anticipated show features fight-scene choreography by American Idiot and Once alum Steven Hoggett and dance scenes by Rock of Ages' Kelly Devine.
"The film translates well to the stage. It's both an emotional journey and a theatrical experience," Devine says. "The choreography is very character-driven. I asked myself, How would these people boogie at their local disco? The movement is free and loose, and it's heavily influenced by '70s TV shows like 'Soul Train.'"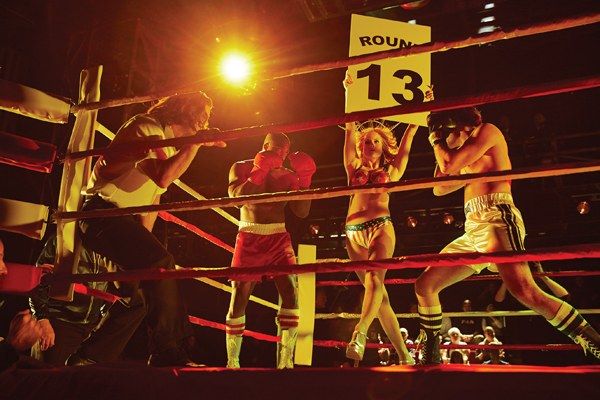 The musical version of Rocky includes "Eye of the Tiger," a classic song featured with the movie. (Photo by Morris Mac Matzen)
Nov. 03, 2013 07:35AM EST
Aladdin is coming to Broadway!! I don't think I've been this excited for a new musical since....well, I don't think I've ever been this excited for a new musical.
"Prince Ali," "Friend Like Me," "One Jump Ahead": These songs will forever be on my pick-me-up playlist—and I may or may not know every single word. Add in the excitement of a stage full of dancers and a live audience, and you've got, well, a whole new woooooooorld (don't you dare close your eyes.) A hundred thousand things to see (don't hold your breath, it gets better!).
Want to get on my excitement level? Watch this behind-the-scenes video of the show being created, including exclusive interviews with the crew and a sneak peek at the dancing:
Aladdin is now playing at Toronto's Mirvish Theatre through January 5, and is scheduled to come to the New Amsterdam Theatre in NYC on March 20, 2014. See you there! (I'll be the one singing along in the front row.)
Dance News