Jim Nowakowski's Sesaon 12 audition gives us chills TO THIS DAY. (Adam Rose/FOX)
Auditions for Season 15 of "So You Think You Can Dance" are right around the corner, and we're so ready to see the talented turnout (pun VERY much intended!). Want a little audition-spiration? Whether you're preparing to try out yourself or are just looking to get into the "SYTYCD" mood, here are 8 phenomenal past auditions we're still obsessing over.
Keep reading...
Show less
Alex Wong's versatility truly knows no bounds. From ballet to Broadway, the dynamo has seemingly done it all. Wong was a member of Miami City Ballet before leaving to compete on "So You Think You Can Dance" (where he was the fan favorite but, unfortunately, suffered a serious injury mid-season and had to withdraw from the competition), and then going on to hit the Great White Way in Newsies. He's performed at awards shows, on television shows, and as an All-Star on "SYTYCD," and graced the July/August 2012 cover of DS.
As if his long list of impressive credits doesn't convince you of his versatility, turn to his Instagram, where he is a veritable master of mixing dance and everyday activities. (Think leaping down the grocery store aisles which, come on, we've all done, and pencheé-ing his way to pick up his laundry off the floor.) If you're not following this uber-likeable and hyper-flexible dancer, get to double-tapping. (He's at @alexdwong.) Here's a glimpse into why Wong's worthy of your likes.
[instagram
[instagram
[instagram
[instagram
[instagram
[instagram
[instagram
[instagram
[instagram
Less than two months until Peter Pan Live! on NBC! So far, we've been pretty excited about the cast: Christopher Walken as a tap-dancing Captain Hook? Obviously. Allison Williams ("Girls") as Peter Pan? Yes, please.
But OMG, you guys, it gets so. much. better. This week, NBC made the full casting announcement, and Newsies alums are taking over: Ryan Steele, Jacob Guzman, David Guzman, Daniel Quadrino and Garrett Hawe will play The Lost Boys. Alex Wong will be repin' the Newsies in the "Islanders, Pirates, Litter Bearers and Mermen" category. And Jake Lucas will play John Darling.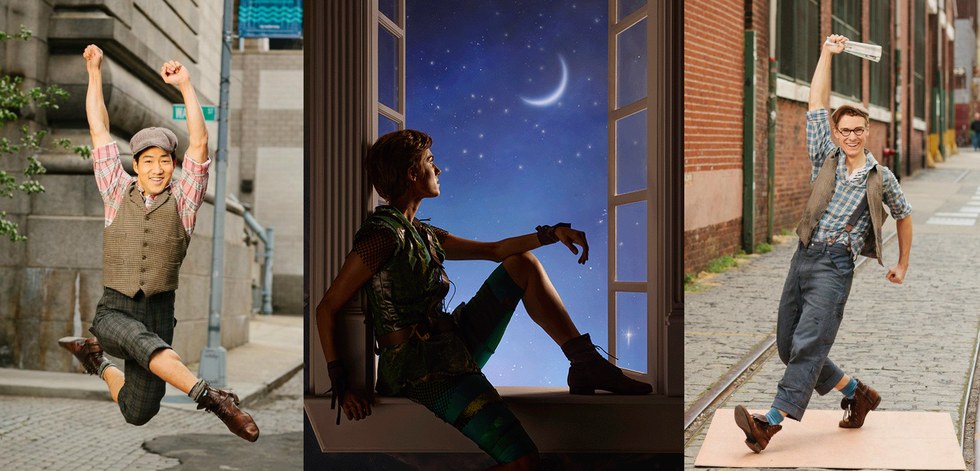 (L to R) Alex Wong poses for our Newsies cover (photo by Jacob Pritchard); Allison Williams in a new production shot for Peter Pan Live! (photo courtesy NBC); Ryan Steele poses for our Newsies cover (photo by Jacob Pritchard)
If pulling a bunch of alums from one of the danciest shows to hit Broadway is any indication of the amount of dance in Peter Pan Live!, count us the most in. Remember to tune in to NBC on December 4 for the live event!
Well, the moment we've been dreading has arrived: Yesterday, Newsies ended its Broadway run, after its 1,005th show. Of course, this isn't the show's true ending(!), Newsies kicks off its national tour this October. Still, the closing was an incredible event. I was fortunate enough to be in the audience at the Nederlander Theater, and while the afternoon ended on a teary note, the show couldn't have gone out with a bigger bang. Here are just a few of the ingredients that helped make the final performance so spectacular:
5. The fans. Newsies held a lottery for a limited number of tickets to the final show. This is how many #Fansies showed up:
4. Sitting with celebs. To quote an awestruck (and totally correct) girl sitting behind me, I got to "share the same breathing air" with former Newsies dancers—including Alex Wong, Ryan Steele, JP Ferreri, Mike Faist, Ryan Breslin and Jess LeProtto. Oh, and also director Jeff Calhoun and choreographer Christopher Gattelli.
3. The dancers' energy. It's been a long time since I've seen so many dancers on one stage give as much love to the choreography as the guys did yesterday. Every battement was 180-degrees. Every back flip went soaring.
Every split jump by every dancer literally looked like this: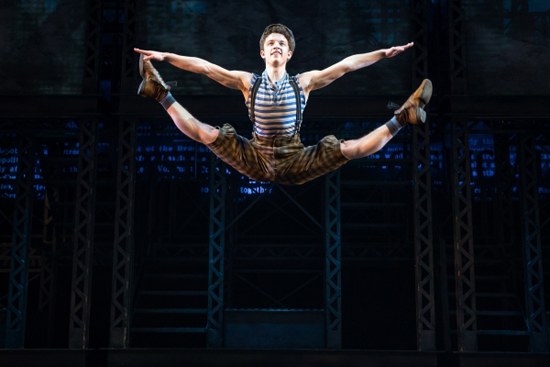 Iain Young (photo by Matthew Murphy)
Which brings me to number 2...
2. The standing ovations. The audience (starting with my crew in rows D–F) leapt to its feet after every deserving number—which, of course, was all of them. The energy in the theater was buzzing.
1. The final curtain call. There was not a dry eye in the house—or onstage. It was heart wrenching—and heart warming!—to watch Newsies come to a close, especially since many members of the current cast had been part of it since day one. (I'm looking at you, Aaron Albano!) And after the final bow by Corey Cott (you know him as Jack Kelly), the creative team also walked onstage to take a bow, and everyone totally lost it.
Take a look at the last dance number and curtain call, and I dare you not to tear up, too:


Get Dance Spirit in your inbox