Welcome, to "So You Think You Can Dance!" This week, we're in L.A. for the third round of auditions—and I'm thrilled to report that these auditions were far more successful and entertaining than what we saw on last week's show.
On with the recap!
The Top 5 Moments From The L.A. Auditions:
1. Jesse Tyler Ferguson on the judging panel. I love him on "Modern Family" and I don't even care that he may not be a dance expert. He's so stinkin' lovable as a self-proclaimed "super fan of the show," and you could tell he genuinely enjoyed sitting up there with Nigel and Mary. Adorable and hilarious.
2. Alexa Anderson! Our former Cover Model Search winner was the first one up last night, and she got sent straight to Vegas. No surprise there: We knew she was a star when we spotted her on the competition scene, you knew she was a star when you voted her the winner of the 2010 CMS battle, and now the rest of the world will know she's a star when Alexa inevitably makes it into the Top 20. (Seriously, Nigel and Mary: Put this girl in the Top 20.) We're rooting for you, Alexa!
3. "No lip syncing." Mary Murphy, I love you for this. High five. She told the crop of L.A. dancers that she did not want to see any lip syncing. Write this down, dancers and teachers. No one likes lip syncing! I don't care if you're doing a musical theater number to "Cell Block Tango" and you swear mouthing the words will make your performance more believable. Let the singers do the singing, you just worry about your sassy moves!
4. All the super-cute contemporary girls. I loved Sam Lenarz, whose mom kicked her out of the house and didn't support her dancing. Her story was heartbreaking, but with her killer feet and ability to light up the stage, I doubt she'll be held back in life. Then there was Megan Branch, who danced with a youthful innocence that I found incredibly compelling. Nigel called her a "little firecracker." And then there was Emily James! Emily was a DS Cover Model Search finalist and she was sent straight to Vegas. Duh.
5. Jonathan Anzalone. I basically like that he looks like Joey Lawrence, and I had a crush on Joey Lawrence when I was in elementary school and he was on that TV show "Blossom." Jonathan was quirky, fun to watch and could shake his booty better than any dude I've ever met.
The "So You Think You Can What?!" Moment of the Night:
How much did I love the "A-list celebrity on a B-list budget" twins, Nick and James Aragon? I loved them so much. They refer to themselves as the "ninja twins," one is a stylist, one works at "The Village Idiot," and their double cartwheels were to die for. Are they going to win "SYTYCD?" Um, no. Not at all. But they were adorable and I want them to take me shopping.
Check back next week when we'll be recapping Atlanta auditions. And of course, tell us what you thought of the show!
Jun. 18, 2013 11:21AM EST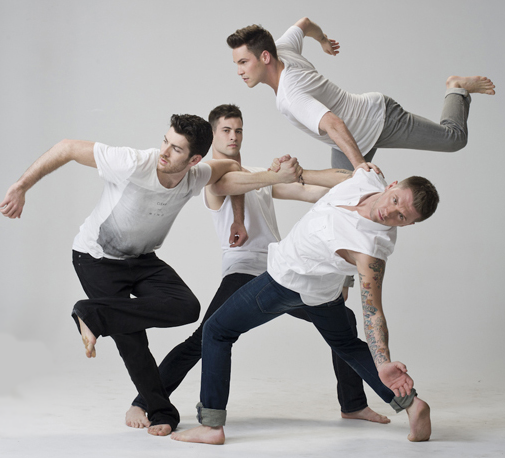 (L to R) Shaping Sound's Teddy Forance, Kyle Robinson, Nick Lazzarini and Travis Wall, photographed for "Dance Spirit" by Joe Toreno
Last night, the DS staff got all gussied up and headed to the Beacon Theater for Shaping Sound's That's Where I'll Be Waiting. So did pretty much everyone else in NYC.
No, but really: The crowd at this show, which was the last stop on the company's month-long tour, was incredible. Along with mainstream dance fans like Jesse Tyler Ferguson (a.k.a. the best "So You Think You Can Dance" judge of all time), there were a host of familiar dancers and choreographers milling through the lobby of the Beacon. Joey Dowling! Kenny Wormald! Dana Wilson! Ida Saki! Catherine Hurlin! It was like a reunion for all the dance world's cool kids.
Not that that's surprising. The members of Shaping Sound are some of the most exciting people on the commercial scene, after all—and definitely not less famous since their turn on the reality show "All the Right Moves." Almost every Shaping Sound dancer is a dance celebrity, and the people most prominently featured in That's Where I'll Be Waiting—Travis Wall, Nick Lazzarini, Teddy Forance and Kyle Robinson, who also created and choreographed the show—have become legit stars. More celebrities onstage = more celebrities in the audience (and also = more opportunities for us lesser non-celebrities to totally freak out because Jesse Tyler Ferguson is sitting one seat away from us, eee!).
The Shaping Sound foursome were smart about how they presented their well-known team, too. That's Where I'll Be Waiting gives each dancer a specific character—i.e., "The Trouble" (Alexa Anderson), "The Temptress" (Channing Cooke), etc—and at least a few moments in the spotlight. While the piece is threaded through with a love-triangle dream-story involving Travis, Teddy and Jaimie Goodwin, it's really driven by all the strong personalities onstage—personalities the audience already knows and loves.
Does that always work? Well, not quite. (Frankly, I'm still not sure why Chelsea Thedinga is "The Being.") Could I watch Nick, a.k.a. "The Wayward," do his flamboyantly fabulous David-Bowie-in-Labyrinth-meets-Herr-Drosselmeyer act (which is really just Nick being Nick) in his leather cape-vest alllll night? Oh, totally. And so could the rest of that star-studded crowd, which went standing-o bonkers for the entire cast at the curtain call. Congrats, guys!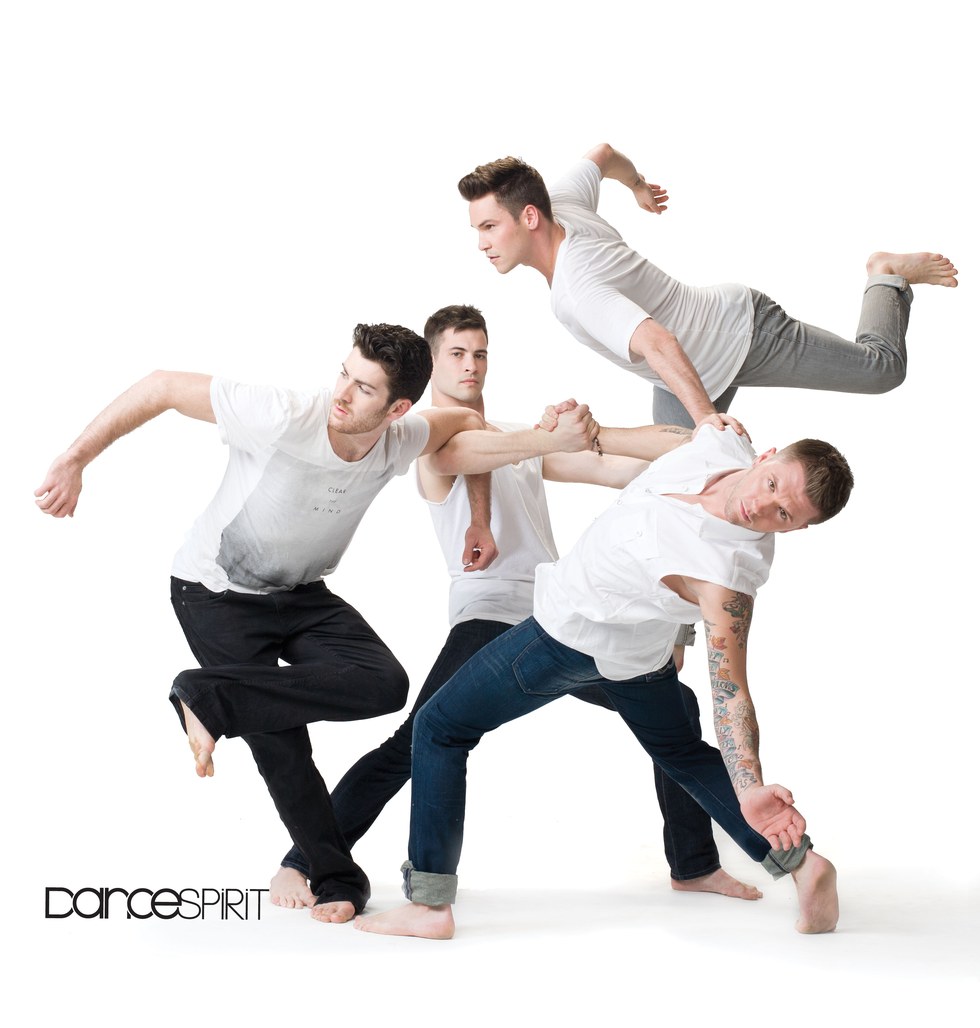 It's finally here! The premiere of Shaping Sound's tour, that is.
We've been obsessed with this company—full of so-beautiful-we-can't-stop-looking-at-them commercial dancers—for quite a while. First, we featured the brand-spanking-new Shaping Sound on our cover last year, then we kept track of the blossoming company with exclusive interviews with the dancers. And now, our baby (OK, we know the company isn't exactly our baby, but it certainly feels like that!) is all grown up.
The Shaping Sound tour kicks off tonight at L.A.'s El Portal Theatre, complete with star-studded red carpet. Who can you expect to see? The cast list includes co-founders Travis Wall, Nick Lazzarini and Teddy Forance, along with Kyle Robinson, Chantel Aguirre, Alexa Anderson, Jaimie Goodwin and so many more!
Check out this behind-the-scenes video for a taste of what's to come:
What are you waiting for? Get your tickets to the tour at shapingsoundco.com before they sell out!
Jul. 02, 2012 02:26PM EST
What does everyone think of "So You Think You Can Dance" Season 9's Top 20? While some of us—myself included—are still mourning the loss of a few Vegas Week favorites (Adrian Lee and Kaitlynn Edgar! Saaaadface), I'd say the lineup is pretty darn solid.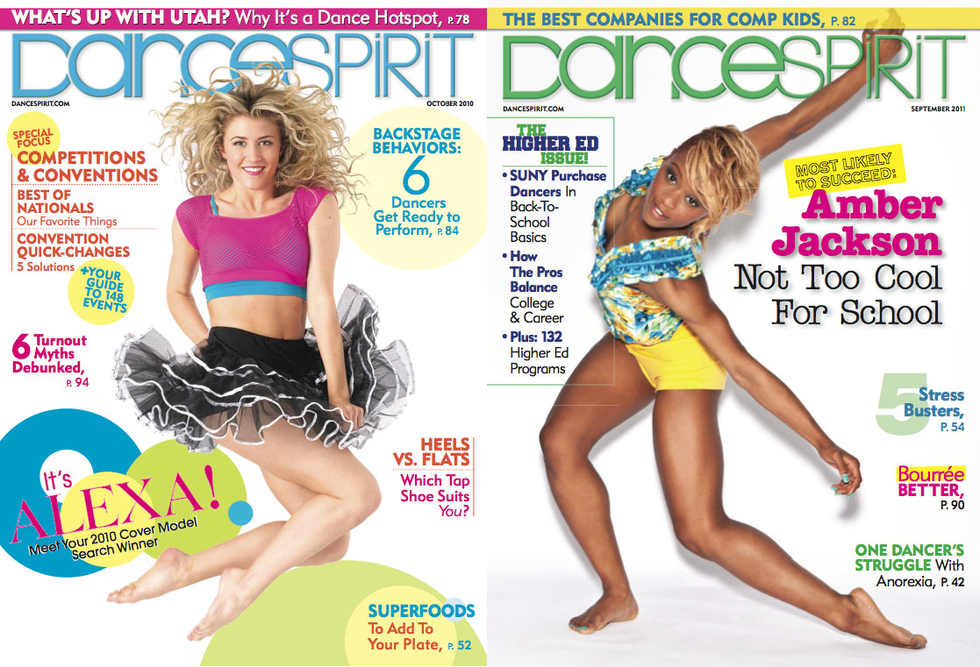 Here at DS, we can actually say, for two of the 20: Called it! That's right—we've already featured both Alexa Anderson and Amber Jackson on our cover. Alexa was the winner of our 2010 Cover Model Search (sidenote: don't forget to vote for your 2012 CMS favorite!), and Amber graced our September 2011 issue.
Both of these extraordinary dancers were, of course, fantastic at their respective photo shoots. We thought we'd share some of our favorite images to help you get to know them a little better—and to help you get through this "SYTYCD"-less holiday week. Enjoy! And be sure to check back next Thursday for our recap of the second performance episode...
[portfolio_slideshow nowrap=0 height=500 thumbs=true timeout=4000 showtitles=true showcaps=true showdesc=true]
Jun. 21, 2012 08:00AM EST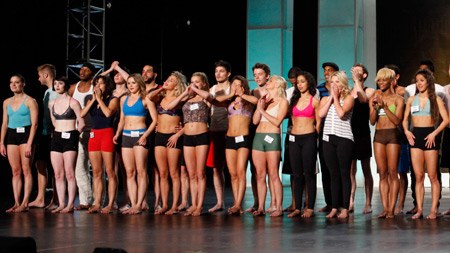 Vegas! Vegas! VEGAS! After what seemed like endless weeks of ho-hum auditions episodes, I, for one, was ready for some real dancing, and some real drama, on "So You Think You Can Dance." As usual, Vegas week more than delivered on both counts. During their time in Sin City, this season's contestants showed off a lot of talent—and shed a lot of tears.
This being Vegas week, there weren't so much top moments as there were top...journeys. Epic journeys, complete with dramatic music and slow-mo reaction shots and, naturally, plenty of crying. Here are the top 5:
1. The Danielle Saga, aka Nice Girls Finish Last. Poor, poor Danielle. During Sonya Tayeh's jazz routine, Danielle was paired with Debbie Downer Shafeek, who completely gave up on her. Never mind; she made it through, and trooper that she is, came back onstage later to partner a contemporary dancer in need—who, of course, kicked her in the head. She was taken out on a stretcher. When she returned later, after spending eight hours in the hospital, she was sort of blamed for messing up the routine of the group she belatedly joined (which, really? She had a head injury). And then, of course, she was sent home. Someone give this girl a hug.
2. The Cyrus Saga, aka We'll Cut the Adorable Hip Hop Guy Some Slack. Cyrus is the only one of the talented Dragon House Crew trio who made it past Vegas' first round. He had a LOT of close calls as the rounds rolled by—frankly, I wasn't sure he was going to make it after that disastrous cha cha. But his dance-for-your-life solo reminded everyone just how amazing he is in his own style (shades of Madd Chadd, am I right?), and he seemed so genuinely happy to be there. I'm not sure he's going to nab a Top 20 spot, but if he doesn't—is that a Dragon House Crew guest performance I smell later in the season? Why yes, yes it is.
3. The Amelia Saga, aka Don't Count Your Top 20 Spot Before it Hatches. Remember silent-movie lover Amelia (who is, come to think of it, a bit of a Krysten Ritter lookalike)? Amelia cruised through the first few rounds, getting just a tad overconfident. She looked completely shocked when she was asked to dance for her life after Sonya's jazz routine. Luckily her solo was a great showcase for her particular brand of quirky appeal (not to mention her legit technique). "I am so ready to make you love me!" she cried tearfully afterward. And the judges did love her, or at least like her enough to shepherd her safely through Vegas week. Her whole flapper shtick grates on my nerves a little, but let's be honest: We all want to see this one stick around to do some really weird Sonya choreography, right?
4. The Alexa Saga, aka Alexaga, aka Don't Count Your Top 20 Spot Before it Hatches Part 2 (But Really, You're Going to Get a Top 20 Spot). Alexa probably looks familiar—and not just because she made it to the bitter end of last season's Vegas shenanigans: She was our 2010 Cover Model Search winner!* All of us at DS know from experience that Alexa is crazy talented—but man, a lot of the judges' criticisms of Alexa's "lights are on and nobody's home" performances (as Tyce "Keith" DiOrio put it) were justified. She seemed vacant and terrified through much of the episode. Luckily she pulled it together in time for the cha cha round—in which she looked SMOKIN'—and survived Vegas. Debbie Allen's verdict? "This child could win." Go Alexa! (Just ease up a tad on the bronzer, OK?)
5. The Sore Losers Saga, aka Here Are a Few Examples of How Not to Behave on National Television. Jeez louise, there were a lot of unhappy campers on last night's show. From Teddy "Why come back and waste my time? I just looove to be reprimanded in public" Tedholm to  Shafeek "I will smoke Lil' C. Matter of fact Lil' C's cool, I will smoke Nigel" Westbrook, a surprising number of booted contestants chose not to exit gracefully. Yes, getting cut is very, very painful, but a word of advice: You will always end up regretting acting like a total brat on camera. Next time, maybe save the venting for the hotel room, OK?
The "So You Think You Can What?!" Moment of the Night:...was actually not part of the episode. There were several ads for "The Choice" during the commercial breaks—you know, that rip-off of "The Voice" where people like Mike "The Situation" Sorrentino try to pick dates based on the sound of the girls' voices? Oh, you haven't heard of it? Congratulations—you're a respectable member of society. So why is the lovely, amazing, wayyyy-too-talented-for-this Cat Deeley hosting this abomination? Cat! It's not worth it! And if "The Choice" is the reason you've barely shown your pretty face on "SYTYCD" so far this season...no, I'm not even going to make a "wrong Choice" pun here. DON'T LEAVE US, CAT!
What did you think of last night's episode? Too much drama? (Is there such a thing?) And don't forget to check back next week for our recap of the episode we've all been waiting for: The Top 20 reveal!
*(For the record: Last year's CMS winner, the awesome Kaitlynn Edgar, was also all over this episode. She and Alexa were actually in the same "Wolf Pack" group number. Not ringing a bell? They wore matching stonewashed denim vests. There you go.)
Dec. 07, 2010 12:17PM EST
It's been five years since DS kicked off its annual Cover Model Search contest. We're so proud to report that the finalists and winners have since had a ton of dance success! Here's what they're up to now.
April Giangeruso
Winner, 2006: Member of the corps de ballet at American Ballet Theatre
Paula van Oppen
Finalist, 2006: Featured dancer in Burlesque, which hit theaters in November
Maci Cameron
Winner, 2007: Performed in Emily Shock's "Find Me To Forgive" at the 2010 Capezio A.C.E. Awards
Brooke Shepherd
Finalist, 2007: Dancer in Jay-Z's "On to the Next One" video; dancer on Lifetime's "Your Mama Don't Dance"; dancer for Tyler Shamy
Sara Michelle Murawski
Finalist, 2007: Dancer with Dresden Semperoper Ballet in Germany
Amanda Viereck
Winner, 2008: Sophomore at Seton Hall University majoring in biology; member of both the dance team and cheer squad
Madison Keesler
Finalist, 2008: Corps de ballet member at San Francisco Ballet
Lee Gumbs
Finalist, 2008: Freshman at Marymount Manhattan College and member of Rasta Thomas' Bad Boys of Dance
Ida Saki
Winner, 2009: Freshman at New York University, Tisch School of the Arts; 2010 U.S. Presidential Scholar in the Arts winner
Nicole Knudson
Finalist, 2009: Performed as a backup dancer with Kanye West on "Saturday Night Live" in October
Kamille Upshaw
Finalist, 2009: Senior at Juilliard; attended the Springboard dance program in Montreal, Quebec, studying with Margie Gillis and Sylvain Emard; performed at NYC's Fall for Dance Festival in October in a piece by Larry Keigwin
Alexa Anderson
Winner, 2010: Performed in Jaci Royal's Beneath the Surface show in NYC; performed in Misha Gabriel and Teddy Forance's "Bulletproof," which was the second runner-up at the 2010 Capezio A.C.E. Awards
Emily James
Finalist, 2010: Freshman at Wake Forest University; member of the Wake Forest Dance Company
Patricia Zhou
Finalist, 2010: Senior at the Kirov Academy in Washington, D.C.; competed at the Beijing International Ballet Invitational in October
It's your last chance to apply for the 2011 Cover Model Search! Upload your best solo video at dancemedia.com before December 31 for your shot at next year's cover.
Sep. 15, 2010 03:30PM EST
Just a few months after the Cover Model Search finalists visited NYC, Alexa Anderson returned to the city to perform in choreographer Jaci Royal's show, Beneath the Surface. Alexa, a principal dancer in the piece, portrayed someone whose heart had been broken. In a particularly compelling scene, ropes encircled Alexa's waist, connecting her to other cast members who tugged at her body. Without relinquishing her physical control, Alexa thrashed, conveying her character's frayed emotional state.
We weren't surprised to see Alexa take center stage. After all, she's got serious skills: rock-solid technique, a tireless work ethic and an effervescent personality that makes even the most basic steps sparkle. You saw these qualities in Alexa, too, and voted her your 2010 Cover Model Search winner!
After her stop in NYC, Alexa headed to Massachusetts for the Generation IV Dance Summer Intensive, where she trained with some of the commercial dance scene's biggest names, including Travis Wall, Teddy Forance and Misha Gabriel—the perfect preparation for her upcoming move to L.A. We're confident that Alexa's CMS triumph is only the beginning of a successful career.
Dance Spirit: What does it feel like to win the Cover Model Search?
Alexa Anderson: It's unbelievable. To see that my hard work is paying off is great.
DS: What was your favorite part of the CMS week in NYC?
AA: I liked the photo shoot—I don't get to do that every day! It was interesting to figure out what looked good, and it was a lot more fun than I thought it would be.
DS: You had tons of support from voters. Who supported you the most?
AA: My friends and family. They created a Facebook group for me and put up posters all around my hometown encouraging people to vote.
DS: Did you get any especially touching words of support?
AA: One of my first dance teachers sent me a message that said, "I recognized something in you and I'm so proud you made something of it."
DS: How has your dancing changed since the CMS trip to NYC?
AA: I haven't been traveling as much. I've had the weekends off, so I've stayed home and focused on improving technically.
DS: How did you get involved with Jaci's show and what have you learned from the experience?
AA: She held auditions in Arizona—that's where she's from—and in L.A. I went to the Arizona audition. It was laid-back. She wanted to see technique, so we went across the floor and did a combination. Her style is different from what I do. My natural movement is little and quick; hers is big and animated. It changed my dancing for the better and made me a more versatile performer.
DS: When and why did you decide to move to L.A.?
AA: I made the choice to move to L.A. in May. I want to be exposed to different teachers and styles. The decision was difficult for me, so I consulted my friends, family and teachers. Their input helped, but the decision to move to L.A. was my own. I have friends there and saw how much work they were getting and heard about the classes at studios like EDGE Performing Arts Center and Millennium Dance Complex. I'm going to train for a while and start auditioning for commercial jobs. I'm also going to start taking college courses online.
DS: What are you most excited about?
AA: I'm looking forward to taking class with Mandy Moore. And there are hip-hop classes there that you can't get anywhere else, which will be good because I haven't had a lot of hip-hop training.
DS: What are your career goals?
AA: To continue dancing and growing, whether I'm fortunate enough to be in a company, touring, teaching or choreographing. I never want to be stagnant. I always want to be learning and evolving. I would also love to travel overseas.
DS: What's your advice for future CMS hopefuls?
AA: Be yourself and show who you are. That will get people to vote for you.
Dear Readers,
Wow! Thank you for all of your support and encouragement. I feel extremely blessed to have had this opportunity. The response I've gotten from the dance community has been overwhelming, and I'm touched voters thought I was worthy of this honor. I couldn't be more grateful to Dance Spirit for recognizing young dancers like me. To my friends, family and all those who reached out to me personally with kind words—I can't even describe how much your thoughtfulness means to me. I feel more inspired, energized and confident than ever before. I'm blown away!
Love,
Alexa
Want to be the 2011 Cover Model Search Winner? Go to dancemedia.com and upload your best solo video for your shot at the cover. Two semifinalists will be chosen each month.
The DS Cover Model Search is sponsored by Discount Dance Supply.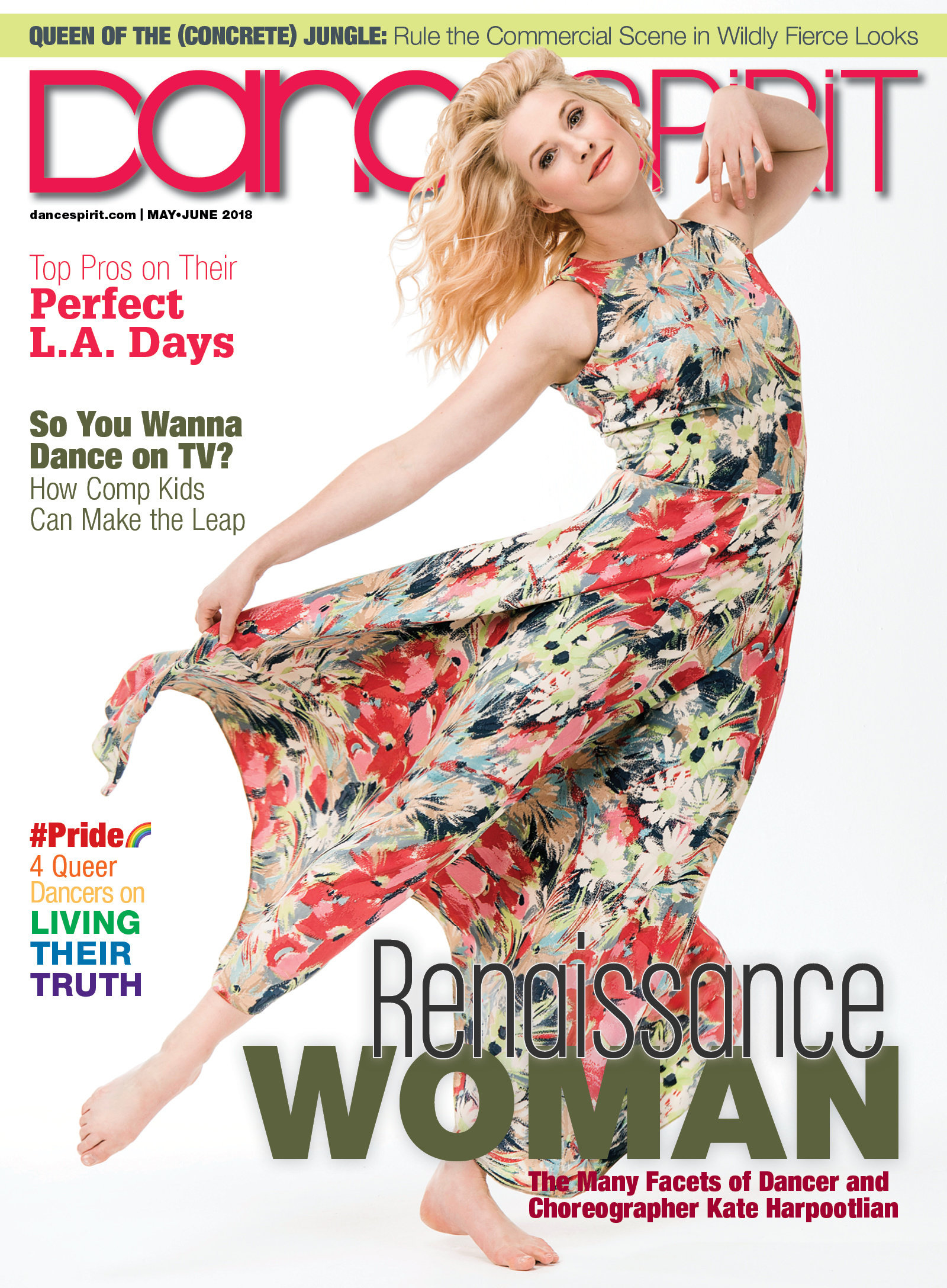 Get Dance Spirit in your inbox