Nov. 11, 2015 07:38PM EST
Jazz cutie Alexia Meyer wasn't new to competing when she auditioned for "So You Think You Can Dance" Season 12. In fact, Alexia—who trained at The Dance Club in Orem, UT—practically grew up on the comp and convention circuit; in 2012, she toured with New York City Dance Alliance as the Senior Female Outstanding Dancer. This summer, America watched (and voted!) as Alexia dominated Vegas callbacks and became a Top 14 Team Stage finalist on "SYTYCD." But what's it like being part of the show when the cameras aren't rolling? Dance Spirit asked Alexia to let us in on all the "SYT" secrets.
Monday, July 13 (Week 1)
We made it to sunny L.A.! The Top 20 flew out last week and settled in at the apartment complex where we're all staying. Since today was show day, our call time was 5:15 am. As soon as we arrived on set, we got into hair and makeup. The whole hair and makeup team is amazing, but Dean Banowetz is one of my favorite stylists. In addition to being incredibly talented, he's hilarious—his personality is as big as his beard! Every time he finishes my hair, we part by dramatically saying "XOXO."
(courtesy Alexia Meyer)
This week, I was in the Top 20 opening number by Christopher Scott, a Broadway routine with Team Stage by Warren Carlyle and a jazz trio by Brian Friedman. I'd never danced in a pair of heels as high as the ones Brian put us in. It was hard, but I kept thinking about how this was going to be the first time America would see me dance—I wanted to do my absolute best.
In the end, performing on the "SYTYCD" stage for the first time was a moment I'll never forget. And afterward, when I saw how proud Brian was of our trio, I felt like I could take on anything thrown my way.
Friday, July 17 (Week 2)
My body was really feeling it this week thanks to rehearsals for the Team Stage group routine, which was choreographed by Travis Wall and set to "Stabat Mater" by Woodkid. I loved the piece, but I was really nervous for my big basket-toss in the middle of it. Being thrown in the air is exhilarating—and terrifying. I was supposed to try to relax my body mid-throw, but how can anyone relax when they're 15 feet in the air? In one rehearsal, I was launched in the wrong direction and gave Jim Nowakowski a bloody nose! Luckily, we nailed it during the show itself.
Meyer and the rest of the "SYT" posse (courtesy Alexia Meyer)
Wednesday, July 22 (Week 3)
This week I was cast in a contemporary trio with JaJa Vankova and Derek Piquette, choreographed by Stacey Tookey. We started learning the piece today, and our rehearsal was filmed. Having a camera in the room has been an adjustment for me. It feels like my every move is being watched! At first, I got really nervous whenever I made a mistake while the camera was rolling. But Allison Holker, whom I admire so much, told me to just be my goofy self, which is great advice. Eventually I learned to focus on having fun with the incredible choreographers and dancers I was working with, camera or no camera.
Saturday, August 1 (Week 4)
This week, Neptune and I learned a piece by Dave Scott. I loved the crazy characters he created for us! But it wasn't an easy routine. Neptune and I spent a lot of our free time—which means after 9 pm at night—practicing on our own. Back at the apartment complex, there's a big hallway in front of my room that the dancers and I have dubbed the Rehearsal Hall. You can always find at least one group in the Rehearsal Hall!
This week, we also started working on  Travis' "ghost light" routine for Team Stage. We had wardrobe fittings, too—and oh my goodness, the ghost light costumes were so cool. Marina Toybina, our costume designer, is insanely creative. Whenever we go into the fitting room, she's playing Spanish music. She says it's the only thing that calms her down during all the craziness.
Sunday, August 9
(Week 5)
The weeks have flown by! Sundays are "dry block" days, where we work out all the blocking onstage. But when we aren't blocking, we have time to bond with one another. It's been really fun to hang out and goof around. I especially love it when we get to practice standing next to Cat Deeley, as if we're listening to the judge's critiques. Cat always keeps things entertaining with her witty comments. She really is as kind as she seems on TV!
Team Stage rocking Sonya Tayeh's powerful group number (Photo by Adam Rose, courtesy FOX)
But we bond during serious moments, too. Today we finished practicing Sonya Tayeh's intense group routine, and by the end of the rehearsal, we were all in tears. It was such a powerful moment.
Monday, August 10 (Week 5)
Tonight marked my final "SYT" performance as a contestant, but I'm so grateful that Sonya's group piece was my last before being eliminated. Working with her has been such an enlightening process. I also can't believe that after all these years of watching the show, I got to perform on it. I can't wait for the adventures ahead. I know this is only the beginning!
Apr. 01, 2014 10:00AM EST
Begin
in a low lunge, with your right foot forward, your palms flat on the ground and your back leg slightly bent.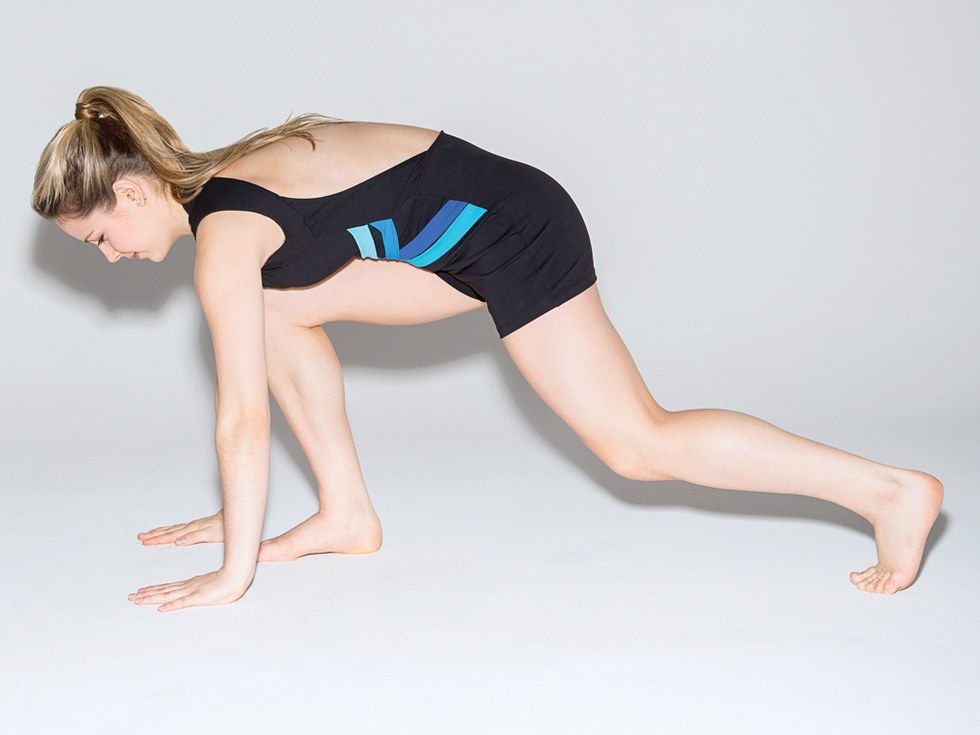 Push off the floor with your arms and legs. Jump as high as you can, keeping your legs horizontal in the air and your upper body lifted. Keep your focus toward the ground as you bring your arms back toward the sky and beat your legs together into a tight sous-sus, right foot front.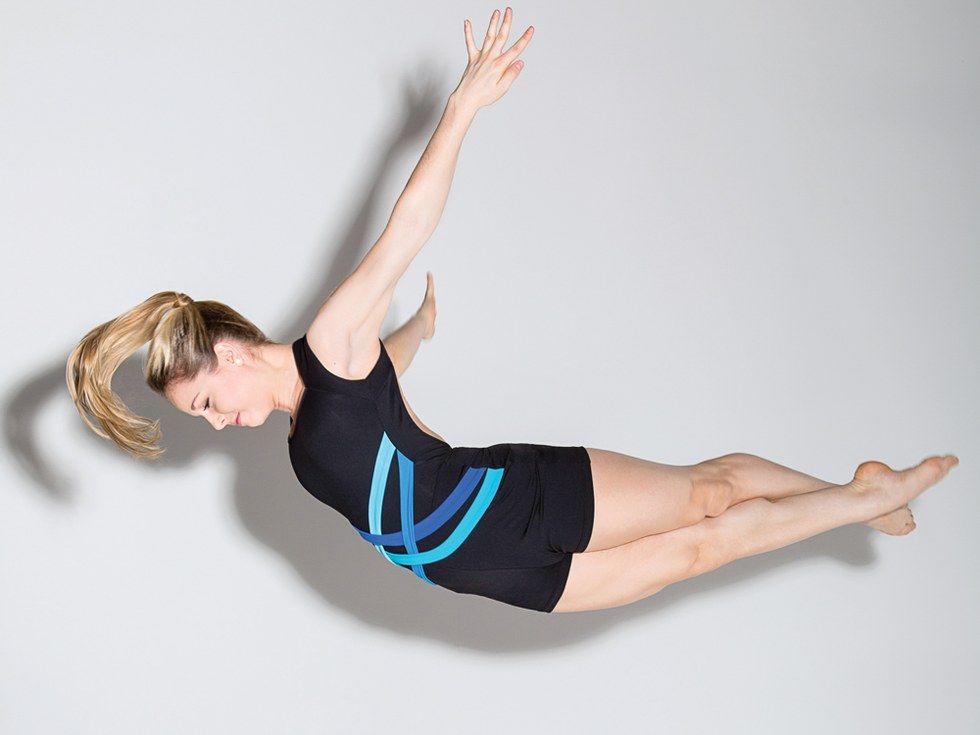 Land back in the starting position.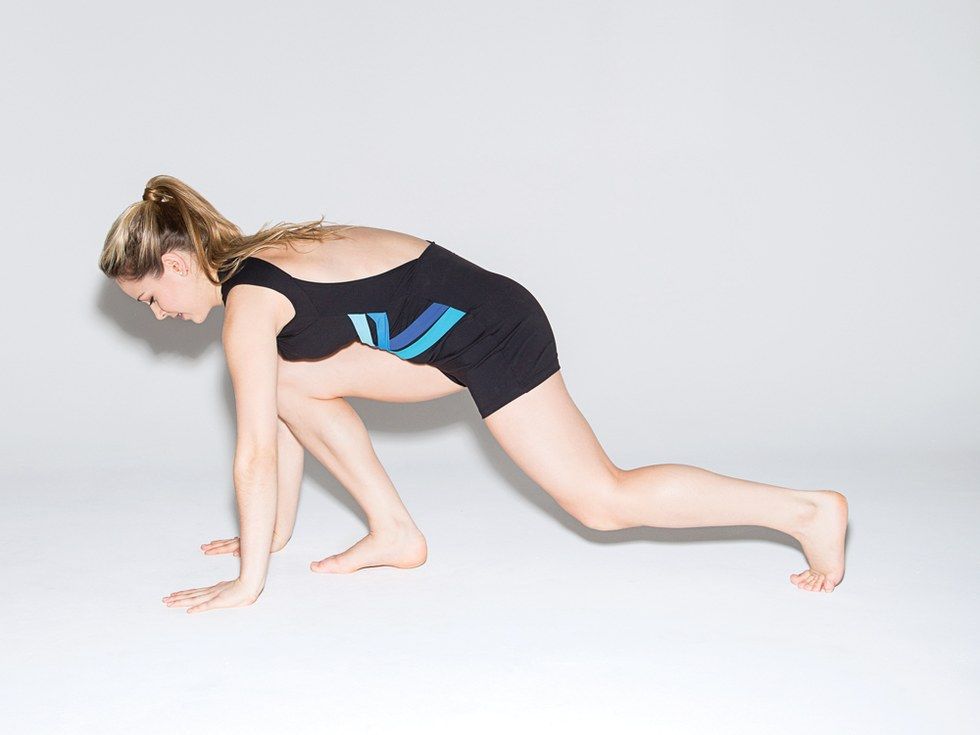 Alexia says: "Beat your legs in the air as quickly as possible. For extra momentum, start with a forward roll going into the jump."
Photography by Erin Baiano; hair and makeup by Randall Tang; Alexia is wearing a unitard by Company No. 5
Competition
Apr. 11, 2013 10:00AM EST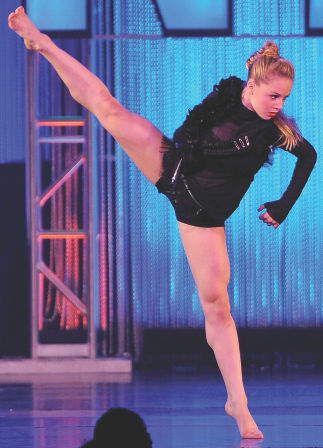 Alexia Meyer performing her title-winning solo at New York City Dance Alliance Nationals in 2012 (photos courtesy NYCDA)
For years, Alexia Meyer struggled with comparing herself to other dancers. "I would feel confident going into a competition, but as soon as I saw other dancers' abilities, I would second-guess what I was capable of," says Alexia, who just graduated high school. "My self-consciousness definitely hurt my performance. When I wasn't confident, I couldn't dance 100 percent." Alexia consistently placed among the top dancers at competitions, but never won at Nationals.
Then her studio, The Dance Club in Orem, UT, brought in performance psychology consultant Justin Su'a, who counsels elite athletes (including a few Olympians) and artists such as "Dancing with the Stars" pro Chelsie Hightower on improving mental skills for physical performance. Su'a led three group sessions at TDC. "He talked a lot about managing stress and fear, and getting rid of self-doubt," says TDC co-owner Allison Thornton. "All of our dancers were excited to try the techniques he offered, but Alexia really took his advice to heart." After the team sessions, Alexia kept meeting with Su'a one-on-one—and his advice worked. At 2012 Nationals, Alexia overcame her confidence issues and was named New York City Dance Alliance's Senior Female Outstanding Dancer.
How could a sports psychologist's methods improve your own performance? Here are five strategies you can take from the field, the pool and the rink to the studio and the stage.
Stop Negative Self-Talk
"Anytime you're being judged on your performance, it's easy to beat yourself up," Su'a says. The first steps in silencing the inner voice telling you you'll never be good enough are recognizing the thought and realizing you don't have to listen. "People think, If I have this thought, it must be true," he explains. "Believing that negative inner voice can lead to a physiological response that affects your performance."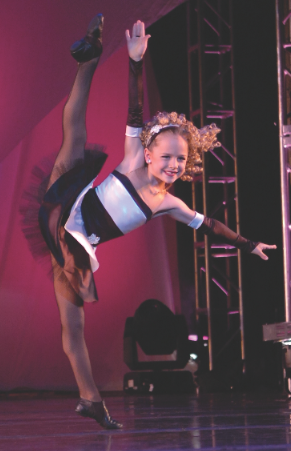 Alexia getting her start at NYCDA
Turn the tables by thinking about what you want to be saying to yourself before a performance or competition. For example, Su'a helped Alexia come up with "power statements" to repeat when she starts doubting herself or questioning her capabilities. "I say things like, 'I'm here to dance, and that's all I care about,' " Alexia says.
Use Imagery
Have you ever heard an athlete use the phrase "Be the ball"? Just as a soccer player might visualize the ball sailing past the goalie and into the net, dancers can visualize what they hope to do onstage. Picturing what you want to happen—rather than what you don't, like falling or messing up—can help you relax and let your training take over.
Dr. Kate Hays, a performance psychologist who works with athletes and dancers, uses both realistic and metaphorical imagery with her clients. "For Swan Lake," she explains, "realistic imagery would focus on the music and envisioning particular steps. Metaphorical imagery would be thinking about 'swan-ness'—being a swan rather than being a dancer." Try both types of imagery to see what resonates with you.
Breathe Through the Nerves
"Nerves aren't bad—they're your body's way of telling you it's show time," Su'a says. However, if your nerves affect your breathing, your performance can falter. "When your breathing becomes erratic in a high-stress situation, carbon dioxide gets trapped in your muscles and you get stiff," Su'a says. Slowing down your breathing can stop the cycle.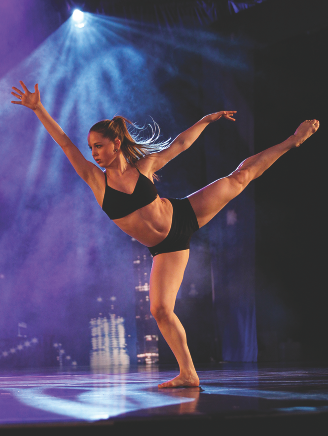 Alexia demonstrating during NYCDA convention classes. After winning the Senior Outstanding Dancer title at Nationals in 2012, Alexia began traveling with NYCDA as an assistant.
Hays teaches dancers and athletes a technique called diaphragmatic breathing, or belly breathing. To try it, put both hands on your stomach, middle fingers touching, and breathe in. Your fingers should separate at the depth of the inhale, showing that you're fully engaging your diaphragm, and your middle fingers should come back together on the exhale. You can also curl up on the floor in yoga's child's pose and feel the inhale expanding your back, just below your ribs. Breathing like this for several minutes can help you regulate tension and calm down.
Create a "Pre-game Ritual"
Athletes use pre-game rituals as a way to get into the competitive mindset, and you can do the same before performances. "There are a lot of uncontrollable factors about performing, and a pre-show routine can help you feel in control," Su'a says.
Hays adds, "What helps you feel most ready to be onstage? Do that, while avoiding things you know psych you out." You might need to be surrounded by friends, or be alone. You might do a set warm-up backstage before every show, or listen to a specific song over and over. Whatever it is, establish a routine and stick to it.
Remember Your Motivation
Whether you're hoping to dance with American Ballet Theatre or you want to play in the NBA, staying motivated is important. "Do you dance to win trophies, or because you love it?" Su'a asks. "It's easy to lose motivation if you forget why you do what you do. If you reconnect with your purpose, you can be more effective in your behavior."
For Alexia, thinking about her motivation for dancing helped her relax in stressful situations. "I remembered that I dance for myself and not for others," she says. "I can't let outside influences hurt my motivation for dancing."
Change doesn't often happen overnight. "Mental skills, like physical ones, take time to develop and practice," Su'a says. But if you're willing to train your mind just like you train your physical body, you can look forward to major benefits.
Health & Body
Get Dance Spirit in your inbox