Nov. 23, 2017 07:00AM EST
Happy Thanksgiving, dance friends! Since today is a day for reflection and gratitude (and eating...so much eating), I asked my fellow Dance Spirit editors to tell me the dance-world things they're most grateful for. Here's what they had to say:
Dancer to Dancer
Jul. 25, 2017 09:19AM EST
(Adam Rose/FOX)
Guess who's back? Back again? The Academy's back! Tell a friend.
After one day at The Academy, the All Stars have successfully taken the Top 100 down to 62. But their work is just getting started: Now they need to keep narrowing the field to a Top 10, ultimately deciding who each will partner with during the live shows.
Dance News
Mar. 23, 2017 01:41PM EST
YEP, you read that right—Wade Robson is BACK! It's been faaaaar too long since we've witnessed his choreographic genius, but it's fine because his latest video in collaboration with CLI Studios, "Flight," is everything we could've hoped for and then some.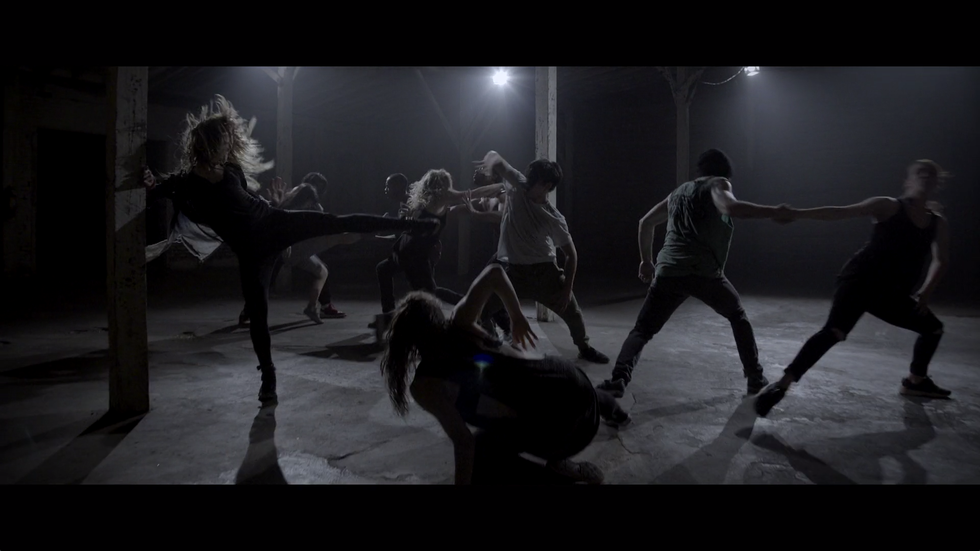 Dancers in "Flight" don't hold back. (Screenshot via Vimeo)
I mean, Allison Holker + William Wingfield + Teddy Forance + Robson's directorial eye? There's literally no way you could go wrong with that equation. Naturally, the result is a stunning series of powerhouse performances. The choreo (to which all the dancers contributed) is raw, passionate and edgy, addressing some pretty heavy subject matter in a beautifully moving way.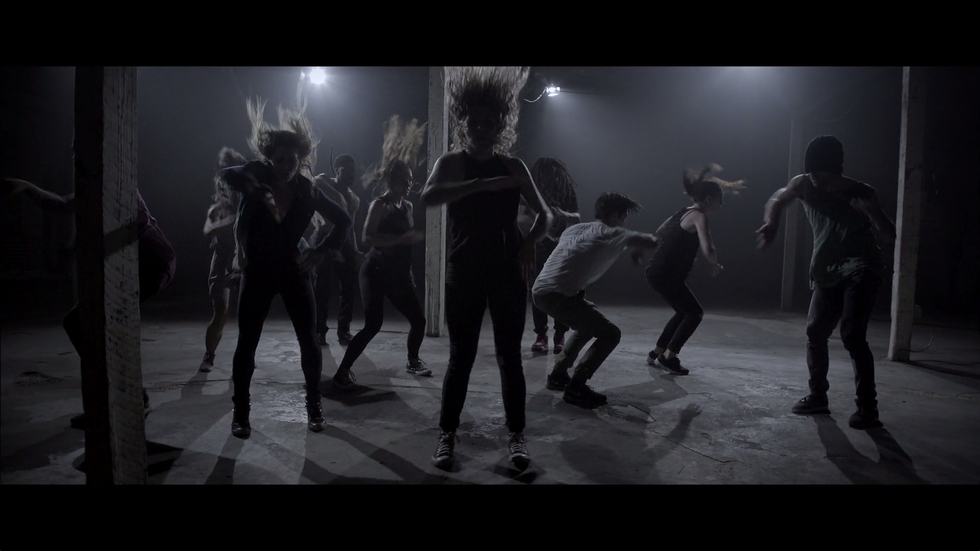 Whip that hair. (Screenshot via Vimeo)
Robson's directorial vision is crystal-clear, with everything from the costumes, to the casting, to the chilling lighting adding to the video's power. I don't want to give too much away, because "Flight" is well worth a watch (or two, or three). Check it out below—but keep in mind that some of the content may be a bit dark.
Dance News
Mar. 23, 2017 10:16AM EST
Let's not pretend like we were watching last night's results show for any reason other than to see Allison Holker and Maddie Ziegler perform "Chandelier." (Spoiler: It was amazing.) But since a little delayed gratification never hurt anybody, can we focus for one second on Julianne Hough's scandalous costume and super-sexy dance with the male pros?
I always like it when judges get up and dance (remember that time on "SYTYCD" when Nigel got up onstage and tapped with the kids from Debbie Allen Dance Academy?). It reminds us why they're sitting behind the table in the first place.
Then, we got a very dramatic trio to a very charming song: Nico and Vinz performed "Am I Wrong" while three of the pros danced. Now that "DWTS" is experimenting with contemporary dance, I wonder if we'll see the same growth in the pros as we do with contemporary dancers on "SYTYCD" who are asked to perform ballroom routines.
Okay, so about Maddie and Allison...
AMAZING! Their energy was totally explosive, and Maddie looked more polished and mature than I've ever seen her (maybe being around Allison will do that to you). Congrats, ladies, on an excellent performance.
Sadly, we said goodbye to Tavis Smiley and Sharna Burgess. But you guys, next week is movie themed! I can only hope that we'll see a lot of John Travolta references.
Dance News
Mar. 23, 2017 05:56AM EST
Planning on spending the holiday weekend catching up with your DVR? Make sure you don't miss Tuesday's episode of "Dancing With the Stars." In addition to sending two couples home (no spoilers here!), there's an awesome number by hip-hop superstar Parris Goebel, a creative performance by Paula Abdul and, my personal favorite, a beyond stunning contemporary piece choreographed by some DS favorites, Derek Hough and Allison Holker. Some highlights:
Choreographers Allison and Derek set the mood.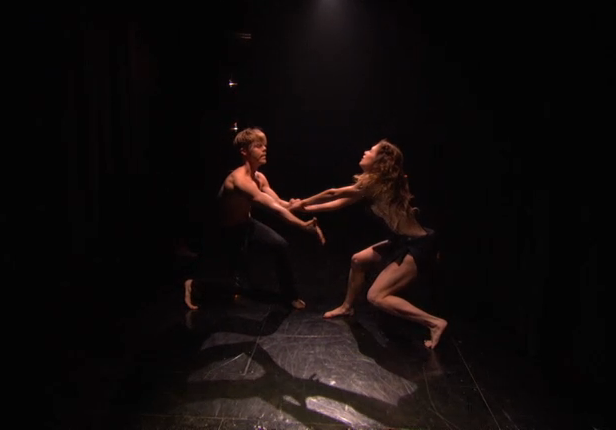 Oh hey, Kathryn McCormick, looking gorgeous as always.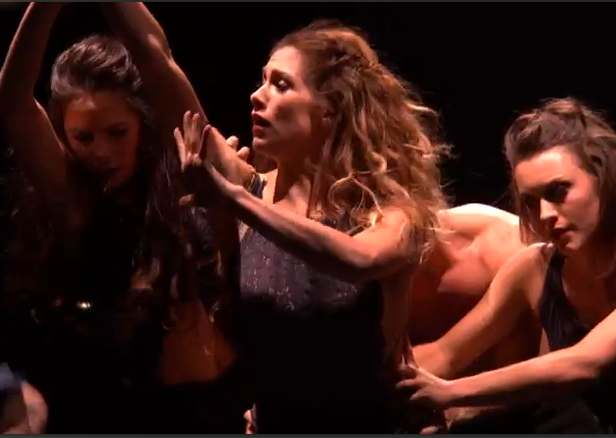 I see you, Melanie Moore.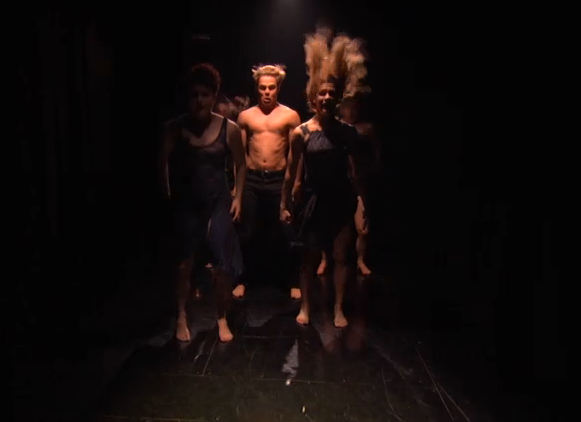 Is that a slow motion jump? Mind blown.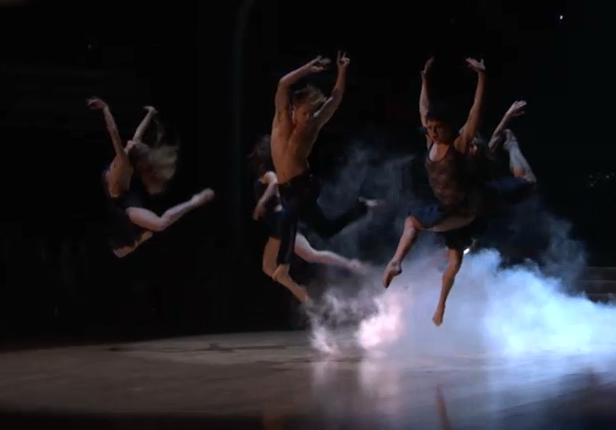 Love the use of water. This gives "dancing in the rain" a whole new meaning.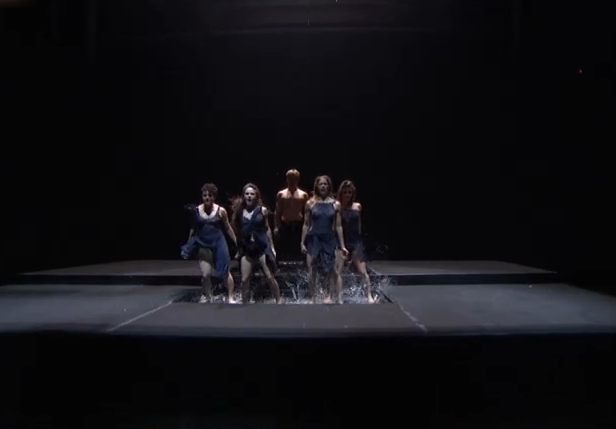 Best. Closing pose. Ever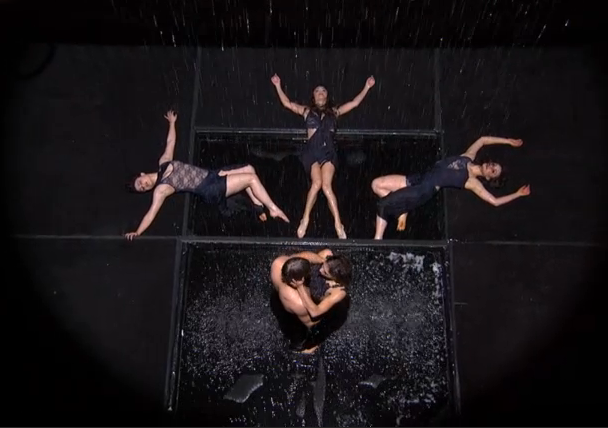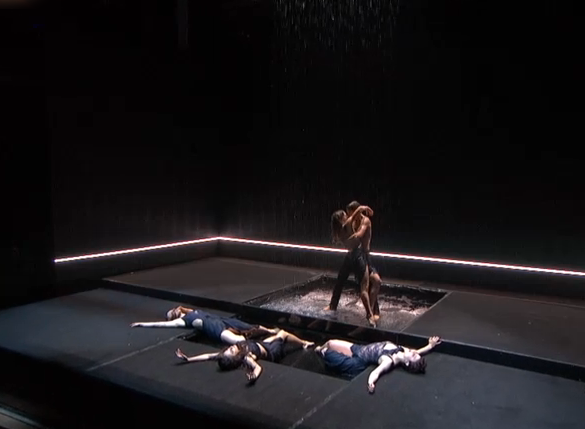 Forget to record the episode? Never fear, abc.com is here. Click here to watch.
Dance News
Aug. 30, 2016 10:12AM EST
We called it (well, almost)! One of the fabulous Final Five is going to be cha cha-ing her way around the "Dancing with the Stars" ballroom in two weeks. And while Simone Biles might have to wait until next season to don her dancing shoes, the gymnast gracing the floor this go-around is an even more natural fit for "DWTS": Laurie Hernandez, whose deliciously dance-y Olympic floor routine earned her a forever home in our hearts.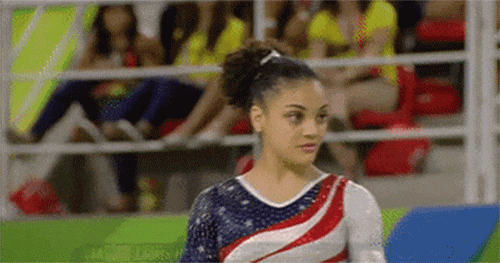 We'd like to request that all her "DWTS" routines begin with this exact wink, please and thank you. (via Giphy)
The full Season 23 "DWTS" cast list was revealed this morning on "Good Morning America," and while some of the other celeb choices left us scratching our heads (Ryan Lochte? Jeah no), there's lots of happy news on the pro front. For starters, the lovely Allison Holker is returning to show off her incredible post-baby body (dancing with, fittingly, Babyface). But also: Maks is back! Derek is back! CHERYL IS BACK, YOU GUYS!
Get your spray tan on and pull out your favorite bedazzled mini (as if you aren't already wearing it): Season 23 premieres Monday, September 12 on ABC. Here's the full cast list:
Maksim Chmerkovskiy and Amber Rose
Valentin Chmerkovskiy and Laurie Hernandez
Artem Chigvintsev and Maureen McCormick
Sasha Farber and Terra Jole
Derek Hough and Marilu Henner
Witney Carson and Vanilla Ice
Lindsay Arnold and Calvin Johnson
Jenna Johnson and Jake T. Austin
Allison Holker and Babyface
Sharna Burgess and James Hinchcliffe
Emma Slater and Rick Perry
Cheryl Burke and Ryan Lochte
Gleb Savchenko and Jana Kramer
Want more Dance Spirit?
Dance News
May. 16, 2016 01:10PM EST
Last month, on the finale of "tWitch and Allison's Kids Dance Challenge" (Ellen DeGeneres' new dance series, for those who haven't been following along), the competition came down to two finalists: DS co-cover stars Gabe De Guzman and Kaycee Rice. Not exactly shocking, thanks to their super-fierce moves—but we were incredibly torn. How in the world were tWitch and Allison going to choose between the members of our favorite hip-hop duo???
Turns out, they didn't have to: Ellen named both Gabe and Kaycee winners, giving both the chance to perform on "The Ellen DeGeneres Show." Cue a major sigh of relief, because there's just something magical about these two dancing together.
On Friday, the pair finally got their chance to shine on "Ellen," dancing alongside series judges tWitch and Allison. The double duet was great on so many levels. And new mama Allison proved she's still got it—the performance marked her first foray back into dancing since giving birth to little #BabyBoss.
Check it out:
Dance News
Apr. 16, 2016 07:00AM EST
When news first dropped about 'tWitch & Allison's Dance Challenge,' it was a big deal—a dance show featuring some of our all-time favorite minis and mentors, competing for a chance to perform on "The Ellen Show"? Yeah, safe to say we were obsessed from day one. And although each episode is as amazing and packed with talent as the last, it was especially exciting to see our January 2016 cover stars Kaycee Rice and Gabe de Guzman take the floor. The two wunderkinds told viewers how despite living three hours apart, they always managed to find a way to dance together because they bring out the best in each other's dancing <3 (#ICan't). It goes without saying that tWitch and Allison were blown away. But what was the final decision? Check out the video below to find out:
Dance News
Apr. 04, 2016 01:12PM EST
It has been quite the year for dance littles. First, "So You Think You Can Dance" announced its new format, which will feature competitors between the ages of 8 and 13 (we crashed the NYC auditions and the talent was insane!), and now Ellen DeGeneres' newly released "tWitch and Allison's Kids Dance Challenge" allows kids ages 10–14 to compete for a performance slot on "The Ellen Show."
The 8-episode online series features our fave husband-and-wife-duo tWitch and Allison as judges, mentors and, unsurprisingly, really great hosts. They'll choose 6 young dancers out of submissions from all over the world, then split them into two teams: Team tWitch and Team Allison. The two teams will be given various choreography challenges and one star dancer from each team will be picked to compete against each other in a final dance battle. The last dancer standing gets to perform live on Ellen's show!
Episode 1 dropped today over on Ellentube and we're already in love with 11-year-old hip-hopper Romeo Blanco who joined #TeamtWitch. And tWitch already dished up some fab mentor wisdom about perseverance. We also saw tons of familiar faces in the preview footage (Oh hey, former cover stars Kaycee Rice and Gabe De Guzman, and comp queen McKenzie Morales!). So, long story short, we're officially hooked.
See for yourself:
Dance News
Mar. 31, 2016 11:19AM EST
Get Dance Spirit in your inbox
Aug. 22, 2015 11:00AM EST
Pretty much the entire universe can agree that Mondays are #theworst. But Mondays starting September 14th? Nope, Mondays are gonna be the best. Why? Season 21 (!!!) of Dancing with the Stars! And to get you even more pumped than you already are, the list of returning "DWTS" pros was just announced—it's as good as it gets, people.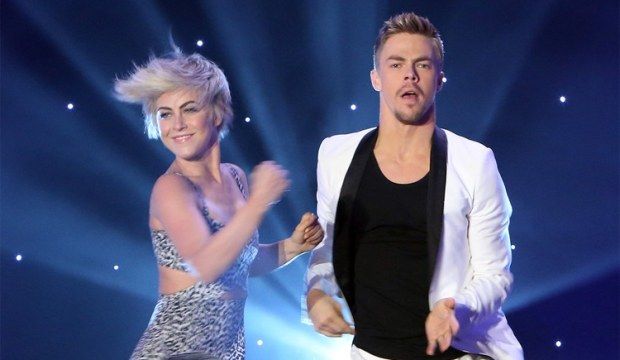 Derek's baaaaack (screenshot via EllenTV)
First of all, we've got Derek Hough, Karina Smirnoff, Witney Carson and Mark Ballas, all of whom have previously won the coveted Mirror Ball. Already, the stakes are HIGH. Throw defending champ Val Chmerkovskiy into the mix and things get even more interesting. To round out the insanely talented field, we've got Allison Holker, Sharna Burgess, Peta Murgatroyd and Artem Chigvinstsev. Omg.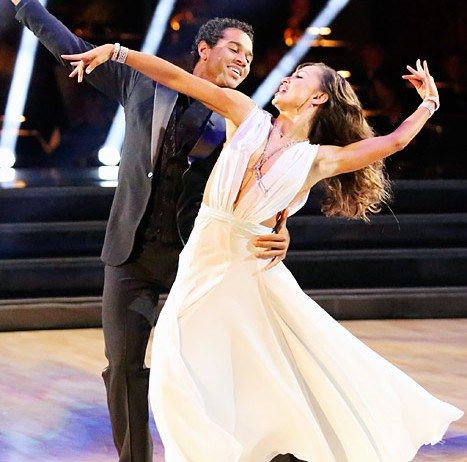 Dancing with the Stars pro Karina Smirnoff, with her Season 17 partner, Corbin Bleu, shows us how it's done (Photo ABC/Adam Taylor)
We'll anxiously be awaiting the announcement of the celebrity cast on September 2nd, but in the meantime, relive some of the more jaw-dropping moments of last season here.
Dance News
May. 30, 2015 07:00AM EST
If you had to name just one dancer as your absolute favorite, could you do it? We love to ask this question when we interview dancers for our "You Should Know" or "The Dirt" columns. More often than not, we either get a long list of names or total silence. With so many fabulous and unique dancers out there, it's a seriously tough question!
But, alas, it's the question FOX's Teen Choice is asking the Twitterverse. The 2015 awards—which will air on Sunday, August 16, at 8/7c—has a brand-new category: Choice Dancer. And they're currently accepting nominations via Twitter. Here's how to submit your nom:
Simply insert the twitter handle of your favorite dancer in the draft below—be sure to include #TeenChoice and #ChoiceDancer—and tweet away! And if you really can't make up your mind, there's nothing that says you can't nominate more than one dancer...

Who do you think will make the final list of nominees? We've been doing some research in the depths of our Twitter feed to get a sense of the front-runners, and here's what we came up with:
"So You Think You Can Dance"/"Dancing with the Stars" babe Allison Holker is making a serious bid for the top.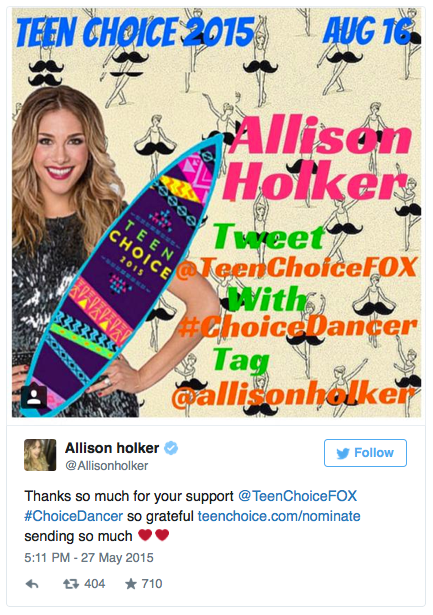 Step Up star Alyson Stoner is winning support through her humble spirit.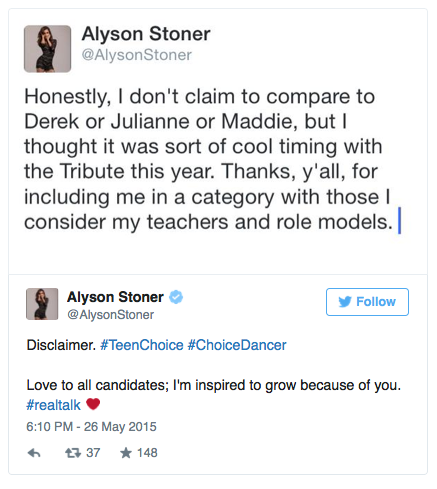 Former "Dance Moms" fave Chloe Lukasiak doesn't need to campaign—her fans are going above and beyond.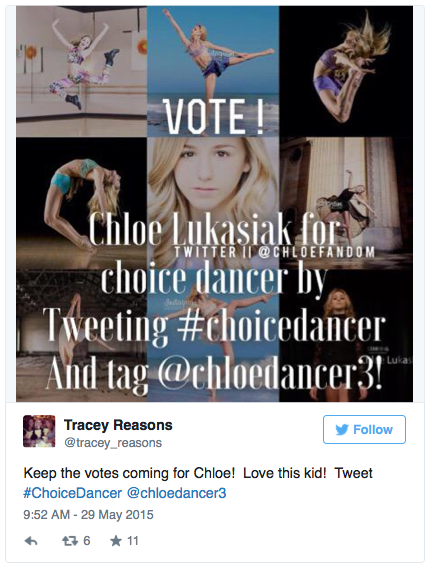 And repin' the dudes, "DWTS" pro Mark Ballas has perhaps the most adorable fan support. (Everybody now: D'awwwww)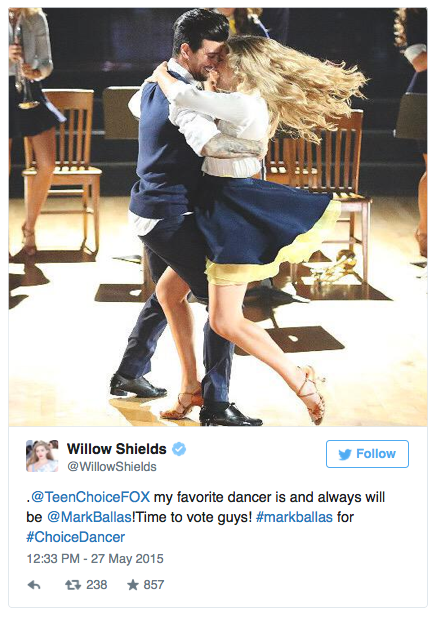 So we're predicting Allison, Alyson, Chloe and Mark for #ChoiceDancer, but there's still time to change the game. (Where my #TeamMaddie and #TeamMisty's at?) Happy tweeting!
Dance News