Aug. 12, 2015 10:53AM EST
The big screen gets the Oscars; the small screen has the Emmys; the world's top singers duke it out every year at the Grammys. And while Broadway already has the Tony Awards, we wanted to take it one step further. Welcome to The Jazz Hand Awards (aka the Jazzies), honoring the best, brightest and—above all—danciest shows on Broadway this season.
The Jazzie for the Silliest Tapping in Egg Costumes goes to…Something Rotten!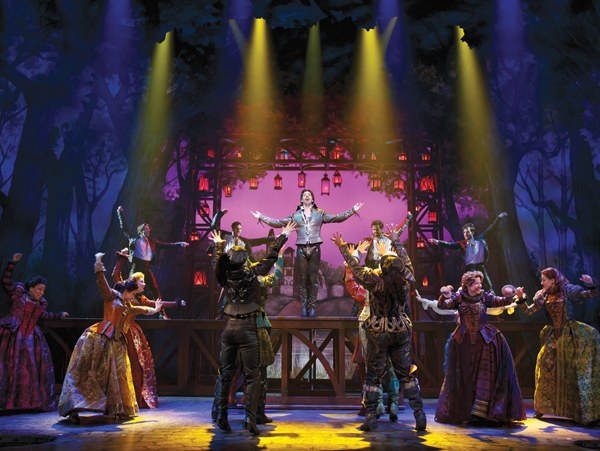 Something Rotten! (photo by Joan Marcus, courtesy Boneau/Bryan-Brown)
Director and choreographer (and former Broadway ensemble dancer) Casey Nicholaw comes to this original musical with a rock-solid resumé: He's been on the creative teams for several hit shows, including Aladdin, The Book of Mormon and Spamalot. Nicholaw has a knack for knowing what it takes to get a mid-act standing ovation, and his high-energy, tap-tastic choreography makes it happen in Something Rotten! "The writers told me they loved tap dancing, and before we knew it, tap became the primary vocabulary in the show," Nicholaw says. "The poor non-tappers in the cast turned white every time we decided to make a new tap number—but everyone taps now!"
In the show, two Renaissance-era brothers are trying to write a new play to outdo the man of the century, William Shakespeare. Discouraged by consistently being in Shakespeare's shadow, the older brother seeks help from a soothsayer to find out what will be the next great thing. As it turns out, musicals are it, and a string of mixed messages leads to the creation of Omelette: The Musical, complete with performers costumed as eggs. It's supposed to be Hamlet—get it? But Something Rotten! is hardly a lesson in history: It's entirely fictional, so you don't need to have aced Shakespeare 101 to follow along. The Bard is portrayed by Christian Borle (you know him from NBC's "Peter Pan Live!" and "Smash"), who dons leather pants and, of course, tap shoes.
The Jazzie for the Best Robbins Redux goes to…The King and I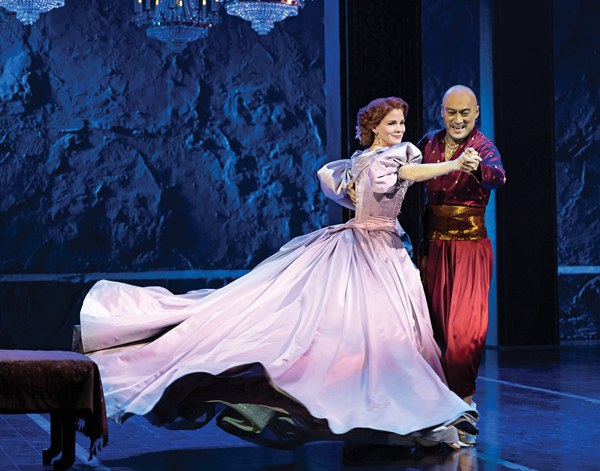 Kelli O'Hara and Ken Watanabe in The King and I (photo by Paul Kolnik, courtesy Lincoln Center Theater)
Iconic duo Rodgers and Hammerstein debuted this musical in 1951, with choreography by Jerome Robbins, and the latest revival's now in residence at Lincoln Center Theater. That's fitting: Lincoln Center is the longtime home of New York City Ballet, and Robbins contributed many ballets to the company's repertory. Newsies choreographer Christopher Gattelli reconstructed Robbins' work for this round, and while the story—about a governess, the King of Siam and his many children—may sound outdated, the dancing is anything but. Look out for stellar performers from all corners of the dance world, including former Newsie Aaron Albano, former "So You Think You Can Dance" contestant Cole Horibe and former Martha Graham Dance Company principal XiaoChuan Xie.
The Jazzie for the Fanciest, Archiest Feet on Broadway goes to…An American in Paris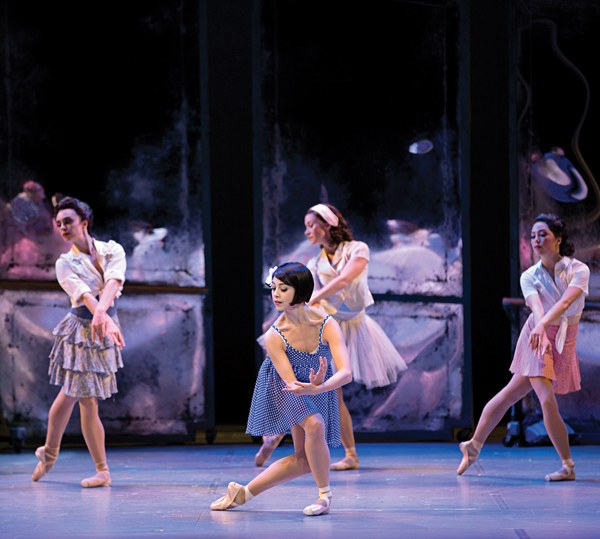 Leanne Cope in An American in Paris (photo by Angela Sterling, courtesy Boneau/Bryan-Brown)
If you love going to the ballet but wish you could sing along, An American in Paris is your jam. This dreamy musical follows an American soldier, Jerry Mulligan, who decides to live in Paris after World War II. He falls hard for ballerina Lise Dassin—and so do a few of his friends. Bunheads, brace yourselves, because An American in Paris stars countless ballet dancers, including New York City Ballet principal Robert Fairchild as Jerry and the Royal Ballet's Leanne Cope as Lise. The show also features former Miami City Ballet soloist Sara Esty, former Atlanta Ballet principal Laura Feig and former Boston Ballet soloist Michael Cusumano, to name a few.
The man behind all the magic is also new to directing on the Great White Way: Christopher Wheeldon, one of the ballet world's most in-demand choreographers. He cast the dancers just as he would a ballet company. "The auditions were so exciting," says Wheeldon, who also choreographed the show. "I loved seeing dancers who thought they couldn't sing find out that they actually could!" (Both Fairchild and Cope sing like they've been doing it professionally for years.) The ballet-based ensemble also brings a unique characteristic to the Broadway stage: amazing feet. "I love archy, dreamy feet," Wheeldon says. "But beyond that, I was looking for complete artists who could sing, dance and act beautifully."
The Jazzie for the Most Mia-y Movement goes to…Finding Neverland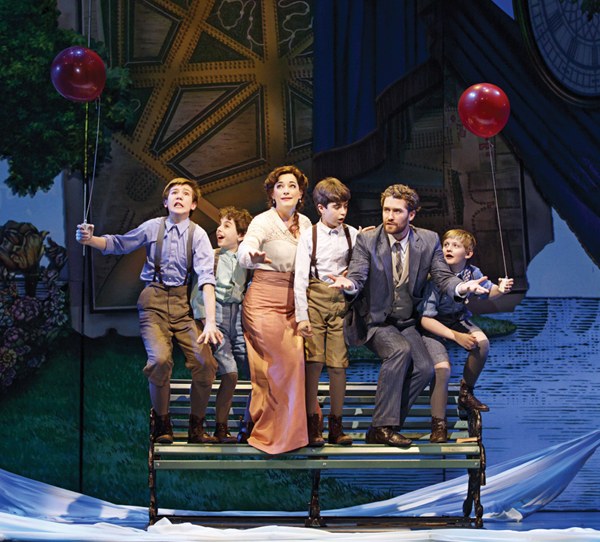 Finding Neverland (photo by Carol Rosegg, courtesy Richard Kornberg & Associates)
Mia Michaels choreographed the nonstop dancing in this tale of "how Peter became Pan." So if you can take your eyes off "Glee" front man Matthew Morrison (who plays Peter Pan author J.M. Barrie) and mega-celeb Kelsey Grammer (as Barrie's producer and, later, dream Captain Hook), you're going to want to watch the dancers, especially Melanie Moore, the "SYTYCD" Season 8 winner, former Shaping Sound company member and Dance Spirit cover girl.
The show's choreography is so distinctly Mia, with huge leaps and dramatic leans
into side-tilts, all intricately woven into explosive, full-bodied "I hope you do cardio" dancing. If you love Michaels' signature contemporary quirk—as seen on "SYTYCD"—you'll love Finding Neverland's most Mia-y numbers, "Circus of Your Mind" and "We Own the Night."
The Jazzie for the Fastest, Highest-Kicking Tour of NYC goes to…On the Town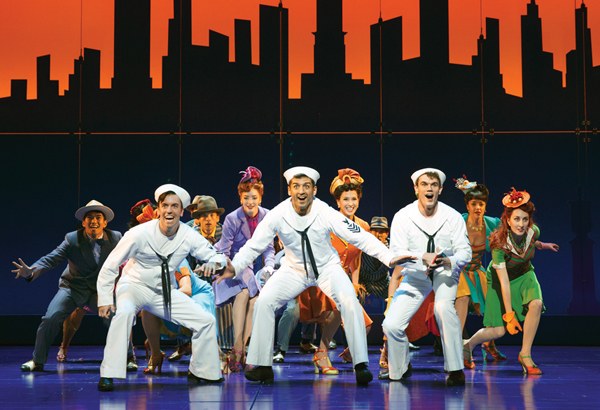 On the Town (photo by Joan Marcus, courtesy Matt Ross PR)
Set in 1944, On the Town follows three Navy men on their quest to see the sights—and find suitable ladies—during a 24-hour stint in the Big Apple. You'll leave the theater humming its hallmark tune, "New York, New York," and Joshua Bergasse's old-school Broadway choreography looks every bit as fun to dance as it is to watch. From a bumpy taxi ride to a caveman boogie in the American Museum of Natural History to a hilarious chase through the practice rooms of Carnegie Hall, the movement just doesn't stop. There's also a dream—and dreamy—pas de deux in a boxing ring, performed by On the Town leads Tony Yazbeck and New York City Ballet principal/Broadway newcomer Megan Fairchild.
Fairchild plays Ivy Smith, a "Miss Turnstiles" pageant winner whose picture on the subway inspires sailor Gabey (Yazbeck) to search for her. "I love playing Ivy. And it's refreshing to play a real person," Fairchild says. "I feel like I'm just being myself. In ballet, I'm always being a ballerina. Now, on Broadway, I get to have a huge personality as a character who has faults and secrets and little lies." But Fairchild didn't leave her pointe shoes back at NYCB, and her glorious technique shines through the entire production.
The Jazzie for the Most Dancing in Ornate Ball Gowns goes to…Gigi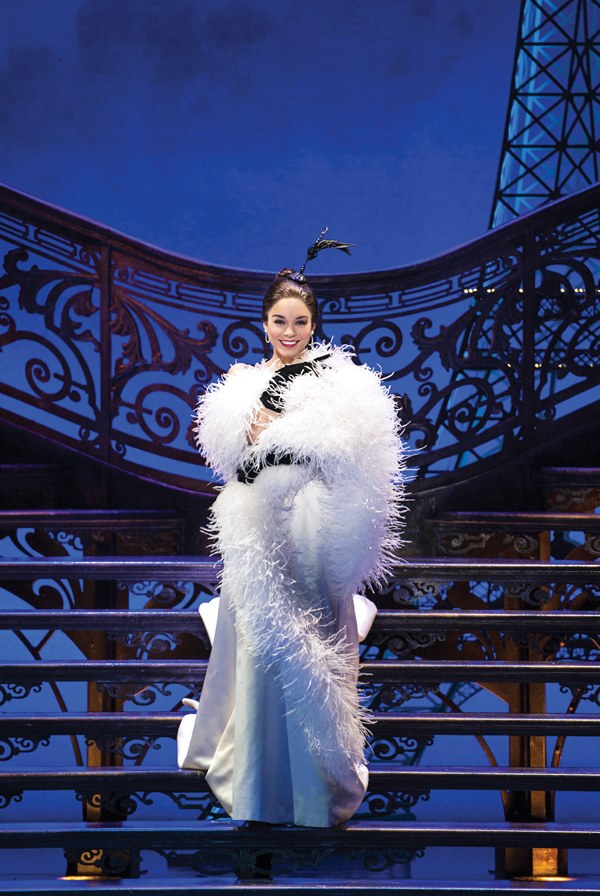 Vanessa Hudgens as Gigi (photo by Margot Schulman, courtesy Boneau/Bryan-Brown)
High School Musical darling Vanessa Hudgens leads the cast of Gigi, a coming-
of-age tale about a teenage girl in Paris who prefers raising a ruckus to learning the fine art of elegant party-going—much to her great-aunt's dismay. The story gets going when Gigi attracts the attention of local gajillionaire Gaston Lachaille, who's played by Corey Cott (formerly of Newsies).
Yes, the love story is slightly unbelievable (he's much, much older than she), but the constant dancing, choreographed by the ever-in-demand Joshua Bergasse, is divine—especially when the ensemble women don luscious ball gowns.
The Jazzie for the Best dancing on a train goes to…On the Twentieth Century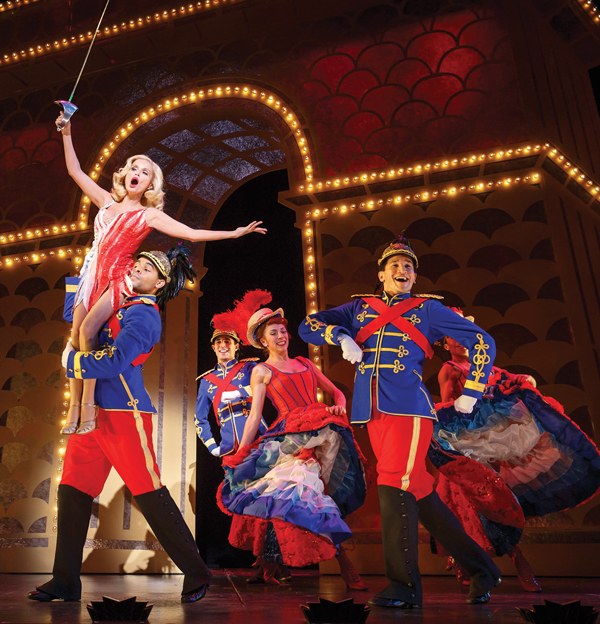 Kristin Chenoweth (left) and the cast of On the Twentieth Century (photo by Joan Marcus, courtesy Polk & Co)
Kristin Chenoweth, the ultimate Broadway baby, is back on the Great White Way—this time as a movie star aboard a luxury train. And remember Peter Gallagher, who played company director Jonathan Reeves in Center Stage (and Sandy Cohen on "The O.C.")? He's in it, too, as a bummed-out producer trying to lure his former lover and muse (Chenoweth) back to the theater. It's a Broadway show about Broadway, and with choreography by Tony winner Warren Carlyle, it doesn't get much better than that.
We've been talking a lot about Christopher Wheeldon's An American in Paris, and for good reason—the show's 14 Tony nominations might have something to do with it, as well as Wheeldon's genius choreography.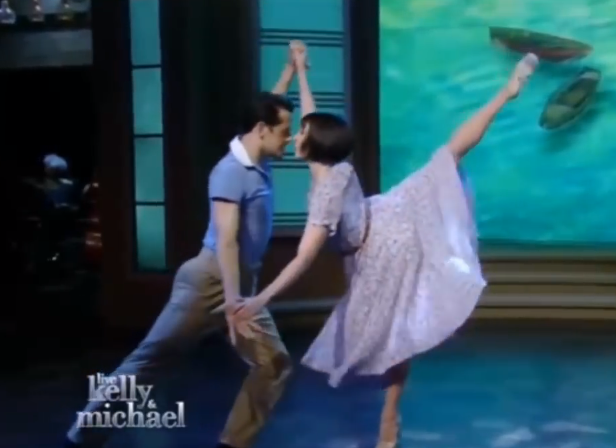 Robert Fairchild and Leanne Cope of An American in Paris performing on "Live! With Kelly and Michael." (Screenshot via YouTube)
Obviously with all the buzz around An American in Paris, we want to relive the magic again and again, but only short clips are available online. Luckily though, the stars of the show, New York City Ballet's Robert Fairchild and the Royal Ballet's Leanne Cope, were guests on "Live! With Kelly and Michael" this past Friday. The duo performed a lovely bit of choreography, and it was amazing to see how both dancers' ballet backgrounds translated into the world of musical theater. They performed a very Wheeldon pas de deux: Cope's legs-for-days extended in high développés as Fairchild whisked her around the stage. We were even treated to Fairchild's singing voice, and it didn't disappoint. While the clip isn't front row on Broadway, it'll certainly do! Watch the entire segment below:
With T-minus mere hours until the danciest Tony Awards ever (!), the Broadway community has been pretty much drowning in statues, plaques and sealed white envelopes for days. Last Sunday evening, for example, marked the 60th annual Drama Desk Awards, which pitted both Broadway and Off-Broadway shows against each other. And the Theatre World Awards, which recognize stellar Broadway debuts, were held the following night in the heart of midtown Manhattan.
Just a little further downtown, another ceremony celebrated the most fantastic contingency of the Great White Way on Monday: The Fred & Adele Astaire Awards! Held at NYU's Skirball Center of the Performing Arts, the Astaire Awards honor Broadway's outstanding male and female dancers, choreographers and lifetime achievers. It was a long evening of great performances and speeches—here were the highlights:
1. Host Christina Bianco's impressions of Kristin Chenoweth, Bernadette Peters, Patti LuPone, Julie Andrews, Barbra Streisand, Liza Minnelli and Celine Dion. Six Broadway legends (plus a diva) in one word: Amazeballs. Watch this clip of Bianco performing at 54 Below to get an idea of her magic:
2. Joel Grey's Lifetime Achievement Award presentation. Before a heartfelt speech by his daughter (Dirty Dancing and "Dancing with the Stars" champ Jennifer Grey), there was a short film highlighting just a few of Joel Grey's many contributions to the theater world, including the original emcee in Cabaret, the Wizard of Oz in Wicked, Amos Hart in Chicago's 1996 revival and leading roles in Goodtime Charley, George M!, Anything Goes—even a part in the movie Dancer in the Dark, starring Björk. Take a look at Grey in the role he's most known for (and for which he won an Academy Award), the emcee the 1972 film version of Cabaret:
3. The awards! Each category was filled with intense competition—making it impossible to select just one winner in the Outstanding Male Dancer and Outstanding Choreography sectors: Robert Fairchild (An American in Paris) and Tony Yazbeck (On the Town) tied as Best Dancers, as did choreographers Christopher Wheeldon (An American in Paris) and Joshua Bergasse (On the Town). Leanne Cope (An American in Paris) took the Award for Outstanding Female Dancer.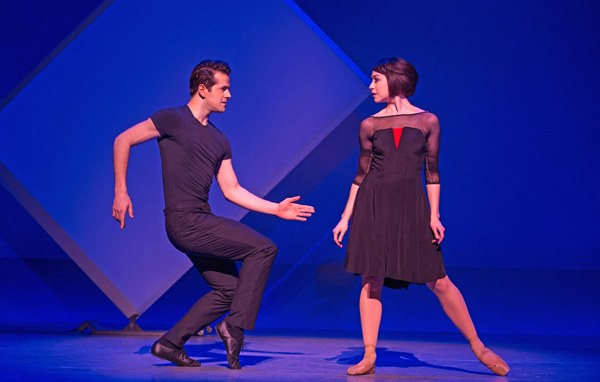 Did I mention Fairchild (left) also took home a Drama Desk Award for Outstanding Actor in a Musical on Sunday? (Fairchild and Cope in An American in Paris; photo © Matthew Murphy)
4. The extra awards! Four "bellhops" from On the Twentieth Century won a special award for Outstanding Ensemble Performers after a tap-tastic rendition of "Life is Like a Train," choreographed by Warren Carlyle. This year's Astaire Awards also recognized choreography on screen: Akram Khan received the award for Outstanding Choreography in a Feature Film for his work on Desert Dancer. (Also notable: Aakomon Jones was nominated twice in that category for his choreography in both Get on Up and Pitch Perfect 2.)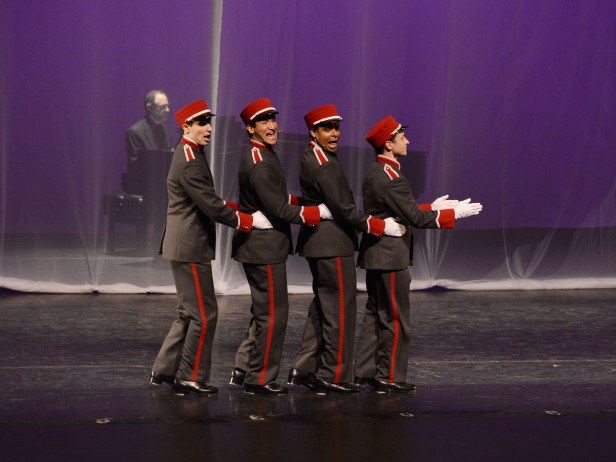 On the Twentieth Century's Phillip Attmore, Rick Faugno, Drew King, Richard Riaz Yoder at the Astaire Awards (Photo by Presley Ann/PatrickMcMullan)
5. Studio Bleu Dance Center's closing number, Motown. One of the Astaire Awards' co-sponsors is New York City Dance Alliance, so one might guess there'd be some pretty spectacular kids' performances. And the dancers from Ashburn, VA, totally delivered. Their energy, technique, powerhouse stamina and amazing tapping had the entire audience on their feet—one of only two standing ovations for the entire evening. (The first was for Grey.) Can't wait to see some of these dancers on Broadway in years to come!
The Tonys are coming, the Tonys are coming! It's like musical theater Christmas!
The 2015 Tony Award nominations were announced this morning by the ever-glamorous Broadway (and TV and movie) star Mary Louise Parker and Bruce Willis (whom you know as "Dancing with the Stars" front-runner Rumer Willis' dad). And guys, there are so many amazing things to report. Because, well, ballet.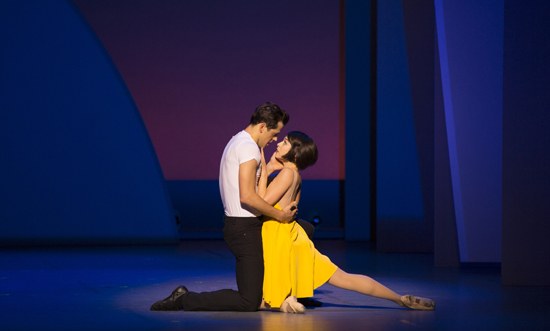 Robert Fairchild and Leanne Cope in Christopher Wheeldon's An American in Paris (Photo by Angela Sterling, courtesy Boneau/Bryan-Brown)
New York City Ballet principal Robert Fairchild and Royal Ballet first artist Leanne Cope received Tony nominations for their lead performances in An American in Paris. Christopher Wheeldon—ballet choreographer extraordinaire—earned TWO nominations for the show, for both best direction and best choreography of a musical.
Joshua Bergasse also earned a nom for his choreography of On the Town. Remember when he taught us 16 counts of the number "New York, New York"? You might want to revisit that combo before June 7—if the cast performs it at the awards ceremony, you can dance along with them in front of your TV. (Y'all know I certainly will be.)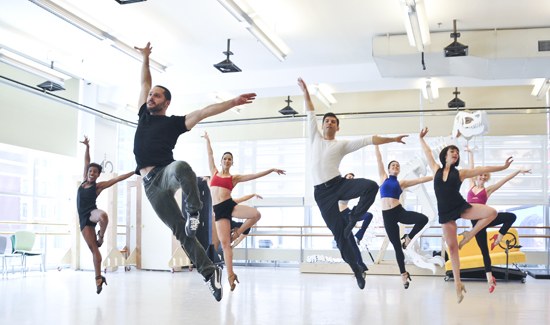 Joshua Bergasse (front) rehearsing the cast of On the Town (Photo by Jenny Anderson, courtesy Matt Ross Public Relations)
Other choreographers nominated include Casey Nicholaw (Something Rotten!), Christopher Gattelli (The King and I) and Scott Graham and Steven Hoggett for Frantic Assembly (The Curious Incident of the Dog in the Night-Time).
Chita Rivera—as in West Side Story, Fosse and OVERALL BROADWAY LEGEND CHITA RIVERA—received a nomination as best female lead performer in a musical for her role in The Visit. She plays an aging bajillionaire who returns to her small hometown to seek revenge on a former boyfriend—and the town itself. And while she doesn't do a whole lotta dancing in the show, I think we can expect a pretty stellar performance at the Awards. After all, it's her 10th Tony nomination, so...go big or go fun home, amirite?
All in all, An American in Paris racked up 12 Tony nominations—the most this year, tied with Fun Home. Get the full list of nominees here, and start placing your bets now! Who do you think should win for best choreography? Was anyone (or any show) snubbed? Let us know what you think in the comments!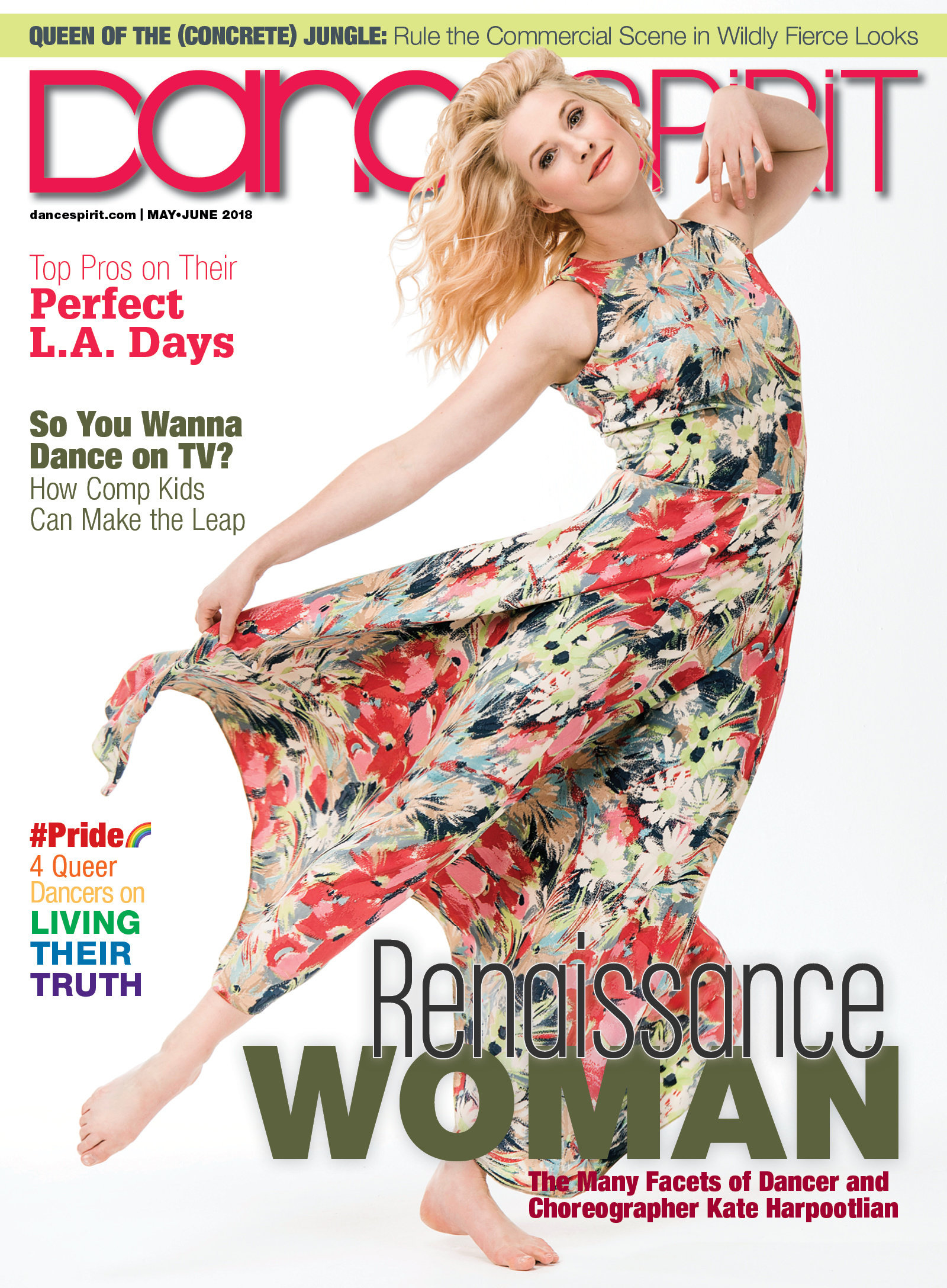 Get Dance Spirit in your inbox