Aug. 10, 2012 05:40PM EST
In honor of Dance Spirit's 15th birthday, we decided to check in with a few of our favorite past cover stars. They wrote to us about how being on the cover changed their careers. Memories!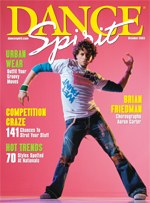 Brian Friedman,
October 2003
"When I was asked to be on the cover, I was thrilled. I felt like I'd finally made it. Looking back, it was only the beginning of my choreography career, and so much has happened since. My work has evolved in a beautiful way, and that cover so many years ago gave me the confidence to chase my destiny. Thank you, Dance Spirit, for believing in me and my dreams!"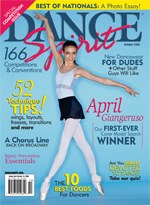 April Giangeruso,
October 2006 and March 2011
"Never in my wildest dreams did I believe I would be on the cover of a magazine. When I learned I had won the first Cover Model Search contest—and that so many people had supported me—I got a huge confidence boost. Six years later, I feel blessed to be dancing for my dream company, American Ballet Theatre, where I'm surrounded by inspiration."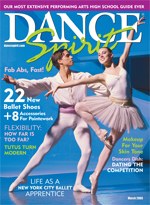 Tiler Peck,
March 2005
"Dance Spirit was the first cover I'd ever been on, so it opened many doors for me. It made me a recognizable face and name, and gave me the confidence to continue reaching for my dance goals. It humbles me to think I share the cover of this special magazine with so many other inspirational and talented artists."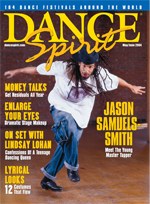 Jason Samuels Smith,
May/June 2004
"It was extremely humbling and gratifying appearing on the cover—it was my first appearance in any major publication. I felt as if not only I, but tap dance as a genre, had won a victory in the fight for visibility and acknowledgement."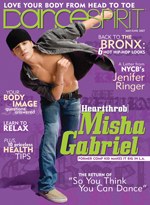 Misha Gabriel,
May/June 2007
"I grew up reading Dance Spirit, so it was an honor to be recognized by my community and by such a strong voice in the dance world. Thanks, DS!"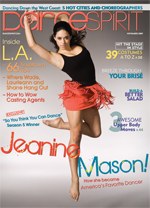 Jeanine Mason,
November 2009
"I remember first appearing in DS in a tiny photo from Nationals—it was the most exciting moment of my life! Then, seeing my "So You Think You Can Dance" cover was the realization of my dream to be a role model and to inspire others as I have been inspired. Being a part of DS has been one of the greatest honors of my life. The magazine will always be an integral part of my journey."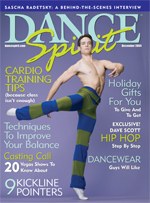 Sascha Radetsky,
December 2004
"I'm grateful to have appeared on the cover of Dance Spirit. The magazine is relevant, influential and, most of all, a lot of fun. Congratulations to the DS staff on reaching this milestone!"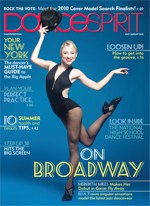 Meredith Miles,
July/August 2010
"Being on the cover gave me exposure to a large group of people I might not have reached otherwise. The media attention I received helped document an exciting time in my career."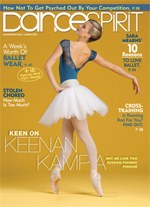 Keenan Kampa,
March 2012
"Being on the cover was such an honor. It afforded me the opportunity to reach a huge dance readership beyond the ballet world. The amount of support and encouragement I've received has been overwhelming. I'm leaving for Russia with a support system I never imagined."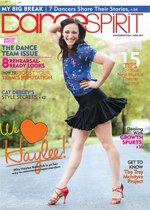 Haylee Roderick,
April 2011
"Being able to reach out to younger dancers, to inspire or guide them, is very rewarding. DS does an incredible job staying current with what's going on in the dance world—and it has the sweetest staff there is. [Editor's note: We're blushing!] Being a cover girl is an honor I will always remember and be proud of."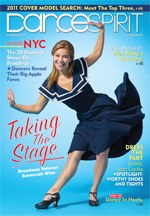 Savannah Wise,
July/August 2011
"My dancer friends from when I was young couldn't believe it. 'You're on the cover of what?!' was a pretty common response. When you're a performer, your work is primarily onstage. Since most of my family lives far away, it's really cool when I get to share what I'm doing with them from miles away. That cover is framed in my living room."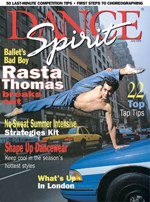 Rasta Thomas,
June 2000 and September 2007
"Dance Spirit reaches a younger generation of dancers as well as seasoned professionals, so being on the cover twice was exciting because that's what my show, Rock the Ballet, is all about. My wife, Adrienne [Canterna] (a DS cover girl in November 1998), and the Bad Boys of Dance are dedicated to sharing our love for dance around the world, and that's exactly what DS does. Keep doing what you're doing, DS—you're the best!"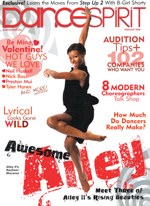 Rachael McLaren,
February 2008
"I was over the moon when I learned I'd been selected for the cover! It gave me the boost I needed to believe in myself. It also helped me realize how much support I had from family, teachers and friends who were proud of my achievements."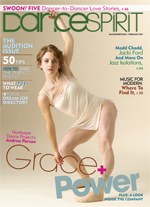 Andrea Parson,
February 2011
"My experience on the cover taught me that you don't have to be a perfect dancer to be on the cover of a magazine. You just have to be honest and happy with who you are and how you move."
Jan. 11, 2011 11:00AM EST
Onstage, Andrea Parson appears trapped in lamplight, like a moth. Rapid-fire spoken words set her pace and for the next 15 minutes, she seems to teeter on the edge of sanity. At one moment, her foot spirals upward, searches above her head, past her ear—then whacks the floor. At another, her arm cuts like a sword into the surrounding darkness.
This on-the-edge-of-your-seat solo Not I was choreographed for 23-year-old Andrea by Sarah Slipper, artistic director of the Northwest Dance Project (NWDP), a company Andrea has been a part of since 2007. Not I showcases Andrea's technique and her unbelievable artistry. Fittingly, in November, she was honored with the prestigious Princess Grace Award in Dance.
But this budding superstar hasn't been handed everything on a silver platter. Instead, Andrea has built her career with the qualities she'll need to become a long-lasting artist in the dance world—strong technique, tenacity and determination—because what matters to her most is not the accolades or the attention, but the work. In fact, because of her stamina and laser-like focus, Slipper nicknamed Andrea, "Terminator."
Andrea began dancing at age 3 at a competition studio called Oregon Dance Academy (which no longer exists). She took a break at age 9 for a few years, then from ages 12 to 18 did her pre-professional training at the Northwest Conservatory of Dance in Hillsboro, OR. She took classes in classical ballet and jazz, adding modern to her rep in high school. By 18, Andrea had also attended two different Joffrey Ballet programs.
Andrea says her parents were supportive, but it wasn't easy to get them to pay for as many classes as she wanted. "It got to be expensive," Andrea says. So she and her mother held fundraisers with family and friends. "I was very strong-willed, but my real challenge was convincing myself that I could become a professional dancer and then showing that to them."
A turning point for Andrea happened just before she started college, in August 2005, when she saw the Northwest Dance Project (known then as the Northwest Professional Dance Project) perform. At the time, the NWPDP was one of the only groups in the US dancing almost all newly commissioned works from an international roster of choreographers. Andrea was "blown away" by the dancers, who were young, hip and gifted, and the contemporary ballet style she saw on stage.
At Loyola Marymount University in L.A., Andrea continued with her ballet training, but the program emphasized modern dance. Then, in the spring of 2006 (her freshman year), she got the opportunity to audition for NWDP's affiliated summer training-and-audition project, now called LAUNCH. She didn't get in. She says she wasn't familiar enough with contemporary ballet yet and she didn't perform her best because she felt intimidated. However, she became determined to eventually make it.
In the summer of 2007, Andrea enrolled in San Francisco Conservatory of Dance to learn more about contemporary ballet. For the next year, she also attended extra ballet classes and met often with her professors to discuss how she could improve. Later that year, her audition was successful.
During her first summer at NWDP, Andrea danced a solo in Not Yet by Cayetano Soto and in Inner Shore by Luca Veggetti—the newly appointed resident artistic director of Morphoses for the 2011–12 season. From them she learned you must set aside your own ideas of a choreographer's work, to be open and "to be fearless."
These days, NWDP is Andrea's second home. "It's another family," she says. "I feel like a worker. I love it." As part of NWDP, Andrea rehearses six days a week and teaches. Through NWDP and LAUNCH she has worked with renowned choreographers and directors including Andrea Miller, Aszure Barton, James Canfield, Benoit-Swan Pouffer and many more.
Company dancer Patrick Kilbane says Andrea leads by example. "She challenges all of us," he says. "There's an innate focus to her work which forces us to rise to that level of commitment."
Andrea has the same praise for her colleagues. "Everyone at NWDP is young, vibrant and emerging," Andrea says. "Sarah Slipper often brings in choreographers who don't usually work on the West Coast or even in the US. I'm so thankful for that. It's an education as much as it is a job."
Now, Andrea's even getting her own opportunities to choreograph, under the guidance of Slipper and others. As a fledgling dance creator, she already has mantras: "First research and improv. Be patient and let things unfold naturally," she says. "Andrea Miller told me: 'Just try anything, even if you have doubts.' "
On top of making her own dances, Andrea would also eventually like to work in Europe, with Rachel Tess of Rumpus Room Dance and again with Andrea Miller of Gallim Dance. But for now, she's happy to take on all she can from the studios of NWDP's home in Portland, OR.
After the 2010 Princess Grace Award ceremony, Andrea reflected: "The entire night and celebration have been so inspiring to me," she says. "I feel I'm at the beginning of a journey in which there are no limits."
Luca Veggetti, Newly appointed resident artistic director of Morphoses for the 2011-2012 season, on Andrea: "She has a beautiful quality and is extremely focused. The way she approaches work is really an example of how a dancer should behave."
Andrea Parson on praise: "No, it's not about recognition or praise. I need to dance. No amount of affirmation will satisfy me because it's not what I need."
Andrea Parson on her 2010 Princess Grace Award night: "The gala was incredible—one of the best nights of my life!" Actor Denzel Washington said something that Andrea says will stick with her: "It's not how much you have, but what you do with what you have."
"One of my favorite parts of the evening was walking the red carpet outside of the event. For a moment, I felt like I was at the Oscars or the Grammys."
Fast Facts
Birthday: March 11, 1987
Favorite food: Almond butter
Dream vacation spot: Islands of the South Pacific
Favorite place to tour to: Germany
If I were not a dancer... "I'd do post-graduate service, travel, live in a different part of the world, teach, work with kids."
Most-played song on her iPod: "Silent Shout" by The Knife
Favorite dessert: Cheesecake
Guilty pleasure: "Spending extra time preparing home-cooked meals like sourdough sweet potato pancakes."
Favorite movie: Sixteen Candles
Favorite choreographer: Andrea Miller, artistic director of Gallim Dance
Advice for Dance Spirit readers: "Don't set limits for yourself. Just go for it. Stand in front in class—get up there even if you're scared. It's OK to feel uncomfortable."


Get Dance Spirit in your inbox