Nov. 19, 2019 01:31PM EST
Francesca Hayward (center) in Cats (courtesy NBCUniversal)
Get excited, Jellicle fans: It's almost time meow!
We're about a month out from the release of the new movie version of Cats. To mark the occasion, the film's team has dropped another dance-filled trailer. The vid offers further peeks at Andy Blankenbuehler's choreography—and at the "digital fur technology"-enhanced versions of the celebrities (dance-world and, uh, world-world) involved, from Taylor Swift to Francesca Hayward.
Dance Videos
Jul. 18, 2019 10:39AM EST
Universal Pictures
Jellicle obsessives, rejoice: There's a new video out that offers a (surprisingly substantive) look at the dancing that went down on the set of the new Cats movie. And you can watch it RIGHT MEOW.
Dance Videos
Jul. 25, 2018 11:42AM EST
Bob Fosse in the studio (Dance Magazine Archives)
OH. MY. FOSSE.
"Fosse/Verdon," an eight-episode tv series about iconic choreographer Bob Fosse and his longtime muse (and wife) Gwen Verdon, is coming to FX.
But wait, guys. It gets even better:
Dance News
Oct. 02, 2017 05:17PM EST
NYCDA executive director Joe Lanteri with dance legend Bebe Neuwirth on the red carpet (photo via @nycda on Instagram)
The annual New York City Dance Alliance Foundation fundraising gala, "Bright Lights Shining Stars," is usually a star-studded affair. But last night's 2017 event proved to be extra epic, thanks to tons of superb performances and appearances by some of Broadway's best—and most legendary—dancers.
Jun. 18, 2017 07:00AM EST
Playbill
Well, if you're Broadway vlogger and dance newbie Tyler Mount, super-easy! In a special video for Playbill.com, Broadway CATS Christine Cornish Smith, Tyler Hanes and Ahmad Simmons lead Mount through a phrase from the feline-tastic musical's opening number, "Jellicle Songs for Jellicle Cats."
Dance Videos
May. 11, 2017 02:07PM EST
Photo by Jeremy Daniel
When a Broadway show invites you to take a backstage tour, you go. When that show happens to be the dancey new hit Bandstand, you MOST DEFINITELY go—and you livestream the whole thing so everyone else can get in on the #backstageparty magic too.
That's exactly what happened the other night, when we got to follow ensemble dancer Morgan Marcell through her pre-show routine at the Bernard B. Jacobs Theatre. Marcell told us about her typical warm-up, showed us her dressing room and even let us watch her rehearse some of the show's moves onstage with her dance partner Ryan Vandenboom and Bandstand's dance captain Marc A. Heitzman.
It. Was. Everything. 🎉🎺⭐️🎶😍✨🎭
Dance Videos
Mar. 23, 2017 03:36PM EST
Hot new musical alert! Producers announced last week that Bandstand, a super dance-y new show and one of Andy Blankenbuehler's latest projects, will open on the Great White Way in April 2017. Hamilton heavyweight Blankenbuehler, who led Bandstand's original creative team during its initial run at the Paper Mill Playhouse in 2015, is serving as both director and choreographer.
The jazzy show is set in a 1945 nightclub and centers on a radio contest searching for the next big swing band. So far, the only cast members announced are the leads: Tony nominee Laura Osnes (known for Cinderella), who plays a singer and WWII widow named Julia, and Corey Cott (of Gigi), who plays Donny, a singer/songwriter and WWII veteran hoping to win the contest.
"As a director, I'm so lucky to be involved with a show that is so rich in emotion and heart," Blankenbuehler said to BroadwayWorld.com. "As a choreographer, I'm over the moon to be dancing to a score that sizzles like nothing else on Broadway."
And he's not kidding. Check out the promo video from the show's Paper Mill run and get excited, because the choreo is seriously FIERCE. ?
Mar. 23, 2017 06:55AM EST
Broadway on TV alert! Broadway on TV alert! PBS is airing a new documentary this week that gets down and dirty with the team behind the current revival of Annie.
"Annie: It's the Hard-Knock Life, From Script to Stage" zooms in on the creation of a single number in the show (that'd be "It's the Hard-Knock Life," of course). There's a ton of interesting footage of both the super-talented orphans and the awesome creative team—including one of our all-time faves, choreographer Andy Blankenbuehler—at work. You'll get a look at everything from the costume and set designs to the dance rehearsals. And naturally, there's plenty of the cast of orphans just being their insanely cute selves.
The film airs this Friday, June 28 at 9 pm EST (click here to check your local listings). In the meantime, take a peek at this trailer, which features Blankenbuehler doing his not-to-be-missed "angry orphan" face:
Feb. 11, 2017 07:00AM EST
Backstage at BroadwayCon 2017, Hamilton's Tony-winning choreographer Andy Blankenbuehler told DS all about his new Broadway show Bandstand, which starts previews March 31. Set in 1945, Bandstand follows a ragtag group of just-returned World War II veterans forming—what else?—a swing band, so they can enter a national talent contest. Whether you're a longtime Hamilfan or just dream of dancing for a top Broadway choreographer like Blankenbuehler, trust us: this exclusive Q&A is major motivation.
May. 09, 2016 02:03PM EST
Breaking news, Broadway babies! The Cats revival casting has finally been announced—and it's a fabulous who's who list of major dance celebs.
The London Cats revival (courtesy DKC/O&M)
Leading the way is the amazing Ricky Ubeda as Mr. Mistoffelees. The "So You Think You Can Dance" Season 11 winner is no Great White Way newbie: He made his official Broadway debut last year, when he joined the ensemble of On The Town. But it is his first time playing a major role—and showing off his singing chops solo!
The list also includes other On The Town alums: New York City Ballet soloist Georgina Pazcoguin as Victoria (aka the super graceful "white cat"), and Jess LeProtto (also of Newsies and "So You Think You Can Dance") as the mischievous Mungojerrie.
Other highlights? Shonica Gooden—fresh off her Hamilton run—will play Rumpleteazer; New York City Dance Alliance all-star Kolton Krouse will make his Broadway debut as Tumblebrutus; and fellow NYCDA kid Corey Snide, a Juilliard grad who was one of Billy Elliot's Billys, will play Coricopat.
One thing's for certain: This cast of A-list dancers + Andy Blankenbuehler's choreo is sure to = Broadway gold. The production officially opens July 31. Get your tickets now, and check out the full casting list here.
Get Dance Spirit in your inbox
May. 03, 2016 10:51AM EST
Happy month of endless Hamilton celebration Tonys season, Broadway fans! This morning, delightful Book of Mormon alums Andrew Rannells and Nikki M. James announced the 2016 Tony Award nominees. Can you guess which show not only dominated the list, but actually broke the Tony nomination record—which, fun fact, was previously held by The Producers and Billy Elliot? We'll give you .5 seconds. (Don't throw away your shot.)
That's right: In a surprise to pretty much nobody, Hamilton led this year's Tony pack, picking up a staggering 16 noms. That includes nods in all the "biggie" categories (Best Musical, Best Book of a Musical, Best Original Score), a slew of acting nominations and—YAY!—a nom for genius choreographer Andy Blankenbuehler. In fact, the Best Choreography category is crowded with fantastic names this year, including Savion Glover for Shuffle Along and Hofesh Shechter for Fiddler on the Roof.
Lin-Manuel Miranda (center) and the fabulous dancers of Hamilton (photo by Joan Marcus, courtesy Hamilton)
Full list of nominations is below. Tune in to the 70th annual Tony Award ceremony June 12 to see what promises to be a fabulous set of performances—and to find out who takes home what. (And hey, Hamilton fans: Get ready for our July/August issue. Just you wait...just you wait.)
Best Play
Eclipsed
The Father
The Humans
King Charles III
Best Musical
Bright Star
Hamilton
School of Rock—The Musical
Shuffle Along, Or the Making of the Musical Sensation of 1921 and All That Followed
Waitress
Best Revival of a Play
Arthur Miller's The Crucible
Arthur Miller's A View from the Bridge
Blackbird
Long Day's Journey Into Night
Noises Off
Best Revival of a Musical
The Color Purple
Fiddler on the Roof
She Loves Me
Spring Awakening
Best Book of a Musical
Bright Star, Steve Martin
Hamilton, Lin-Manuel Miranda
School of Rock—The Musical, Julian Fellowes
Shuffle Along, Or the Making of the Musical Sensation of 1921 and All That Followed, George C. Wolfe
Best Original Score (Music and/or Lyrics) Written for the Theatre
Bright Star (Music: Steve Martin and Edie Brickell / Lyrics: Edie Brickell)
Hamilton (Music & Lyrics: Lin-Manuel Miranda)
School of Rock—The Musical (Music: Andrew Lloyd Webber / Lyrics: Glenn Slater)
Waitress (Music & Lyrics: Sara Bareilles)
Best Performance by an Actor in a Leading Role in a Play
Gabriel Byrne, Long Day's Journey Into Night
Jeff Daniels, Blackbird
Frank Langella, The Father
Tim Pigott-Smith, King Charles III
Mark Strong, Arthur Miller's A View from the Bridge
Best Performance by an Actress in a Leading Role in a Play
Jessica Lange, Long Day's Journey Into Night
Laurie Metcalf, Misery
Lupita Nyong'o, Eclipsed
Sophie Okonedo, Arthur Miller's The Crucible
Michelle Williams, Blackbird
Best Performance by an Actor in a Leading Role in a Musical
Alex Brightman, School of Rock—The Musical
Danny Burstein, Fiddler on the Roof
Zachary Levi, She Loves Me
Lin-Manuel Miranda, Hamilton
Leslie Odom, Jr., Hamilton
Best Performance by an Actress in a Leading Role in a Musical
Laura Benanti, She Loves Me
Carmen Cusack, Bright Star
Cynthia Erivo, The Color Purple
Jessie Mueller, Waitress
Phillipa Soo, Hamilton
Best Performance by an Actor in a Featured Role in a Play
Reed Birney, The Humans
Bill Camp, Arthur Miller's The Crucible
David Furr, Noises Off
Richard Goulding, King Charles III
Michael Shannon, Long Day's Journey Into Night
Best Performance by an Actress in a Featured Role in a Play
Pascale Armand, Eclipsed
Megan Hilty, Noises Off
Jayne Houdyshell, The Humans
Andrea Martin, Noises Off
Saycon Sengbloh, Eclipsed
Best Performance by an Actor in a Featured Role in a Musical
Daveed Diggs, Hamilton
Brandon Victor Dixon, Shuffle Along, Or the Making of the Musical Sensation of 1921 and All That Followed
Christopher Fitzgerald, Waitress
Jonathan Groff, Hamilton
Christopher Jackson, Hamilton
Best Performance by an Actress in a Featured Role in a Musical
Danielle Brooks, The Color Purple
Renée Elise Goldsberry, Hamilton
Jane Krakowski, She Loves Me
Jennifer Simard, Disaster!
Adrienne Warren, Shuffle Along, Or the Making of the Musical Sensation of 1921 and All That Followed
Best Scenic Design of a Play
Beowulf Boritt, Thérèse Raquin
Christopher Oram, Hughie
Jan Versweyveld, Arthur Miller's A View from the Bridge
David Zinn, The Humans
Best Scenic Design of a Musical
Es Devlin & Finn Ross, American Psycho
David Korins, Hamilton
Santo Loquasto, Shuffle Along, Or the Making of the Musical Sensation of 1921 and All That Followed
David Rockwell, She Loves Me
Best Costume Design of a Play
Jane Greenwood, Long Day's Journey Into Night
Michael Krass, Noises Off
Clint Ramos, Eclipsed
Tom Scutt, King Charles III
Best Costume Design of a Musical
Gregg Barnes, Tuck Everlasting
Jeff Mahshie, She Loves Me
Ann Roth, Shuffle Along, Or the Making of the Musical Sensation of 1921 and All That Followed
Paul Tazewell, Hamilton
Best Lighting Design of a Play
Natasha Katz, Long Day's Journey Into Night
Justin Townsend, The Humans
Jan Versweyveld, Arthur Miller's The Crucible
Jan Versweyveld, Arthur Miller's A View from the Bridge
Best Lighting Design of a Musical
Howell Binkley, Hamilton
Jules Fisher & Peggy Eisenhauer, Shuffle Along, Or the Making of the Musical Sensation of 1921 and All That Followed
Ben Stanton, Spring Awakening
Justin Townsend, American Psycho
Best Direction of a Play
Rupert Goold, King Charles III
Jonathan Kent, Long Day's Journey Into Night
Joe Mantello, The Humans
Liesl Tommy, Eclipsed
Ivo Van Hove, Arthur Miller's A View from the Bridge
Best Direction of a Musical
Michael Arden, Spring Awakening
John Doyle, The Color Purple
Scott Ellis, She Loves Me
Thomas Kail, Hamilton
George C. Wolfe, Shuffle Along, Or the Making of the Musical Sensation of 1921 and All That Followed
Best Choreography
Andy Blankenbuehler, Hamilton
Savion Glover, Shuffle Along, Or the Making of the Musical Sensation of 1921 and All That Followed
Hofesh Shechter, Fiddler on the Roof
Randy Skinner, Dames at Sea
Sergio Trujillo, On Your Feet! The Story of Emilio and Gloria Estefan
Best Orchestrations
August Eriksmoen, Bright Star
Larry Hochman, She Loves Me
Alex Lacamoire, Hamilton
Daryl Waters, Shuffle Along, Or the Making of the Musical Sensation of 1921 and All That Followed
Feb. 25, 2015 10:45AM EST
Soooo have you all heard about the new Lin-Manuel Miranda musical, Hamilton? It's possibly the least likely show of all time: It tells the story of Alexander Hamilton, one of the United States' founding fathers, through, um, rap and R&B. Here's the thing, though: Apparently it's incredible.
Hamilton is currently playing off-Broadway at NYC's Public Theater. But it was just announced that the unstoppable hit, which has been getting big ol' raves left and right, will be moving to the Great White Way's Richard Rodgers Theatre this July. The Richard Rodgers, btw, is where Miranda's last stroke of genius, In the Heights, played for three years.
"That's nice and all," you say, "but is there any dancing in this 18th-century rap musical?" OH HECK YES THERE IS. Because guess what else Hamilton has in common with In the Heights? Mr. Andy Blankenbuehler, whose signature high-octane choreo brings even more crazy energy to the show. The cast also features a slew of talented dancers, including Ariana DeBose, Thayne Jasperson and Ephraim Sykes. You know artists of that caliber aren't just step-touching in the back. So, yeah: Get excited, y'all.
(L to R) Daveed Diggs, Okieriete Onaodowan, Anthony Ramos and Lin-Manuel Miranda break it down in Hamilton (photo by Joan Marcus)
If you're having a hard time picturing what all this out-of-the-box amazingness looks like, watch this montage of some of Hamilton's best moments:
Then listen to Miranda blaze through the musical's incredible opening rap, which he first performed at the White House Poetry Jam back in 2009:
Sep. 12, 2014 01:00PM EST
Sonya Tayeh led a master class for Pace students in May.
(photo courtesy Pace)
Calling all high schoolers: Pace University's Commercial Dance BFA program will host a weekend intensive for prospective students on its campus October 17–19. (And yes, you read that correctly: You can get a degree in commercial dance.)
Unlike a typical college tour, Pace's weekend experience will get you moving. You'll take class with members of the university's dance faculty, including Jess Hendricks and Ginger Cox. If you're a high school senior, you'll have an opportunity to audition for the university's dance department that Friday. There will be two Q&A sessions with the program's administration and students, and you'll get to see Pace dancers perform work by guest faculty members Andy Blankenbuehler and Mandy Moore. Registration begins September 17.
Busy that weekend? Many college dance programs host summer or winter intensives for prospective students. Our September issue includes essential information for more than 150 college and university dance programs, including the degrees offered and contact information. You can also get the latest college dance news delivered right to your inbox by signing up for the free DanceU101 newsletter.
Jun. 11, 2013 03:44PM EST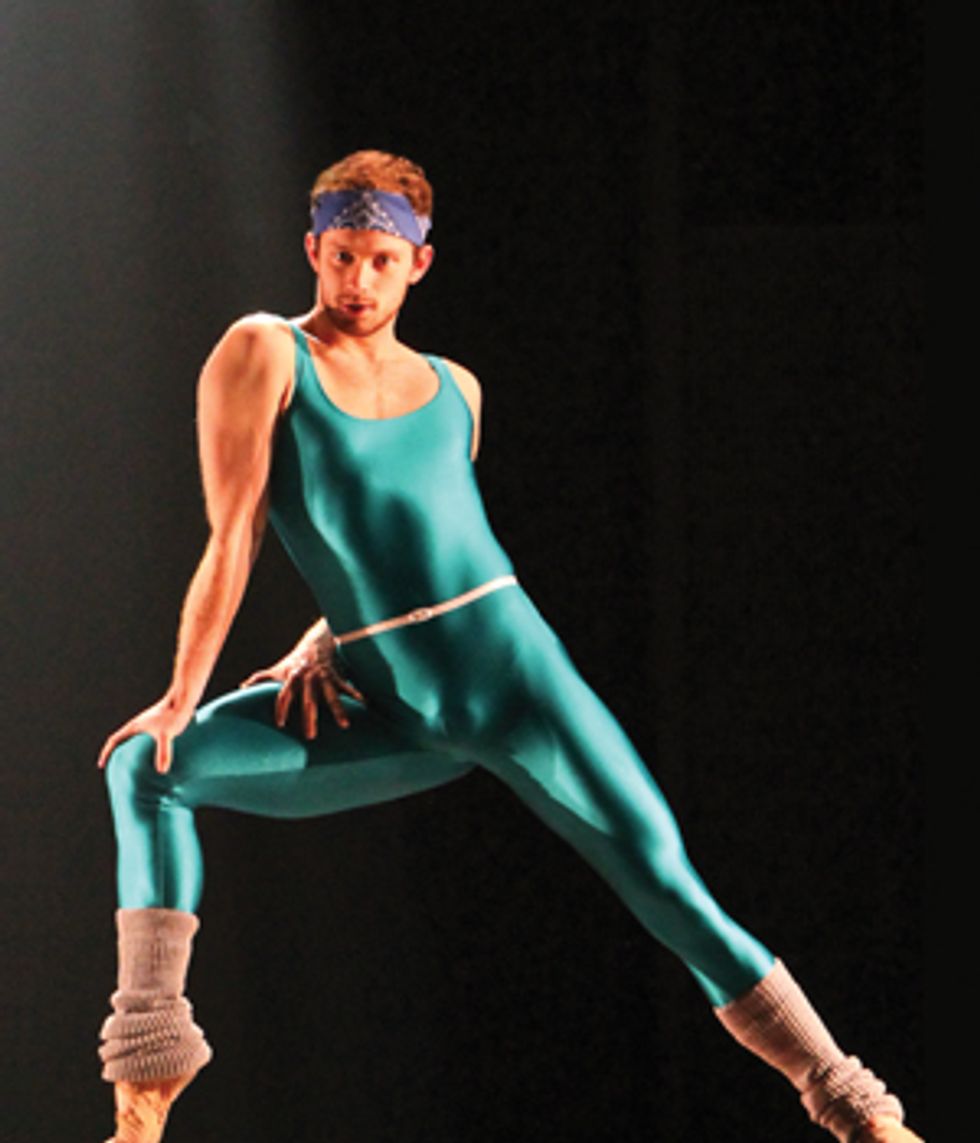 Jakob Karr in Flashdance: The Musical (DRGPhotography)
Jakob Karr, with his amazing extensions, and Kamille Upshaw, with her captivating stage presence, made names for themselves by snatching up award after award on the competition circuit. The two were hired for their first professional dance jobs in 2007—performing together during the halftime show of an alpaca auction in Virginia. And from there, their paths continued to cross: They both moved to NYC for college and then traveled internationally with Rasta Thomas' Bad Boys of Dance. But this past year, Jakob and Kamille switched gears and joined the touring cast of Flashdance: The Musical. Now the two friends are officially in love…with musical theater. "From the first day, I just thought, this feels right," says Jakob. "This is something I could love doing over and over again."
It's not unusual for competition dancers to discover they're destined for musical theater. And with the number of dance-heavy shows on Broadway today, technical dancers are more in demand than ever before. But it takes far more than a killer solo and an impressive collection of platinums to make it on the Great White Way. Read on before you book your ticket to the Big Apple.
Dance This Way
So what kind of dancers do Broadway casting directors covet? Annie choreographer Andy Blankenbuehler says the key is versatility, which many comp kids have in the bag. "The biggest asset young competitive dancers have is the ability to mimic a choreographer's style," he says. "At a convention, students take class from five or six teachers, each with very different styles. They're smart enough to adapt accordingly."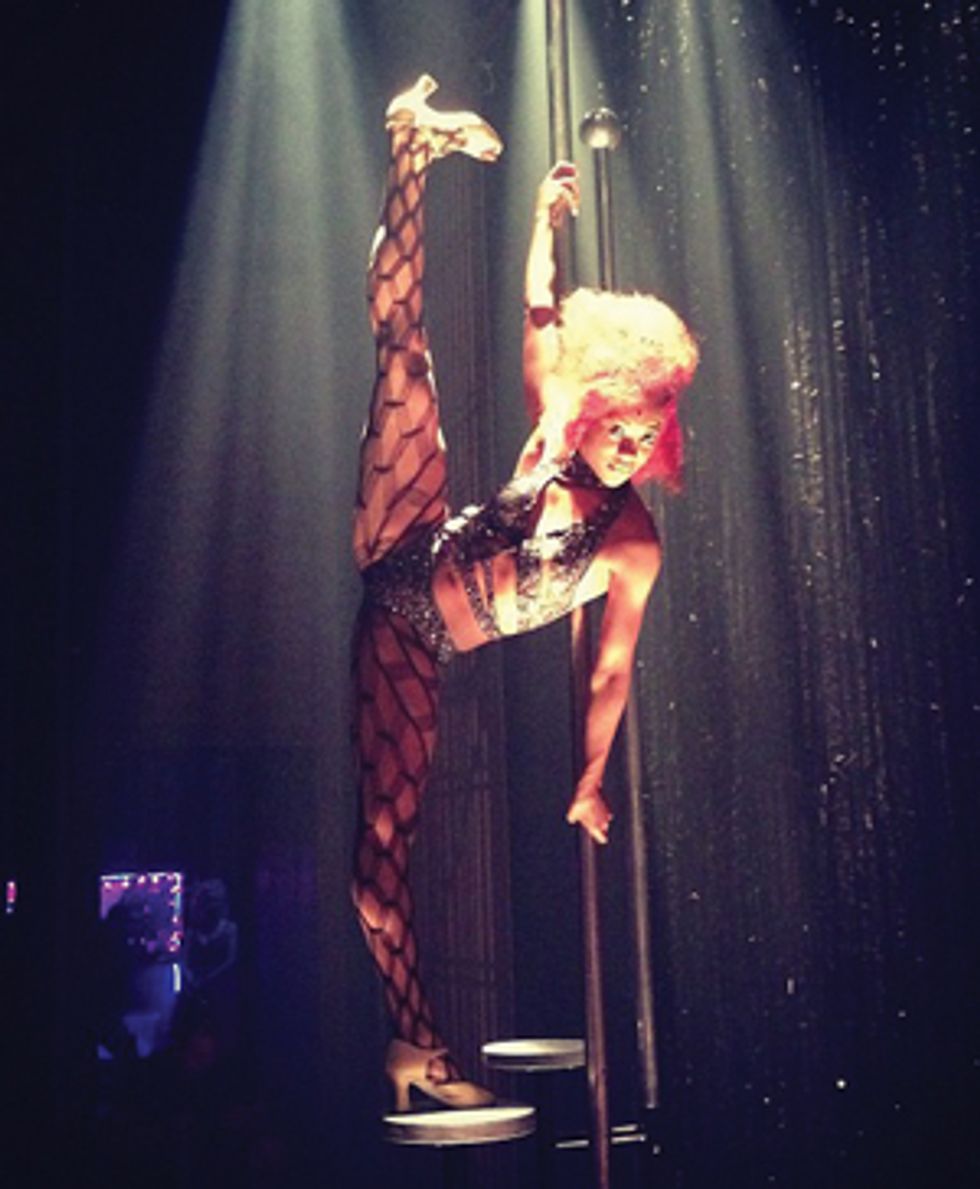 Kamille Upshaw in Flashdance: The Musical (Courtesy Kamille)
Being a smart dancer also means knowing your strengths and understanding what kind of dancing is expected from you at an audition—a lesson Jakob learned the hard way. "My very first audition was for Mary Poppins, and it was so humiliating," he admits. "They made us tap, and I'm probably the world's worst tapper. When I had to perform for the casting directors, I just did time steps over and over again. Believe it or not, I didn't get the job." Do your homework before the big day, and take classes in any styles you're unfamiliar with so you won't be taken by surprise.
Sing Out
No matter how many dance styles you've mastered at your studio, don't expect a job offer unless you can carry a tune. "I can maybe hire one person per show who can't sing. Maybe," says Blankenbuehler, who's worked on productions including In the Heights and Bring It On: The Musical. And rocking out in the shower or along with your car radio doesn't quite cut it. "Just as your body is your instrument for dancing, your vocal cords are your instrument for singing, and you have to know how to work them," says former comp kid and "So You Think You Can Dance" alum Ariana DeBose, who's currently in the ensemble of Motown: The Musical. "Find a vocal coach," she says. "Then choose at least three songs and work on them until you can present your best you no matter what."
Kamille walked into the Flashdance audition—her first musical theater audition—armed with only one semester of voice lessons from The Juilliard School. But she decided confidence would be her greatest weapon. "I figured they were looking for someone who could sell the performance," she says. "You don't need to be able to belt like Whitney Houston to be in an ensemble. Even if you don't feel like you have the best voice, prepare something that showcases your personality." For Kamille, that was Estelle's "American Boy." Jakob's first audition song? " 'Happy Birthday to You,' " he says. "I was as clueless as they come, but the next time I had a song prepared. And now I see a vocal coach whenever I'm in New York."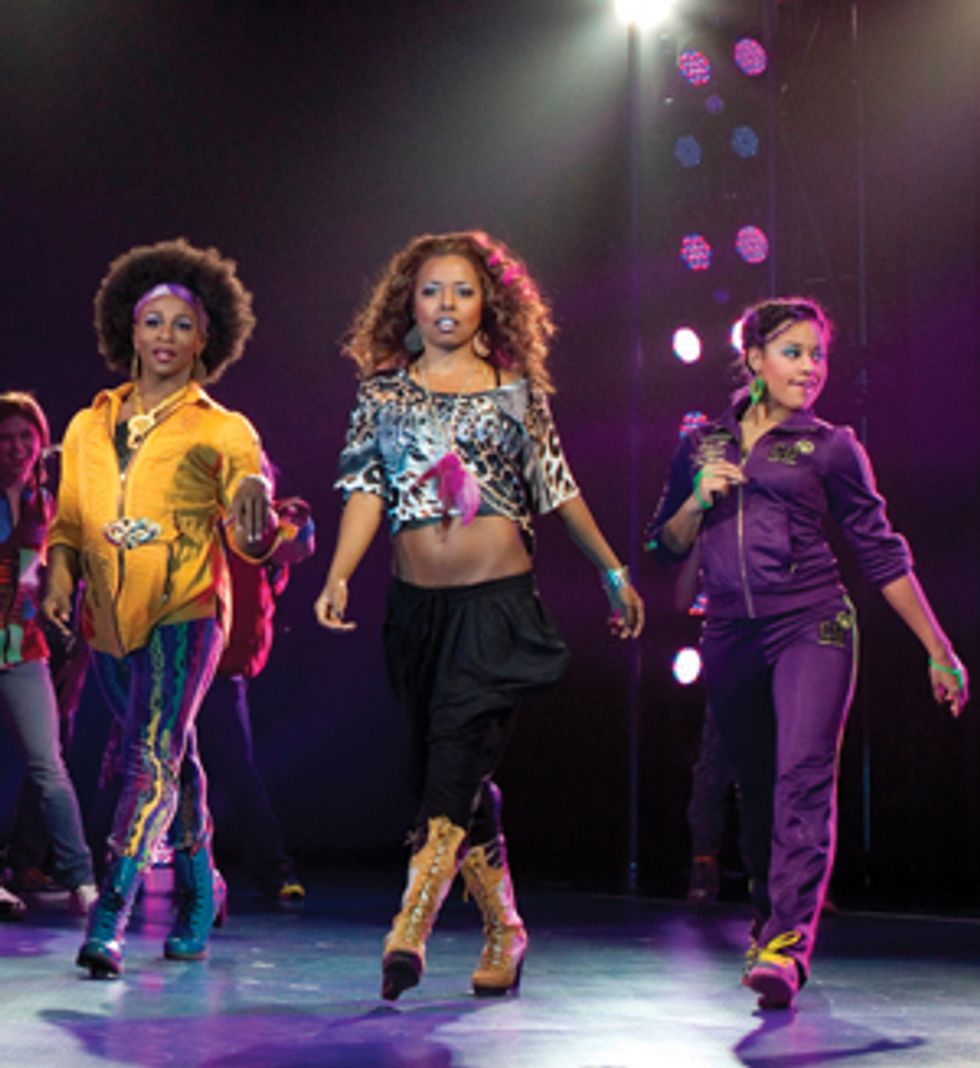 Ariana DeBose (right) in Bring It On (Joan Marcus)
Acting 101 
While some studio kids may have taken voice lessons in addition to dance class, there's a third component they must master before being a true triple threat: "You have to be a performer," Blankenbuehler says. "In a musical, dancers won't necessarily have to sing solos, but they will always have to project emotions."
Newsies dancer John Michael Fiumara, a past New York City Dance Alliance Senior Outstanding Dancer, says the hardest thing about his transition to musical theater was getting into character. "I never really thought of myself as a musical theater person, but just to be safe, I took voice lessons throughout my dance training," he says. "The biggest challenge for me in Newsies was understanding the story and imagining myself as my character, Specs. But the directors told me they chose me because they liked the flavor I gave to the role and the look on my face when I danced." Unfamiliar with acting? Sign up for a class or join a local community theater production.
Create Connections
Even if they've never had an acting or singing lesson, competitive dancers have a built-in resource many others don't: a wide network. "It's amazing how many people I danced with at competitions who are doing Broadway right now," John says. "Competing as a kid gives you so many connections to help you get there." Blankenbuehler, who teaches at NYCDA conventions nationwide, commends the rare dancer who approaches him to ask about upcoming auditions. "The resources are there—you just need to take advantage of them," he says.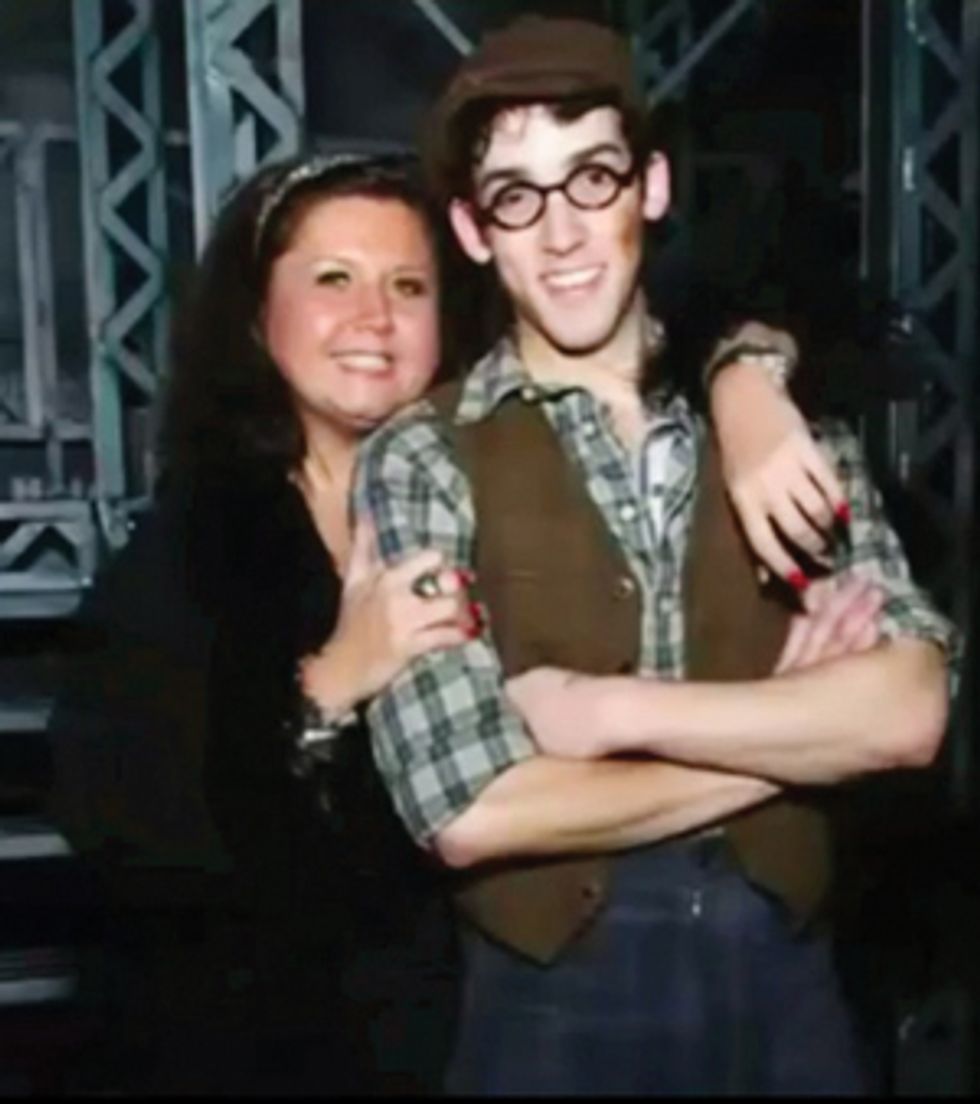 John Michael Fiumara with childhood teacher Abby Lee Miller on the Newsies set (courtesy John)
Once you've left the competition circuit, viewing every audition as a chance to expand your network will make lasting impressions that may lead to more auditions. John auditioned twice for Newsies to no avail, but the casting directors remembered him and called him back for a third, invitation-only audition when the role of Specs opened up. And a casting director from an unsuccessful audition for the show Memphis called Ariana back to audition for what would become her Broadway debut, playing Nautica in Bring It On. "That's how a lot of auditions happen," Ariana says. "You go in for one thing and you don't get the job that day, but they'll like you for something else. That's why I never turn an audition down."
"You're probably going to get a lot of 'no's' before you get a 'yes,' " adds Kamille, who auditioned for many shows while taking a short break from the Flashdance tour this spring. "This industry is hard. You audition more than you work."
Nailed It
After countless auditions and callbacks, nothing beats the feeling of finally nabbing that role. "I got the call and had to leave for the Flashdance tour the next day," Kamille remembers. "There were so many emotions happening at once. But jumping into it like that has been one of the highlights of my career."
If you're a comp kid who's caught the Broadway bug, these dancers prove it's never too late to start tuning your vocal cords, brushing up your acting chops and getting into musical theater auditions. "I didn't grow up singing or acting—I was at a ballet barre in a dance studio," Jakob says. "But with musical theater, I get to do what I love and get paid for it. I'm a part of this world now, and I hope to be part of it for the rest of my life."
Mar. 09, 2013 07:30AM EST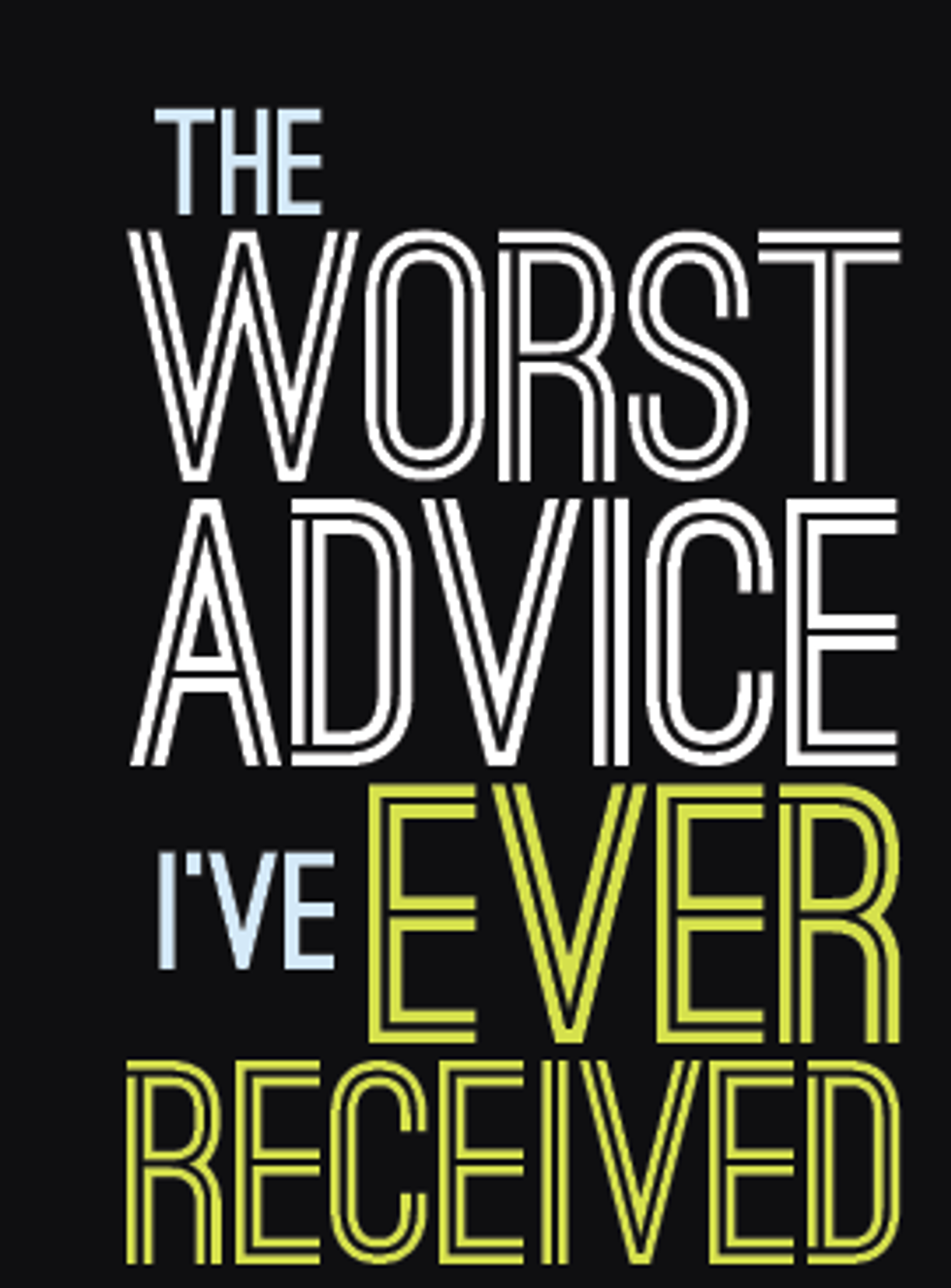 It's official—our April issue is in subscribers' hands! (Non-subscribers, don't fret, it will be on sale Tuesday, March 19.) In this issue, we asked dancers, "What's the worst advice you've ever received?" And they came up with some doozies—from being told to change up their look to being told that being mean to younger dancers was the best way to get ahead (oh no!).
The article inspired the Dance Spirit staff to think back on some of the most terrible advice we've heard in the past. Mine was in high school, when a college admissions counselor told me the only way to keep dancing in college was to attend a conservatory. He couldn't have been more wrong! There are a million ways to dance in college, even if you're not a dance major. For me, that was being a dance minor and joining as many extracurricular clubs as possible.
Here's what the rest of the DS staff had to say:
"If you have a backless costume and can't wear a bra, just use Duct tape to hold yourself in instead! No. Terrible idea. And I have the scars to prove it." —Alison Feller, editor in chief
"That 'faking it until you make it' was the best way to approach turnout. Now, one thoroughly messed-up knee later, I know better." —Margaret Fuhrer, associate editor
"I once had a choreographer tell me to start dancing professionally straight out of high school. Instead, I went to college and joined my school's dance team. It was the best decision I ever made—and it led to me working at Dance Spirit!" —Michael Anne Bailey, assistant/fashion editor
"One of my teachers said if I didn't get my name in lights on Broadway, the only other option for being 'successful' in the dance world was to become a teacher. False!" —Nicole Bilbao, editorial intern
"A teacher once encouraged me to wear a traditional black leotard and pink tights to a college dance audition. While this does always look professional, it's important to check and see if there's a dress code at the auditions you attend. And if there's not, wear a bright leotard or something to help you stand out in a room of talented dancers." —Megan Kirsch, editorial intern
And that's not all. Our amazing advisory board also chimed in with a few pearls of awful wisdom:
"I've been told, 'Do this job, you'll make a fortune and then be able to cruise for a bit and do whatever jobs you want.' Every time I've been told a job was going to make me a lot of money, it never panned out—and my artistic sensibilities were compromised. The best work, the work that changes lives, is work that we connect to, work that we love. Yes, we have to pay rent, but we also have to stay true to ourselves, and we'll be miserable if we take a job for the wrong reason. Remember, there's no sure thing in show business." —Andy Blankenbuehler, choreographer
"I don't remember receiving any bad advice—I only remember giving it! I told Simon Fuller that getting the public to vote on 'American Idol' wouldn't work, and that 'So You Think You Can Dance' would fail." —Nigel Lithgow, dancer, choreographer, television producer, director
"I was told not to move to NYC. I'm so glad I didn't listen to that advice! For the last 16 years, this city has been an amazing place for me to call home. I've thrived here." —Diane King, owner/director, Broadway Dance Center
"I was working on a music video when I first moved to L.A. and the director told me that if I didn't kiss another one of the male dancers in the video, my job was in jeopardy. It made me uncomfortable, and I stuck to my guns and said I wouldn't do it. In the end, they scrapped the scene anyway and I kept my job. Moral of the story: Stay true to yourself. Your morals are all you've got." —Tony Testa, choreographer
It's true—some advice is just not worth taking. Now it's your turn to spill: What's the worst advice you've ever received? Tell us in the comments below!
Dance News