Oct. 01, 2014 02:15PM EST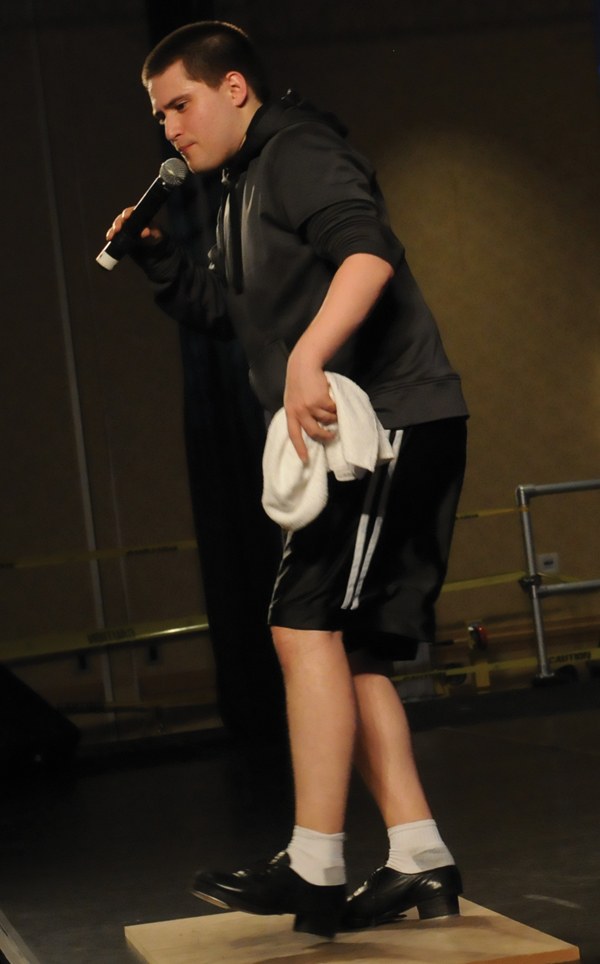 Anthony Morigerato teaching at NUVO (Laura Van Riper, Courtesy Break The Floor Productions)
Tapper Anthony Morigerato is known for performances that are at once quietly soulful and rhythmically astounding—in fact, he currently holds the Guinness World Record for the most tap sounds (1,163!) in one minute. Morigerato always knew he wanted to be a professional dancer. He started training at age 4 in jazz, tap, musical theater and ballet at Eleanor's School of Dance in upstate New York. While still in high school, he began teaching tap and performing with Mike Minery's Tapaholics. Today, Morigerato is on faculty at NUVO Dance Convention & Competition and teaches master classes and workshops worldwide. His choreography has been featured on "So You Think You Can Dance." —Jenny Dalzell
Dear Anthony,
Slow down. You can't force your dreams to come true. Fate doesn't follow your expectations—everything occurs in its own space and time. Know that in anything you attempt, there will be both failure and success. Learn from each, and move forward regardless.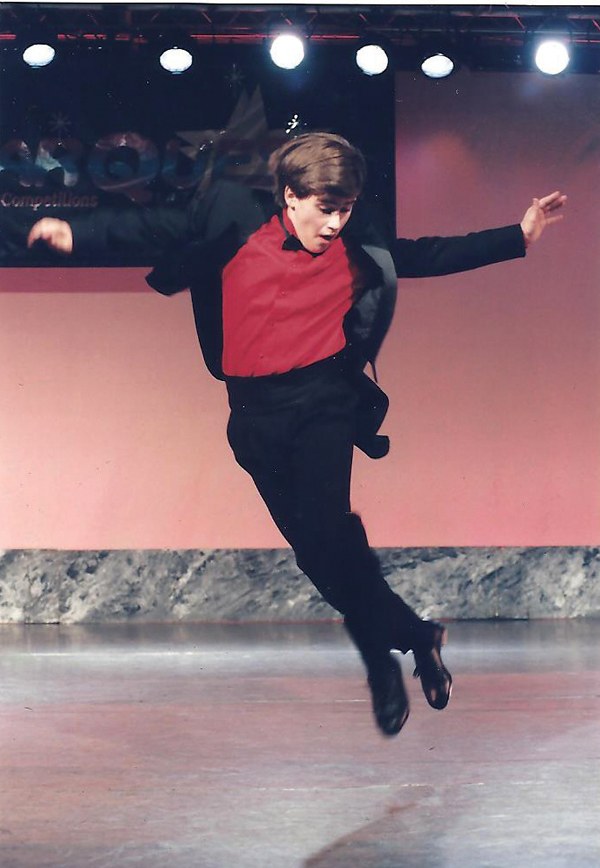 Morigerato at 13 years old (Courtesy Morigerato)
Herein lies the path to realizing your dreams: Be kind to others and to yourself. Be appreciative of your teachers and diligent in applying their corrections. Be humble when accepting praise and work ferociously to develop stronger technique. Dare to find deeper levels of artistry. Respect the rules, but be willing to break them when necessary. Always be generous when sharing your passion, love and exuberance for art making. Be there for your students, even when they're no longer your students. Take pride in the fact that your students will one day surpass your knowledge and ability. Be a worthy role model.
Most important, never forget the love your parents have given you. Honor them, and know that you owe your success to their unwavering support and to the sacrifices they've made for you.
Live your dreams fully, and inspire others to live theirs.
Anthony
"So You Think You Can Dance" isn't wasting any time this season. Not only did the 20 contestants get only eight seconds each to introduce themselves to America, but there were roughly zero seconds of unnecessary banter between segments during Season 11's first live episode. (Serious dancers, rejoice!) So to take a page from everyone's favorite show, let's just get right down to last night's top five highlights: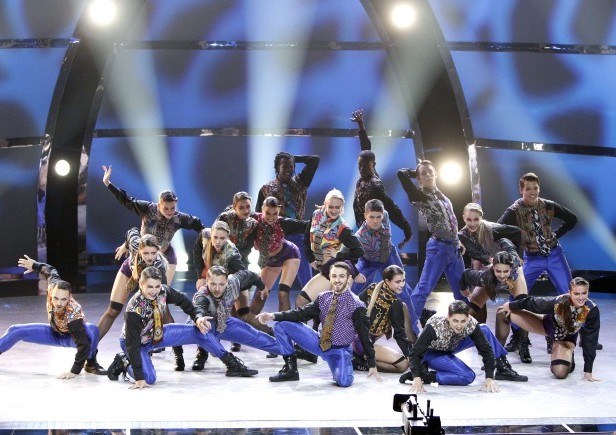 Sonya Tayeh's Stalker Ha
(photo Adam Rose/FOX)
1. The caliber of choreography. Sonya Tayeh kicked off the night with a group routine that felt like Madonna's "Vogue" meets Jim Carey's The Mask. Stalker Ha was not my fave from Tayeh, but the show kept moving right along, with pieces from choreographers including Travis Wall, Stacey Tookey, Christopher Scott, Louis Van Amstel and tapper Anthony Morigerato. Let's just say it was a BIG name kind of night.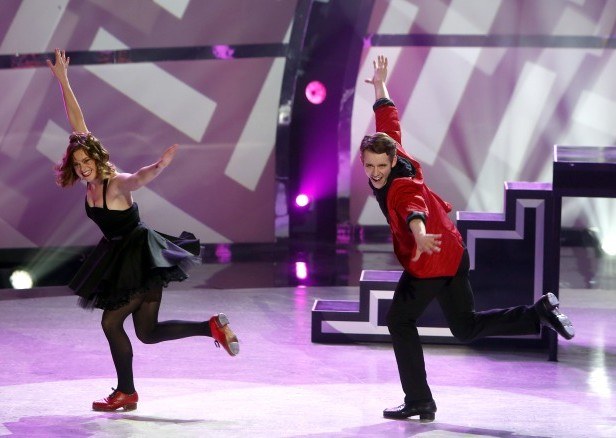 Valerie and Zack in Sing
(photo Adam Rose/FOX)
2. The tappers. Zack and Valerie channeled stair-dance legend Bill "Bojangles" Robinson in the best tap routine the show has seen yet. Choreographed by Anthony Morigerato, Sing featured rapid-fire footwork, amazing showmanship and nearly perfect unison. These two dancers certainly have a ton of charisma, and I hope they get a chance to bring it in other styles, too.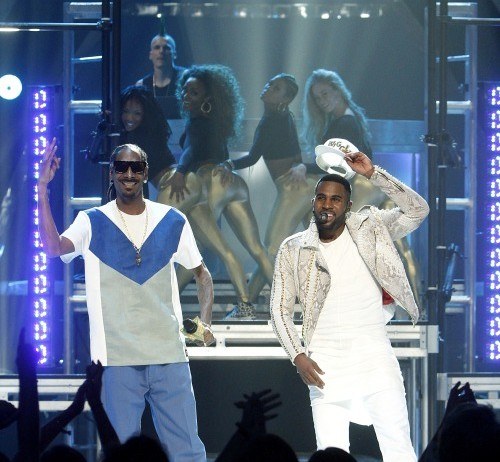 Jason DeRulo (right) performs "Wiggle" with Snoop Dogg
(photo Adam Rose/FOX)
3. " What you gonna do with that big fat butt?" Dear guest judge (and musical performer) Jason Derulo: You may love dance, and you may know dance, but those lyrics...oy. In other news, 42-years-young Snoop Dogg made an appearance during Derulo's "Wiggle," and that did not disappoint.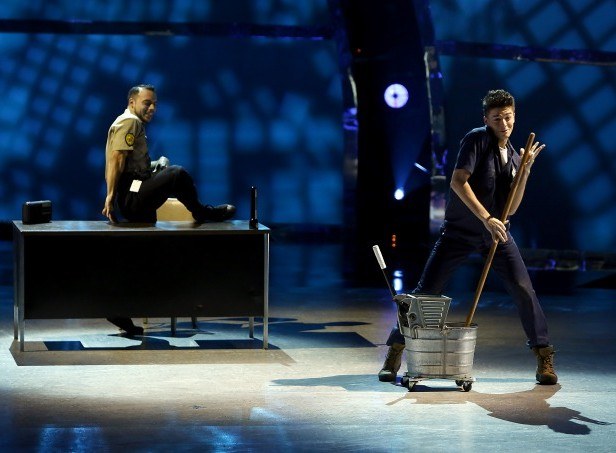 Emilio and Teddy in Nightshift
(photo Adam Rose/FOX)
4. The mop-and-bucket hip-hop routine. It's evident that choreographer Christopher Scott has a knack for storytelling (see: every LXD episode he crafted), and his routine for Emilio and Teddy was no exception. I also loved that Scott's Nightshift evoked Gene Kelly's dance break in the 1943 film Thousands Cheer. Haven't seen it? Take a look below. It's supremely amazing, and I can so see Teddy in a remake:
5. Meredith Monk's "SYTYCD" debut. Move over, 1960s Judson Dance Theater: There's a new postmodern contemporary choreographer around, and her name is Sonya Tayeh. Nigel Lythgoe said that Tayeh's piece, set to Meredith Monk's "Vow," took the show to "another level entirely." Jessica and Ricky brought the audience to complete silence. Then? An eruption of cheers and a giant standing ovation. It was pretty awesome.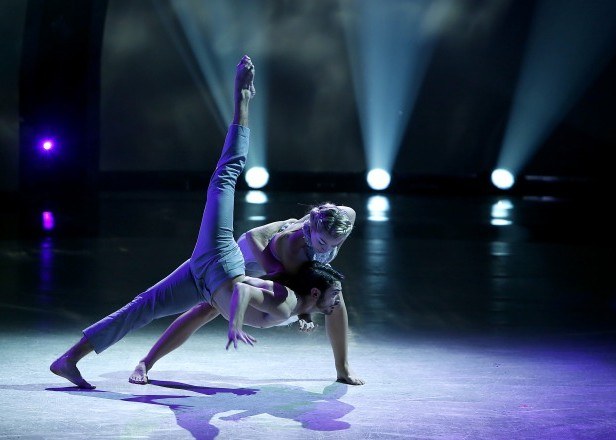 Jessica and Ricky in Tayeh's Vow
(photo Adam Rose/FOX)
I, for one, can't wait to see more from these talented dancers. Be sure to cast your vote online for your favorites, and come back here next week to find out which dancers didn't make the cut. And if you want to enter the sweetest sweepstakes EVER (the prize is a trip to watch the "SYTYCD" finale episode live, in person!!), click here.
Tap
Sep. 10, 2012 02:00PM EST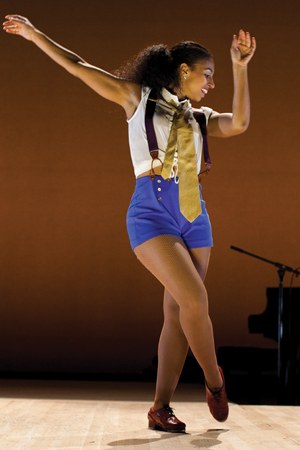 Chloé Arnold (by Matthew Murphy)
You walk onstage for your tap routine—click, click, click—and take your opening position for a performance a capella (without music). You begin to dance, each tap breaking the silence in the theater all over again. Clickety-clack, ka-lack click, a-kik-kik-kik-kik clap…
Tapping a capella can be exhilarating, but with no beats to back you up, it can also be nerve-racking. It's up to you to keep a steady pace—and the audience's attention. Master teacher Gregg Russell of Tap Sounds Underground says your first a capella tap performance can be like a first bicycle ride without training wheels. "You're not just dancing without a song," he says. "You're creating a song from scratch. With the true a capella masters, you feel their music. You can almost hum along with them."
Keep It Interesting
There'll be nothing to hum along to unless you inspire the audience with a broad range of textures, dynamics and changes in volume. Both Russell and Chloé Arnold, a dancer-choreographer who leads the all-female tap group Syncopated Ladies, recommend giving the steps you already know a good workout. Challenge yourself to choreograph a full minute of material using only heel drops, for example, and you'll quickly find that you need to get creative. It might be useful to give your different types of heel drops nicknames and write them down in a notebook. Repeat the exercise with another step, such as paradiddles, and before you know it you'll have page after page of secret weapons. The same applies to time signatures. (They're the basic groove you're working with, like a waltz, for example, or a classic 4/4.) Try to exhaust the possibilities in one before switching to another.
A capella tap is about knowing how to make each step come to life, Arnold says. "There are infinite variations on any theme. For a cramp roll, you can make the sound even, like a drum roll, or you can give two beats, hold back for the third, and hit the fourth a little later. You've got the steps; how do you take them and create musical patterns? That's what's going to be interesting."
Go with the Flow
You'll also have to make your own structure for each piece. Compose unique sections with smooth transitions, or bridges, between them. Pro tapper Anthony Morigerato thinks of a tune he likes—Duke Ellington's "Caravan" is a favorite—and plays it in his head. "That gives it form, some rhyme and reason, rather than just a bunch of steps thrown together," he says. Take mental notes when you hear a song that has a compelling beginning, middle or end. Ask yourself why it works and think of ways to create the same effect with your shoes.
"You'll start to understand flow," Arnold says. "You'll realize how many different paths you can take to get from one place to another."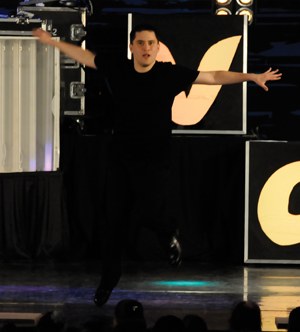 Anthony Morigerato (by Laura Haley)
Step in Time
Just don't take your eyes off of the "road": your tempo. A capella tappers tend to accelerate, especially in front of an audience. That might make the most complicated part of your routine impossible to pull off once you get to it. Relaxing your upper body and remembering to breathe can act as cruise control.
Steady pacing becomes even more crucial if you're sharing a stage a capella with other dancers. Ensemble choreography without accompaniment offers rich possibilities, like rhythmic counterpoint (different grooves layered on top of each other) and canon (the ripple effect sometimes called a "round"). Drift out of synch with your teammates, however, and that all falls apart.
Cartier Williams confirms that "the audience knows right away when you fall off time. It doesn't sound right." From age 4 to 10, the 23-year-old did almost all of his practicing without music. "I was just improvising, putting steps together on my own and figuring it out."
He says two and a half or three minutes is perfect for a solo. "Get them excited, keep it short and sweet, and then get out of there."
Whether an a capella number goes well or not, don't let it show on your face, and know how to bring it home, Morigerato advises. Try putting your own spin on a classic ending, like giving the crowd three repeats of a short combination, followed by a fourth with a twist. (That's called "three and a break.") "Repetition is something an audience can really dig," Arnold says. Another option is a fade-out or decrescendo. "Quiet doesn't mean 'without energy,' " she says. Keep your focus going until the very last moment.
If you're serious about tap, being comfortable performing a capella is a must. Williams tries to tell a story; Arnold imagines being a DJ; Morigerato sings a song with his feet; Russell thinks of ways to echo certain rhythms with movements. But everyone agrees that the best thing about a capella tap is the ability to bring along an audience.
"Captivate them and take them with you," Arnold says. "Make them sit up in their chairs."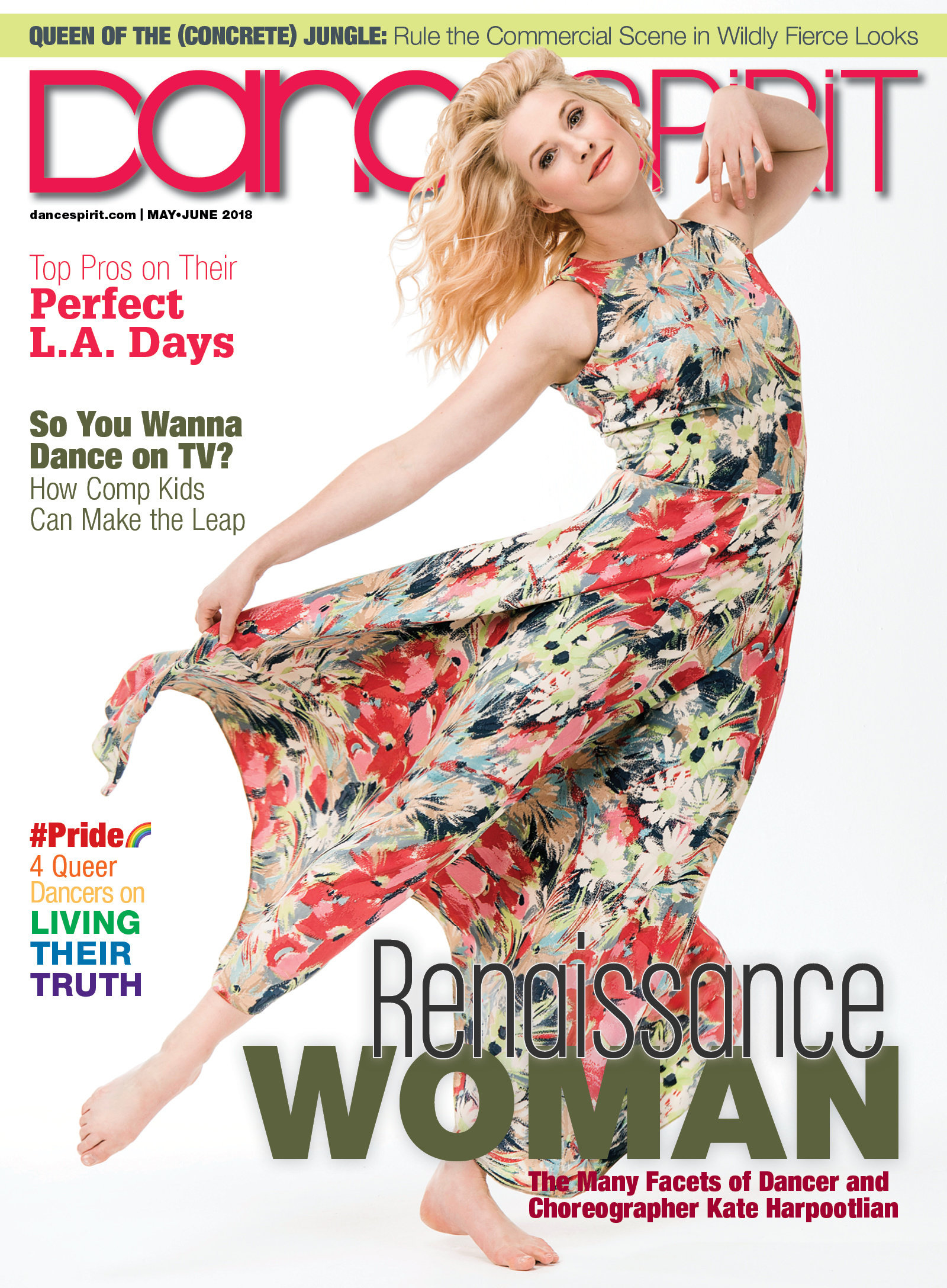 Get Dance Spirit in your inbox