Mar. 23, 2017 05:03AM EST
It's Fleet Week here in NYC—that one magical week when the city is flooded with cute sailor boys. Here at DS, that means it's time for:
Pick Your Favorite Musical Sailors!
In the running:
South Pacific's rowdy mariners. There ain't nothin' like 'em!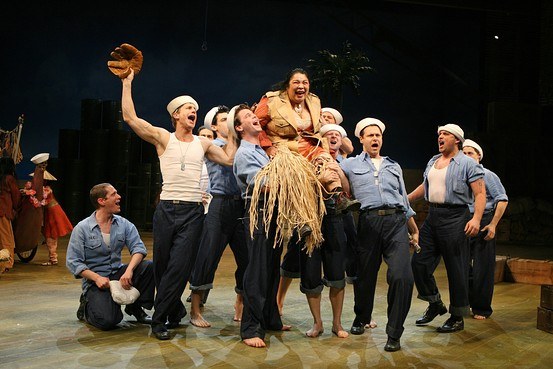 Anything Goes' tapping tars. They're the top!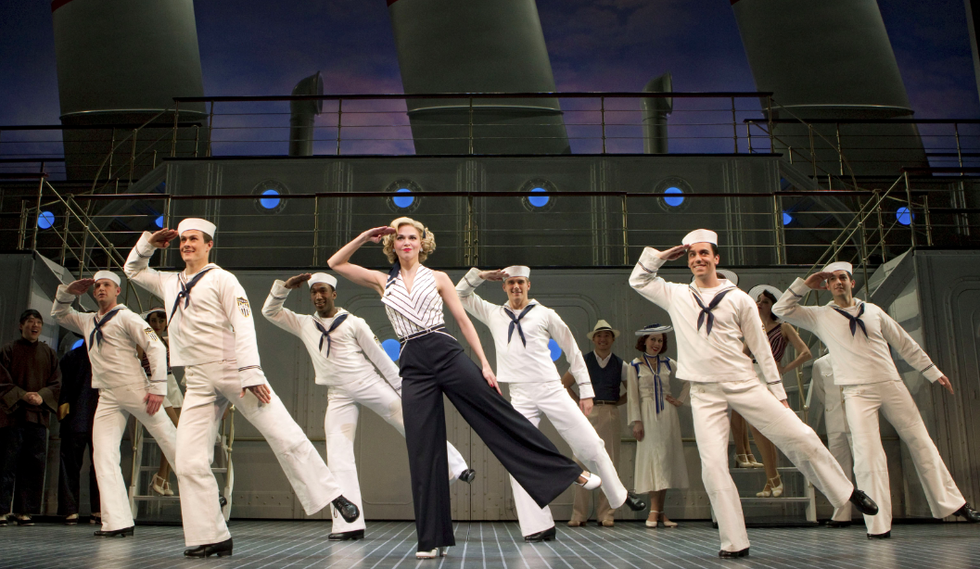 The old-schoolers: Frank Sinatra, Jules Munshin and Gene Kelly in On the Town. They make New York, New York a wonderful town!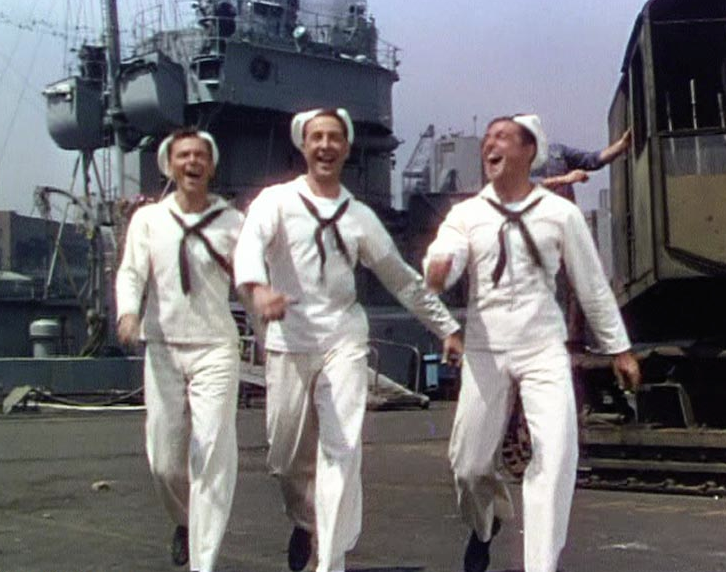 Cast your votes in the comments, mateys.
Jul. 03, 2012 01:03PM EST
Are you ready to party like it's 1776? Here's hoping your 4th of July celebrations tomorrow include dancing of some kind, whether you'll be busting out your red-white-and-blue–sequined unitard (what, doesn't everyone have one of those?) or just grooving by the grill.
To help you get in the spirit of things, here's a roundup of patriotic dance moments:
George Balanchine's Stars and Stripes. Sousa marches + baton twirling + tutus = one festive (and cutely tongue-in-cheek) ballet.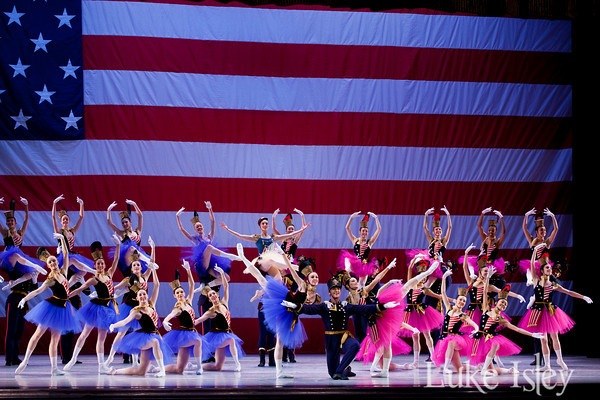 Reno Sweeney and the Anything Goes tap-dancing sailors. Does it get any more (S. S.) American than that?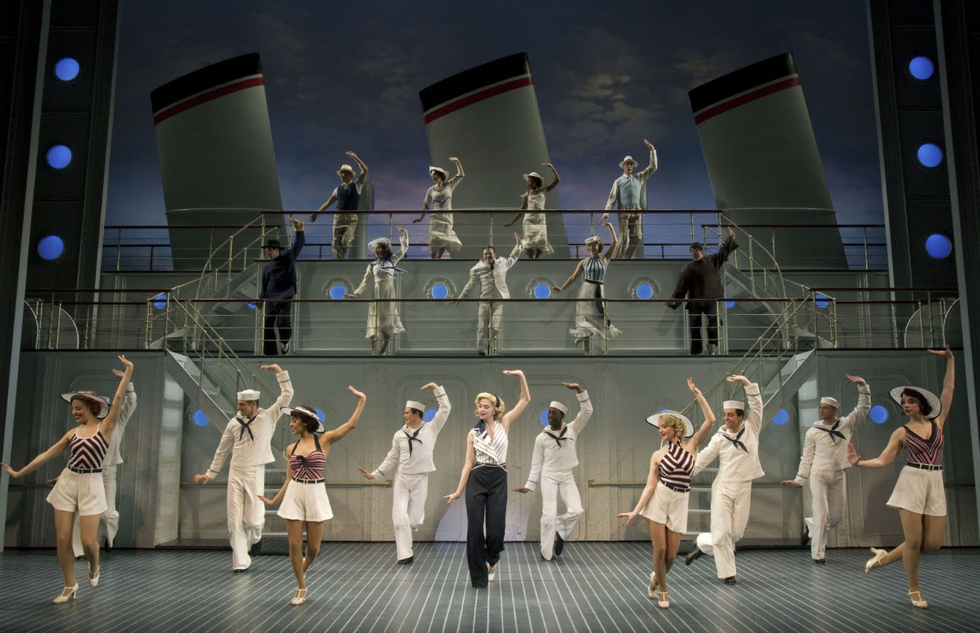 The Rockettes, entertaining sailors during Fleet Week. Those costumes alone are worth a salute.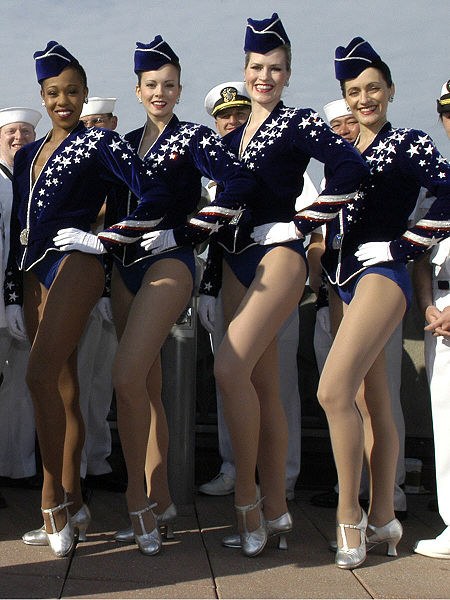 Kendra Wilkinson and Louis Van Amstel's "Yankee Doodle Dandy" foxtrot on "Dancing with the Stars." Don't think too hard about this one—just enjoy the crazy.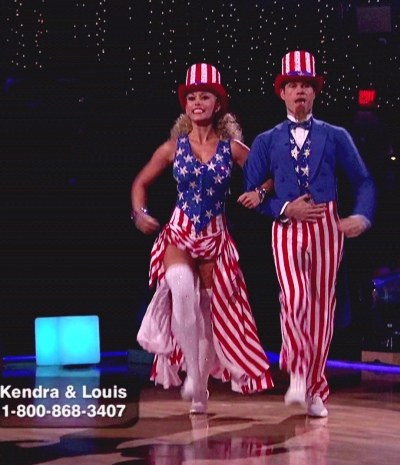 And last but not least: American Girl Molly McIntire as Miss Victory at the "Hooray for the U.S.A." show. Oh come on—you remember this! Her struggle to get her hair to curl perfectly? The suspense about whether her tap teacher, Miss LaVonda, would choose her for the role? (I miss being 8.)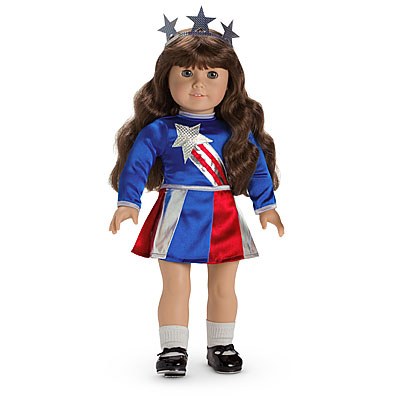 Happy 4th, everyone! See you back here on Thursday.
Jun. 08, 2012 02:48PM EST
Happy Tony Awards weekend, everyone! You've probably already feasted your ears on the Ultimate Broadway Playlist. But if you're like us, you can never get enough of the Great White Way. So here are a few more song-and-dance treats: 9 standout moments from the Tony Awards themselves. In reverse chronological order:
1. Last year's fantastic opening number. Neil Patrick Harris, backed by Broadway's finest dancers, tossing off laugh-out-loud lyrics—yes please. ("If you've seen a show, then you already know how magical theater can be; it's a two-hour, live-action, barely affordable, un-lip-synched version of 'Glee.'" Amazing.)
2. Billy Elliot stars Trent Kowalk, David Alvarez and Kiril Kulish accepting their joint award for Best Actor at the 2009 Tonys. So talented—and so, so adorable.
3. Lin-Manuel Miranda and the cast of In the Heights in "96,000" at the 2008 Tonys. I will never tire of this guy's crazy, and crazy smart, way with words.
4. Spring Awakening's medley at the 2007 Tonys. Before they were Gleeks, Lea Michele and Jonathan Groff absolutely nailed it in this show.
5. Bebe Neuwirth and Ann Reinking in "Nowadays/Hot Honey Rag" from Chicago at the 1997 Tonys. Two Fosse legends sharing a stage—need I say more?
6. The original cast of RENT performing "Seasons of Love" at the 1996 Tonys. Not only is this song incredibly powerful, but just look at all the soon-to-be-famous faces in this group (starting with Taye Diggs and Idina Menzel!).
7. Patti LuPone in the title song from Anything Goes at the 1988 Tonys. Yes, I loved Sutton Foster in the recent revival of this show, but Patti LuPone is pretty hard to top. (And check out the sailor girls' outfits! Scandalous.)
8. "I Hope I Get It" from A Chorus Line, at the opening of the 1975 Tonys. Now such a legendary number—and again, the original cast is mind-blowing. (Sorry about the poor quality.)
9. The cast of Hair performing at the 1969 Tonys. Harry Belafonte's introduction is unforgettable: "Theater...almost a last refuge, must commit itself to being a center of hope, where we can see the truth...where we can see what the glory of man is and what he aspires to be."
What are your favorite Tony memories? Share them in the comments, and tune in on Sunday to see what this year's standout moment will be!
Tap
Apr. 20, 2012 09:06AM EST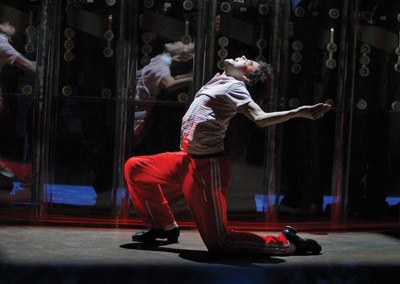 David Alvarez in the title role of Billy Elliot (by David Scheinmann)
When 12-year-old David Alvarez walked into an audition for the original Broadway production of Billy Elliot, he was shocked to see other dancers practicing their tap routines. A student at The Jacqueline Kennedy Onassis School at American Ballet Theatre, his only training was in classical ballet. "I had no idea what to do!" David, now 18, recalls. "I didn't even know how to pretend to tap. I had to borrow another kid's tap shoes." But when he picked up the exercises quickly, the producers took a chance on the young ballet dancer. David went on to play the musical's title role for more than a year. And he won a Tony Award for best actor!
David's audition experience isn't unusual. Many dancers are proficient in other styles but have little or no tap experience, and are nervous about having to tap at a musical theater audition. DS talked to some of the industry's leading professionals for simple strategies and steps you can learn to make the tap audition process a little smoother.
Learn The Basics
Faking it till you make it is one thing, but the best way to learn tap essentials is to sign up for a beginner class. "Tap isn't a discipline that can be faked well, because it's a specialty," explains director, performer and Tony-nominated choreographer Randy Skinner. But he also says that most Broadway tap choreography is relatively simple. "In some shows, there's just one tap number, and in a routine with a large group of people, there's more clarity of sound with basic steps."
Skinner says the steps taught at an audition are often the fundamentals of the tap routine that will be in the show, so seeing a show before the audition is helpful. When he choreographed the Broadway revival of 42nd Street in 2001, much of the audition included time steps, which begin the show's famous opening number.
Fake the Rest
The rest of the body can be just as important as the feet. Justin Greer, dance captain for the current Broadway revival of Anything Goes, says there are three key elements to notice when learning choreography: the shape of the steps, weight changes and body angles. "You can look like you're doing the steps correctly if you do all the upper body movement confidently and change your weight at the right times," he says. "If you perform and look like you're enjoying yourself, people won't be looking at your feet!"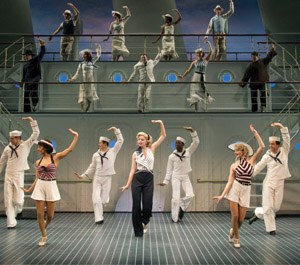 Sutton Foster and company in Anything Goes (by Joan Marcus)
Choreographers want to see that you can make their style look good and that you have a natural sense of rhythm. "Try to imitate the style of the choreographer and his or her assistants, because that style becomes what we call 'the world of the show,' " Greer says. And remember that you're not just dancing, you're playing a part. "Sometimes the best technical dancers aren't necessarily right for the characters in the show."
Ultimately, when it comes to making it on Broadway, there is no shortcut. "It's not easy to get into a Broadway show, and the talent pool is becoming more and more skilled and competitive," Greer says. "You have to be able to do it all—including tap."
Still, persistence and a positive attitude can pay off. "I got through the tap audition by being open-minded," David says. "I tried my best, and I didn't give up."
Tap at a Glance
Even if you're a pro at other styles, make sure to have these tap steps down before your next big audition. According to choreographer Randy Skinner, they are the foundation for most tap choreography on Broadway.
1. Flaps & flap ball-change
A flap has two sounds (brush, step), usually repeats successively and can either travel or stay in place. Adding a ball change after each flap is a basic pattern that demonstrates how well you can make sounds and move through space at the same time. At auditions, Skinner likes to use flaps as part of a turn pattern across the floor—like flap, heel—which shows him how well dancers can spot their turns.
2. Rolling shuffles
Shuffles are made up of two sounds with the toe tap—a brush forward and a spank back. To roll your shuffles, alternate between hopping on one foot and shuffling with the other foot. Aim to maintain triplet timing: 1-and-a-2-and-a-3-and-a-4-and-a. "This step shows us your ear for rhythm, so keep it even. Remember that speed is a matter of practice."
3. Waltz clog & Irish
These two patterns can move or stay in place. The waltz clog combines
a flap on one foot with a shuffle ball-change on the opposite foot. "This is done in 3/4 time, which is why it is called a waltz clog." The Irish is a shuffle on one foot, followed by a hop on the other foot and step on the original foot.
4. Time steps
Time steps are repeating 4-count patterns that alternate between the right foot and the left foot. They consist primarily of hops, steps, shuffles and flap ball-changes. "Know the difference between a single, double and triple time step. A second flap is added to the single to make a double, and then a shuffle is added to make the triple."
5. Double pullbacks
This advanced step is difficult to master. It involves springing from the floor and making two sounds as you pull (leave the floor), then two sounds as you land on the balls of your feet. The foot making the sound alternates: pull right, pull left, land right, land left. "Each sound must be clear and separate from the others."
Feb. 22, 2012 11:32AM EST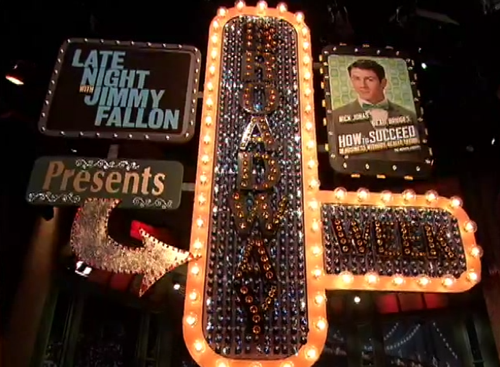 Totally forgot to blog about this yesterday: As I was channel-surfing around late Monday night, mourning the end of my long weekend, I happened to flip by "Late Night with Jimmy Fallon." Lo and behold, there was pop star-turned-Broadway baby Nick Jonas singing "I Believe in You" from How to Succeed in Business Without Really Trying! (And doing a pretty great job, too.)
Turns out it's "Broadway Week" on Fallon's show. Every night features a musical number from one of the fantastic shows on Broadway. If you're just hearing about this now, you've missed Nick and the cast of Porgy and Bess (sad face)—but you'll still be able to catch Ghost the Musical tonight, Sutton Foster from Anything Goes tomorrow and Sister Act on Friday (happy face!).
And none of those "but it's a school night" arguments: a) that's what magical, magical DVR is for, and b) if you don't have DVR, you can still catch the performances the next day on Hulu.
Happy Broadway week, everyone!
Mar. 11, 2011 09:29AM EST
Watch a Broadway cast sing and dance along to the classic tune "Anything Goes" and you'll never forget it. Anything Goes first opened on the Great White Way in 1934 and has since been hailed as an iconic, all-American production. Now, Broadway veteran Kathleen Marshall is directing and choreographing the musical as it returns to NYC this month.
The show, which this time stars Broadway sweetheart Sutton Foster, tells the story of two unlikely couples on board the S.S. American as it heads out to sea. They sing and dance their way to true love—though of course there are plot twists, adventures in blackmail and bad-boy sailors. DS chatted with some of the cast members during rehearsals to find out why they're thrilled to be onboard the fabulous fictional cruise ship.
Dance Spirit: What are you most excited about in Anything Goes?
"Working with a cast that's so diverse in age and background. I think it brings both authenticity and freshness to the show."  —Clyde Alves
"To have the honor and pleasure to reinvent an American masterpiece, under the navigation of Kathleen Marshall, is a privilege. Then getting to perform to music by Cole Porter every night—it doesn't get better than that!"  —Joyce Chittick
"I'm excited to be working with this wonderful cast, including Sutton Foster and the legendary Joel Grey. Not only do I get to perform every night as an angel, this is also my first time serving as a dance captain. I feel blessed to be able to continue to do what I love—perform on Broadway—in a show that truly defines the genre."  —Jennifer Savelli
"I'm most excited about the dancing. Nothing is more iconic Broadway than the 'Anything Goes' number at the end of Act One."  —Adam Perry
"Anything Goes is the quintessential feel-good musical from America's heyday. I'm thrilled to be making my Broadway debut in this show (dreams do come true!) and to have the privilege of working with Kathleen Marshall and a ridiculously talented cast and crew."  —Kimberly Fauré
Anything Goes opens at NYC's Stephen Sondheim Theatre on April 7.
Want to know how Kimberly broke into Broadway? Turn to p. 54 for her audition story!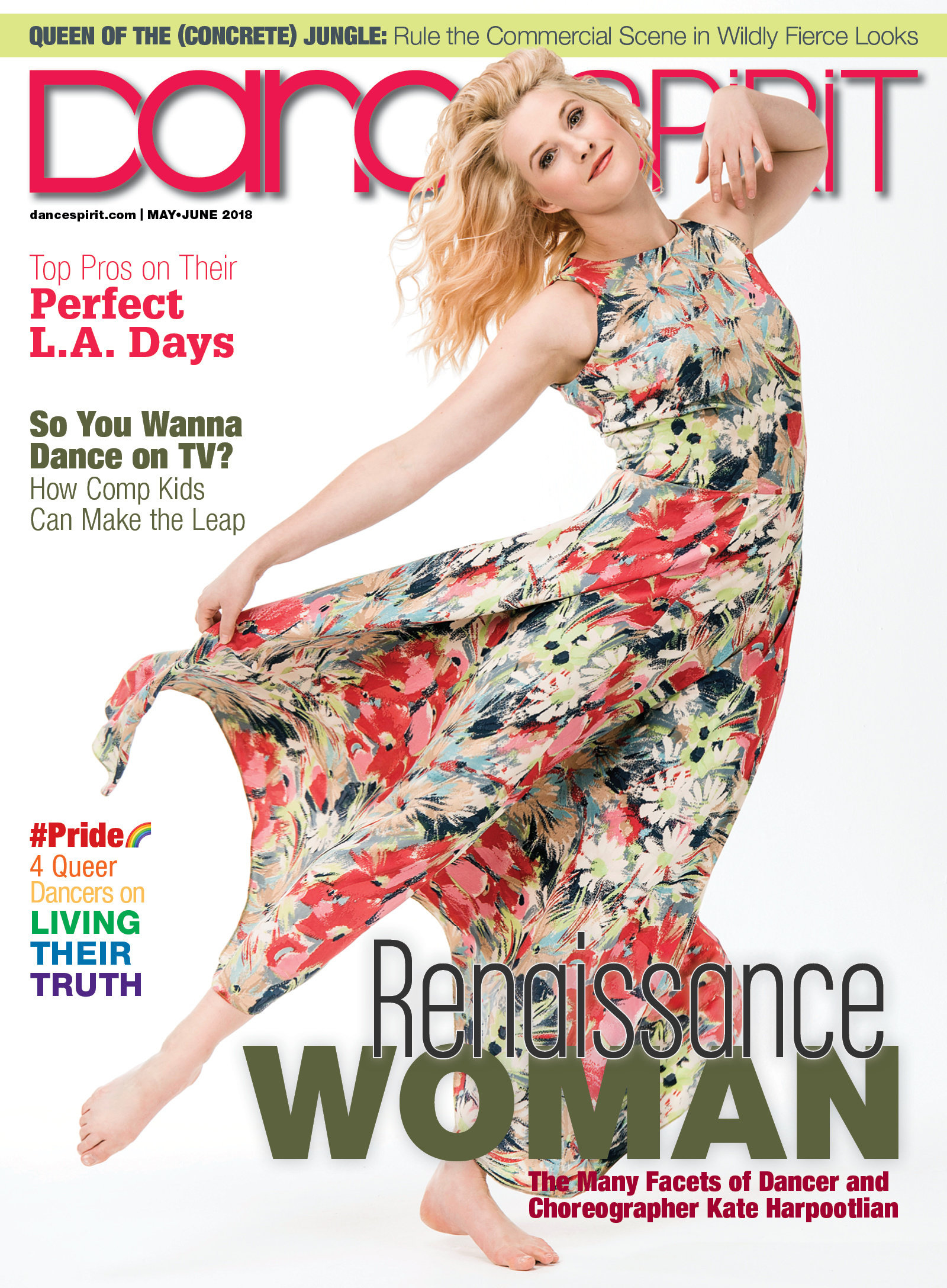 Get Dance Spirit in your inbox