We like it when dancers are able to express their love for dance. We love it when dancers are able to use different media to express that love. The National Dance Foundation offers dancers the opportunity to convey their passion for dance with its annual essay and poster contest. Entrants who submitted posters were asked to portray what dancing looks like to them, and essay contestants submitted essays discussing why dance is so important and how it's helped them in other aspects of their lives.
Major props to Petra Tuzun, Leah Krissin, Anisha Tamang, and Ella Mars, who won the poster portion of the contest, and to Jonah Taylor and Aliyah Daniel, who won the essay portion. Check out the winning submissions below—and be prepared to be blown away by the talent.
Keep reading...
Show less
Addison Ector and Shanna Irwin of Complexions Contemporary Ballet (@rachelnevillephoto, via Instagram)
If you find yourself anywhere near NYC's über-chic Park Avenue between Monday, August 14 and December, you'll want to hightail it to PurePoint Financial's new Financial Center to check out a surprising collaboration with one of the dance world's shining stars.
Keep reading...
Show less
Popular
Jul. 26, 2017 01:22PM EST
Fashion
May. 26, 2017 11:47AM EST
Since the NYC premiere of Alexei Ratmansky's Whipped Cream at American Ballet Theatre's spring gala Monday night, the DS editors haven't stopped talking about its creepy-cute sets and costumes, created by artist Mark Ryden. Well, the obsession is about to get even crazier, because we just heard that Ryden's artwork for the ballet is now on display in not one, but TWO locations in NYC.
Keep reading...
Show less
Artist and philanthropist Everett Dyson has taken the art of sketching photographs to another level. His "100 Halos" series interprets images of ballerinas in order to focus on the lines and planes of their bodies—and he always includes a halo over their heads.
Dyson says he was inspired to draw dancers because of his interest in anatomy, musculature and lines, and he decided to add the halo after hearing the famous Albert Einstein quotation, "Dancers are the athletes of God." It makes perfect sense: Dancers are always trying to imagine energy coming out of the crown of their heads. Check out Dyson's images and try to name your favorite ballerinas!
We especially love his interpretation of the iconic RJ Muna photo of Alonzo King LINES Ballet dancer Courtney Henry: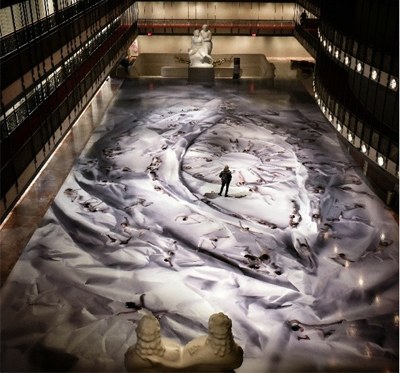 The Eye of New York City Ballet, photo by JR via Instagram
Remember when New York City Ballet invited Parisian artist JR (who just happens to be buds with Pharrell, and who shares a similar accolade to President Bill Clinton and Bono) into its world for its 2014 Art Series earlier this month? When the TED Prize winner constructed The Eye of New York City Ballet, the awe-inspiring 6,500 square-foot photo installation on the floor of the Koch Theater in NYC? And when the opening night bash at the theater included a DJ spinning tracks for a packed house of bearded men and stilettoed fashionistas?
Well, just when you thought ballet couldn't get any hipper...it can.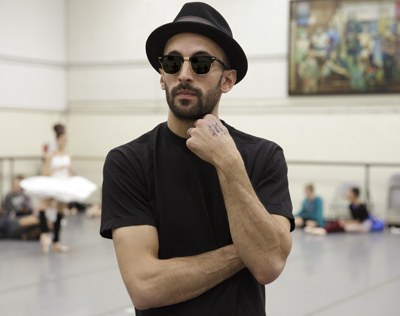 The always-in-sunglasses JR in New York City Ballet's rehearsal studios. Photo by Paul Kolnik.
NYCB announced that its 2014 spring season will open with a bang: JR will be back(!), this time as choreographer(!!) with assistance from NYCB ballet master in chief Peter Martins. For his eight-minute work, he's collaborating with Lil Buck, the vegan jooker from Memphis who steals hearts every time he spins and balances en sneaker, arms fluttering to Saint-Saëns' The Dying Swan. JR and Buck are also working with French music phenom Woodkid, who has created videos for Katy Perry, Rihanna and Drake, and who scored a Grammy nom for his own short form music video, Run Boy Run. Seriously, cool.
"Choreographing has been a totally new experience for me," said JR in a release from NYCB. "The dancers became my paper and have helped me draw my vision and create new things." We at DS can't wait to see these new things—or the piece d'occasion as NYCB calls the as-of-now untitled work. In fact, we've officially started a countdown to the premiere on Tuesday, April 29:
62 days, people, 62 days.
Until then, check out some of the images from JR's Instagram feed, where he's been documenting the process. You're gonna want to come to NYC for this.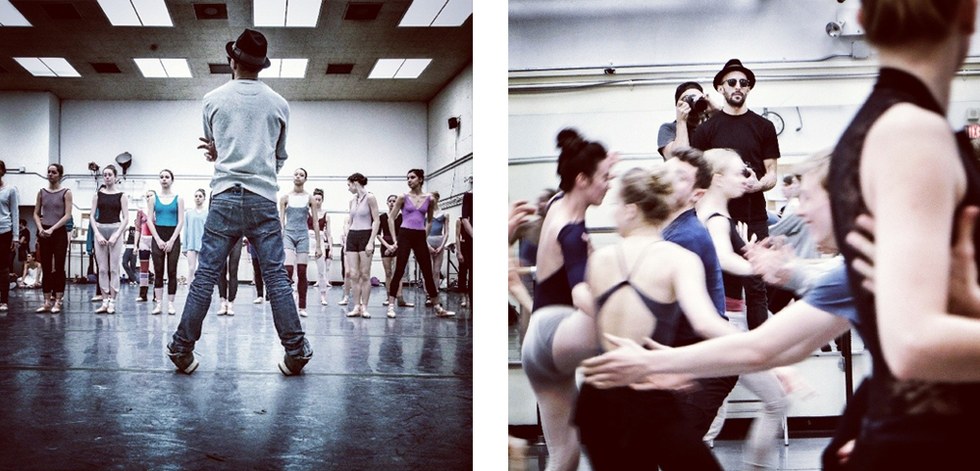 (left) "FYI I am the one learning here #makingmyfirstballet #springstage #rehearsal"                                        (right) "Another day at the office : ) Choreographing my first ballet for New York City Ballet stage #spring2014"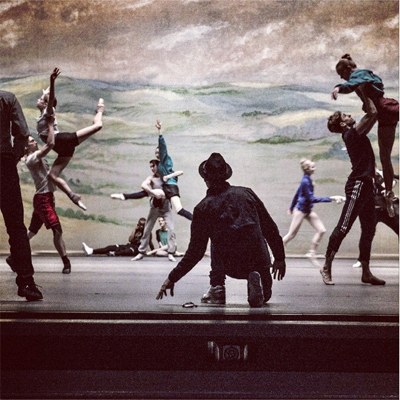 "Main stage rehearsal #NYCBallet_JR"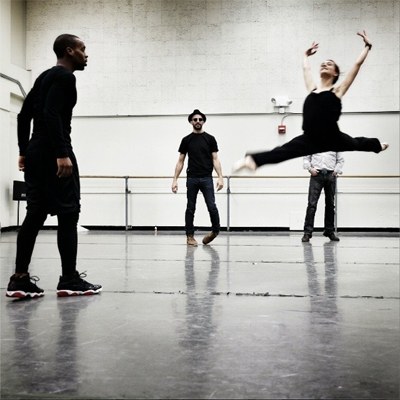 "Long day at the Lincoln Center rehearsing my First Ballet piece that will perform on stage of the NYCBallet this spring... I ll reveal more of the process of making it as I am working on it with @lilbuckdalegend @laurenlovette @woodkidmusic @jonbatiste and the entire NYCBallet... Here with Peter Martins the director helping me finding the words : ) #process #1stballetchoregraphyofmylife"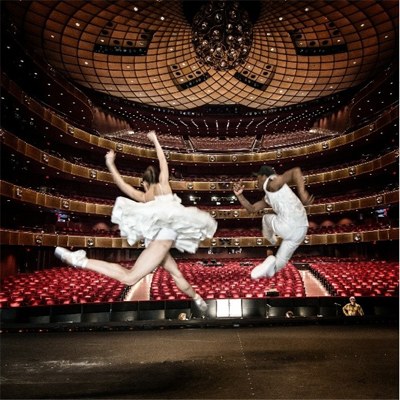 "Everyday getting closer to the final piece ... #stage #2800peopleeverynight on a music by @woodkidmusic!"
Why are dancers getting psyched about New Orleans-based Heather Hansen?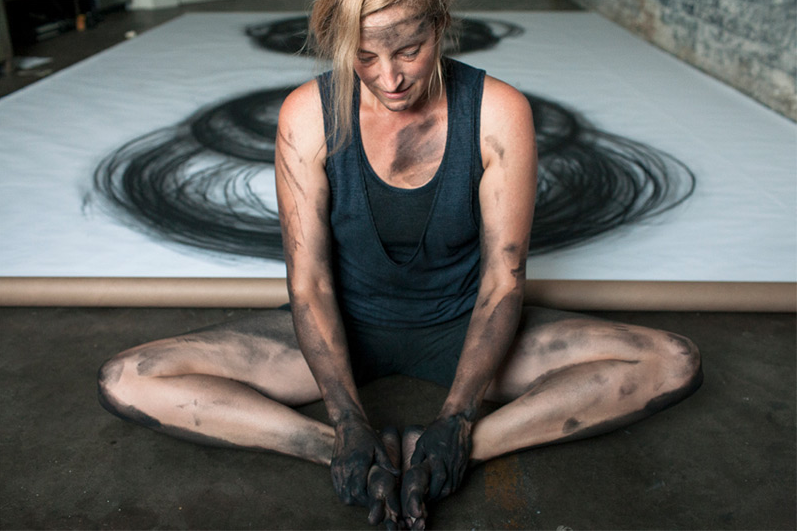 Heather Hansen in Emptied Gestures (Photo by Bryan Tarnowski)
Well, you can probably tell by her perfect butterfly pose (and her charcoal-covered body) that she's no ordinary visual artist. In Emptied Gestures, Hansen experiments with something she calls kinetic drawing—basically, movement captured on canvas, with the entire body serving as the paint brush. Just like a dancer, she uses her body as an instrument.
Hansen opened her creative process to an audience at Ochi Gallery in Idaho, giving them the opportunity to witness the actual choreographed "gestures" that she "empties" onto the canvas.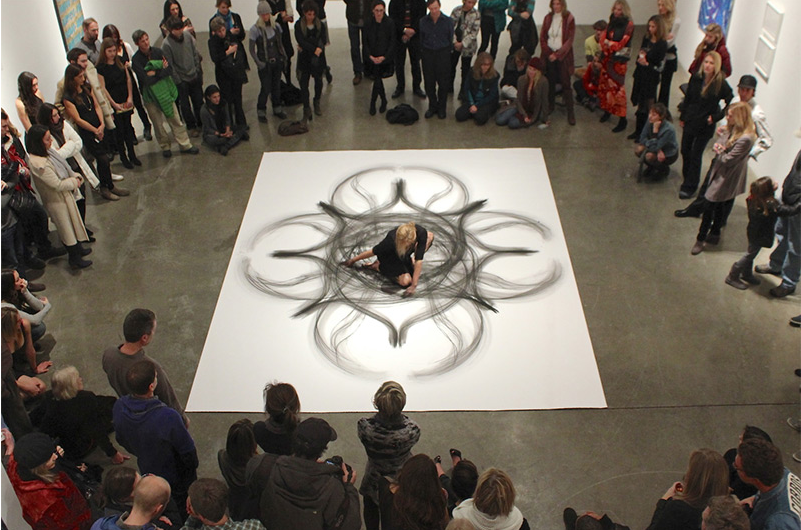 Hansen performed Emptied Gestures for an audience at Ochi Gallery in Idaho (photo by Spencer Hansen)
So is Heather Hansen a dancer? A painter? A performance artist? All three? Does it matter? Check out this condensed video of Emptied Gestures, and then decide for yourself!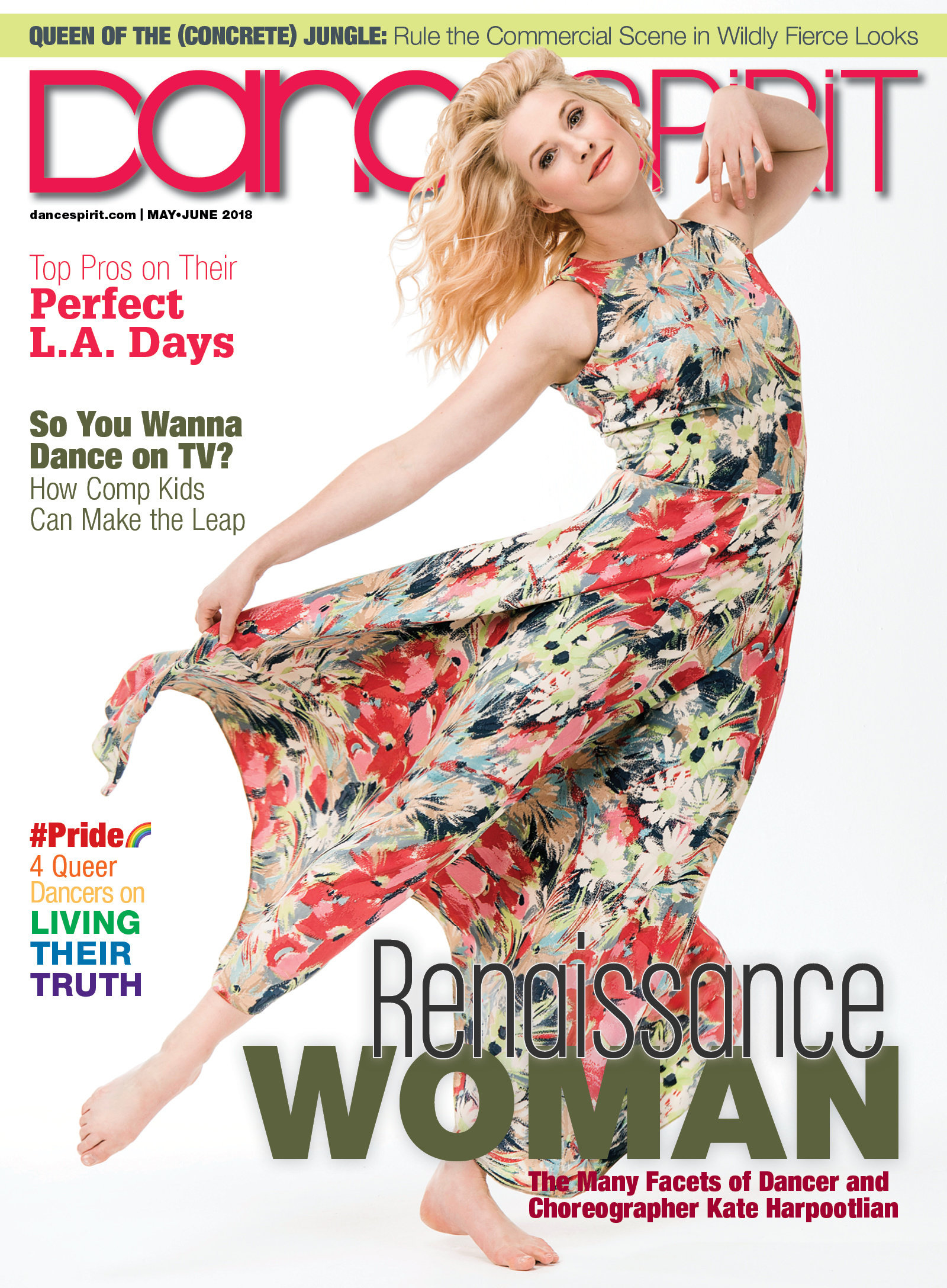 Get Dance Spirit in your inbox