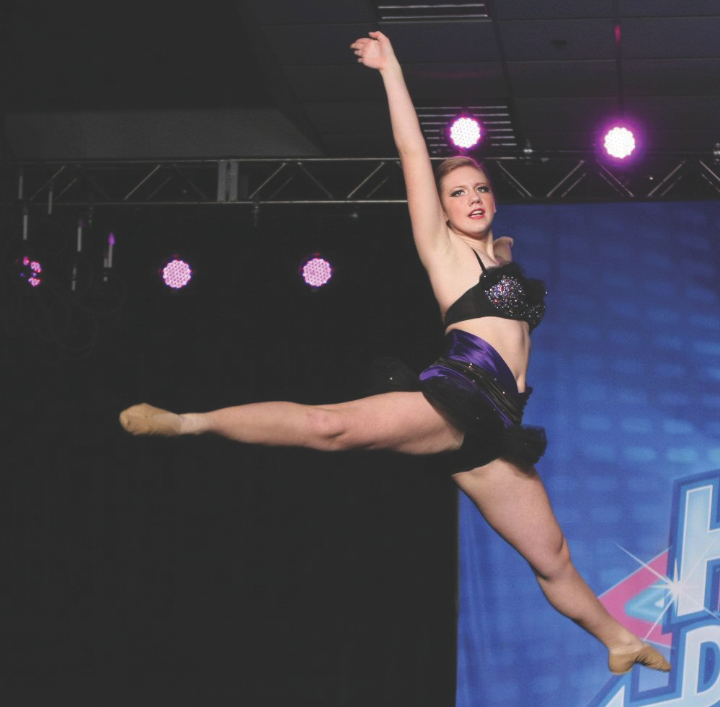 Kelsie competing (courtesy Hall of Fame Dance Challenge)
I was 10 when I first knew something was wrong. I was dancing at a dress rehearsal, and suddenly, without warning, I couldn't breathe. It was terrifying. My teacher called an ambulance, and I was rushed to the emergency room. My throat had swollen shut and my lips were big and puffy, so the doctors assumed I'd had an allergic reaction. They diagnosed me with allergies to ibuprofen and naproxen, as well as exercise-induced asthma, and sent me home.
After that, similar attacks happened every few months or so—and my allergy medications were doing nothing to help. I could tell an attack was starting because I'd get tired and dehydrated, and then my body would start to tingle. But I was baffled as to what was triggering them because I wasn't taking the medications I was supposedly allergic to and attacks didn't always happen during physical activity. There was no pattern. Sometimes I'd even be sleeping and the swelling would wake me up.
I found refuge in dance class. I was on the competition team at Nouveau Dance Company in Plainfield, IL, and I loved being able to walk into the studio and forget about everything else. But every time I got an attack, I'd have to take time off, which made it harder to keep up with my teammates.
By my freshman year in high school, my attacks had increased in frequency and involved swelling in my lips, cheeks, nasal passages, hands and neck. I also started having chronic abdominal pain, and my stomach would go from flat to extremely distended within minutes. It was painful, and I was embarrassed to go out in public. Eventually, I was having some sort of swelling or difficulty at least once a day. Still, no one could tell me what was wrong.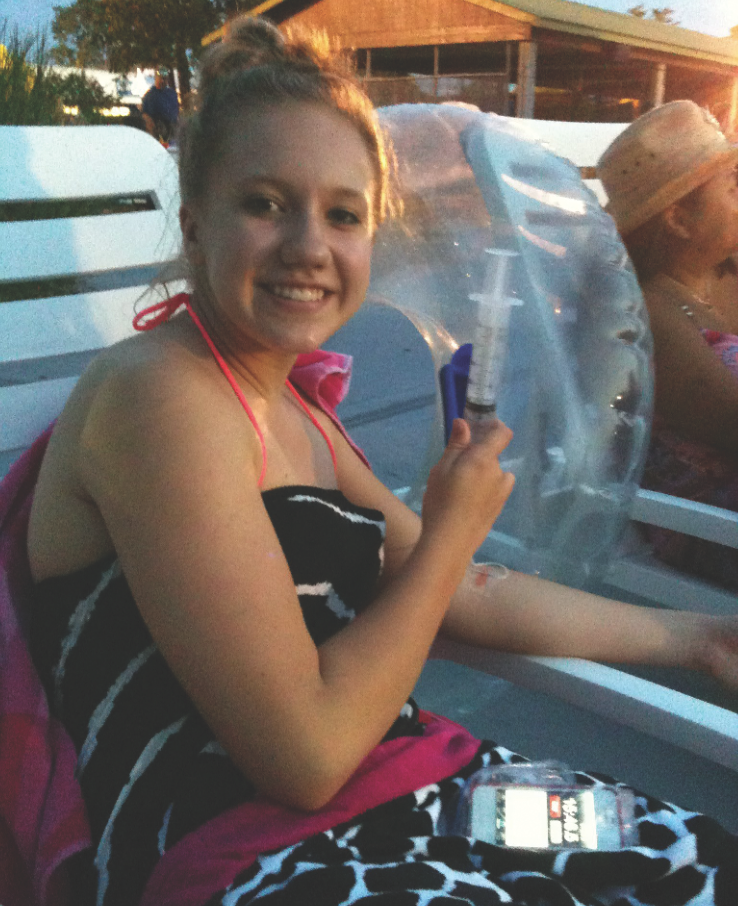 Kelsie giving herself an infusion poolside
Finally, in November 2011, doctors landed on a diagnosis: hereditary angioedema (HAE). HAE is a very rare disorder, so my doctor had to send me to a specialist. The disease causes my internal tissues to swell unpredictably. There's nothing I did to cause it, and, as of right now, there is no cure. There's also no known trigger, so I couldn't eliminate anything from my day to cut back on attacks. I just had to treat the symptoms as they came with two medications, both injections. One had to be administered by a nurse, and the other I could do on my own.
In terms of school and dance, my doctors told me I could do whatever I was able to, which wasn't much. It became difficult to last a full day at school, so I had to have tutors come in the evening—which meant no dance classes. Even when I could make it to the studio, the pain and swelling made it hard for me to dance full-out. Within three months of my diagnosis, I was taking all my courses at home online. Worst of all, I had to forfeit the rest of the competition season. I remember my first time walking into the studio after announcing I wasn't going to continue. Every dancer was crying, and they gave me the biggest hugs.
That summer, some friends introduced me to the Shorewood HUGS foundation, home of Huggables, a dance program for kids with Down syndrome. I started teaching six dancers ages 8 to 12 every Sunday for 45 minutes. These kids became like little sisters to me. We began with basic positions and stretching, and this year, I introduced tap. In January, my high school put on a benefit for HAE awareness, and my students were able to perform. I was so proud.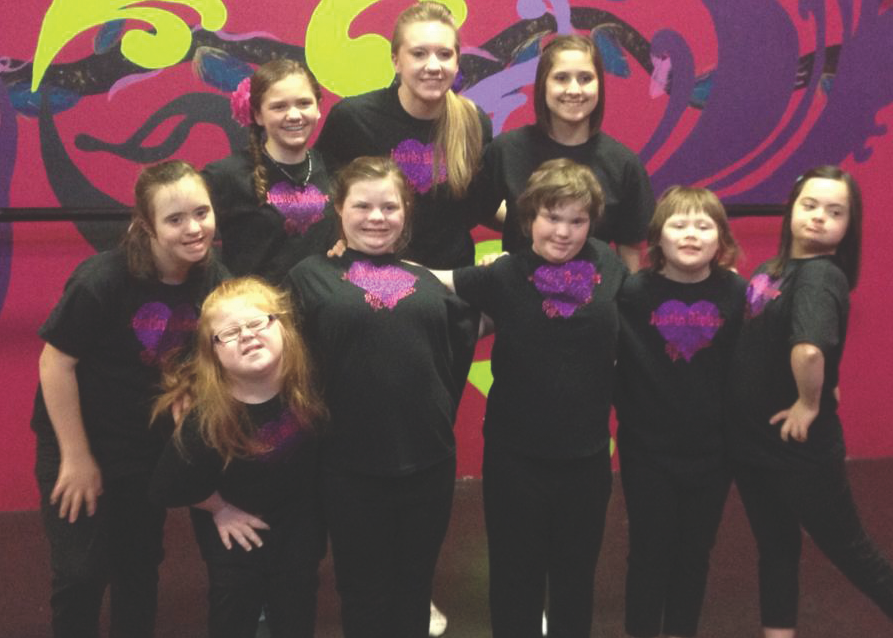 Kelsie (center) with the Huggables
The Huggables are the perfect way for me to keep my love of dance alive, and teaching is a nice distraction from the fact that my attacks are getting worse. Now they last for three or four days, even with treatment. Then I have only a few days to recoup before the next one starts up. In February, I had to stop dancing completely. I stay as involved as possible with my studio, doing hair and makeup for the dancers, supporting the company at competitions and helping my teacher make costumes. Not being able to dance is devastating, but I'm still a part of the team.
People always say, "You don't know what you've got till it's gone." I took things for granted, and I regret that now. All I want to do is step back into the studio and work hard and sweat and give everything I have, but I can't.
Still, I haven't given up hope. My dance teacher is determined to get me onstage, and I have doctors in Chicago, L.A. and Boston on my team, working hard to get me back into school and the studio on a regular basis. My dream is to go to University of California, Los Angeles, and then medical school. Eventually, I want to help others with HAE. And there's no way I'm giving up on dance. I'm going to go back, whether it's next season or in college. It's going to happen.
Click here to learn more about HAE by reading our exclusive interview with Dr. G. Wendell Richmond, one of Kelsie's doctors.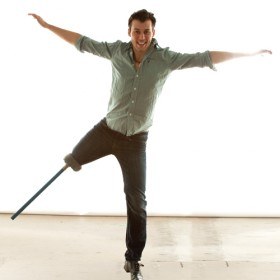 Evan's YouTube video had more than 12,500 hits at press time, but Evan didn't have any photos of himself dancing with his new leg! His pal Kyla Heinz took these exclusively for DS.
At 21 years old, Evan Ruggiero has the talent, drive and training to make it big on Broadway. The catch? He only has one leg. Seven months after Evan was diagnosed with osteosarcoma (bone cancer) at age 19, his right leg was amputated. Despite the loss, the Montclair State University student eventually returned to the studio to teach himself how to dance again—this time using a peg leg. (Evan also has a second prosthetic limb that he uses for walking.) Here Evan tells DS how he has kept his dreams alive, even after his amputation.
Dancing Kid
I started dancing in my hometown of Old Bridge, NJ, when I was 6 years old. It was just like that song from A Chorus Line—I saw my sister in dance class and said, "I can do that!"
Once I started lessons, I never wanted to stop. My teachers noticed that I had a particular talent for tap and encouraged me to audition for the New Jersey Tap Dance Ensemble's youth company when I was 11. (I joined the main company when I turned 18.) The youth ensemble put together shows for school kids and elderly people, in which we'd re-create some of the classic tap dance numbers from the 1920s and '30s. Once, we even got to perform at Lincoln Center in NYC, which was one of my favorite dance experiences as a kid. I also participated in every school musical I could and soon found myself hooked on musical theater.
Growing Aspirations
In high school, I started to think of possible careers and college majors. I couldn't see myself majoring in business or accounting. It occurred to me that all I wanted to do was perform. As graduation drew nearer, a professional career became more of a possibility.
After high school, I headed to the musical theater program at Montclair State University to get the training and education I'd need to go pro.
Diagnosis and Decisions
It wasn't long after my first college production, Crazy for You, that I received some life-changing news. I had been experiencing pain in my right leg, so I went to the doctor.
He took an X-ray and found a tumor, so he sent me to the hospital for a biopsy. The biopsy revealed that I had osteosarcoma, an aggressive bone cancer, in my leg. At first, I didn't know how to process the diagnosis. It was scary. I had just turned 19, and I thought I had this wonderful career in front of me. One of my greatest assets as a performer was my dancing, and to be told I had bone cancer was like hearing that all of my dreams might be over.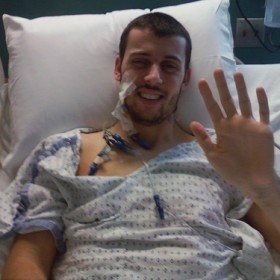 Evan in the hospital
Over the next seven months, I had 10 surgeries performed on my leg. It was a tough road that meant putting my education on hold temporarily while I focused on recovering. After the last surgery, my doctor broke some news I hoped I'd never hear: He needed to amputate my leg. I was angry and confused. I asked him, "Why?" Why would he put me through seven months of surgery if he was just going to amputate in the end? I'd based my life on tap dancing and now I thought I'd never be able to do it again.
Over the course of a four-hour conversation, the doctor helped me focus on the positive aspects of an amputation. He told me about the amputees that had participated in Paralympics and performed other major athletic feats. We talked about all the new technology that could enable me to use a prosthetic leg to dance. I watched videos of Clayton "Peg Leg" Bates, an amputee tapper in the 1930s and '40s, dancing on his prosthetic leg, which gave me hope that dancing could still be an option.
After my leg was removed, the pathology report revealed I would still need chemotherapy. That was a whole new war. Even though I knew it was for the best, those nine months of chemo felt like they were killing me. While going through chemotherapy, I made the decision to return to school. I just couldn't stay home another year.
Moving Forward
A few months after my chemo treatments ended, I started making progress with my mobility. I also started thinking more about the possibility of becoming a "peg leg" dancer. I worked with my prostheticist to design a second prosthetic peg-leg especially for dancing. In the summer of 2011, I finally felt strong enough to wear it and start trying to relearn how to tap dance.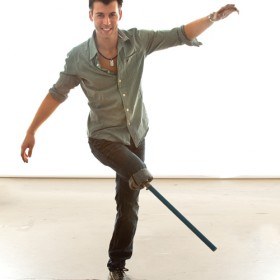 (Kyla Heinz)
First, I worked on getting a sense of the weight of the leg and how my body sits on it. (While my regular walking leg weighs nine pounds, my "dancing leg" weighs just half a pound.) Then, I started experimenting with ways to make different kinds of sounds with the leg and figuring out how quickly I could move it. Before long, I added heels with my left foot, then flaps and shuffles. I came up with a time step I could do with my peg leg that has become sort of my signature step. It's weird—all of the steps and rhythms came right back to me thanks to muscle memory, even though I was missing a leg. Eventually I was even able to do a double pullback!
A couple of weeks after I began working by myself in the studio, I started recording videos of my dancing so I could track my progress. My roommate persuaded me to put one of them online and within two weeks it had drawn almost 10,000 views. I'm still working on making my tap skills more advanced, mostly by focusing on sounds and syncopation. I know that some steps, like Maxie Fords, probably won't be possible with my peg leg, but that doesn't stop me from pushing to improve.
Future Ambitions
At the moment, I have my sights set on graduating college. Cancer treatments kept me out of school for quite a while, but I'm back full-time now, with plans to graduate as soon as possible. I never changed my major and I still have the same long-term goal as before the amputation: to work on Broadway or in another part of the performance industry. Whatever I end up doing, I'll do it to the best of my abilities.
The most important thing I learned while battling osteosarcoma was not to live life casually or take anything for granted. Thanks to the overwhelming support and strength of my family and friends, I'm prepared to live each day to the fullest, no matter what the future holds.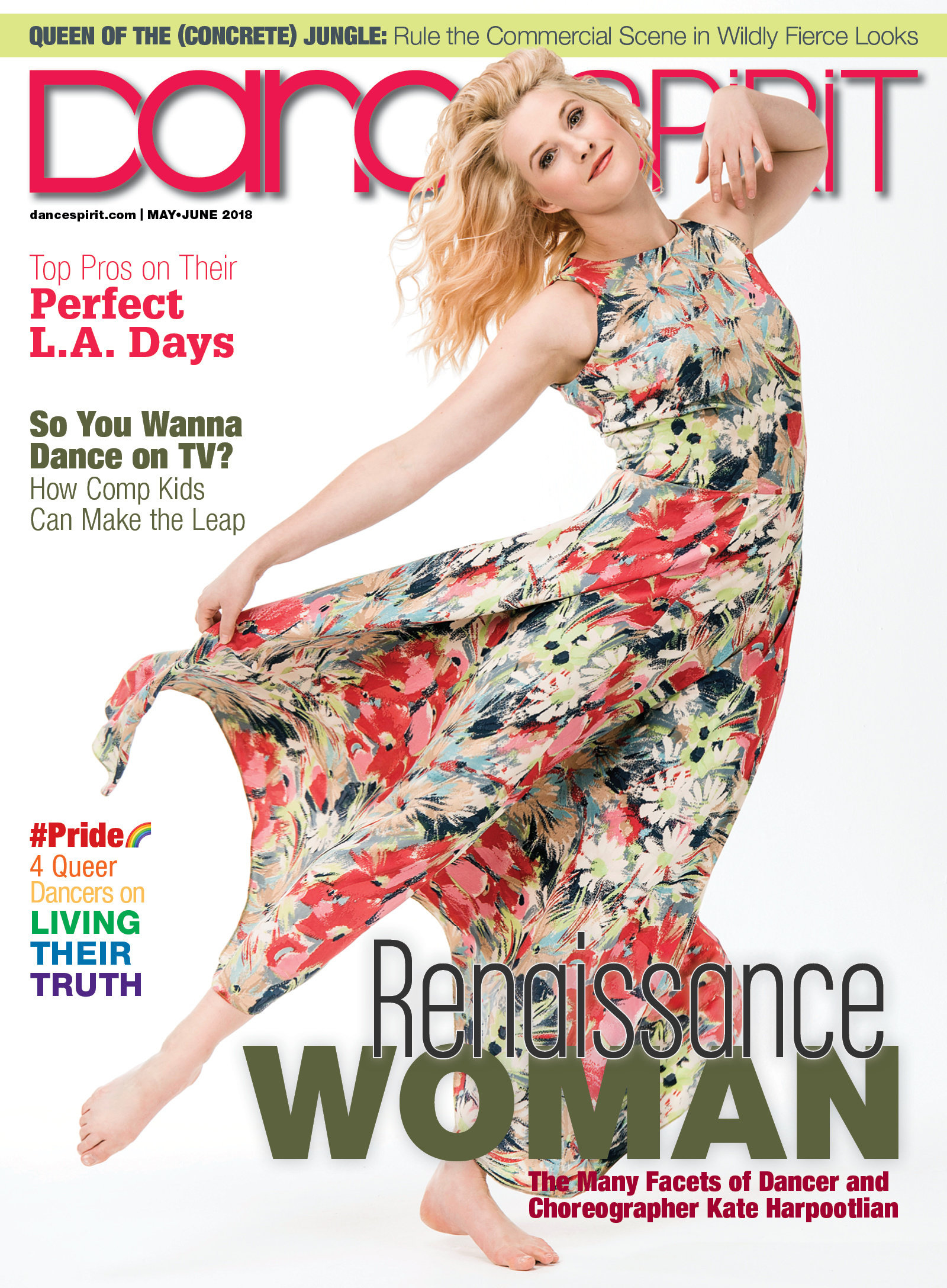 Get Dance Spirit in your inbox