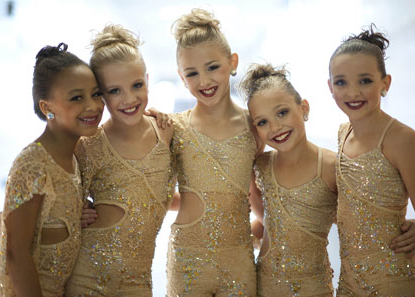 These could be your new BFFs!
Calling all comp kids! Are you dreaming of making your small-screen debut? If you think your leaps are as strong as Maddie Ziegler's, your shimmies are as fierce as Asia Monet Ray's and your pirouettes are as sharp as Chloe Lukasiak's, now may be your time to shine! Here's the catch: Your mom (or dad!) has to be on board as well.
Why? The infamous Abby Lee Miller is looking for new kids and their parents to add to the cast of "Dance Moms"—and possibly "Abby's Ultimate Dance Competition."
Auditions for dancers 13 and under will be held in Orlando, FL (Oct. 25), Atlanta, GA (Nov. 8), and NYC (Nov. 23). Find out more and register at dancemomscasting.com.
See you on TV!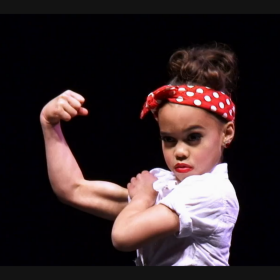 You had muscles like that at seven years old, right?
It's week two of Asia with the ALDC, and the drama surrounding this little firecracker has just begun. Here are my three most AWKWARD and AWESOME moments from last night's episode:
AWKWARD: Asia vs. Mackenzie. New girl Asia gets on top of the pyramid in her first week. Uh oh, looks like she's just earned a big fat target on her back. But no, the moms are still ganging up on Mackenzie, claiming that she's faking her injury. She loves to dance, people. She would not fake this injury! Plus, now she really wants to kick little Asia's butt. I'm going to assume that, healed or not, Mac will be back next week. Team Mackenzie!
AWESOME: Asia's solo. This is just so much better than her puppy dance from last week. She's playing Rosie the Riveter, a tough cookie just like she is. Holy muscles, Batman! This girl is fierce. Everything about the choreography is super cute—and her costume is appropriate! Can I be Team Mackenzie and Team Asia?
AWKWARD: Flaggate (a.k.a. the group number). Asia isn't doing most of the choreography, but she does get to run across the stage with an American flag. Essentially, Abby's tacking a young kid on at the end to bring the overall age of the routine down. Isn't this the same kind of thing we used to make fun of Vivi for in Cathy's choreography? But the real drama comes when apparently the flag is held up the wrong way onstage. Someone must be blamed! Was it Paige's fault or Asia's fault??? We never find out, but I'm going to go with: Who cares? They looked great.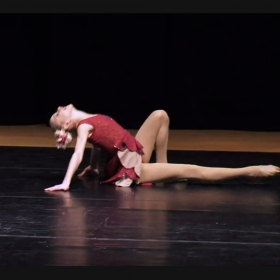 So pretty. And so not deserving of what Abby put her through this week.
AWESOME: Maddie's solo and Chloe's solo. My goodness, I love these two. This rivalry isn't anything new. We spent most of Season 1 wondering if Chloe would ever be triumphant over Maddie (spoiler alert: she was!). After months of no head to head competition, they're both onstage this week. Yippee! Chloe is elegant and clean and gets second place; Maddie is emotional and striking and gets first. Just goes to show, a little healthy competition goes a long way…
AWKWARD: I spoke too soon. Abby takes this Maddie vs. Chloe thing way too far. She kicks things up a notch by asking everyone (moms and kids) to vote for either Maddie or Chloe after watching them perform. Sigh. This does not seem like a productive activity. Maddie wins the vote by a landslide, leaving Chloe feeling terrible. Best moment: Mom Kelly votes for Paige. Hahaha. In your face, Abby.
AWESOME: Holly's defense of getting an education. Mom Melissa has decided that Maddie and Mackenzie should be home schooled, and the other moms are not pleased. Yes, sometimes home schooling is the best option, but this is clearly not one of those times, especially with little Mackenzie, who's too young to have decided whether she even wants a career in dance. Plus, she'd miss her friends! Holly does a remarkable job of explaining the seriousness of pulling kids out of school: "School's not just about busy work. It's about: Can you think? Can you be a citizen of the world and think for yourselves?" Yes, Holly! In the end, smart dancers are successful dancers.
And now (drum roll please) the QUOTE OF THE WEEK:
"Asia might be a big deal on the Internet, but so is a dog who can bark his ABCs." —Mom Christi
A dog who can bark his ABCs!? Where is this dog? Will someone send me a link, please?
Don't know about you, but we're lovin' the choreographic partnership between WilldaBEAST Adams and Janelle Ginestra lately. We've been all about it ever since we saw their spot-on remake of Michael and Janet Jackson's "Scream" music video.
This week, the dream team released a video to Katy Tiz's "Whistle (While You Work It)"—and it features none other than former "Dance Moms" mini-diva Asia Monet Ray.
Side note: Adams and Ginestra's team name, #BEAUTYanDABEAST, is sheer brilliance.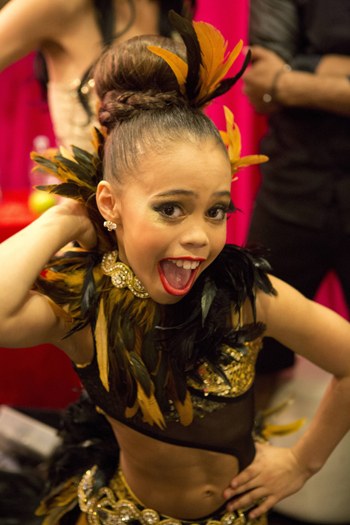 Before a performance at the Reality Wanted Awards, which we'll see on "Raising Asia"
(photo by Adam Taylor)
Watch out, Beyoncé. There's an 8-year-old (soon to be 9!) triple threat blazing trails in the entertainment industry, and nothing can stop her.
You may remember Asia Monet Ray as a member of the Abby Lee Dance Company on "Dance Moms," or from her butt-kicking appearance on "Abby's Ultimate Dance Competition." But starting this week, she's being reintroduced on Lifetime without the wrath of Abby and those Pittsburgh mommies. Asia's new show, "Raising Asia," premieres Tuesday at 10 pm EST, and if the trailer (see below) is any indication, we have 14 episodes—in seven weeks—of amazingness coming our way. Not only is she the cutest ever, but Asia's also got the wit, sass and determination it takes to be a superstar. I caught up with this pint-sized pirouetter to get the scoop on her new show.
What do you love most about "Raising Asia"?
It's awesome because I get to be with my family. I think it's the most time I've spent at my house in years! Everyone will see the work that goes into being a dancer, a singer and an actress—a triple threat, a mega star, a pop star! I'm really excited to see myself on TV again, even though we'll have to TiVo it, because the show's on past my bedtime. And everyone is going to love my little sister. She's really funny.
What was the craziest thing that happened on camera?
My dad and I were hanging out at a place that had mini golf and a go-kart raceway. We were racing, and I told him I was going to beat him. He ended up winning, but when the attendants yelled "Stop!" I accidentally pressed both the brakes and the go pedals, and I bumped right into a parked car. I was OK—I had my seat belt on. But I'm glad no one was in the parked car! That would have been bad, because I think I broke it.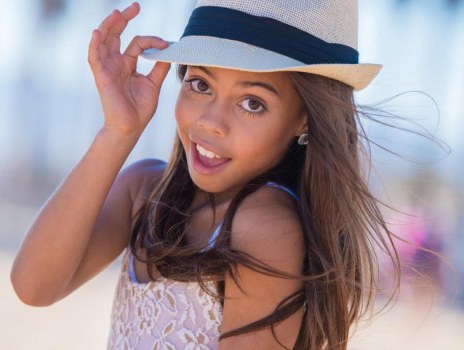 Asia being Asia!
(photo via iamasiamonet.com)
Do you train at a studio?
My schedule is so hectic that I need to study privately. And I'm not competing. I work with choreographers who travel with me and can get me into a studio if we need it.
What's your favorite dance style?
Jazz and hip hop—I was born to be sassy and I can express myself in those styles. But I'm getting a little more used to lyrical.
What's your favorite food?
I love hamburger patties. I also love chicken, brown rice, edamame, miso soup and shaved ice from Icy-licious.
What's one accessory you can't live without?
Lip gloss—and a mirror.
Cats or Dogs?
Dogs, dogs, dogs! My mom will not let me have a dog, even though I've been asking for one basically since I was born. She says it will be too much work; we're already boarding a bird and a fish every time we travel, and we'd have to board the dog, too. I don't think a dog would want to watch me dance and sing all day—she'd want me to play with her, and she'd probably feel really left out and sad when I couldn't. If I ever get one, though, I'd like a teacup Morkie. And she'd have to be a girl dog, because I get too angry with boys—they make messes. I can dress up a girl dog and put nail polish on her little claws. I also like pugs and miniature bull dogs. I love their little front teeth that make them look so angry—but they're so cute!
Want more? Visit her new website iamasiamonet.com to see photos, read Asia's blog, purchase her upcoming debut album and find out where she'll be next.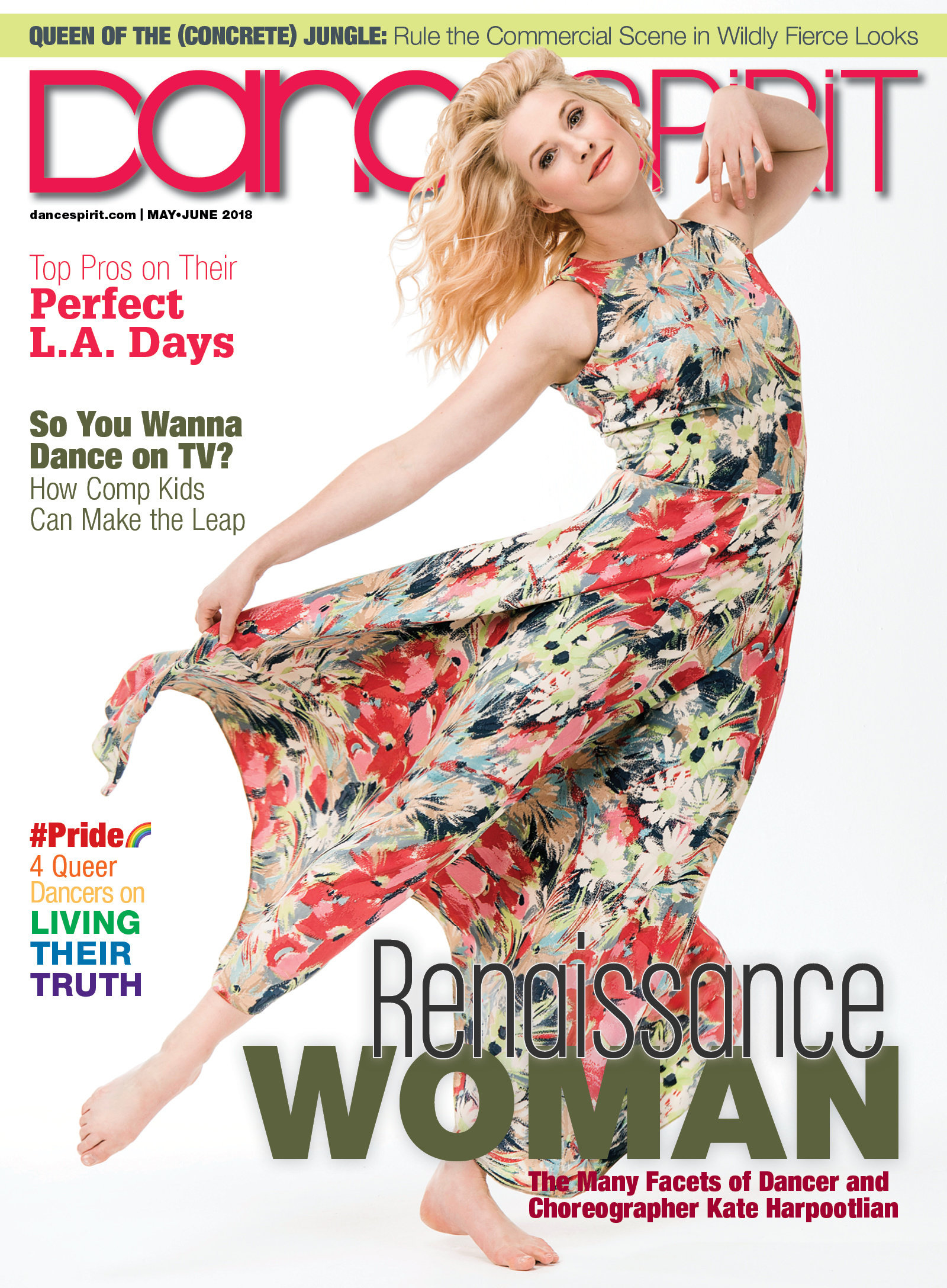 Get Dance Spirit in your inbox