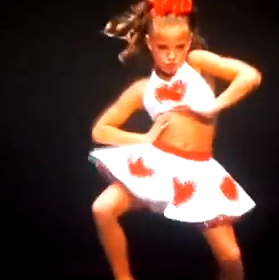 Work it, Kenzie!
Finale time! The whole crew—and I mean the whole crew—was in New Orleans for In10sity Nationals. Much of this episode was hard to watch (aka the parts featuring the moms), but, in the end, there was a ton of great dancing. Here are my top AWESOME and AWKWARD moments from last night.
AWKWARD: Abby made the girls go head to head to decide who would perform a solo at Nationals. Mackenzie vs. Asia. Brooke vs. Payton. Chloe vs. Kendall. Nia vs. Paige vs. Maddie. Each group would learn one solo, and only one kid from each match up would get to perform. Of course, this stirred up plenty of drama among the moms. The kids, however, out-matured their parents as usual and seemed fine with a little healthy competition. It was a nail biter, alright, but then the whole plan was turned on its head because of the moms and their mayhem (see below).
AWKWARD: The moms get drunk. Long story short: Mom Christi and Mom Leslie end up in an actual physical fight and Leslie then tried to beat up a producer. Obviously, they were asked to leave the show. The worst part? Their kiddos had to leave with them. Bye, Chloe and Payton. And Mom Kristie, apparently appalled by the moms, took Asia out of the equation, too. I would say I think this will teach the moms a lesson…but that would be a lie.
AWESOME: Mackenzie as "Dance Doctor." Things didn't look good for Mackenzie at the start of this episode: Abby pitted Little Mac up against Big-Personality Asia in an improv-off—and Asia crushed it. But after Asia had to leave the competition, it was up to Mackenzie to snag the title. She. Was. Awesome. I know Abby is always saying how good Asia was for Mackenzie—forcing her to step up her game—and I think she may be right. It looked like some of that Asia sass had worn off on her, and all her old tricks were still top notch. Abby might call second place the first loser, but Mackenzie was the champ of this episode in my book.
AWESOME: Where did you come from, Kendall? While it's sad that Chloe had to leave, it was nice to see Kendall have her moment in the spotlight. And I was blown away by how strong she looked in her solo! As Abby says, she's "nipping at Maddie's heels."
AWESOME: Maddie's solo. There's a reason she's unbeatable, people. This girl knows how to perform. The moms had a point when they said this choreography was designed for Maddie, and she performed it flawlessly. While it was a little expected since Chloe had left the competition, it was nice to see how genuinely thrilled Maddie was (she even looked surprised!) to be named first place. Congrats, Maddie!
AWKWARD: The Cathy came back. Sigh, but we were having so much fun without her! And, to continue avoiding doing any work herself, she's brought Blake McGrath in as a choreographer—who's sporting a strange (read: awful) neck tattoo. The kids do a good job picking up his tricky choreography…just not good enough. The Candy Apples group dance gets second to the ALDC, who killed it with an emotional tribute to Hurricane Katrina. Don't cry, Cathy!
And…the ALDC kids are the National champs!
Now, the Quote of the Week:
"Nia needs to compete for a solo with Maddie and Paige. It doesn't take a doctor to find out how that's gonna end up." —Mom Dr. Holly
That's all for this season, folks. We're left wondering: Will there be a Season 4? And with no Asia, perhaps no Chloe or Payton, and maybe even no Abby, should there be? Weigh in below!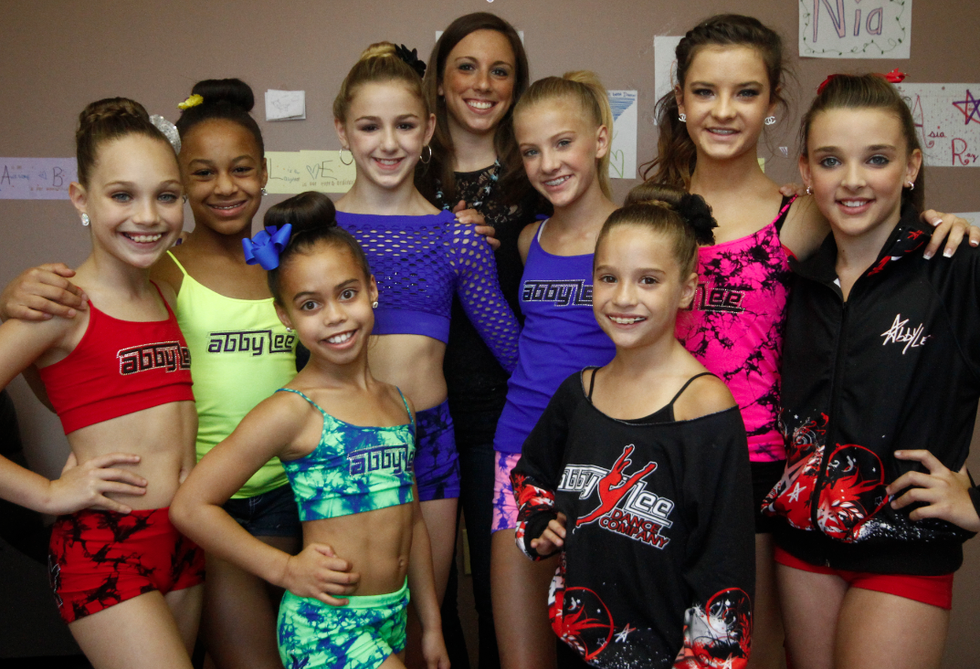 On set with all the ALDC kids! (Photo by Nate Powers)
Last night's "Dance Moms" episode featured a very special guest: Dance Spirit! So instead of our usual recaps, I'm going to give you a rundown of five things you didn't see on TV—but I did.
1. You know those moments when the kids and moms are speaking directly to the camera about what's happening? That's called an "On the Fly" or "OTF." And though it may appear that they're done against a wall of brightly colored costumes, they're not. They're actually filmed outside the studio on the grass. And they really are done on the fly! Cast members get almost no warning before they're called away to share their thoughts.
2. Those plot twists are planned—but not everyone is in on them. When Jill came for a "surprise" visit to our photo shoot? The only one who was shocked was Melissa. Jill and Kendall were waiting outside the house for more than an hour before entering, hanging out with the crew. The producers had cooked up the whole thing. And yes, even I knew it was coming.
3. The kids are generally nowhere near the mama drama. And that's a good thing. Maddie told me that as soon as the fury begins, one of the moms will whisk the children out of the room. And remember that scene in last night's episode where Abby calls Jill down to yell about Kendall? It seems like Kendall is right there, hearing it all, but really Gianna had moved Kendall and Maddie into a corner to run the choreography—and stay far away from the mayhem. Of course, they'll see it later on TV… but it's the thought that counts.
4. This show has really good editors. After all, they have to cut a full week of footage into one hour. They can also make it look like you're reacting to anything that's said in whatever way they want. How do I feel about that?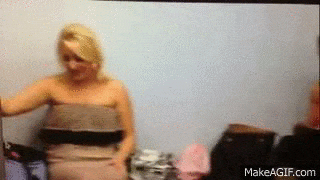 5. Beyond all the fancy camera work and editing, some of it actually is real. I saw real emotion, real hard work and real smiles from all the kids on set. And we really were there to capture a day in the life of Maddie for our November issue. "Why just Maddie?" you ask? It seems a lot of the dance moms had the same question. We chose Maddie because we see some serious potential in her. If she stays in class (which she promises me she's doing), she has the skills and the commitment to make it in the dance world when her time on "Dance Moms" is a distant memory.
Want more behind-the-scenes details from the show? Maddie spills it all in our November issue. Get excited!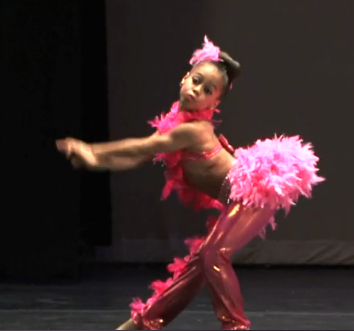 So glad she put her super-cute pants on the right way this week!
It's Vegas Week! Oh wait, wrong show. But the "Dance Moms" crew did head to Sin City for this week's installment—the last competition before Nationals. Here are my most AWESOME and AWKWARD moments:
AWKWARD: Mackenzie wasn't with the team this week. I hate this.
AWESOME: Asia's solo. This pink-flamingo persona suited Asia's personality far more than the little puppy dog she had to play on her first episode. (Remember that? That outfit was so Mackenzie.) Say what you will about Asia's choreography being mostly fouettés. I say, if you can fouetté like that, who needs anything else? Just kidding, Asia, stay in class. But your turns were fierce and so was your attitude. First place, baby!
AWKWARD: The whole Ricky Palomino debacle. Abby told Brooke and Paige that none of the ALDC teachers wanted to work with them—probably because Abby threatened to fire them—so outsider Ricky would be coming in to choreograph their solos. That's all fine and good (I'm all about guest teachers!), but this Ricky character didn't seem to have a good grasp on the girls' styles. Brooke's solo was pretty dull, and Paige's solo had a whole lot of undulating. At least Paige had a $500 costume, because that's what's really important.
AWKWARD: Paige had a very hard time this week. First, she had a panic attack when asked to do the group routine by herself. Then, she was beyond terrified before going onstage. Poor thing. As we knew from the previews (Stop ruining things, "Dance Moms"!), she froze mid routine, cried and ran offstage. Rough. Abby made it clear afterward that she had nothing to do with this routine and that this wouldn't have happened if Ricky hadn't been choreographing for her. Wait, Abby, whose idea was it to have Ricky choreograph for the Hylands? Oh yeah, it was yours. Awk-ward.
AWESOME: The Brat Pack. Abby challenged the kiddos to be "cool" instead of "cute" for their group routine. But then she put them in the cutest little costumes ever, contradicting herself yet again. I'm just happy Brooke and Paige got to join in. The result was an awesome, age-appropriate and quirky number. I loved it—so did the judges. Another first place win!
AWESOME: Next week on "Dance Moms": Dance Spirit spends a day on set! No spoilers here, but let's just say it will be eventful.
And finally, the QUOTE OF THE WEEK:
"Remember: Whatever happens in Vegas stays in Vegas." —Abby comforting Paige after she messed up her solo. See, people, she's not all bad!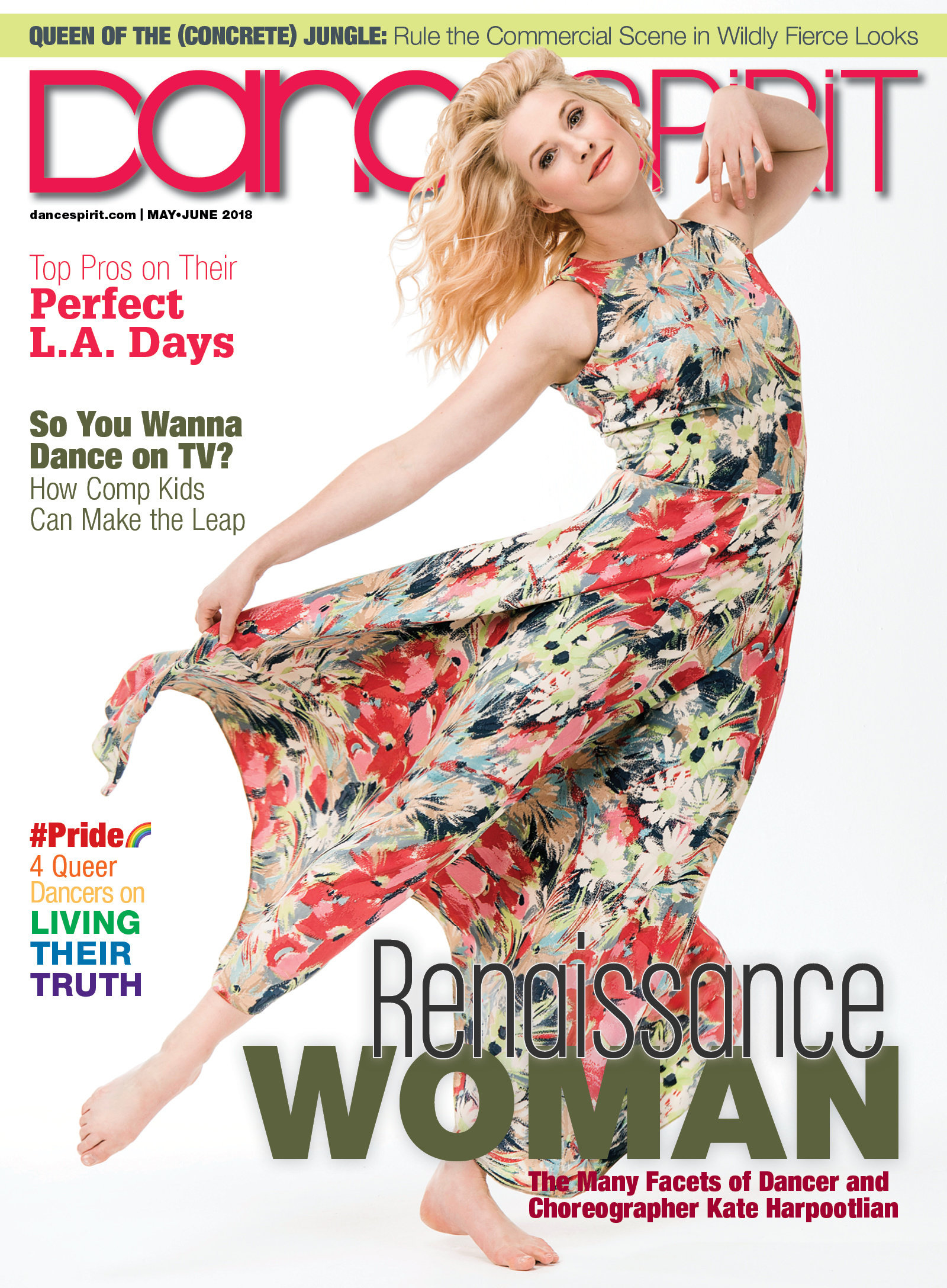 Get Dance Spirit in your inbox