With T-minus mere hours until the danciest Tony Awards ever (!), the Broadway community has been pretty much drowning in statues, plaques and sealed white envelopes for days. Last Sunday evening, for example, marked the 60th annual Drama Desk Awards, which pitted both Broadway and Off-Broadway shows against each other. And the Theatre World Awards, which recognize stellar Broadway debuts, were held the following night in the heart of midtown Manhattan.
Just a little further downtown, another ceremony celebrated the most fantastic contingency of the Great White Way on Monday: The Fred & Adele Astaire Awards! Held at NYU's Skirball Center of the Performing Arts, the Astaire Awards honor Broadway's outstanding male and female dancers, choreographers and lifetime achievers. It was a long evening of great performances and speeches—here were the highlights:
1. Host Christina Bianco's impressions of Kristin Chenoweth, Bernadette Peters, Patti LuPone, Julie Andrews, Barbra Streisand, Liza Minnelli and Celine Dion. Six Broadway legends (plus a diva) in one word: Amazeballs. Watch this clip of Bianco performing at 54 Below to get an idea of her magic:
2. Joel Grey's Lifetime Achievement Award presentation. Before a heartfelt speech by his daughter (Dirty Dancing and "Dancing with the Stars" champ Jennifer Grey), there was a short film highlighting just a few of Joel Grey's many contributions to the theater world, including the original emcee in Cabaret, the Wizard of Oz in Wicked, Amos Hart in Chicago's 1996 revival and leading roles in Goodtime Charley, George M!, Anything Goes—even a part in the movie Dancer in the Dark, starring Björk. Take a look at Grey in the role he's most known for (and for which he won an Academy Award), the emcee the 1972 film version of Cabaret:
3. The awards! Each category was filled with intense competition—making it impossible to select just one winner in the Outstanding Male Dancer and Outstanding Choreography sectors: Robert Fairchild (An American in Paris) and Tony Yazbeck (On the Town) tied as Best Dancers, as did choreographers Christopher Wheeldon (An American in Paris) and Joshua Bergasse (On the Town). Leanne Cope (An American in Paris) took the Award for Outstanding Female Dancer.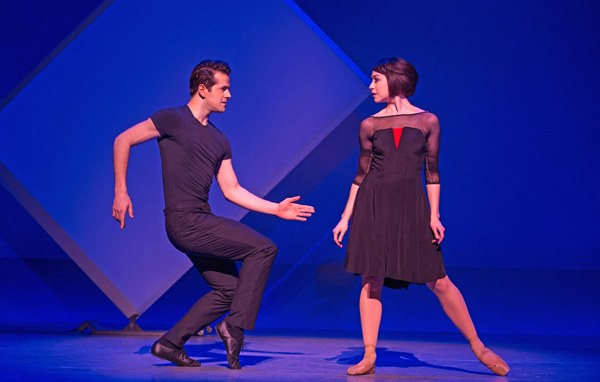 Did I mention Fairchild (left) also took home a Drama Desk Award for Outstanding Actor in a Musical on Sunday? (Fairchild and Cope in An American in Paris; photo © Matthew Murphy)
4. The extra awards! Four "bellhops" from On the Twentieth Century won a special award for Outstanding Ensemble Performers after a tap-tastic rendition of "Life is Like a Train," choreographed by Warren Carlyle. This year's Astaire Awards also recognized choreography on screen: Akram Khan received the award for Outstanding Choreography in a Feature Film for his work on Desert Dancer. (Also notable: Aakomon Jones was nominated twice in that category for his choreography in both Get on Up and Pitch Perfect 2.)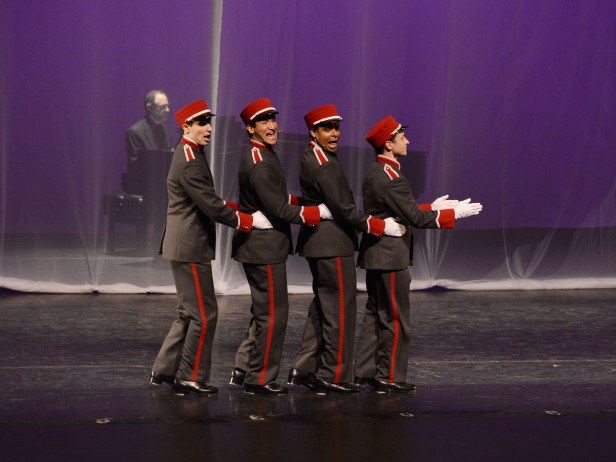 On the Twentieth Century's Phillip Attmore, Rick Faugno, Drew King, Richard Riaz Yoder at the Astaire Awards (Photo by Presley Ann/PatrickMcMullan)
5. Studio Bleu Dance Center's closing number, Motown. One of the Astaire Awards' co-sponsors is New York City Dance Alliance, so one might guess there'd be some pretty spectacular kids' performances. And the dancers from Ashburn, VA, totally delivered. Their energy, technique, powerhouse stamina and amazing tapping had the entire audience on their feet—one of only two standing ovations for the entire evening. (The first was for Grey.) Can't wait to see some of these dancers on Broadway in years to come!
The Tony Awards (airing this Sunday night!) recognize a lot of Broadway talent: actors, directors, sound designers, lighting designers, writers, composers, and our favorites, choreographers. But we all know that the true muscle behind every amazing musical is the dancers. And they rarely get Tony nominations. (Unless they happen to be the fabulous Karine Plantadit, who earned a best featured actress nomination in 2010 for her dance-heavy role in Come Fly Away.)
Enter the Fred & Adele Astaire Awards. Each June, the Astaire Awards recognize Broadway's best of the best—in jazz, tap, or character shoes. The 2014 ceremony was held last night in NYC, and the star-studded event didn't disappoint. Here are the best moments from the oh-so-dancey evening: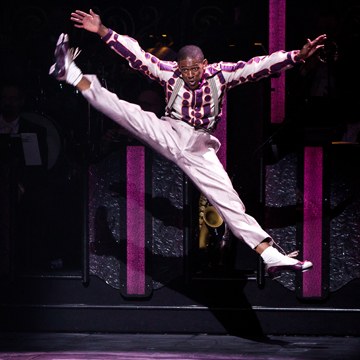 Jared Grimes in After Midnight (photo by Matthew Murphy)
1. Jared Grimes' performance. Grimes currently stars in After Midnight. He opened the show with a display of his signature lightning-fast tapping and hip-hop swag fusion that later earned him the Astaire Award for best male dancer. (After Midnight was the big winner of the entire evening: Plantadit and Dormeshia Sumbry-Edwards tied for best female dancer, and lanky Englishman Warren Carlyle won the award for best choreography. Seriously, go see this show!)
2. Angel Inniss' stellar layouts in her jazzy solo "Mr. Paganini." Man, can this senior dancer from Spotlight Studio of Dance in Maryland work a stage! Angel took home the New York City Dance Alliance Foundation's Adele Astaire College Scholarship. Congrats, Angel!
3. The presentation of the Outstanding Contribution to Dance Education Award to Luigi, the father of jazz dance (and the father of "5,6,7,8"!), and presentation of the Douglas Watt Lifetime Achievement Award to Patricia Birch. You know Patricia Birch for this choreography: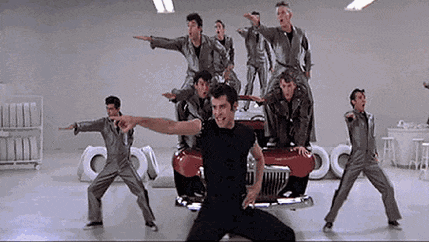 Greased Lightning! John Travolta and company in Grease
And this choreography:
Steve Martin and Gilda Radner cut a rug in "Dancing in the Dark" on "Saturday Night Live"
Of course, these are just two small snippets of this choreographer's CV, and Patricia Birch hasn't stopped moving (to quote Luigi) or choreographing. Her work can currently be seen on HBO's "Boardwalk Empire." Which brings us to top moment 4:
4. Legendary actor (and star of "Boardwalk Empire") Steve Buscemi making a surprise appearance to pay tribute to Patricia Birch for her work on the show. Best of all? We got to see a stage rendition of one of the acts from "Boardwalk." Take a look at the number in this clip from the show, and see if you can find our gal Chloe Arnold. Spoiler alert: Jared Grimes also performs!
5. Nancy Chippendale's Dance Studio tappers big finale. These teen dancers—there were more than 45 onstage!—from North Andover, MA, sure know how to stay in formation, while flapping and tapping in perfect unison. Their number "Glam" was the perfect finish to a truly glamorous event.
Let's hope Sunday's Tony Awards (8 pm on CBS) includes at least half this much dancing!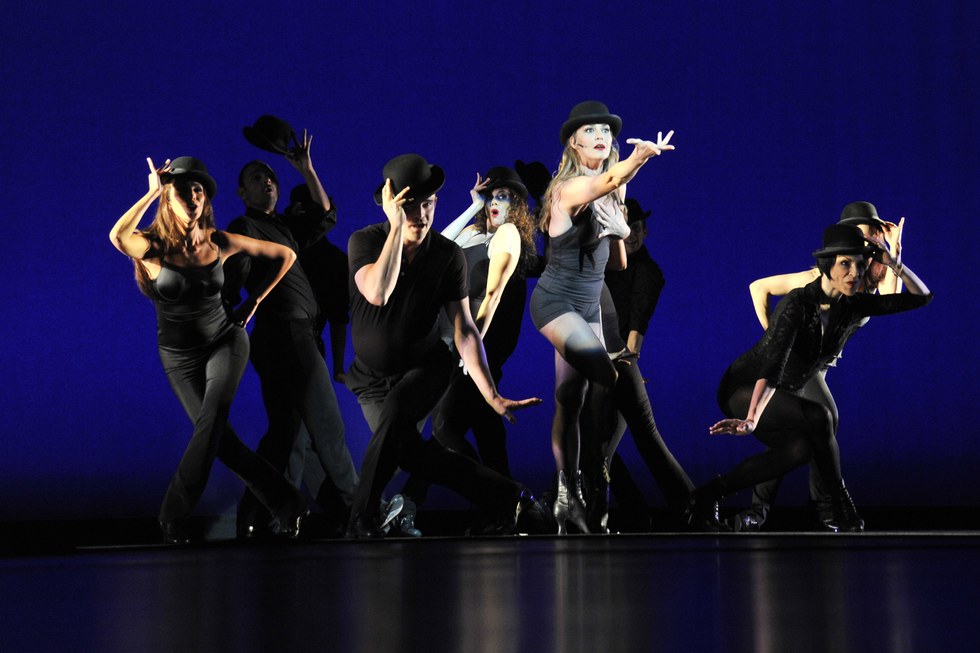 A scene from last year's Astaire Awards. Photo by Patrick McMullan.
It's Broadway awards season! While the biggest awards show for Great White Way stars—the Tony Awards—isn't until June 9 (hosted, yet again, by Neil Patrick Harris, hooray!), the Fred & Adele Astaire Awards are ready to kick things off!
OK, so they're only a few days before the Tony's, but this year's Astaire Awards on June 3 promise to deliver plenty of spotlight-worthy talent, performances and, of course, well-deserved awards (just like last year—here's our recap).
Here's the list of this year's nominees:
Outstanding Female Dancer in a Broadway Show
Charlotte d'Amboise, Pippin

Taylor Louderman, Bring It On

Laura Osnes, Cinderella

Patina Miller, Pippin

Andrea Martin, Pippin

Lesli Margherita, Matilda

Stephanie Pope, Pippin
Outstanding Male Dancer in a Broadway Show
Eric LaJuan Summers, Motown

Rob McClure, Chaplin

Andy Mills, Cinderella

Billy Porter, Kinky Boots

Charlie Sutton, Kinky Boots
Outstanding Choreographer of a Broadway Show
Andy Blankenbuehler, Bring It On

Warren Carlyle, Chaplin

Peter Darling, Matilda

Jerry Mitchell, Kinky Boots

Josh Rhodes, Cinderella

Sergio Trujillo, Hands on a Hard Body

Chet Walker, Pippin

Patricia Wilcox & Warren Adams, Motown
Outstanding Choreographer in a Feature Film
Sidi Larbi Cherkaouit, Anna Karenina

Alison Faulk, Magic Mike

Mia Michaels, Rock of Ages

Mandy Moore, Silver Linings Playbook

Poonam Shyam, Trishna

Jamal Sims, Christopher Scott, Chuck Maldonado & Travis Wall, Step Up Revolution
Congratulations and good luck to all!
Oh and the coolest thing about the Astaire Awards? You can attend the ceremony right here in NYC! Click here to get your tickets.
Last night I got all dressed up—er, stayed in my nicer-than-normal work attire, actually—to attend the 30th annual Fred and Adele Astaire Awards at New York University's Skirball Center for the Performing Arts.
Now, awards shows are usually fun because you get little glimpses of dancers: those performing backup at the MTV Video Music Awards, the ones in the opening act at the Academy Awards, and maybe a dancer or two making moves at the Grammys. But the Astaire Awards are all about dancers and choreographers.
So naturally, between the people watching (Newsies choreographer Christopher Gattelli! New York City Dance Alliance executive director Joe Lanteri! "Smash" choreographer Josh Bergasse! A real housewife!) and the performances (oh, Fosse, Fosse, Fosse—which is fun to say, as presenter Chita Rivera pointed out), this evening was oh-so-entertaining.
Here are a few of my favorite moments from last night's Astaire Awards:
Luke Spring. This kid is dynamite, and you're going to see much more of him in upcoming issues of Dance Spirit. Promise. Little Luke is just 9 years old, but he's got a smile the size of Jupiter and the fastest tapping feet I've seen in a long time. Luke isn't just a good tap dancer for his age—Luke is good. Period. He opened the show with a solo performance and the crowd was in awe. Luke is going to be a star. In fact, he already kind of is.

The New York City Dance Alliance boys performing "Seize the Day" from Newsies. This season's huge Broadway hit scored a whopping 11 nominations last night (though, sadly, no wins). Naturally it would have been nice if the cast could be there to perform—but the show must go on, and Newsies had a show of its own last night. Leave it to choreographer Christopher Gattelli and NYCDA head honcho Joe Lanteri to save the day. Joe put out a call for young men and Christopher brought them in—a crew of 14–18 year olds from all over the country—for a two-day "Newsies bootcamp." The result? A show-stopping performance from the rising generation of dancers. Considering they had just learned the piece, these young men pulled it off exceptionally well.

The Fosse veterans swiveling their hips to "Dancin' Man," "I Gotcha" and "Bye Bye Blackbird." I will never get sick of that sultry style, and getting to see the iconic moves performed by dancers who trained directly under Bob Fosse is pretty special. Bravo!

Chita Rivera presenting the Douglas Watt Lifetime Achievement Award to Liza Minnelli. It was so endearing hearing the wonderful stories everyone shared about the fabulous Ms. Minnelli. Close friends Tony Danza, Marvin Hamlisch and Mikhail Baryshnikov (!!!) joined Chita onstage to talk about what a wonderful performer and friend Liza is. It was heartwarming and, frankly, pretty awesome.
Here's the full list of last night's winners:
Outstanding Female Dancer in a Broadway Musical: Lisa Nicole Wilkerson (Porgy & Bess)
Outstanding Male Dancer in a Broadway Musical: Leslie Odom, Jr. (Leap of Faith)
Outstanding Choreographer for a Broadway Musical: Ron Brown (Leap of Faith)
Outstanding Feature Film Choreography: The Artist
Outstanding Dance Documentary: Pina
Congratulations to all!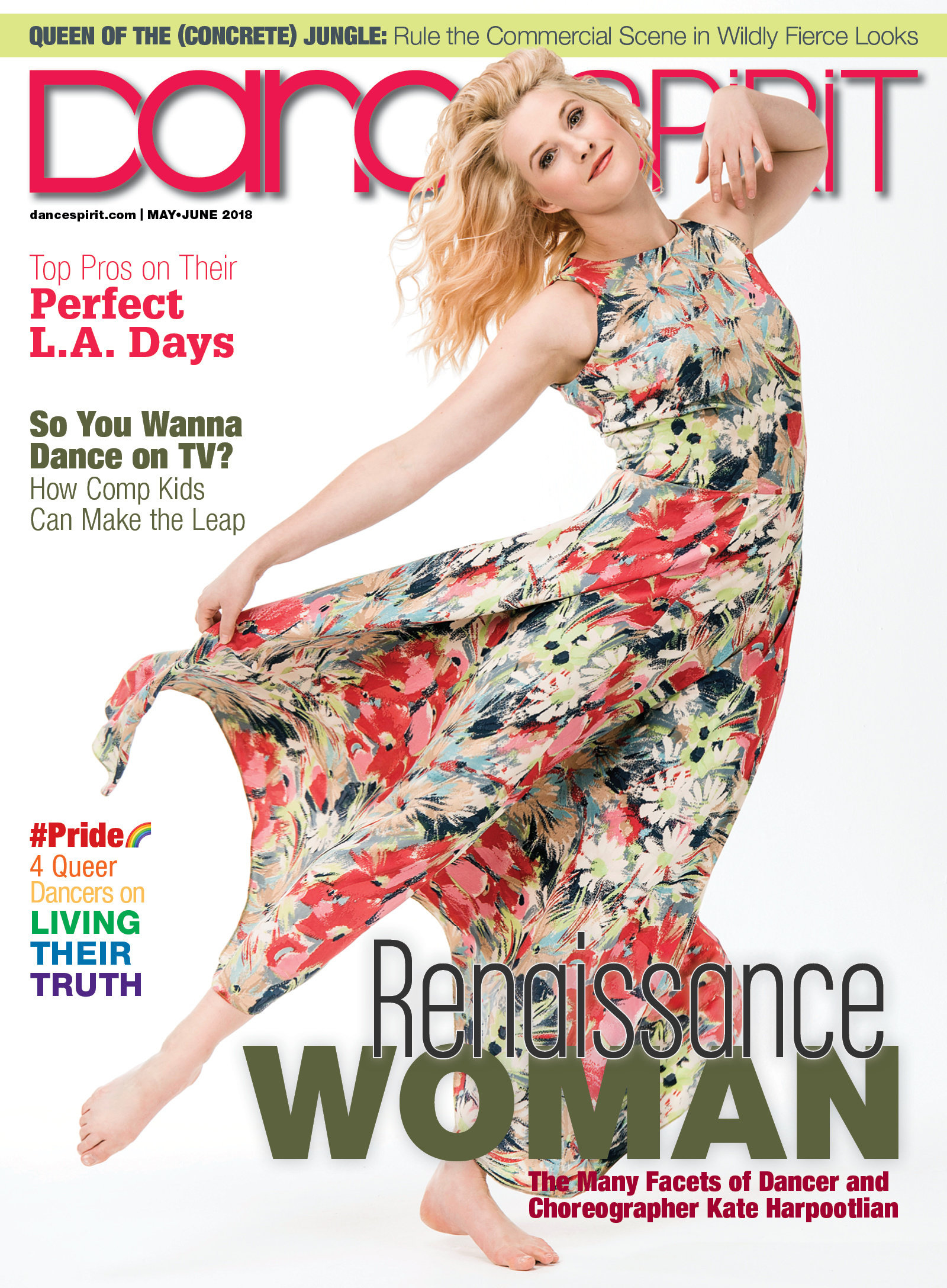 Get Dance Spirit in your inbox