In case you missed the best night on TV—a.k.a the live broadcast of the Tony Awards—Dance Spirit's got your back. Here's a rundown of the show's highlights, a couple of its more cringe-worthy moments, and some of our favorite (and least-favorite) red carpet outfits.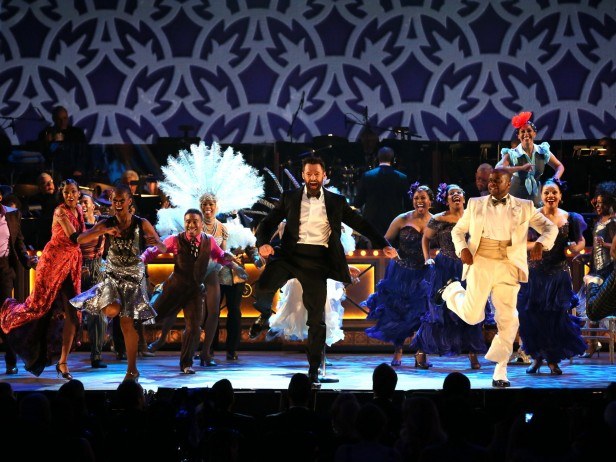 Hugh Jackman with the cast of After Midnight
(photo Sara Krulwich/The New York Times)
The Highlights: 
–Hugh Jackman as host. It's great to see Wolverine back on the Radio City Music Hall Stage, singing and dancing with the stars of Broadway. He even cut a rug with Dulé Hill and the fabulous cast of After Midnight. Sure, his opening number (with all that awkward hopping) wasn't as fabulous as NPH's extravaganza last year, but his serenading of the female best actress nominees—in both the play and musical categories—stole my heart.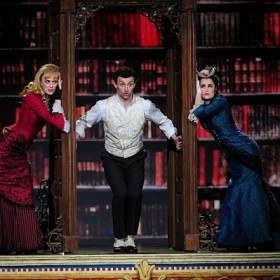 Bryce Pinkham (center) and the cast of A Gentleman's Guide to Love and Murder
(photo Heather Wines/CBS)
–The performances, obv. After Midnight, Aladdin and Bullets Over Broadway were especially impressive—so. much. tap. dancing.  And here's to genie James Monroe Iglehart's win for best featured actor in a musical. But I was especially enamored with the performance from A Gentleman's Guide to Love and Murder—the Tony winner for best musical. In case you chose to take your bathroom break during the number, you can re-watch it here. There's not much movement, but the witty trio really brought down the house.
–The crazy Music Man rap. My viewing party went pretty nuts when Hugh Jackman busted some rhymes from The Music Man—and then even more nuts when LL Cool J and T.I. joined in. The beats—commemorating the song "Rock Island" from 1957's The Music Man, supposedly the first-ever rap—came courtesy of Questlove of The Roots. (Pretty cool.) Here's the song in the 1962 film; compare it to the Tony Award shenanigans here.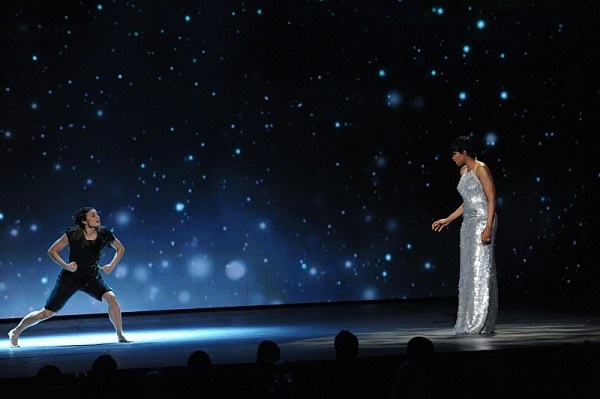 Melanie Moore with Jennifer Hudson in Finding Neverland. (photo Heather Wines/CBS)
–Melanie Moore as Peter Pan. When Finding Neverland hits the American Repertory Theater in Cambridge, MA, this summer, "So You Think You Can Dance" Season 8 winner (and DS cover star) Melanie Moore will get the opportunity to work with Mia Michaels again: Mama Mia will be choreographing the new musical. The full cast has been announced (helloooo, Jeremy Jordan!). Unfortunately, Jennifer Hudson, who sang in last night's preview, is not in the show.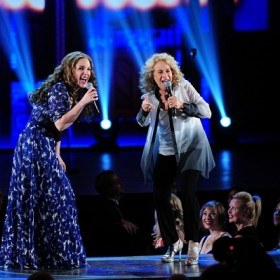 Jessie Mueller (left) with Carole King. (photo Heather Wines/CBS)
–Jessie Mueller and Carole King together (again) on one stage. I certainly felt the Earth move under my feet during this performance. Jessie Mueller is fantastic as the iconic singer/songwriter Carole King in Beautiful, and I suspect she'll be fantastic in roles to come. Congrats on your Tony for best leading actress in a musical, Jessie!
–The dreamy Matthew Bomer announcing a new Tony Awards partnership with his alma mater, Carnegie Mellon University. Next year the Tonys will celebrate one elementary, middle or high school theater teacher who really makes a difference. Know someone who you think deserves special recognition? Read about the new award here.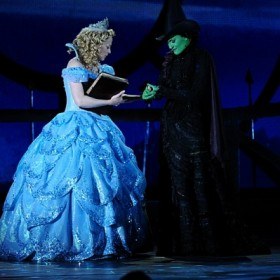 Jenni Barber (left) and Christine Dwyer (photo Heather Wines/CBS)
The Missed Opportunities:
–Wicked's 10th anniversary performance. Yes, Christine Dwyer and Jenni Barber sang an amazing rendition of "For Good." But weren't you just a little disappointed that Idina Menzel and Kristin Chenoweth didn't pop out to sing a line or two? I mean, we know Idina was there—she sang something from her new musical If/Then. Lame, Tony Awards. Lame.
–The absent-from-TV award for best choreography. Remember last year, when we got to see Jerry Mitchell accept his choreography award on TV? Apparently the producers forgot about that precedent, and After Midnight's Warren Carlyle received his award for best choreography during a commercial break. Boooooo! Maybe if we give his acceptance speech video a ton of online views, the producers will get the point for next year.
The Best Dressed: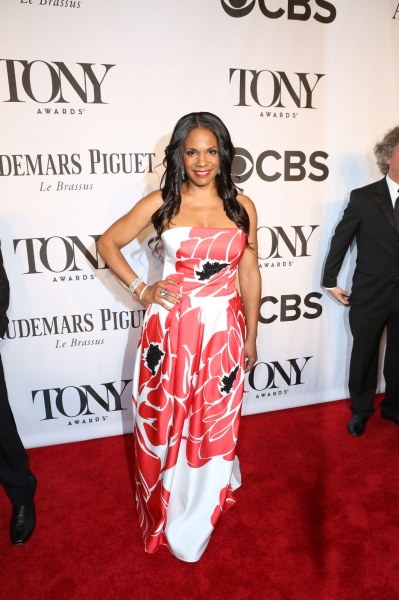 The history-making Audra McDonald, who took home her sixth Tony Award. She also became the first performer to win in all four acting categories (featured musical, featured play, leading musical and leading play). Yeah, she's legendary—and stylish to boot, in this pretty printed gown. (photo Walter McBride/Broadway World)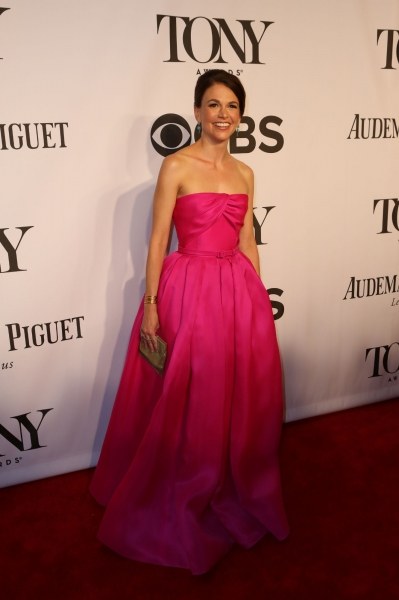 The always effortlessly gorgeous Sutton Foster. She didn't leave with a win, but her performance for Violet was strong.
(photo Walter McBride/Broadway World)
And the Worst: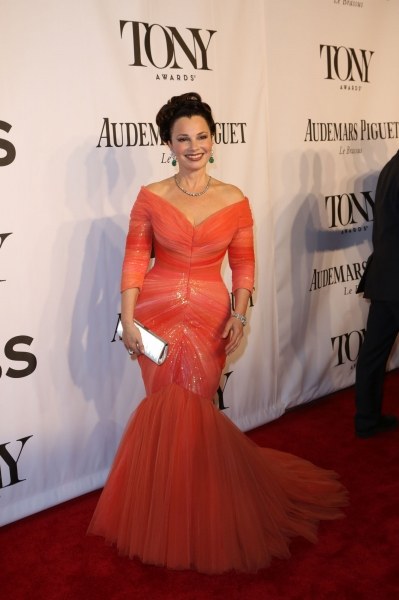 The flashy Fran Drescher. She may be on Broadway in Cinderella, but believe it or not, this over-the-top tangerine dress is not a costume.
(photo Walter McBride/Broadway World)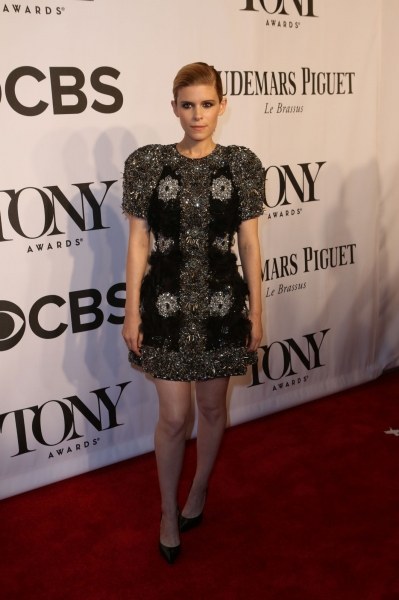 The weighed-down Kate Mara. This dress just looks heavy. Here's hoping Netflix turns "House of Cards" into a musical so Kate can redeem her look as a Tonys presenter next year.
(photo Walter McBride/Broadway World)
What did you think of the telecast? Which performance was your favorite, and who did you think was best dressed? Was any show or artist robbed of an award? We want to hear what you have to say!
Dec. 05, 2013 10:21AM EST
What, you ask, could be better than a holiday-season telecast of that classic favorite, The Sound of Music?
How about an all-new version of the iconic musical? How about an all-new version of the iconic musical featuring "American Idol" sweetheart Carrie Underwood, Broadway darling Audra McDonald, "True Blood" hottie Stephen Moyer and Broadway/"Smash" star Christian Borle? How about an all-new version of the iconic musical featuring that whole list of big names—and broadcast LIVE?
Odds are, unless you've been living under a rock, you've heard about the amazingness that will transpire on NBC tonight at 8/7c. But today, as the actual hour approaches, I, for one, am having a hard time concealing my giddiness. Did I mention that Broadway director and choreographer extraordinaire Rob Ashford will be directing this whole shebang? That means we're hopefully in for not just great singing, but some pretty high-caliber dancing.
Here's a little "Making of The Sound of Music" video to tide you over until 8 pm. And if you still want more (of course you do), check out the official Sound of Music LIVE! website, which has a collection of behind-the-scenes photos and interviews with cast members.
Now I'm going to go pat myself on the back for not using a single lyric-based pun in this post. Because good cheesy lyrical references are a few of my favorite...DANG IT.
Jun. 10, 2013 11:59AM EST
Did you catch the Kinky Boots Awards last night? Uh, I mean the Tony Awards?
Yes, it seemed like Cyndi Lauper's high-spirited, be-spangled musical took home just about every prize there was, including Best Musical. But at the risk of sounding totally cheesy, I'd say we, the audience, were the real winners last night—because hey, it was a darn great show! Here are the evening's many high and few low points.
THE HIGHS
-Neil Patrick Harris. Can NPH host everything, ever? He was particularly awesome in the...
-...kick-butt opening number (written by Lin-Manuel Miranda and Tom Kitt). After getting shoehorned into the smaller Beacon Theater for a couple of years, the Tonys were back in Radio City Music Hall this time around—and boy, did they ever "go bigger." GO NEIL GO!
-By the way, did you catch Mike Tyson in there? Apparently he had a one-man show this year, which meant we got to see him do "choreography" and try to bite off NPH's ear. It was pretty spectacular.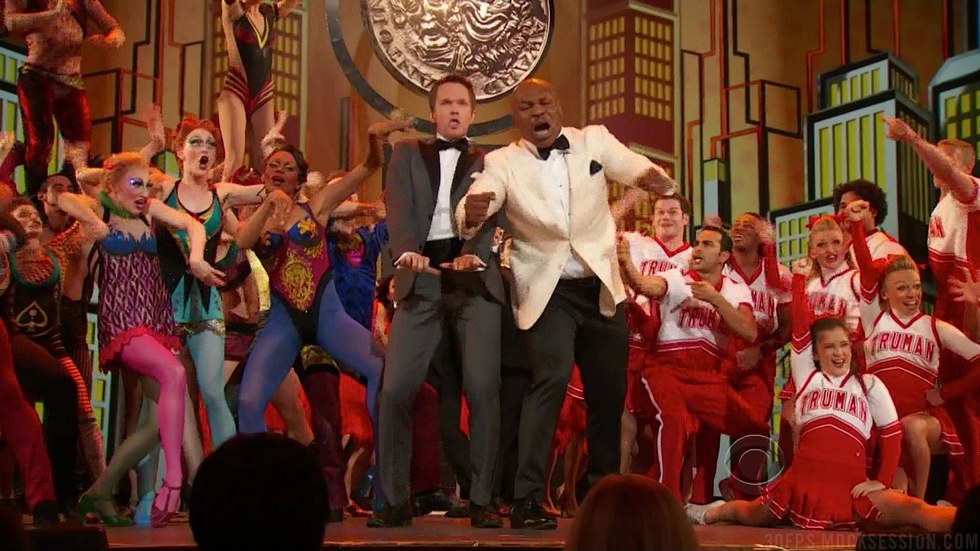 Dance, Mike, dance!
-The Matilda performance. Super-clean choreography and fabulously clever lyrics performed by some of the most talented little kids ever? Plus scooters? And Ryan Steele? It doesn't get better than that.
-Actually, here's a shout-out to all the incredible kids who performed last night. From the Annie's orphans to A Christmas Story's hooligans (Luke Spring!), they showed a level of professionalism most Broadway grown-ups never achieve. And they were cuter to boot. As NPH put it, "They're the reason this whole season seems to look like Chuck E. Cheese's."
-The mid-show musical tribute to Broadway actors and their canceled TV shows, starring Andrew Rannells, Megan Hilty, Laura Benanti and brilliantly rejiggered versions of classic songs. Just watch it again (and suck it, Will Chase!):
-Cyndi Lauper's acceptance speech, because she seemed so genuinely thrilled by the awesomeness of it all. She also happens to be the first woman to win the Best Score Tony solo, which is pretty cool. (Honorable mention goes to presenter Jesse Tyler Ferguson for screaming "Girl, you're gonna have fun tonight!" upon opening the envelope. And to Lauper's hair, last night and always.)
-Audra McDonald dropping the mic. (After helping NPH nail Lin-Manuel Miranda's awesome show-roundup rap, that is.) BOOM. What a boss.
THE LOWS
-The introductions by other Broadway characters. Fine, the Newsies boys were adorable. But the pairings of old shows with new seemed totally rando (the Rock of Ages guys introducing...Cinderella??), making the gimmick disorienting more than anything else.
-Mike Tyson's reactions to the Tyson zingers NPH sprinkled throughout the show. Mike was not amused, Neil. And he's probably not the kind of guy you want on your bad side. Just sayin'.
-Patti LuPone's dress. No. I love you, but no.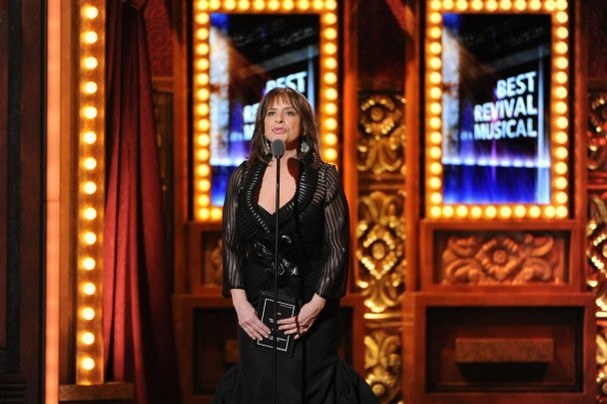 I'm sorry I couldn't find a full-length pic, because the bottom only gets crazier. (photo Evan Agostini/Invision/AP)
-Matilda not winning, like, anything. What? I mean, WHAT? OK, yes, it got Best Book and Best Featured Actor and a couple of those smaller ones they do during the commercials, but it was up for 12 nominations. Four out of 12? Did you see that performance earlier, voters??
By the way: Last week, we asked you who you thought would win the award for Best Choreography. While the actual Tony went to Jerry Mitchell for Kinky Boots, you guys were bigger fans of Andy Blankenbuehler's high-flying Bring It On choreo. Here are your results:
Andy Blankenbuehler for Bring It On: The Musical: 50.49%
Peter Darling for Matilda The Musical: 24.27%
Chet Walker for Pippin: 18.45
Jerry Mitchell for Kinky Boots: 7%
Jun. 11, 2012 12:00PM EST
Who caught the Tony Awards yesterday? It was an interesting night at the Beacon Theater, with lots of surprises when it came to the winners, for sure. But I'd like to begin this recap by establishing that Neil Patrick Harris is a national treasure. If he could host everything, ever—maybe with an occasional cameo by Hugh Jackman—the world would be a happier place.
Let's run down the highlights of the show, shall we? To simplify this a bit, I've decided to rate Tony 2012's top moments by jazz hands, from one (meh) to five (YES!).
1. The Book of Mormon introduction. OK, the idea of starting out with the BofM cast members ringing famous Broadway stars' doorbells was cute. But this show had its big moment last year, and the number itself lacked...something. (Maybe the hundreds of obscenities that pepper the rest of the production's songs?)
Rating: Two jazz hands
2. Neil Patrick Harris's opener. "What if life were more like theater?" NPH asks, and thus begins a cute musical number that pays tribute to beloved theater traditions while also poking gentle fun at them. It would basically have been impossible to top last year's insane opening number, but the "preventermission" and the Annie cameo brought it pretty close.
Rating: Four jazz hands
3. Movie-musical hybrids. "The Towering Inferno No Nannette. The Exorcister Act. Field of Dreamgirls. My Left Footloose. (Think of the dance numbers!)" Cute.
Rating: Two jazz hands
4. The Newsies performance. Yes, yes, yes!! Love all these boys. Way to wake up the audience with Christopher Gattelli's high-octane moves. (And Newsies fans: Stay tuned for July/August issue!)
Rating: Four jazz hands
5. Christopher Gattelli winning for Best Choreography—during a commercial break. So well-deserved. But really? Hiding the presentation away during the commercials? Choreographers are people too, Tonys!
Rating: Five jazz hands (the award); zero jazz hands (the timing)
6. NPH's Spiderman stunt. "Any concerns I had about this Spiderman rig failing have been overshadowed by the searing pain in my junk." [Cut to Andrew Garfield.]
Rating: Three jazz hands
7. The Lion King guy sitting in the audience in full costume. I'm sorry, what??
Rating: Zero jazz hands
8. The Porgy and Bess performance. Oh, man, I could listen to Audra McDonald sing "Summertime" all day. Which is why I was a little bummed that they performed a confusing medley of songs instead of just letting her do her thing. Though it's also a treat to see Norm Lewis and David Alan Grier up there, so...
Rating: Three jazz hands
(Side note: McDonald's engaged to Will Swenson?? Where have I been??)
9. The Tony-Award winning composer medley. NPH sings a (pretty awesome) song mash-up commemorating all of the composers who've won for best score...and the whole thing is an introduction for Sheryl Crow? I'm a little confused (though I did laugh out loud at "Hello 12, hello 13, hello—where is love?").
Rating: Two jazz hands
10. The Once performance. "Gold" is a beautiful song, but I was hoping they'd do "Falling Slowly," which is just gorgeous. Also, it would've been nice to hear Cristin Milioti sing a bit.
Rating: Three jazz hands
11. Hugh Jackman's surprise face. Jackman knew he was getting a special Tony Award last night—but he didn't know that his wife, Deborra-Lee Furness, would be presenting it. That is real surprise right there, and it is adorable.
Rating: Three jazz hands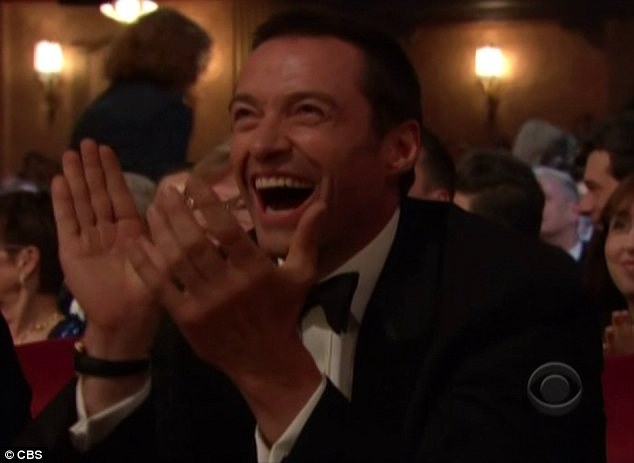 12. "I just got terrible news: The cast of Hairspray has been taken over by pirates...of Penzance." Nerdy theater jokes! Yay!
Rating: Two jazz hands
13. The Leap of Faith performance. I'm sad this show closed before I got a chance to see it, because the cast's performance was unexpectedly amazing. That is some serious choreography!
Rating: Four jazz hands
14. The closing recap. The best. And the ending was perfect. Just watch and appreciate all that is Neil Patrick Harris.
Rating: Five very enthusiastic jazz hands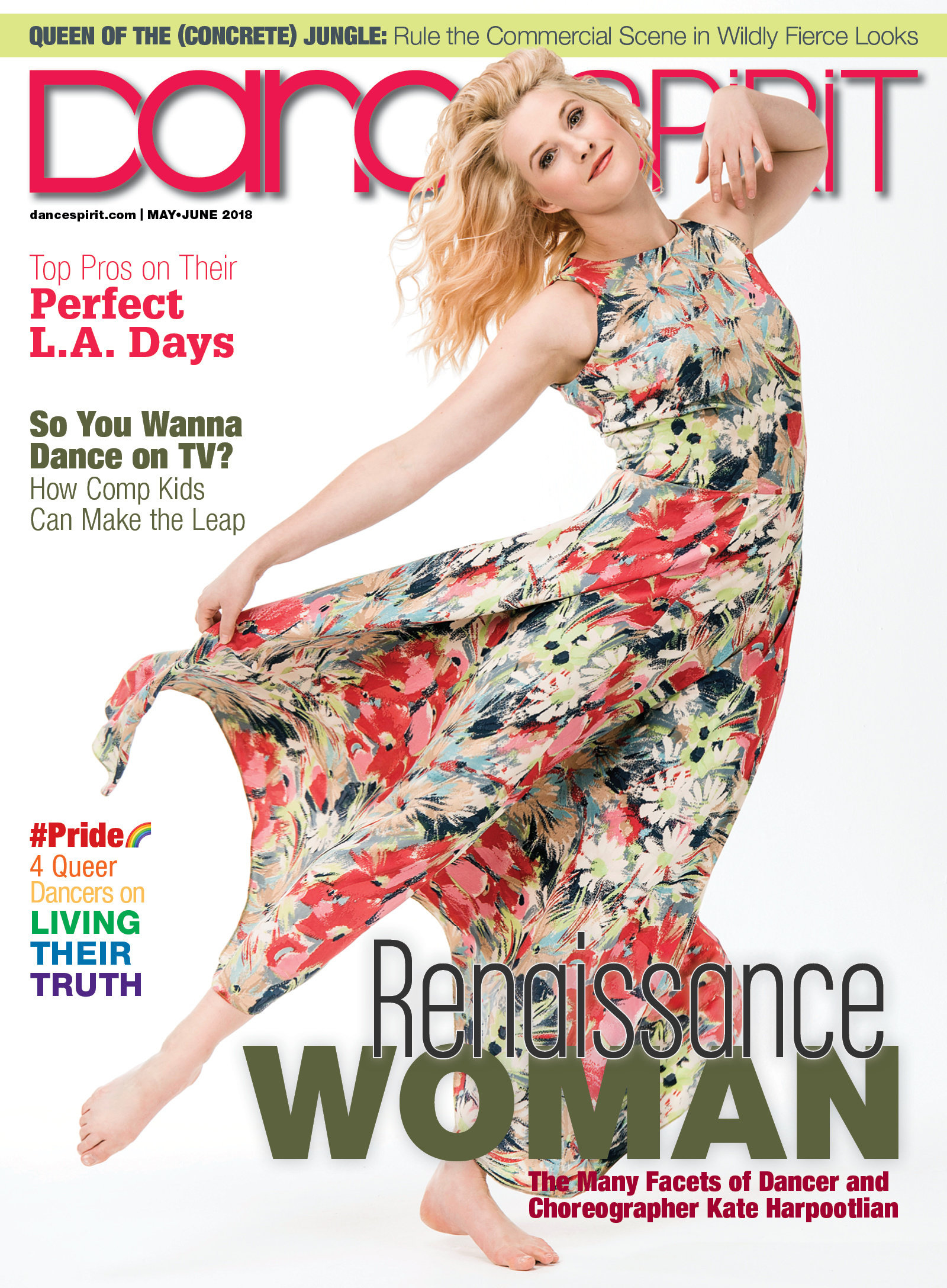 Get Dance Spirit in your inbox