Mandy Moore (photo by Lee Cherry, courtesy Bloc Agency)
In the dance world, Mandy Moore has long been a go-to name, but in 2017, the success of her choreography for La La Land made the rest of the world stop and take notice. After whirlwind seasons as choreographer and producer on both "Dancing with the Stars" and "So You Think You Can Dance," she capped off the year with two Emmy Award nominations—and her first win. Dance Magazine caught up with her to find out how she's balancing all of her dance projects.
When all else fails on the d-floor, break out the "robot." Don't pretend you're not guilty of resorting to this classic dance move at one point or another...
Be proud! No shame! Own it!
Or be super awesome at it like Brian "Chibi" Gaynor:
But the folks at Boston Dynamics flipped the whole concept of the robot dance on its head last week when they introduced us to Atlas, a humanoid robot. Most people are freaking out about Atlas' ability to walk over rough terrain. That's cool and all (and potentially could help it out if it decides to take over the world), but I'm most impressed by the way it moves--almost as if it's dancing. Oh, and it can balance on one leg. I'm telling you, this bot has serious dance potential.
So human dancers mimic robots, and a robot mimics human dancers. Seems fair, I guess.
I fully expect Atlas 2.0 to master the pirouette.
Thinkstock
Dance majors are always busy, but when the weather cools, activity heats up on campus. Back-to-school excitement is replaced by midterms, extra rehearsals and social events. Dance Spirit spoke with Julia Spizzichini, a sophomore in the commercial dance program at Pace University, and Melissa Lowe, University of Arizona professor of dance and director of student services and advising, to find out how to stay healthy and manage time—while still having fun.
Keep reading...
Show less
Kim DelGrosso coaching her daughter Abrea DelGrosso (Naomi Masina)
Is the person leading technique class also—gulp—your mother? Here's the good news: Having a parent as a dance teacher comes with many advantages. "From a young age, I had a built-in manager who knew the ins and outs of the business," says tapper Donovan Helma, who grew up dancing with his mom in Denver before performing in Tap Dogs on and off for 10 years. However, finding a balance between "home mom" and "dance mom" is difficult, and you might feel singled out by classmates for being the teacher's child(/pet). Here's how to deal with the difficult issues that can arise when your parent's also your instructor.
Keep reading...
Show less
As dancers, we talk a lot about "finding our centers"—but what does that actually mean? It refers to the invisible pole of support in your core that makes you feel like you could
balance for days. Once you experience the freedom that sense of stability can provide, you'll want to find a way to access it every time you dance. Professional dancer and Figure 4 Barre instructor Lindsey L. Miller shares three stabilizing exercises to help you conquer even the toughest balance challenges.
The Toe-Heel Rock
Purpose: This exercise strengthens the muscles in your ankle to promote stability in relevé.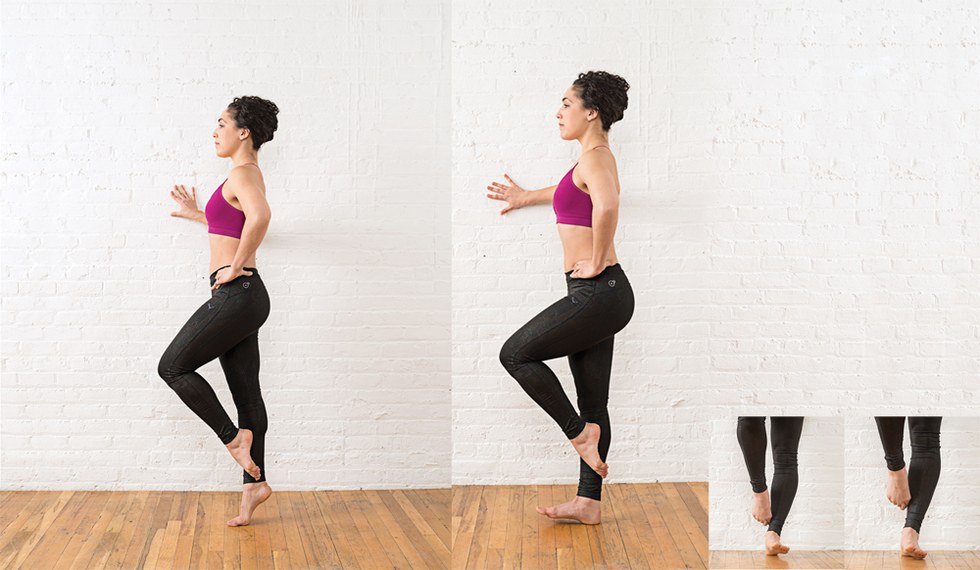 (Photos by Lucas Chilczuck)
Stand sideways about one foot away from a wall. Lightly touch the wall with your right hand and lift your left leg to a parallel coupé. Place your left hand on your left hip.
Rock forward onto the toes of your right foot, lifting your right heel as high as you can.
Miller Says: "When balancing on your heel, it's natural to want to stick out your butt. To keep your weight centered over your foot, think of almost tucking your pelvis."
Rock backward to the starting position, then lift the ball of your right foot off the floor as high as you can, keeping your body upright and your hips centered over your foot.
Repeat 10 times, then switch sides.
Incorrect
Because dancers' big toes tend to be stronger than their pinky toes, rocking back to the heel often looks like this, with the pinky-toe side of the foot tilted toward the floor.
Correct
Focus on lifting up the pinky-toe side so your metatarsal stays even.
The Roll-Down
Purpose: This exercise helps you access your deep transverse abdominal muscles, which are essential to balance.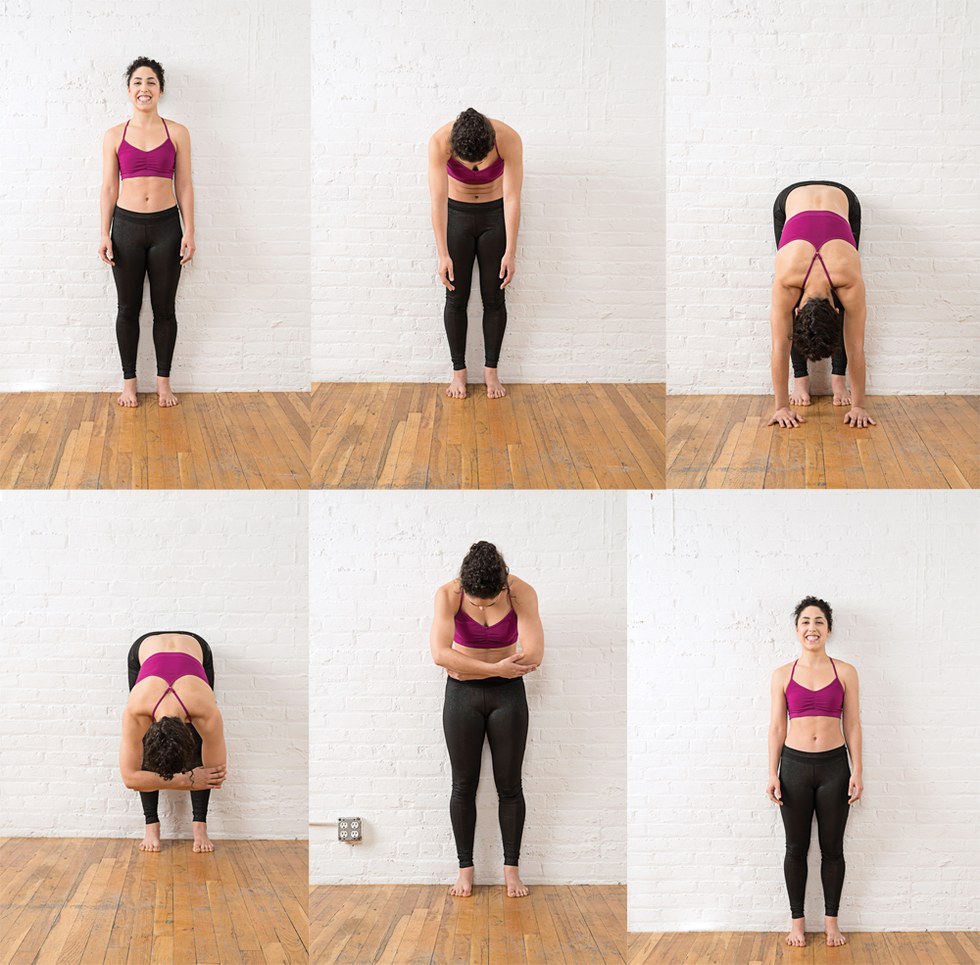 (Photos by Lucas Chilczuck)
Stand with your back against a wall, your feet parallel and hips-width apart and your arms by your sides.
Curve your head forward and begin to roll down through your spine. Keep your hips and heels connected to the wall.
Miller Says: "It's difficult not to fall forward during this exercise. To find your balance, focus on contracting your lower abs and pressing your hips and heels into the wall behind you."
Once you reach the bottom of the roll-down, grab on to opposite elbows to keep from relying on the floor for balance.
Beginning at the base of your spine, roll your body back up to the starting position.
Repeat two more times.
The Horizontal Tilt
Purpose: This exercise promotes balance in turnout by strengthening your oblique muscles and the external rotators in your hip.
Begin in a "T" position, standing on a straight, parallel right leg with your left leg reaching behind you (foot flexed and parallel). Tilt your torso forward, so your body—from the crown of your head to your heel—forms a straight line parallel to the floor. Reach your arms toward the floor with your palms facing each other.
Bend your right leg, making sure your knee tracks over the center of your right foot and your left leg stays in line with your torso. Hold the rest of your body still.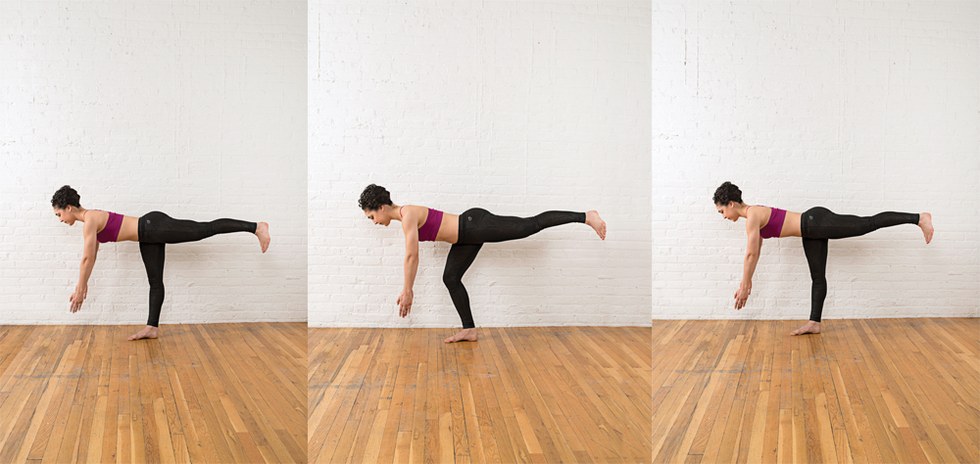 (Photos by Lucas Chilczuck)
Miller Says: "To give yourself an even greater balance challenge, try looking up at your top hand when you unfold into the turned-out position."
Stretch your right leg to return to the starting position.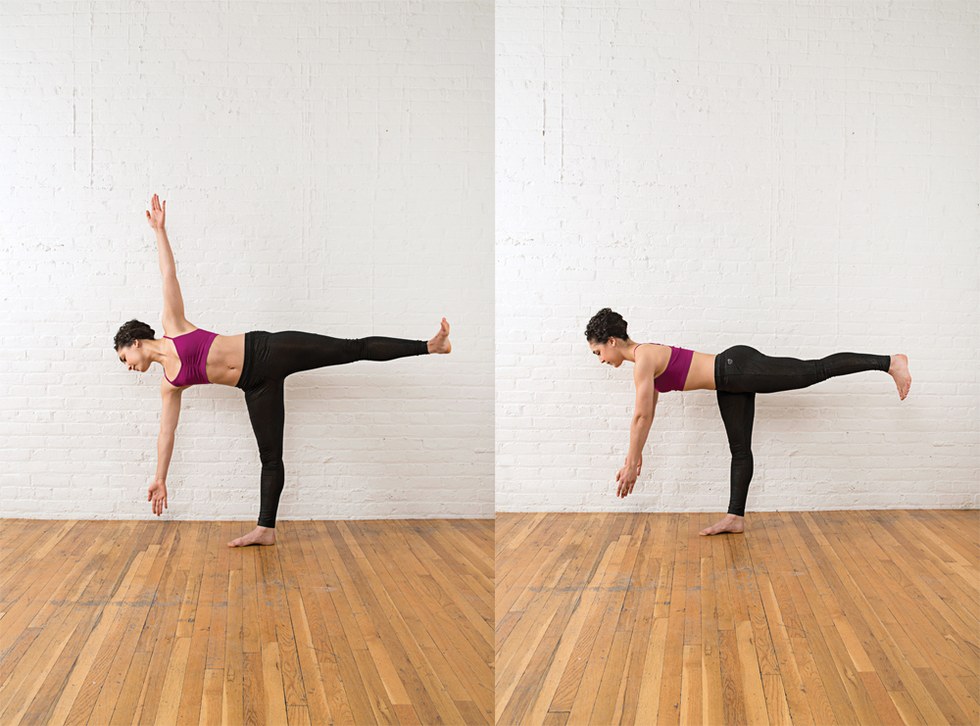 (Lucas Chilczuck)
Open and unfold your body by turning out your left leg and reaching your left arm to the ceiling, so your body faces out instead of down. Gaze down at your right arm as you continue to reach it toward the floor, and squeeze your abdominals. Hold for a count of three.
Return to the starting position.
Repeat five times, then switch legs.
Last week, two male dancers on two different continents made Facebook fans do a serious double take. Warning: When you watch these dancers' incredible feats of balance and strength, you may want to hold onto your jaw—it's going to drop.
If you've ever been on a Boso Balance Trainer (or any other balance board) in a physical therapy session or at the gym, you know that just standing on the thing can be pretty darn challenging. (Do a simple YouTube search, and you can see that even the fittest people struggle a bit—fast-forward to 2:15 in this video for exhibit A.)
But you all know that ballet dancers are crazy—crazy-strong, crazy-focused and crazy-AMAZING. Take English National Ballet's Barry Drummond, for example. This is his Bosu Balance workout:
So there's that. But then, inspired by Drummond, Cedar Lake Contemporary Ballet's Jon Bond decided to try it out:
I just can't even.
Ballet
Nov. 15, 2011 10:30AM EST
Few things top that jaw-dropping moment when a ballerina hits a balance—and just stays. And when you're over your leg and in control, balancing can look (and feel) so easy. But if you're unsure of yourself and tense, you'll be facing some nerve-racking moments onstage. Follow these tips from the pros to improve your balances. With strengthening exercises and a strong mental focus, you'll be on your way to creating showstopping moments of your own.
Lay the Foundation
Give yourself a solid base for long balances by strengthening your ankles and lower legs. Melody Mennite, a Houston Ballet principal, likes to do relevés at the barre to work out her ankles and calves. "Do them on two feet and then on one foot until you feel like it's getting harder—then push through and do some more," she says. "Be consistent about doing them every day."
You'll also need the support of strong core muscles holding you tight around your middle, like a corset. Regular crunches help, but Boston Ballet principal Misa Kuranaga recommends using an exercise ball to do side sit-ups, too. "It's hard to get at your obliques without using a tool," she says. Kuranaga lies on her side over the ball, keeping her feet on the floor, and lifts her torso up towards her hip. If you try this exercise, pull your stomach in at the navel and avoid twisting your body.
Mennite recommends doing back-ups to strengthen the back muscles, too. "While you're working one side of your body," she says, "you have to strengthen the other side as well."
Plus, many balances are held in arabesque or attitude, which require rock-solid back muscles.
Get There and Stay There
How can you make sure you're over your standing leg from the get-go? If you're doing a relevé up to pointe, think about aligning yourself over the supporting foot as soon as you plié, so that all you have to do is go straight up. If you're doing a piqué into the balance, you have more to consider. "The forward motion can make or break it," says Tina LeBlanc, a teacher and former principal with San Francisco Ballet. "Pull up as you piqué to engage your center, so that it's not just a lateral movement." Practice the piqué several times to see how much you need to push from your back foot. Too much force is usually better than too little, because it's easier to save a balance when you're falling forward (and can still use your core to steady yourself) than when you're falling backward.
Once you're up there, think of pointing your foot hard into the floor. "If you sit into your leg or rely on the pointe shoe," LeBlanc says, "you'll have too much play in the ankle, and it won't be as strong." Imagine that your standing leg ends at the top of your hip, not at the top of your thigh, so you feel a connection to your core. Try to keep energy moving out through your limbs. That way, your balance will be dynamic and expansive instead of static and brittle.
Find Your Focus
How you use your eyes can help you balance—especially when there's a partner involved. "Focus is really important," Kuranaga says. When she dances the Rose Adagio from Sleeping Beauty, which is notorious for its long balances, Kuranaga asks her partners to stand a little to the side of her so they're not in her line of sight, focusing instead on a wing or a piece of scenery as she balances. "If I see something moving, I get really distracted," she says.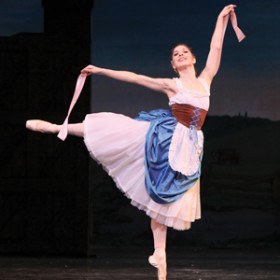 Houston Ballet's Melody Mennite holds a long balance as Lise in La Fille Mal Gardée. Photo by Amitava Sarkar.
However, LeBlanc suggests a different strategy: "You'll look more confident if you make eye contact with your partner, which is what the character you're playing would realistically do," she says. Some dancers also find that locking eyes with a partner can be steadying. Try both strategies: Look at your partner during one run-through of a piece, and pick a focal point in the distance the next. See which one works best for you.
Also think about your mental focus. When you're scared and tense, it's harder to hold a balance. "If you're frightened and get stiff, you're more likely to topple over like a tree," Mennite says. "But if you're relaxed, your body can make the minuscule adjustments that help extend the balance."
Whatever happens, avoid visibly struggling to stay in a pose. No one wants to see the effort behind the balance. If it doesn't work, find a beautiful way out. "I pull up and try to float my arms a little bit," Kuranaga says. "That preserves the magic."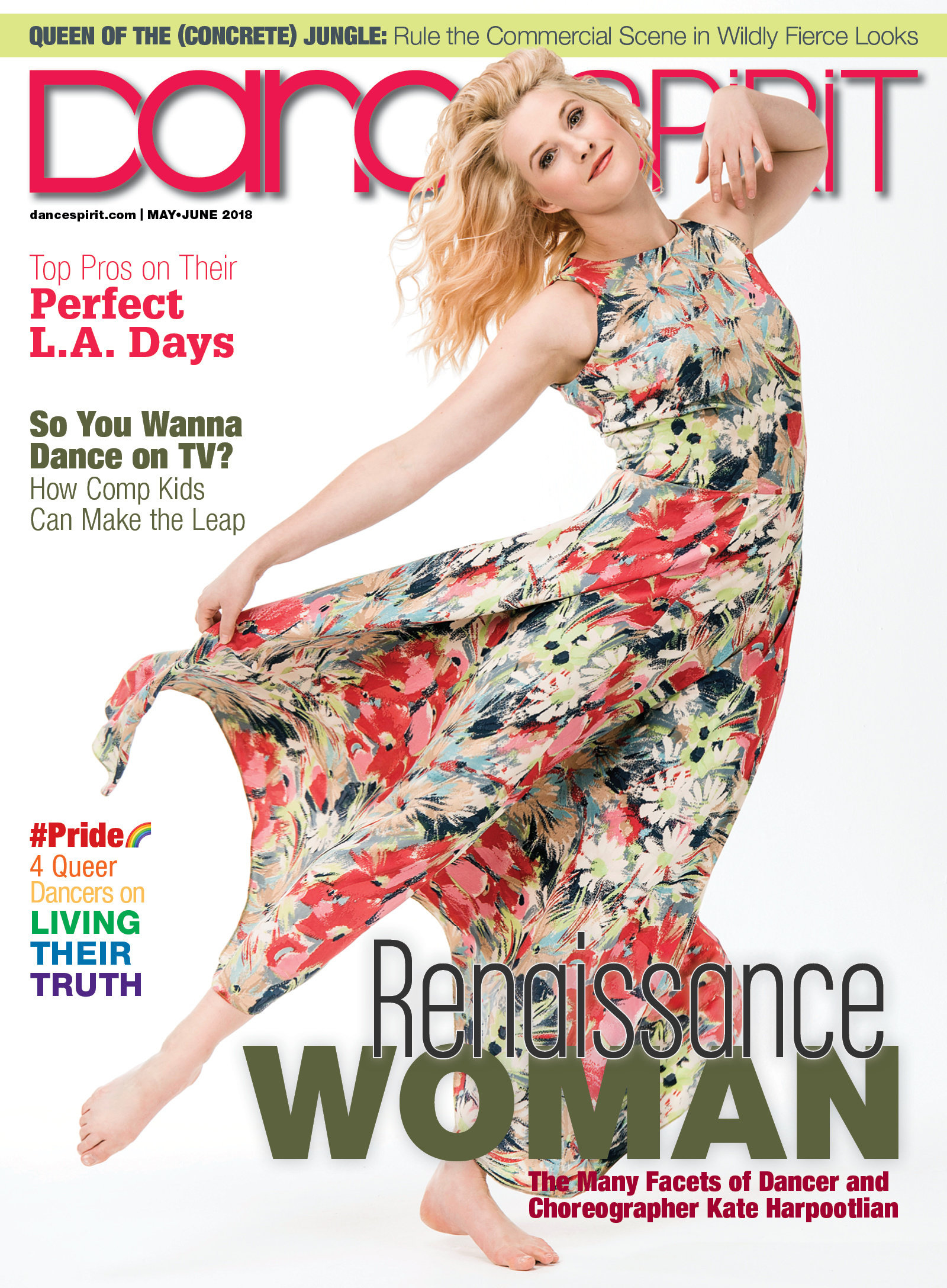 Get Dance Spirit in your inbox