One is American Ballet Theatre's first African American female principal; the other is the United States' first African American president. Obviously, Misty Copeland and Barack Obama are incredible role models. But it turns out these two leaders have even more in common than you might think. (And no, we're not just talking about the fact that Obama also has pretty impressive dance skills...although, fair point.)
Recently, Time magazine—which named Copeland and Obama two of its Most Influential People in 2015—had the pair sit down for a candid interview with reporter Maya Rhodan. As Rhodan pointed out, both were born into multiracial families, both were raised by single mothers and both have risen to the top of their respective fields. And that was the jumping-off point for a convo that ranged from how race has affected their careers to body issues in the ballet world to basketball star Steph Curry.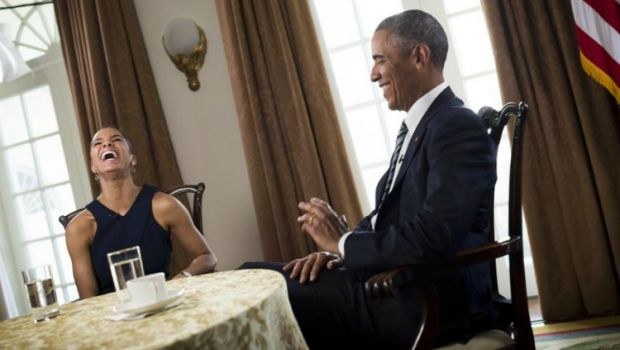 It wasn't all super-serious! (screenshot from Time.com)
Unsurprisingly, the eternally poised Copeland held her own with the leader of the free world—and Obama, eloquent as usual, showed off a pretty decent knowledge of the ballet scene, too. (He's probably picked up a few pointers from Copeland since appointing her to the President's Council on Fitness, Sports and Nutrition back in 2014.) Here are a couple of dance-related highlights from their discussion:
Barack Obama: "You know, as the father of two daughters, one of the things I'm always looking for are strong women who are out there who are breaking barriers and doing great stuff. And Misty's a great example of that. Somebody who has entered a field that's very competitive, where the assumptions are that she may not belong. And through sheer force of will and determination and incredible talent and hard work she was able to arrive at the pinnacle of her field."
Misty Copeland: "I think that having a platform and having a voice to be seen by people beyond the classical ballet world has really been my power...It's allowed me to say, it's okay to have a healthy athletic body. We are fully capable of doing everything that the person who doesn't have an extremely athletic body, that is more thin. We're fully capable of doing exactly the same thing....And it's I think forcing a lot of these top tier companies to address the lack of diversity and diversifying the bodies that we're seeing in classical ballet."
Watch the whole interview here:
However you feel about Barack and Michelle Obama, one thing is clear: They can dance. Like, actually dance. And man, are we going to miss that.
Since it's Thursday, let's take a walk down memory lane and revisit some of the current First Couple's dance highlights.
We love how sweet the two of them are when they dance together.
And we love that President Obama will do things like sit down for a chat with world-class dancer Misty Copeland.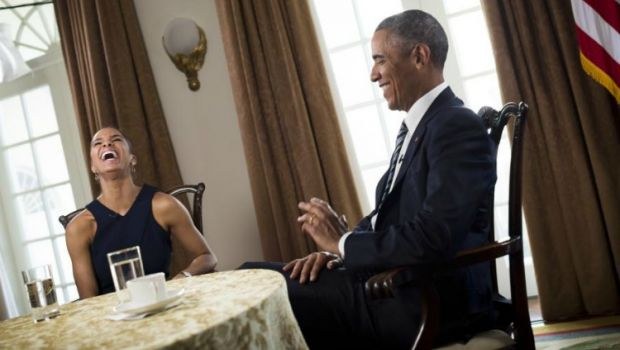 Screenshot via time.com
But tbh, this post is really a fan letter to Michelle.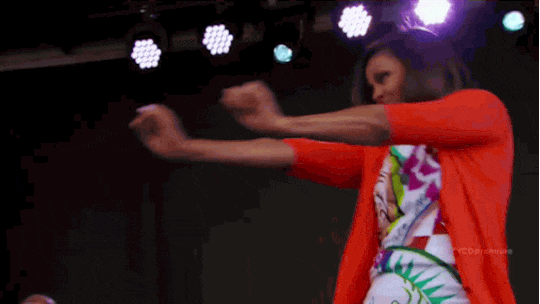 Because she made dancing a central part of her "Let's Move" campaign.
And broke it down on "Ellen," alongside the likes of Travis Wall and tWitch and Kathryn McCormick, to promote her #GimmeFive challenge.
And showed off her seriously classic mom moves on "Fallon."
And that's just the tip of the iceberg.
Thanks for perhaps the danciest presidency ever, Obamas. Never stop.
Hello, friends! Are you having a bit of a rough Monday? Let 106-year-old Virginia McLaurin fix that for you.
Correction: 106-year old dancing queen Virginia McLaurin.
Actually, no—that still doesn't convey the fabulousness of this grand lady. Let's go with: 106-year-old PRESIDENTIAL DANCE PARTNER and TOTAL ROCKSTAR Virginia McLaurin.
Over the weekend, the impossibly cool centenarian—she was born in 1909!—came to the White House for a meet-and-greet with Barack and Michelle Obama, arranged as part of Black History Month celebrations. While the Obamas are pretty impressive dancers themselves, they could hardly keep pace with McLaurin, who turned the visit—a longtime dream of hers—into a bona fide dance party.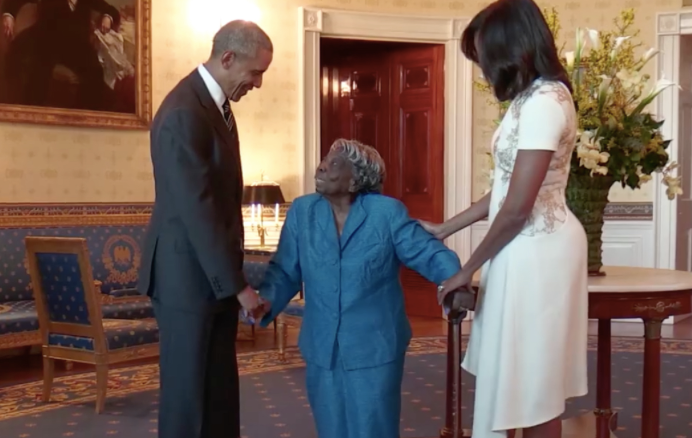 #GOALSGOALSGOALS (via Facebook/The White House)
"What's the secret to still dancing at 106?" the President asked McLaurin. Her answer: "Just keep movin'!"
Amen.
It's the best, happiest, wonderfulest thing you'll see all week. Case of the Mondays: CLOSED.
Nov. 07, 2012 12:19PM EST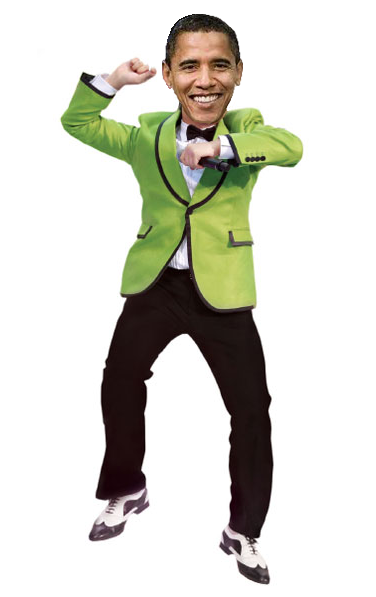 Unsurprisingly, everything today seems to be all-election, all the time. We figured we'd jump on that bandwagon, especially since we just heard a bit of dance-related political news too good to pass up.
Namely: How will Barack Obama celebrate his re-election at the Inaugural Ball? By doing the Gangnam Style dance—maybe. (Hopefully?)
Obama told a New Hampshire radio station that he was pretty confident he could "do that move," at least, though the ball probably isn't "the appropriate time to break that out." He might, however, do it "privately for Michelle." Bow chicka wow!
Seeing as Michelle has already showed off her amazing Dougie, can we put politics aside and all agree that this is one presidential couple with moves? (And if our 44th president does, in fact, bust out his invisible horse dance at the ball, can we also all agree to put that meme—once so brilliant, now so, so tired—to rest? Thank you.)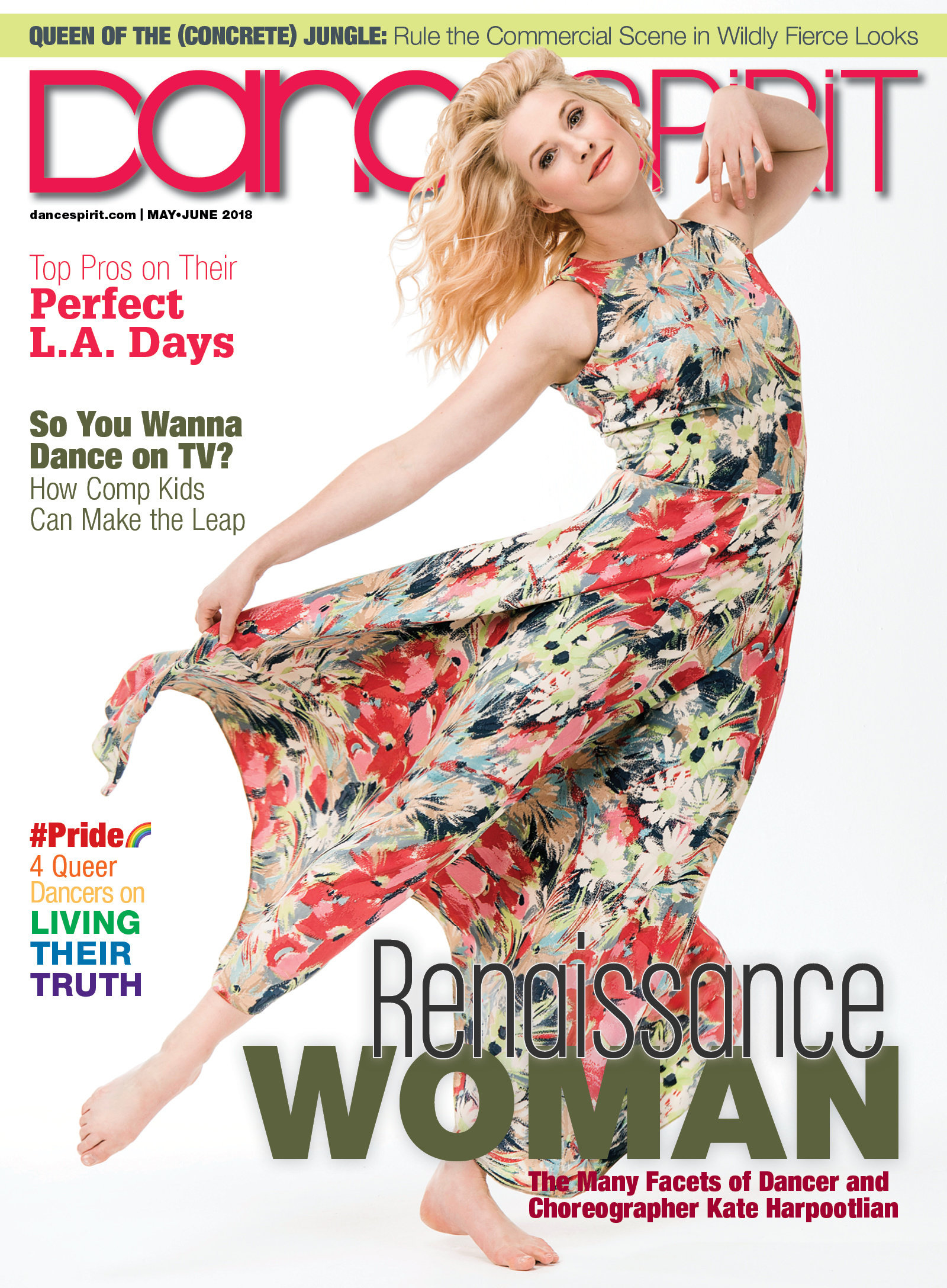 Get Dance Spirit in your inbox